Spring has arrived and with Easter just around the corner, it's time for our roundup of the BEST Easter and springtime cakes, tutorials, and ideas!
Today I'm going to share some of our favorite springtime and Easter cakes & cupcakes that we've created over the years, as well as some amazing creations from other cake pages!
In addition to beautifully decorated cakes, we're also featuring some of our favorite cake flavors for spring and Easter gatherings.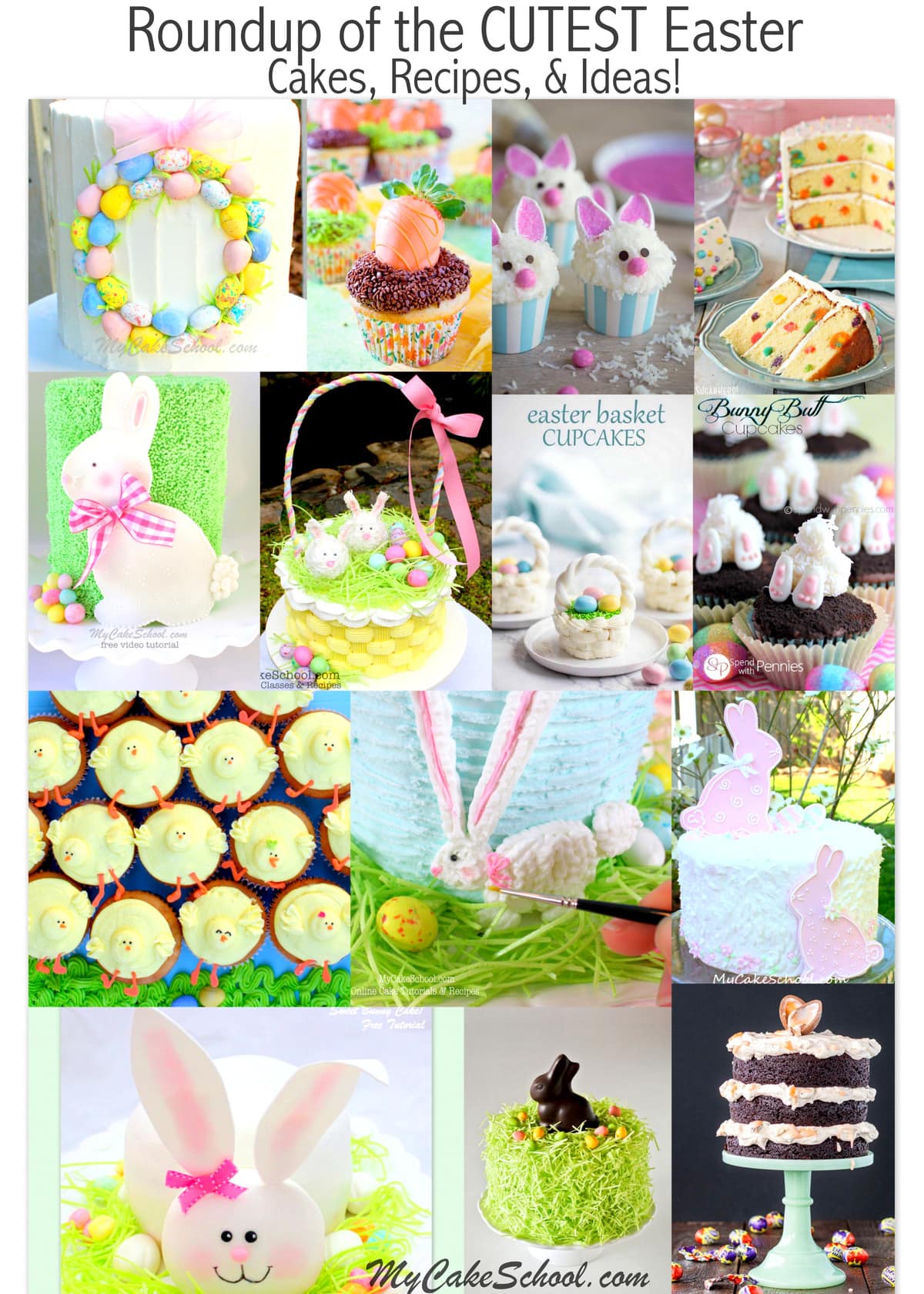 Enjoy scrolling through! Most of these spring and Easter cake and cupcake designs are free tutorials but we've featured a few our our member cake video tutorials also. I hope that you find an idea or two that inspires you to hop into the kitchen and whip up some cuteness!!
Roundup of our Favorite Easter and Springtime Cakes
*updated 3/21
Nothing could we easier (and sweeter) than this Kit Kat Easter Basket Cake! The white chocolate Kit Kats along with colorful chocolate eggs make for a simple, yet oh so cute cake for Easter gatherings! We just love how it came out, and kids will love helping too! Find the Free Tutorial here: Kit Kat Easter Basket Cake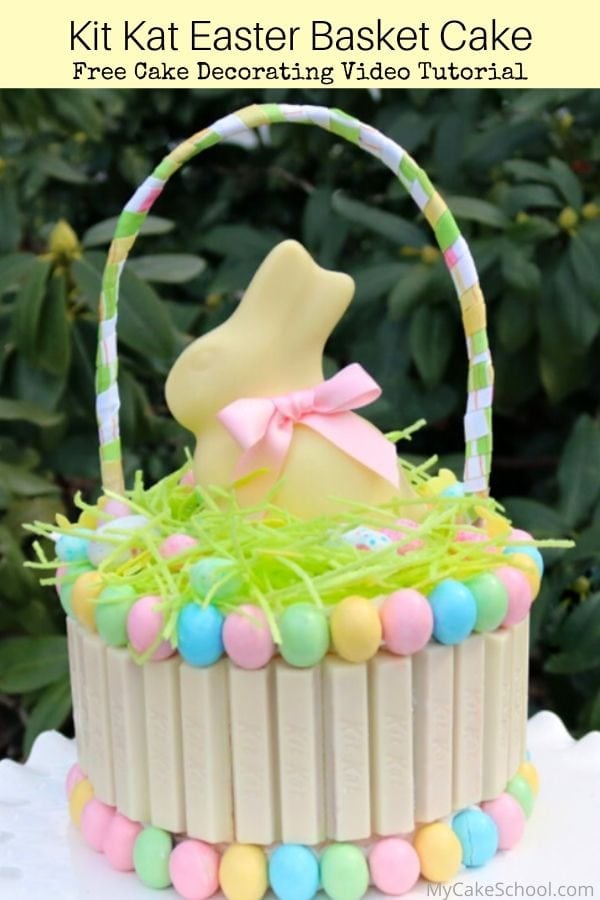 Here's a cute new tutorial from our member section featuring a sweet bunny and colorful painted eggs! This cake design is great for any skill level of cake decorating, and would work great for sheet cakes as well! Find the tutorial here: Sweet Bunny and Easter Egg Cake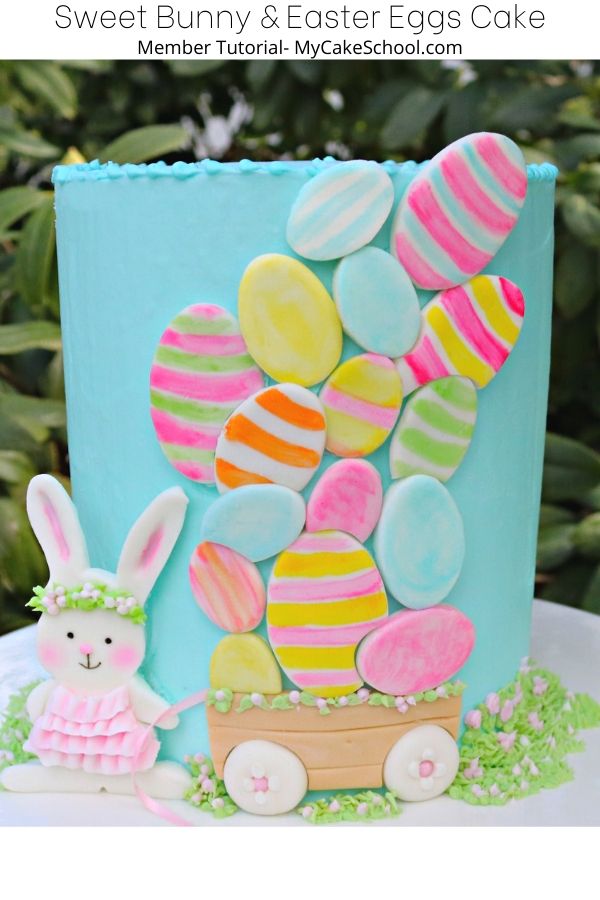 This adorable Easter cake features bunnies painting and Easter egg, as well as a pretty picket fence design around the sides! It's a recent addition to our member cake video section! Sweet Bunnies! Easter Cake Decorating Video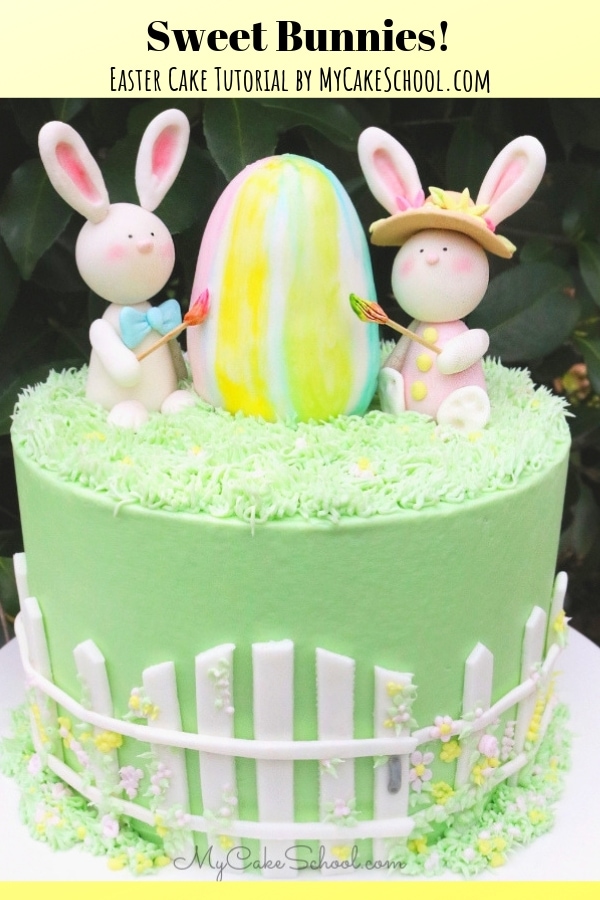 I just love cherry blossom cakes, and our latest cherry blossom cake features blossoms that were created using simple candy coating! This is a fun favorite for spring from our member cake video tutorial section!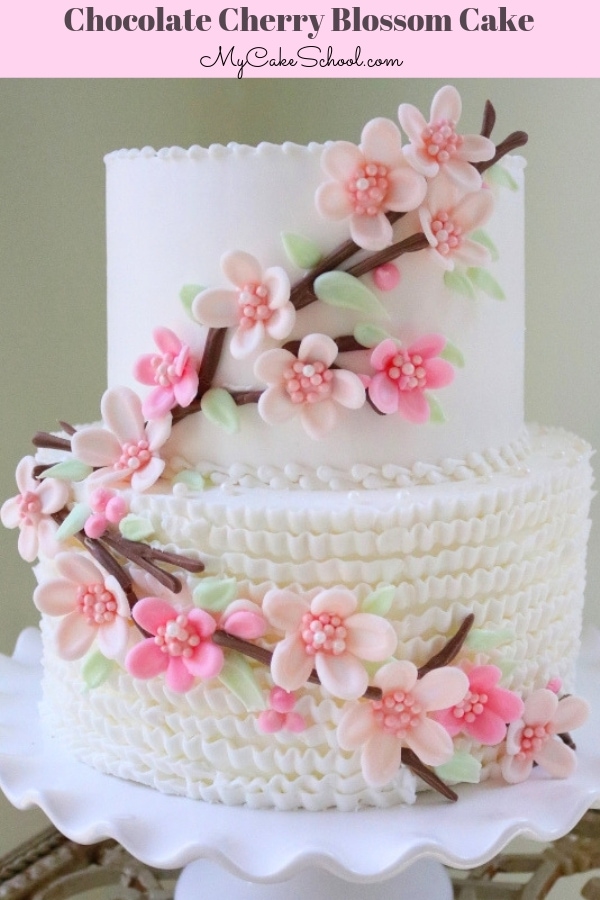 This sweet bunny cake video tutorial is from our member section, and features Sweet Bunnies in the Candy! This was such a fun cake to create, and is so simple!
It was inspired by the funny pigs in mud cakes that have been so popular over the years–only our bunnies are swimming in candy! Keep it in mind for your Easter entertaining! Kids are sure to love it!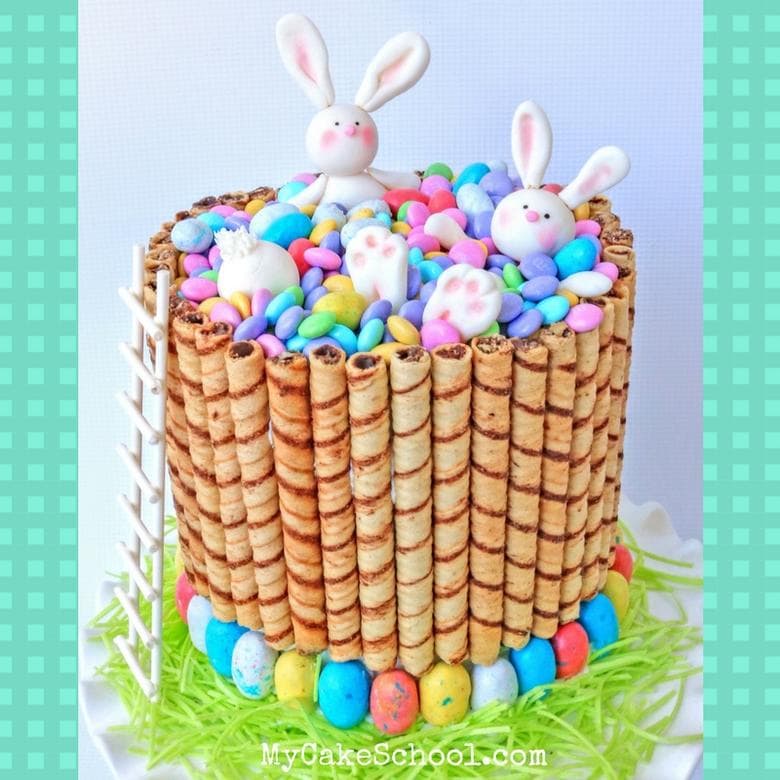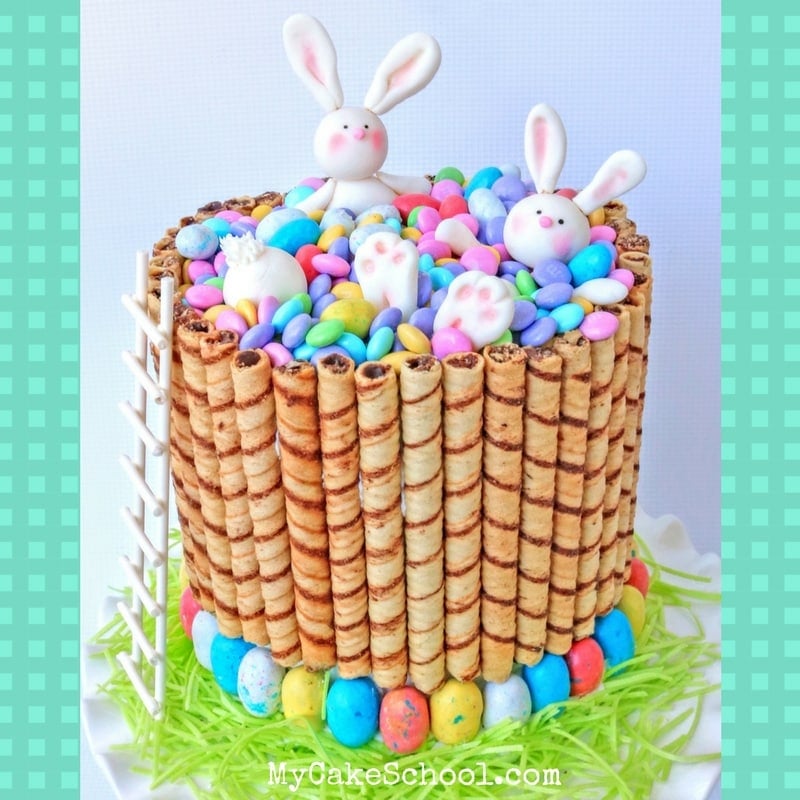 Here's a sweet and simple Bunny Cake tutorial from our Free Video Tutorials section! I love her fancy little sugar pearl ears! This is a new favorite of ours for Easter, you can find it here: Sweet and Simple Bunny Cake Video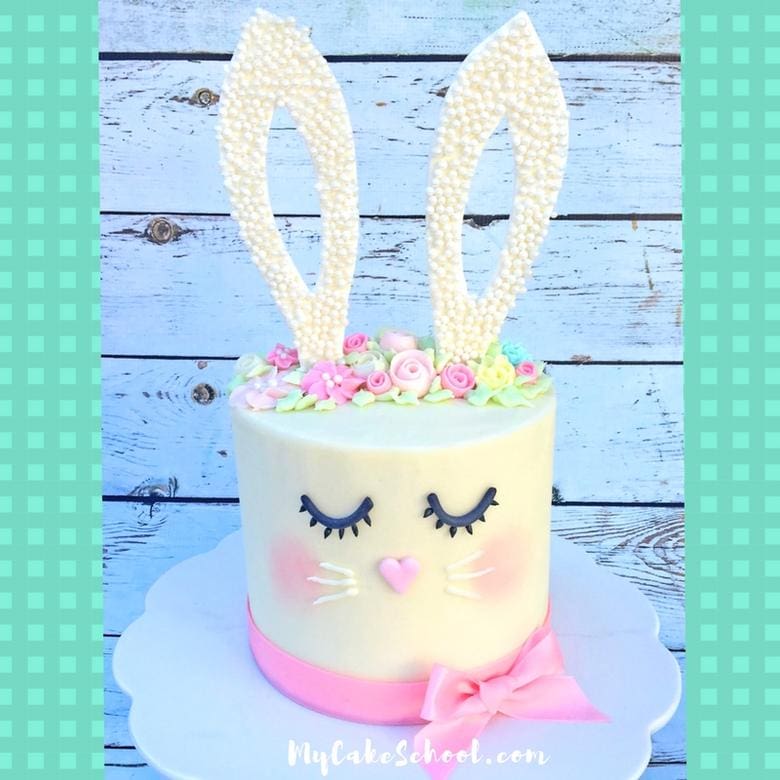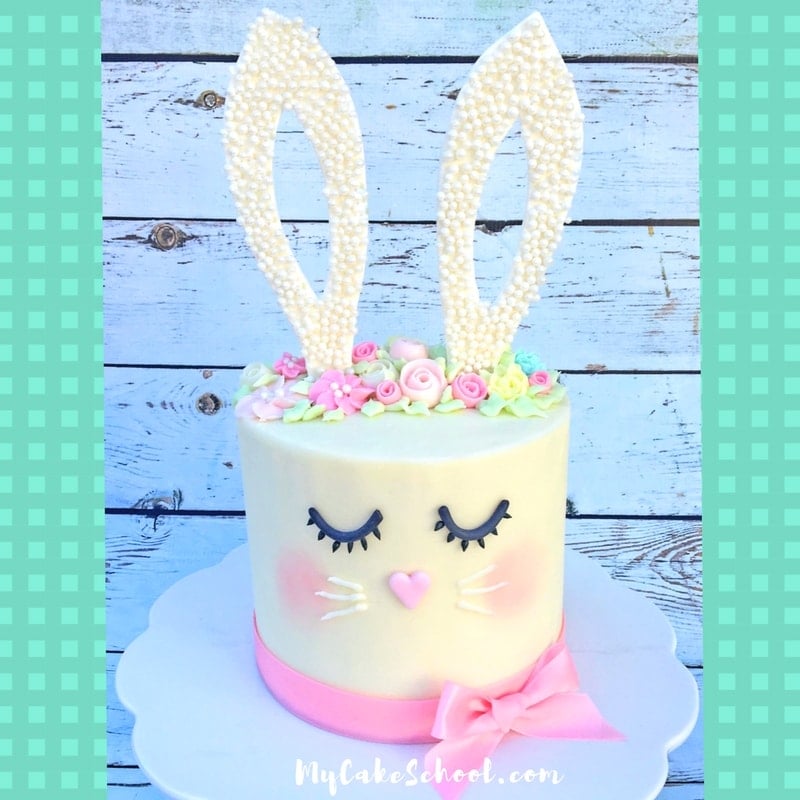 Next, we have a free video tutorial for this CUTE Bunny Cake! This is decorated in buttercream with a cute fondant bunny accent. (Template provided).
This design is perfect for all skill levels of cake decorating. You'll also learn how to make a double barrel cake in this video! This would not only be an adorable Easter cake, but also would make an adorable springtime baby shower cake!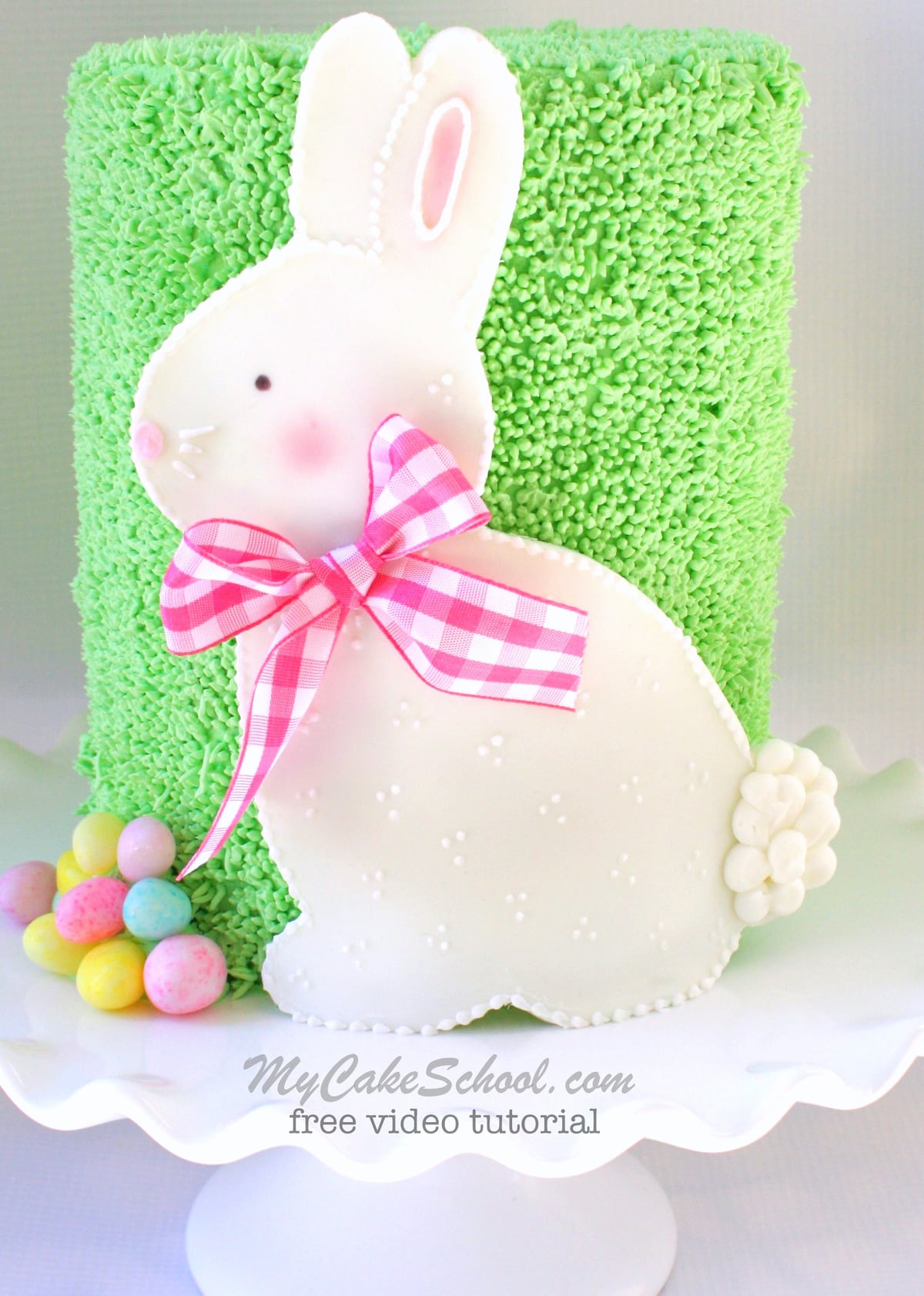 I love bunny cake toppers year round, and this sweet cake from our Bunny Cake Topper video tutorial (member section on MyCakeSchool.com) would be adorable not only for Easter and springtime cakes, but also for young birthday cakes and baby showers!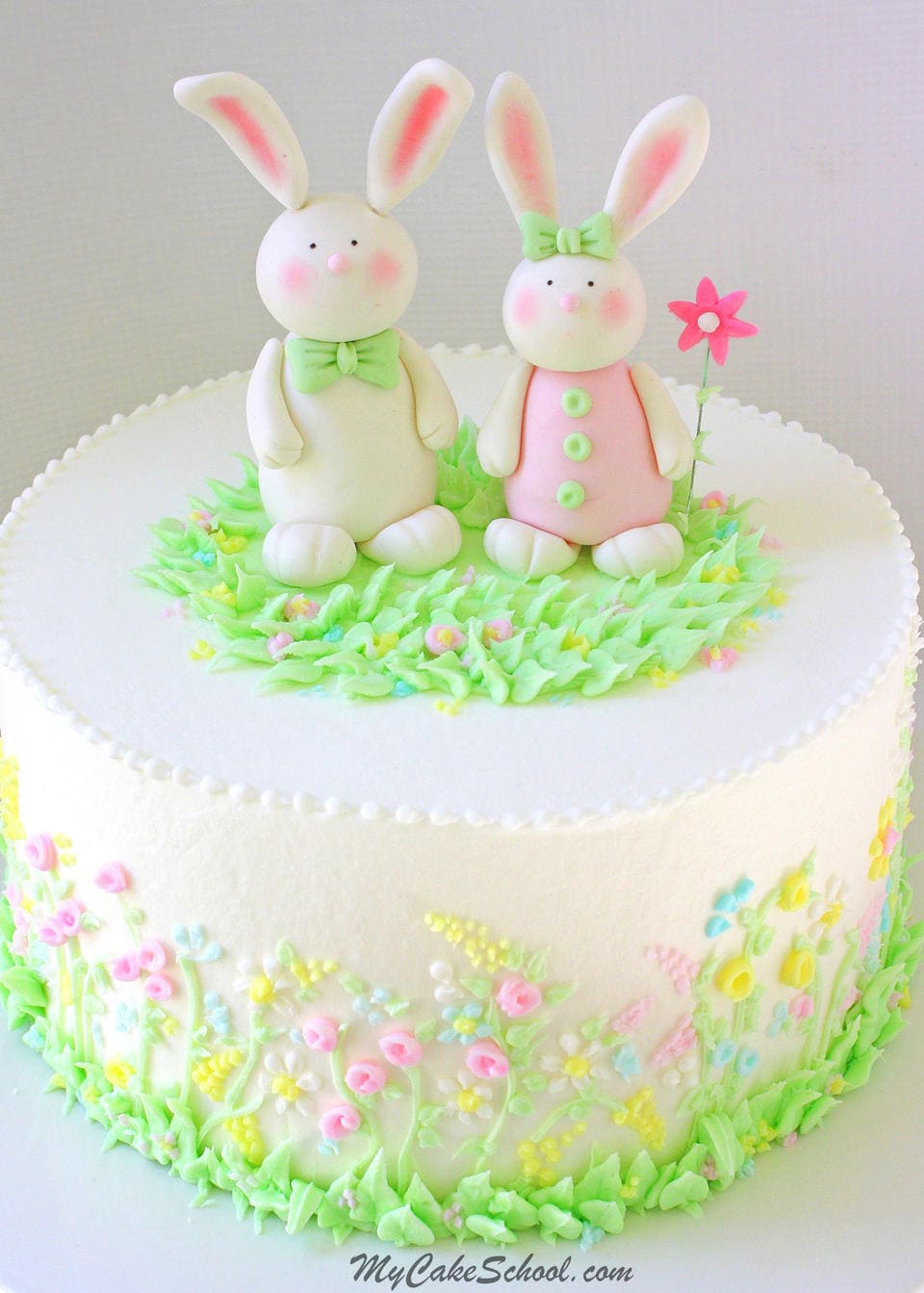 Here is one of my favorite cake toppers for Easter! This Free tutorial featuring Peeps Bunnies in a Carrot Car always brings smiles!
Next up, a sweet Springtime Bunnies Cake featuring two bunny cut-outs (template provided) and simple textured buttercream! This step-by-step free cake tutorial is perfect for all skill levels of cake decorating. Although the style is very simple, it has been one of our most popular cake designs for spring and Easter!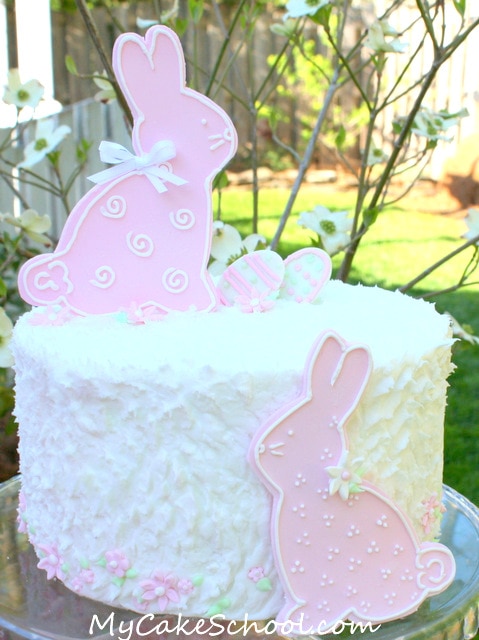 Our Sugar Egg Cake video tutorial is from our member cake video section on MyCakeSchool.com! I have happy memories of picking out sugar eggs every Easter when I was little, and I'm excited to offer a jumbo version of a sugar egg in cake form! So much fun!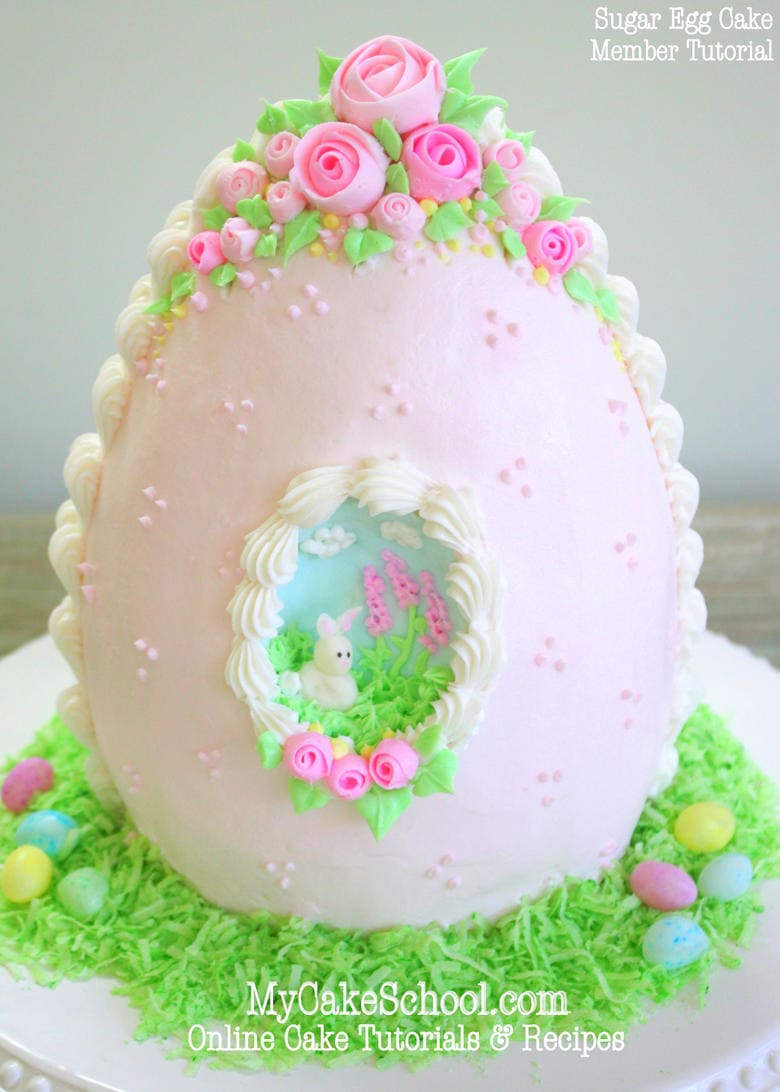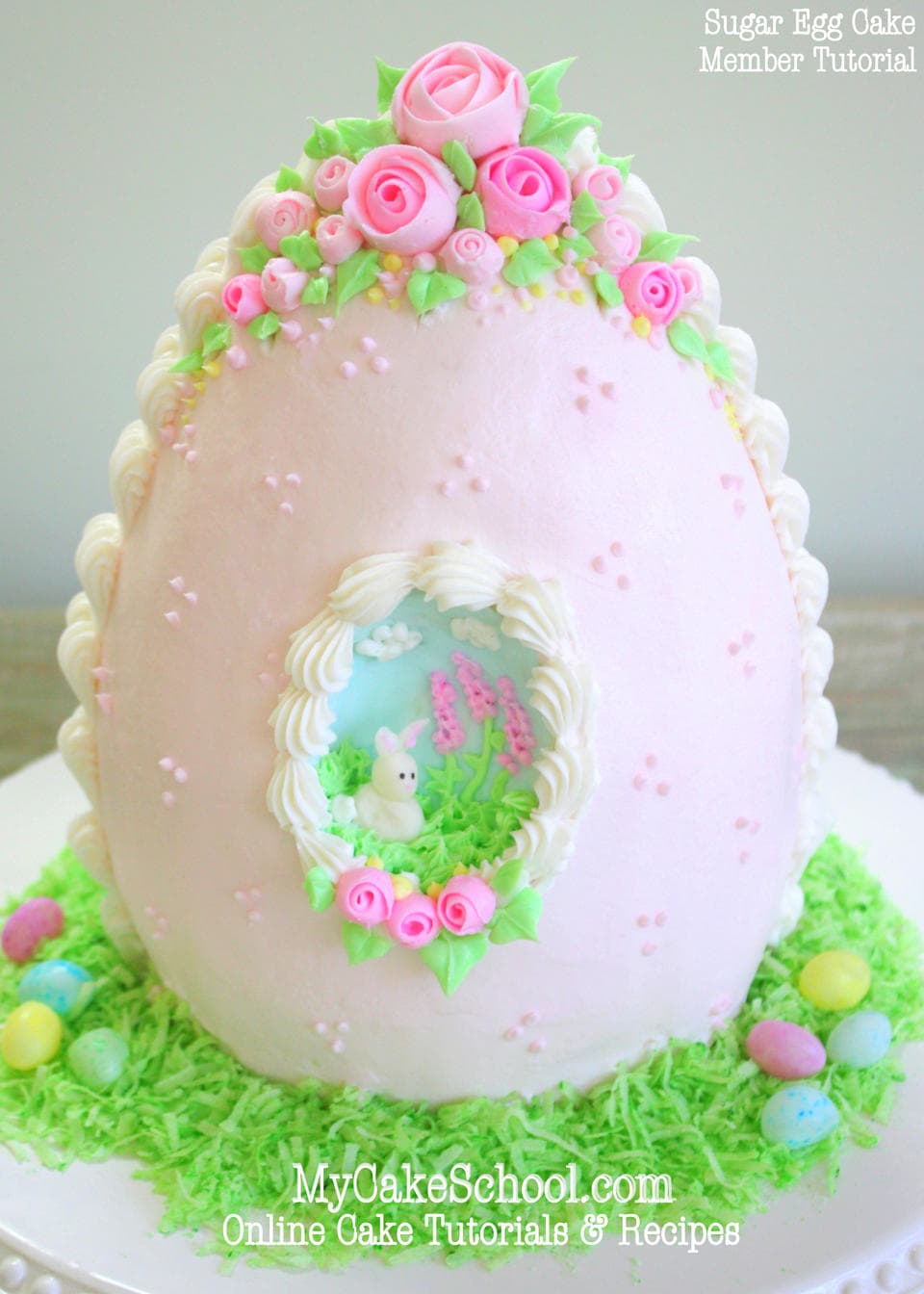 This Orange Vanilla Bean Cake is so moist and tender, and has wonderful citrus and vanilla flavor! It's the perfect springtime layer cake!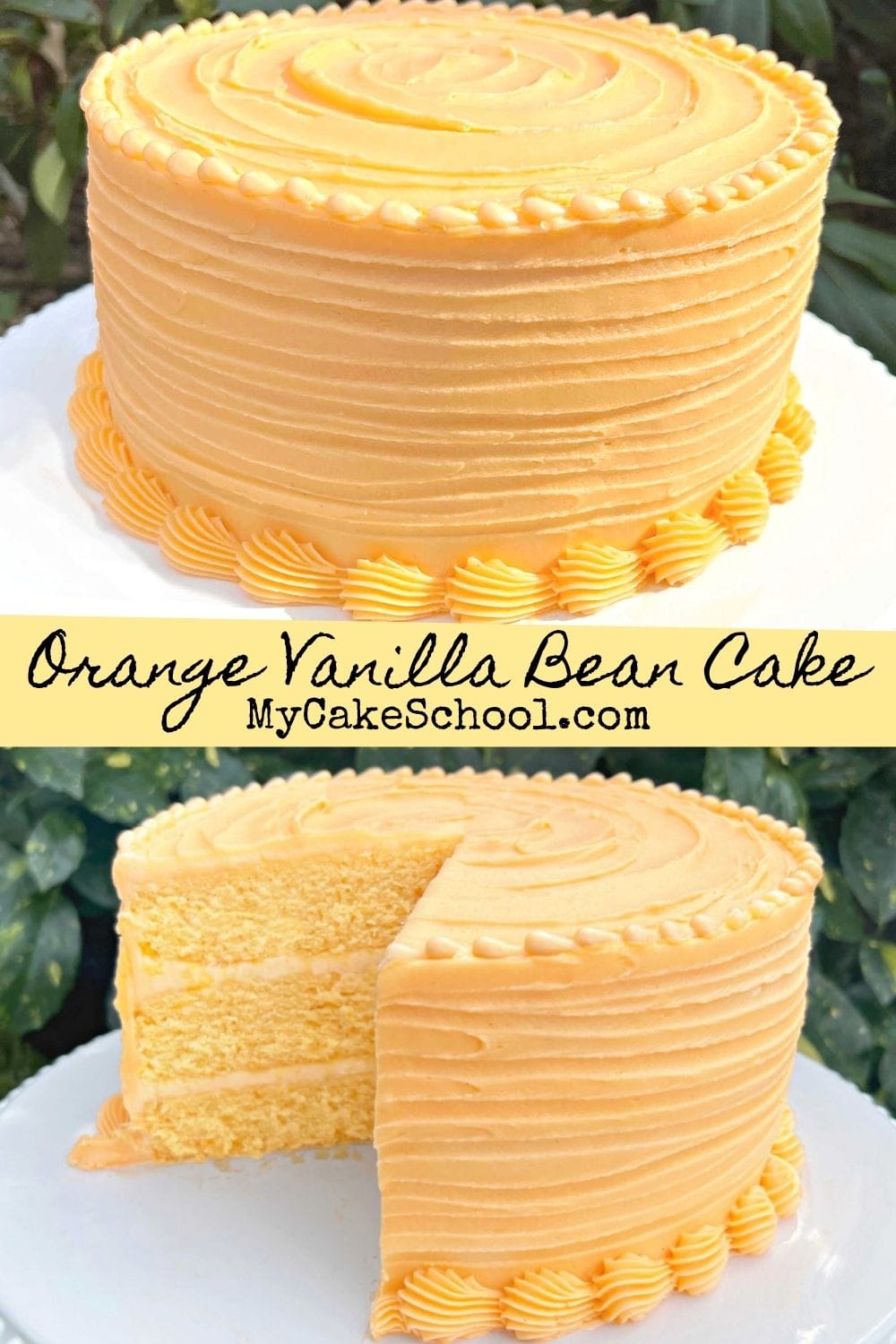 This is just about the easiest Easter Wreath Cake design ever. And as an added bonus, it is SO adorable! You can make this sweet cake design in minutes. Hop over for our free step by step cake tutorial!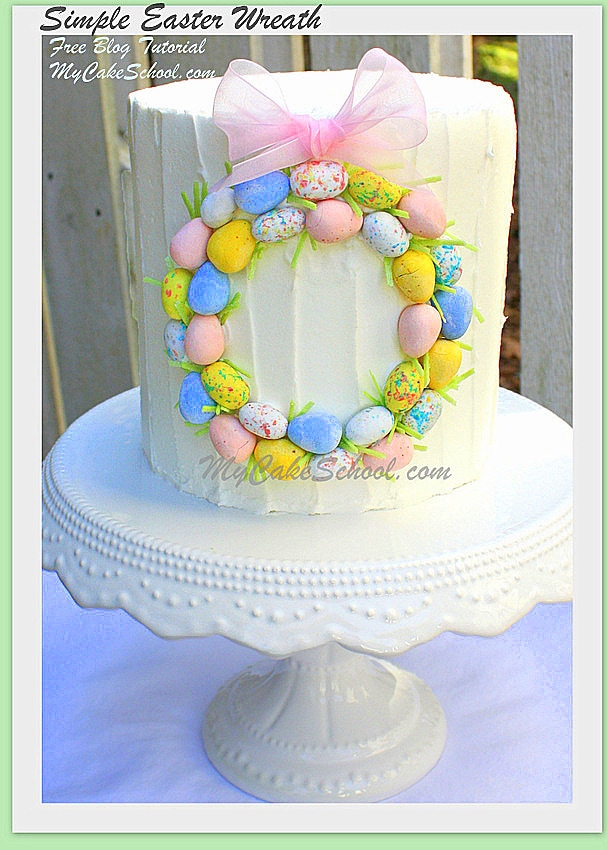 Nothing's cuter for Easter than adorable Buttercream Chick Cupcakes! These cuties are arranged in a fun pyramid design but they would be precious no matter how you decide to display them! We'll show you how to decorate them with nice smooth finish, and also how to pipe their funny little legs! This is a free step-by-step blog tutorial!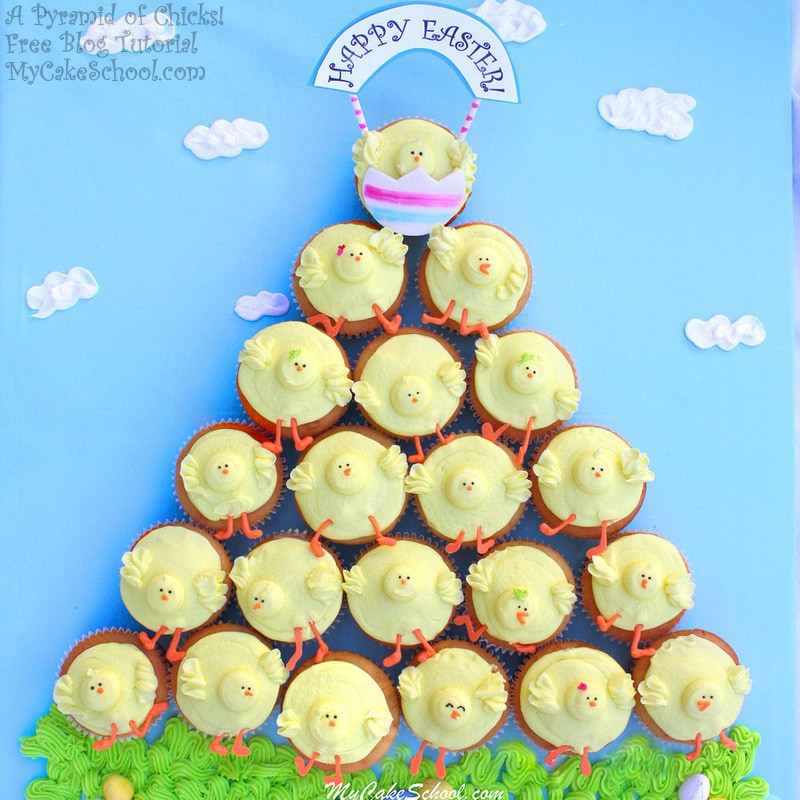 This sweet little Easter Basket Cake is from our member cake video tutorial section on MyCakeSchool.com! Learn to make a simple Easter Basket Cake, complete with a set of funny little bunnies!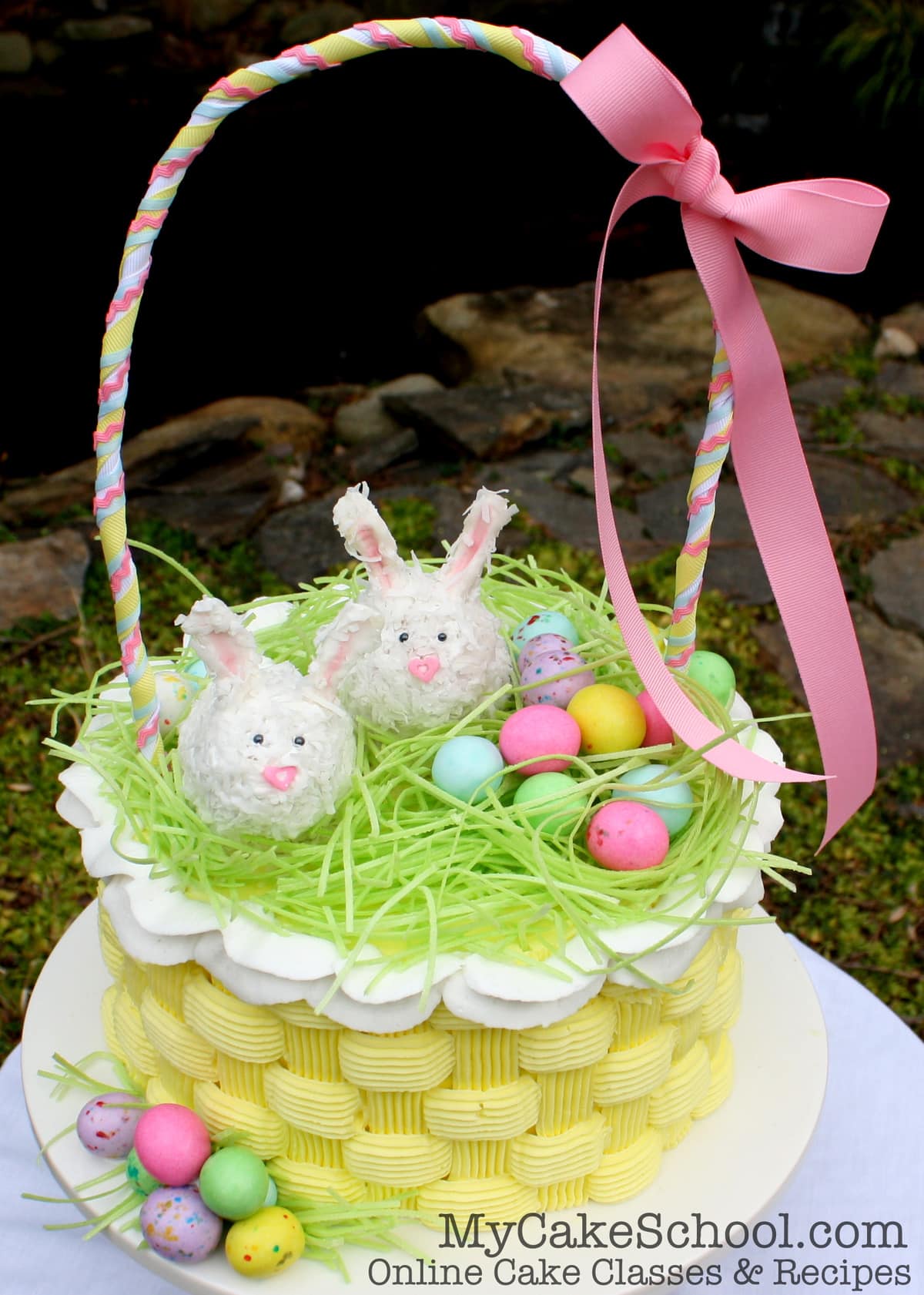 What long ears you have! This Sweet Bunny Cake is another fun free video tutorial from our blog! It's a double barrel cake frosted in buttercream!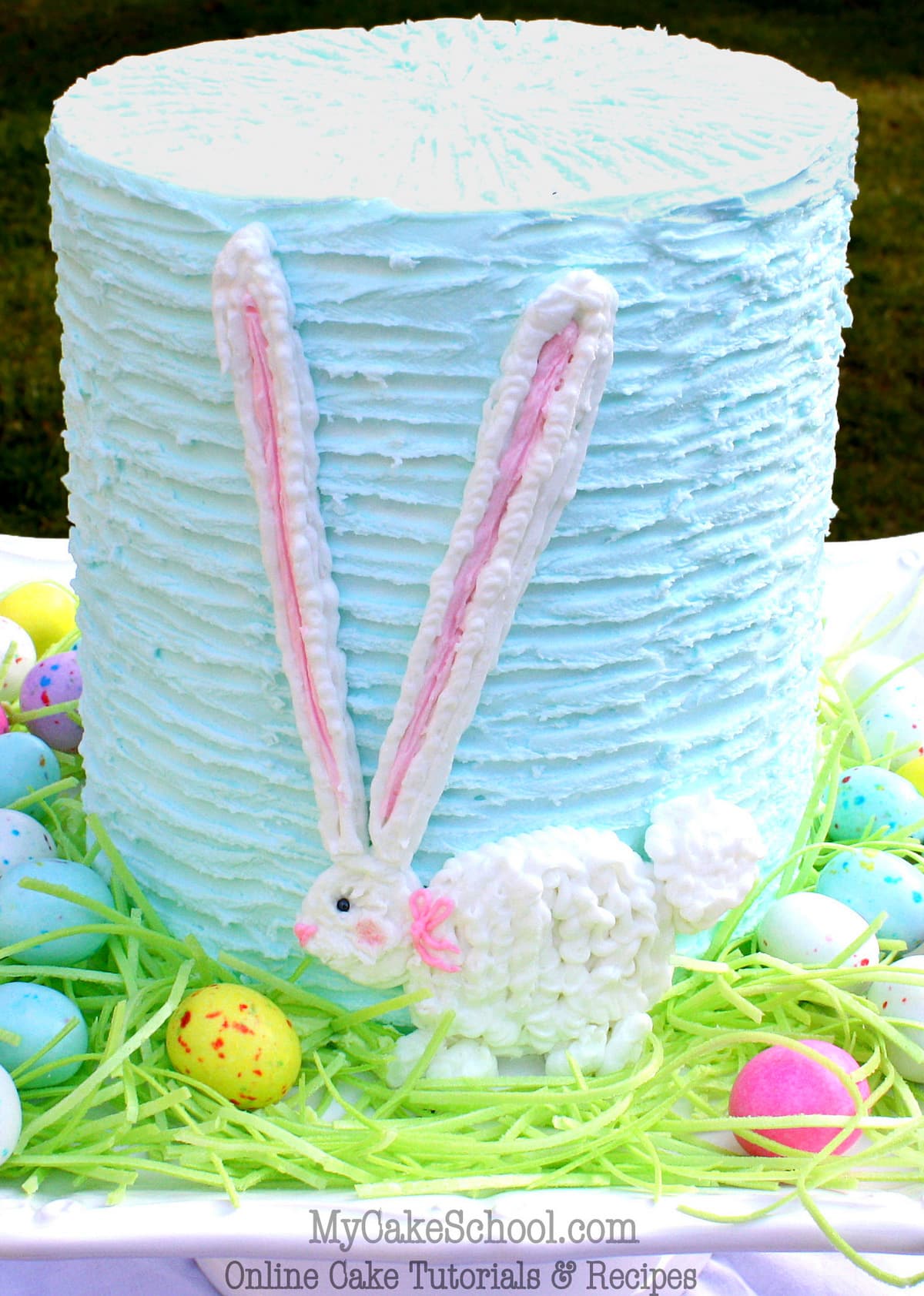 Another favorite free step by step cake tutorial from the blog is the precious 3D Bunny Cake! This design is surprisingly simple and we'll show you how to create everything from the sweet little face to the buttercream-frosted body!
This sweet bunny cake would make the perfect centerpiece for Easter or spring gatherings! It's also a great basic cake construction for all sorts of simple animals!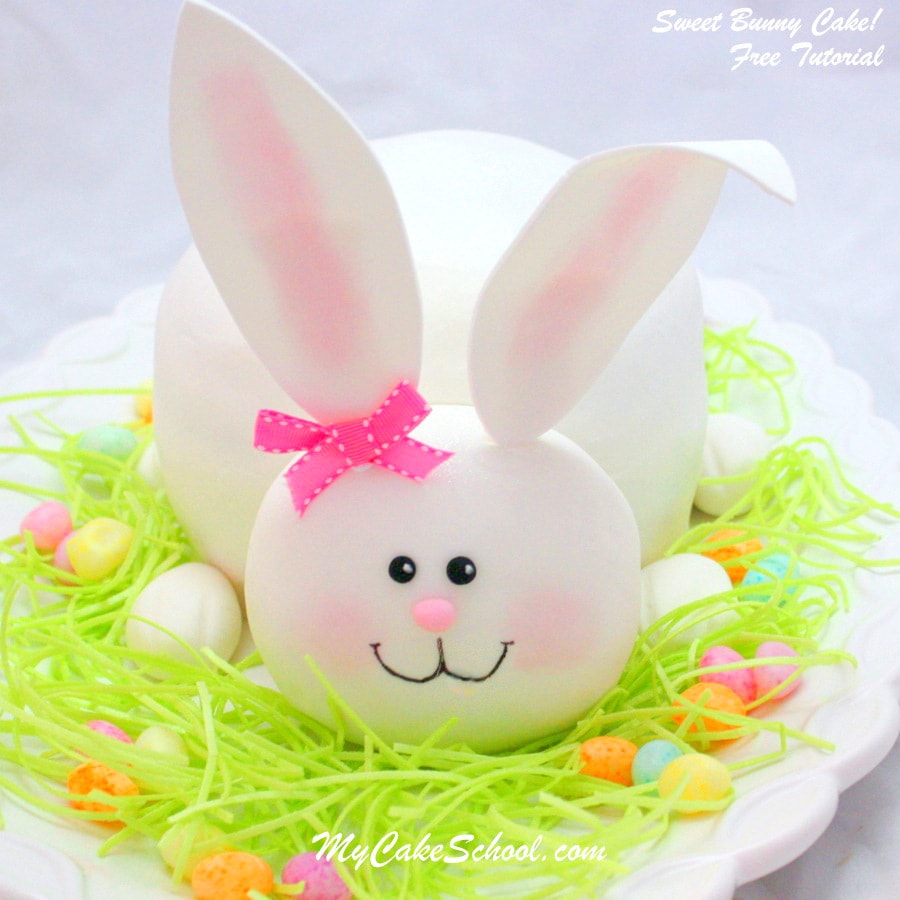 Awwww….I had to include this SWEET Baby Booties Cake Topper Tutorial! This is a great free tutorial from our blog for how to create baby booties for your cakes…in this case, with an adorable bunny design! I love these for springtime baby showers!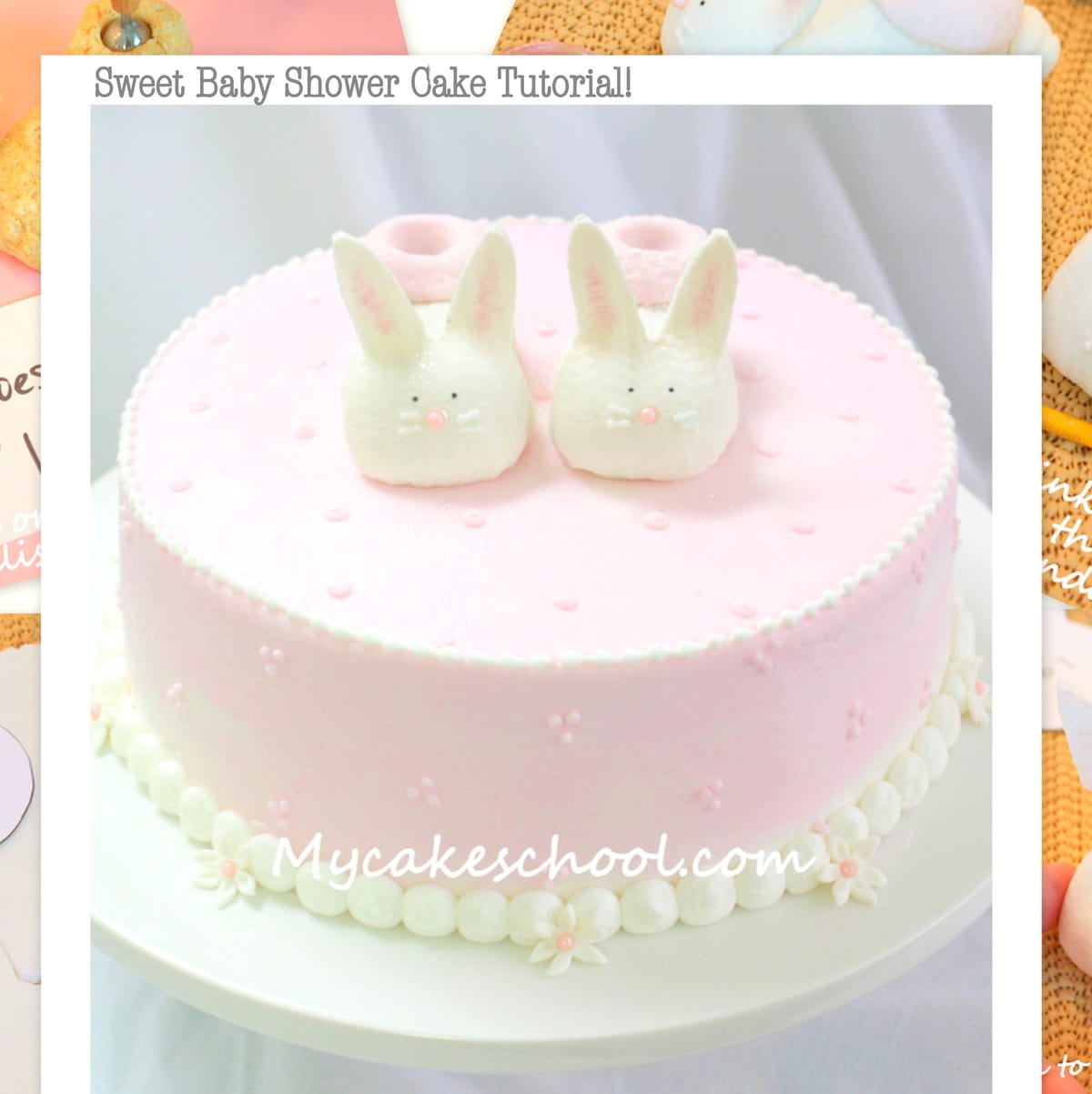 Carrot Cake is perfect for this time of year (or for any time of year, really!) It's my FAVORITE cake, and this homemade carrot cake is one of our most pinned and most complimented cakes!
It has sooo much goodness in every slice, including shredded carrots, crushed pineapple, coconut, spices, and pecans! Oh and of course, cream cheese frosting!! If you've been searching for the BEST carrot cake recipe, this is the one! We hope that you enjoy it as much as we do!
This Lemon Coconut Cake consists of moist lemon coconut cake layers, lemon curd, and whipped coconut cream cheese frosting! So light, luscious, and perfect for spring!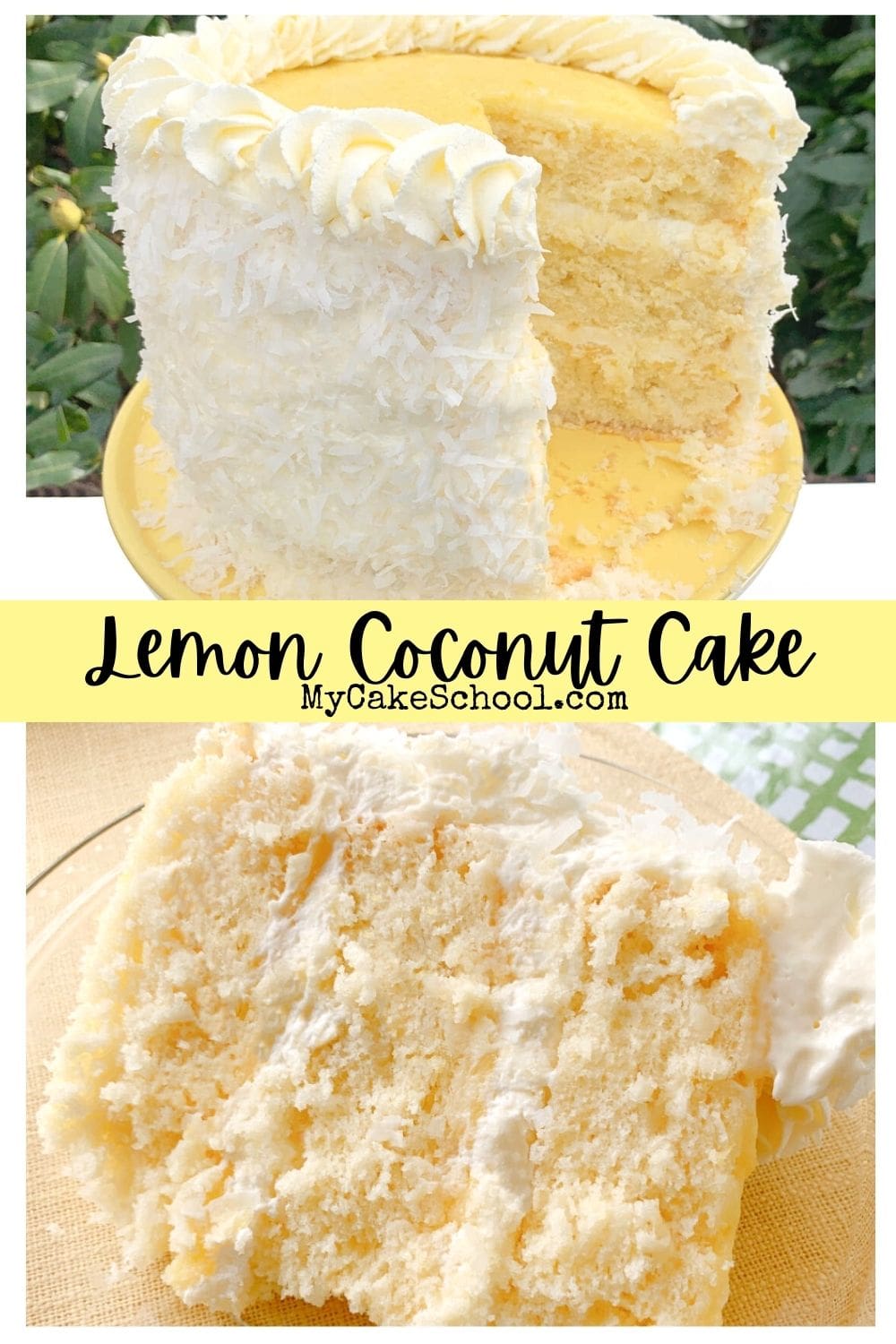 You cannot go wrong with this amazing Lemon Velvet Cake! This scratch Lemon Cake recipe is named for it's velvety soft texture. So good! Ours is filled with lemon curd and whipped cream, and frosted with lemon buttercream.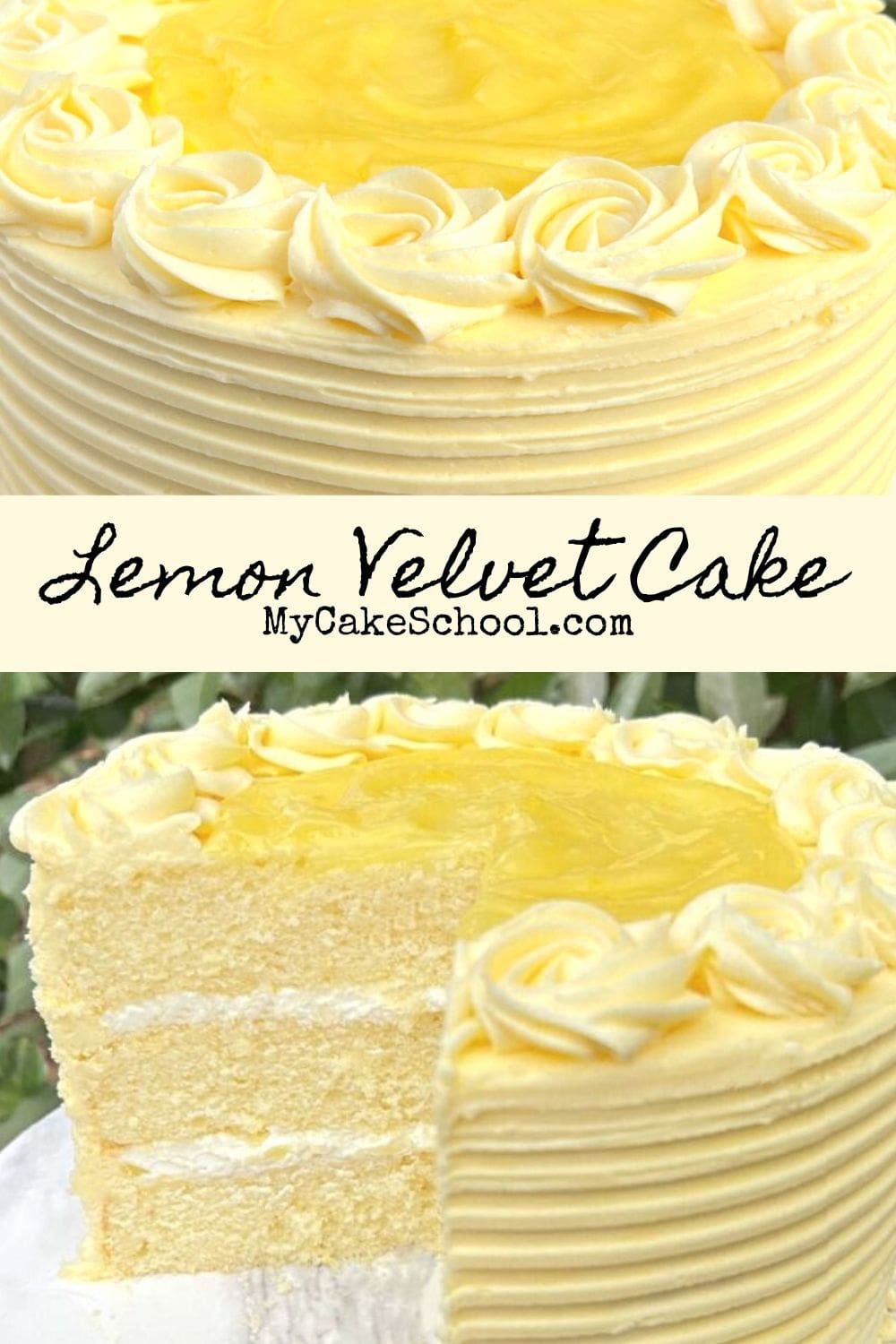 I love easy Easter Cake designs! This is a great one for all skill levels and something that kids would enjoy decorating also! Find this adorable Cadbury Mini Eggs Layer Cake recipe on The Gunny Sack!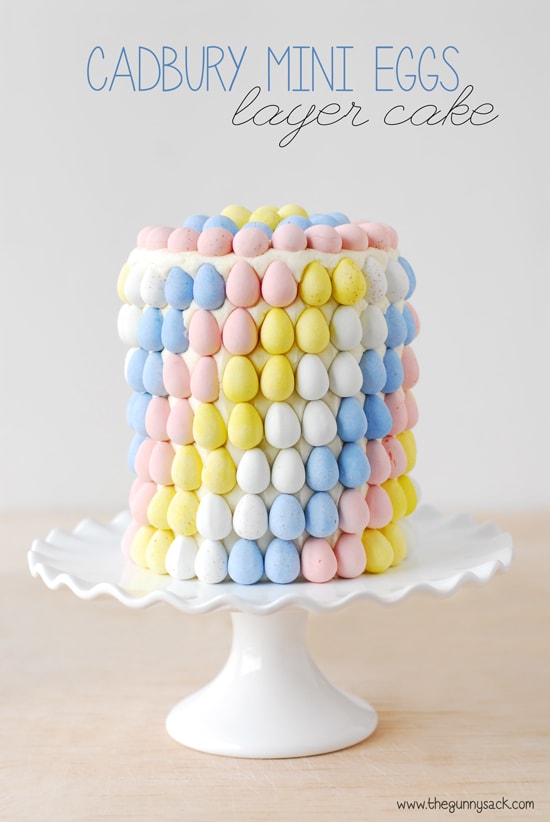 I just LOVE the combination of lemon & coconut for spring & Easter get-togethers! Don't miss this delicious homemade Coconut Lemon Cake!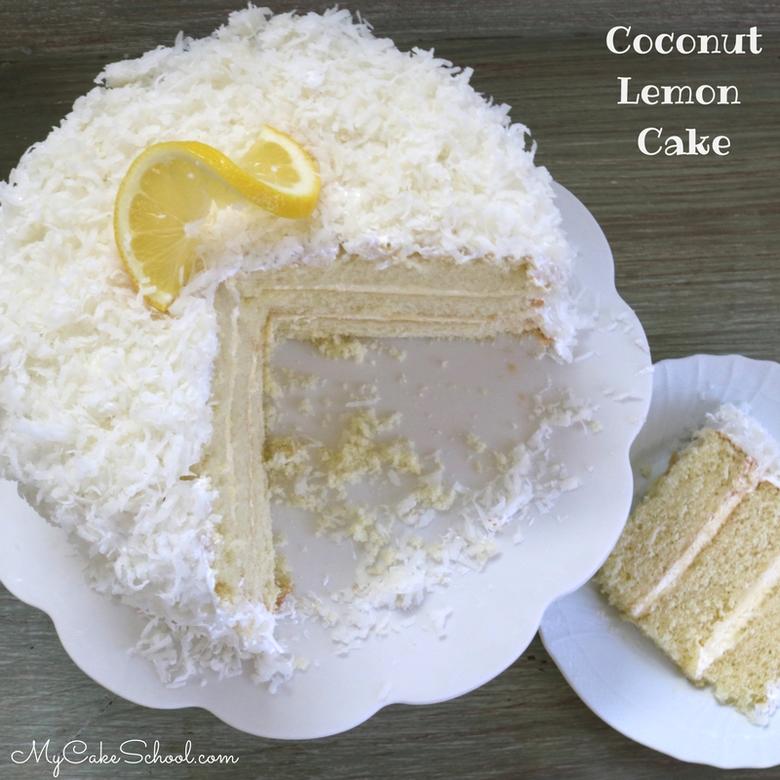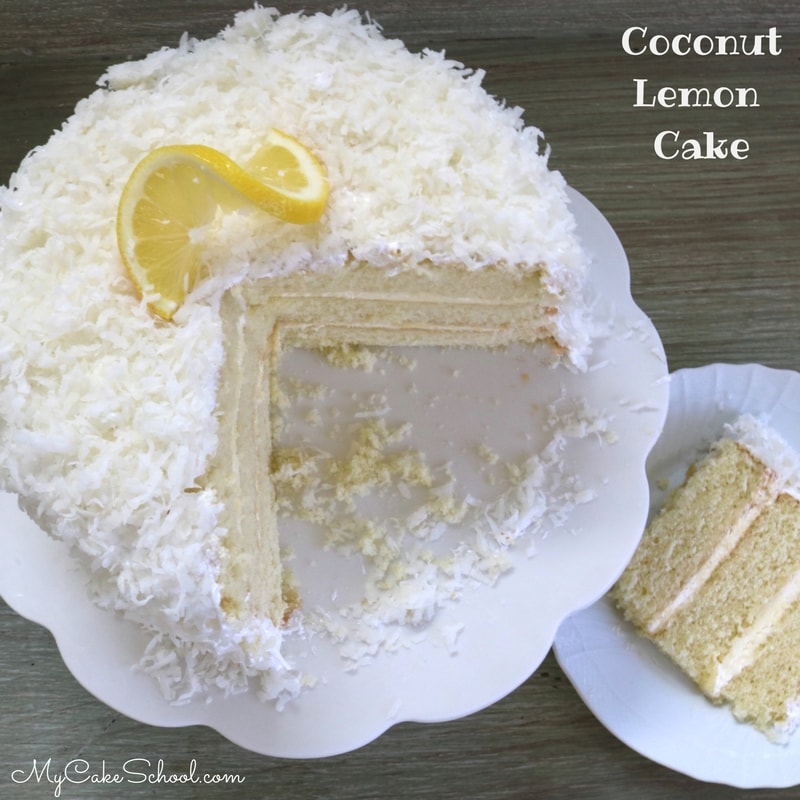 Ooooohhhh so sweet! These adorable Bunny Ear Cupcakes from The Preppy Kitchen serve up a heaping dose of cuteness!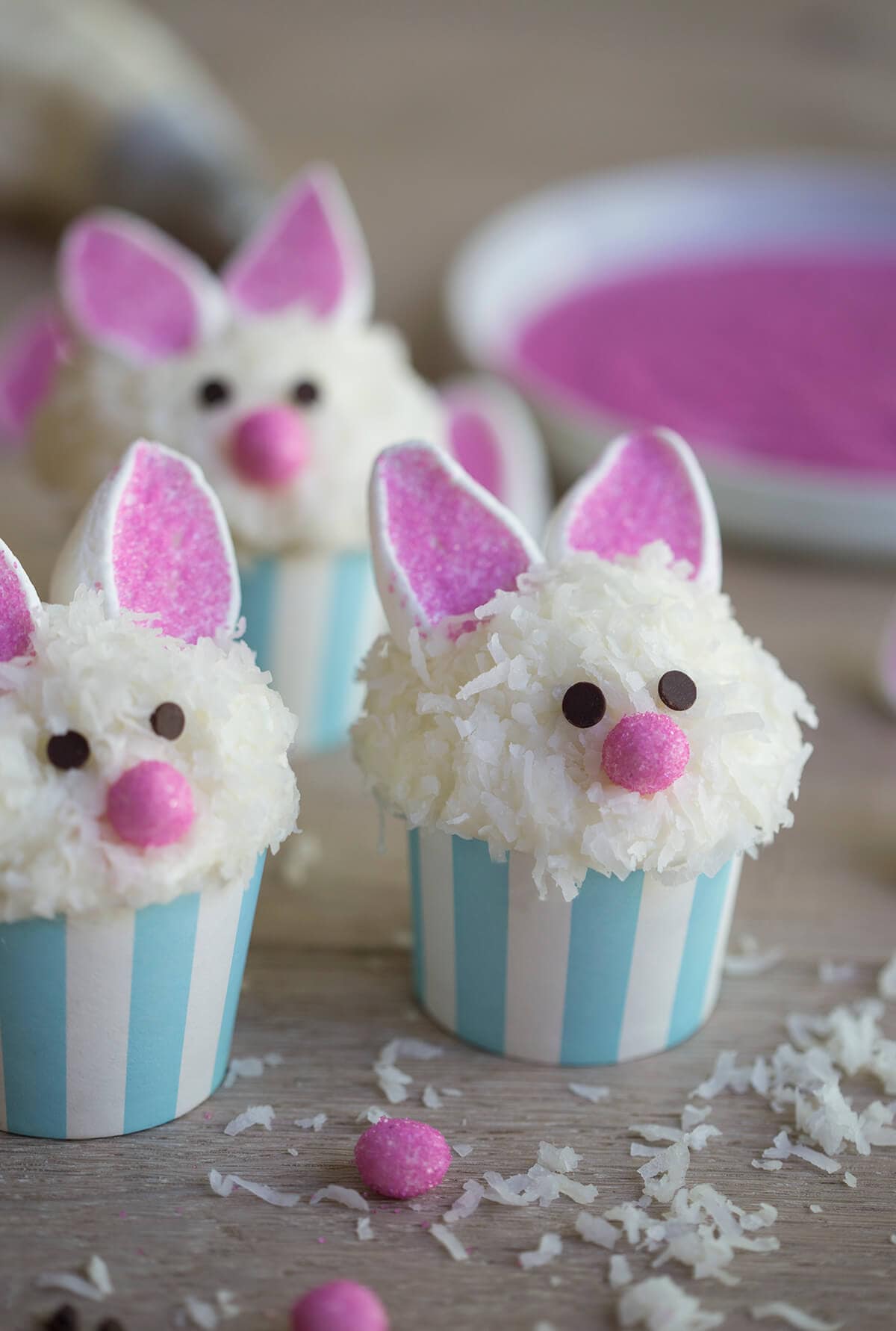 These Easter Basket Cupcakes by Baking a Moment are little works of art!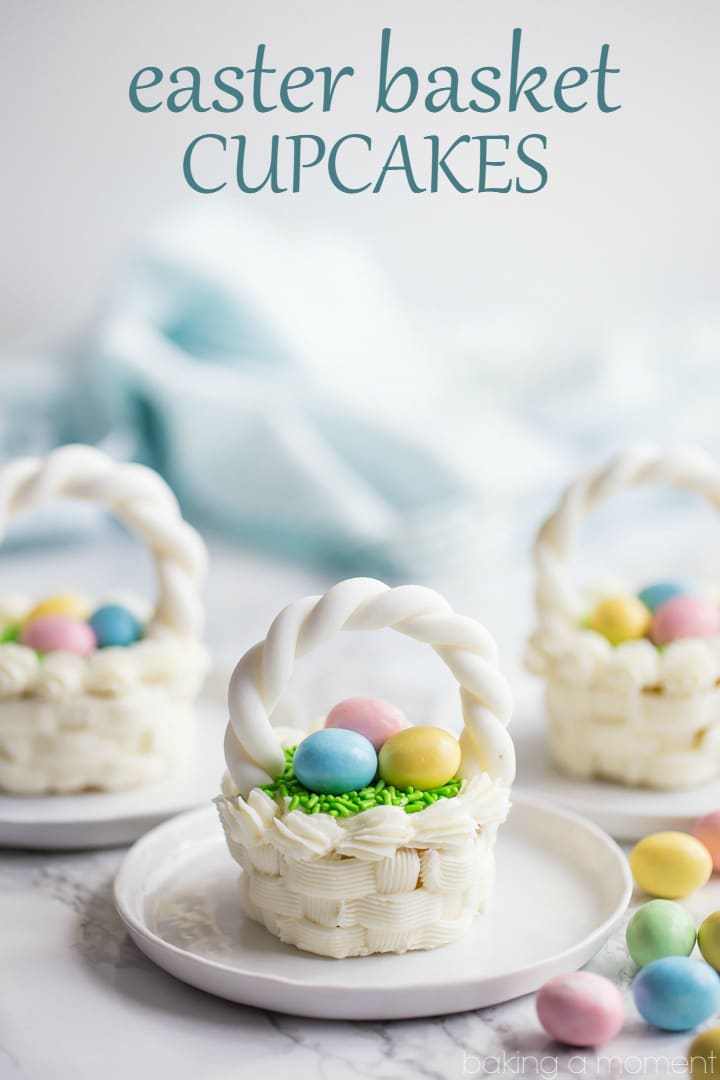 Love this simple Sweet Bunny Cake from Wilton!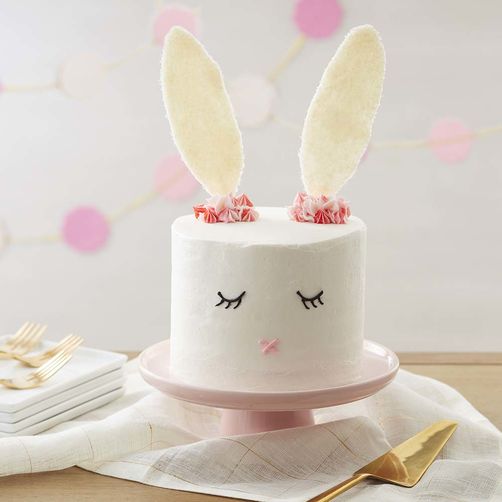 Love Cadbury eggs? (I certainly do!!) This Cadbury Creme Egg Cake by Liv for Cake is so creative and fun for Easter!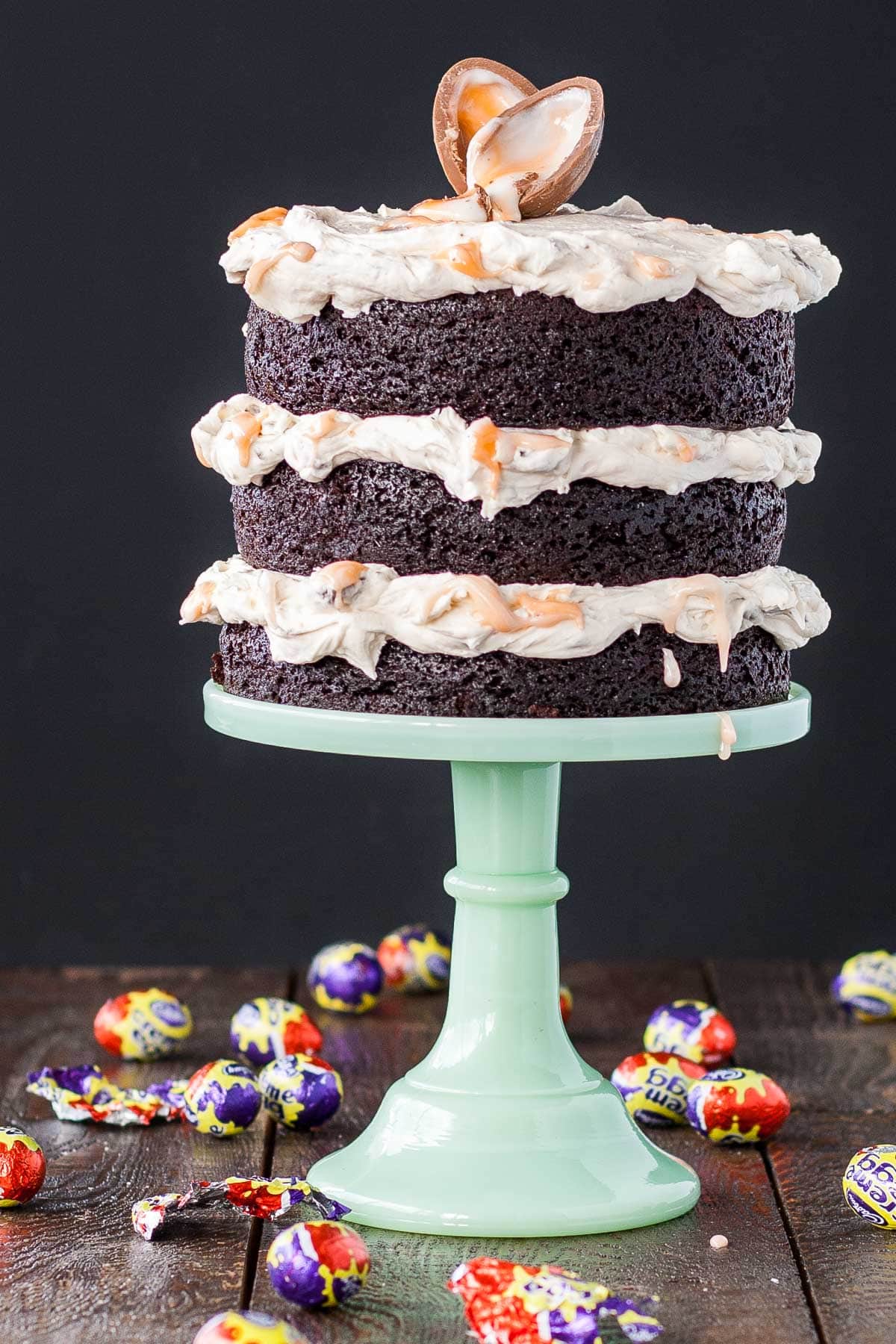 Need a festive Easter Cake in a hurry? I love how this Chocolate Easter Bunny Cake by The Cake Blog turned out!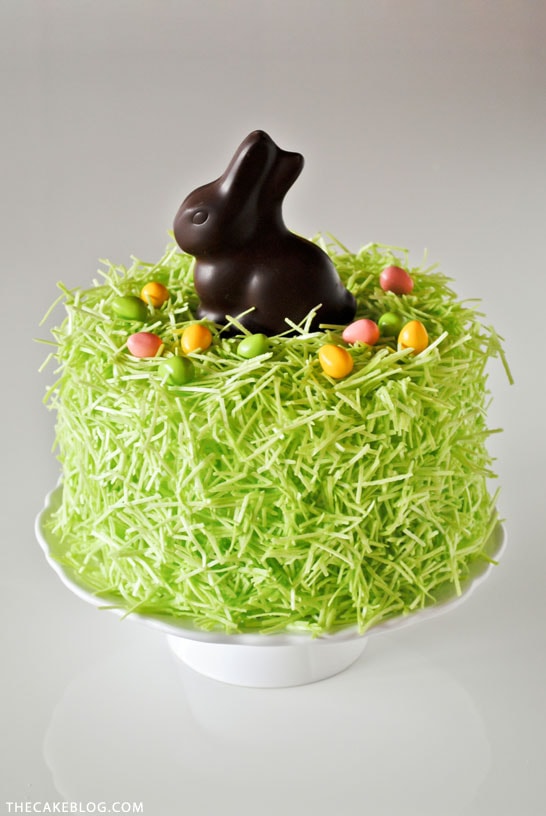 Kids will LOVE these Cute and easy "Bunny Butt" Cupcakes by Spend with Pennies!!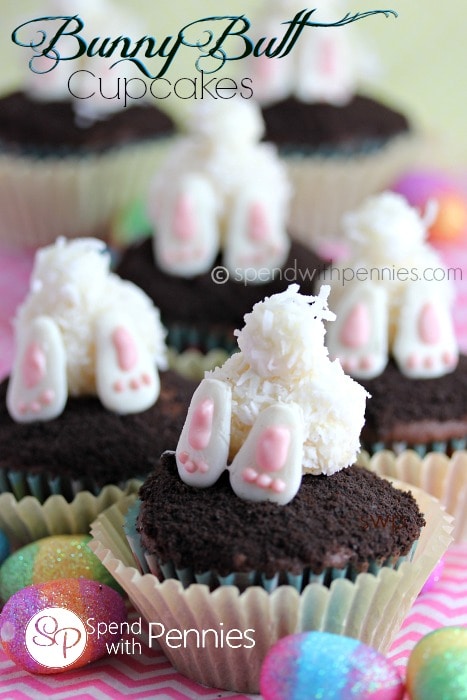 How CUTE are these "Carrot" strawberry cake toppers by Sugar & Soul?! This is such a smart idea and perfect for Easter!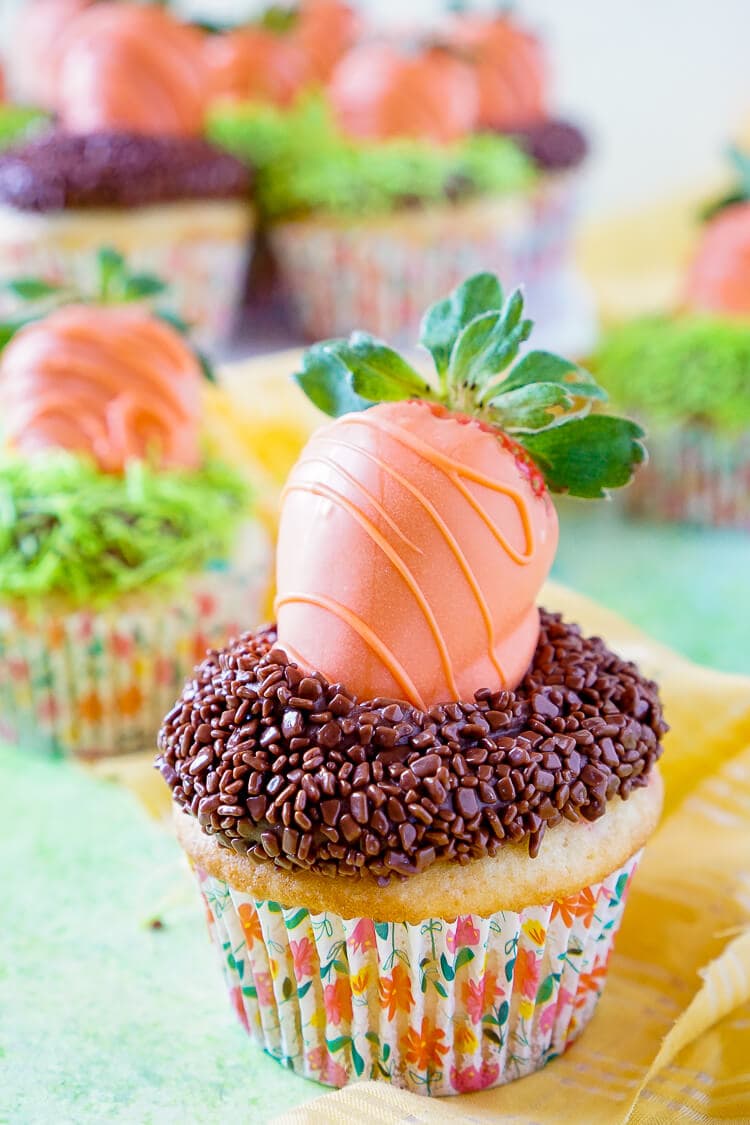 What is it about Easter and Springtime that puts me in the mood for Lemony desserts? Our FAVORITE Lemon Cake from Scratch can be found here! Super moist and flavorful, and sure to be a hit with your family and friends! Lemon Cake From Scratch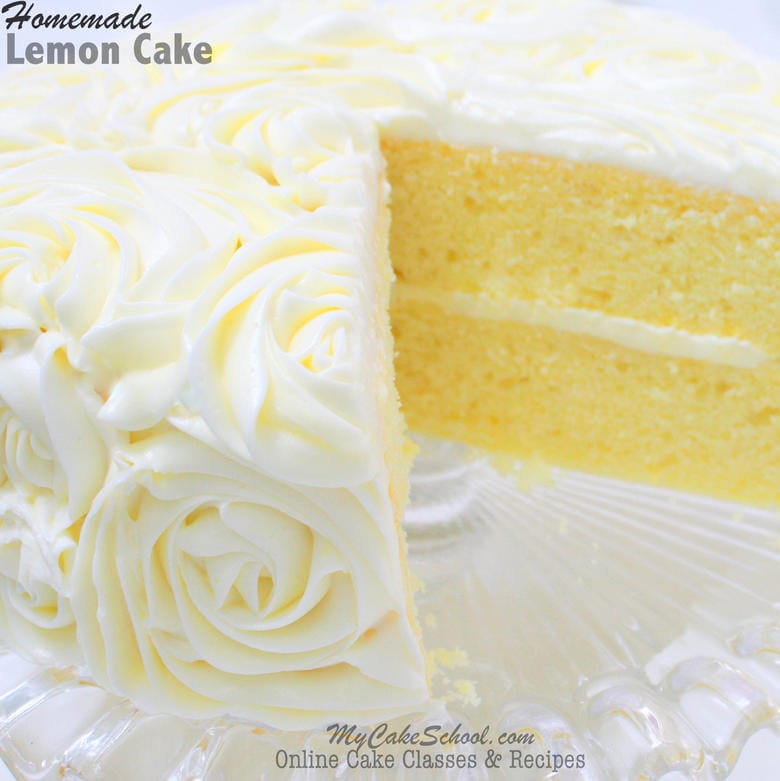 We hope that you've enjoyed these Easter and springtime cake and cupcake ideas! Whether you are new to cake decorating or have been decorating for years, there is something for everyone!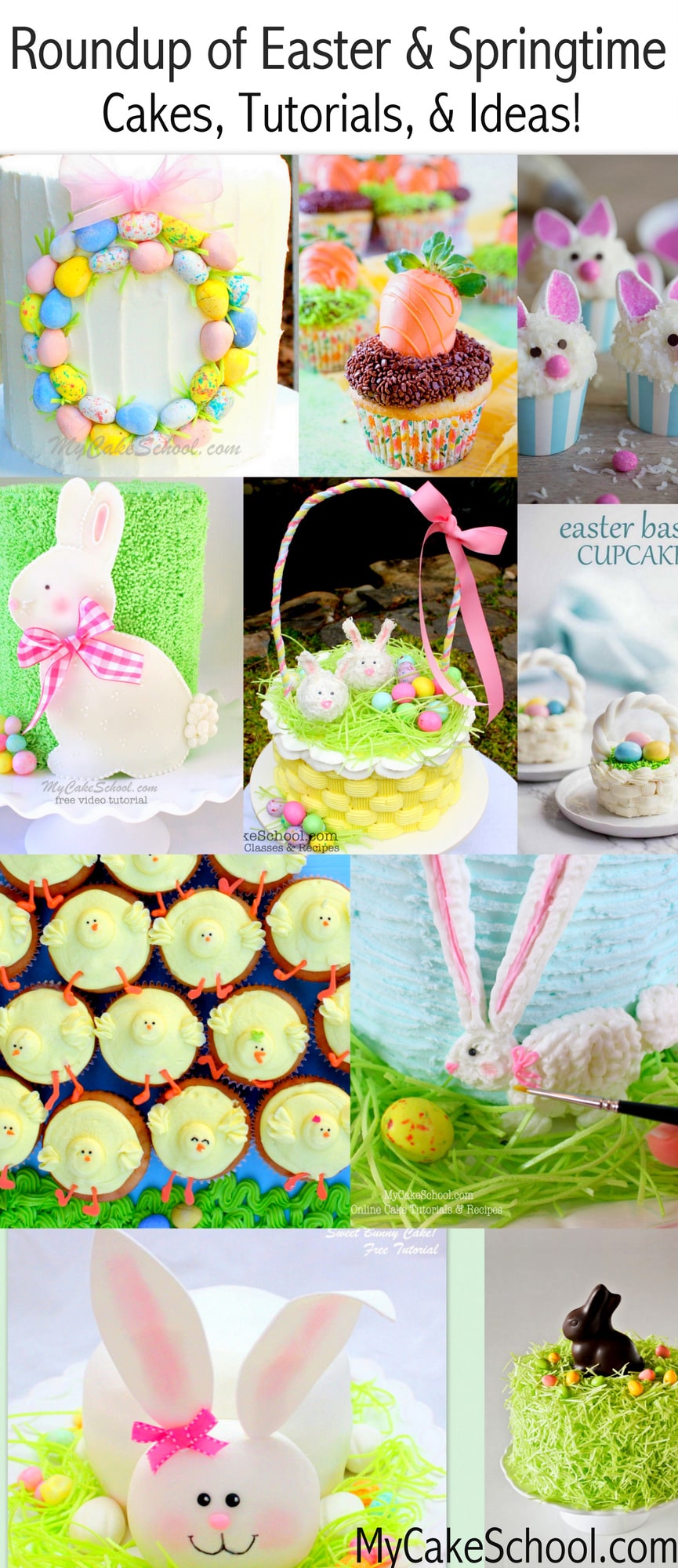 Did you know that we have a section of free video tutorials for those who are not members of My Cake School? Find it here!: My Cake School Free Video Tutorials!
Or, for information on joining MyCakeSchool.com to access hundreds of cake video tutorials, click HERE! We'd love to have you!