We are excited to share our latest video tutorial for creating an elegant Watercolor Buttercream Cake.
This surprisingly simple technique is as beautiful as it is versatile.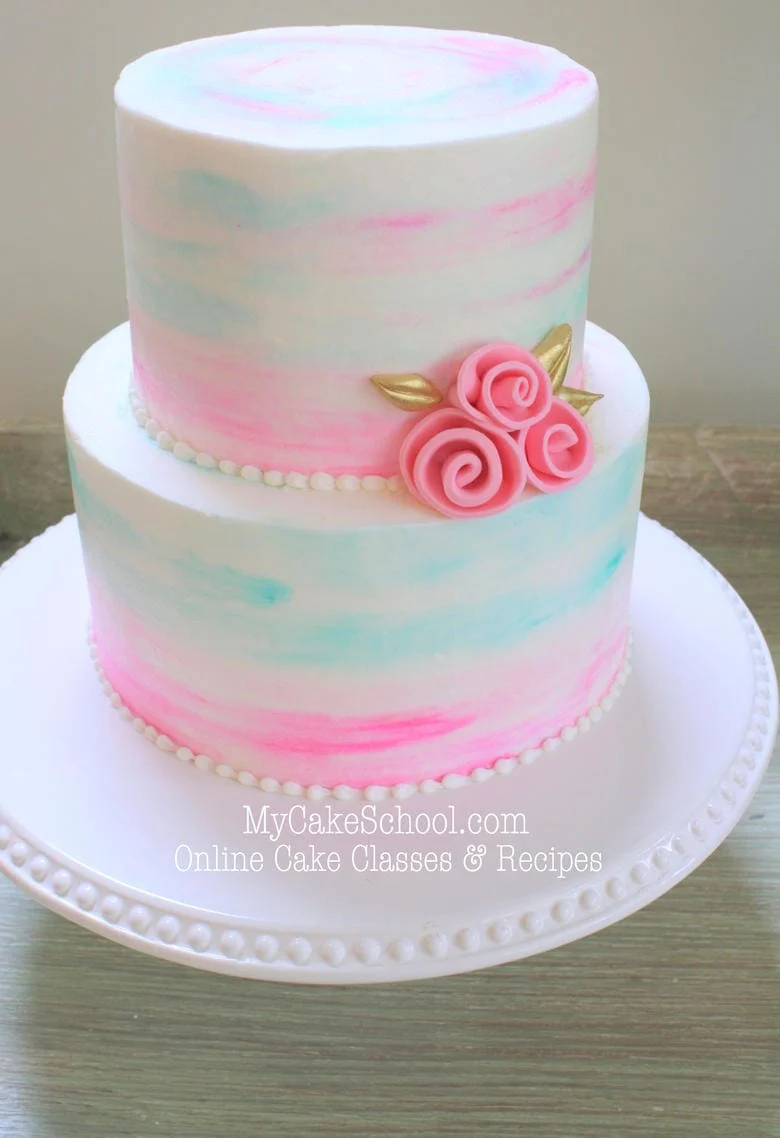 I love colorful cakes and the style of these watercolor buttercream designs often involves subtle variations in shades as one color meets another.
This light and unique buttercream effect has the look of a watercolor painting. This lovely technique looks like it would be difficult to create, but it is actually quite simple. No actual painting is involved ;0)
We hope that you enjoy it!
Materials:
In this tutorial we've frosted a 8 inch and 6 inch tier with our Fluffy Vanilla Buttercream recipe our Classic Vanilla Buttercream is a great choice as well.
Any recipe will do although I recommend a crusting buttercream if you plan to use the Viva Paper Towel Method of Smoothing.
Each tier rests on its own cardboard cake circle, and 4 bubble tea straws were used beneath the top tier for support.
Buttercream
Coloring Gels: We used Americolor Deep Pink & Teal.
Fondant (we kneaded tylose into ours) for ribbon roses
Gold Luster Dust- we used Rolkem Super Gold edible dust
Wilton tip 3 for bead border
Vodka (or lemon extract)
Miscellaneous: Small offset spatula, Sharp knife or xacto, shortening for prepping surface for fondant, plate/palette for mixing colors & frosting, and a turntable.
*If you are not a fan of smooth buttercream, this would also be very nice with one of the textured buttercream methods in our buttercream section!
More Buttercream Techniques
We have so many favorite buttercream techniques! Here are just a few of our favorite tutorials:
Buttercream Palette Knife Painting
Elegant Loopy Buttercream Piping