Lemon Cake- A Doctored Cake Mix Recipe
If you've been searching for the BEST recipe for Lemon Cake from a doctored cake mix, we are happy to say that this is it!
This lemon cake has a lovely soft texture, is ultra moist, has fantastic lemon flavor, works for cupcakes as well as cake layers, and is sturdy enough to hold up to fondant! What's not to love?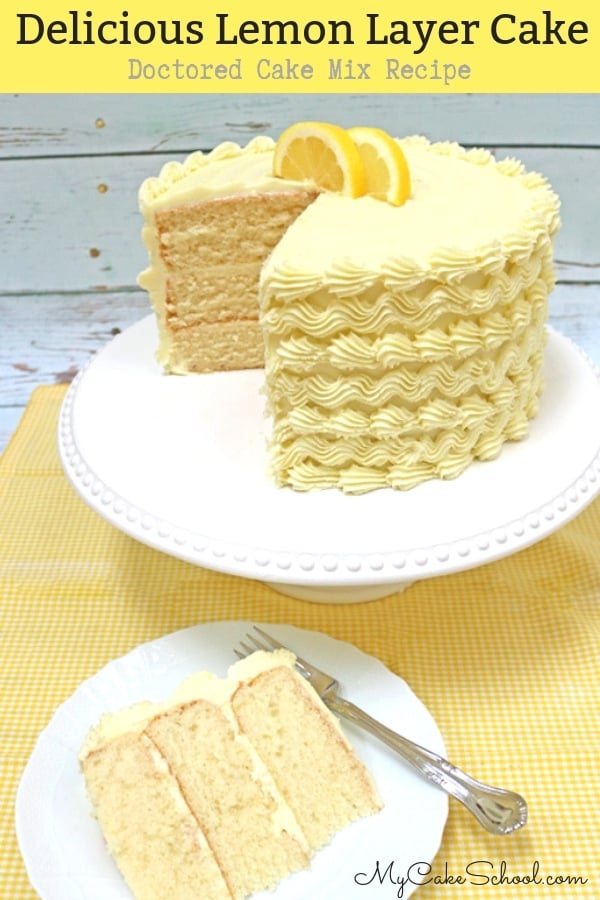 We've frosted this lemon layer cake with a luscious Lemon Buttercream, which is a new recipe for our site also! We've fallen in love with it's lemon flavor and it pipes like a dream.
We're so glad to have this lemon buttercream option for slathering and swirling onto all sorts of cakes from lemon cake to homemade vanilla buttermilk cake to classic yellow, coconut and even strawberry! Lemon buttercream pairs perfectly with so many cake flavors.
However, our Lemon Cream Cheese Buttercream Frosting as well as our homemade Lemon Curd Filling would both be great choices!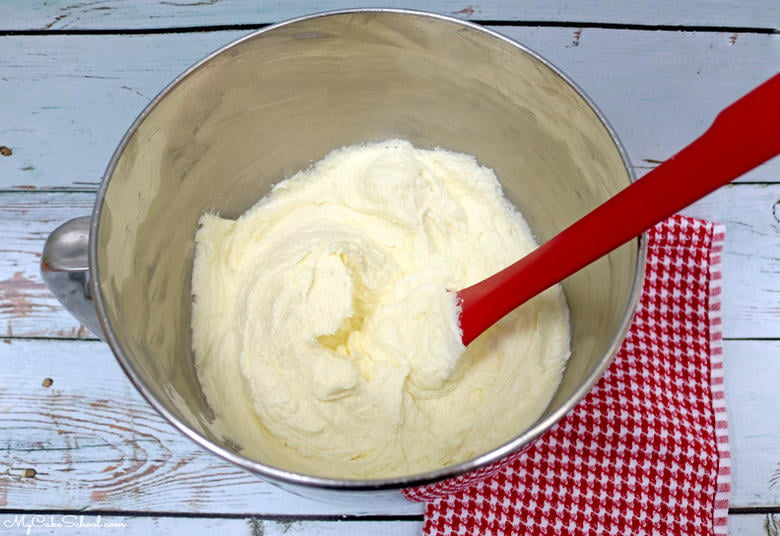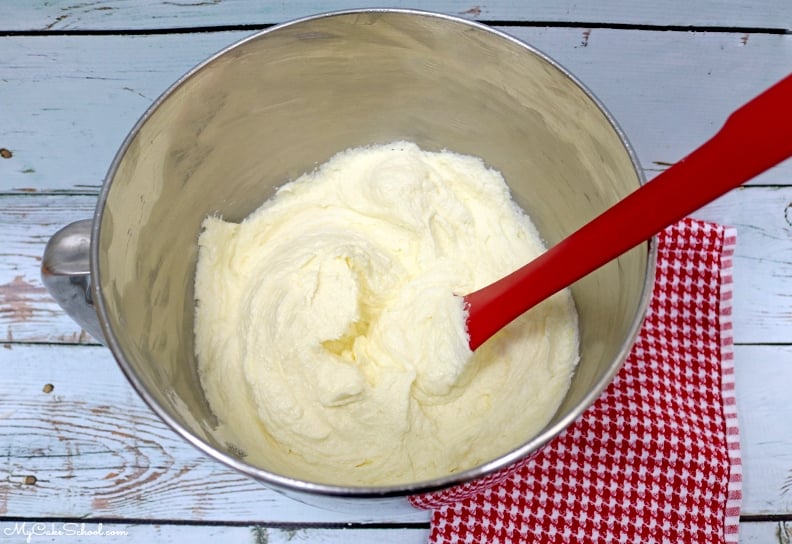 How to Make a Lemon Cake- Doctored Cake Mix Recipe
You can find the full, printable cake recipe further down in this post, but here is a quick rundown of our steps!
First, you'll start with a simple white cake mix (look for recipes that do not contain pudding in the mix as we'll be adding a bit of lemon pudding to this recipe). We used Duncan Hines.
Combine the sifted cake mix with the flour, sugar, and pudding and whisk to blend. *Just 4 tablespoons of pudding is all that we needed to really make a difference in the texture and flavor of this cake.
We tried baking without the lemon pudding, and while it was good, the stand-out favorite among all of our family taste-testers was the version that contained pudding. The texture is more velvety and the lemony flavor is really nice. We also tried using Lemon Cake Mix instead of White, but didn't like the flavor as much.
Add the remaining ingredients, including the eggs, water, sour cream, extracts, and lemon zest. The addition of pudding, sour cream, and flour give the cake a from-scratch feel, as it is a bit denser than a straight from the box cake mix cake...but I wouldn't describe this as a dense cake. It is light, has a soft texture, and did I mention an amazing lemon flavor? SO good!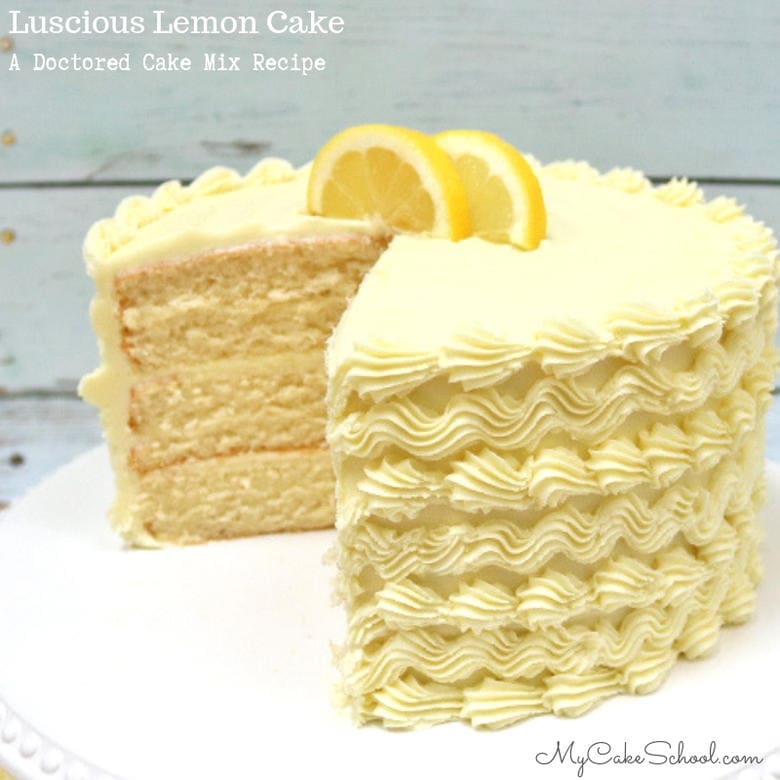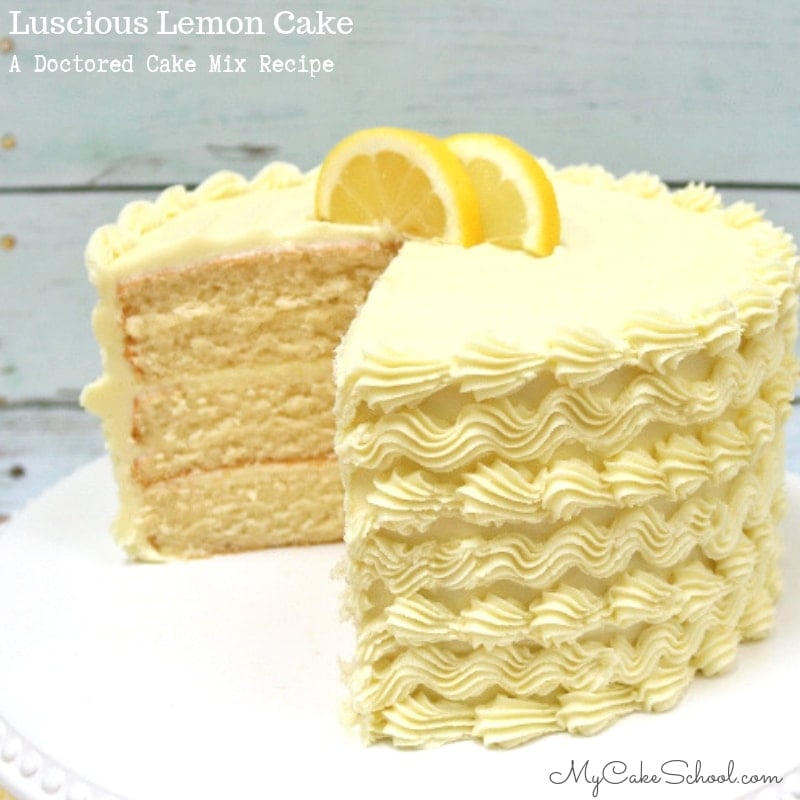 This recipe makes about 7 ½ cups of batter which was just the right amount to divide between three 8 inch layers. I love cake recipes that have enough batter for three layers so that you can have an additional layer of filling! Mmmmm....bring on the lemon buttercream!
Looking for a Lemon Scratch Recipe Also?
I should also mention that while we LOVE this doctored Lemon Cake Mix recipe, we have a favorite Scratch Lemon Cake Recipe as well! If you enjoy baking scratch recipes also, this is a great one.
We hope to eventually have a doctored cake mix version and scratch version of all of our recipes!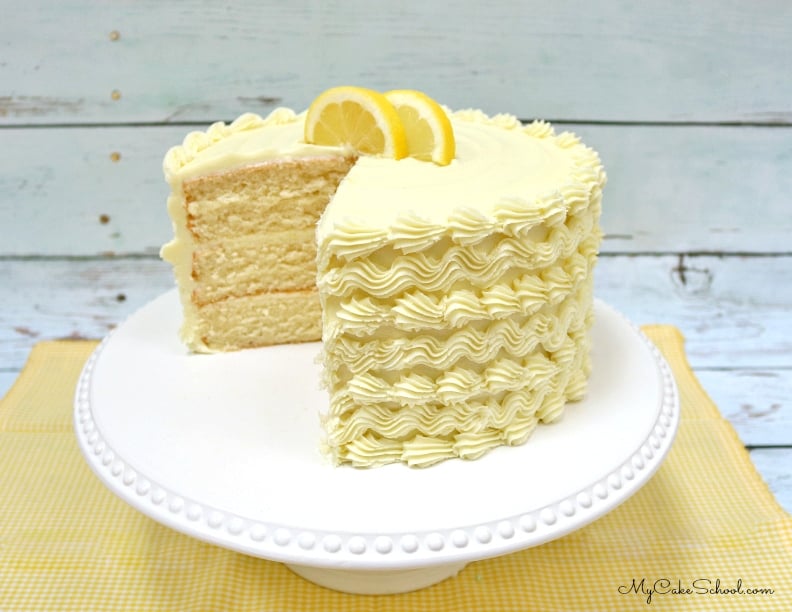 Lemon Cake: A Doctored Cake Mix Recipe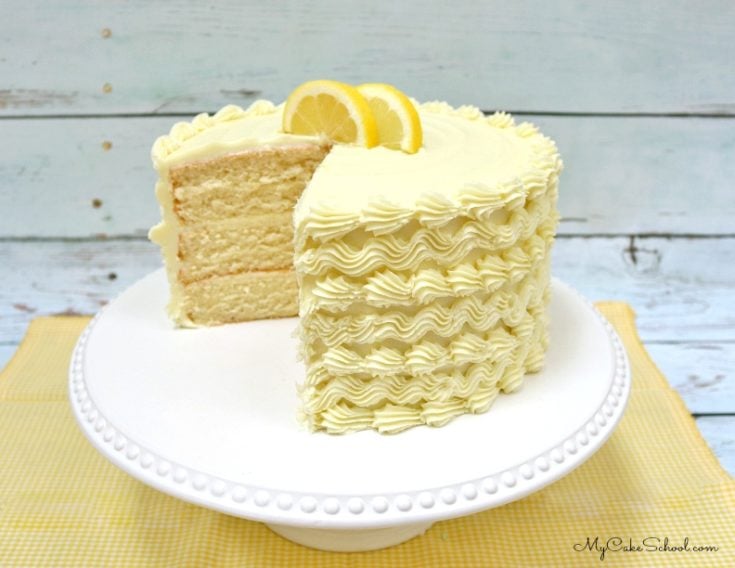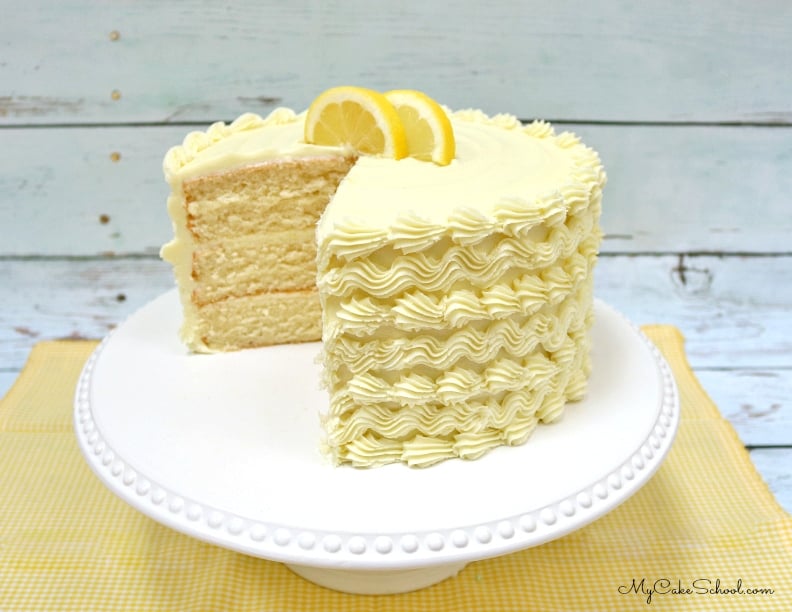 Nobody would guess that this amazing lemon cake recipe all starts with a simple cake mix! So moist and lemony!
Ingredients
1 box (15.25 oz.) white cake mix, sifted (Any mix without pudding in the mix)
1 cup (114g) all purpose flour (plain in the UK)
1 cup (200g) sugar
½ box (4Tablespoons, (48g) instant lemon pudding (we used Jell-O brand) Do not make pudding, use the dry mix.
3 large eggs
1 ⅓ cups (322g) water
1 cup (242g) sour cream (we use full fat sour cream)
1 Tablespoon (12g) lemon extract
½ teaspoon (2g) vanilla extract
zest of one lemon
Instructions
Preheat the oven to 350 degrees. Grease and flour three 8x2 inch round cake pans.
In the bowl of your mixer, add the dry ingredients and whisk at least 30 seconds to blend.
Add the remaining ingredients to the bowl and mix on medium speed for 1 minute. Scrape the sides and bottom of the bowl and mix for 1 more minute. If you are using a hand mixer, mix for a bit longer.
Pour into prepared pans and bake at 350 degrees for 25 to 30 minutes. Check at 25 minutes, if a toothpick inserted into the center comes out clean or with just a few crumbs attached, it is done.
Cool in the pans 5 to 10 minutes then turn out.
Makes 7 ½ cups batter
Works well for cupcakes