Today I'm going to show you how to make adorable Easter chick cupcakes!
This cheerful cupcake design is super cute and very simple to put together. It would be perfect for spring or Easter get togethers, and kids are sure to love them!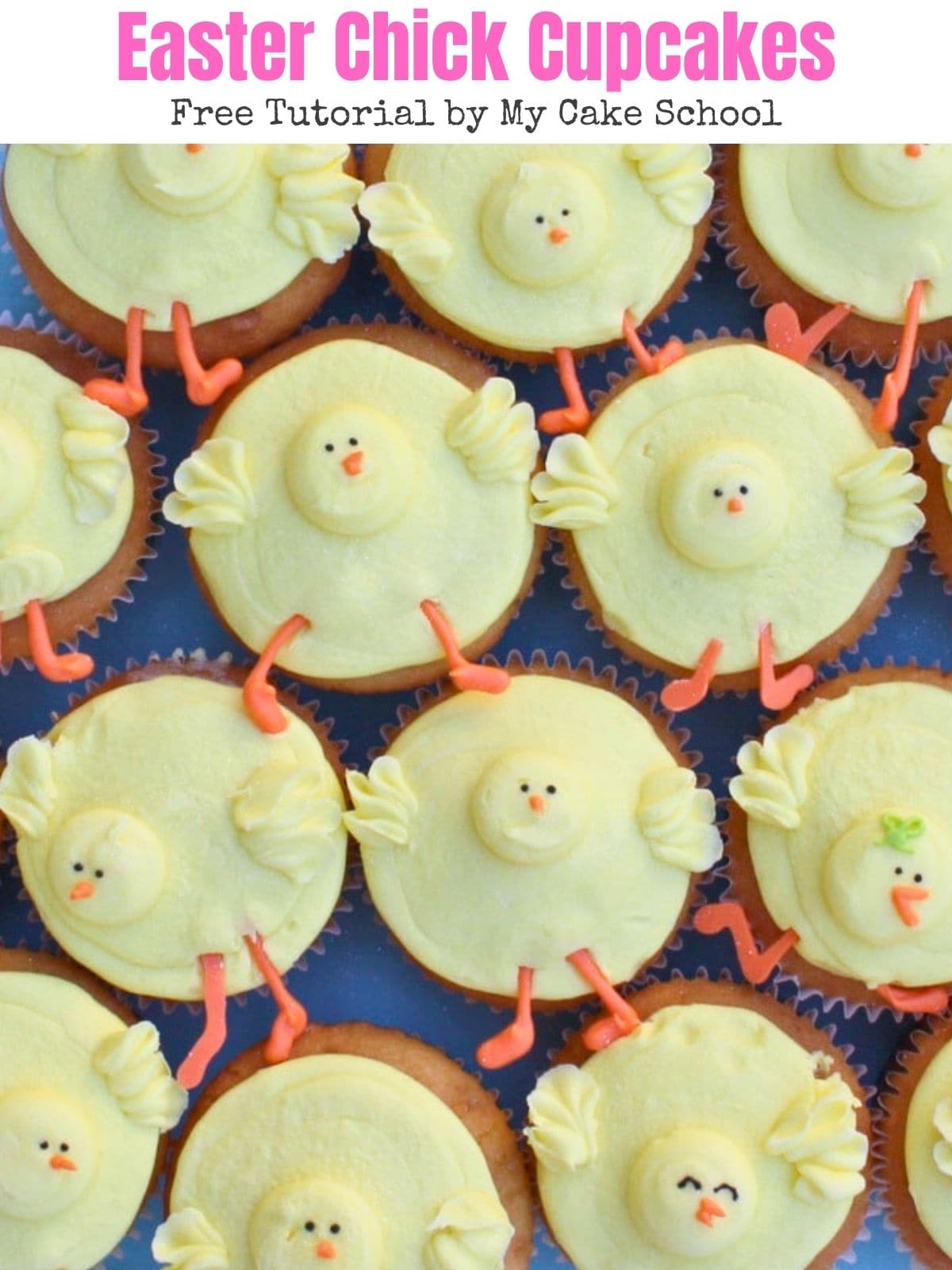 We are making baby chick cupcakes....which are not only adorable, but the display is going to make you smile ;0) --
How to Make Easter Chick Cupcakes
First, I applied a crusting vanilla buttercream tinted with Americolor Lemon Yellow to my cupcakes, using a round Wilton tip 12. Then, after about 5 minutes, I smoothed over them with a Viva paper towel. You can find more details about this smoothing technique here: Viva Paper Towel Method of Smoothing
** You may prefer to give your chicks some texture and skip the smoothing step altogether...I just felt like smoothing! ;0)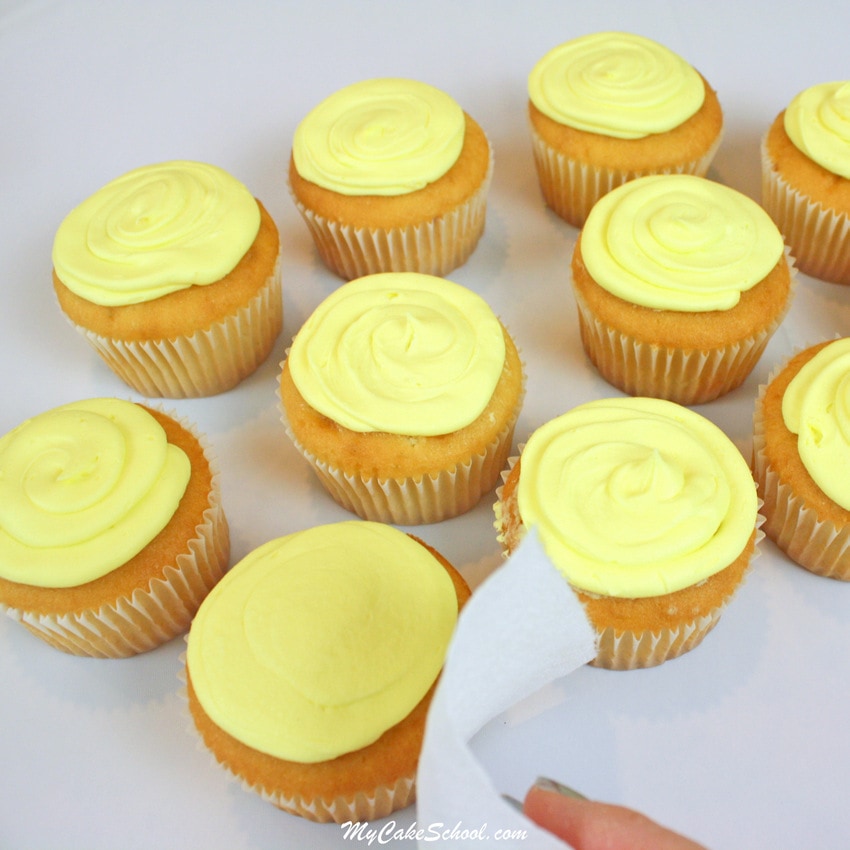 Next I piped on the chickie heads using a Wilton tip 12. I tapped them down a little after they had crusted to smooth the surface.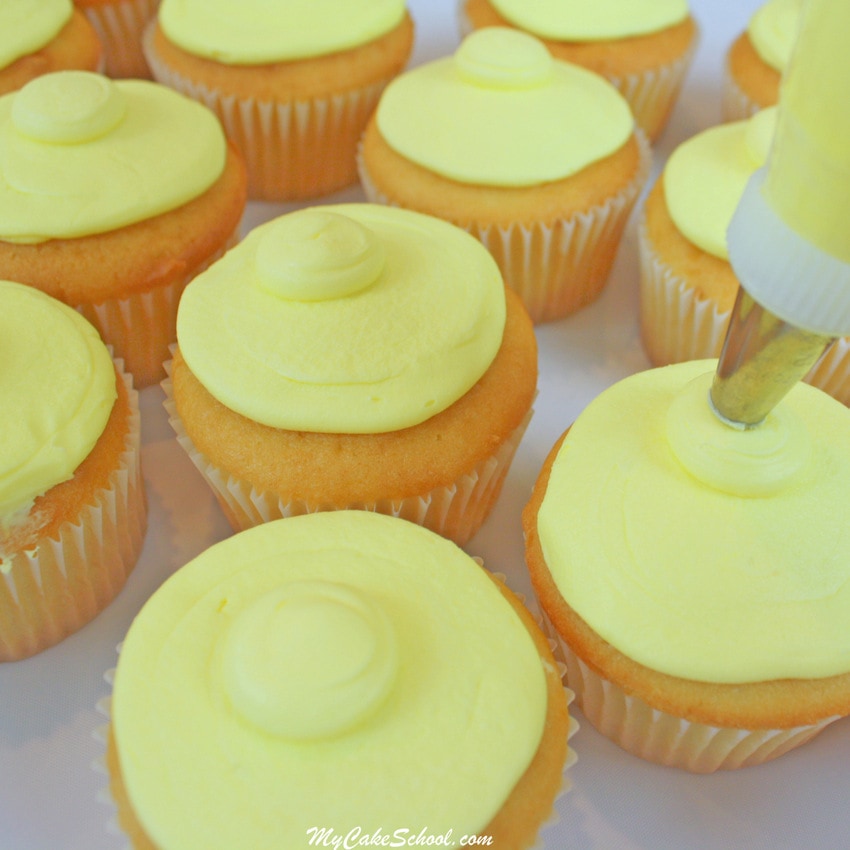 I applied little buttercream eyes and beaks with small round piping tips (Wilton 1 or 2).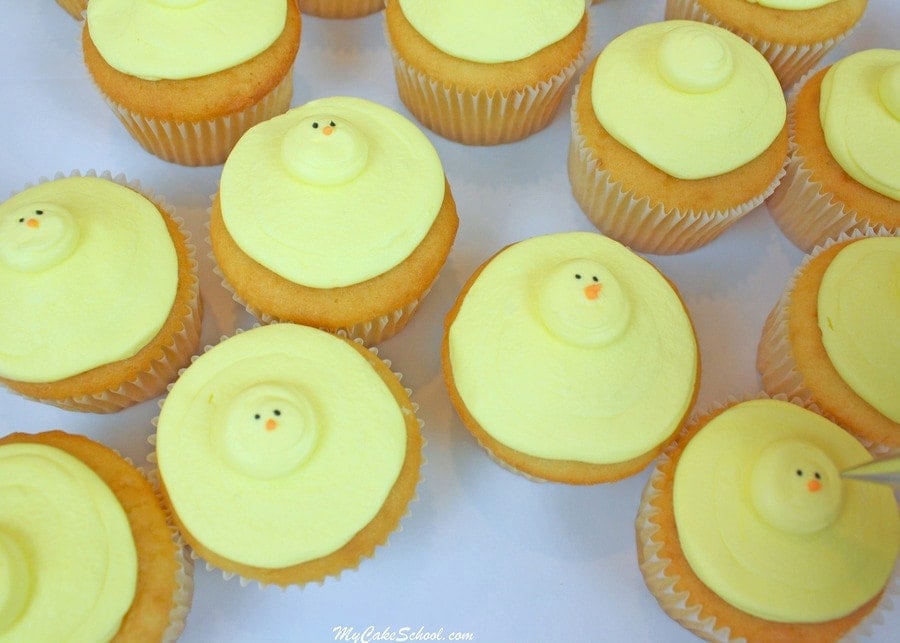 Next, I added wings with a small petal tip (I used a Ateco 101).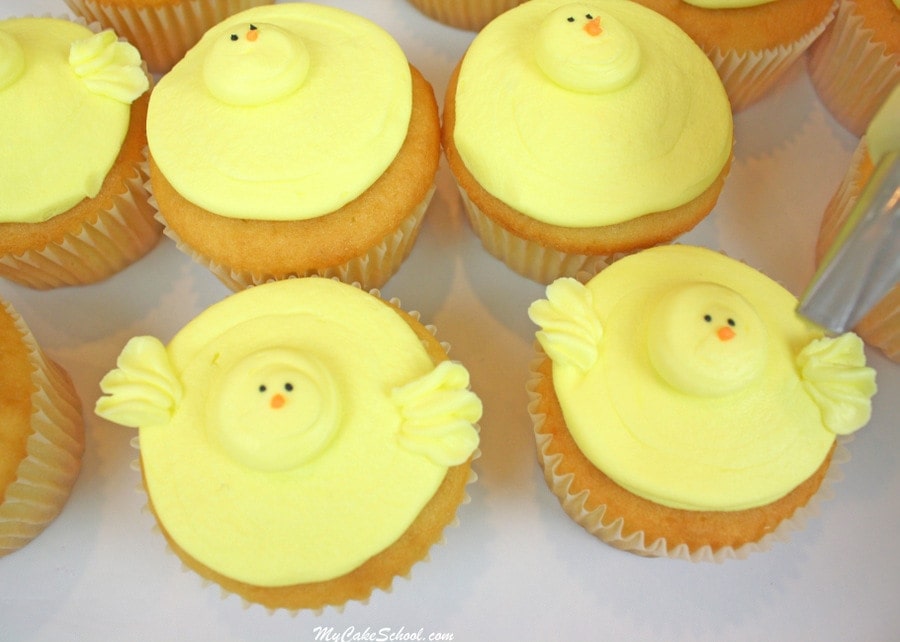 Next, legs! I used a Wilton tip 3 to pipe lots and lots of legs in various positions using melted Wilton orange candy melts.
I piped them onto a waxed paper lined cookie sheet, and froze them for about 5 minutes until firm. The thinner the legs, the more fragile they will be (make extra!) ;0)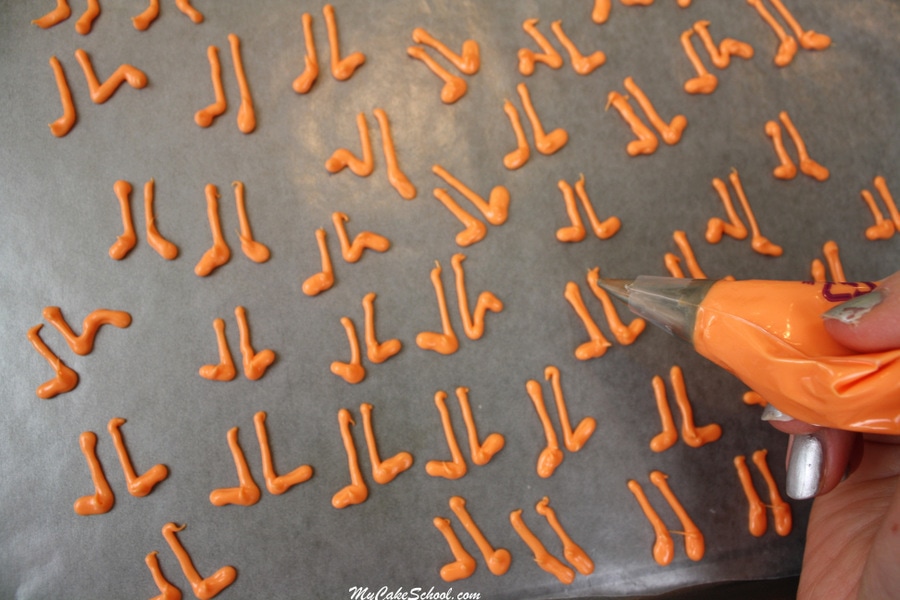 Look at this cuteness! It's best to apply the legs while they are still chilled, so that they will be less fragile. Here is where you see the first glimpse of our design.
I arranged my chicks onto my base in a pyramid formation. (The cupcakes are glued to the board with dots of buttercream so that they won't slide around in transport.)
I piped bows onto some of the chicks with a tip 1, and others have "heart sprinkle" bows ;0) -- Some of the chicks also have little tufts of buttercream on top of their heads from a tiny star tip.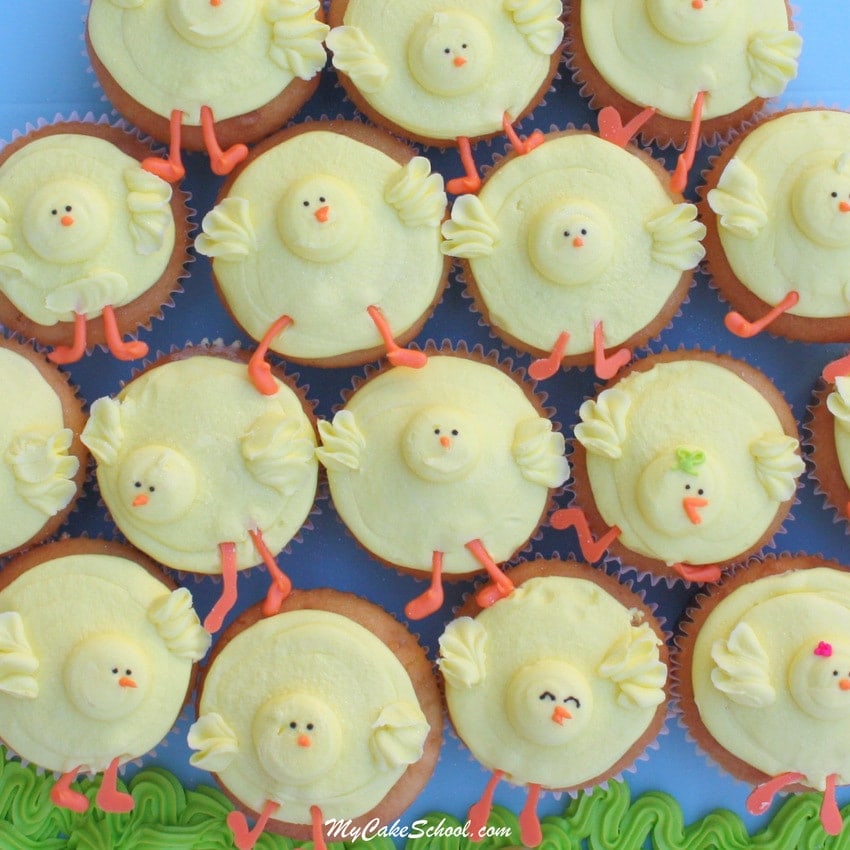 Our top chick has just hatched for an easter egg (fondant) painted with coloring gel mixed with a little vodka. The sign is printed on card stock, and taped to lollipop sticks in back!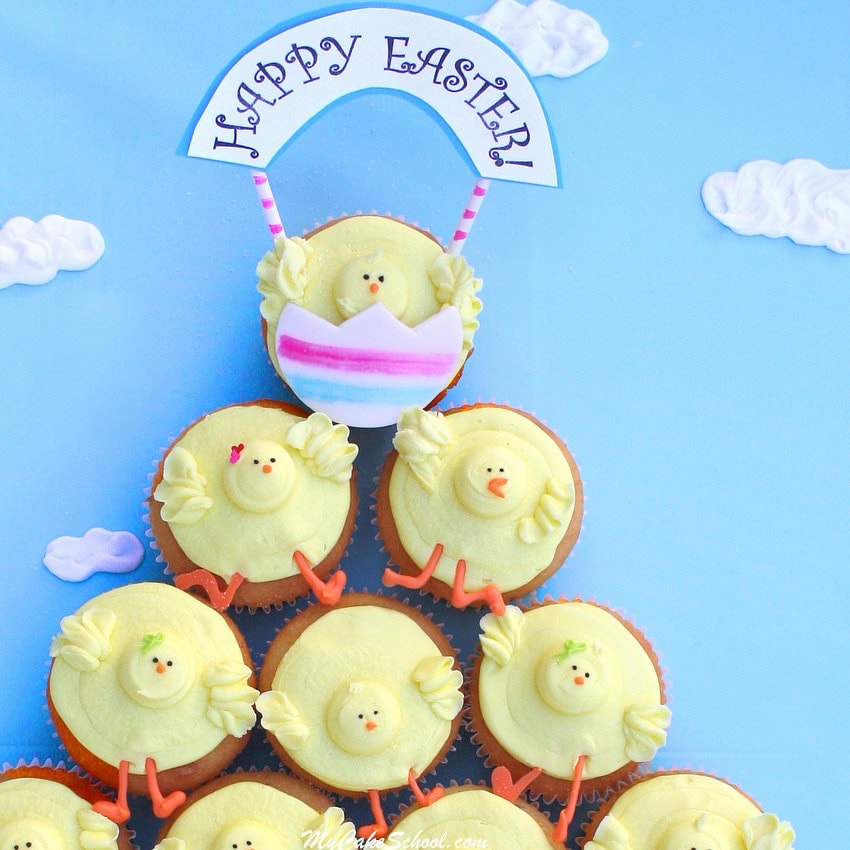 Finally, I added a few clouds of white buttercream to my (blue plastic tablecloth-covered) board, and piped electric green buttercream grass with a Wilton 21 tip. We threw in a few candy eggs too!
That's all there is to it! Our chickies have made the most fabulous pyramid, and are wishing you a Happy Easter!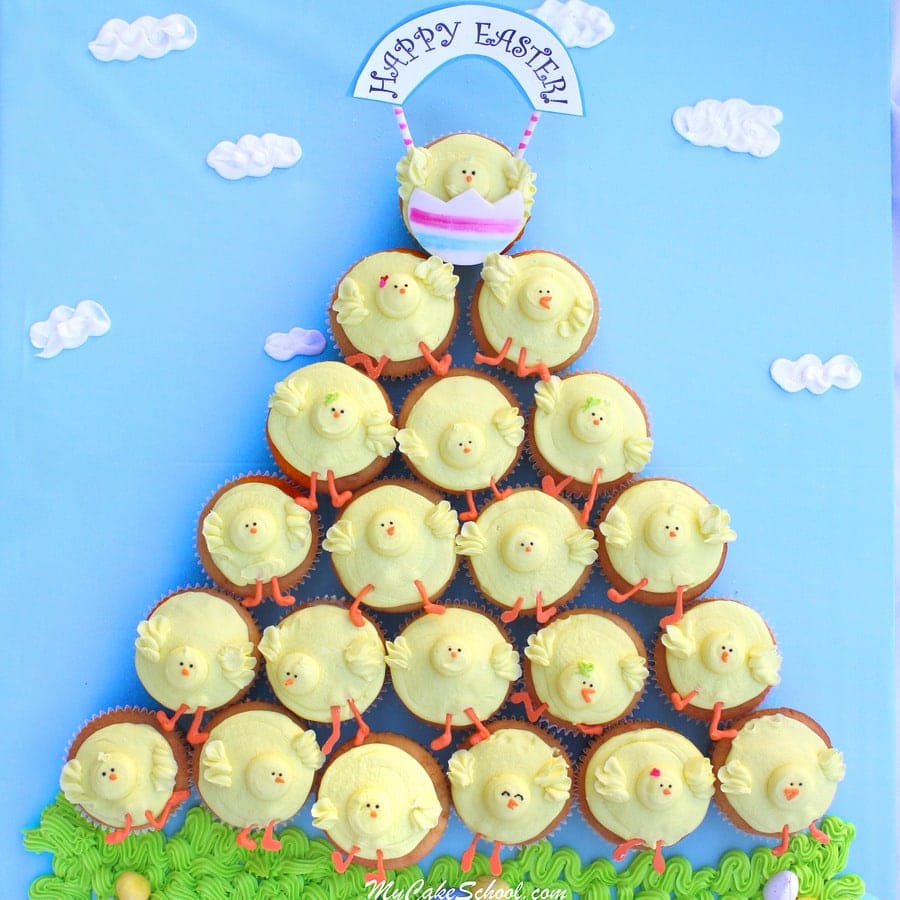 I hope that you enjoyed this buttercream chick tutorial! I think that this cupcake design would be adorable for a baby shower too, with the hatching chick on top...just switch out the sign for another! ;0)
Thanks for stopping by, come back again soon!