In this quick video tutorial, I'm going to show you how to make a CUTE and easy bunny cake! Keep this cake design in mind for Easter celebrations- it is so much fun to make.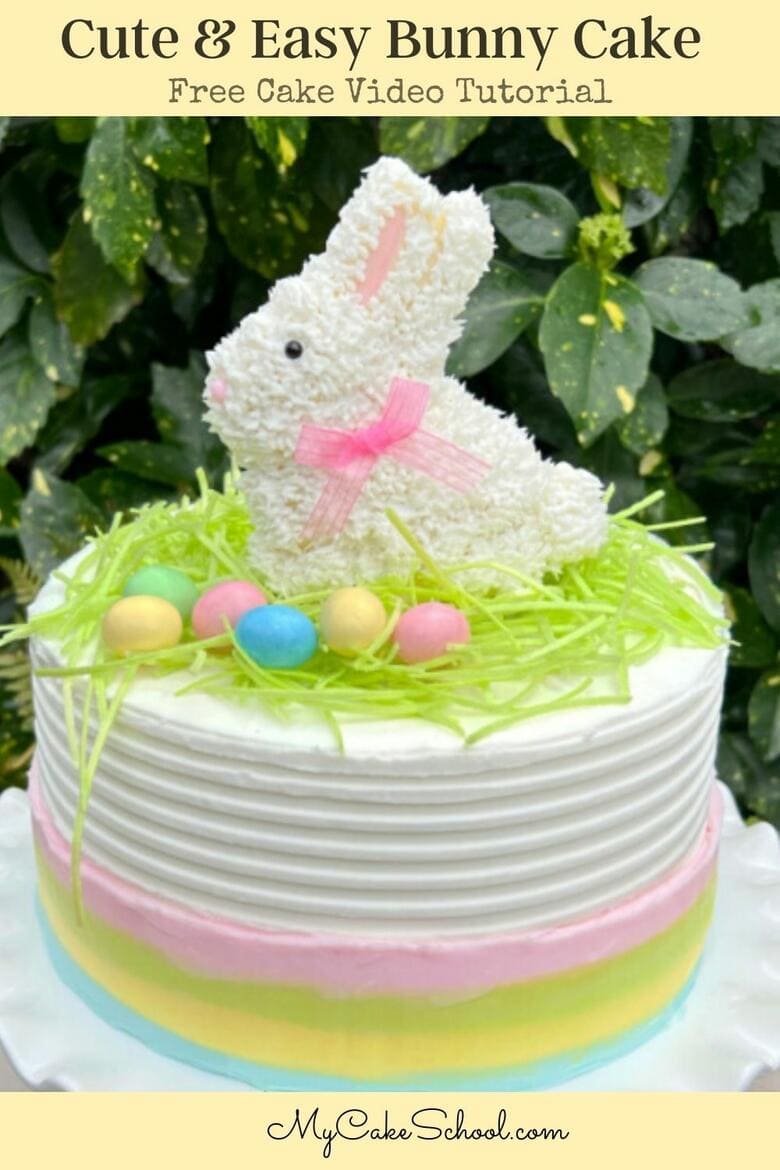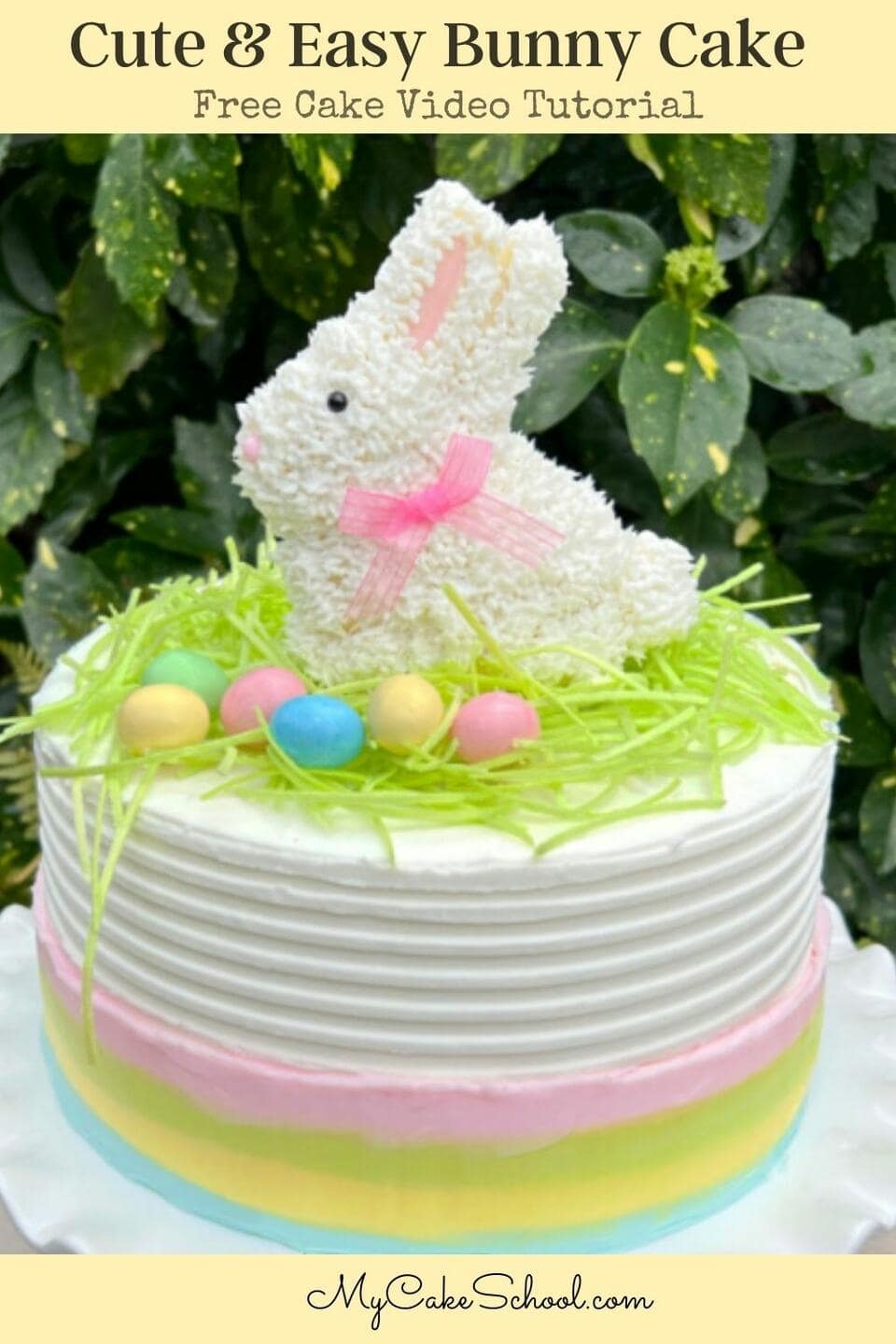 How to Make an Easy Bunny Cake Topper
The star of our Easter cake is a cute little bunny cake topper, which can be created in a matter of minutes!
Chocolate Bunny
To create our bunny, we simply covered a hollow white chocolate bunny with buttercream. I chose a Lindt White Chocolate Bunny because it was just the right thickness to stand on it's own and wasn't too big.
First, I painted the inside of the bunny's ear pink using a combination of pink and white coloring gel and a bit of everclear (vodka works well also).
Piping
Next, cover the bunny in buttercream using a fur/grass piping tip 233.
In order to keep things simple, I didn't apply the buttercream to the bottom section of the bunny so that I could have something to hold onto. I added the bunny's fur to that section after adding it to the cake.
If you notice that the bunny is becoming soft from the heat of your hands, just pop it in the freezer for about 5 minutes to firm things up.
If you don't have a piping tip 233, you can use a small star tip for a similar effect, or you could even texture the buttercream with a small offset spatula!
Striped, Layered Buttercream
This easy bunny cake topper is an adorable addition no matter how the cake is decorated. In the video, we demonstrate a striped, layered buttercream technique that is really fun to create- and I love the look!
After combing our 8 inch cake, I chilled it for 10 minutes to firm up the buttercream before piping on the stripes of coloring using disposable piping bags (with the tips snipped away).
Make sure to build out your colorful buttercream stripes enough that you can easily smooth just the stripes (and not touch the white buttercream) when going back in with a bench scraper a little later.
Final Details
After chilling the decorated cake in the freezer for about 15 minutes or so to firm up the buttercream, I moved the cake from the turntable to a cake pedestal.
(The cake was resting on a cake cardboard which was cut down to slightly smaller than the cake tier).
Easter Grass & Sprinkles: I added edible Easter grass to the top of the cake and topped the bunny cake topper. I quickly filled in the bottom half of the bunny with the 233 piping tip and added sprinkles for the eyes and nose. (You could also use buttercream or fondant for this).
Eggs: I added a few pastel chocolate eggs to add a bit more color to the cake.
Bow: After the cake was finished, I decided that our bunny needed a bow! For this optional step, we just made a bow with ribbon and glued it to the bunny with a dot of buttercream.
More Easter Cakes to Try!
We've created several Easter and bunny cake ideas over the years! Here are some of our favorites! They are all free cake tutorials. You can find the full listing here:Favorite Easter and Springtime Cake Designs
Simple Easter Wreath Cake- Free Blog Photo Tutorial
Kit Kat Easter Basket Cake- Free Video
Cute Bunny Cake- Free Video Tutorial- Free Video
Sweet and Simple Bunny Cake- Free Video
How to Make a Sugar Egg Cake- Free Video
Thanks so much for stopping by! If you give our bunny cake a try, we would love for you to leave a comment and photo below!
Yield: 15 servings
Cute and Easy Bunny Cake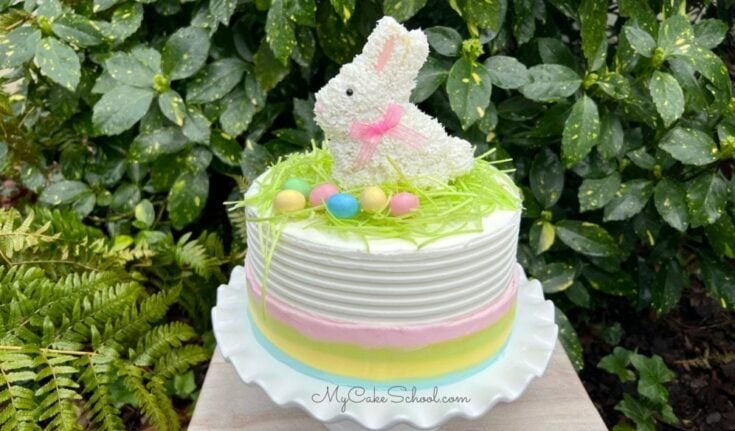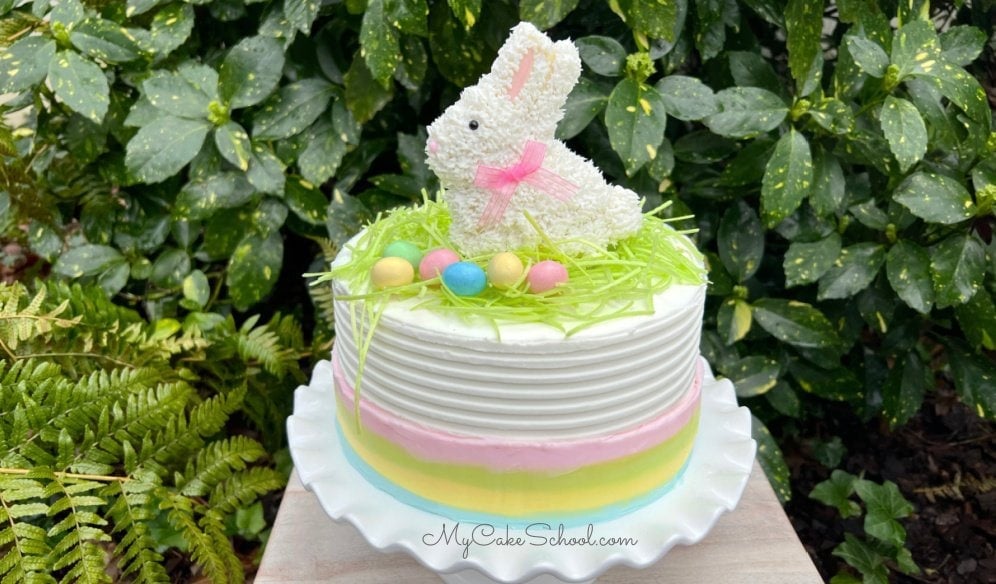 This cute and easy bunny cake is perfect for Easter parties, springtime parties, baby showers, and more! The design can easily be applied to cakes of any size!
Ingredients
In this video, we decorated an 8 inch tier but our bunny cake topper would be adorable on cakes of any size.
Chocolate Bunny- I used a white chocolate Lindt bunny
Vanilla Buttercream (We used our Classic Vanilla Buttercream Recipe)
233 Grass/Fur Piping Tip
Coloring Gels: We used Americolor Deep Pink, Electric Green, Sky Blue, Lemon Yellow
Sprinkles for eyes and nose (You could also use buttercream or fondant)
Edible Easter Grass
Chocolate Eggs (optional)
Cake Comb (optional)
Bench scraper/straight edge for smoothing
Disposable Piping Bags
Vodka/Everclear/Lemon Extract for mixing with coloring gel to create pink "paint" for ear. You could also use pink petal dust of light pink buttercream or fondant for this.
Ribbon/Bow for bunny- attach with a dot of buttercream
Cake Cardboard- If decorating the cake on a turntable or kitchen counter, assemble the cake on a cake cardboard cut down to the size of the cake (or slightly smaller) so that you can easily transfer the chilled, decorated cake to the pedestal or cake plate.
Instructions
FOR THE BUNNY
I first painted the inside of the chocolate bunny's ears using pink & white coloring gel mixed with a touch of vodka. (You could also use pink buttercream or pink petal dust or fondant for this.)
Cover the bunny with buttercream fur using a 233 piping tip. I held onto the bottom of the bunny as I worked, so I didn't fill this part with buttercream until after placing it on the cake.
FOR THE CAKE
I frosted the 8 inch cake tier with a thin layer of vanilla buttercream and chilled for 15 minutes in the freezer before adding the second coat of buttercream. I combed the buttercream frosting and chilled again before piping on the colorful stripes with a disposable piping bag (with the tip snipped away)
When piping on the stripes, pipe it thick enough so that the bench scraper won't touch the white buttercream when smoothing with a bench scraper.
The stripes won't be perfect- they will be a bit irregular- -that is okay!
Add edible Easter grass to the top of the cake (or you can also add buttercream grass with a 233 tip or star tip). Add the bunny to the top, and fill out the remaining bunny fir to the bottom of the bunny.
Add sprinkle eyes and nose (use buttercream or fondant instead if you'd like)
I also added a small bow to the bunny using a dot of buttercream
Add pastel chocolate eggs.
Notes
Use this sweet bunny topper and design on cakes of all sizes, from sheet cakes to tiered cakes and more!
Recommended Products
As an Amazon Associate and member of other affiliate programs, I earn from qualifying purchases.