I just love tulips, and in today's Buttercream Tulip Cake tutorial, I will show you how to create them with a beautiful yet surprisingly simple piping technique!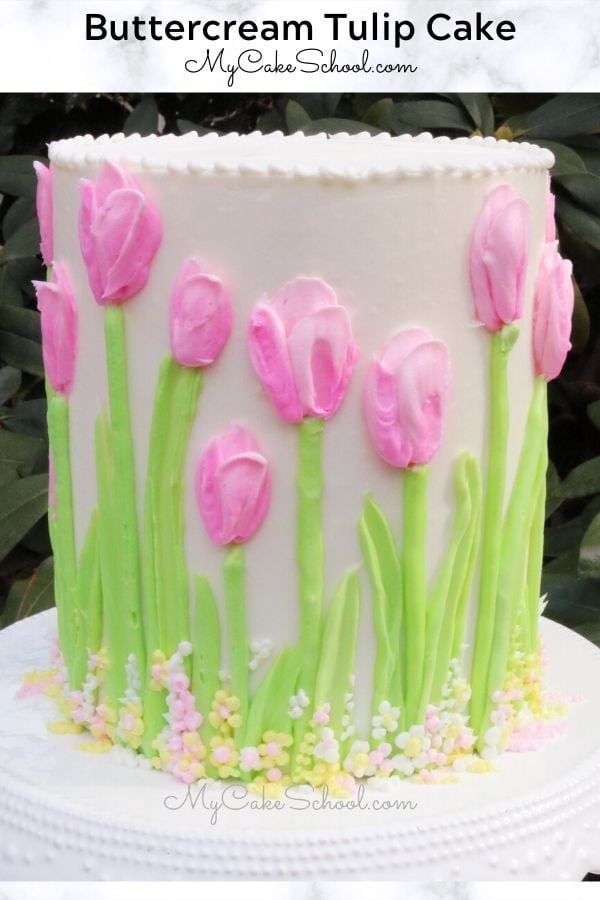 Materials for Buttercream Tulip Cake:
*This technique would be beautiful on any size cake, including sheet cakes. However, for this tutorial, we are decorating a 6 inch double barrel cake (which stands about 7 inches tall).
This double barrel cake is 4 six inch cake layers and has a cake cardboard halfway up with 4 bubble tea straws cut to the height of the bottom two (stacked) layers beneath it. We frosted it with our fluffy vanilla buttercream although our classic vanilla buttercream recipe would work well too!
Cake of Choice: Some of our favorites are Almond Cake, White Velvet Cake, Lemon Cake, and Strawberry Cake.
Vanilla Buttercream (We used our Fluffy Vanilla Buttercream recipe. Our Classic Vanilla Buttercream is a great choice too!)
Coloring Gels: Wilton Rose, Leaf Green + Electric Green (Americolor) or your green of choice, Lemon Yellow
Piping Tips: Tip 125 (large petal tip) for Pink Petals as well as the leaves, Tip 10 for stems, Tip 4 for the bead border and misc. filler flowers at the base
Miscellaneous: disposable piping bags, cake cardboards (see description of double barrel cake above), pedestal or cake base of choice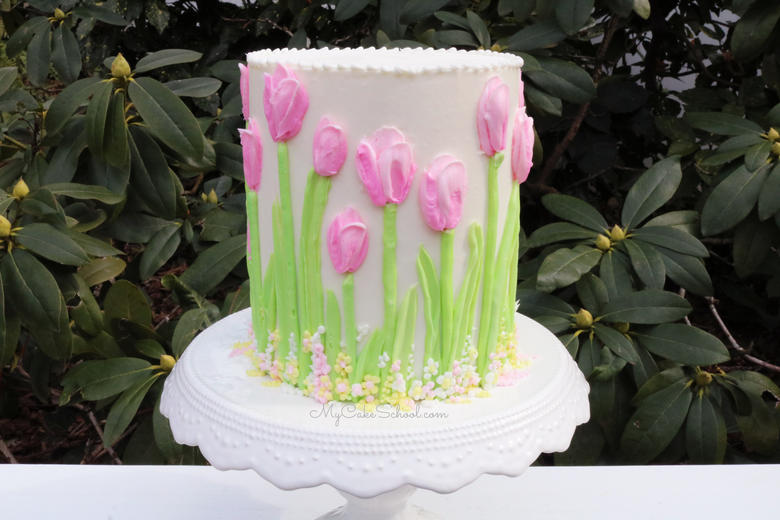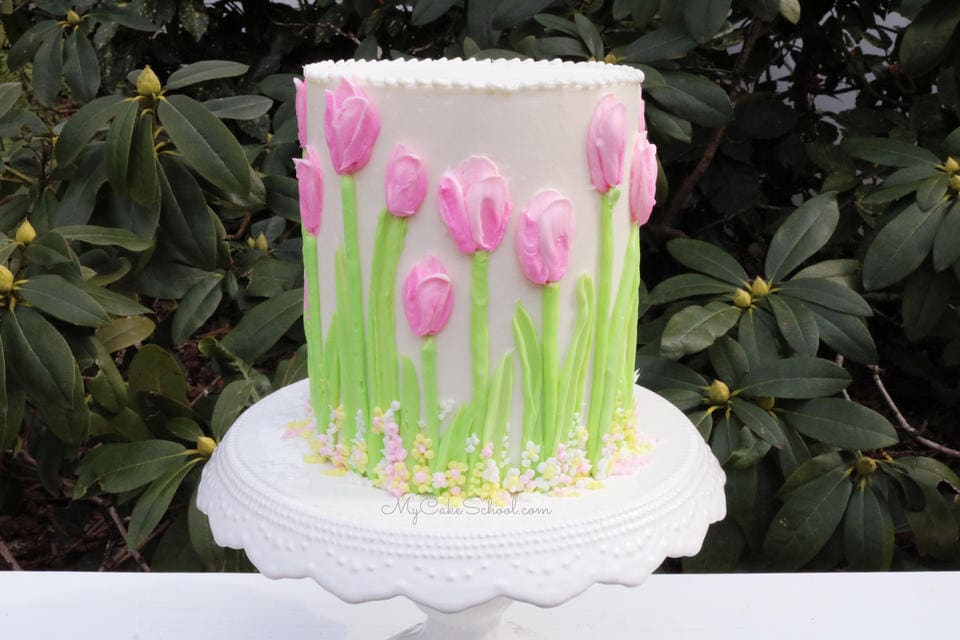 More Buttercream Tulip Cakes
We've created a couple of other cake designs with tulips over the years!
One of our favorites is a free video tutorial of Painting on Buttercream- Fields of Tulips where we experiment with painting on a cake using an edible "paint" of coloring gel and vodka. The final result is beautiful!
In another tutorial, we demonstrate How to Make a Semi-Naked Cake , which we later top with a few tulips and a beautiful chocolate sail (which we also demonstrate how to make).
Buttercream Flower Tutorials
We hope that you enjoy this tulip cake video! Make sure to check out our other buttercream flower video tutorials in our Buttercream Techniques section!
We've made many buttercream flower tutorials over the years. We're sharing some of our favorites below.. Some of the most popular are our Buttercream Hydrangea Cake and Buttercream Roses Cake but we have many!
Enjoy the Video!
Thanks so much for stopping by today. If you give our buttercream tulip cake a try, we would love for you to leave a comment and photo below!