Today I'm going to share with you a moist, refreshing and flavorful homemade Pineapple Cake recipe!
Our favorite Pineapple & Cream filling recipe has been hiding out in our Recipes section for years, but we've never had a post or photos to really highlight how fantastic this cake really is!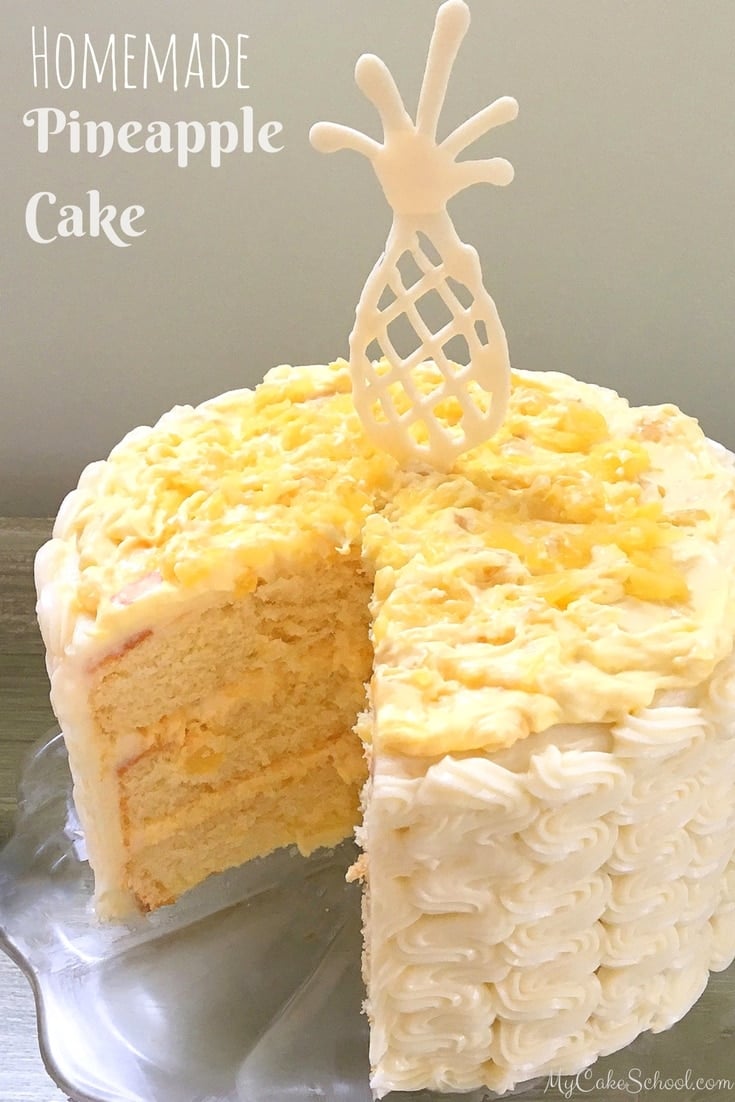 My husband, who is a HUGE fan of all things pineapple, was so overjoyed last week when I came home from Mom's with this deliciousness that he danced around the kitchen with his slice.
If a cake makes you dance, you know it's a keeper.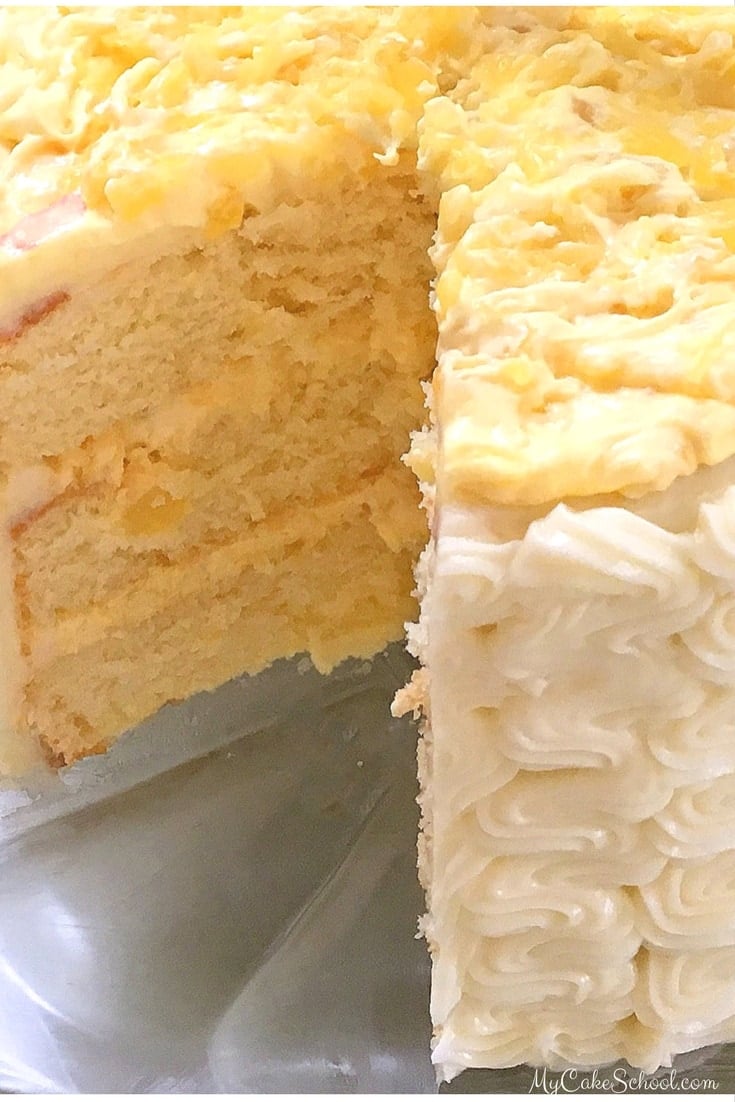 I often think of my fruity cakes as summertime desserts, but I've never been one to turn down a delicious pineapple cake in the middle of winter either!
If you and your people love pineapple, this is sure to become a treasured family favorite.
Yellow Cake Layers
The recipe is actually very simple. One of the key players in this Pineapple Cake is our delicious homemade Yellow Cake recipe.
I love this moist yellow cake- it is tender, flavorful and goes perfectly with so many fillings and frostings.
(If you'd like for the cake itself to have pineapple flavor, you can add a bit of pineapple extract, or you can use the pineapple cake layers from our Pineapple Coconut Cake recipe.)
We have another delicious Yellow Cake recipe as well that is called Yellow Birthday Cake. You cannot go wrong with either!
Yellow cake is amazing in coconut cakes, or slathered with chocolate buttercream, and today, it's the perfect complement to our thick and flavorful Pineapple & Cream Filling.
Since we don't actually use any pineapple or flavoring in the yellow cake batter, it's the Pineapple & Cream Filling that is the true star of this recipe. It's what makes our Pineapple Cake a Pineapple Cake, and the final outcome is out of this world.
With two layers of pineapple filling in this cake-- plus the additional that we spread on top, every slice is bursting with luscious pineapple flavor!
How to Make a our scratch Pineapple Cake Recipe
Are you ready to hear how simple this Pineapple & Cream Filling recipe is? All that you need is a small box of instant vanilla pudding, crushed pineapple, and whipping cream. That's it! (Oh and delicious cake layers, of course!)
The Perfect EASY Pineapple Cake Filling: First, we substituted whipping cream for the milk used in the instant pudding recipe and whipped it with a hand mixer until smooth and fluffy. (We've referred to this luscious cream filling as a "mock mousse" in other recipes.)
Next, we drained a can of crushed pineapple and folded into the whipped pudding.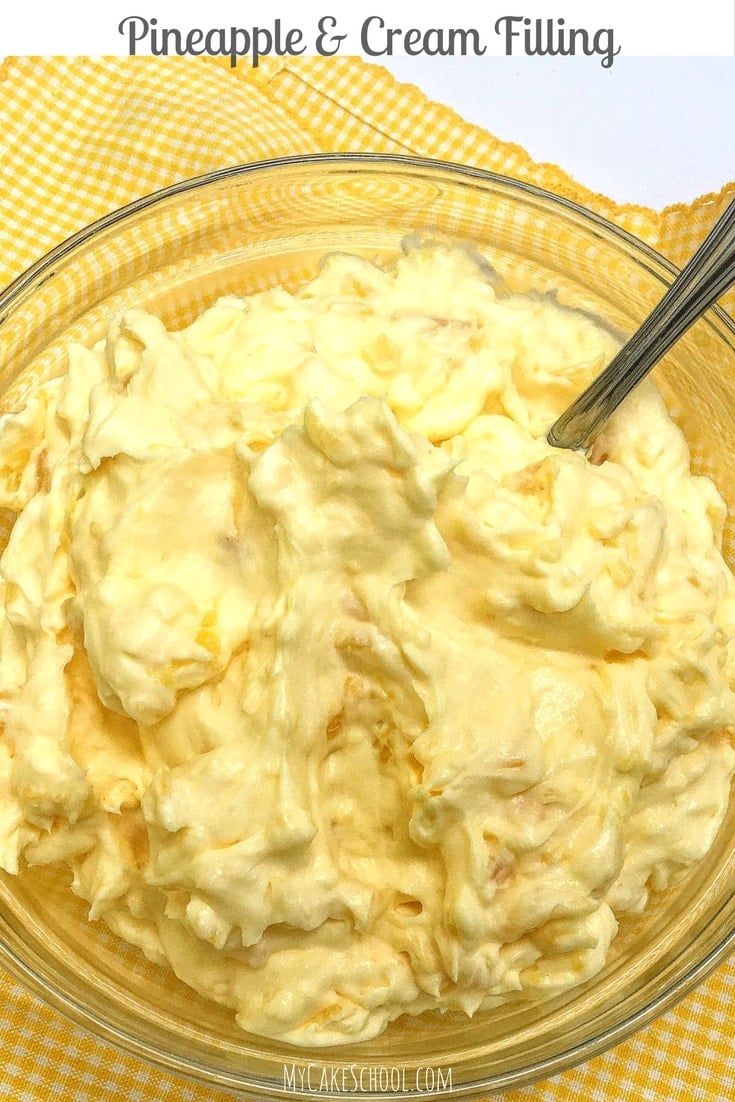 This vanilla pudding and pineapple combination is reminiscent of the filling used in a southern Pig Pickin' Cake, minus the oranges and whipped topping. It's cool, light, and simply heavenly.
Pineapple Cake Assembly & Decoration
I spread a thick layer of the Pineapple & Cream filling onto the first two layers of cake. As you can see in the photo, I didn't pipe a dam of frosting around the edge of the cake, but you can if you'd like!
(The filling is thick enough that there's really no worry of oozing, although you'll want to leave a bit of space around the edge of the cake layer to allow for the filling to spread a bit when the layers are assembled.)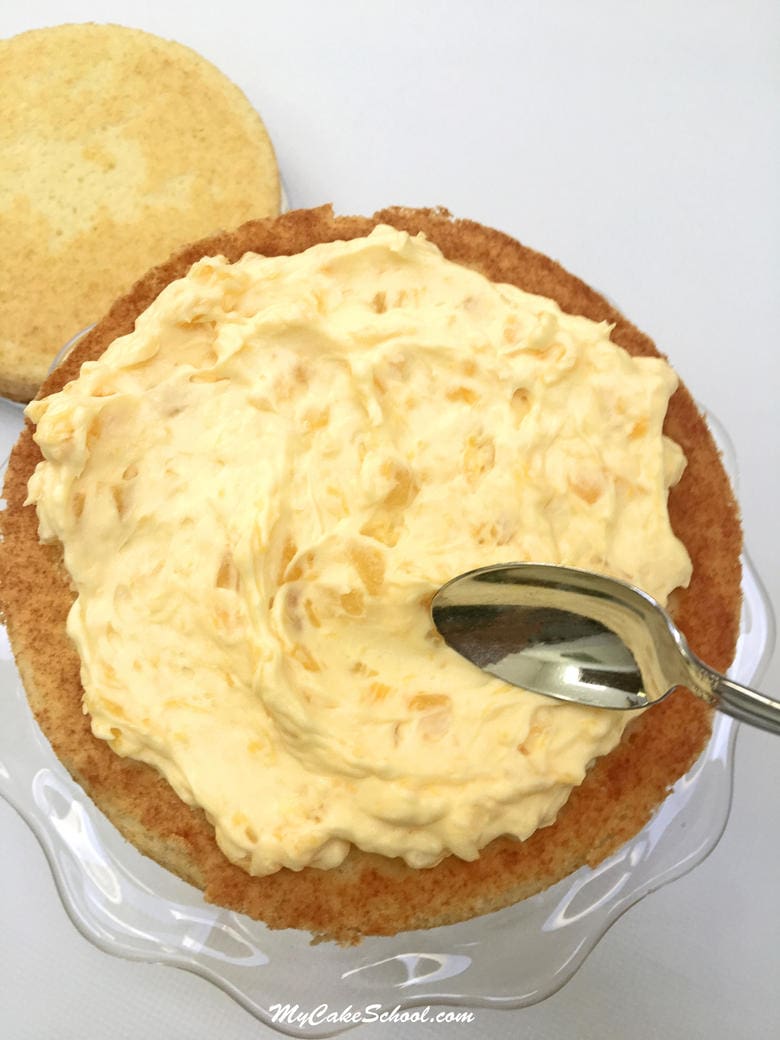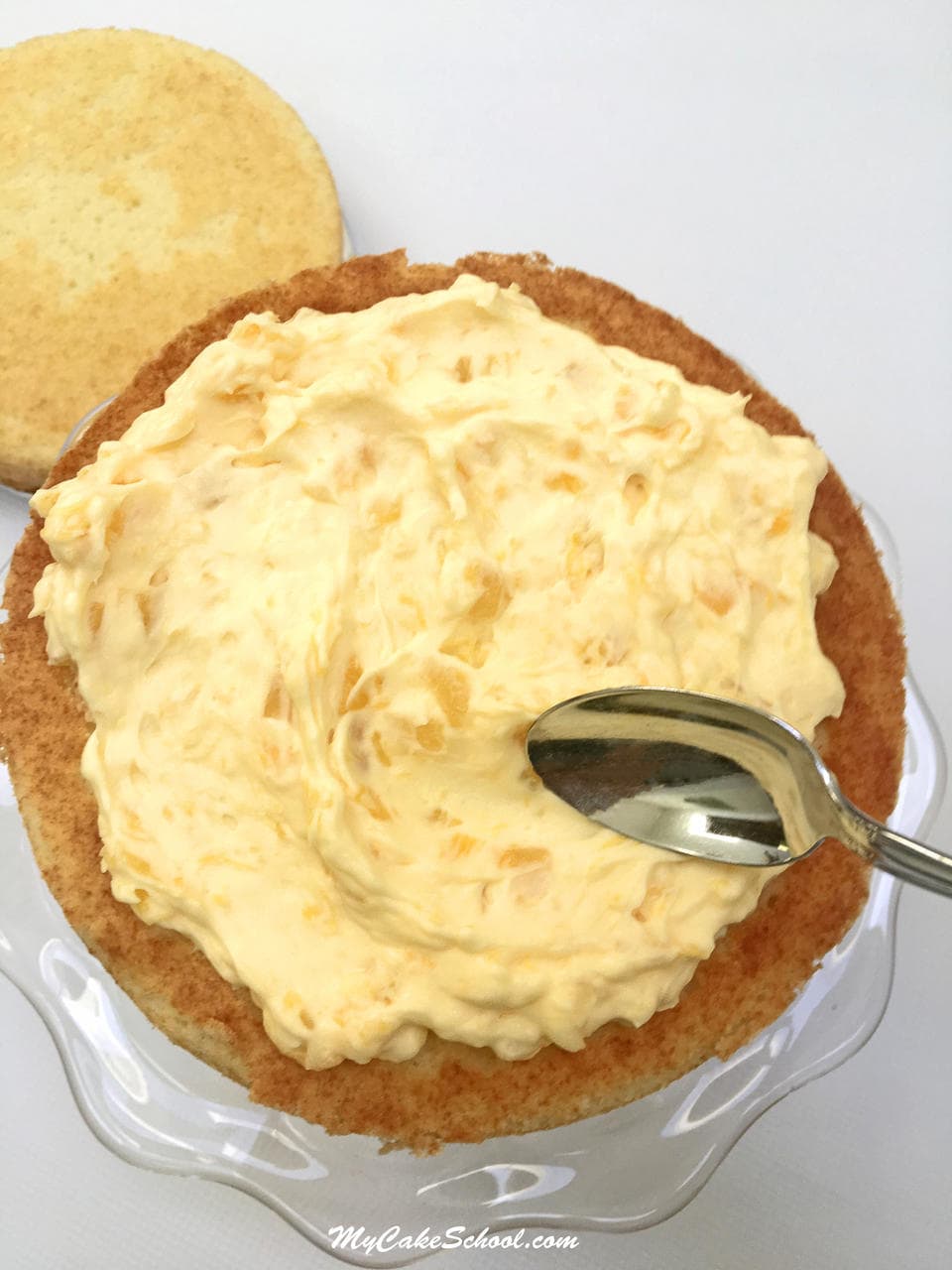 After filling my cake layers, I frosted the cake in a thin coat of classic Cream Cheese Frosting. I then applied "squiggle piping" around the sides of the cake with a Wilton star tip 21. (I started at the top edge of the cake and squiggled my way down, row by row.)
A Note about Cream Cheese Frosting: Keep in mind that cream cheese frosting is a bit softer than regular buttercream.
While piping, if you notice that the frosting doesn't hold it's shape as well as it should due to softening, just pop it in the refrigerator for a few minutes to firm things. Just a few minutes is all you'll need.
After applying the cream cheese frosting, I spread the top with the remaining Pineapple & Cream filling. I cannot say enough about this pineapple filling.
It's a miracle that we had enough to spread onto the cake after all of the sampling that we did!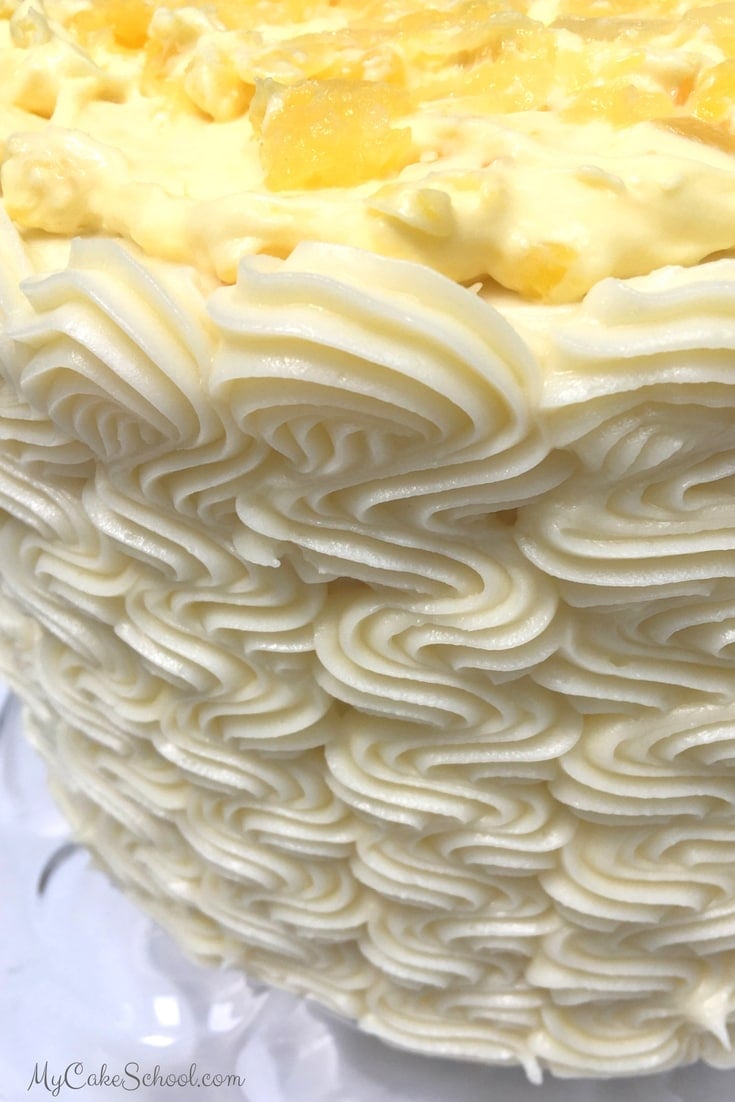 Final Touch: An Easy Chocolate Pineapple Cake Topper
Melt Coating: For a super quick pineapple decoration, I melted white candy coating, spooned it into a disposable piping bag (with the tip snipped away) and piped a couple of pineapples with anchors onto a waxed paper lined cookie sheet.
Chill in the freezer for a few minutes until firm, or in the refrigerator for a few additional minutes. I like to make two just in case one breaks! You can use the raised side or flip it over for a smooth pineapple cake topper!
I love to create candy coating toppers for my cakes and cupcakes because the process is so quick and easy! Just melt, pipe, and chill. The options are endless!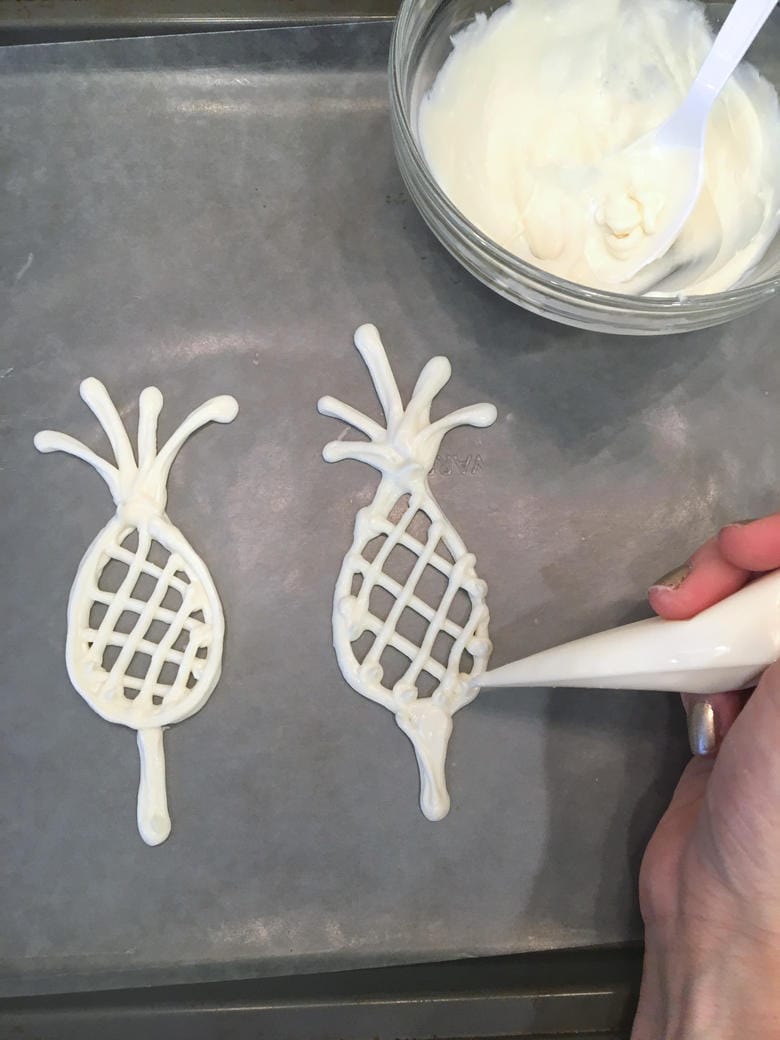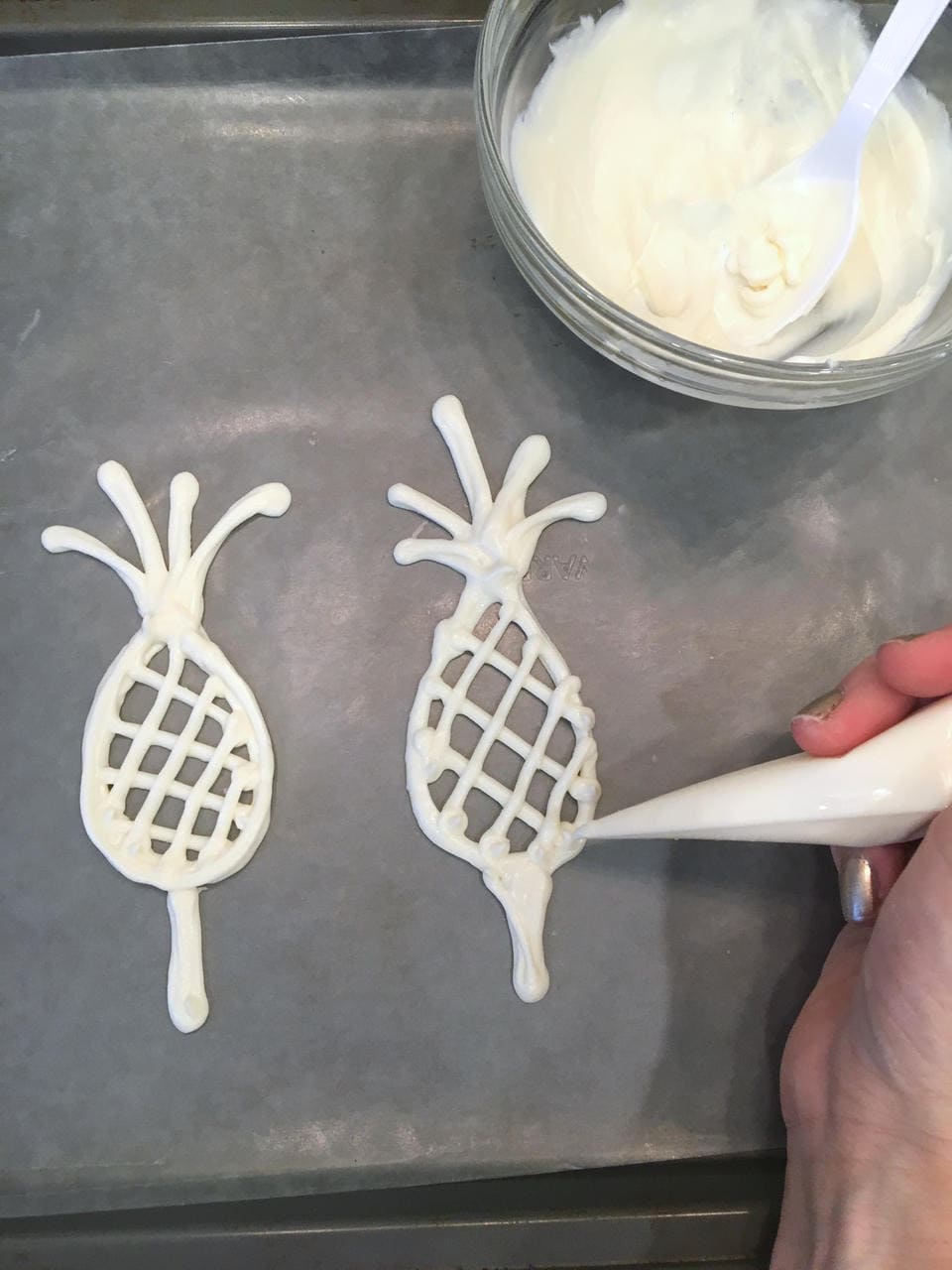 Looking for a recipe for Pineapple Cake Layers too?
At the time of making this Pineapple Cake, we didn't have a pineapple cake recipe. So, we used our Delicious Yellow Cake recipe instead. I still LOVE the yellow cake with this pineapple & cream filling- but we now have a recipe for Pineapple Cake Layers too! If you'd like to see, make sure to check out our Pineapple Coconut Cake recipe too!
That's all there is to it! Simply push the chilled chocolate pineapple cake topper into the cake and prepare to be showered with ooohs and ahhs! This is one pretty cake and even more, it tastes AMAZING!
Pineapple Cake Recipe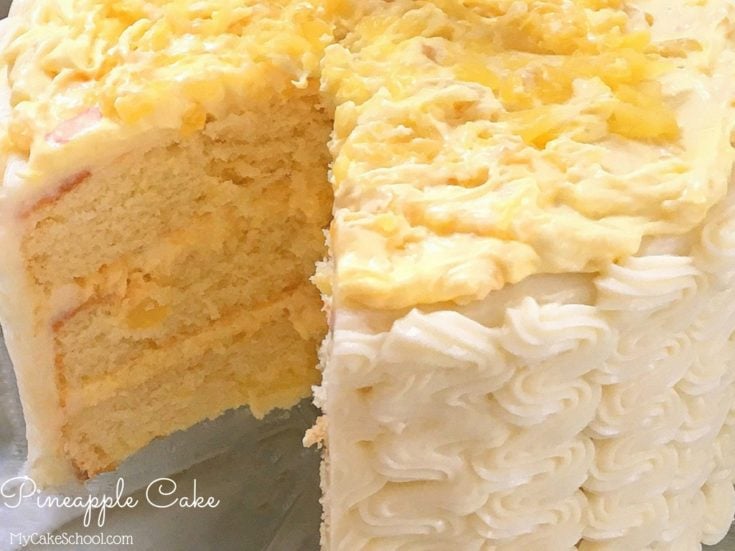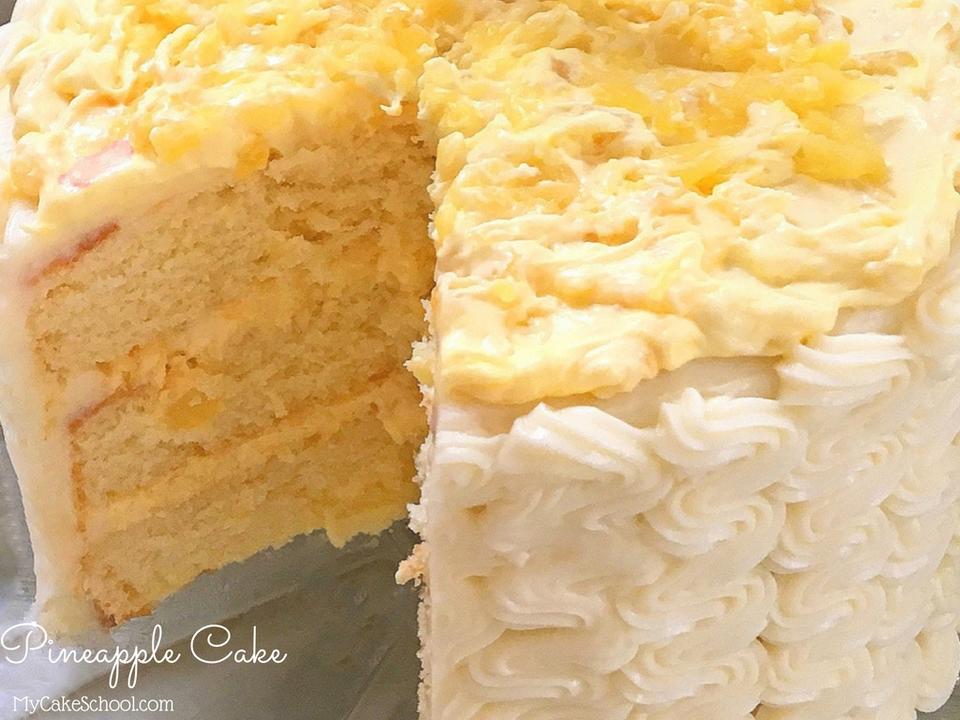 This Pineapple Cake Recipe is the best! Moist yellow cake layers with a luscious Pineapple & Cream Filling!
Ingredients
For the Yellow Cake
3 cups (342g) cake flour
2 cups (400g) sugar
2 teaspoons (8g) baking powder
½ teaspoon (3g) baking soda
½ teaspoon (3g) salt
2 sticks (226g) unsalted butter, softened
4 large eggs
1 ¼ cup (299g) buttermilk — **if you do not have buttermilk see note below
1 Tablespoon (12g) vanilla extract
FOR THE PINEAPPLE & CREAM FILLING:
1 small box instant vanilla pudding
2 cups heavy cream or whipping cream (not a whipped topping such as Cool Whip)
1 (15.25 oz.) can crushed pineapple, DRAINED. If you want to add pineapple to the top of the cake, reserve ⅓ cup
FOR THE CREAM CHEESE FROSTING:
2 sticks (1 cup) (226 g) unsalted butter, let it sit out approximately 10 minutes. It should feel very cool to the touch.
2 (8oz) packages cream cheese (total weight 452g) I use full fat cream cheese. Using reduced fat or the spreadable cream cheese will cause the frosting to be too soft. Soften very slightly.
2 teaspoons (8 g) vanilla extract
½ teaspoon salt (2g) optional - it will cut the sweetness, popcorn salt is best to use because it is fine and dissolves faster
6 to 6 ½ cups (690g to 747g) powdered sugar
Instructions
FOR THE YELLOW CAKE
Preheat the oven to 325 degrees. Grease and flour three 8x2 inch round cake pans. Place a piece of parchment cut to the size of the pan in the bottom of each.
Put the first 5 ingredients into the bowl of your mixer. Mix on low speed for at least 30 seconds to combine.
Add the softened butter (cut into pieces) mix on low speed just until it looks like coarse sand. The dry ingredients will be moistened/coated by the butter and will stick to together if you press some between two fingers. Don't over-mix or it will turn into a large dough-like ball.
Add the eggs 1 at a time, mixing until blended.
Add the vanilla to the 1 ¼ cup buttermilk. With the mixer on lowest speed gradually pour into the mixer. Increase the speed to #2 or # 3 (on a KitchenAid mixer). Mix for 2 minutes. Batter will be fluffy and smooth. If you are using a hand mixer rather than a stand mixer, you will need to mix a bit longer.
Divide batter evenly between your three prepared (8 inch) pans.
Bake at 325 degrees for 25 to 30 minutes. Cool for 5 minutes and turn out of pans.
FOR THE PINEAPPLE AND CREAM FILLING:
Stir together the pudding mix and whipping cream. You are using the whipping cream to make the pudding, rather than milk. The mixture will become very thick.
We prefer to use a hand mixer to whip the mixture until fluffy (if you do not have a mixer, you can do this with a whisk by hand). Fold in crushed, drained, pineapple until it is a spreadable consistency.
FOR THE CREAM CHEESE FROSTING:
Cut the butter into slices and add to the bowl of your mixer. Beat on low to medium speed until the butter is softened and smooth.
Cut the cold cream cheese into pieces and add to the butter, beating at low to medium speed until incorporated. If you are using a hand mixer you may need to soften the cream cheese a bit more.
Add the vanilla. Gradually add the powdered sugar beating on low speed until blended.
Increase mixing speed and beat until fluffy. Don't over beat.
This frosting will pipe best if used while still chilled. You can make it in advance, refrigerate and when ready to use let it soften slightly (do not microwave) and remix.
Will frost a 3 layer 8 or 9 inch cake.
Notes
*No Buttermilk? You can make it yourself. Here's a Buttermilk Substitution: In a measuring cup add 2 Tablespoons white vinegar or lemon juice. Fill the cup with milk to the 1 ¼ cup mark, stir and let sit for 5 minutes. 
Refrigeration:
Because of the filling and frosting, this cake should be refrigerated. However, for best taste and texture, remove the cake from the refrigerator a couple of hours before serving so that the cake has a chance to warm closer to room temperature. (Cakes that contain butter are firmer when cold.)
Recommended Products
As an Amazon Associate and member of other affiliate programs, I earn from qualifying purchases.
A Note about Pineapple Extract
Since the filling and topping lends so much pineapple flavor, we opted to use our yellow cake recipe as is.
However, if you'd like to flavor the cake layers themselves, pineapple extract can be found online and I'm sure that would work well!
Also, since making this recipe, we have added a recipe for Pineapple Cake layers (from our Pineapple Coconut Cake)- I'm sure that would be a delicious option also if you would rather have pineapple flavor in the cake layers also!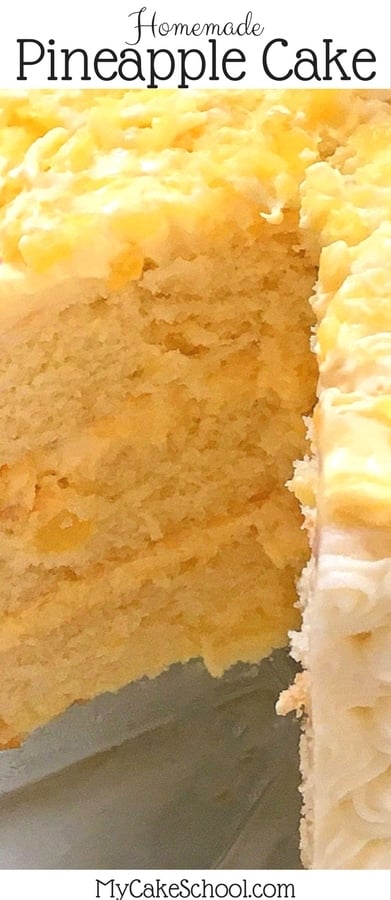 We hope that you enjoy this scratch Pineapple Cake! If you give it a try, please leave a photo and comment below!
Calling All Pineapple Cake Lovers:
If you are interested in all things pineapple, make sure to save these recipes!
Lemon Pineapple Cake Such a delicious combination!
Pineapple Filling.- Unlike the pineapple & cream filling, this delicious homemade recipe is a cooked pineapple filling which can be made quickly and easily with just a few simple ingredients!
Piña Colada cake-- add it to your list of must-try recipes! You'll love the combination of pineapple, coconut, and a hint of rum. In this recipe, the cake layers are coconut. (Yum!)
Pineapple Coconut Cake- This scratch recipe features pineapple cake layers, pineapple filling, and coconut cream cheese frosting!
Hummingbird Cake- Banana, crushed pineapple, pecans, and a hint of cinnamon!
Elvis Presley Cake A delicious combination of yellow cake, crushed pineapple, cream cheese frosting, and pecans!
Carrot Cake- Our carrot cake recipe is a delicious blend of spices, carrots, pineapple, coconut, nuts, and cream cheese frosting!
Pineapple Dream Cake- Scratch pineapple cake layers are filled with a flavorful pineapple whipped cream cheese filling!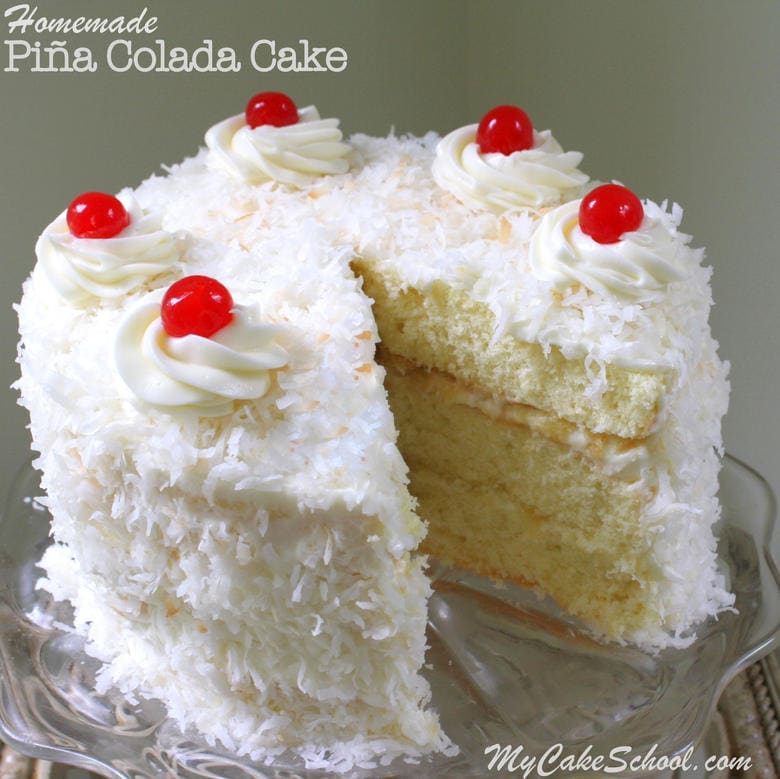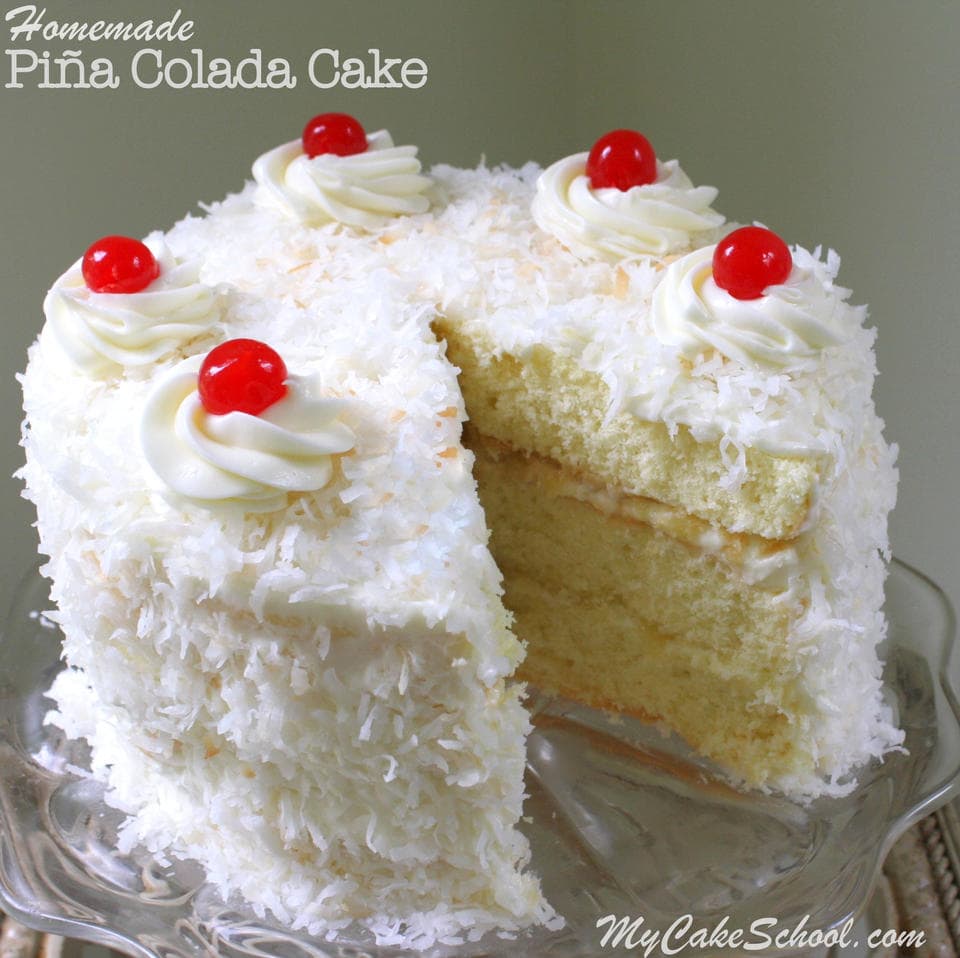 Sharing Cake Tutorials & our FAVORITE Cake and Frosting Recipes!
Make sure to check out our full collection of favorite cake, frosting, and filling recipes in our Recipes Section! If you're interested in our quick and easy cake decorating tutorials, check out our Free Tutorials Section.