Bunnies in the Candy- A Cake Video Tutorial
Today's cake tutorial is perfect for Easter celebrations, and features sweet bunnies playing in candy!
With Easter less than a month away, we wanted to create a fun and simple design involving bunnies!
(I love bunny cake designs year-round, but Easter gives us a great excuse to add another bunny cake or two to our collection)! Aren't they cute?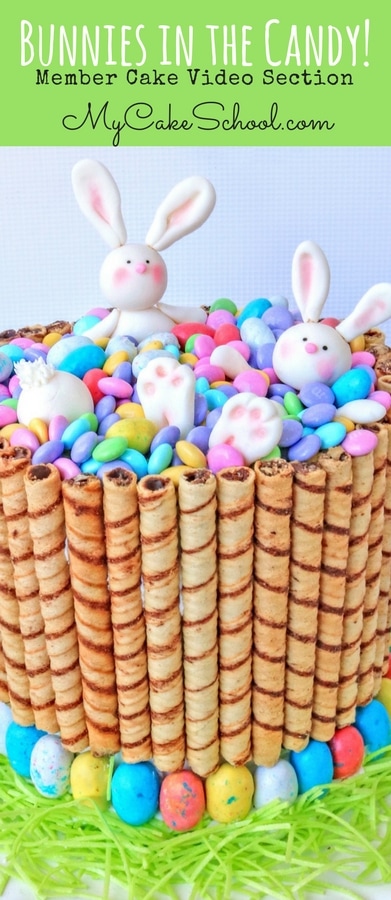 You all have probably seen the funny "pigs in the mud" cakes that have been so popular over the years. That was our inspiration for today's design...only instead of pigs & mud, we're doing bunnies & candy!
We love how easily this cake came together, and even if you are new to figure modeling, we think you'll find these sweet bunnies very easy to create!
We hope that you have fun with this one. It's sure to bring smiles (plus, you have a great reason to go out and buy some extra bags of your favorite Easter candy)!
Materials:
This cake design would work well for any size of tier. We used a 6 inch double barrel cake, frosted with our fluffy vanilla buttercream frosting.
White Gum Paste (or fondant with tylose kneaded into it)
Toothpicks to anchor ears (optional). If you are using fondant and think the bunnies may be eaten, use a tiny ball of lightly dampened fondant to glue the ears instead.
Candy- We used Easter M&Ms and Robin Eggs.
Lollipop Sticks for the ladder (our lollipop sticks were 7 inches.)
Black Food Writer Pen
Pink Petal Dust (optional)
Piping Gel or your edible glue of choice.
Edible Easter Grass (buttercream grass is a good optional too.)
Pirouettes cookies (we used one can)
Grass tip Ateco 133 or Wilton 233 for bunny tail
Thanks for stopping by! Make sure to check out our roundup of FAVORITE Easter cakes and ideas here: Roundup of Favorite Easter Cakes, Tutorials, Recipes, and Inspiration