Palette Knife Roses in Buttercream
In this cake tutorial, I'll show you how to create delicate buttercream palette knife roses for a sweet design that would be perfect for all sorts of occasions!
Palette knife "painting" with buttercream is such a fun technique, and a nice alternative to buttercream piping when you feel like changing things up a bit!
In addition to roses, I'll show you a few other simple palette knife filler flowers in this short video.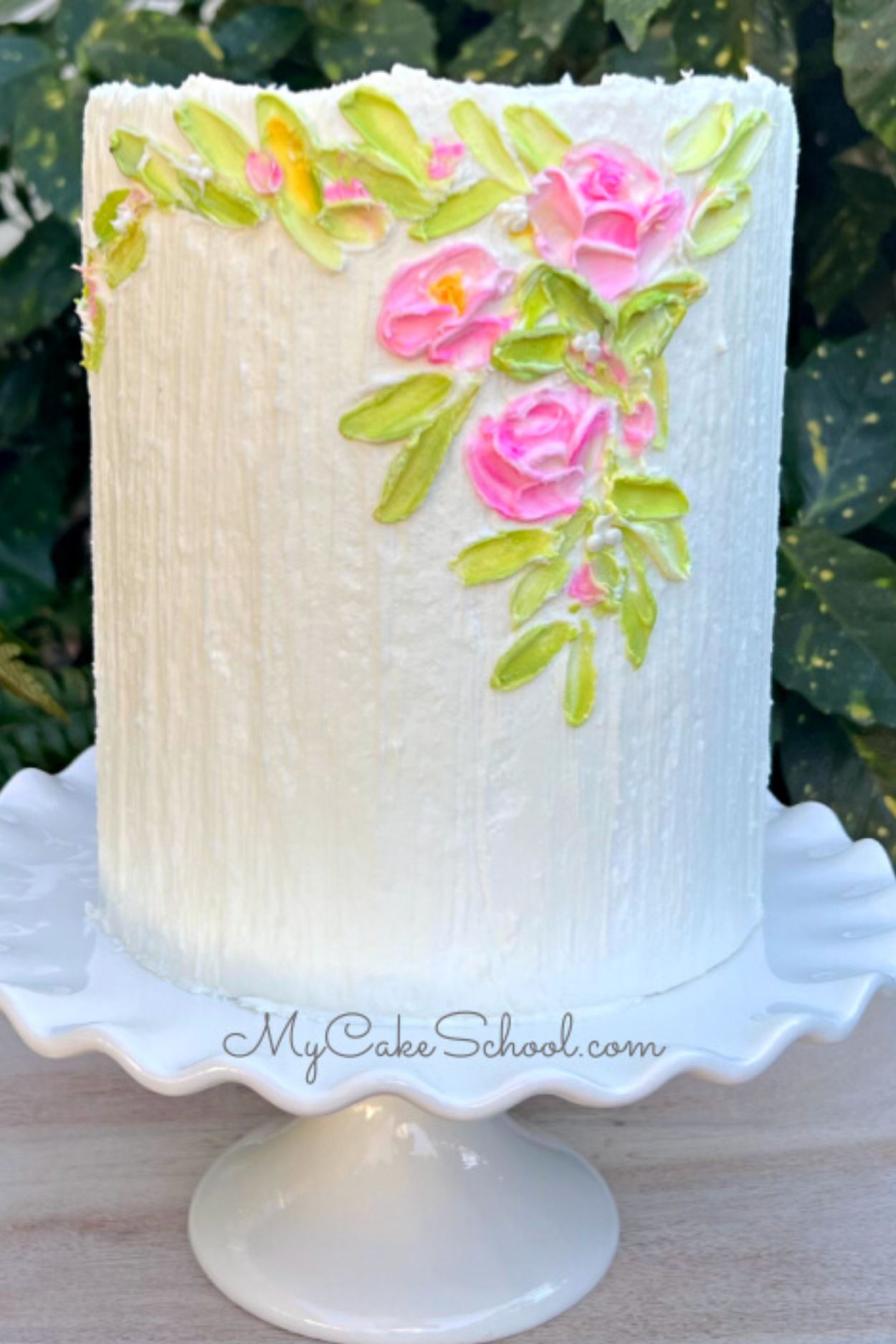 More Palette Knife or Textured Buttercream Designs
We've made a few other palette knife/spatula flower designs that you might enjoy! These would be perfect for all sorts of occasions, whether you need a birthday cake idea, bridal shower cake, baby shower cake, and more!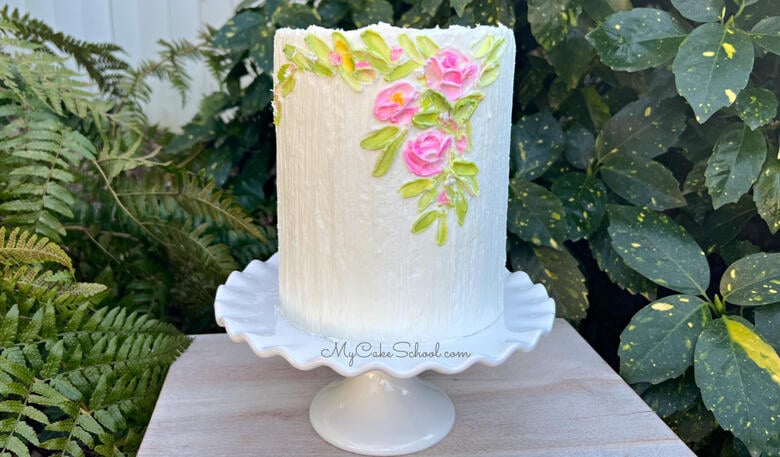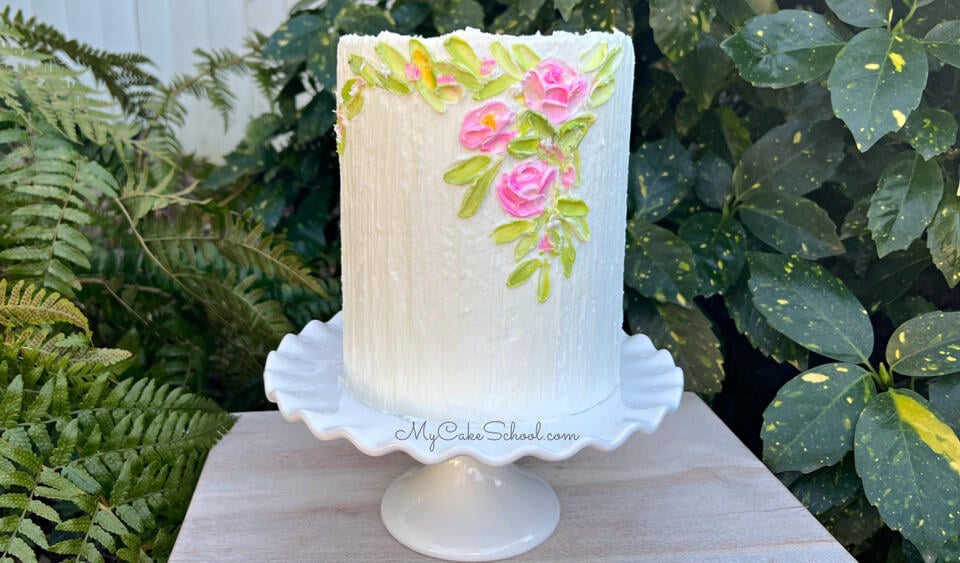 Cake Recipes
You can use all sorts of cake recipes for this cake design! If you are looking for cake recipes from scratch, some of our favorites are Vanilla Buttermilk Cake, Lemon Cake, Strawberry Cake, and White Velvet Cake.
If you prefer cake mix recipes, check out our Lemon Cake from Cake Mix, Easy Marble Cake, or Easy Strawberry Cake!
Palette Knife Roses in Buttercream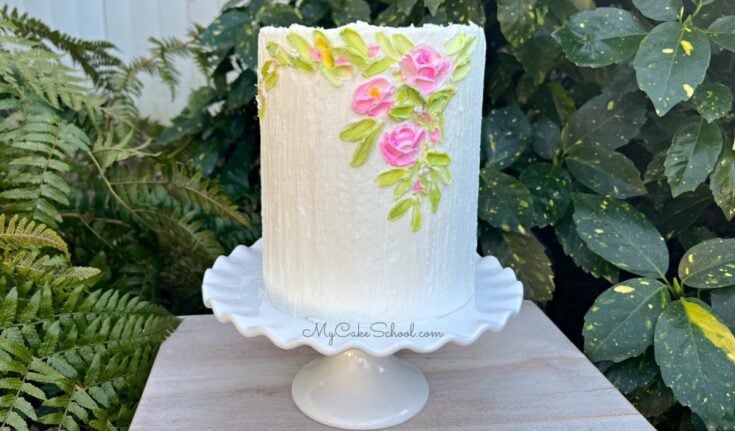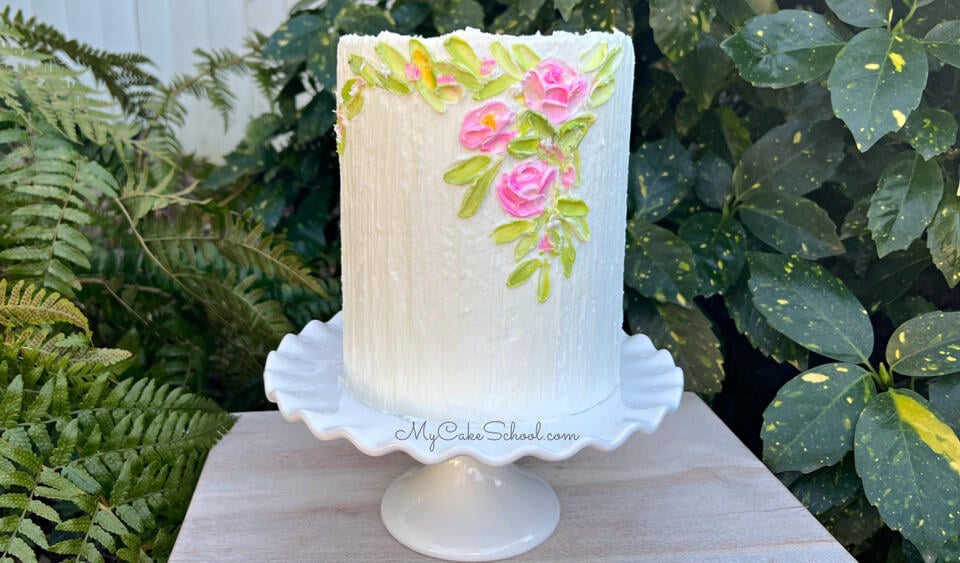 Learn to make beautiful palette knife buttercream roses in our cake tutorial!
Materials
In this cake video, I decorated a six inch double barrel cake (which is 4 cake layers with a cake cardboard halfway up and 5 bubble tea straw supports beneath)- You could create a similar design on cakes of any size.
Vanilla Buttercream- I used our fluffy vanilla buttercream- our classic buttercream is a good option also.
Palette Knife- A small offset tapered spatula would give you a similar look if you don't have a palette knife. My palette knife (the actual part used for spreading buttercream) is about 2.5 inches but a similar size would work well also.
Coloring Gels used: Americolor Deep Pink, Electric Green, Avocado Green, Lemon Yellow
Silicone Pastry Brush: Optional - used to create light texture on the buttercream
Miscellaneous; Wax paper/parchment, bench scraper/offset spatula for applying & smoothing buttercream, turntable (optional but helpful), cake cardboards- my cake is resting on it's own cake cardboard, and has another cake cardboard halfway up with supports beneath because of the double barrel (tall) cake design.
Instructions
After frosting the cake, I applied texture with my silicone pastry brush (moving in vertical strokes) all the way around the sides of the cake.
I applied a small garland of buttercream palette knife leaves in varying shades of green to the cake, moving from left to right across the top and then down.
I made a few palette knife roses in pink buttercream, and then added a few more leaves here and there as needed, along with a few little dots of pink buttercream as well as piped white buttercream dots here and there.
Notes
Practice your palette knife flowers in wax paper first to get a feel for the amount of buttercream you prefer on the palette knife for your desired look, etc.
I find the tinted buttercream easiest to work with when applied to the wax paper in a thin layer.
If working with a crusting buttercream, you may want to use slightly less powdered sugar than usual so that it won't crust as quickly on the wax paper- you can also cover the buttercream on the wax paper with plastic wrap when not using.
The palette knife that I used was part of a painting knife set that I've had for years. The part used for spreading the frosting is about 2.5 inches. You do not have to have this exact size, any similar size will work well. You could also experiment with a small tapered offset spatula if you have one!
Recommended Products
As an Amazon Associate and member of other affiliate programs, I earn from qualifying purchases.