Today I'm going to demonstrate the beautiful technique of buttercream palette knife painting!
I just love frosted cakes with lots of texture, and in this free cake video tutorial, I'm going to show you how to create a gorgeous floral design without using any piping tips.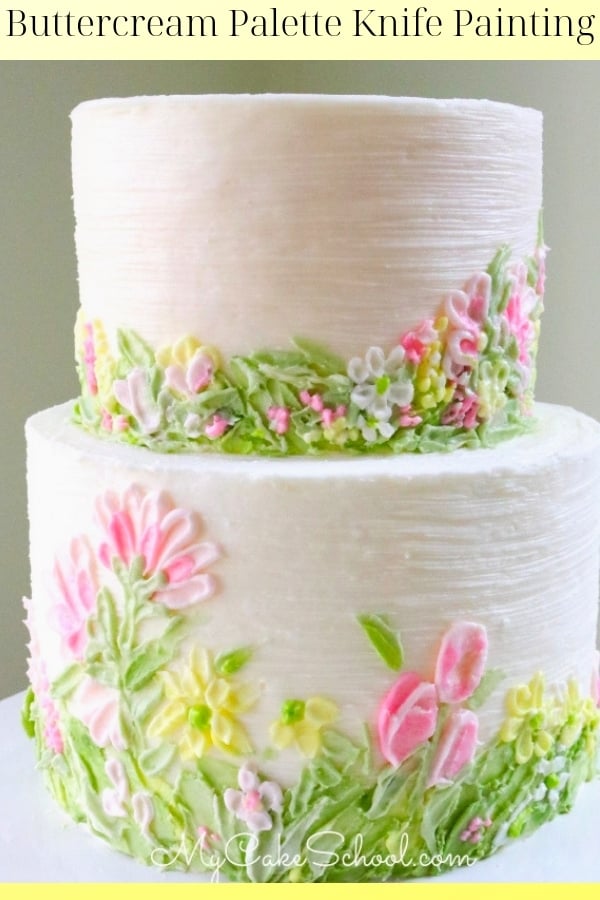 Adding Texture to Buttercream
The buttercream texturing techniques that you will learn in today's video tutorial are so beautiful, yet very simple to learn and recreate.
The palette knife floral design looks just like a painting.
In addition to the palette knife flowers, we also demonstrate how to create fine textured lines in buttercream using a silicone pastry brush.
We are always in search of new, fun ways to add texture to buttercream and this method is just about as easy as it gets!
Materials:
In this tutorial, our tier sizes were 8 inch and 6 inch. As usual, each tier is resting on it's own cardboard cake circle cut down to size. The top tier is supported by 4 bubble tea straws from beneath (cut to the height of the bottom tier).
Buttercream Frosting: We used our Fluffy Vanilla Buttercream Recipe
Silicone Pastry Brush (for texturing our tiers)
Palette Knives of Choice- We bought ours locally from Joann Fabric (as we mentioned, you could also achieve a similar look from offset spatulas)
Coloring Gels: We used Americolor Deep Pink, Avocado Green, Electric Green, and Lemon Yellow
Disposable Piping Bags
Miscellaneous- Plastic Spoon (optional) we used for the tulips, turntable (helpful), bench scraper (helpful for smoothing the frosting before applying texture), small offset spatula, parchment or waxed paper, disposable piping bag
Notes for Buttercream Palette Knife Painting:
If adding texture to our tiers as I did, go ahead and use your pastry brush immediately after frosting your tiers so that the frosting doesn't crust before you have a chance to apply texture.
You may find it helpful to chill your tiers to firm up the buttercream before applying the flowers.
A soft (not runny) consistency of frosting is best for painting.
I kept my main colors of buttercream in small containers with plastic wrap or a dampened paper towel on top so that they wouldn't crust over while I worked.
I find it easiest to pipe dots of buttercream first and then use the palette knife to spread it/add texture.
More Palette Knife Buttercream Cake Designs
We've made a few more free cake tutorials that feature textured buttercream designs with a palette knife painting feel. Make sure to check these out!
Ranunculus Fields- Painting with Buttercream- Free Video
Elegant Textured Buttercream Flowers- Free Video
Buttercream Palette Knife Roses- Free Video
Buttercream Brush Embroidery Cake- Free Video
Enjoy the Video!
We hope that you enjoy this video on palette knife painting! If you give it a try, we would love for you to leave a comment and photo below. We hope that you have fun experimenting with this beautiful technique!