Hummingbird Cake Topper with Fluffy Frosting Flowers
In today's video tutorial, you will learn to create a beautifully unique hummingbird cake topper complete with whimsical, fluffy frosting flowers!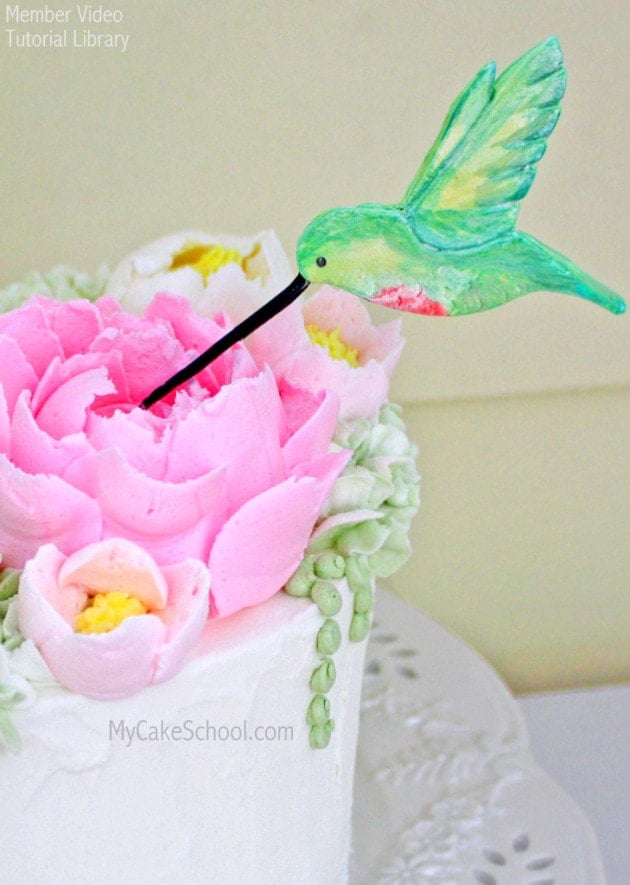 The brightly colored peony & buds from today's tutorial are similar to flowers that we've demonstrated in another tutorial, however, we've simplified the process by using a frosting that is a variation of our high ratio recipe. We have listed it below.
I could pipe these flowers all day long and never get tired of it--these are truly some of my favorite flowers to create! The hummingbird is such a nice addition to the design, and with the anchor extending from the beak, the bird appears to be flying. Enjoy the tutorial!
Materials for Hummingbird Cake TOpper
Hummingbird Template
Gum Paste (or Fondant with Tylose Kneaded into it)
Exacto Knife or Sharp Knife
High Ratio Frosting (*altered as explained below)
18 gauge wire (or other sturdy gauge)
Drinking Straw for anchor/barrier
Black fondant for beak
Vodka or Lemon Extract (not lemon juice)
Piping Tips: Large Petal Tips: 403, 402 & also 2D, 4, grass tip 233
Coloring Gels: Wilton Rose, Lemon Yellow, Americolor Avacado Green (hydrangea) Hummingbird: I used Americolor Electric Green, Teal, Sky Blue, White, and Red Red (there can be lots of color variation here, don't feel limited by this list) –
Pearl Dust- optional. I dusted the hummingbird with pearl dust as a final touch
Black Food Coloring Pen for eye (or improvise with coloring gel)
Misc: Toothpicks, parchment paper, small paint brushes, tip 104 for making feather impressions in bird (optional), turntable
High Ratio Shortening for Fluffy Flowers! We slightly altered the sugar & milk amounts from our usual High Ratio Frosting Recipe. In our other more detailed video on large frosting flowers, we featured a non-dairy whipped meringue frosting recipe. I love both recipes for piping these flowers, but we were happy to find that this high ratio recipe makes a great alternative (as it is quicker to make and seems a bit more stable) and the soft, billowy consistency is very similar. Enjoy!
2 cups (386 g) high ratio shortening (We usually use Sweetex or CK Brand)
2 Tablespoons (24 g) clear vanilla extract)
½ teaspoon (2g) butter flavoring
½ teaspoon (2g) lemon or almond flavoring
2 lb. plus 1 cup (1022 g) confectioners sugar
½ cup (119 g) milk or heavy cream
½ teaspoon (2g) ( use popcorn salt because of its fine grain or let your regular salt dissolve in the milk)
Cream the shortening and flavorings. Add the confectioners' sugar and milk, mixing slowly then gradually increasing speed. Mix 5 to 6 minutes until creamy and smooth.
The consistency can vary depending on humidity, just add more confectioners' sugar to thicken or more milk too thin.