Flamingo Ruffle Cake Tutorial
Today's Flamingo Ruffle Cake was so much fun to make and is the perfect cake design for spring and summer gatherings, birthday parties, and more! If you love flamingo cake designs, you are in luck.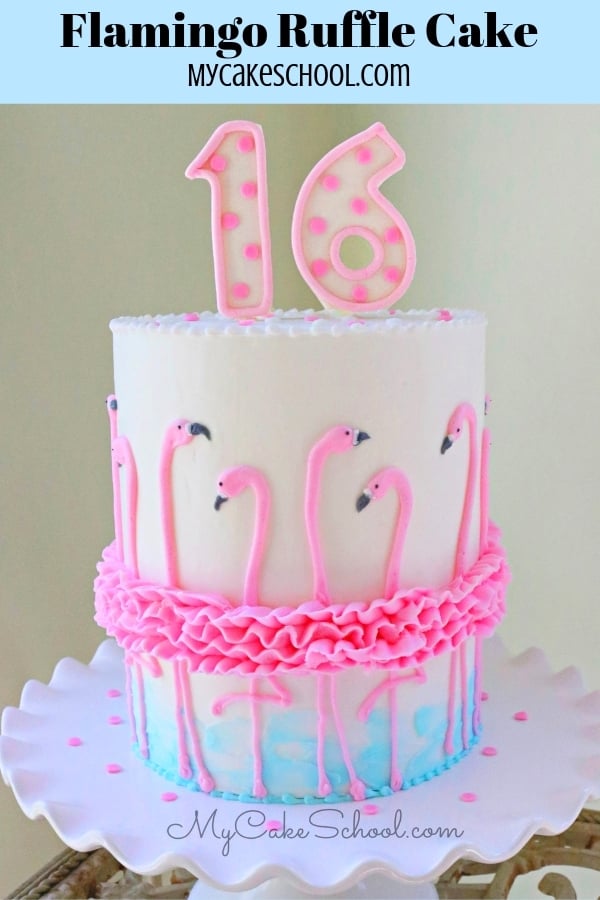 Why we Love it
There are so many reasons to love this CUTE flamingo ruffle cake! here are just a few:
All buttercream cake design (but flamingo necks, legs, and even ruffles could be fondant if you prefer).
Can easily be created on sheet cakes as well
Perfect for summer birthdays, beach themed parties and more!
Materials for flamingo Ruffle cake:
For this cake, we frosted a four layer, six inch double barrel cake (which stood approximately 7 inches tall). As with our other double barrel cakes, we placed a cake cardboard halfway up with bubble tea straw supports (or your supports of choice) beneath.
We used our Fluffy Vanilla Buttercream Frosting recipe. Our Classic Vanilla Buttercream would be perfect for this also.
Gum paste & cutters for number topper (In a pinch, you can knead tylose into fondant). If you don't have a number cutter, you can also find number templates online.
Piping Tips: Tip 5 (head and neck), Tip 3 (legs), Tip 2 (eyes), Tip 3 bead borders, 104 petal tip for ruffles
Coloring Gels: We tinted our buttercream with Americolor Deep Pink, Sky Blue
Piping Gel or Tylose Glue
Candy coating for attaching anchors to back of number topper
Disposable Piping Bags
Small paintbrushes for applying piping gel "glue"
Cake cardboards - For the bottom and middle of the double barrel cake
Bubble Tea Straw Supports (or supports of choice)- We used 4 supports beneath the middle cake board halfway up.
Miscellaneous: We used disposable piping bags, small offset spatula, turntable for frosting the cake, bench scraper is helpful. Cake base/drum/ or pedestal (this is a heavy cake, if using cake cardboards for your base, stack about 4 together and wrap with cake foil, plastic tablecloth, etc.
FAQs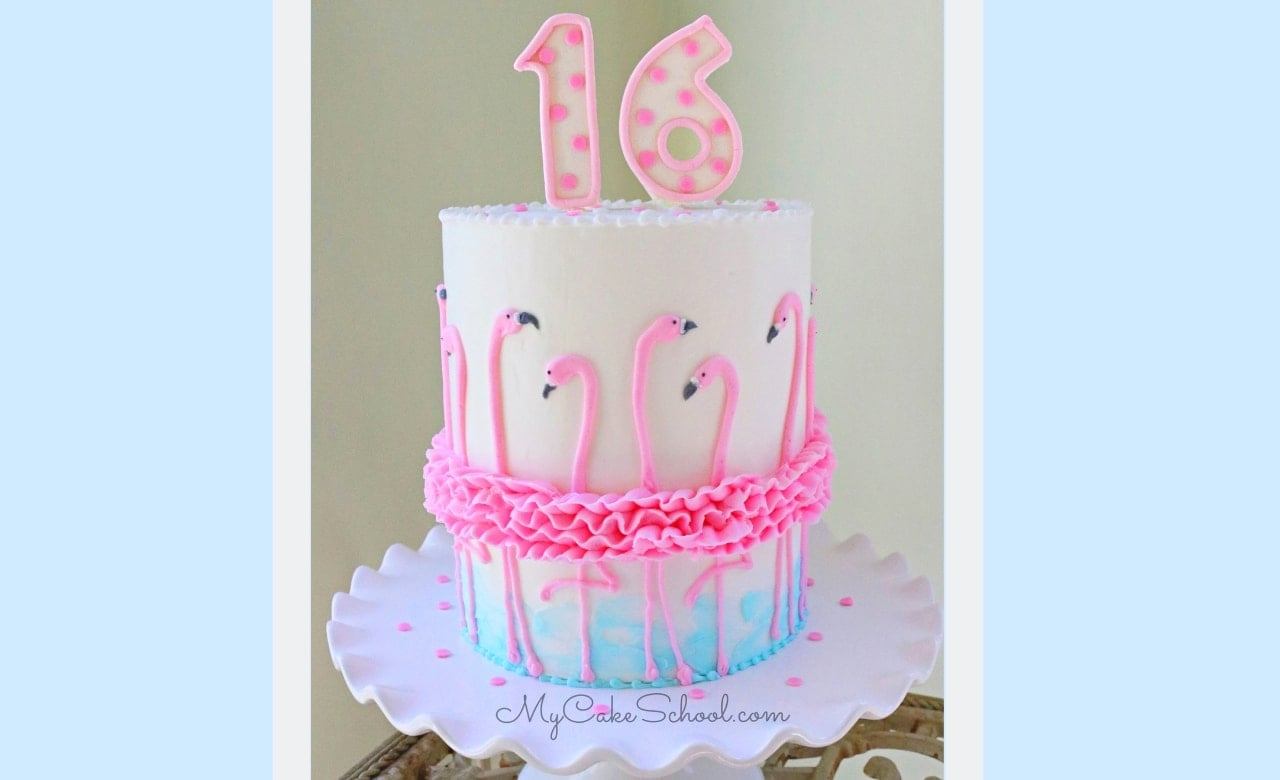 More Flamingo Cake Ideas
If you love flamingo cakes, this is a great post for you! We just love all of the flamingo cake designs that pop up this time of year!
Here are a few flamingo cake designs and cake toppers for you to check out!
Valentine Flamingos Cake- Free Video Tutorial
Flamingo Cake (with ombre buttercream)- Free Video
Flamingo Cake Toppers- Bride and Groom- Free Video
Lily Pulitzer Inspired Cupcakes - Cake Blog Tutorial
Enjoy the Video!
Thanks so much for stopping by today! We hope that you will give this sweet ruffled flamingo cake a try. It would be perfect for birthdays and summer parties!
Make sure to check out our other summer cake ideas also, as well as summer cake recipes!
Some of our favorite recipes are: Almond Cake, Lemon Cake, Strawberry Cake, and White Velvet Cake! Here are a few more:
We have so many more fun, free cake decorating tutorials on our site! Make sure to check out these favorite birthday cake ideas as well!
Have you made this Cake? We would LOVE for you to leave a ⭐️ rating as well as a comment and photo below! We really appreciate your feedback!