Today's Flamingo Ruffle Cake was so much fun to make and is the perfect cake design for spring and summer gatherings, birthday parties, and more!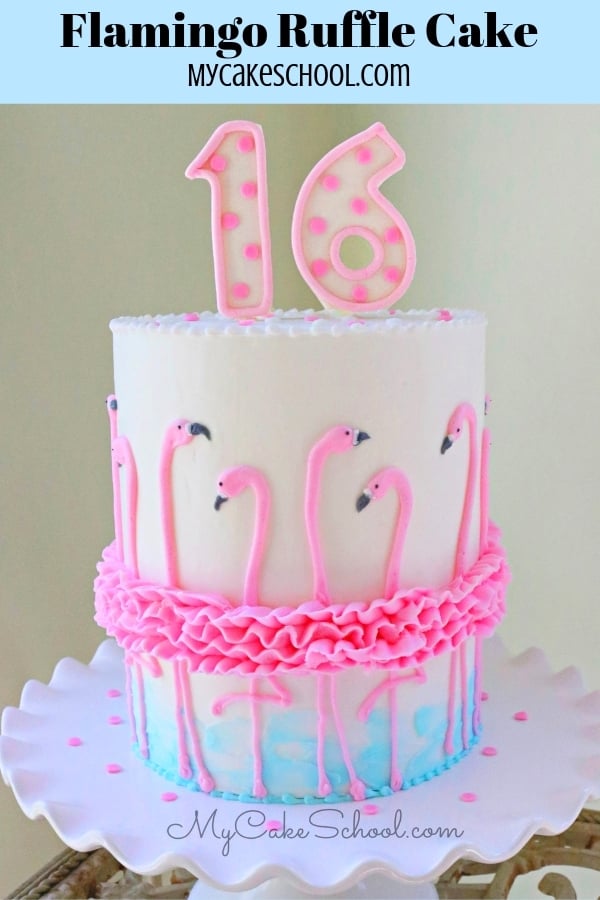 I was shopping the other day and saw a really cute pillow with flamingoes printed across it, and it inspired me to make the ruffled version that I'm going to show you today.
I love this flamingo cake idea for birthdays, luau or beach parties, pool parties, and more.
Really, you don't need an excuse to make a flamingo cake--it's just too adorable (and simple) not to try at least once!
Materials for flamingo Ruffle cake:
For this cake, we frosted a four layer, six inch double barrel cake (which stood approximately 7 inches tall). As with our other double barrel cakes, we placed a cake cardboard halfway up with bubble tea straw supports (or your supports of choice) beneath.
We used our Fluffy Vanilla Buttercream Frosting recipe. Our Classic Vanilla Buttercream would be great too!
Gum paste & cutters for number topper (In a pinch, you can knead tylose into fondant). If you don't have a number cutter, you can also find number templates online.
Piping Tips: Tip 5 (head and neck), Tip 3 (legs), Tip 2 (eyes), Tip 3 bead borders, 104 petal tip for ruffles
Coloring Gels: We tinted our buttercream with Americolor Deep Pink, Sky Blue
Piping Gel or Tylose Glue
Candy coating for attaching anchors to back of number topper
Disposable Piping Bags
Small paintbrushes for applying piping gel "glue"
Cake cardboards - For the bottom and middle of the double barrel cake
Bubble Tea Straw Supports (or supports of choice)- We used 4 supports beneath the middle cake board halfway up.
Miscellaneous: We used disposable piping bags, small offset spatula, turntable for frosting the cake, bench scraper is helpful. Cake base/drum/ or pedestal (this is a heavy cake, if using cake cardboards for your base, stack about 4 together and wrap with cake foil, plastic tablecloth, etc.
Notes for the Flamingo Ruffle Cake
This design would also be really cute across the top of a sheet cake.
As we mentioned in the video, if you don't want to pipe the flamingoes necks and heads, you can form these with fondant (using an extruder or just rolling by hand.) We did something similar another flamingo cake tutorial: Flamingo Cake
Buttercream Ruffles
The buttercream ruffles are very forgiving. It really isn't noticeable where one ruffle stops and another starts.
In the video tutorial, I started with the top buttercream ruffle and worked my way down but you may find it easier to start with the bottom row of ruffles and work your way up.It's up to you.
Depending on the height of your cake (and flamingoes), you may decide to go with more ruffles or fewer... you could even do rows of buttercream rosettes instead for the feathers, or you could use a smaller size ruffle tip!
If you need more details on working with Ruffle Piping Tips, we have a tutorial for this! Piping Basics: Petal and Ruffle Tips
Could this Flamingo Cake be Made in Fondant?
This flamingo design could also be easily recreated on a fondant cake with fondant flamingoes (I would knead a little tylose powder into the fondant before making ruffles if you go this route.)
We have a video on ruffled fondant that you can find here: Fondant Ruffle Cake Tutorial-you would just make your fondant strips much smaller for this project.
You could also cover the cake in fondant and still make ruffles using a crusting vanilla buttercream. I've never had an issue with piping crusting buttercream accents onto fodnant.
Have fun with this design! If you try it, we would love to see!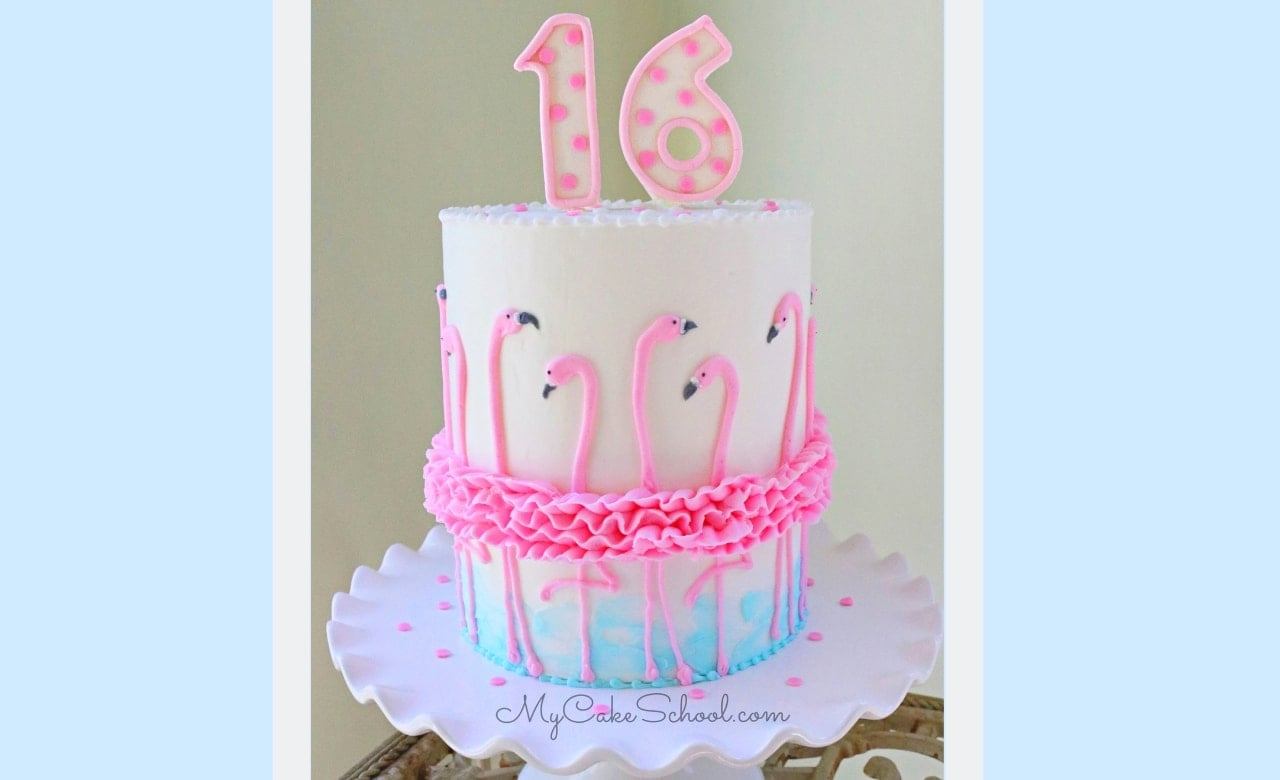 More Flamingo Themed Cakes
We love flamingo cake designs! Here are a few flamingo cake designs and cake toppers for you to check out!
Valentine Flamingos Cake- Free Video Tutorial
Flamingo Cake (with ombre buttercream)- Free Video
Flamingo Cake Toppers- Bride and Groom- Free Video
Lily Pulitzer Inspired Cupcakes - Cake Blog Tutorial