Buttercream Hydrangeas- A Cake Video Tutorial
I just love hydrangeas, and in this quick video tutorial, I will show you how to create beautiful buttercream hydrangeas in the simplest way possible.
If you are new to buttercream flowers, this is a great flower to start with as it is so easy to create!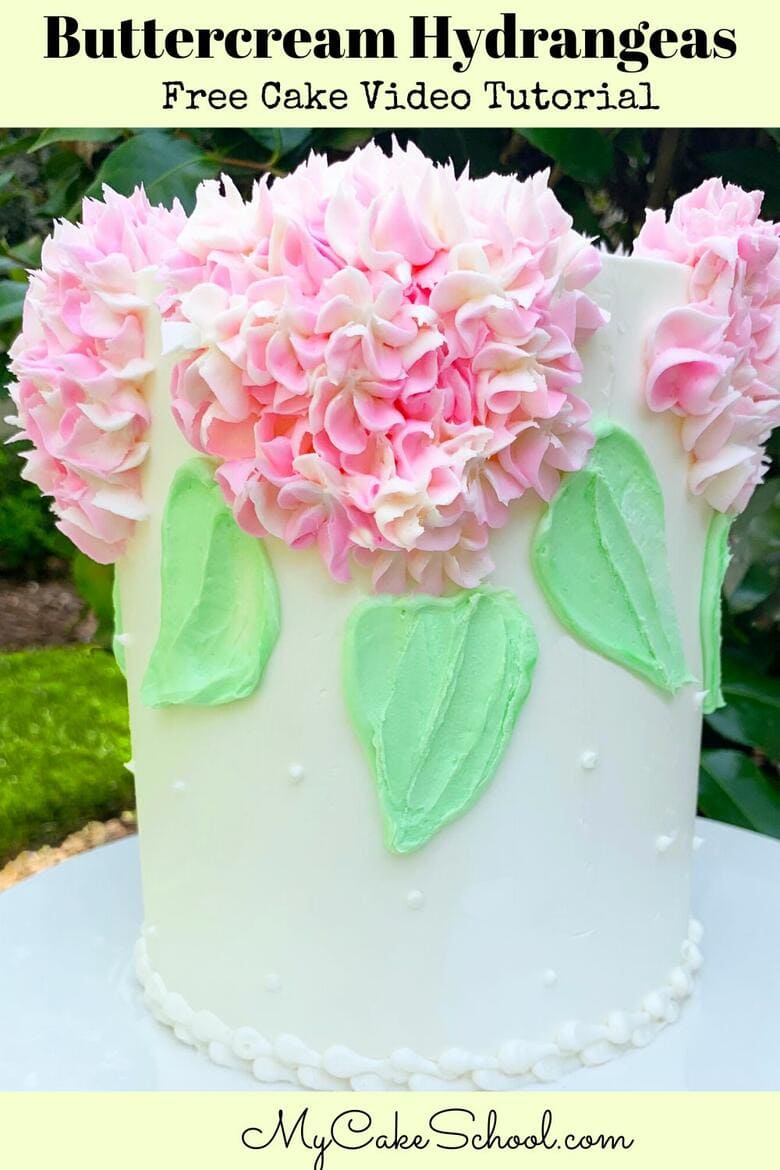 Whether you pipe one large, elegant hydrangea as a focal point of your cake, or incorporate the flowers as part of a buttercream floral bouquet or wreath, this is a wonderful flower to have in your buttercream bag of tricks.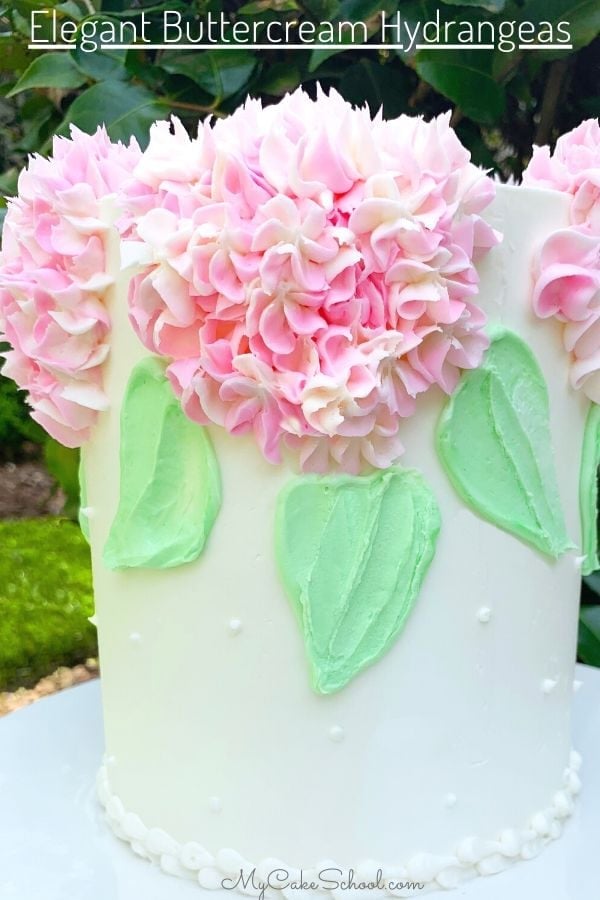 Materials for Buttercream hydrangeas:
For this video, I used a six inch double barrel cake (which stood about 7 inches tall). Of course, you can pipe hydrangeas on cakes of any shape or size!
My double barrel cake in this tutorial consists of four 6 inch cake layers with a cardboard cake circle halfway up. The cake cardboard rests on four bubble tea straw supports cut to the height of the first two cake layers for support. The cake is resting as usual on its own cardboard cake circle cut to the size of the cake.
Vanilla Buttercream (We used our Fluffy Vanilla Buttercream Frosting Recipe by our Classic Vanilla Buttercream is a great option too!)
Coloring Gels: Wilton Rose, Wilton Leaf Green
Piping Tips: 2D for the hydrangeas. Tip 4 for the bead border and dots
Piping Bags- We used disposable piping bags.
Spatula- I used a small rounded offset spatula for smoothing my leaves.
Miscellaneous: I frosted my cake (off camera) on a turntable, smoothing with a straight edge/bench scraper. After applying the frosting, I chilled in the freezer for about 15 minutes to firm up the frosting before fine tuning the remaining imperfections with a hot spatula/bench scraper. (This is the hot knife method of smoothing)
What Piping Tip Do you Use for Buttercream Hydrangeas?
We love to use a 2D piping tip which is a large star tip. A 1M would probably work nicely also as it is very similar. 2D is a closed star tip while 1M is an open star.
I love how quickly and easily the buttercream hydrangeas take shape when using this simple technique!
How to Make Buttercream Hydrangeas
Fit a piping bag with a 2D piping tip (This is a large, closed star piping tip).
I filled my piping bag with pink buttercream as well as white (one color on each side) to create a two toned effect. This is optional, but I like the color variation!
Holding the piping tip, perpendicular to the surface of the cake, I piped a combination of piped stars, and for other "petals" I piped the star bit then turned the piping tip slightly to the right to give the petals a little more movement.
Fill out a round circle of this piping, and you can even stack your piping on top of each other here and there for a little more dimension.
How to Make Buttercream Hydrangea Cupcakes
You can create hydrangea cupcakes in the same way that we created hydrangeas for our cake today.
Hold the piping bag perpendicular to the cupcake (you can pipe or spread the cupcake with a thin base layer of frosting first if you'd like).
Pipe the large stars from a 2D piping tip over the top of the cupcake, mounding it up with "stacked" piping here and there for additional dimension.
More Buttercream Flower Tutorials
We love buttercream cake designs and have made many cakes and cupcakes over the years that feature buttercream flowers! Here are just a few of our favorites!
How to Pipe Buttercream Camellias- Free Video
Buttercream Cherry Blossoms Cake- Free Video
Buttercream Floral Wreath Cake- Free Video Tutorial
Buttercream Irises - Free Video Tutorial
Buttercream Tulip Cake- Video Tutorial