Buttercream Floral Wreath Cake Tutorial
Today I'm going to show you how to create a beautiful buttercream floral wreath cake design!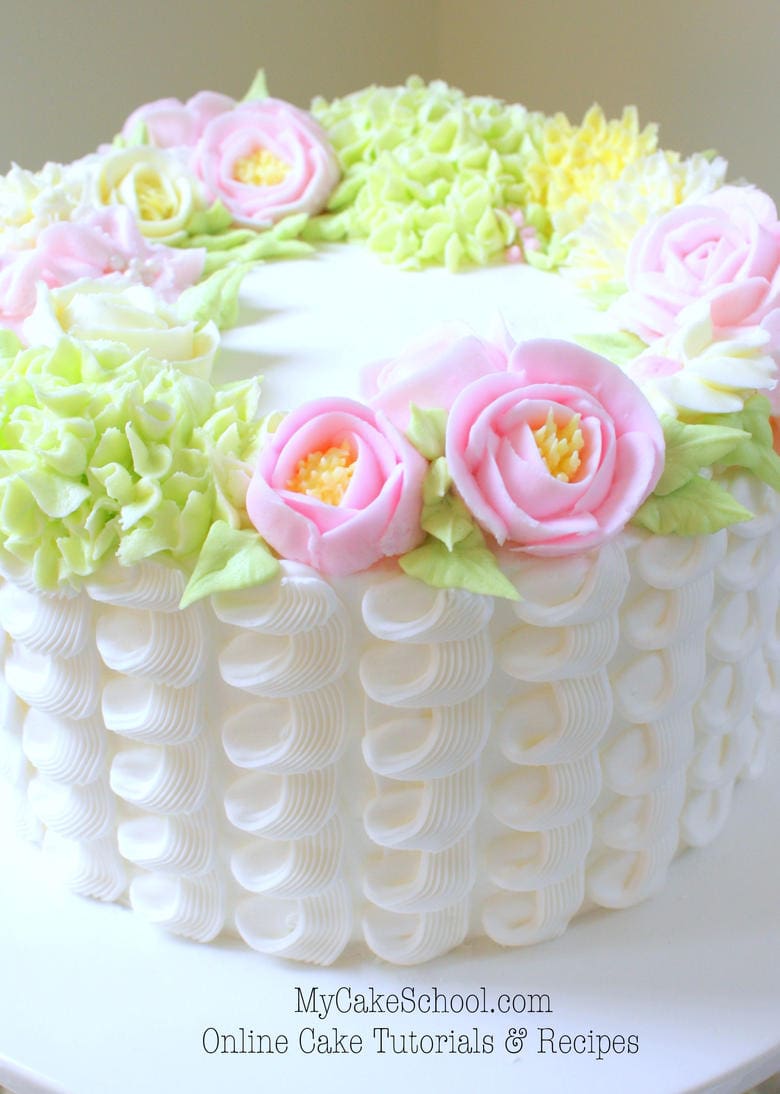 I LOVE that buttercream floral wreaths have become such a popular trend in cake decorating.
These wreaths with their delicately piped flowers have such an elegant feel to them, and can be a bit intimidating to decorators new to the world of piping. But don't worry!
I'm going to share a few of my favorite buttercream flowers for a wreath that is not only impressive but surprisingly simple to assemble.
As an added bonus, I'm sharing a really fun piped design for the sides of your cakes as well. Enjoy!! ;0)
Materials:
In the video, I'm decorating an 8" tier with our Fluffy Vanilla Buttercream recipe. Our Classic Vanilla Buttercream is a great option too.
Piping Tips: Ateco 48 (or similar basketweave tip), Wilton 104, Wilton 12, Wilton 2D, Wilton 233 (grass tip), Wilton 81 (for chrysanthemums), Wilton 352 leaf tip
Coloring Gels: Americolor Yellow, Electric Green for hydrangeas, Wilton Rose, Leaves are piped with a combination of Wilton Leaf Green & Americolor Avocado Green
Rose Nail, waxed paper (cut into squares)
Miscellaneous- This cake was on it's own cardboard cake circle, pedestal/cake base. I used a small offset spatula & bench scraper to frost the cake as usual before adding the piped details. Couplers (optional), disposable piping bags
Notes:
*Once we were ready to start decorating the cake with our flowers, we chilled them for 15-20 minutes in the freezer or until firm & easily removed from the waxed paper.
I wouldn't recommend freezing for much longer than that although you can relocate the flowers to the refrigerator to chill further as you work.
When creating a wreath, don't limit yourself to the flowers that we demonstrated. There are any number of combinations that would work well.
Even something as simple as piped buttercream hydrangeas or simple rosettes all the way around would be beautiful! Have fun experimenting!