Kit Kat Easter Basket Cake- Free Video Tutorial
Easter is just around the corner and we are excited to share this cute and easy Kit Kat Easter basket cake!
I love the simplicity of this cake design, and it would look beautiful on your Easter dessert table or a lovely centerpiece!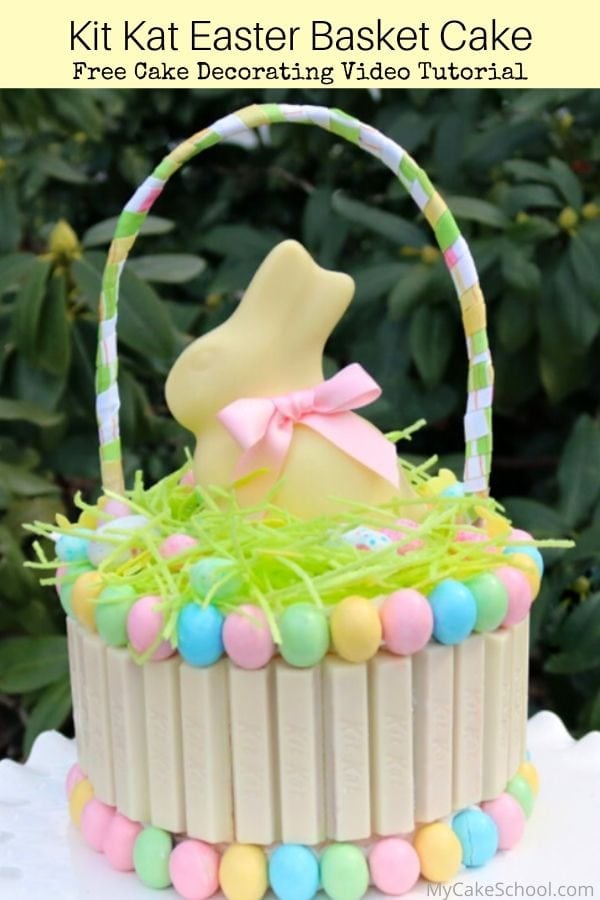 The best part of all is that this basket cake is SO easy to make. If you have little ones in the kitchen, let them help too!
How to make a Kit Kat Easter Basket Cake
This basket cake would work on any size of cake tier, just as baskets come in all sizes, however for our tutorial, we used a 6 inch layer cake frosted in our Classic Vanilla Buttercream.
For our Basket cake, we used white chocolate Kit Kats because that's what was available (snack size are a little shorter). We also used Hershey Eggs, Edible Easter Grass, and miscellaneous pastel candy. (Jellly beans, malted speckled eggs, etc.)
After filling your cake layers, crumb coat with a thin layer of buttercream. To save time, go ahead and unwrap your white chocolate Kit Kats. (For our 6 inch tier, it took about 16 packs of the snack size Kit Kats (which have two bars rather than the usual 4 per pack).
Add the final coating of frosting and begin adding pressing on the Kit Kats and eggs.
For the basket handle, we used a couple of thick paper-wrapped wires from a craft store which we wrapped in decorative ribbon, inserting each end into a drinking straw so that it wouldn't come into contact with the cake.
After inserting the handle into the candy-covered cake, we added edible Easter grass, candies, and a white chocolate bunny. (We added a little bow attached with piping gel to the bunny for a little more cuteness!)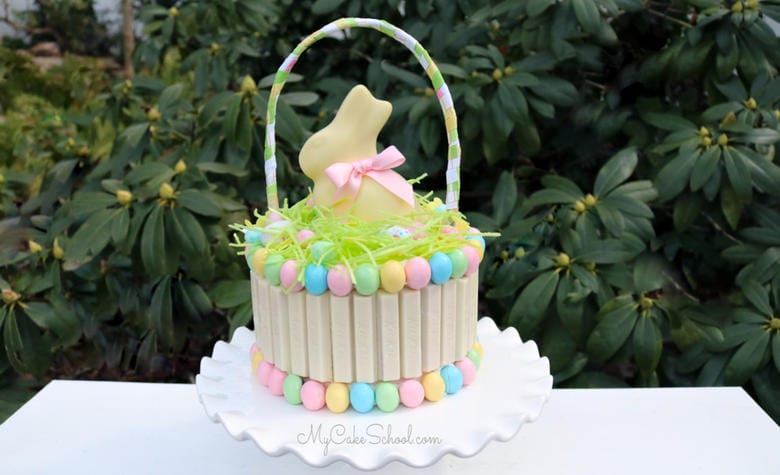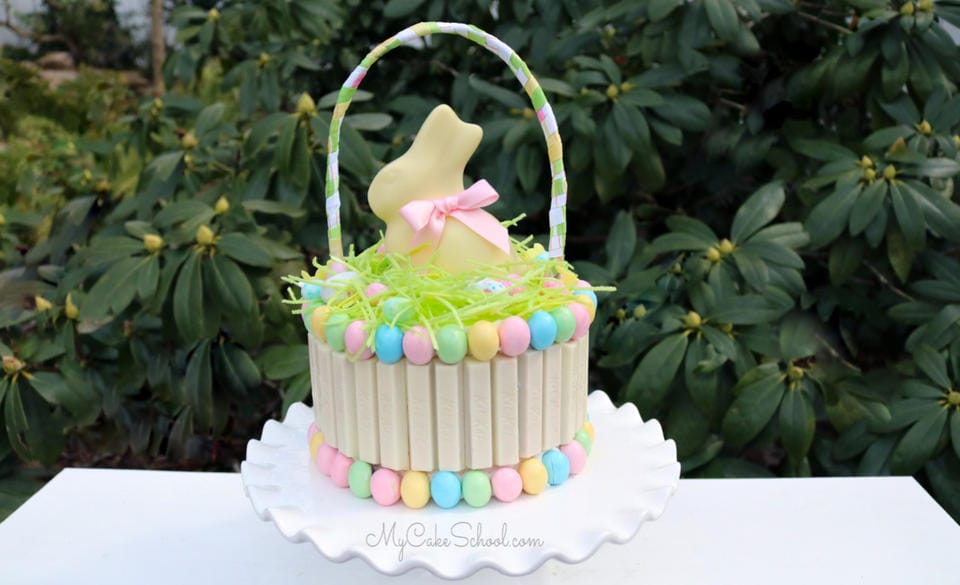 More Easter Cakes!
We hope that you enjoy this video tutorial! Don't miss our other Easter cake recipes and tutorials in our roundup of favorites! Favorite Easter Cakes, Tutorials, and Ideas!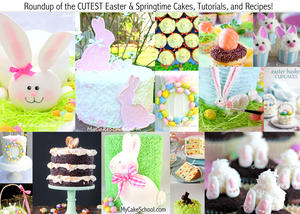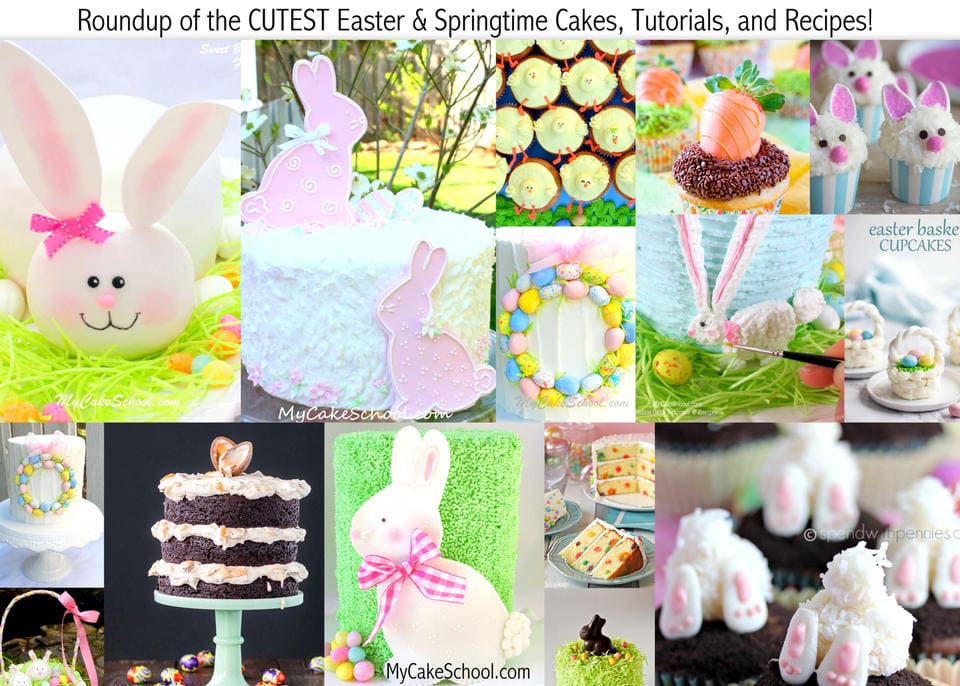 Kit Kat Cake
We've made a couple of other Kit Kat Cakes as well! Our Kit Kat Checkerboard Cake is so much fun, and great for the chocolate lovers in your life! We also have a super east Kit Kat & Reese's Cup design from our blog!
Enjoy the Tutorial!
Thanks so much for stopping by! If you give our Kit Kat Easter Basket Cake a try, we would love for you to leave a comment and photo below!
Kit Kat Easter Basket Cake- Free Video Tutorial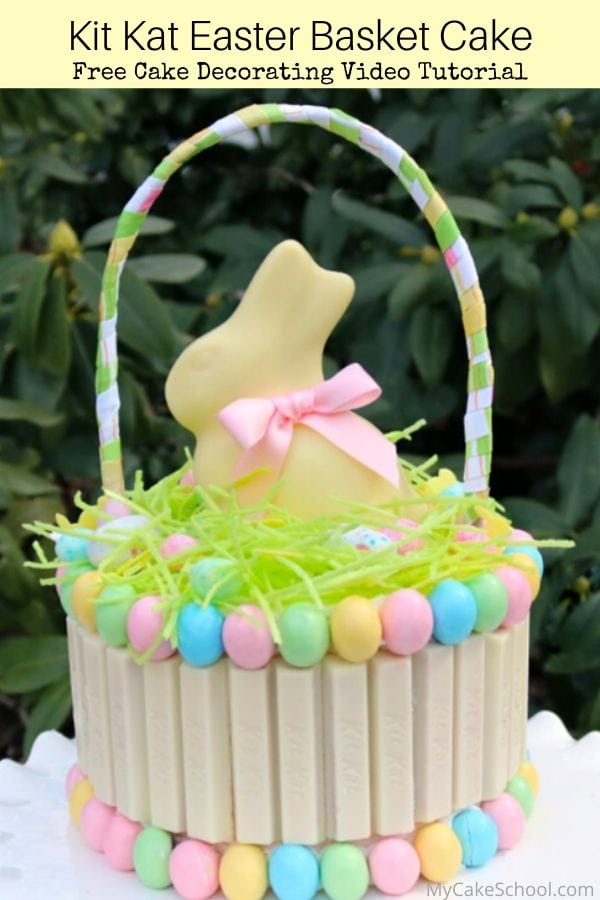 Learn how to make a quick and easy Easter Basket Cake in this free cake decorating video! This Kit Kat Easter Basket Cake is sure to please- and would be perfect for Easter gatherings!
Ingredients
Your cake of choice. We started with a cake tier that was 6 inches wide and about 4 inches tall.
Classic Vanilla Buttercream Frosting
White Chocolate Kit Kats (we used the snack size as that is what was available-- I needed 16 of the small snack sizes packs which have two Kit Kat bars per pack rather than the usual four.)
Hershey Eggs
Brown Paper Wrapped Wire in a sturdy yet pliable gauge). Our wires were 18 inches however if you need longer you can attach two pieces for additional length.- As an alternative, you can fold card stock around sturdy floral wire, and wrap it with ribbon as usual.
Decorative ribbon for wrapping around handle.
White Chocolate Bunny - (Use whatever you like, I used a Lindt white chocolate bunny)
Ribbon for bunny- optional. I attached with a little piping gel
Instructions
After filling and crumb coating your tier with a thin layer of frosting, unwrap your Kit Kats and set to the side. Add the second coat of frosting and then begin to apply the candy all the way around.
Make an Easter Basket handle with paper covered wire (I used 2 brown paper-covered wires ) wrapped in ribbon. Bend to desired shape and push each end into a straw to serve as a barrier & anchor into the cake. (You will need to trim straw depending on height of cake).
After pushing handle into cake, add everything else--the edible Easter grass (you can also pipe buttercream Easter grass with a wire tip), White Chocolate Bunny, etc.
Notes
This basket cake would work for cake tiers of any size!
If you can't find white chocolate Kit Kats, you could use the mini square ones as we did in our Kit Kat Checkerboard Cake, or you could use brown Kit Kats for a brown basket, or simply pipe a design of buttercream rosettes, shells, or basketweave around the sides of the cake!
Recommended Products
As an Amazon Associate and member of other affiliate programs, I earn from qualifying purchases.