We have a new favorite homemade strawberry cake to share with you!
This incredibly moist, fluffy cake would pair perfectly with a number of fillings and frostings, and has amazing strawberry flavor!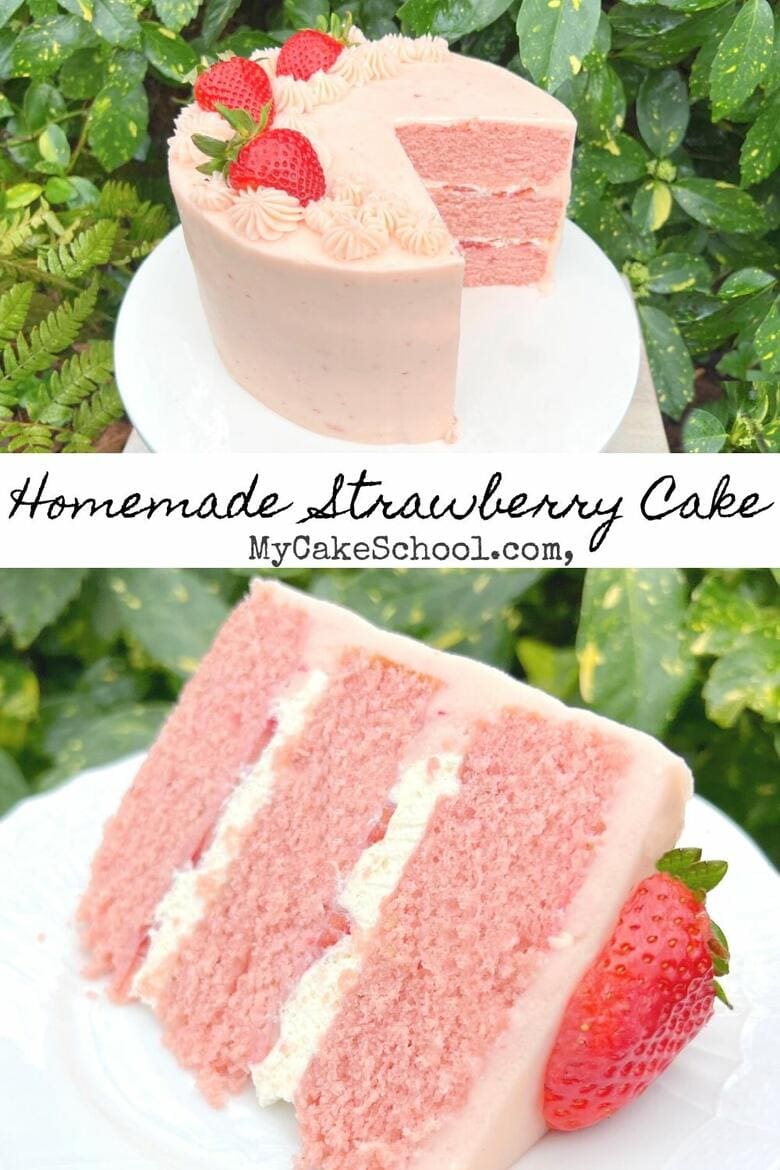 Today we have filled our moist strawberry layer cake with whipped cream and sliced strawberries, and frosted with a creamy strawberry cream cheese frosting.
We think that this will become your new favorite strawberry cake!
What Makes this Strawberry Cake Different?
We have a few other strawberry cakes in our Recipes Section that we love, including our Strawberry Sour Cream Cake, Scratch Strawberry Cake, Strawberry Pound Cake, and Strawberry Cake Mix Recipe.
What makes today's Homemade Strawberry Cake different, is the cream cheese in the cake batter! We refer to these as our velvet cake recipes.
We love the amazing texture that it gives our cake as well as the added richness that it adds while still maintaining a fluffy, soft crumb.
Buttermilk and sour cream are two staples that we've often turned to for our cake recipes because the added acidity softens the gluten strands which makes for a moist, tender cake.
We are now adding cream cheese to this list of favorite ingredients as well!
More Cakes with Cream Cheese in the Cake Batter!
Just in the past couple of months, we've begun to use cream cheese in several of our new cake recipes including: Almond Cream Cheese Cake, Lemon Velvet Cake, Chocolate Velvet Cake, and Chocolate Cream Cheese Pound Cake, and we are officially in love!
How to Make Homemade Strawberry Cake
You can find the full, printable strawberry cake recipe in our recipe card further down in this post, but here is a quick rundown of our steps!
Preheat the oven to 325 degrees F. Grease and flour three 8 inch pans. We like to line the bottom of our pans with circles of parchment paper.
Puree fresh strawberries or frozen strawberries in a blender or food processor to make 1 cup. (You will also use an additional ¼ cup more for the frosting if you'd like to do this now). I used frozen, whole strawberries which I thawed and pureed for the cake batter, and used fresh strawberries for the filling and frosting.
The great thing about a strawberry cake recipe that calls for frozen strawberries is that you don't have to wait for strawberry season to enjoy it!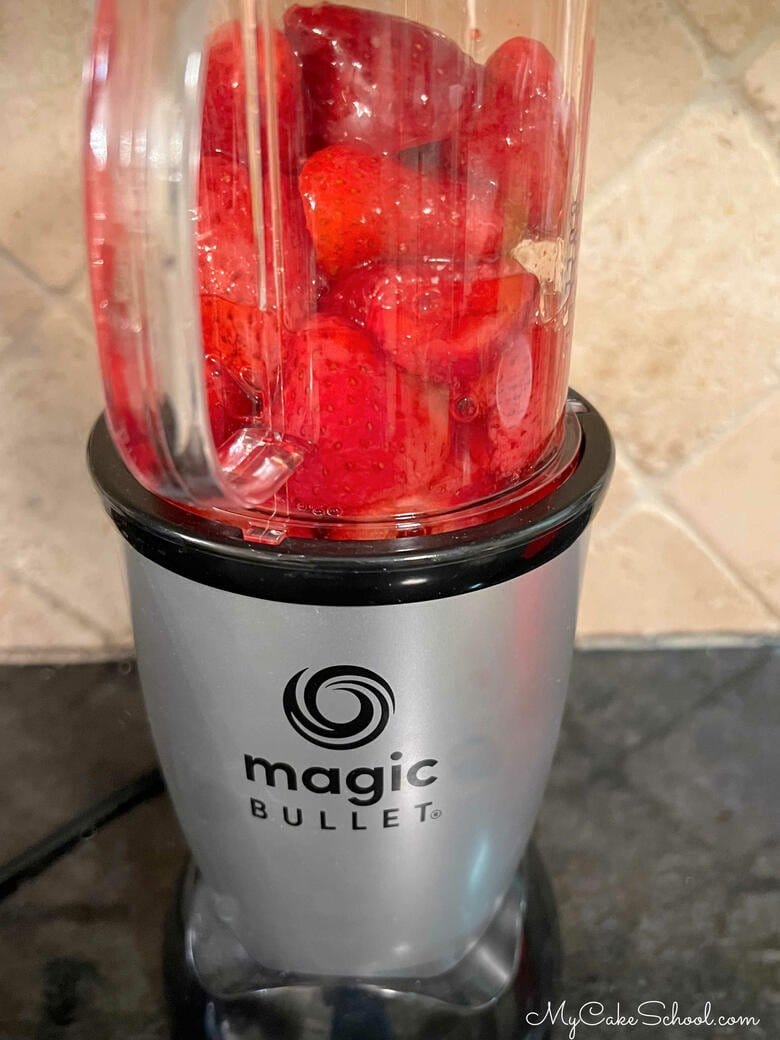 Combine Dry Ingredients: In a medium bowl, whisk the cake flour, baking powder, baking soda, and salt for 30 seconds and set aside.
Combine Wet Ingredients: In another bowl, combine the oil, 1 cup strawberry puree, and strawberry extract. Set aside.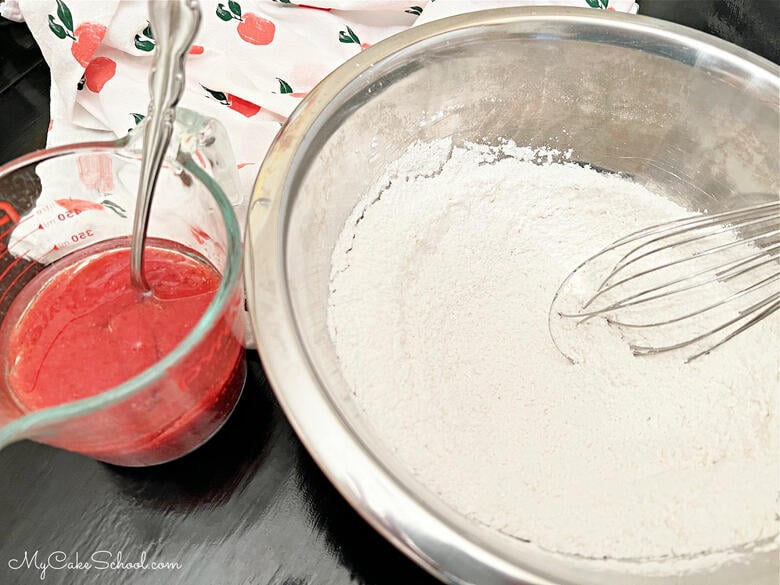 Butter & Cream Cheese: In the large mixing bowl of your stand mixer, add the butter and cream cheese and mix at medium speed until smooth.
Sugar: Gradually add the sugar and mix at medium speed for 2-3 minutes.
Eggs: Add the room temperature eggs one at a time, mixing until the yellow of the yolk disappears. As an optional step, we like to add a drop or two of pink color gel to make a prettier shade of pink batter.
Adding Dry & Wet Ingredients: With the mixer on low speed, alternately add the flour mixture and the strawberry mixture, beginning and ending with the flour mixture (We did 3 additions of the dry mixture, 2 additions of wet). Slightly increase the mixer speed just until combined.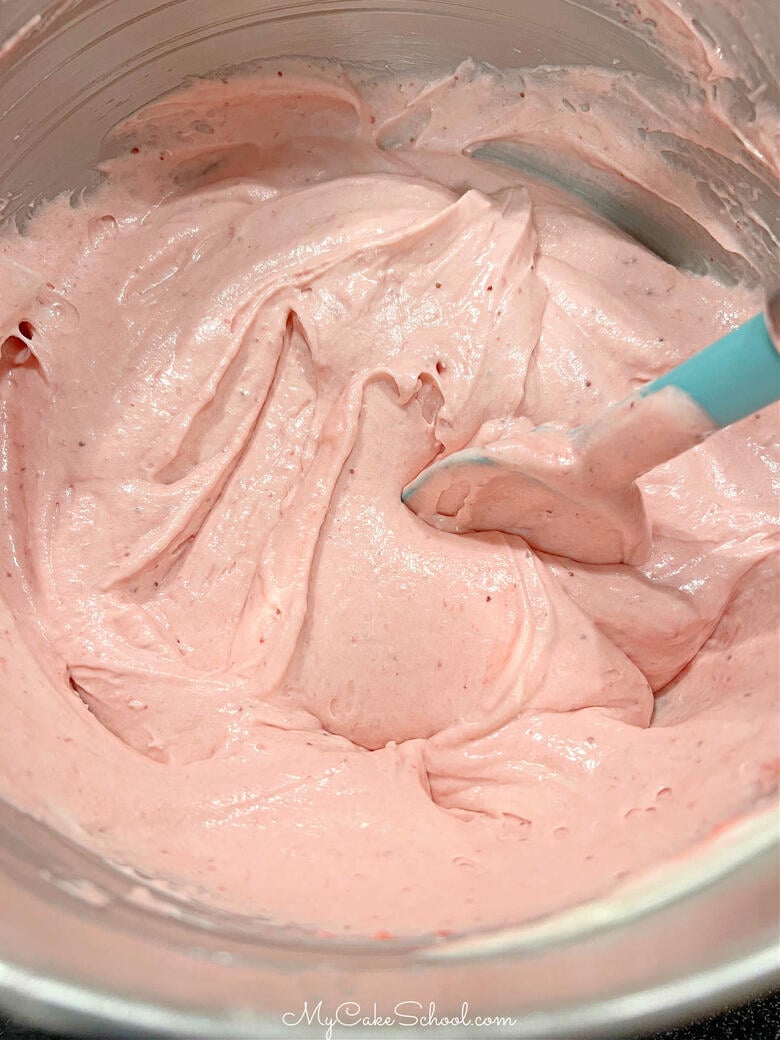 Fill the Pans: Divide the batter between the three prepared pans.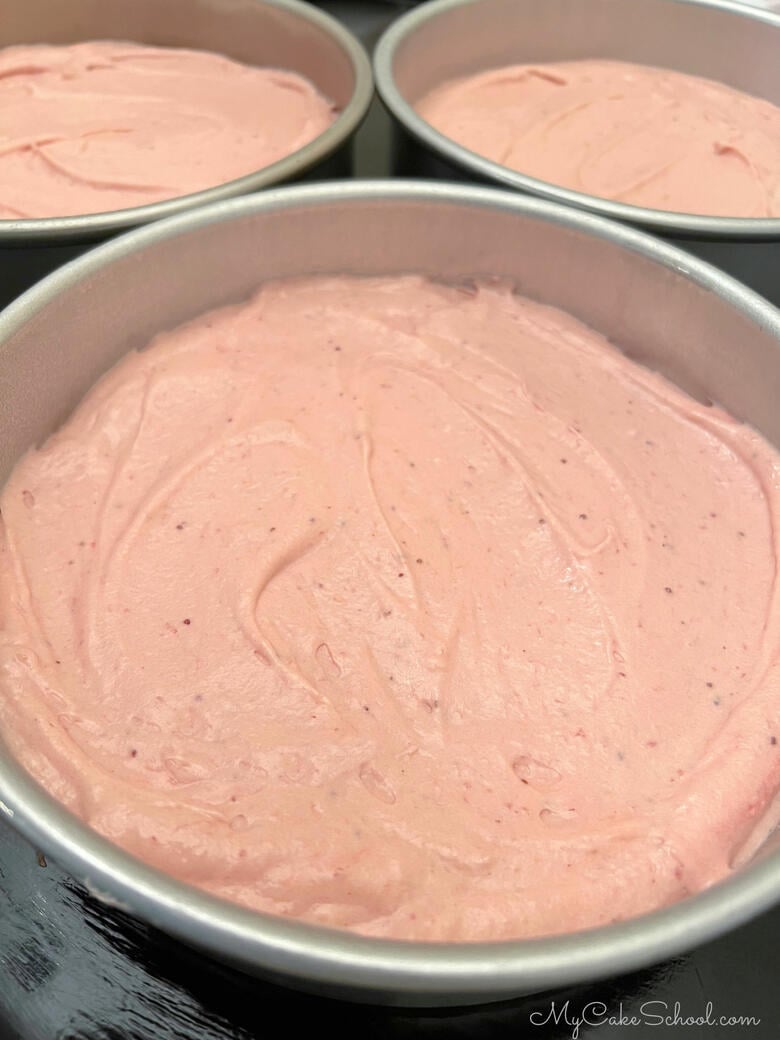 Time to Bake! Bake at 325 degrees F for 28-30 minutes or until a toothpick inserted into the center comes out clean or with just a few moist crumbs attached. The baking time may vary and so keep an eye on the layers as they approach the 28 minute mark.
Let cool for 5-10 minutes in the pans on a wire rack before turning out.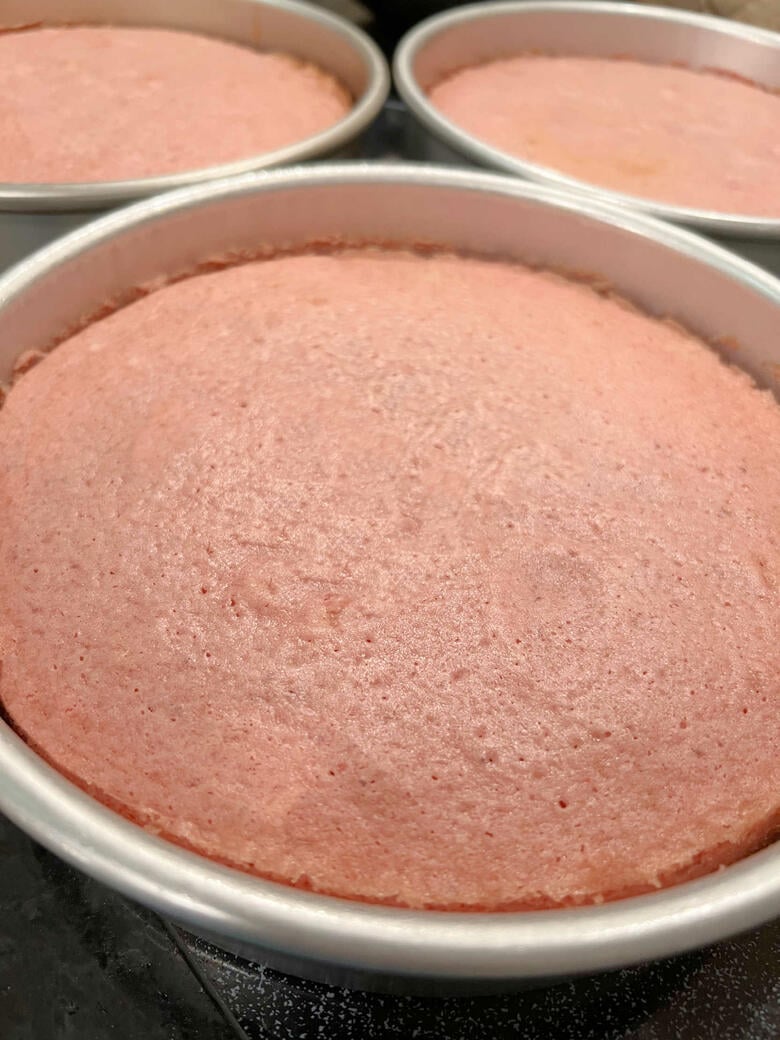 This amazing strawberry cake recipe makes approximately 8 cups of batter and works for strawberry cupcakes as well (although there will be little to no dome).
Can Strawberry Cake Layers be Frozen?
Yes! Strawberry cake layers can be frozen- in fact, any cake layers can. We freeze cakes all the time and as long as they have been wrapped tightly, these moist cake layers will stay perfectly fresh.
After baking the strawberry cake layers, allow to cool for about 5-10 minutes in the pans on a wire rack before flipping out onto foil-lined cake boards.
Wrapping and Freezing
Allow to cool a bit more and then while still slightly warm, wrap in a layer or two of plastic wrap followed by aluminum foil. Into the freezer they go.
If you are baking far in advance, make sure to label the foil with the cake name and date.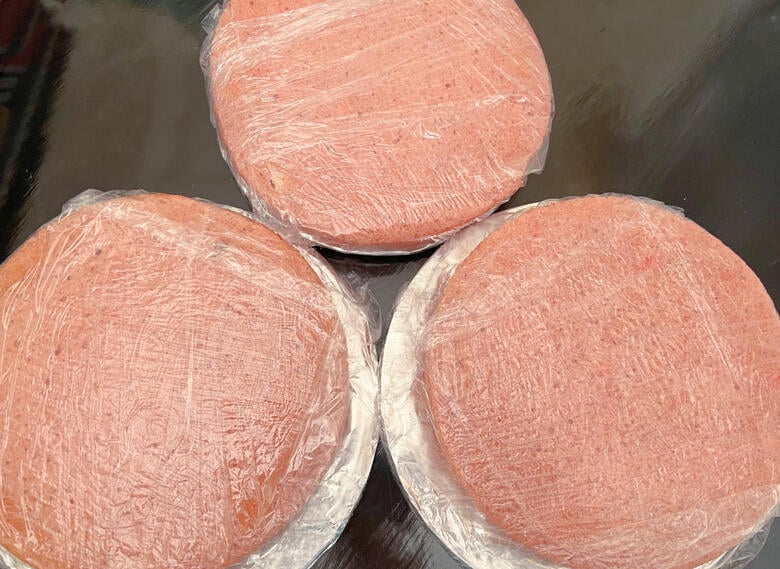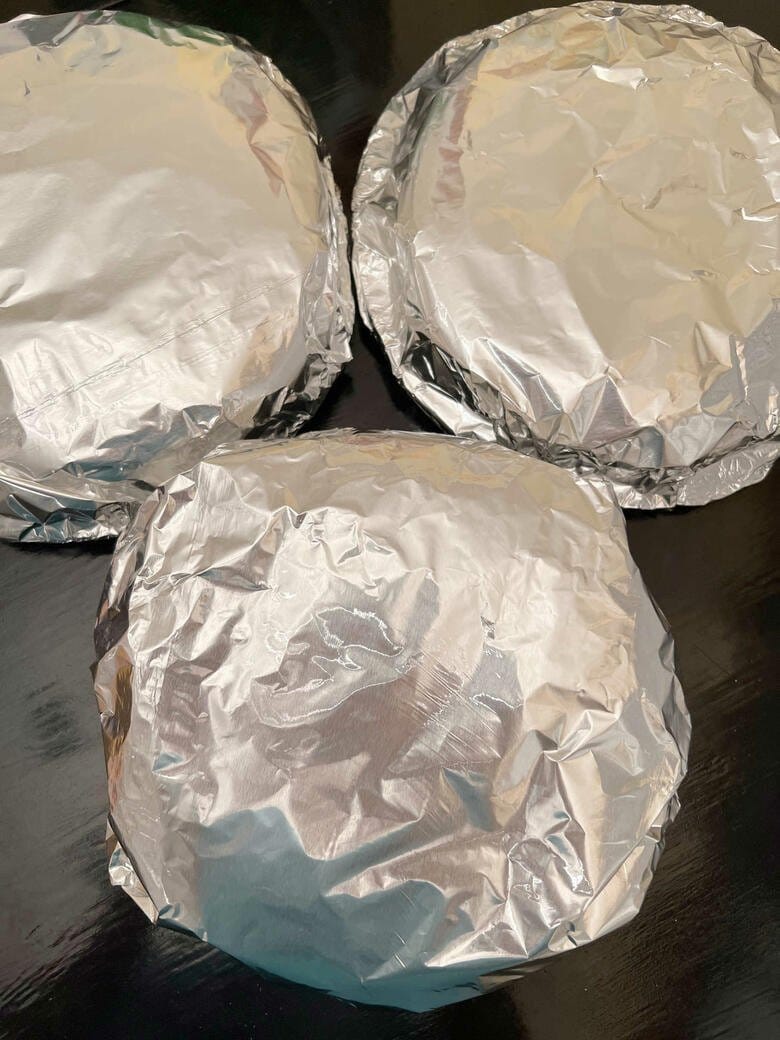 How Long Can Cake Layers be Frozen?
When wrapped tightly in plastic wrap and foil, cake layers can be successfully frozen for three months.
That leaves plenty of time for working well in advance, or taking advantage of leftover frozen cake slices ;0) The cakes will still taste amazing.
Thawing Frozen Cake Layers
Remove the wrapped cake layers from the freezer and allow to thaw on the kitchen countertop still wrapped. Condensation will form on the foil rather than the cake which is a good thing!
After at least 30 minutes , once condensation has formed, you can remove the wrapping at any time.
Some decorators even prefer to assemble their cakes when they are still partially frozen since they are less fragile.
Filling for our Homemade Strawberry Cake
There are many fillings that would be perfect for this delicious strawberry cake! Here are just a few:
strawberry whipped cream cheese filling
We decided to keep things light and simple with sliced fresh strawberries and whipped cream, as we do with our Strawberry Shortcake Cake and Easy Strawberry Champagne Cake Recipes.
We often use homemade whipped cream as a filling for our fruity cakes- it is a simple combination of whipped heavy cream, powdered sugar, and a bit of vanilla.
This recipe can be whipped up in minutes. We like chill the bowl and beaters/whisk attachment in the freezer for 10 minutes before preparing the recipe.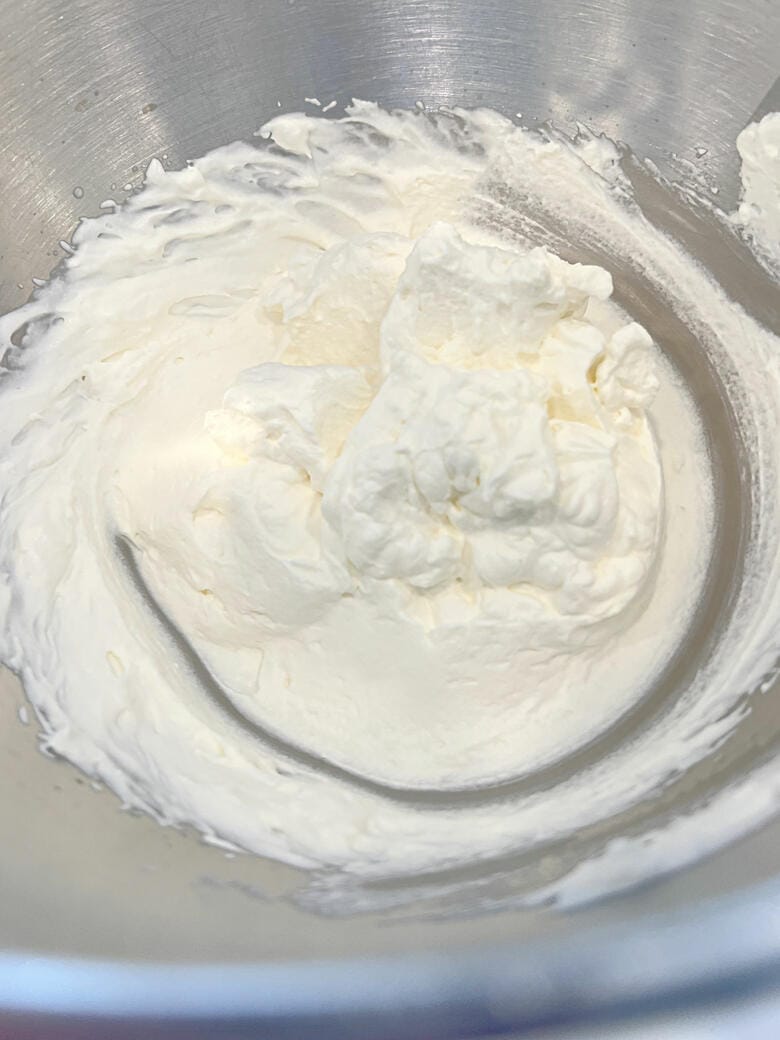 For the Strawberry Cream Cheese Frosting
I frosted the cake with a luscious Strawberry Cream Cheese Frosting. This is such a flavorful recipe!
This strawberry frosting recipe is a cross between our usual cream cheese frosting and an American vanilla buttercream recipe as it uses one block of cream cheese frosting rather than two, and more butter.
This combination of recipes allowed me to add ¼ cup of strawberry puree for a boost of fresh strawberry flavor making it overly soft. I also love the tiny flecks of strawberry that the puree adds to the frosting!
You can still taste the light tanginess of the cream cheese, which perfectly complements the strawberry. The frosting is also flavored with a teaspoon of strawberry extract.
We added a touch of pink coloring gel (Americolor Deep Pink) to make a prettier shade of pink.
Cream Cheese Frostings are Softer
Cream cheese frostings like this one (as well as our chocolate cream cheese frosting, orange cream cheese frosting, and more) are a bit softer than other frostings.
The heat from your hands on the piping bag, or temperature of your kitchen can soften the buttercream, making it harder to work with.
Not to worry! If this happens, simply pop your bowl of frosting or piping bag in the refrigerator for 10-15 minutes to return it to it's proper consistency for decorating.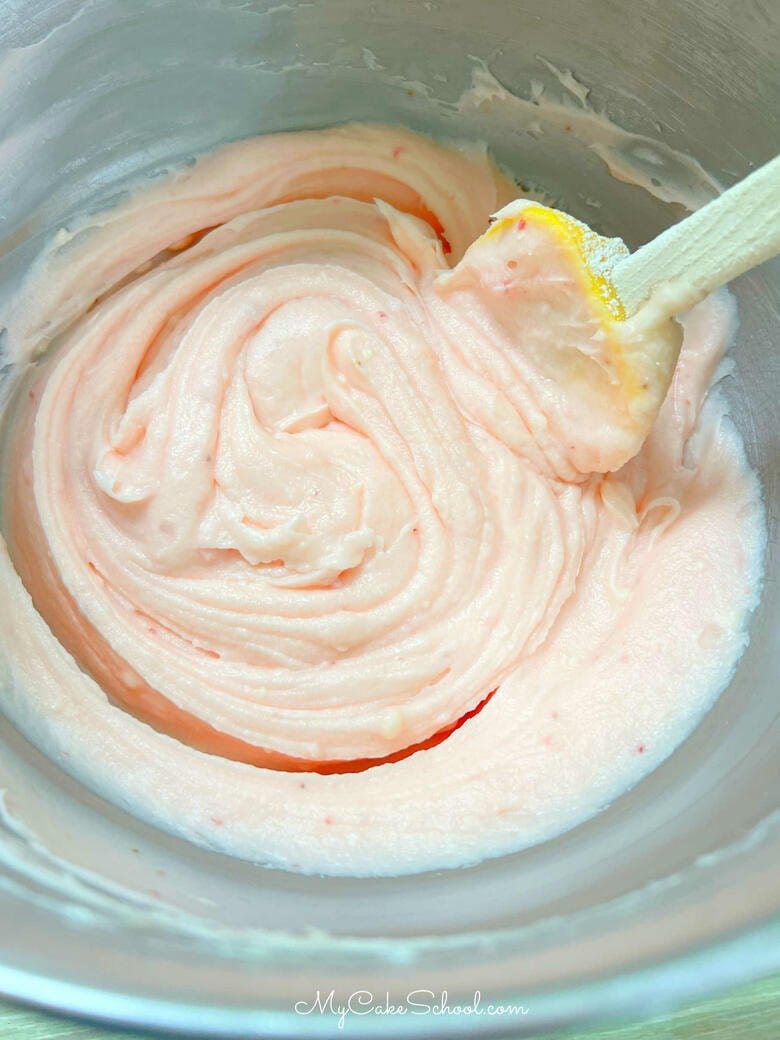 Assembling the Strawberry Cake
Place the first strawberry cake layer on the cake plate or pedestal. Using a disposable piping bag with the tip snipped away, pipe a dam or strawberry cream cheese frosting about ¼-1/2 inch from the edge of the cake layer.
The purpose of piping a dam is to keep the soft whipped cream filling from escaping from the sides of the cake when the layers are stacked.
Fill the top of the layer with sliced strawberries, and follow with a layer of whipped cream (within the dam).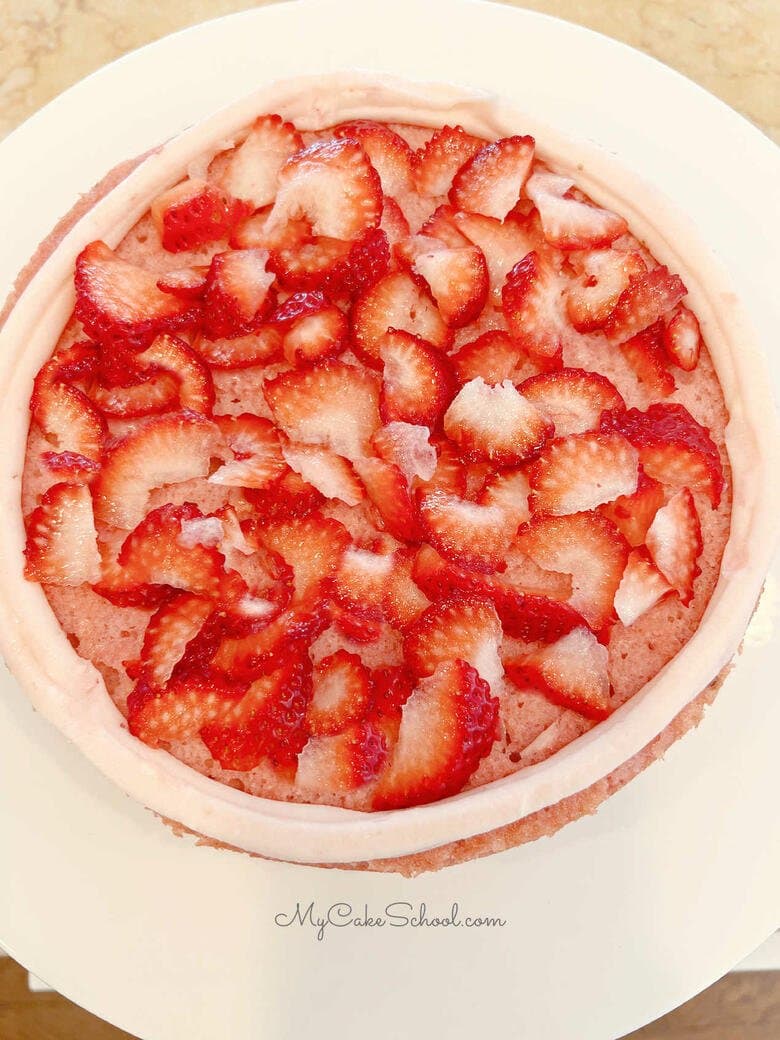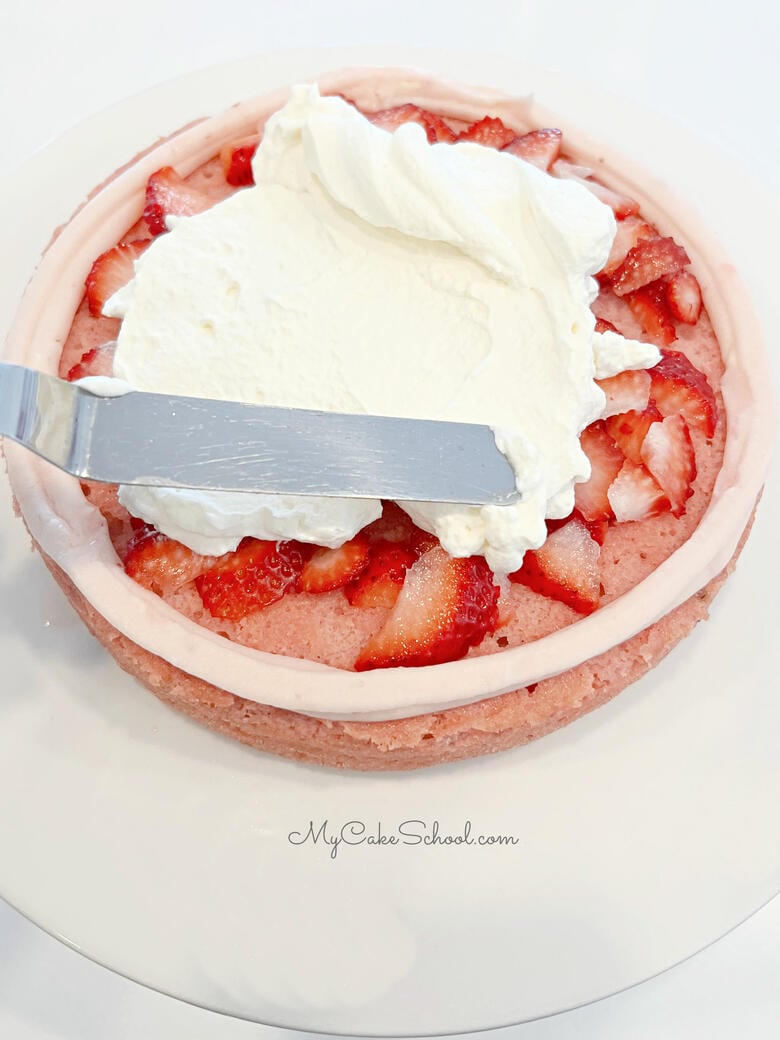 Top with the second cake layer, adding the dam, sliced strawberries, and whipped cream.
Top with the third cake layer and fill in any remaining gaps between the cake layers with more frosting. (I fill in the gaps with the same piping bag I used for the dam and then spread with an offset spatula. We want to seal in the filling!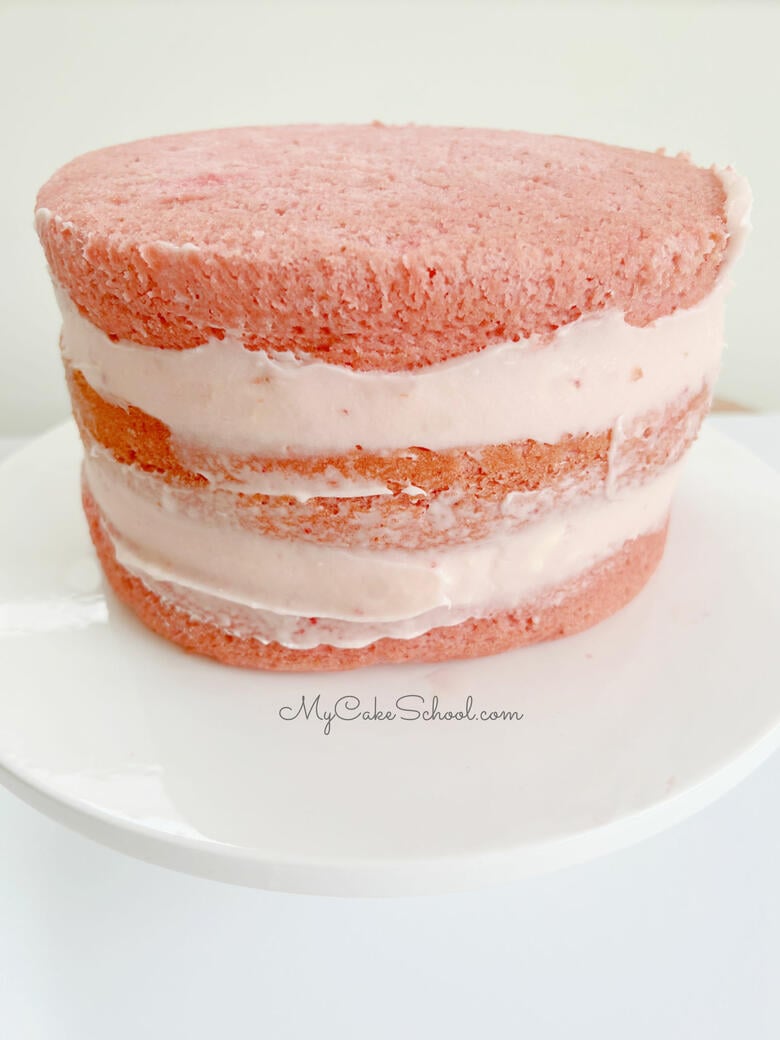 Next, I crumb coated the entire cake with a thin layer of frosting and chilled it in the freezer for about 10-15 minutes to firm things up. (You could also chill in the refrigerator for a bit longer).
Next, apply the second coat of frosting and smooth with a bench scraper or offset spatula. (I like to heat my metal bench scraper under very hot water before gliding over the final coat of frosting to make it extra smooth.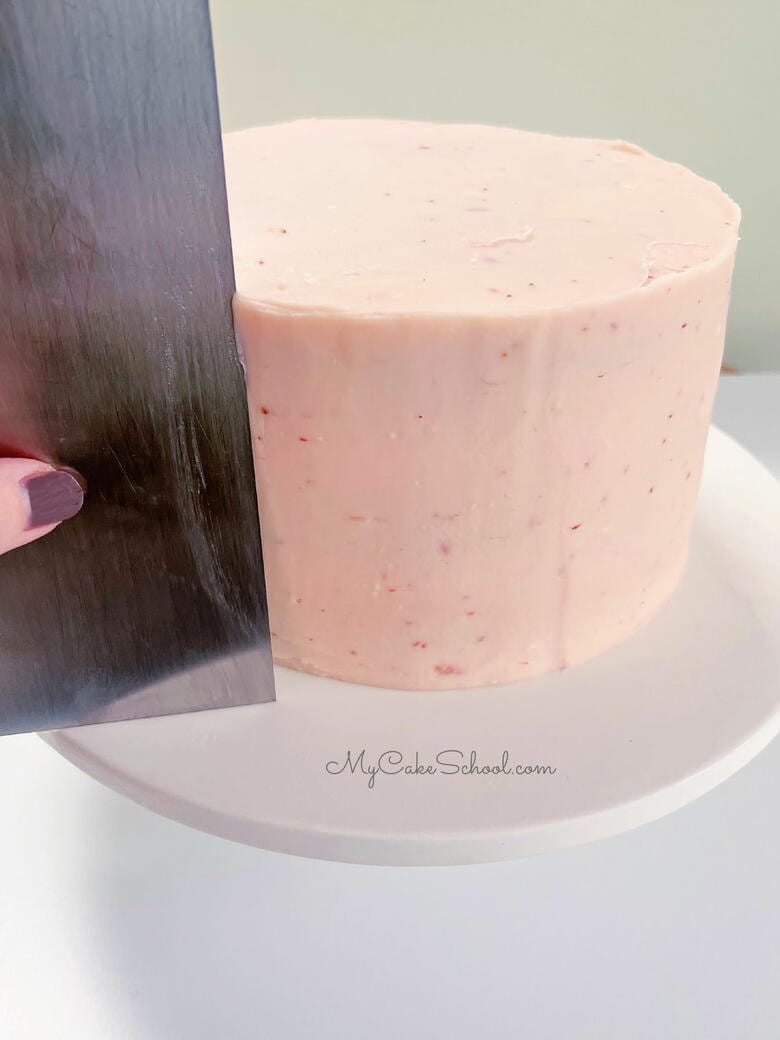 Decorating the Homemade Strawberry Cake
Decorate the strawberry cake however you like! I kept things simple and added a few fresh strawberries to the top of the cake and piped around them using a Wilton 6B french star tip. I love the look!
You can get a similar effect with any large star tip.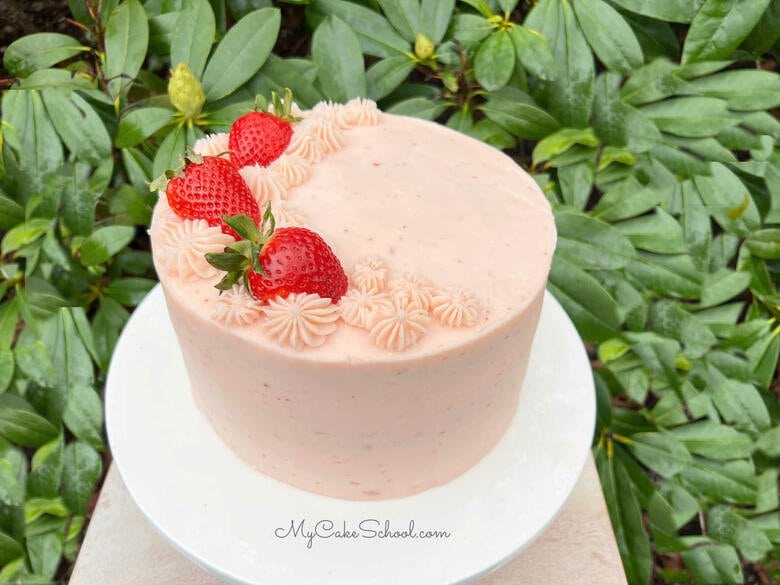 More Cakes with Strawberries!
We love strawberry cakes, especially in the spring and summer months! They make wonderful birthday cake recipes!
In addition to today's homemade strawberry cake recipe, we have many more strawberry cakes to share with you- from strawberry doctored cake mixes to homemade cakes, and other delicious fruity strawberry cake combinations.
Some of our favorites are Strawberry Bundt Cake, Strawberry Lemonade Cake, and Strawberry Cake from a Box.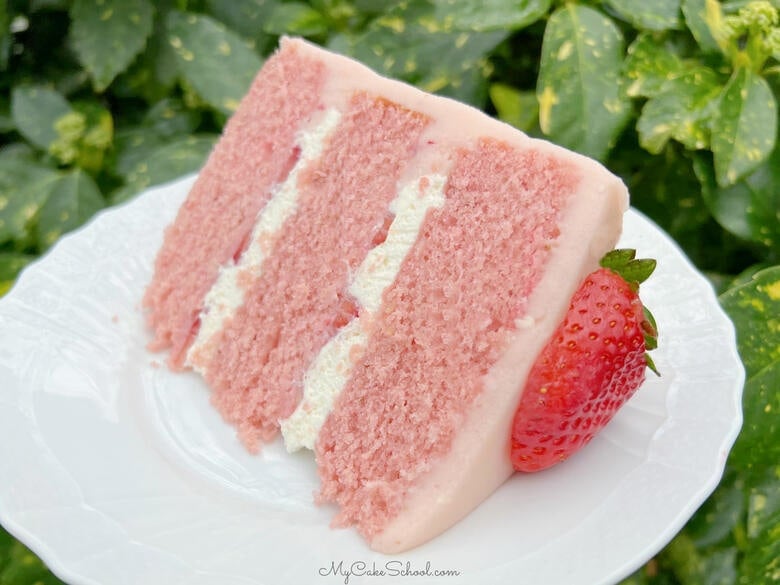 Enjoy the Recipe!
Thanks so much for stopping by! Don't miss our full collection of delicious Cake Recipes, including cakes from scratch and cake mix recipes.
We also have a wonderful collection of velvet cake recipes- each one is so moist with a velvety soft texture.
Have you made this Cake? We would LOVE for you to leave a ⭐️ rating as well as a comment and photo below! We really appreciate your feedback!
Homemade Strawberry Cake
This incredibly moist, fluffy strawberry cake has amazing flavor and a wonderful texture, thanks in part to the cream cheese and strawberry puree in the cake batter! We've filled our cake with sliced strawberries and whipped cream, and frosted with strawberry cream cheese frosting!
Print Recipe
Pin Recipe
Ingredients
For the Cake
8

oz

package of cream cheese, softened

(We used one 8 oz package, full fat.)

1 ½

sticks

(170g) unsalted butter, softened.

¾c unsalted butter, softened

2

cups

(400g) sugar

4

large eggs, room temperature

(to save time you can warm them in a bowl of very warm water for 5 min)

3

cups

(342g) cake flour

See notes if you need a substitution.

2

teaspoons

(8g) baking powder

½

teaspoon

(3g) baking soda

½

teaspoon

(3g) salt

1

cup

(243g) strawberry puree

(you can use fresh or frozen strawberries)

2

teaspoons

(8g) strawberry extract or baking emulsion

(We used McCormick. You could also use 2 tablespoons strawberry jello powder if you don't have extract.)

¼

cup

(54g) vegetable oil (we used canola oil)

A touch of pink coloring gel

optional
Sweetened Whipped Cream
1

cup

(240g) heavy cream

¼

(29g) cup powdered sugar

1

(4g) teaspoon vanilla

Sliced fresh strawberries- approximately 8-10

to be used along with the whipped cream in the filling
For the Strawberry Cream Cheese Frosting
3

sticks

(339g) Unsalted butter, softened.

8

oz

Cream Cheese, softened

We used one 8 oz package. Full fat.

6-7

cups

(690-805 g) Confectioners Sugar

(Adjust amount to your liking.)

¼

cup

Strawberry Puree

3-5 strawberries, pureed in blender or food processor

1

Teaspoon

(4g) Strawberry Extract

A small amount of pink coloring gel

optional
Instructions
For the Strawberry Cake

Preheat the oven to 325 degrees F. Grease and flour three 8 inch pans. We like to line the bottom of our pans with circles of parchment paper.

Puree fresh or frozen strawberries in a blender or food processor to make 1 cup. (You will use ¼ cup more for the frosting if you'd like to do this now).

In a medium bowl, whisk the cake flour, baking powder, baking soda, and salt for 30 seconds and set aside.

In another bowl, combine the vegetable oil, 1 cup strawberry puree, and strawberry extract. Set aside.

In the bowl of your mixer, add the butter and cream cheese and mix at medium speed until smooth.

Gradually add the sugar and mix at medium speed for 2-3 minutes.

Add the room temperature eggs one at a time, mixing until the yellow of the yolk disappears. Add a touch of pink coloring gel if you'd like.

With the mixer on low speed, alternately add the flour mixture and the strawberry mixture, beginning and ending with the flour mixture (We did 3 additions of the dry mixture, 2 additions of wet). Slightly increase the mixer speed just until combined.

Divide the batter between the three prepared pans.

Bake at 325 degrees F for 28-30 minutes or until a toothpick inserted into the center comes out clean or with just a few crumbs attached. Let cool for 5-10 minutes in the pans on a wire rack before turning out.

This recipe makes approximately 8 cups of batter. Works for cupcakes also (although there will be little to no dome).

For the Whipped Cream Filling

We like to make the whipped cream just before it's time to assemble the cake.

Chill the mixing bowl and beaters/ whisk attachment in the freezer for 10 minutes.

Pour the whipping cream, powdered sugar and vanilla into the chilled mixing bowl, begin beating on low speed gradually increasing to medium high speed.

The cream begins to thicken (approx. 1 ½ minutes) and soft to-stiff peaks form- peaks that hold their shape or slightly bend over. Watch closely as this happens quickly. Do not over beat.

(When assembling the cake, we will also use sliced strawberries between the cake layers)

For the Strawberry Cream Cheese Frosting

Put the softened butter in the bowl of your mixer and mix until smooth.

Add the pieces of softened cream cheese to the mixing bowl. The cream cheese should be soft enough that it combines easily into the butter/powdered sugar mixture. Beat on low/medium speed about 1 minute or until the cream cheese is blended in.

Add the powdered sugar, strawberry extract, and ¼ cup strawberry puree. Add a touch of pink coloring gel if you'd like.

Beat on Medium speed for 2 to 3 minutes (a bit longer if using a hand mixer). Scrape the bowl mid-way through. Do not over beat. You can add more powdered sugar if you'd like to thicken it up more. Refrigerating it for 10-15 minutes will also thicken the consistency.

This frosting should be refrigerated.

Assembling the Cake

Place the first strawberry cake layer on the pedestal or cake plate. Pipe a dam of the frosting around the edge of the cake (about ½ inch from the edge) using a disposable piping bag with the tip snipped away.

Fill the top of the layer with sliced strawberries, followed by a layer of whipping cream (within the dam).

Top with the second layer and repeat above steps. Then top with the third layer.

Fill in any remaining gaps between the cake layers with frosting using the piping bag with tip snipped away. Crumb coat the cake with a thin layer of frosting. Chill in the freezer for 10-15 minutes (or longer in the refrigerator) to firm things up.

Apply second coat of frosting, smooth with bench scraper or spatula. Decorate to your liking- I applied a few strawberries around one side of the cake on top, surrounded by french tip stars (Wilton 6B or similar larger star tip/french tip)
Notes
Substitution for Cake Flour: (Using all purpose flour (plain in UK) to make Cake Flour) For each cup of flour in a recipe, remove 2 Tablespoons of flour and replace with 2 Tablespoons cornstarch (cornflour in the UK). This recipe has 3 cups of flour so you will measure out 3 cups of all purpose flour, remove 6 Tablespoons and replace with 6 Tablespoons cornstarch, whisk to blend