Spring is in the air and it's time for a delicious roundup of the BEST cake recipes for spring & summer!
A great slice of cake is going to be delicious no matter what the season, but in warm spring and summer months, I especially crave cakes with refreshing fruit flavors or an extra pop of color!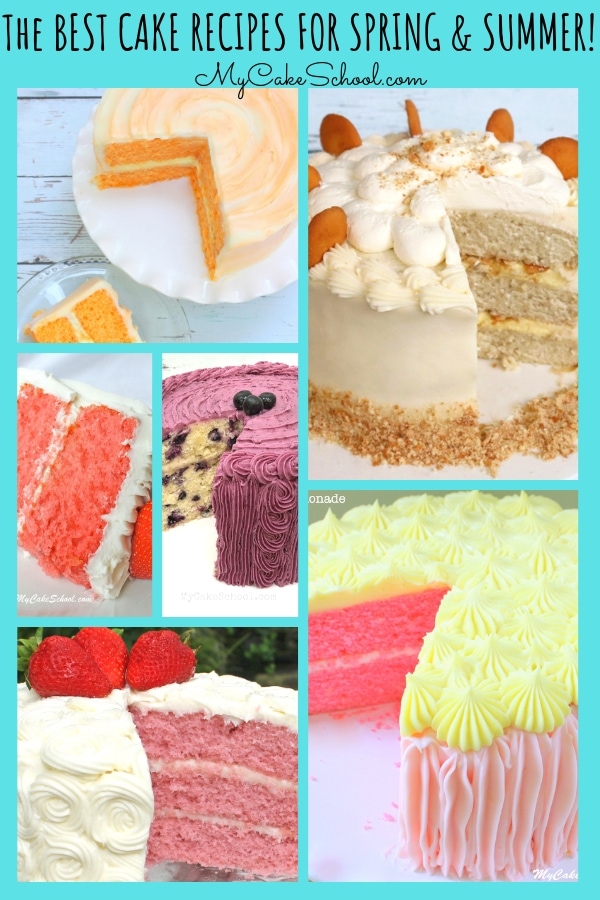 You may have seen our roundup of our favorite Summer Cake Designs, Tutorials, and Inspiration, but today, we're all about the RECIPES! We have SO many favorite recipes for spring and summer that it would be impossible to pick just one.
Whether you're looking for citrus cakes, cocktail inspired cakes, or fruit flavors that pair wonderfully with chocolate (hello raspberry, strawberry, and coconut), we have something for you!
Save this roundup for the next time you're planning a birthday party, neighborhood gathering, or just a fun night with the family. We hope that you find something that you can't wait to try! Enjoy!
The Best Cake Recipes for Spring and Summer
We love these light and fruity cake recipes for spring and summer gatherings! Whether you're looking for strawberry cakes, citrus cakes, cocktail inspired cakes, and more- you are certain to find something on this list!
Thanks for stopping by! We hope that you enjoyed this roundup of spring and summer cakes (which, as it turns out, doubles as a post of our favorite cakes with fruit!) If you try any of these recipes, we'd love to hear what you think! make sure to leave a comment below.
More Delicious Cake & Frosting Recipes!
You can find our full collection of FAVORITE recipes for both scratch and cake-mix cakes in our Recipes Section, along with tons of amazing frosting and filling recipes to pair them with!

Let us teach you How to Decorate Cakes!
If you are interested in cake decorating, you must check out our Free Cake Tutorials section, which also features a Free Cake Decorating Videos category- So many fun & easy ideas!
If you'd like to learn even more about cake decorating, please consider joining My Cake School! As a member, you'll have access to every cake video tutorial we've made (hundreds!) for all skill levels of cake decorating. We'd love to have you! You can find all of the details here: MyCakeSchool.com Membership Information- Learn Cake Decorating Online!