Every spring, I crave all of the fruit flavored cakes-- and this DELICIOUS scratch Lemon Orange Layer Cake is a new favorite! If you like citrus, you're about to fall in love.
Homemade orange curd and orange cream cheese frosting are sandwiched between three layers of lemon cake, and frosted with orange cream cheese frosting in this heavenly dessert!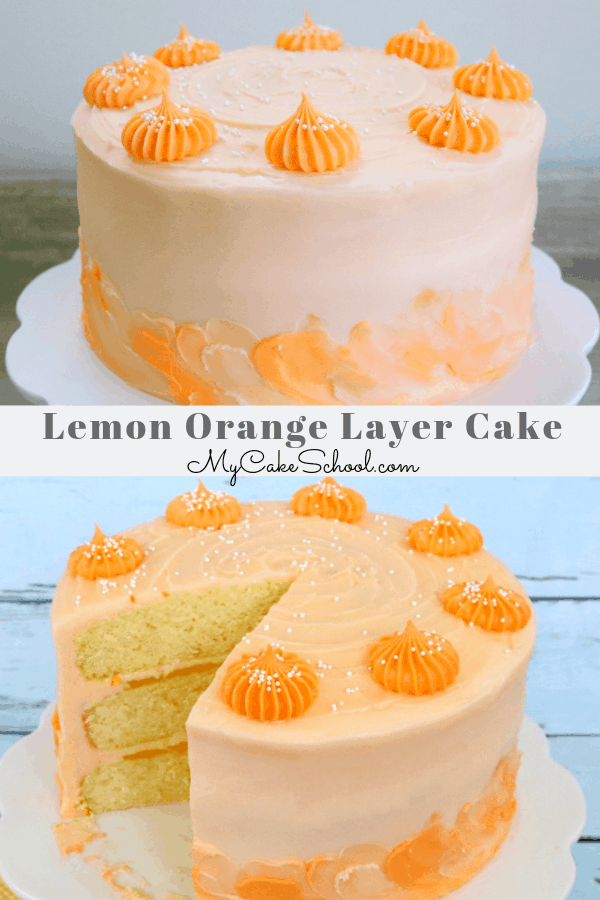 A Delicious Balance of Lemon and Orange
This Lemon Orange Cake is actually a fusion of two of our most popular cake recipes on our site-- our scratch Lemon Cake recipe, and our Orange Dreamsicle Cake.
We're using our favorite scratch lemon layer cake recipe along with the Orange Cream Cheese frosting from our Dreamsicle Cake.
The Orange Curd filling is a new recipe for us, and is bursting with lemon and orange flavor thanks to the orange and lemon zest as well as freshly squeezed orange juice!
Altogether, this is the PERFECT cake recipe for spring and summer entertaining (and a year-round favorite for anyone that loves citrus desserts)!
How to Make a Lemon Orange Cake
We started by dividing our lemon cake batter between three 8 inch cake layers and baking until a toothpick could be inserted and removed with only a few crumbs attached.(Another good test for doneness is when the centers spring back after being lightly touched).
Next, we cooled the cake layers for about 10 minutes on cooling racks before flipping them out of their pans & wrapping and freezing the layers while still warm.
This is an optional step, but something that we always do when time allows because it makes the cakes even more moist.
Freeze for at least a few hours (but cake layers can be frozen for up to three months as long as they are tightly sealed.) Thaw (at least partially) before unwrapping.
Applying the Dam & Filling
When it's time to assemble, place the first cake layer on the pedestal or cake board and pipe a dam of orange cream cheese frosting about ¼ inch from the edge of the cake.
You can either snip the tip away from a disposable piping bag to apply the dam, or use a medium sized round piping tip.
Next, spread a layer of orange curd within the dam. (The purpose of the dam is to prevent the filling from oozing out when the layers are stacked. Our orange curd is fairly thick but it's easy enough to add a dam just in case.
This orange curd is SO good! We actually use just a little bit of lemon in our orange curd for an added boost of flavor. However, when you taste it, orange is the flavor that comes through.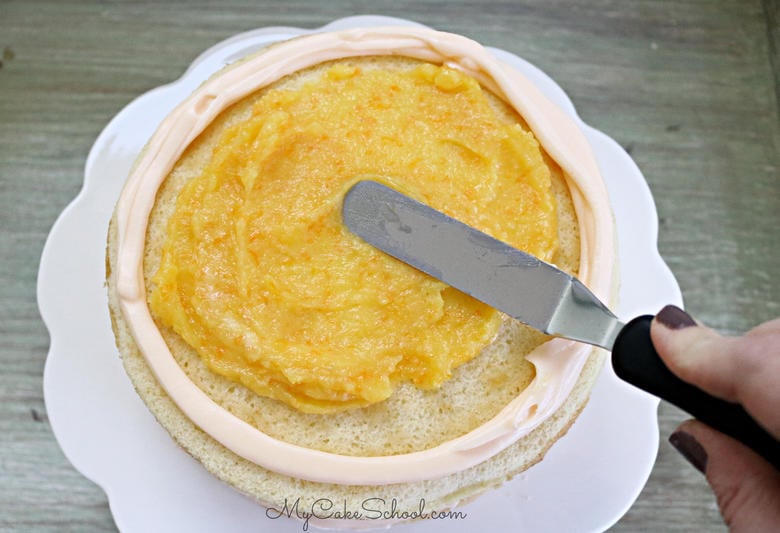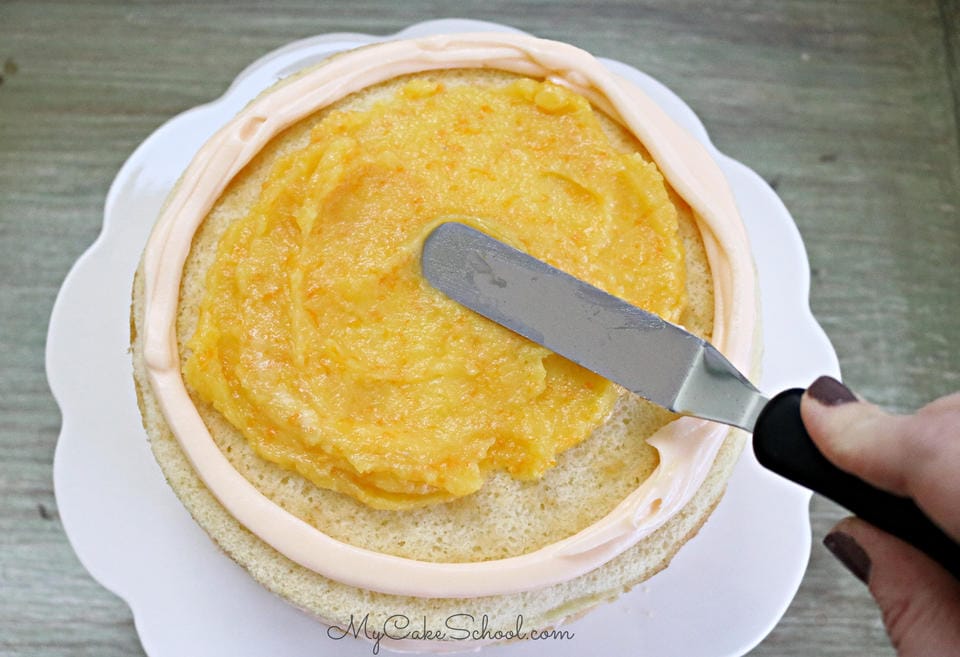 Because we love this orange cream cheese frosting recipe so much, we spread a little on top of the curd as well. Just the curd alone as a filling would be delicious!
Quick Tip! You'll be tempted to slather on a thick layer of orange curd and a thick layer of orange cream cheese frosting in between the layers because they just taste SO gooood-- but don't go too thick!
As a general rule, the thicker your cake filling, the more prone your cake will be to bulging later.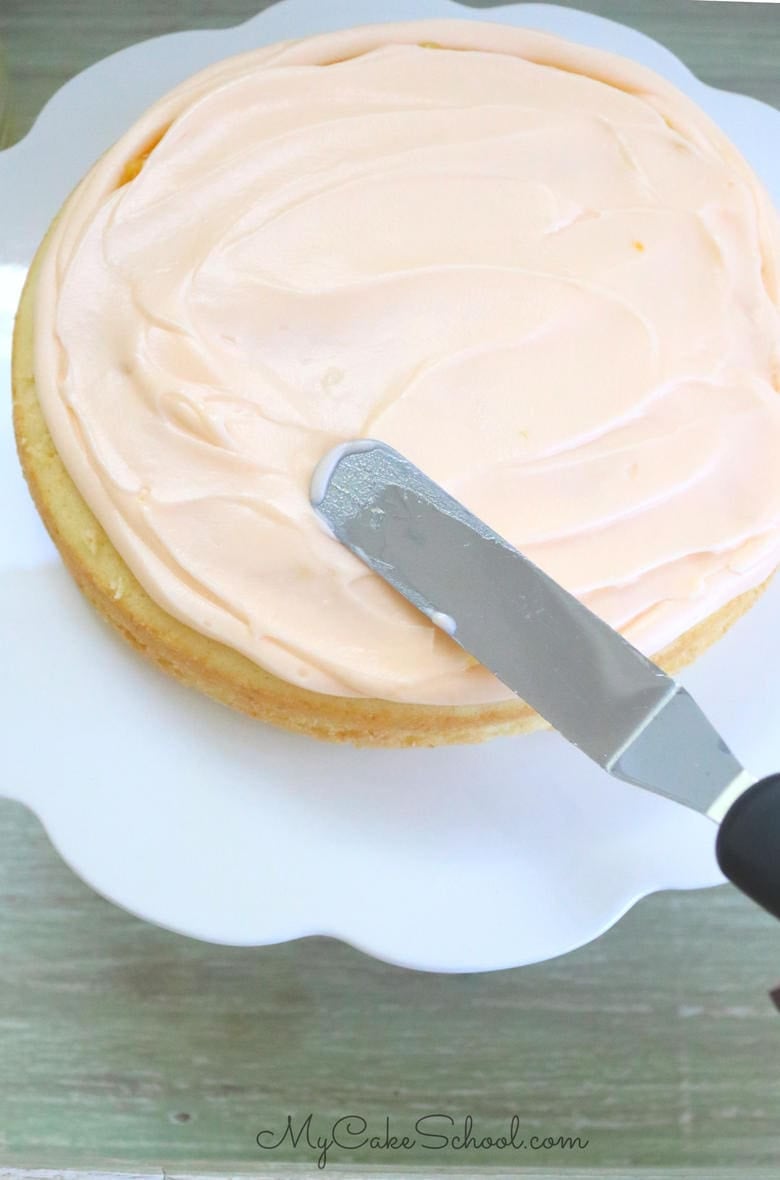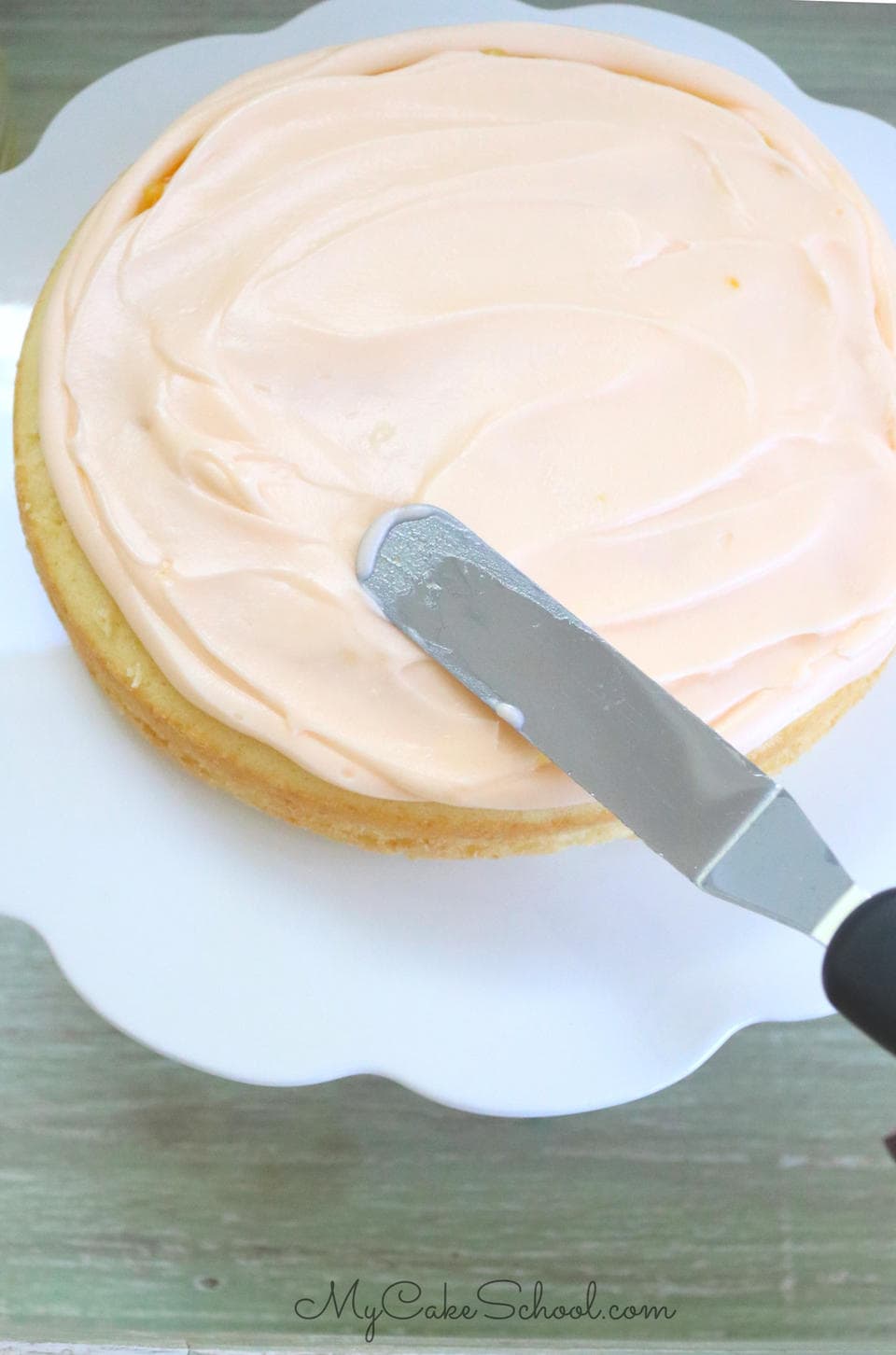 Settling the Cake
All cakes settle a little bit. This means that after a cake is filled and layers stacked, the cake will settle and become slightly shorter over time.
If you frost your cake immediately after filling, the settling of your cake will likely cause bulging which is noticeable around the sides of the cake, usually between the cake layers. There's an easy solution for this.
Before frosting my cakes, I like to wrap my filled cake layers with plastic wrap and put a small weight on top-- this may be a cake pan or two (same size as the cake)...or lightweight book...anything that will give a light pressure.
Do this for a few hours or overnight (chill in the refrigerator since the filling is perishable). At the very least, if you don't have a few hours to spare, just gently push down on your cake for several seconds at a time before applying the final coat of frosting.
Time to Frost the Cake
Fill in any gaps between your cake layers that you may have with the orange cream cheese frosting and apply your crumb coat.
Chill as Needed: If your cake layers seem to slide a little as you apply your frosting (as can sometimes happen in cakes with soft fillings), pop it in the freezer for about 15 minutes or so to firm things up. This will make things much easier! The freezer is your friend. ;0)
Final Coat: Add the final coat of frosting to the chilled cake. I like to frost my cakes as I rotate them on a turntable, then I smooth things out with a bench scraper.
For an extra smooth finish, freeze your frosted tier for about 15 minutes, and then smooth over it with a hot bench scraper or spatula that has been heated in very hot water. We have a video on this easy technique which is known as the Hot Knife Method of smoothing.
Adding a Little Extra Texture and Color to our Frosting...
After smoothing the orange cream cheese frosting around the sides of the cake, I used my small rounded offset spatula to add texture on top as well as around the base of the cake.
I tinted some of the remaining frosting a darker shade of orange and applied both light and darker shades of the frosting around the base of the cake bit by bit for added texture and color.
This is a great alternative to a piped border and I love the look!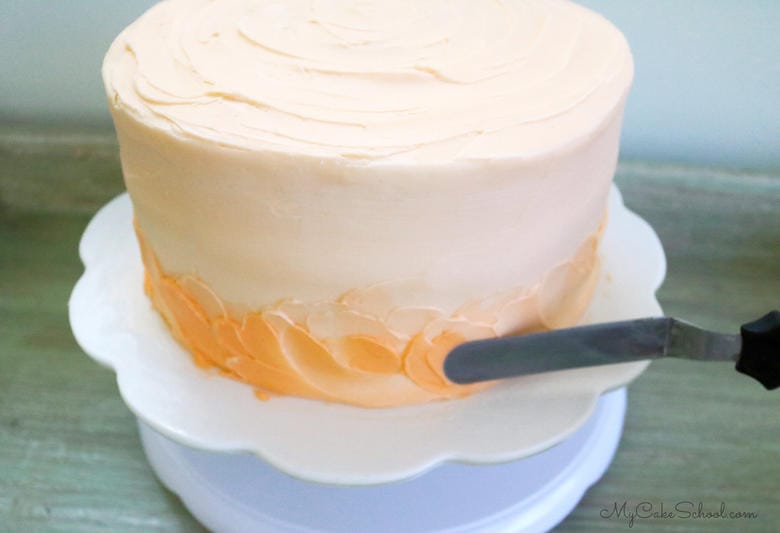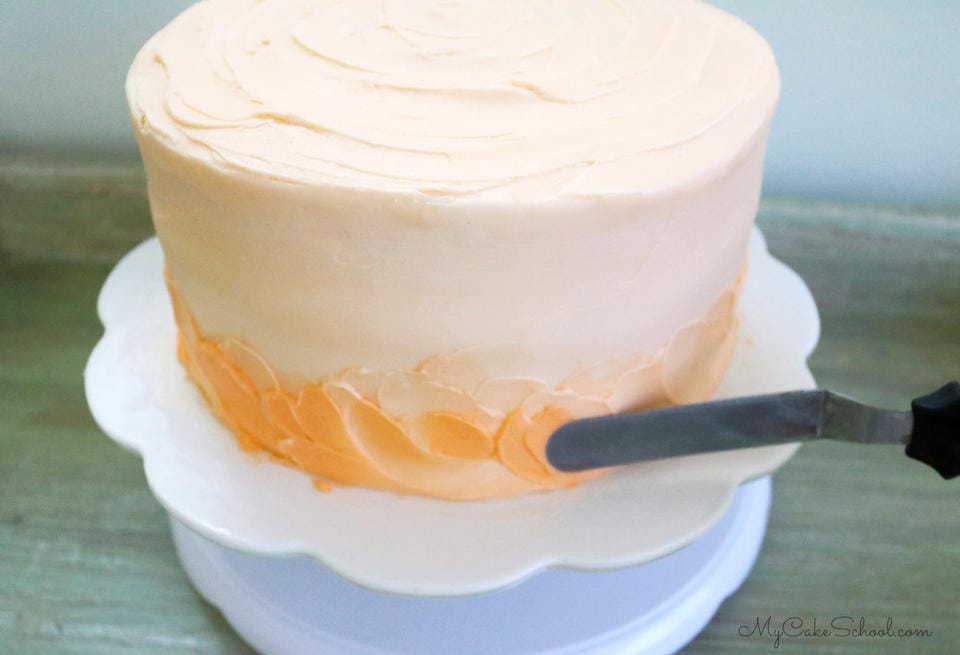 All finished! We piped accents around the top of the cake with our Wilton 6B tip, and threw on a few white sprinkles here and there (nonpareils) just for fun.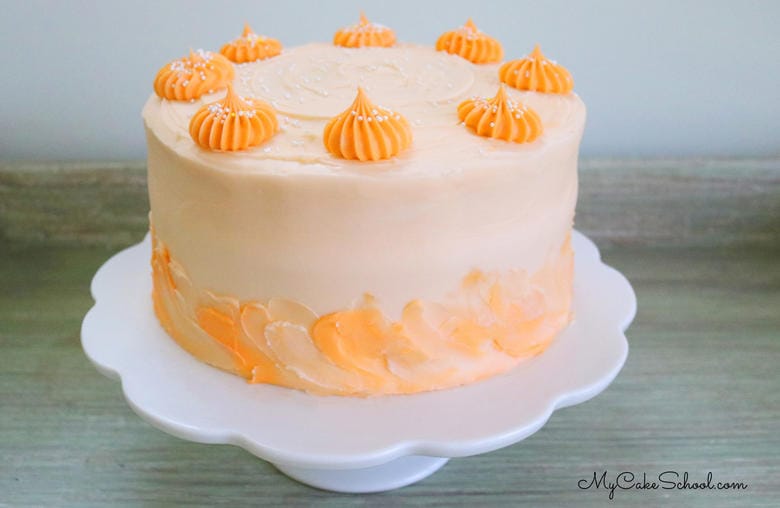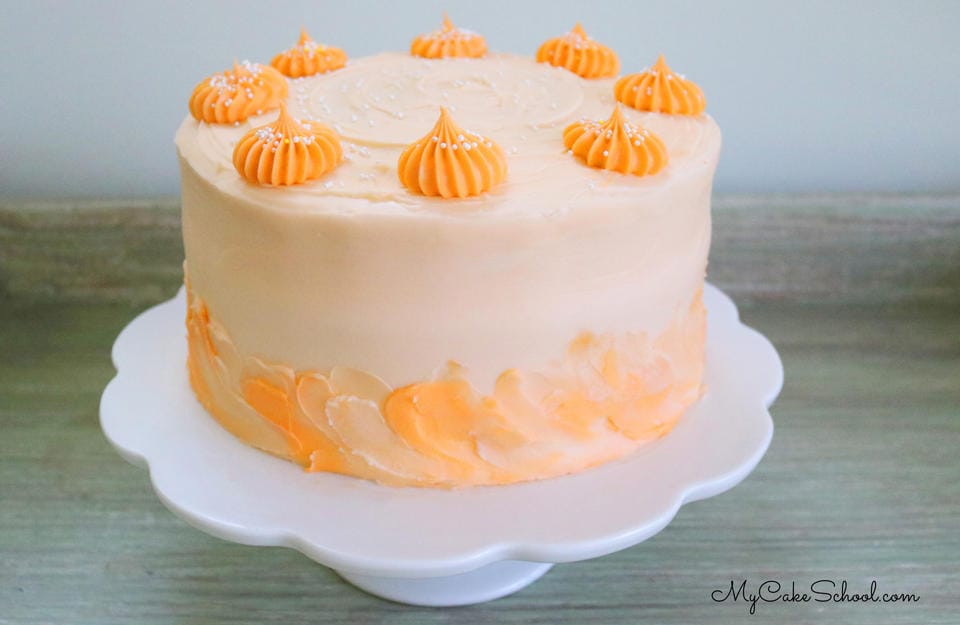 Here's our cake after slicing, in all of it's orange and lemony goodness! Doesn't this cake just look like summertime?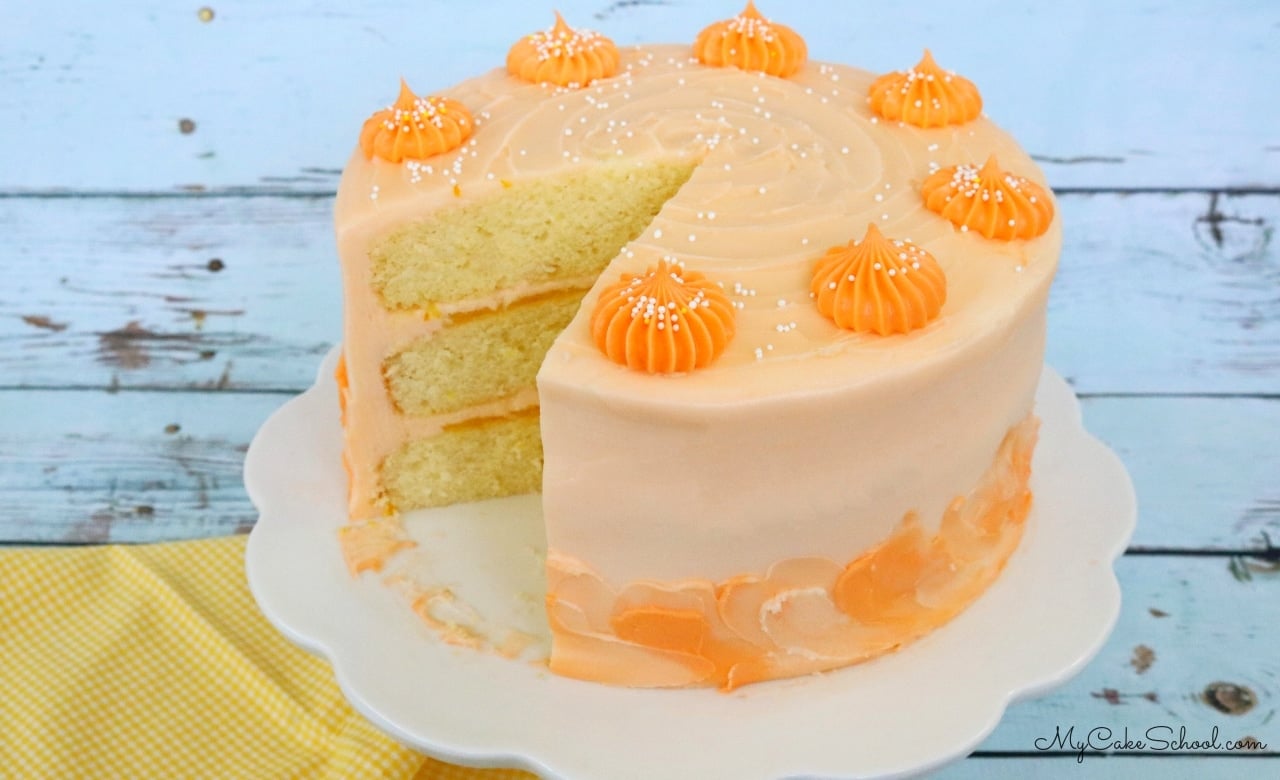 We hope that you enjoy this recipe! Your friends and family are sure to ask for it again and again.
Don't miss our full collection of the best cake and frosting recipes in our Recipes Section! If you're looking for spring and summer fruity desserts in particular, make sure to check out our Roundup of Favorite Cake Recipes for Spring and Summer!
We have More Citrus Cakes to Share!
We have more fresh & fruity citrus layer cakes that we'd love to share with you. Put these on your must-make list!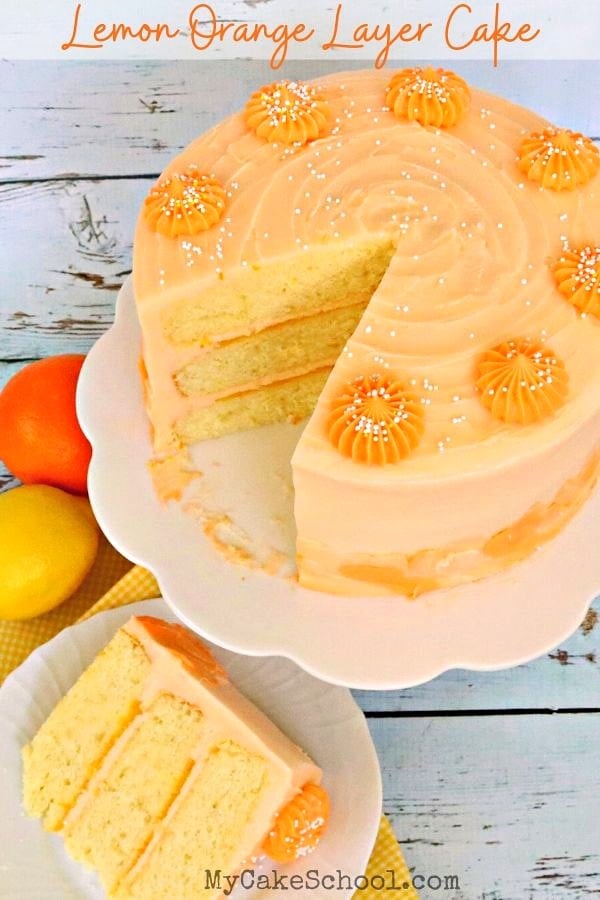 Lemon Orange Layer Cake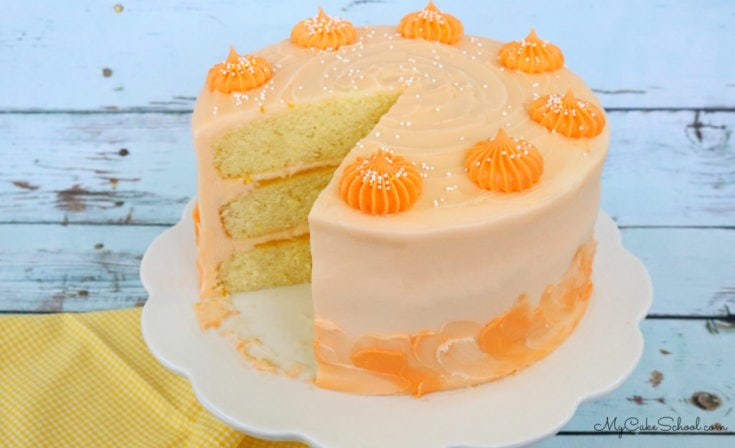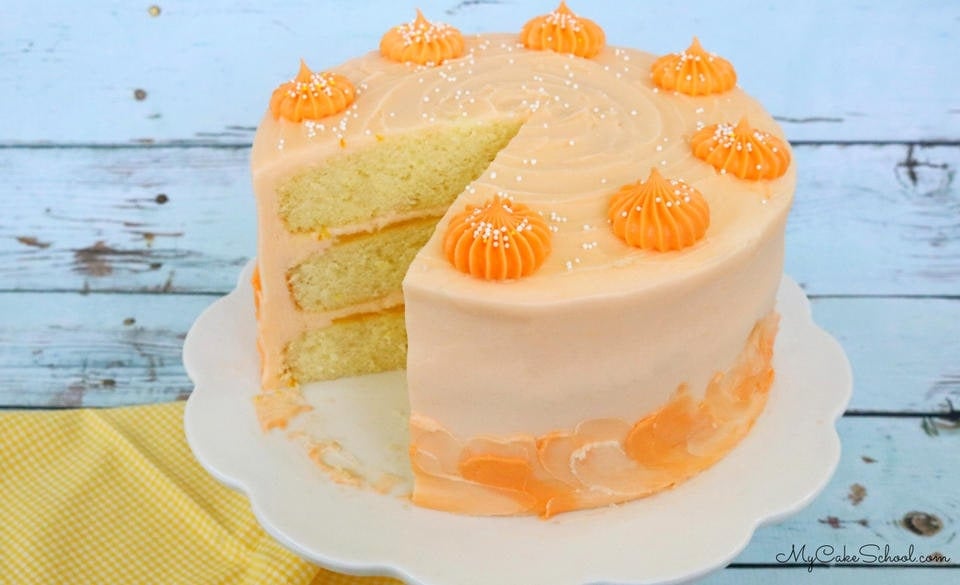 This Lemon Orange Cake recipe is so moist and bursting with citrus flavor!
Ingredients
For the Lemon Cake
1 ½ sticks (12T) (170g) unsalted butter, softened
1 ½ cups (300g) sugar
4 large eggs, room temperature (if cold, place in a bowl of warm water for 5 min.)
3 cups (342g) cake flour *if you do not have cake flour, see note below
½ teaspoon (3g) salt
1 ½ teaspoons (7g) baking powder
½ teaspoon (3g) baking soda
1 cup (242 g) milk
¼ cup (57g) lemon juice
¼ cup (53g) vegetable oil
zest of 2 lemons
1 Tablespoon (10g) lemon extract
*** Substitution: If you don't have cake flour, for each cup of all purpose flour (or plain flour in the UK) remove 2 Tablespoons of flour and replace with 2 Tablespoons of cornstarch. For this recipe, measure out 3 cups all purpose flour, remove 6 Tablespoons and replace with 6 Tablespoons cornstarch. Whisk to blend.
For the Orange Curd Filling
Zest of 3 oranges and 1 lemon
2 egg yolks
¾ cup (150g) sugar
¼ cup (30g) cornstarch
¾ cup (180g) fresh orange juice (this is the juice from about 3 oranges)
3-4 Tablespoons (48g) Lemon Juice (this is the juice from one lemon)
2 Tablespoons (28g) butter
For the Orange Cream Cheese Frosting
(We increased our usual orange cream cheese recipe amount by 1.5 since we're using as a filling in addition to frosting.)
3 sticks (1.5 cups) (339 g) unsalted butter, let it sit out approximately 10 minutes. It should feel very cool to the touch.
3 (8oz) packages cream cheese (total weight 678g), slightly softened. Use full fat cream cheese as reduced fat will be too soft.
1 ½ teaspoons (6 g) clear vanilla extract (we used clear to keep color lighter)
1 ½ teaspoons (6g) orange extract
¾ teaspoon salt (3g) optional - it will cut the sweetness, popcorn salt is best to use because it is fine and dissolves faster
9 to 9 ¾ cups (1,035g to 1,120g) powdered sugar
Orange Coloring Gel (optional) We used a very small amount for tinting.
Instructions
For the Lemon Cake
Preheat the oven to 350 degrees
Grease and flour three 8 inch pans.
In a medium sized bowl add the flour, baking powder, baking soda, salt and zest of 2 lemons. Whisk to blend and set aside.
In another bowl, add the milk, vegetable oil and lemon juice, and lemon extract. Whisk to blend and set aside.
In the bowl of your mixer, beat the softened butter until smooth. Gradually add the sugar and mix on medium speed 3 to 5 minutes until it is lightened in color and fluffy.
Add the eggs one at a time, mixing until the yellow of the yolk disappears.
Add the flour mixture and the milk mixture alternately. Begin and end with the flour (3 additions of flour and 2 of milk). Mix until combined and smooth, do not mix above medium speed or over mix.
Pour the batter into the prepared pans, smoothing the tops with the back of a spoon. Bake at 350 degrees. If baking three 8 inch pans, bake at 350 for 20-25 minutes. For two 8 inch pans, bake at 350 for 30 to 35 minutes or until a toothpick inserted in the center comes out clean or with only a few crumbs attached. Let the cakes cool in the pans 10 minutes then turn out.
For the Orange Curd Filling
Wash and dry the oranges and lemon — then zest all of them. It is best to use a microplane, being careful to get just the outside not the white beneath.
In a sauce pan add the sugar cornstarch, egg yolks, orange and lemon juice and zest and butter. Stir to blend.
Cook on medium low heat, stirring until ingredients are smooth and well combined. Increase to medium heat and stir constantly until the mixture begins to thicken and bubble. Reduce heat and stir for about a minute more- it will take on a pudding-like thickness/consistency.
Remove the sauce pan from the heat.
Pour curd into a heat proof bowl. Allow to cool 15 minutes, press a piece of plastic wrap onto the top of the curd to prevent a "skin" from forming. Refrigerate until cool, the curd will thicken further as it cools. The curd can be refrigerated for a week. When ready to use, remove from the refrigerator and allow to warm a bit and stir for easier spreading. It can also be frozen for 3 months.
For the Orange Cream Cheese Frosting
Cut the butter into slices and add to the bowl of your mixer. Beat on low to medium speed until the butter is softened and smooth.
Cut the slightly softened cream cheese into pieces and add to the butter, beating at low to medium speed until incorporated.
Add the vanilla and orange flavorings. Gradually add the powdered sugar beating on low speed until blended. Cover the bowl with a towel to keep down the cloud of powdered sugar.
Increase mixing speed and beat until fluffy. Don't over beat.
This frosting will pipe best if used while still chilled. You can make it in advance, refrigerate and when ready to use let it soften slightly (do not microwave) and remix.
Notes
To assemble the cake, I piped a dam of orange cream cheese frosting about ¼ inch from the edge of the cake layer, then filled with a layer of curd, topped with a layer of cream cheese frosting. Repeat, then frost as usual.
If your orange cream cheese frosting is too soft, you can add more powdered sugar, and you can also chill it as needed to firm it up for frosting the cake or piping.