Lemon Raspberry Swirl Pound Cake
Lemon and Raspberry are a match made in heaven in this moist and flavorful homemade Lemon Raspberry Swirl Pound Cake recipe!
I have never met a pound cake that I didn't love, and today's Lemon and Raspberry Pound Cake is no exception.
This is a new favorite of ours, and it's PERFECT for summertime (although I have a feeling I'll be making this one year round!)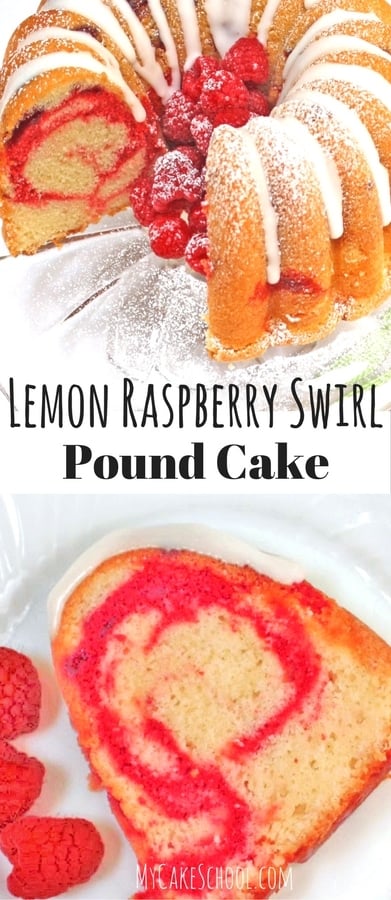 One thing that you'll notice with our Lemon Raspberry Pound Cake recipe is that the cake is not quite as dense as our other tried and true Classic Pound Cake Recipe.
I really love the texture of this buttery cake, and the flavor is out of this world.
This moist pound cake is a twist on an old fashioned 1-2-3-4 cake. These delicious cakes are always a favorite, and are named for the proportions of four of the basic ingredients: one cup of butter, two cups of sugar, three cups of flour, and four eggs.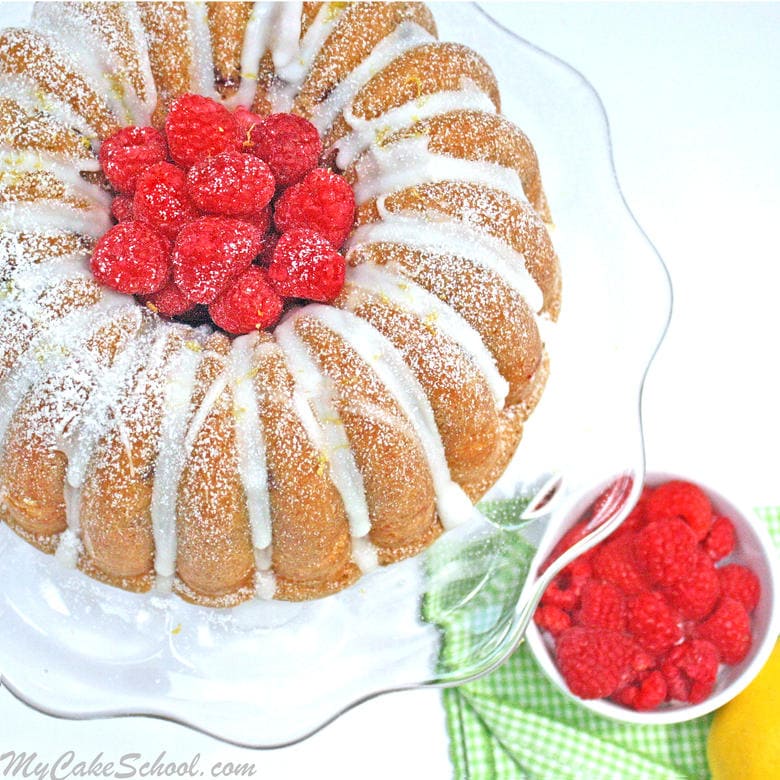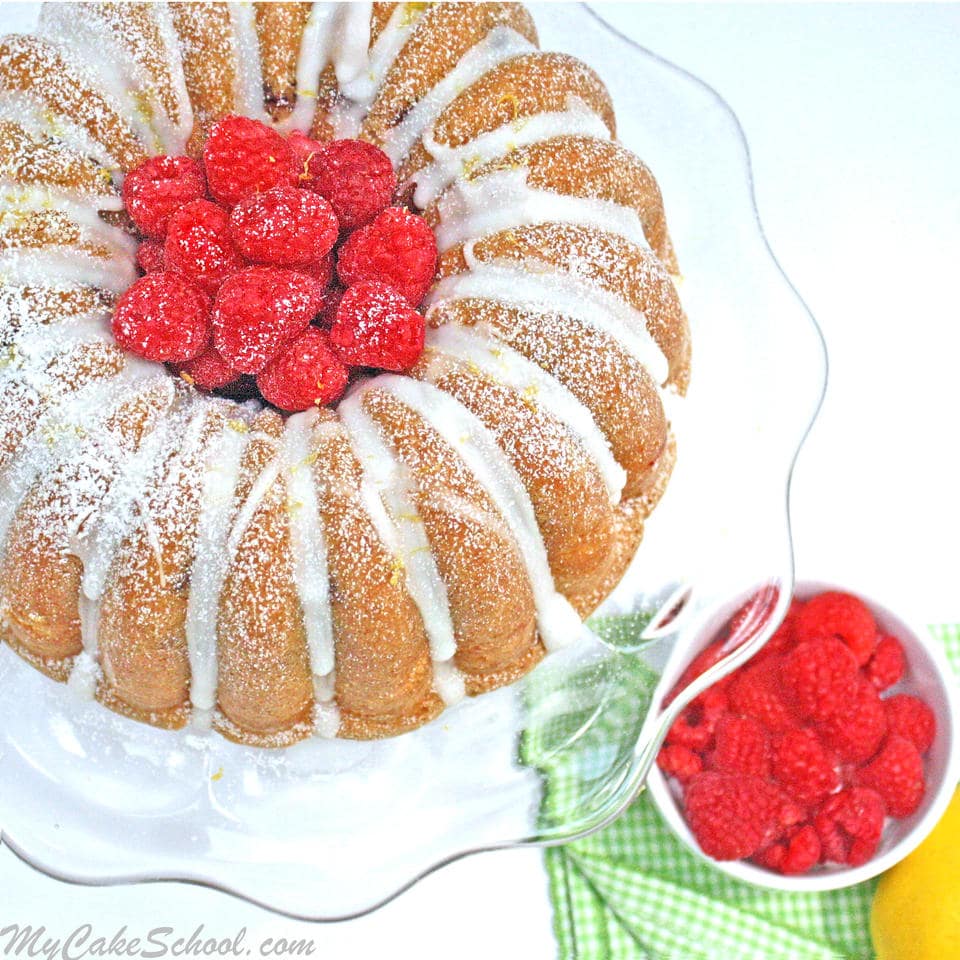 You'll find our deliciously fruity take on this classic 1-2-3-4 pound cake recipe below, complete with a splash of tartness from the lemon juice, a scoop of raspberry jam, and an added flavor boost from extracts and a lovely lemon glaze.
This pound cake recipe, as you'll see below, couldn't be simpler to make. However, we thought that it would help to see the process of creating the "raspberry batter" and how we incorporated it into the cake.
How to Make Lemon Raspberry Swirl Pound Cake
After whipping up the lemon cake batter, we reserved one cup of the batter (as seen below) which would become our lovely raspberry batter for swirling.
We stirred in seedless raspberry jam, raspberry extract, and a touch of red food coloring.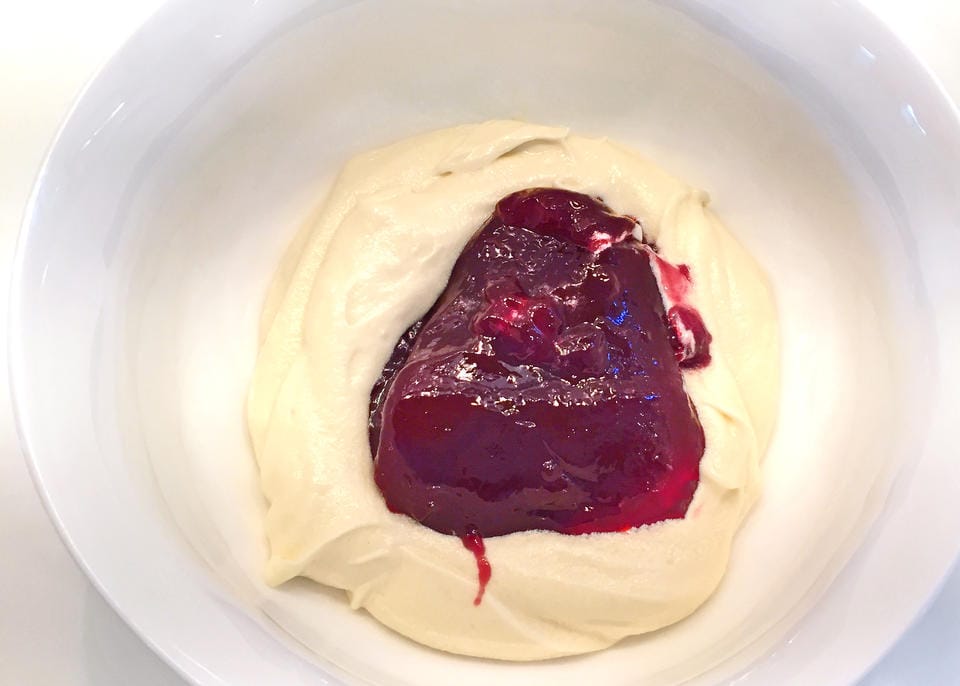 The shade of red from the raspberry jam alone just wasn't very....pretty. We opted to add a touch of red just to give it a little pop, but this step is completely optional. Either way, it'll taste fabulous!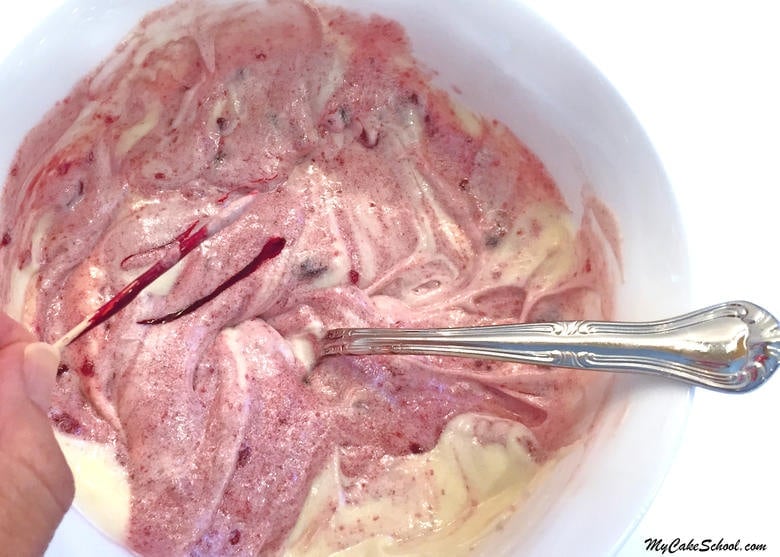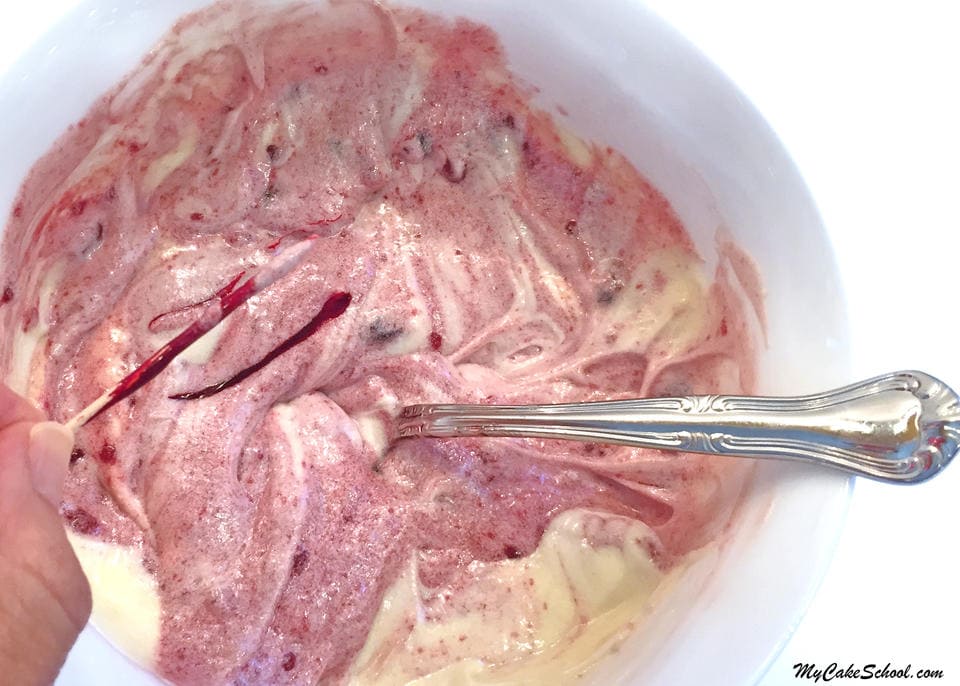 Next, we filled the greased & floured bundt pan, added some of the lemon batter, followed with the raspberry batter, and then finished with more lemon batter.
We gave it a little swirl here and there by lightly dragging the spatula through.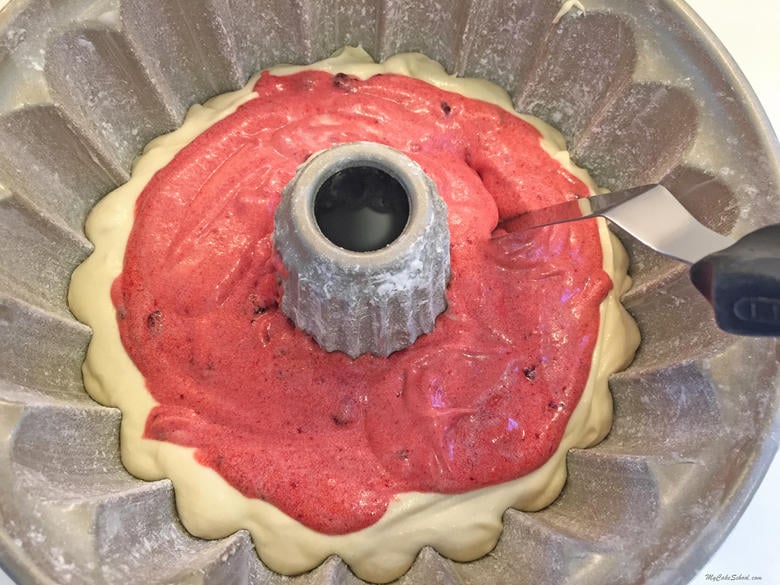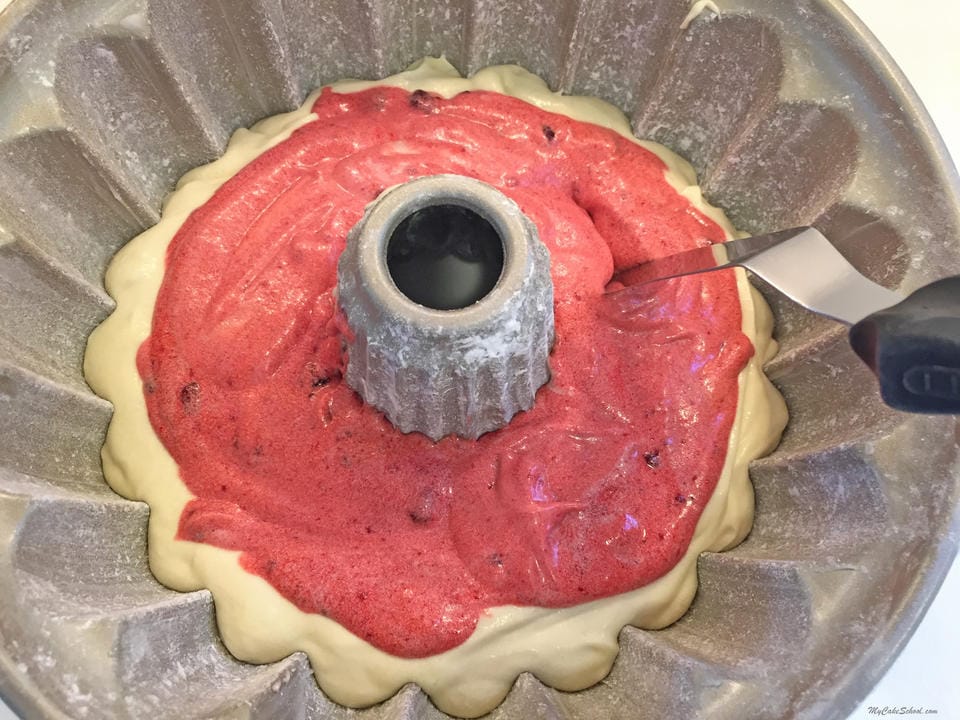 You can see just a trace of raspberry swirl in the final shot before baking. We started and ended with the lemon batter so that the swirl would for the most part be contained within the center of the slice.
Here we go, one raspberry lemon pound cake coming up! We baked the cake at 325 for about an hour and five minutes, until it reached a lovely golden brown and a toothpick came out clean. Your kitchen is going to smell divine! ;0)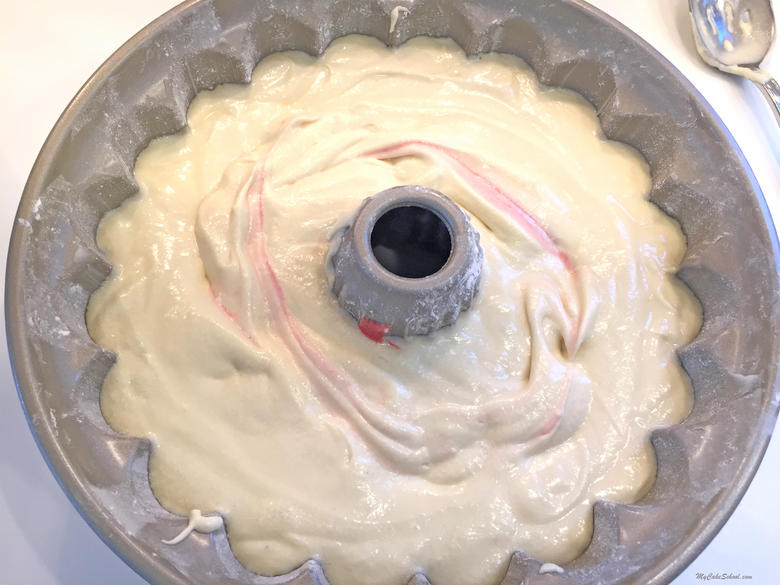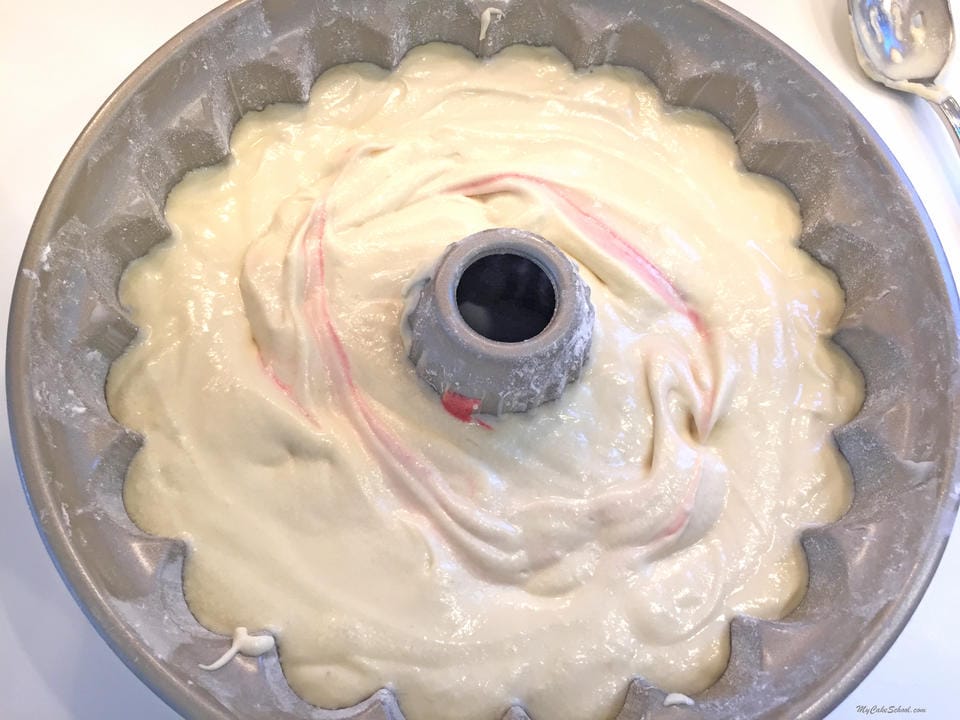 Once baked and cooled, we applied the lemon glaze.
Ahhhh...I just love applying the glaze. There's something so satisfying about those drizzles, and it really dresses up the cake!
You can use a disposable piping bag with the tip snipped away if you'd like, but we opted for a spoon. This lemony glaze gives us a wonderful burst of flavor.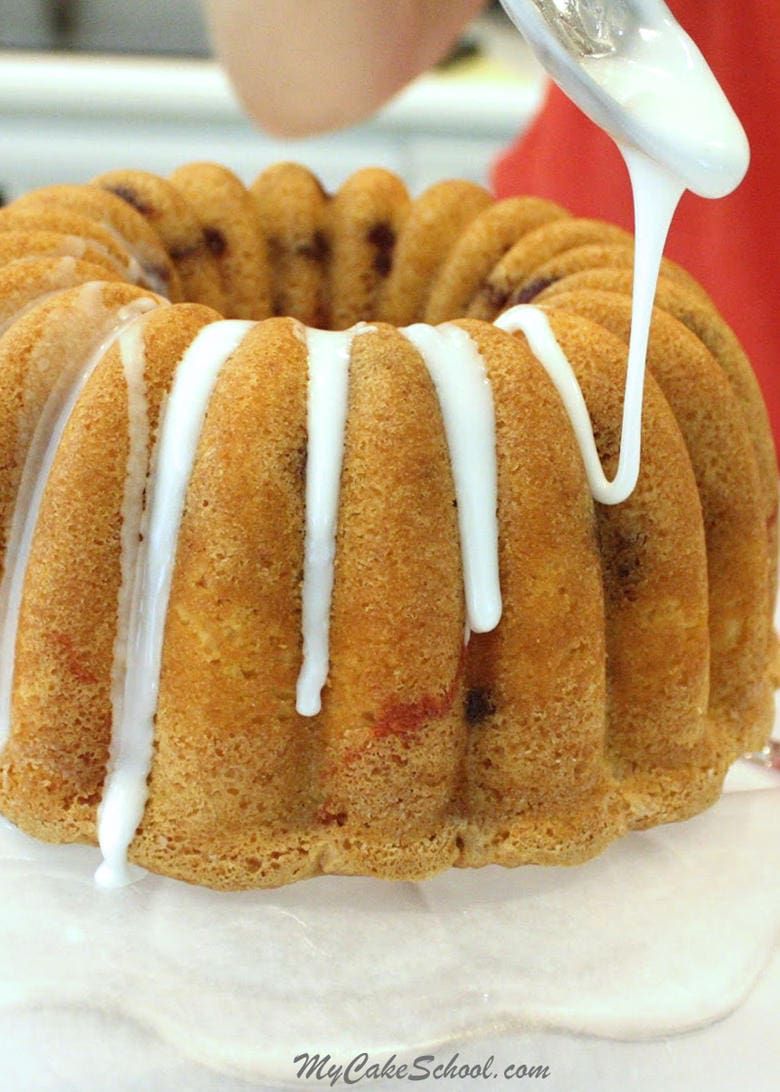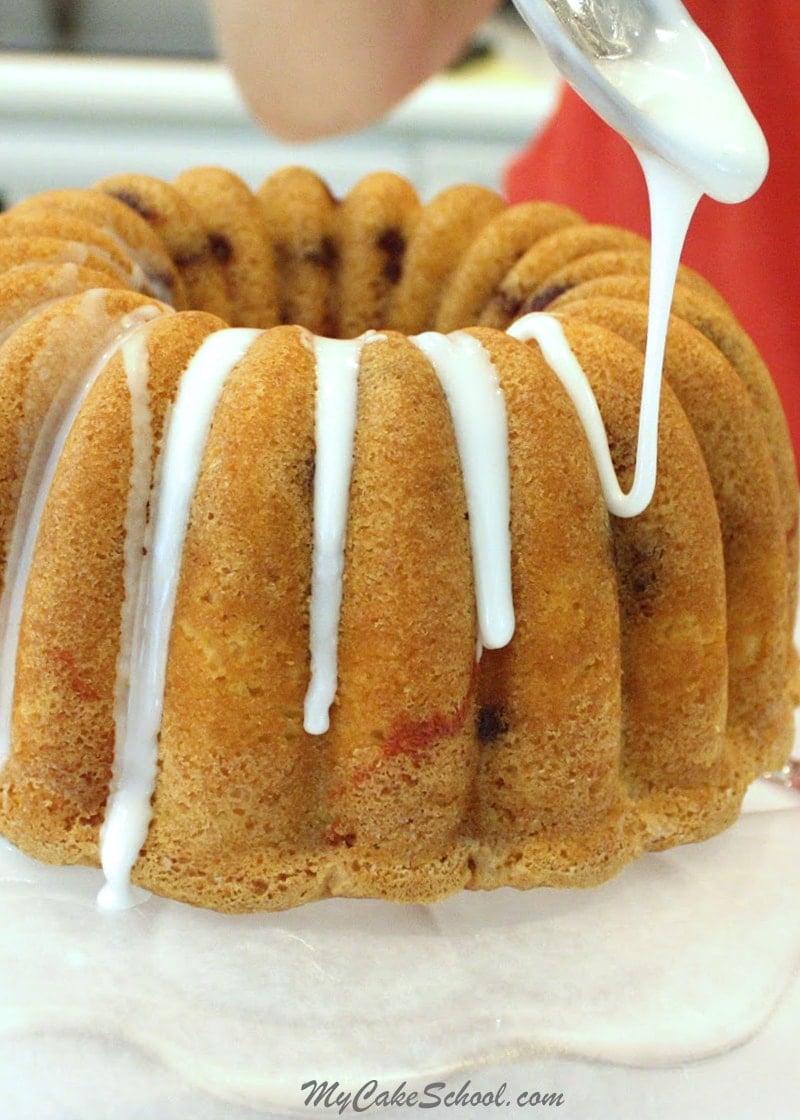 We filled the center of the bundt cake with raspberries and dusted the cake with powdered sugar as a final touch!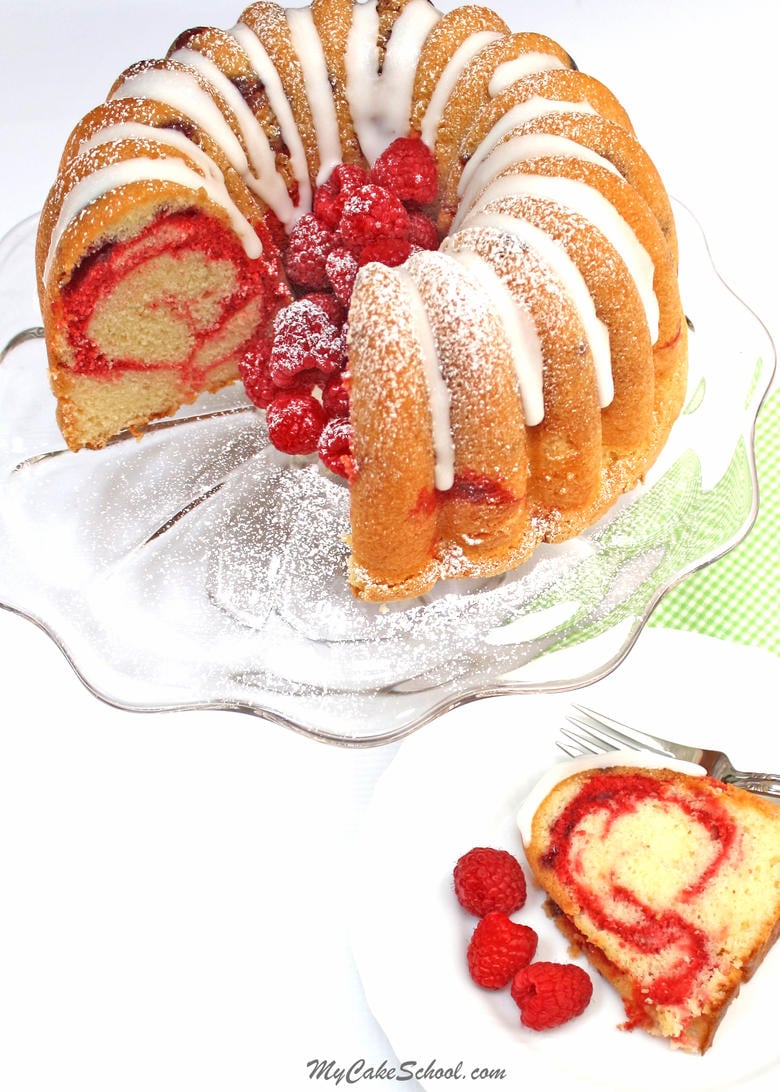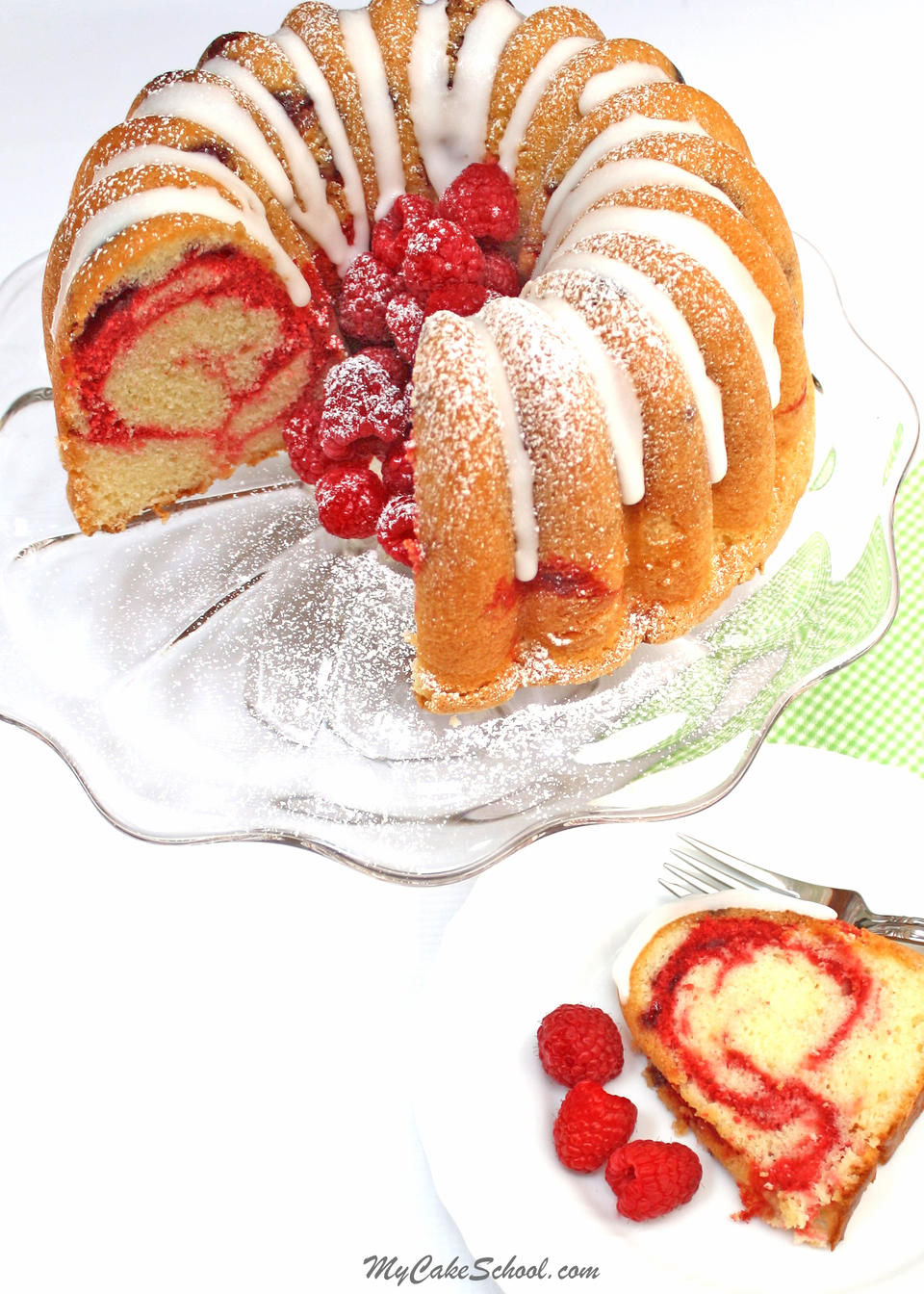 SO delicious!
I love that you can easily detect both the lemon & raspberry in this recipe, and the flavors complement each other perfectly. Just look at this slice. Flavor aside, I just love that beautiful swirl! It's art on a plate ;0)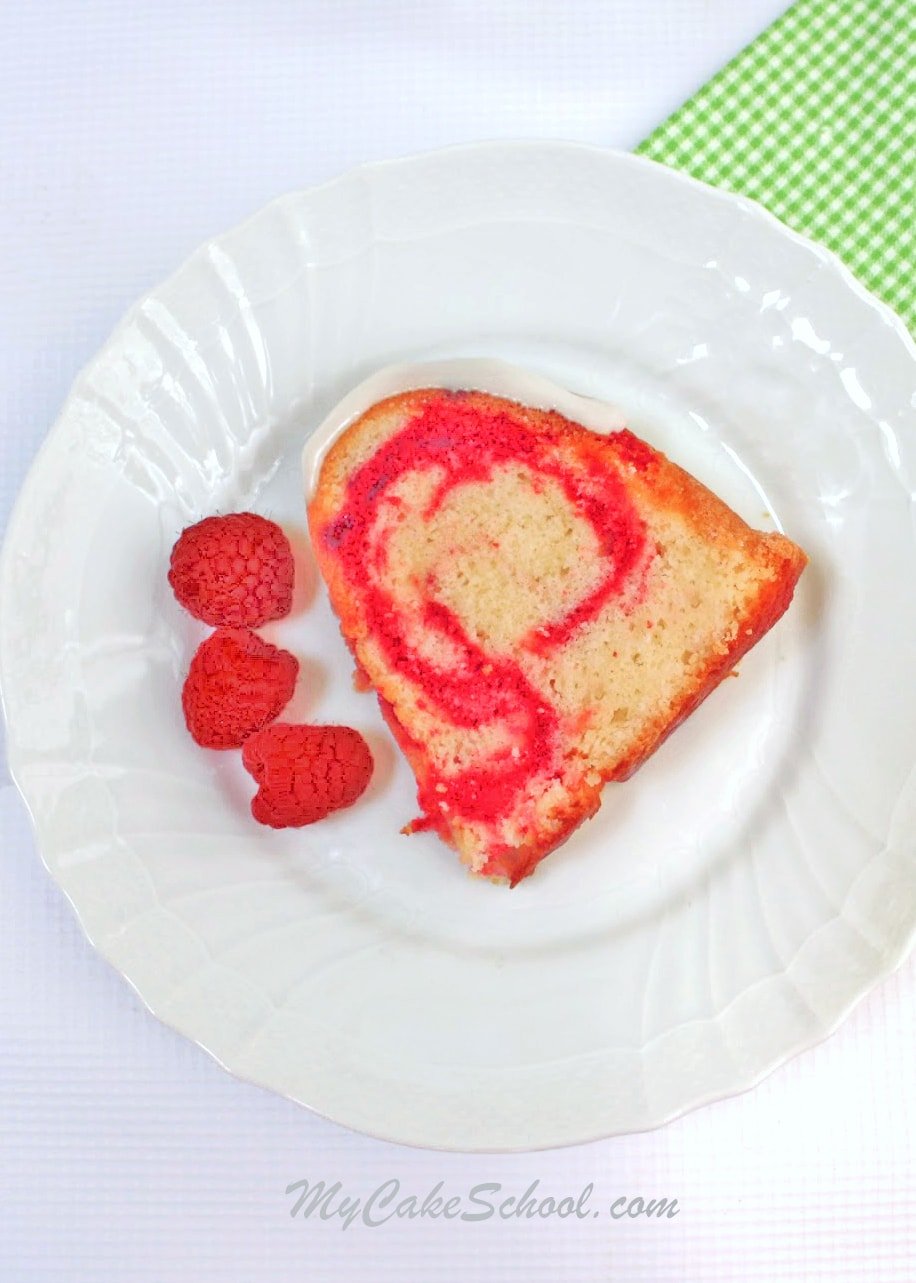 Pound cakes are not only very simple to put together, but they are SO easy to wrap and pop in the freezer! Perfect for those days when guests drop by on short notice, or when you just need a little something for your sweet tooth!
As much as I enjoy cake decorating, it's nice to have desserts now and then that require nothing more than a simple glaze or dusting of powered sugar.
We hope that you love this Lemon Raspberry Swirl Pound Cake as much as we do!
Mom (our "BeBe") has made at least five versions of this recipe in the past week...making slight adjustments each time until we had the PERFECT Lemon Raspberry Swirl Cake. This is IT!
Looking for even more Pound Cakes?
If you're looking for more Pound Cakes to put on your Must-Bake list, look no further than these delicious, easy recipes!:
If you give this Lemon Raspberry Cake recipe a try, we would love for you to share your comments and photos in the comments below. Happy baking!
Lemon Raspberry Swirl Pound Cake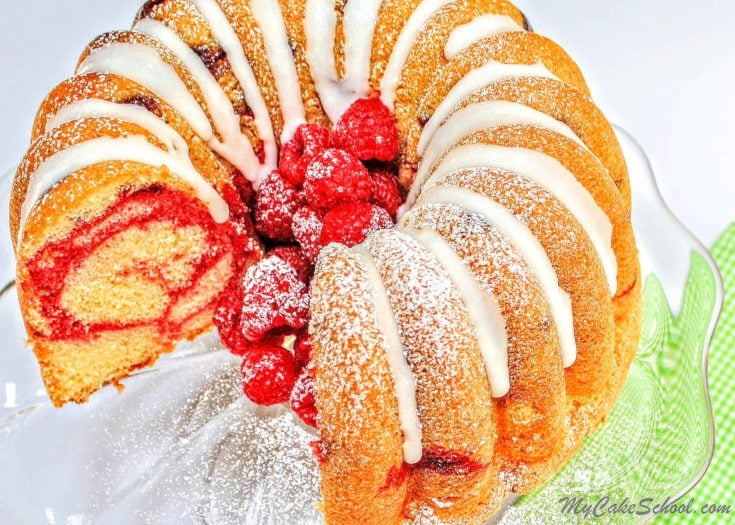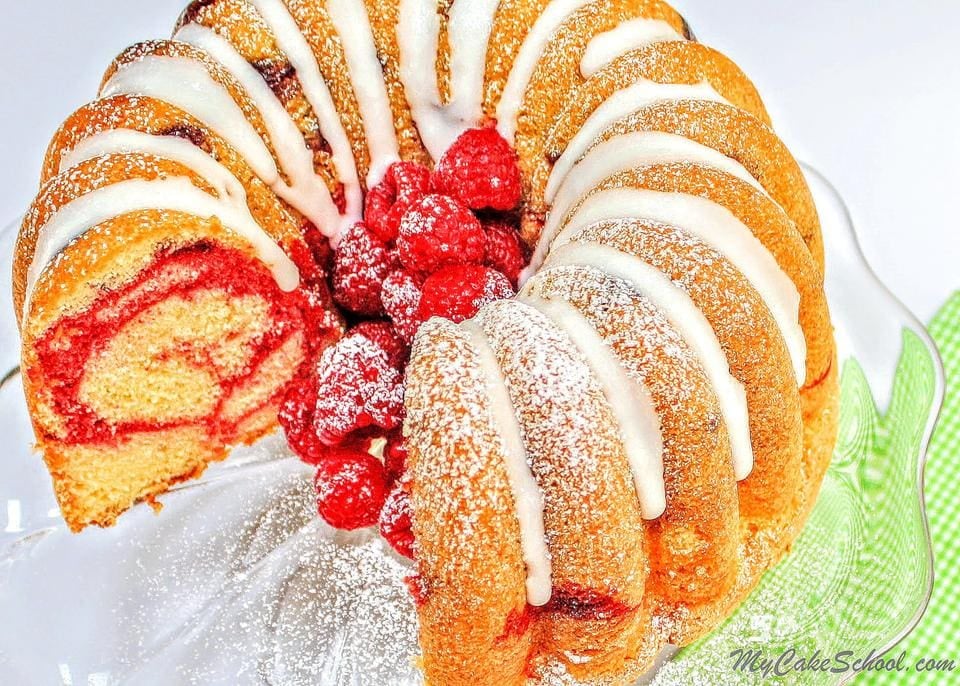 Moist and flavorful Lemon Raspberry Swirl Pound Cake
Ingredients
For the Cake
1 cup (226g) (2 sticks) unsalted butter, softened ( do not soften in microwave)
2 cups (400g) white sugar (granulated sugar)
3 cups (300g) cake flour (sift then measure) if you do not have cake flour see substitution below
4 large eggs, room temperature
¾ cup (180g) milk
2 teaspoons ( 8g) baking powder
½ teaspoon ( 3g) salt
2 ½ teaspoons (10g) lemon extract
3 Tablespoons (38g) lemon juice & Zest of One Lemon
Red Coloring Gel Optional. We used a tiny amount to deepen the red of the Raspberry Batter. (We used Americolor Super Red.)
⅓ cup (90g) seedless raspberry jam
½ teaspoon raspberry extract (optional) I used Watkins brand, found at Wal Mart
For the Lemon Glaze
2 cups (230g) powdered sugar
3 Tablespoons (38g) fresh lemon juice
Decorative Accents
Powdered Sugar for a light dusting
Raspberries for garnish
Instructions
For the Cake
**For best results when using a tube or bundt cake pan, lower the oven rack. I lower mine to the next to lowest position in the oven.
Preheat oven to 325 degrees
Grease and flour an 8 or 10 cup tube or bundt cake pan. I used an 8 cup pan for a taller cake
In a separate bowl, add the cake flour, baking powder and salt. Whisk at least 15 seconds to blend and set aside.
In the bowl of your mixer, cream butter for 2 minutes, gradually add sugar, continue creaming for 4 to 5 minutes until light and fluffy
Add eggs one at a time mixing after each egg until the yellow is blended into batter.
Add flour mixture alternately with the milk, at this time also add the extract, lemon juice and zest. Begin and end with dry ingredients (3 additions of dry, 2 of wet). Blend after each addition just until ingredient is blended in.....Do not over mix as this could dry the cake.
At this point, remove 1 cup of cake batter and put into a separate small bowl, add the raspberry jam, raspberry extract and a bit of red food coloring, blend together.
Spoon approximately 2 cups batter into prepared pan. Add the raspberry cake batter, and swirl with a knife, add remaining cake batter, slowly swirl again with knife. Bake at 325 degrees for 1 hour and 5 minutes. Time may vary for your oven. If you find the top of the cake is becoming too dark, cover loosely with a piece of aluminum foil.
The cake is done when a toothpick inserted comes out clean or with just a few crumbs attached.
Cool in the pan 15 minutes on a wire rack. Remove from pan and let the cake continue to cool.
For the Glaze
Stir 3 Tablespoons lemon juice into 2 cups of confectioners sugar.
The glaze will be somewhat thick but you should be able to drizzle it from a spoon onto the top of a cake. Add more powdered sugar or lemon juice to achieve the consistency you like.
Notes
Substitution for Cake Flour:
**If you do not have cake flour, you can make your own using the following method.
For each cup of all purpose flour (plain in the UK) remove 2 Tablespoons (16g) of flour and replace with 2 Tablespoons of cornstarch. For this recipe, there are 3 cups of flour so measure out the flour and remove 6 Tablespoons (48g), and replace with 6 Tablespoons (48g) cornstarch, whisk to blend.