Calling all Coconut and Chocolate lovers: THIS moist and delicious Almond Joy Cake recipe is going to become your new favorite chocolate dessert!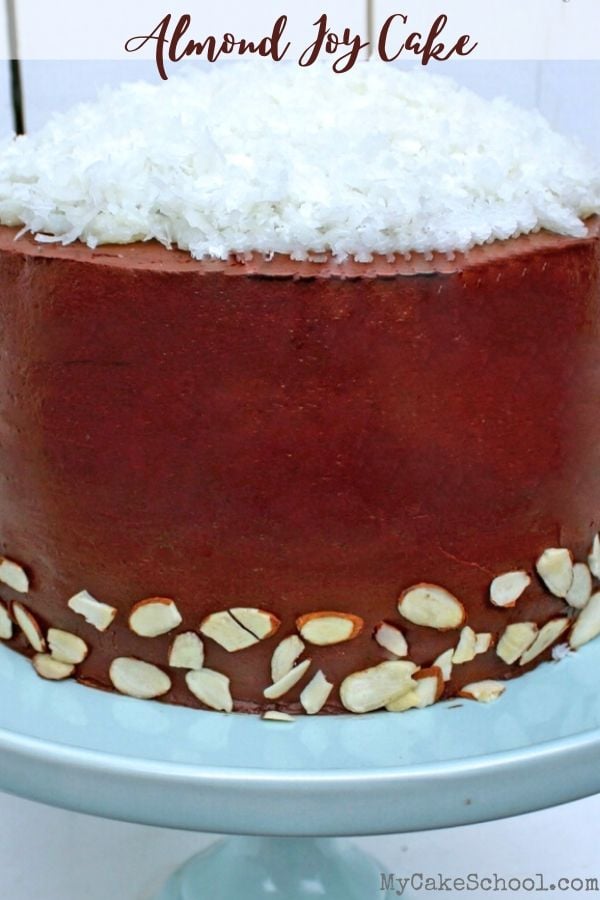 I've always been a huge fan of all things chocolate & coconut, and lately we've been dreaming of making an Almond Joy Cake to combine rich chocolate cake with a sweet and flavorful coconut filling.
I'm so happy to report that this recipe was a hit at our house, and needs to be added to your "must-make" list as soon as possible.
Inspired by the candy bar, this fabulous homemade Almond Joy cake consists of decadent homemade chocolate cake layers, an amazing coconut filling, rich chocolate ganache, and a smattering of almond slices!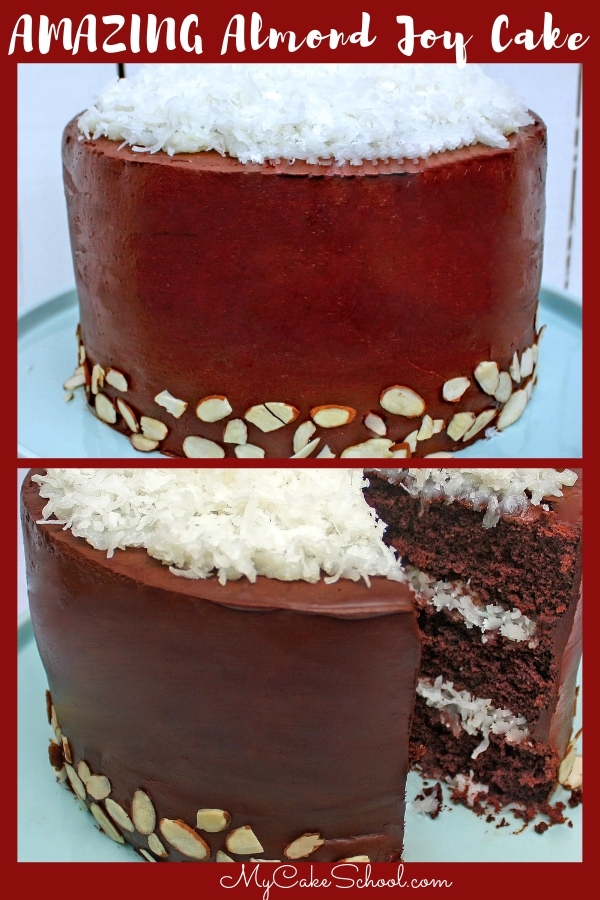 How to Make an Almond Joy Cake
The chocolate cake that we used in this recipe is one that you've seen often on our site--we LOVE it- our homemade Classic Chocolate Cake! This scratch recipe is rich, decadent, moist...everything that you could ever want in a chocolate cake.
However, it never hurts to have options, and we are lucky enough to have a few amazing chocolate cake recipes on our site (if I do say so myself)! So if you'd like to take a look, our scratch Devil's Food Cake recipe as well as our Chocolate Sour Cream Cake are out of this world. I could never pick a favorite!
(Also, if you're looking for a doctored chocolate cake mix recipe to use instead of scratch, we LOVE this one!: Chocolate Sour Cream Doctored Cake Mix.)
The World's Best Coconut Filling
The next most important player in this Almond Joy Cake is the Coconut Filling! Some may even say it's the most important....finding the perfect coconut filling can be tricky! But we've found it.
It is the perfect consistency for spreading on nice and thick, and the flavor is fantastic! It tastes just like the coconut filling of an Almond Joy candy bar or Mounds bar. Yum!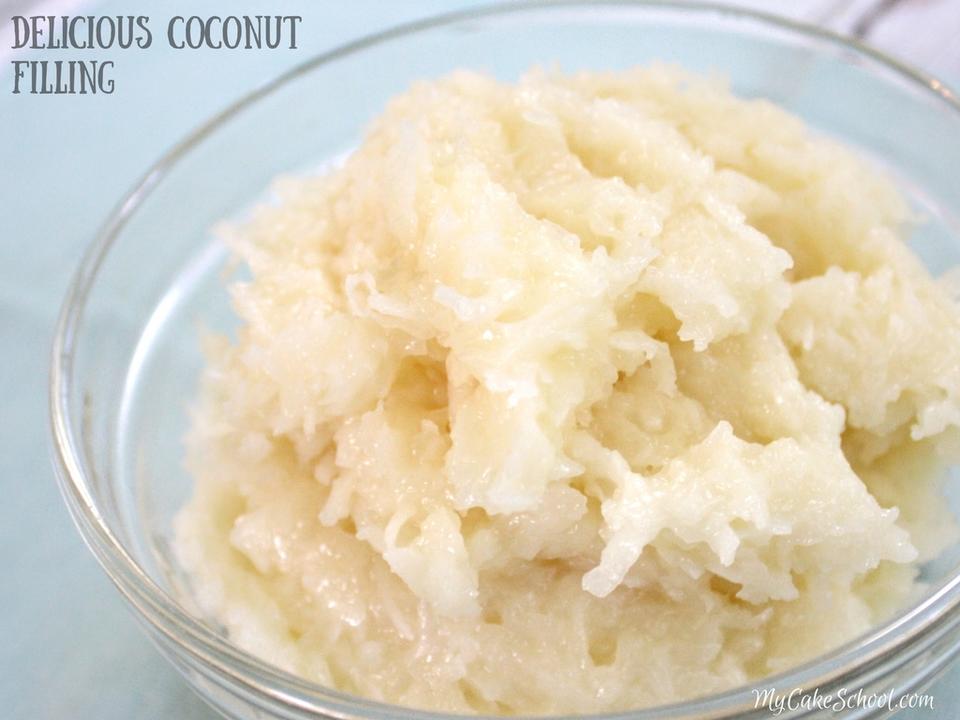 Rich Ganache Frosting
We added another layer of chocolate to this recipe with a Simple Spreadable Chocolate Ganache! This is a 2:1 ratio of chocolate to cream and makes a rich, surprisingly easy filling and frosting.
Ganache may sound fancy, but if you've never made it, don't be intimidated. With just two ingredients, it's just about the easiest frosting ever (and SO good).
It can be used as is, or you can whip it to create a smoother, slightly lighter consistency. You'll want to let it cool and thicken a bit before whipping into a fluffier consistency.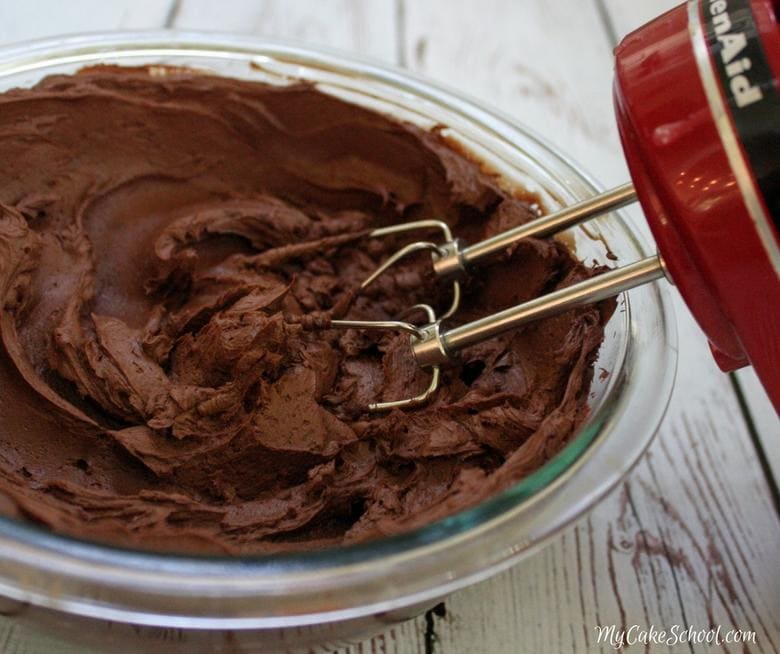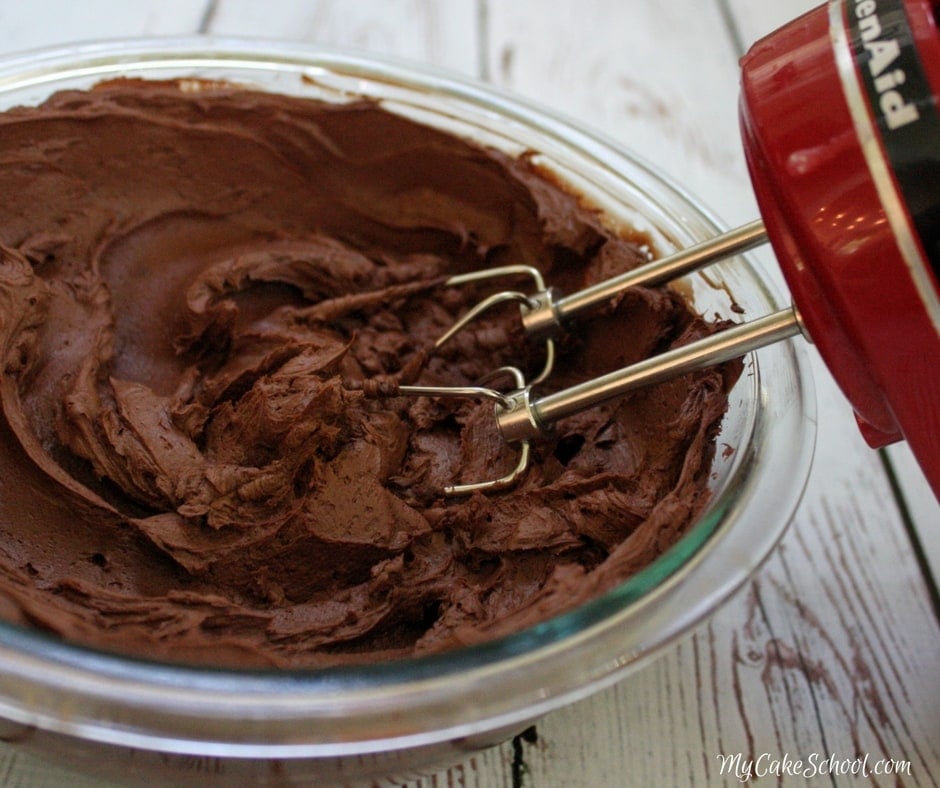 Assembling the Cake
When it was time to assemble the cake, we spread a thin layer of ganache onto each layer and then followed with a layer of coconut filling!
The ganache as a filling is an optional step, but it takes our already chocolatey cake layers to a whole new level of decadence.
Plus, we have enough ganache to use as both a filling and a frosting and so why not? When in doubt, use more chocolate ;0)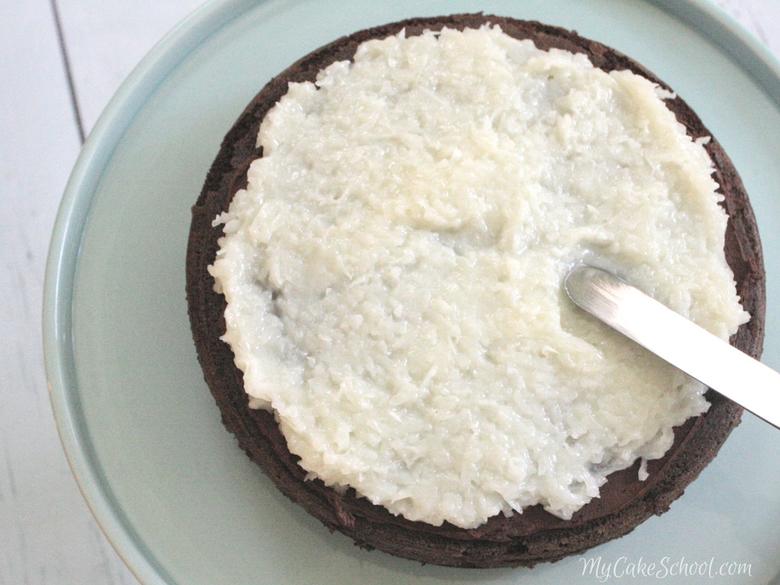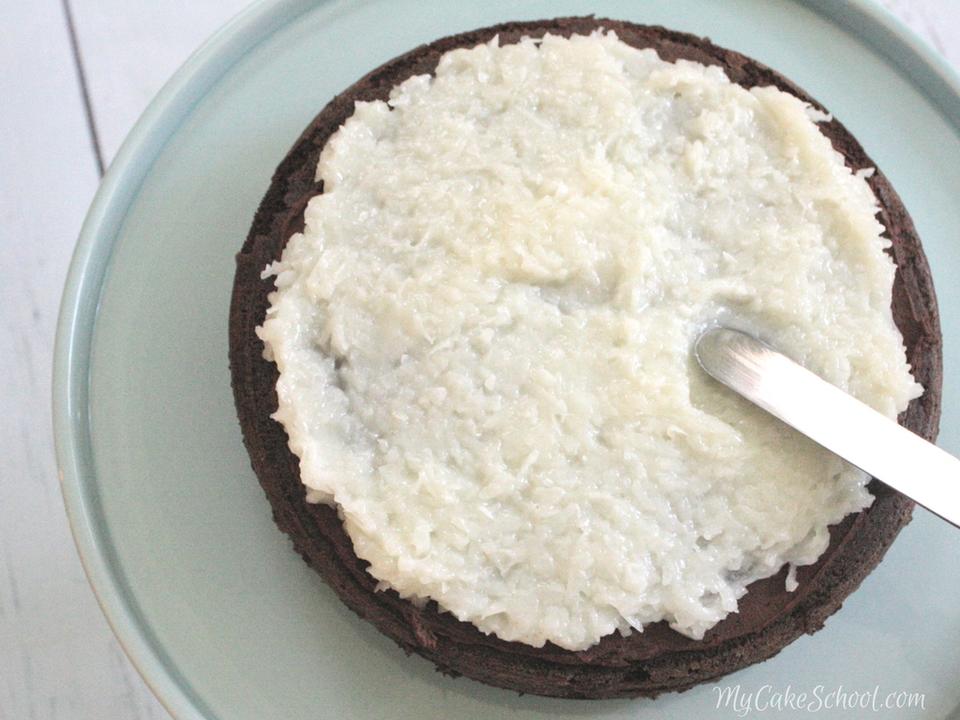 Next, we frosted the entire cake with the ganache frosting. When ganache becomes cool, it will begin to set up.
If the ganache becomes too thick or firm while you are frosting the cake, just pop the bowl into the microwave for a few seconds at a time until it warms to a spreadable consistency.
How to get a smooth finish on a ganache-frosted cake
When I frost my cakes (whether buttercream or ganache), I apply a thin layer to crumb coat first, and then apply a thicker layer with a simple offset spatula.
Then, while rotating the cake on my turntable, I smooth the frosting with a bench scraper. This step alone with give you a nice, smooth look. However...
For a SUPER smooth effect to your frosting, chill the freshly frosted cake in the freezer for about 15-20 minutes or just until firm.
Then, heat your bench scraper (or spatula) in a pot of very hot water, dry off and glide it over the chilled frosting.
You may need to add a little fresh frosting here and there on stubborn places and then smooth over with the heated bench scraper. the ganache will melt just enough to give you a smooth finish.
Final Touches to the Cake
We topped off our ganache frosted cake with a layer of coconut filling and even more flaked coconut. We also pressed sliced almonds around the sides of the cake!
You can use sliced almonds in the filling also if you'd like! I love the look of the fluffy mound of coconut on top- I just want to dive in!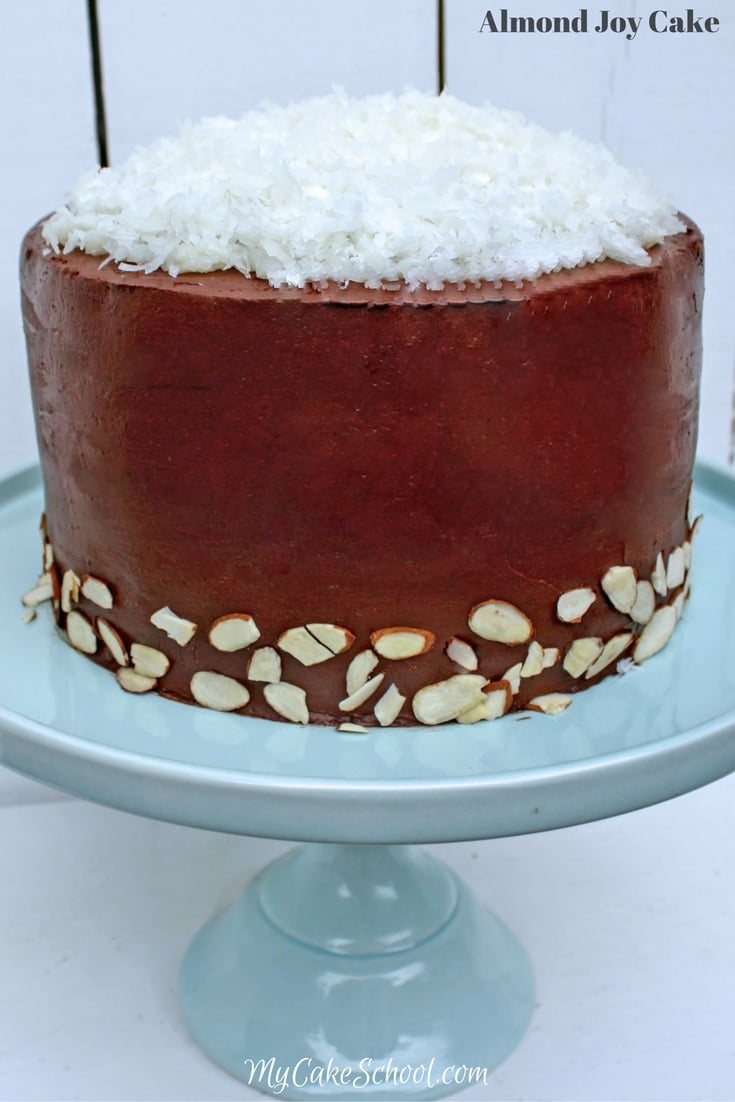 Almond Joy Cake vs. Mounds Cake
Mounds bars are basically the same as Almond Joy, minus the almond-- and I love them both! If you're feeling more like a Mounds Bar cake, you're in luck. This cake can be that cake too.
To make a Mounds Cake instead, simply leave the almonds out of this recipe!
Now for one last look.... ahhh....
We hope that you enjoy this recipe! If you make our Almond Joy Layer Cake, we'd love to hear all about it! Make sure to leave a note or photo in the comments below!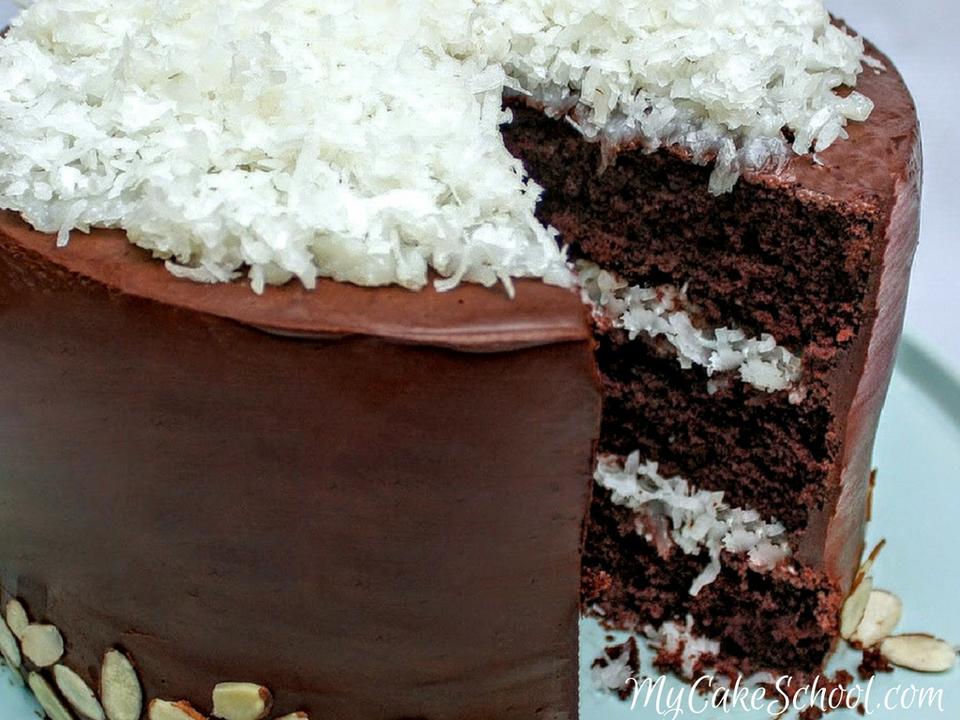 Join us for the BEST Cake Recipes and Cake Decorating Tutorials!
Thanks for stopping by! We hope that you enjoy the recipe as much as we have! Also, don't miss our full collection of tried and true cake and frosting recipes from our Recipes Section!
If you are interested in learning more about cake decorating, don't miss the hundreds of cake decorating videos that we have in our Free Cake Video Tutorials Section, as well as our Free Cake Blog Tutorials Section. There are so many fun cake techniques and designs to try!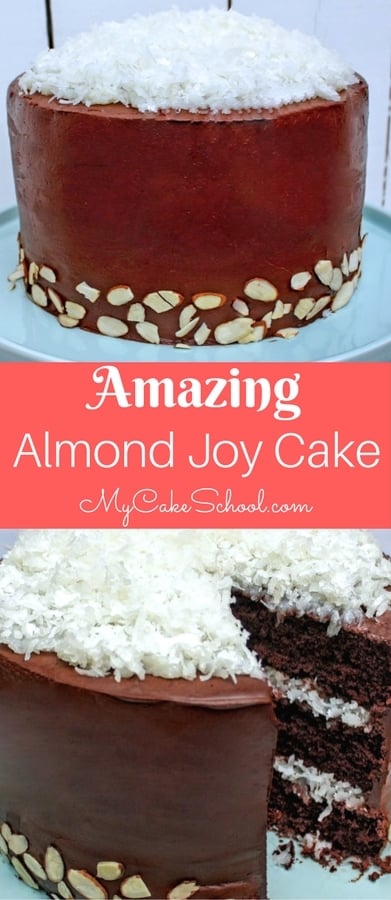 Almond Joy Cake Recipe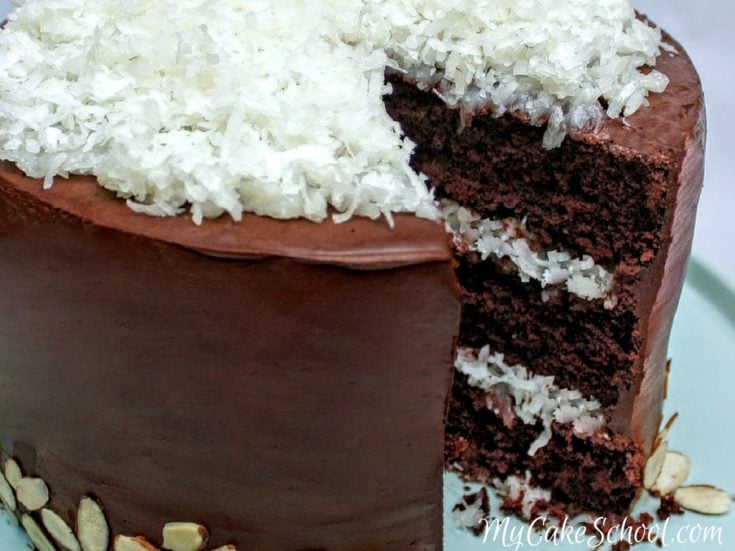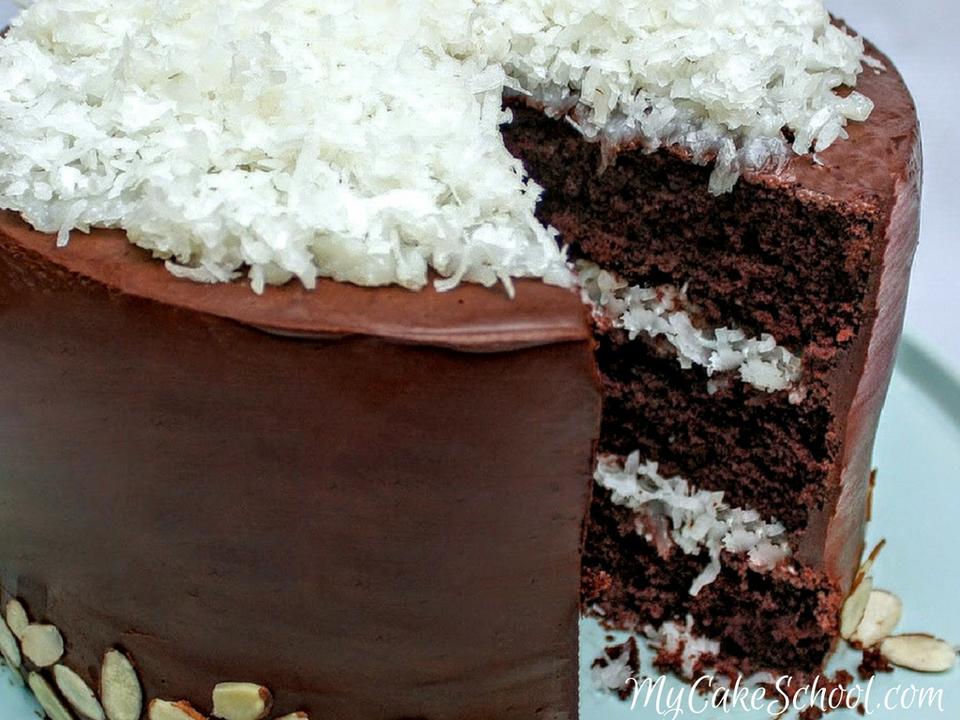 This Almond Joy Cake is amazing! Decadent chocolate cake layers with a thick and flavorful coconut filling, frosted in rich ganache.
Ingredients
For the Classic Chocolate Cake Layers
2 cups (400g) sugar
2 ¾ cup (322g) all-purpose flour
1 cup (82g) unsweetened cocoa (lightly spoon into cup then sift)
2 teaspoons ((10g) baking soda
½ teaspoon (2g) baking powder
½ teaspoon (2g) salt
1 cup (2 sticks) (226g) unsalted butter, softened (do not soften in microwave) I cut the butter into 1 inch pieces onto waxed paper leaving on the countertop for 8 to 10 minutes it will still be quite cool when adding to the dry ingredients. If it becomes too soft, just refrigerate a few minutes
¼ cup (54g) vegetable oil
4 large eggs at room temperature
1 cup (220g) milk
1 teaspoon (4g) vanilla extract
1 cup (220g) hot coffee, it can be instant or brewed
For the Coconut Filling
½ cup (121g) milk
½ cup (100g) sugar
2 ½ cups (220g) sweetened coconut ( I used Bakers Flake Coconut)
½ bag (144g) mini marshmallows or 24 large (155g) marshmallows (the large ones can be cut into small pieces for easier melting)
1 teaspoon (4g) coconut extract
For the Ganache Frosting
650 grams chocolate, chopped into small pieces (We used Trader Joe's Pound Plus Dark Chocolate which is 54% cocoa)
325 grams ( 1 ½ cup) heavy cream
Instructions
For the Classic Chocolate Cake
Preheat oven to 350 degrees
Grease and flour THREE 8 inch cake pans
In a mixing bowl, add the dry ingredients: sugar, flour, cocoa, baking soda, baking powder, and salt. Whisk for 1 minute to blend.
Add softened butter a few pieces at a time while the mixer is on low speed. Mix until the dry ingredients look like coarse sand and the dry ingredients are moistened. Scrape the bottom and sides of the bowl.
In a separate bowl whisk the eggs, milk , oil and vanilla until blended.
Method is important when using the Reverse Creaming Method. With the mixer on low speed, SLOWLY add approximately ½ of the egg mixture to the dry ingredients. Increase the speed to medium and mix for 1 ½ minutes at medium speed. Don't mix above medium speed. Scrape the bottom and sides of bowl. Add the remaining egg mixture in 2 pourings, beating for 20 seconds after each pour. Scrape the sides and bottom of bowl.
Slowly add the cup of hot coffee and mix another 30 seconds until blended. The batter will be very runny. Don't worry!
Pour into 3 prepared 8" pans and bake at 350 degrees for 25 to 30 minutes or until the center of the cake springs back to the touch and a toothpick comes out clean.
Cool the cakes 10 minutes on a rack and then turn out of the pans.
*Yields approx 9 cups of batter.
For the Coconut Filling
In a saucepan over medium heat add the milk, sugar and marshmallows.
Stir until the sugar is dissolved and the marshmallows are melted. It is a slow process because you don't want the milk to boil. Use the back of the spoon to press the marshmallow to the side of the pan while stirring to speed things along.
Remove the pan from the heat and stir in the coconut and coconut extract.
Allow to cool completely before spreading between the layers. It can be made in advance and refrigerated.
For the Ganache Frosting
Put the chocolate into a heat proof bowl. Heat the cream until it just begins to boil, remove from the heat and pour over the chocolate.
Let the mixture sit for 5 minutes before stirring. Stir until all the chocolate pieces have melted. You could also use an immersion blender or hand mixer to finish blending, making sure that all the chocolate pieces have melted.
Allow the ganache to completely cool to room temperature. When you take out a spoon full and it holds its shape it is ready to spread on the cake.
At this point you could also whip the ganache, for a lighter consistency ganache. Using a hand mixer or the whisk attachment of your stand mixer, begin on low speed gradually increasing to medium speed, whip the ganache approximately 1-2 minutes or until it has lightened in color and is smooth.
Assembly of the Cake
When assembling our three layer chocolate cake, we spread the first and second layers with a thin layer of chocolate ganache followed by a layer of our coconut filling.
After placing the third layer, we frosted the cake in chocolate ganache and topped off the cake with coconut filling followed by a generous mound of flaked coconut.
We pressed sliced almonds here and there around the sides of the cake towards the bottom.
Recommended Products
As an Amazon Associate and member of other affiliate programs, I earn from qualifying purchases.
Love Chocolate Cake? Don't miss these Other Fantastic Recipes!
*You can find the full listing of our Best Chocolate Cake Recipes Here!: Favorite Go-To Chocolate Cake Recipes from My Cake School!