Today I'm going to share an amazing scratch Strawberry Lemon Cake with you!
This perfect summertime dessert brings together two favorites of mine: moist, delicious, lemon cake layers and a sweet Strawberry Buttercream! Throw in some freshly sliced strawberries and you have an instant classic!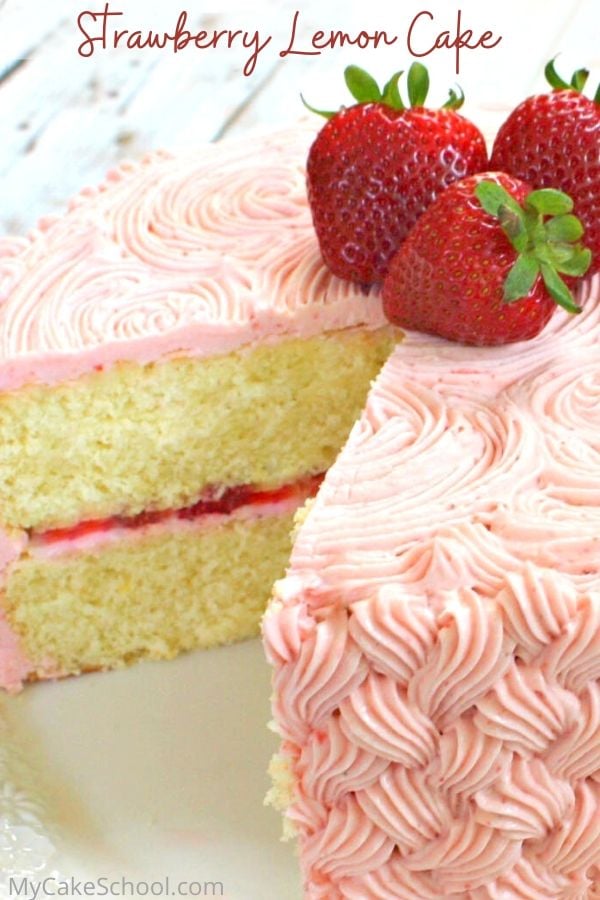 For our Strawberry Lemon Cake, we're using our popular scratch Lemon Cake from our Recipes section which you can find here: Scratch Lemon Cake Recipe.
We've tried other lemon cake recipes but we always come back to this one. It is super moist, easy to make, and has just the right amount of lemon. If you haven't tried it yet, you must!
As much as we love our tried and true combination of lemon cake with lemon curd and lemon cream cheese frosting, it's fun to experiment with something new. There are SO many flavors that work well with lemon. Strawberry is one of them!
This Strawberry Lemon Cake has the perfect balance of lemon and strawberry flavors, between the lemon cake, strawberry frosting, and strawberry slices. You are going to love it!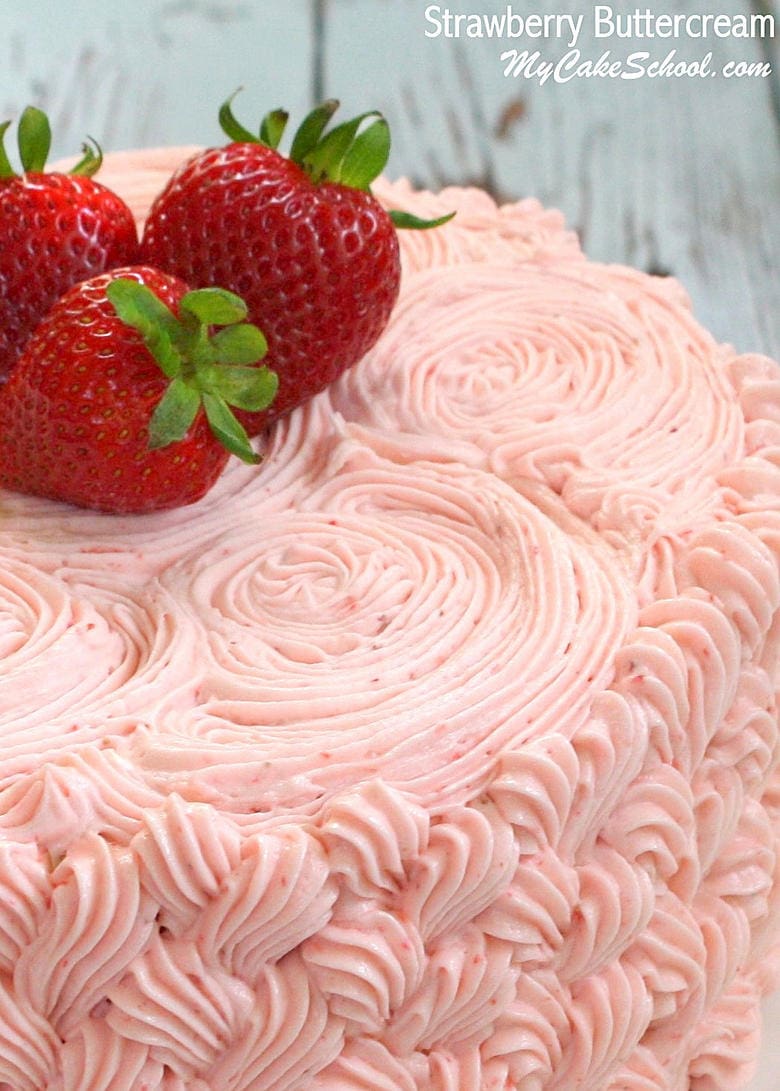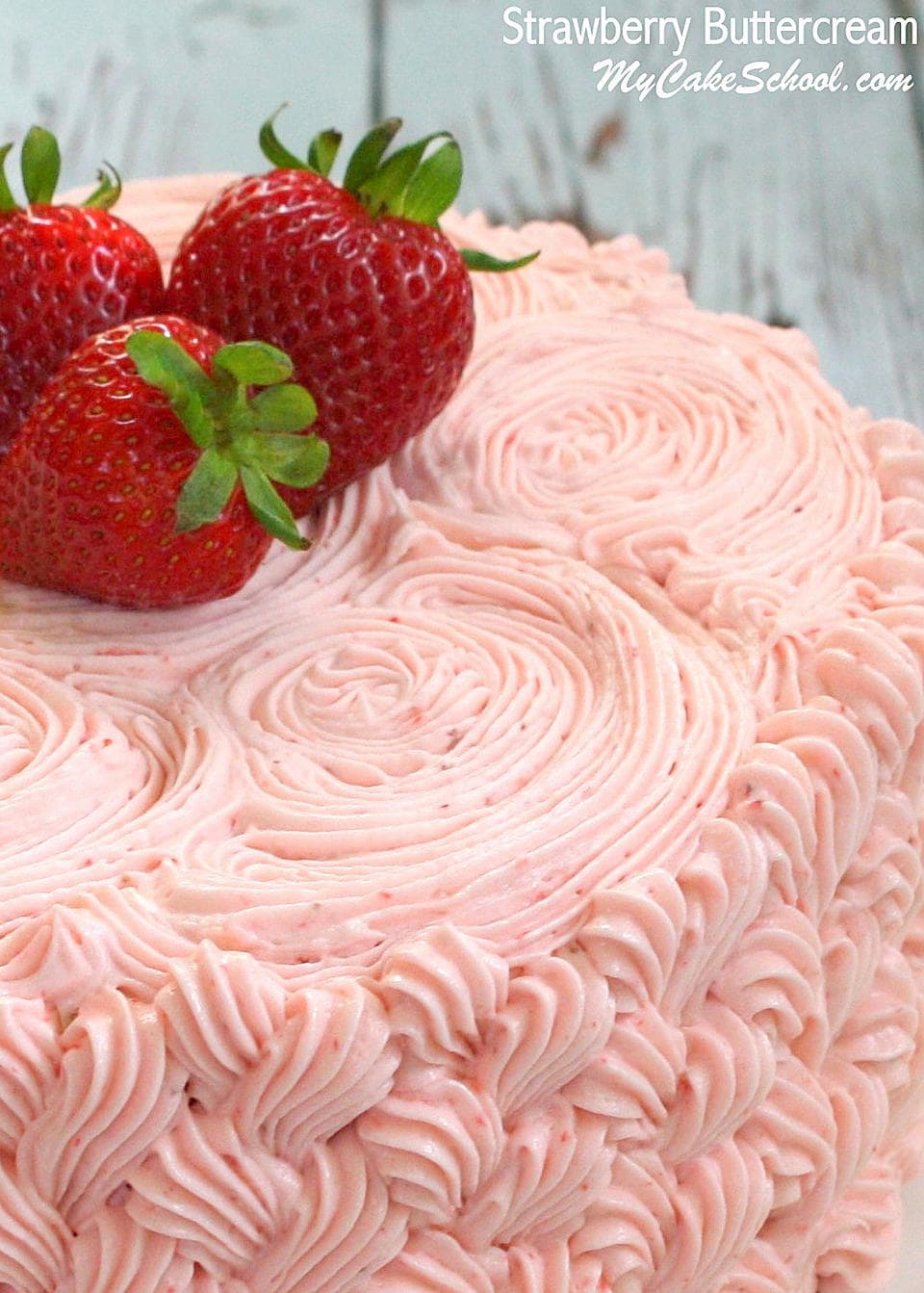 Assembly of the Lemon Strawberry Layer Cake
After placing the first Lemon Cake layer on our pedestal, I slathered it with a layer of Strawberry Buttercream.
This buttercream recipe has it all. The strawberry flavor is fabulous, it works well as both a filling and frosting, and pipes beautifully!
With it being strawberry season, we couldn't resist spreading a generous helping of sliced strawberries on top of the strawberry buttercream filling.
Slice as many strawberries as you'd like, but keep your slices far enough from the edge of the cake to ensure that they will not spill out when the cake is stacked.
You can pipe a dam of buttercream just inside the edge of the cake if you'd like so that none of this delicious filling escapes.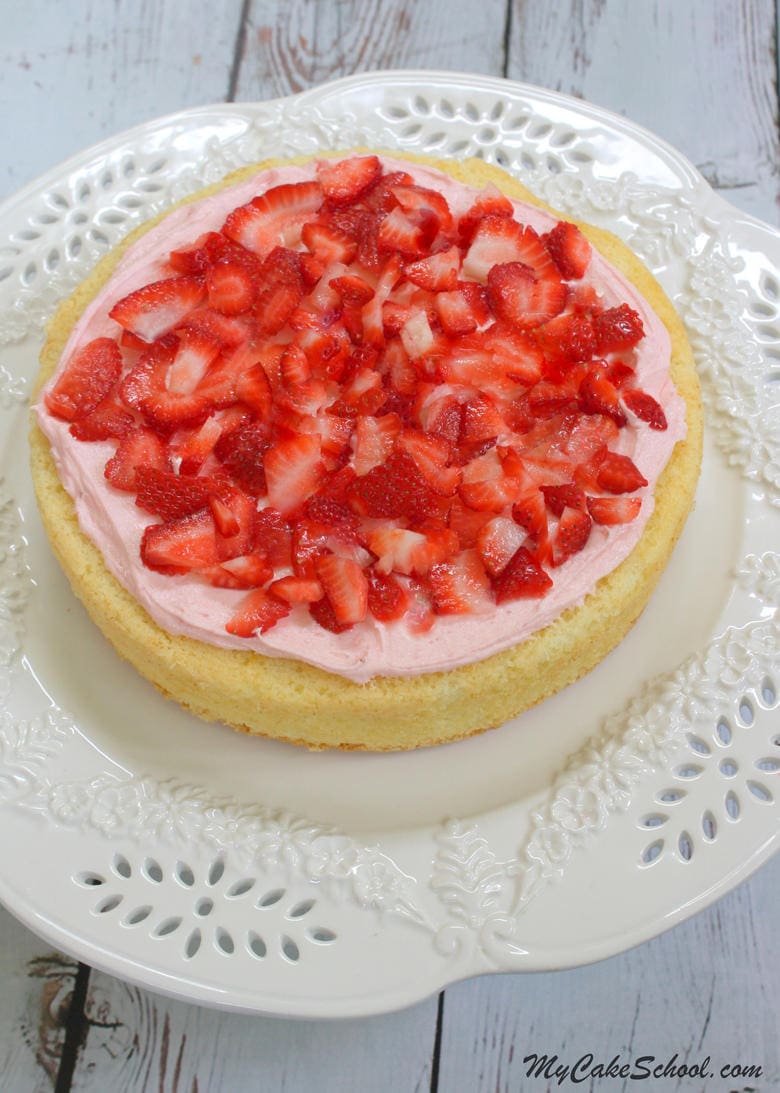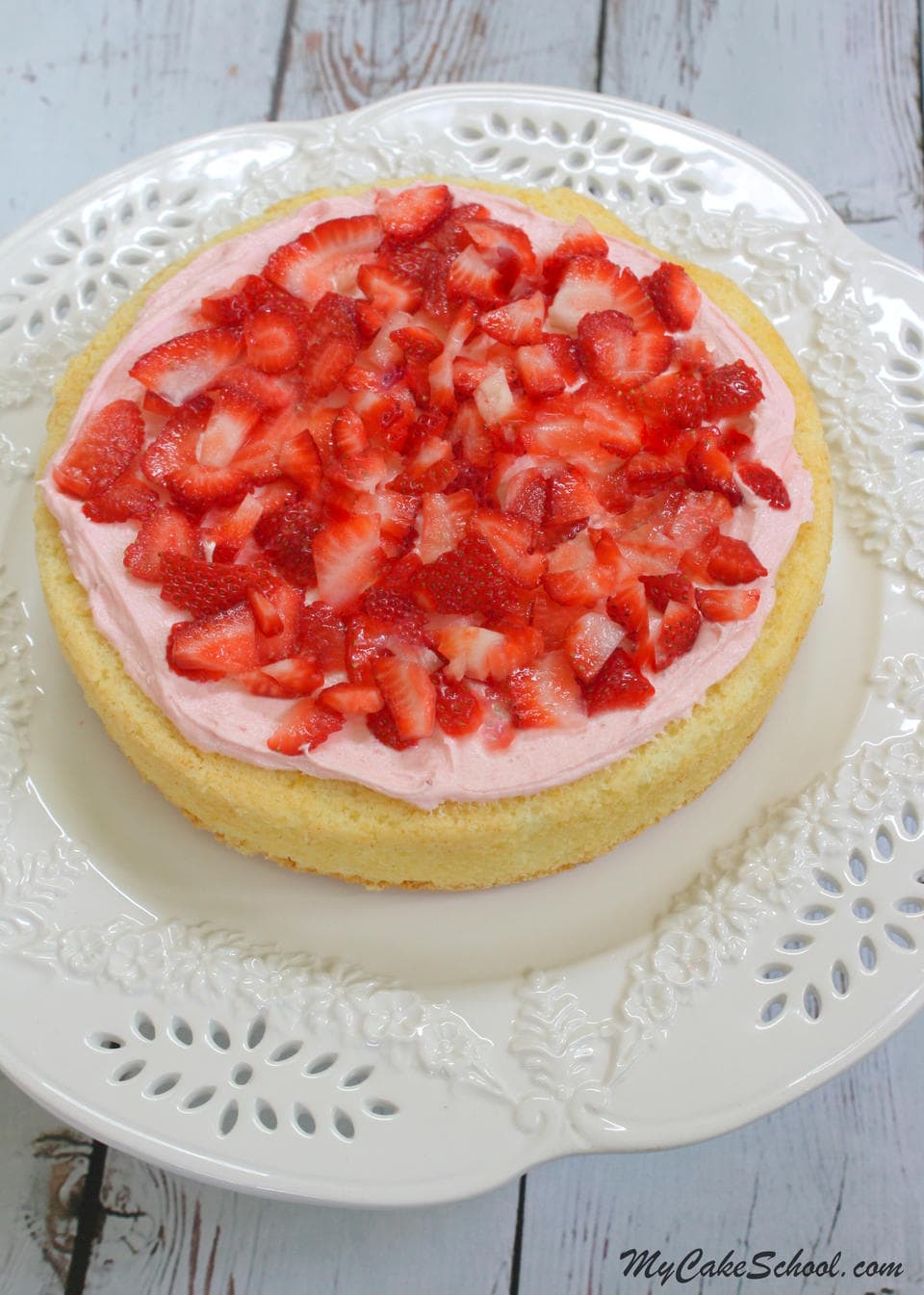 Here's a closer look at our homemade Strawberry Buttercream! It is packed with strawberry flavor without being overly sweet. If you love strawberries, this is going to become a new favorite of yours. Strawberry Perfection!
(Keep this Strawberry Buttercream recipe in mind for all sorts of cake and cupcake flavors! It's amazing with white cakes, yellow cakes, and of course strawberry cake too! You can find all of these in our Recipes section!)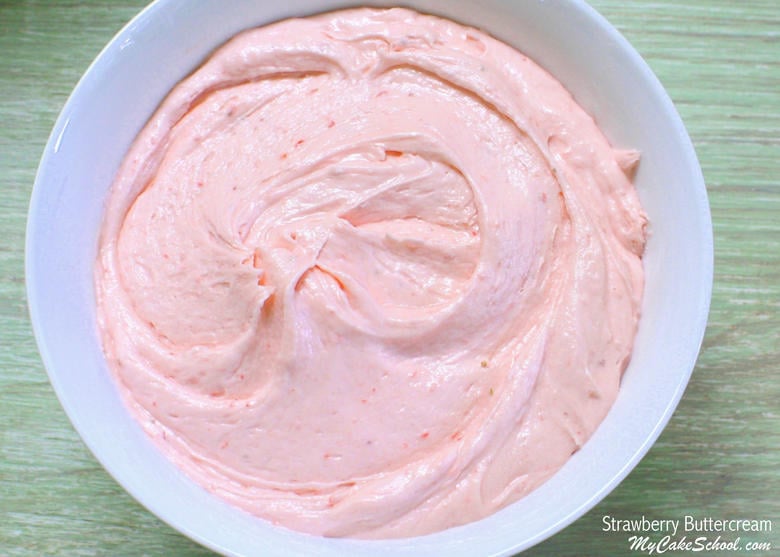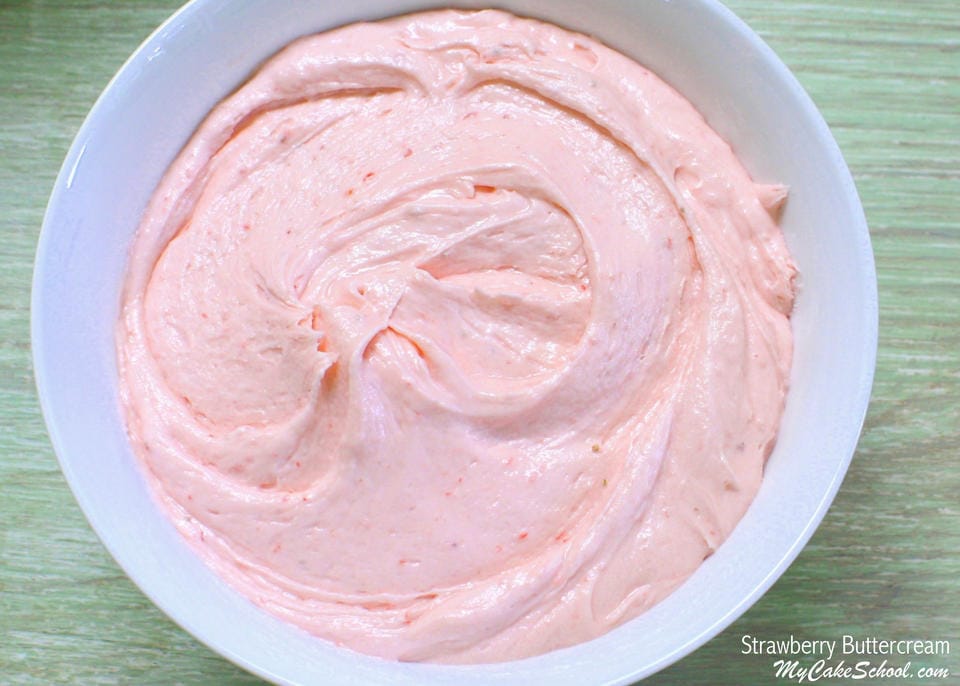 After adding our strawberry filling and strawberry slices, I added our second layer of lemon cake and frosted the cake with a thin crumb coat of strawberry buttercream, followed by a layer of decorative piping.
I piped buttercream spirals all over the top of the cake using a Wilton 21 star tip, and continued around the sides with a braided buttercream effect.
Decorate however you'd like! We topped the cake with a few beautiful strawberries for an extra pop of color.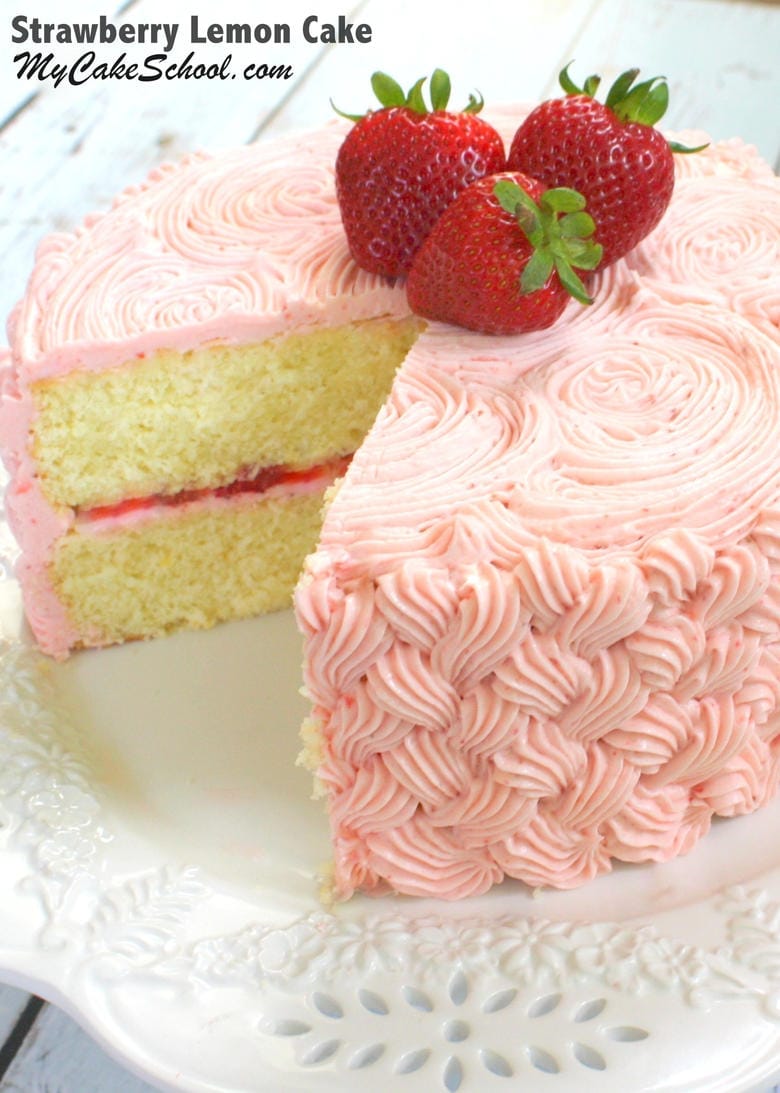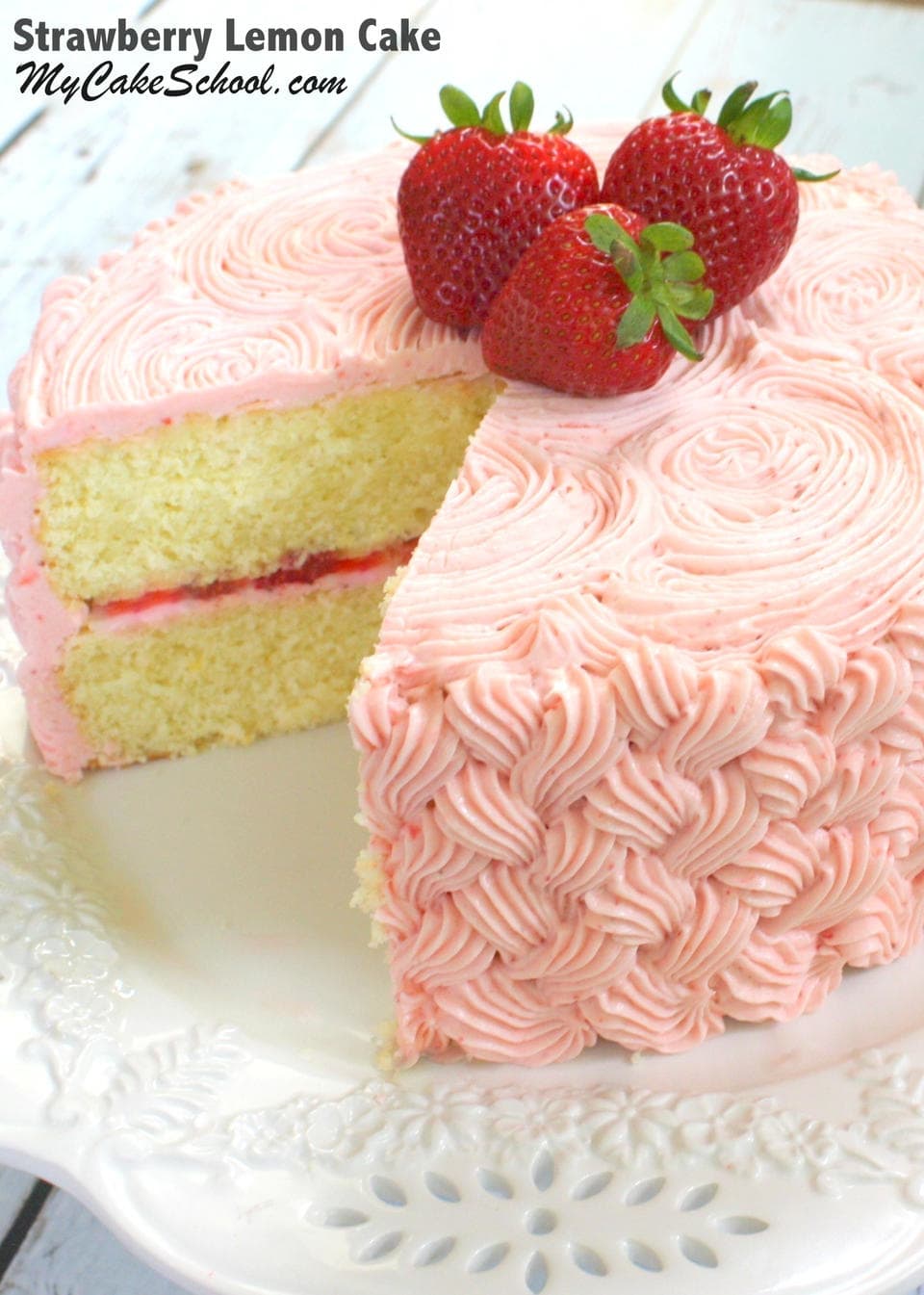 Strawberry Lemon Cake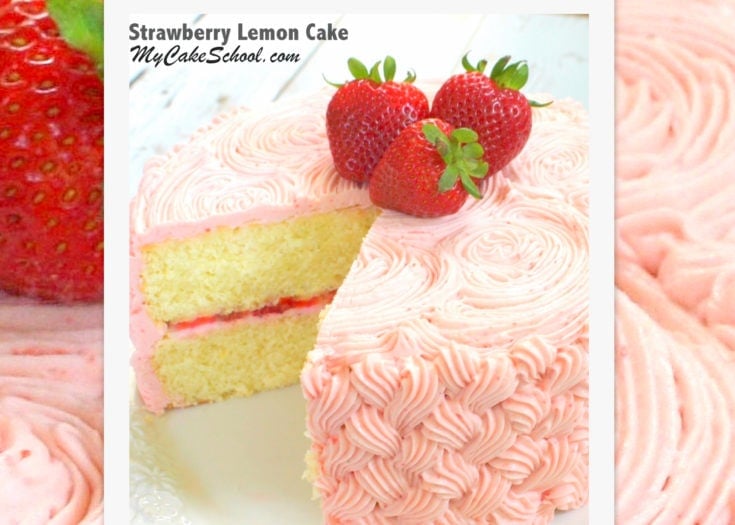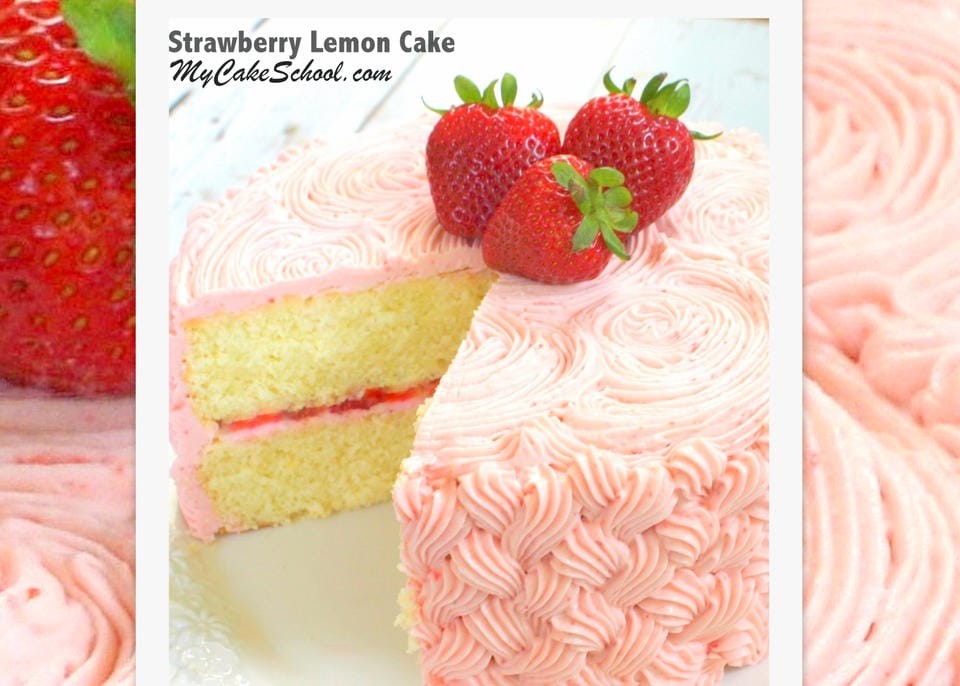 We love the combination of Strawberry and Lemon in this moist and delicious layer cake!
Ingredients
For the Lemon Cake Layers
1 ½ sticks (12T) (170g) unsalted butter, softened
1 ½ cups (300g) sugar
4 large eggs, room temperature (if cold, place in a bowl of warm water for 5 min.)
3 cups (342g) cake flour *if you do not have cake flour, see note below
½ teaspoon (3g) salt
1 ½ teaspoons (7g) baking powder
½ teaspoon (3g) baking soda
1 cup (242 g) milk
¼ cup (57g) lemon juice
¼ cup (53g) vegetable oil
zest of 2 lemons
1 Tablespoon (10g) lemon extract
*** ** If you don't have cake flour, for each cup of all purpose flour (or plain flour in the UK) remove 2 Tablespoons of flour and replace with 2 Tablespoons of cornstarch. For this recipe, measure out 3 cups all purpose flour, remove 6 Tablespoons and replace with 6 Tablespoons cornstarch. Whisk to blend.
For the Strawberry Buttercream (*If doing a lot of piping, increase by ½)
2 sticks (1 cup) (226g) unsalted butter, slightly softened
6 cups (690g) powdered sugar
½ teaspoon (3g) salt (optional) this will cut the sweetness (popcorn salt will dissolve more quickly)
¼ cup plus 1 Tablespoon pureed strawberries, add more to reach your desired spreading consistency (This is approximately 3-5 strawberries as the sizes vary)
1 teaspoon (4g) strawberry extract (optional) use if the buttercream needs more strawberry flavor
Miscellaneous:
Additional sliced strawberries to place in the filling (optional but it adds great flavor) & whole strawberry/strawberries for decoration on top.
Instructions
For the Lemon Cake Layers
Preheat the oven to 350 degrees
Grease and flour two 8 inch pans ( my pans are 2 inches deep). You could also divide the batter between three 8 inch pans for slightly thinner layers which allows for an additional layer of filling.
In a medium sized bowl add the flour, baking powder, baking soda, salt and zest of 2 lemons. Whisk to blend and set aside.
In another bowl, add the milk, vegetable oil and lemon juice, and lemon extract. Whisk to blend and set aside.
In the bowl of your mixer, beat the softened butter until smooth. Gradually add the sugar and mix on medium speed 3 to 5 minutes until it is lightened in color and fluffy.
Add the eggs one at a time, mixing until the yellow of the yolk disappears.
Add the flour mixture and the milk mixture alternately. Begin and end with the flour (3 additions of flour and 2 of milk). Mix until combined and smooth, do not mix above medium speed or over mix.
Pour the batter into the prepared pans, smoothing the tops with the back of a spoon. Bake at 350 degrees. If baking three 8 inch pans, bake at 350 for 20-25 minutes. For two 8 inch pans, bake at 350 for 30 to 35 minutes or until a toothpick inserted in the center comes out clean or with only a few crumbs attached. Let the cakes cool in the pans 10 minutes then turn out.
For the Strawberry Buttercream
Cream the softened butter until smooth.
Gradually add the powdered sugar and pureed strawberries beating at medium speed until blended.
Continue mixing on medium speed another 3 to 4 minutes, scraping the sides of the bowl occasionally
Slow down the mixer to very slow (#2 on a KitchenAid) and mixing another 1 to 2 minutes. This will eliminate air pockets. The buttercream will become very smooth.
If the buttercream is too thin add more powdered sugar, if too thick add more puree or a bit of milk.
Any extra strawberry puree can be spread between the cake layers
Makes 4 to 4 ½ cups
Assembly of Cake
Place the first cake layer on your cake board/pedestal
Spread with Strawberry buttercream, followed by strawberry slices. (Don't allow the strawberries too close the the edge, or pipe a dam of buttercream to keep the juices from escaping.
Top with the next cake layer and repeat. Frost the cake with strawberry buttercream.

More Lemon Cakes & Frostings to Try!
We kind of love lemon around here, and have an ever-growing collection of favorite lemon cakes! Don't miss these recipes for next time!
Lemon Raspberry Swirl Pound Cake
That's all there is to it! We hope that you give this cake recipe a try soon!
It is SO good, and the lemon and strawberry flavor combination is one that you don't see too often. It's fun to change things up now and then, and we think that you're going to LOVE this flavor pairing for summer!