Strawberry Champagne Cake- A Doctored Cake Mix
This Strawberry Champagne Cake is the perfect way to celebrate, and with New Year's Eve just around the corner we are excited to share this moist and flavorful layer cake recipe with you!
Strawberries and champagne go hand in hand, and this impressive (yet easy) cake recipe has the perfect balance of both!
We've made a scratch Strawberries and Champagne Cake in the past, which is another recipe for your must-make list, but I love the additional strawberry flavor in todays recipe, and the convenience of using a cake mix is a wonderful time-saving bonus!
This cake is soft, fluffy, and moist- and the whipped cream and strawberries in the filling take it to another level of deliciousness.
While this strawberry champagne cake starts with a simple white cake mix, the special additions that the recipe calls for makes it truly unique.
How to Make a Strawberry Champagne Cake
*You can find the full, printable recipe below, but here is a quick rundown of the steps!
We started with a Betty Crocker Moist White Cake Mix. Go with your favorite brand, I actually thought I was picking up a Duncan Hines box in the store, haha but I love how this recipe turned out just the same.
Ignore the directions on the back of the box and follow our recipe instructions. We combined the dry ingredients first, including the cake mix, a half box of strawberry jello powder for strawberry flavor, flour, sugar, and baking powder.
Then, we mixed in the melted butter, egg whites, oil, vanilla, and let it mix for two minutes.
After mixing, I folded in about ½ cup of thinly sliced fresh strawberries and divided the batter between three 8 inch cake pans.
After baking, we cooled the cake layers in the pans for about 5 minutes on cooling racks before flipping them out.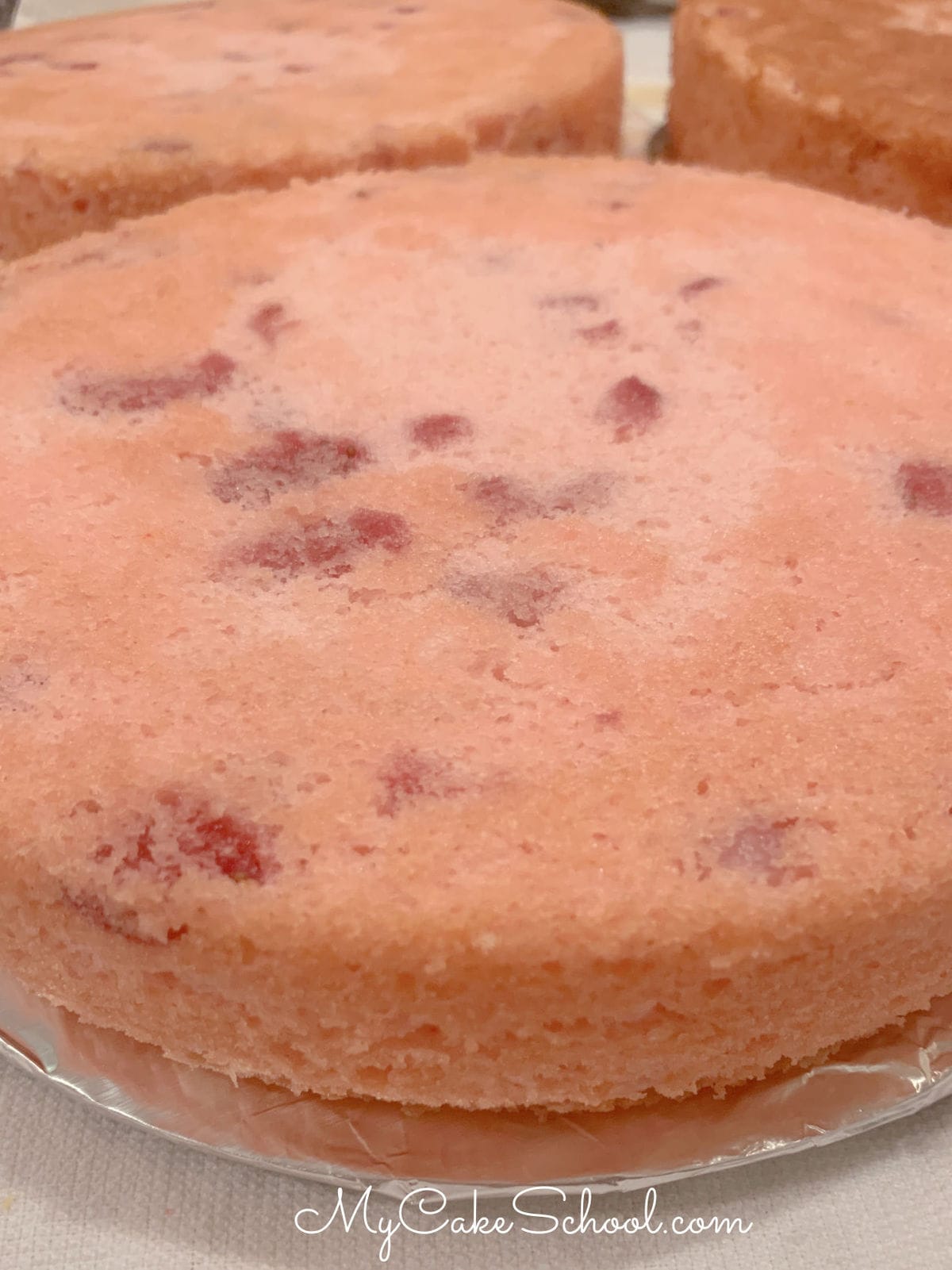 Freezing the Cake Layers
Wrapping and freezing cake layers while they are still warm is optional, but I do this step whenever possible no matter what cake recipe I am making.
I find that the trapped moisture from wrapping the warm cakes and freezing them creates cakes that are even more moist!
After baking the cake layers, I allow them to cool in the pans on baking racks for about 5 minutes as mentioned above. I then flip them out, each on their own foil-wrapped cake board (so that the boards can be re-used).
While the cake layers are still warm, I then wrap each individual layer in plastic wrap followed by foil and into the freezer they go! You can freeze the layers for just a few hours or up to a few months!
When you are ready to assemble your cake, thaw the wrapped layers on the countertop until condensation forms on the foil. Then unwrap and continue to thaw. (It is fine to assemble the cake when the layers are partially frozen.)
Assembling the Strawberry Champagne Cake
Place the first cake layer on the cake base or pedestal. Then, pipe a dam of champagne buttercream around the cake layer, about ¼ inch from the edge. Fill with sliced strawberries (optional) and a layer of whipped cream filling.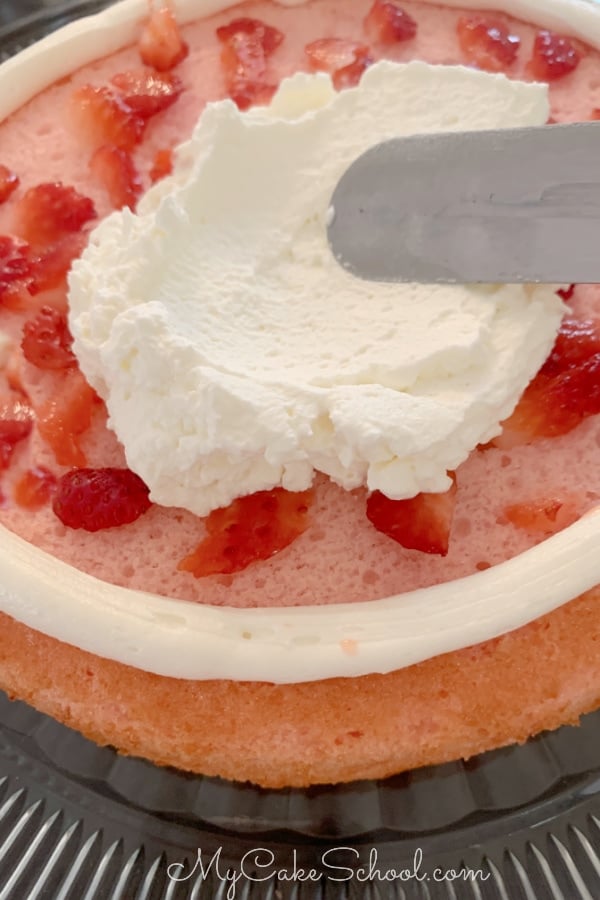 Repeat the above step with the next layer, and top with the final cake layer.
Frost the cake with champagne buttercream and top with additional strawberries!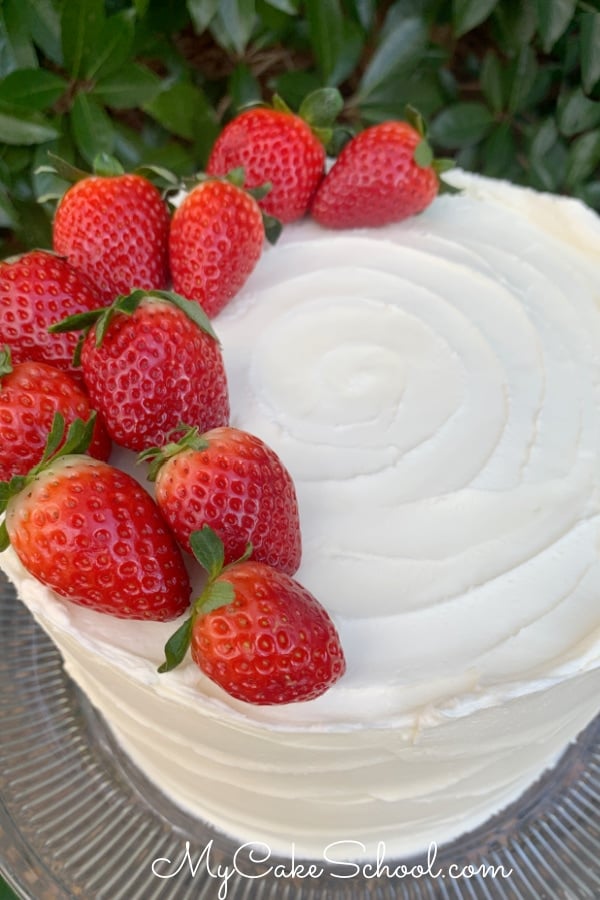 Other Boozy Cake Recipes
We've made several delicious "boozy" cakes over the years from champagne cakes to cocktail-inspired cakes and more!
Here's a quick list of favorites below, but for more details, hop over to our collection of Favorite Boozy Cake Recipes!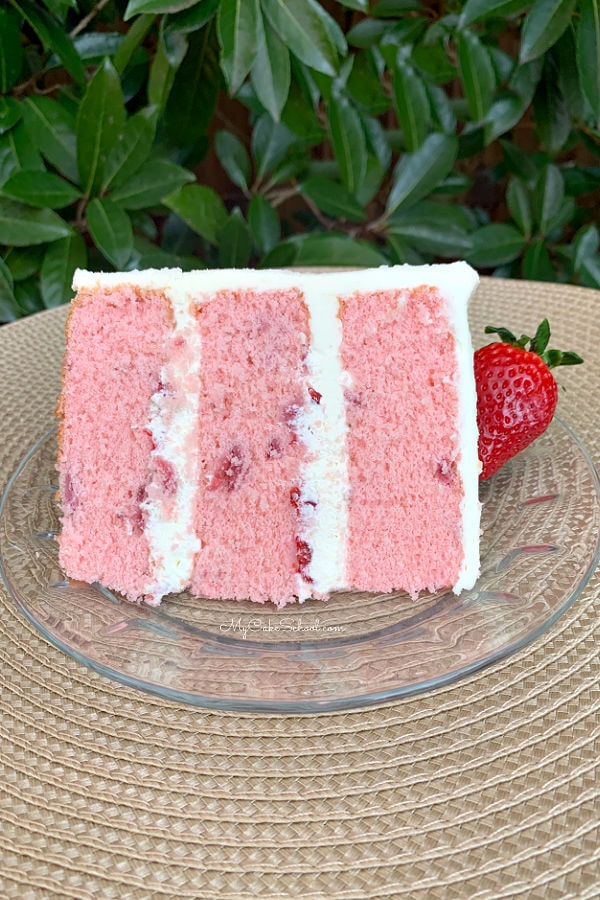 Strawberry Champagne Cake- A Doctored Cake Mix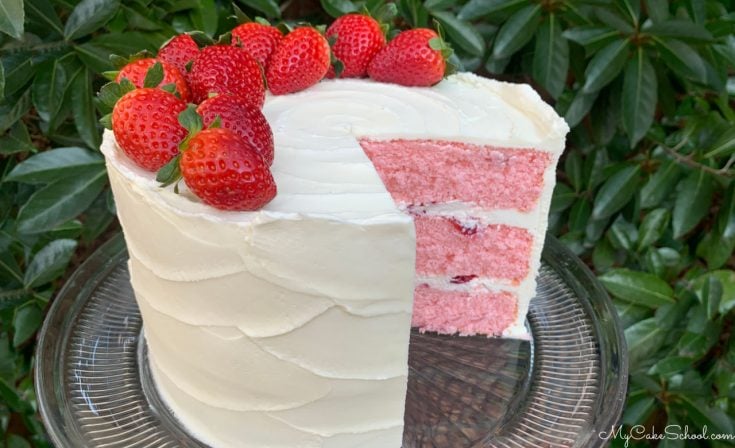 This Strawberries and Champagne Cake is so easy and delicious- and it all starts with a simple cake mix! It works great for cupcakes too!
Ingredients
For the Strawberry Champagne Cake
1 box white cake mix (sifted), we used Betty Crocker (15.25 oz)
1 cup (121 g) all-purpose flour
1 cup (200g) granulated Sugar
1 ½ sticks (12T) (179g) unsalted Butter, Melted
4 Egg whites (large eggs)
1 teaspoon (5g) baking powder
½ teaspoon (3g) salt
½ small box of strawberry jello (We used 1.5 oz of the jello-- a small box is 3 oz)
1 teaspoon (4g) vanilla extract
2 Tablespoons (16g) vegetable oil
1 ¼ cups (302g) Champagne (Whatever brand you like- we used André- Extra Dry)
½ cup finely sliced strawberries (Plus additional for in between layers and whole strawberries for the top.)
Sweetened Whipped Cream Filling
1 cup (240g) heavy cream
¼ (29g) cup powdered sugar
1 (4g) teaspoon vanilla
For the Champagne Buttercream
3 sticks (339g) unsalted butter
7 ½ cups (863g) Powdered Sugar
¼ cup +2 Tablespoons (84g) Champagne
½ teaspoon (2g) vanilla
pinch salt
Instructions
For the Strawberry Champagne Cake Layers
Preheat oven to 350 degrees (F). Grease and flour three 8 inch cake pans. In the bowl of your mixer add the sifted cake mix, flour, sugar, baking powder, half of small box strawberry jello, and salt.
Whisk at least 30 seconds to combine ingredients. Add the melted butter, egg whites, vegetable oil, vanilla, and champagne.
With the mixer on low speed, increasing to medium speed, mix for two minutes.
Fold in the sliced strawberries.
Scrape the bottom and sides of the bowl and divide the batter between the three prepared 8 inch cake pans. Bake for approximately 30-35 minutes (check at 30 minutes).
This recipe makes about 7 ½ cups of batter. Makes great cupcakes also!
For the Sweetened Whipped Cream Filling
Chill the mixing bowl and beaters/ whisk attachment in the freezer for 10 minutes.
Pour the whipping cream, powdered sugar and vanilla into the chilled mixing bowl, begin beating on low speed gradually increasing to medium high speed.
The cream begins to thicken (approx. 1 ½ minutes) and soft peaks form....peaks that slightly bend over. Watch closely as this happens quickly. Do not over beat.
For the Champagne Buttercream Frosting
Cream the softened butter until smooth and lightened in color
Blend in the salt and vanilla
Gradually add the powdered sugar with the champagne until the powdered sugar is incorporated.
Beat at medium speed 3 to 4 minutes. The texture will become very smooth.
To make the frosting a little thinner, add either a bit more champagne or milk/cream. If you need to thicken, add in a little more powdered sugar.
To Assemble The Cake
Place the first cake layer on your cake base or pedestal.
Pipe a dam of buttercream around the cake layer, about ¼ inch from the edge. (I do this with a disposable piping bag with the tip snipped away). Optional: Add desired amount of sliced strawberries on top of the cake layer. Top with a layer of whipped cream.
Repeat the above steps for the next cake layer.
Top with the final cake layer and frost the cake with Champagne Buttercream as desired.
Top with additional strawberries.
Notes
This cake should be refrigerated because of the strawberries and whipped cream in the recipe.
Recommended Products
As an Amazon Associate and member of other affiliate programs, I earn from qualifying purchases.
Love Strawberry Cakes and Desserts? Don't miss these!
We've made many strawberry cakes, frostings, and fillings over the years! Here are a few of our favorites!
Strawberry Cake {Scratch Recipe}
Strawberry Cake- Doctored Cake Mix
Chocolate Covered Strawberry Cake
Strawberry Buttercream Frosting
Strawberry Whipped Cream Cheese Filling