If you love chocolate covered strawberries, this Chocolate Covered Strawberry Cake is for you! This scratch layer cake is every bit as delicious as it sounds, and it's so pretty too!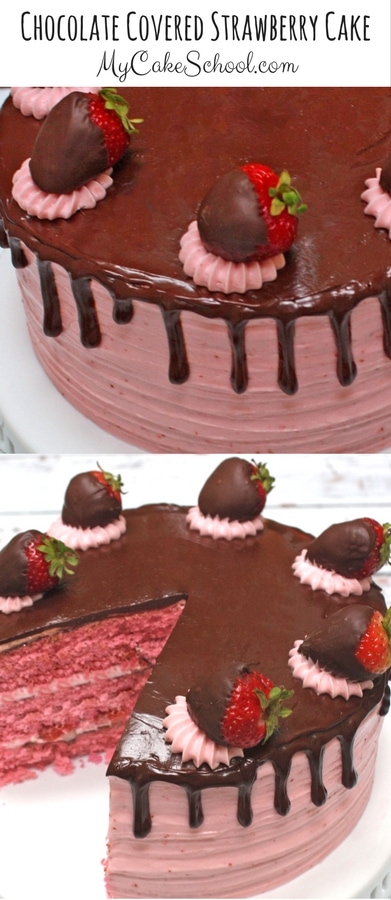 This flavorful homemade strawberry cake recipe is one of our most popular, and with the addition of chocolate ganache and fresh strawberry slices, we have a new favorite way to enjoy strawberry cake!
I love to decorate desserts with simple, freshly dipped chocolate covered strawberries. Not only do they add instant elegance, but the taste is perfection! This cake brings that winning combination of chocolate and strawberries to a whole new level.
Strawberry is the leading flavor in this cake recipe. We have strawberry cake layers, fresh strawberry slices in the filling, and strawberry buttercream filling and frosting.
Since the ganache is so rich and decadent, a little bit goes a long way. We decided to use just a thin layer in the filling, and a drizzle over the top to achieve the strawberry and chocolate deliciousness we were hoping for!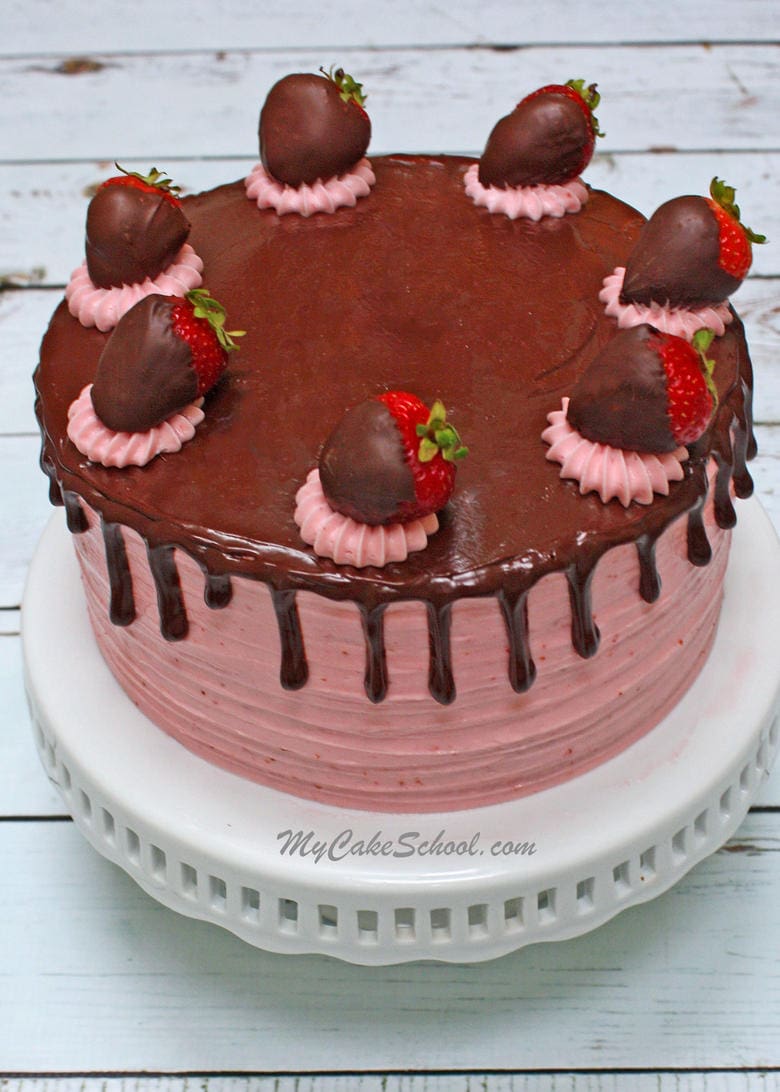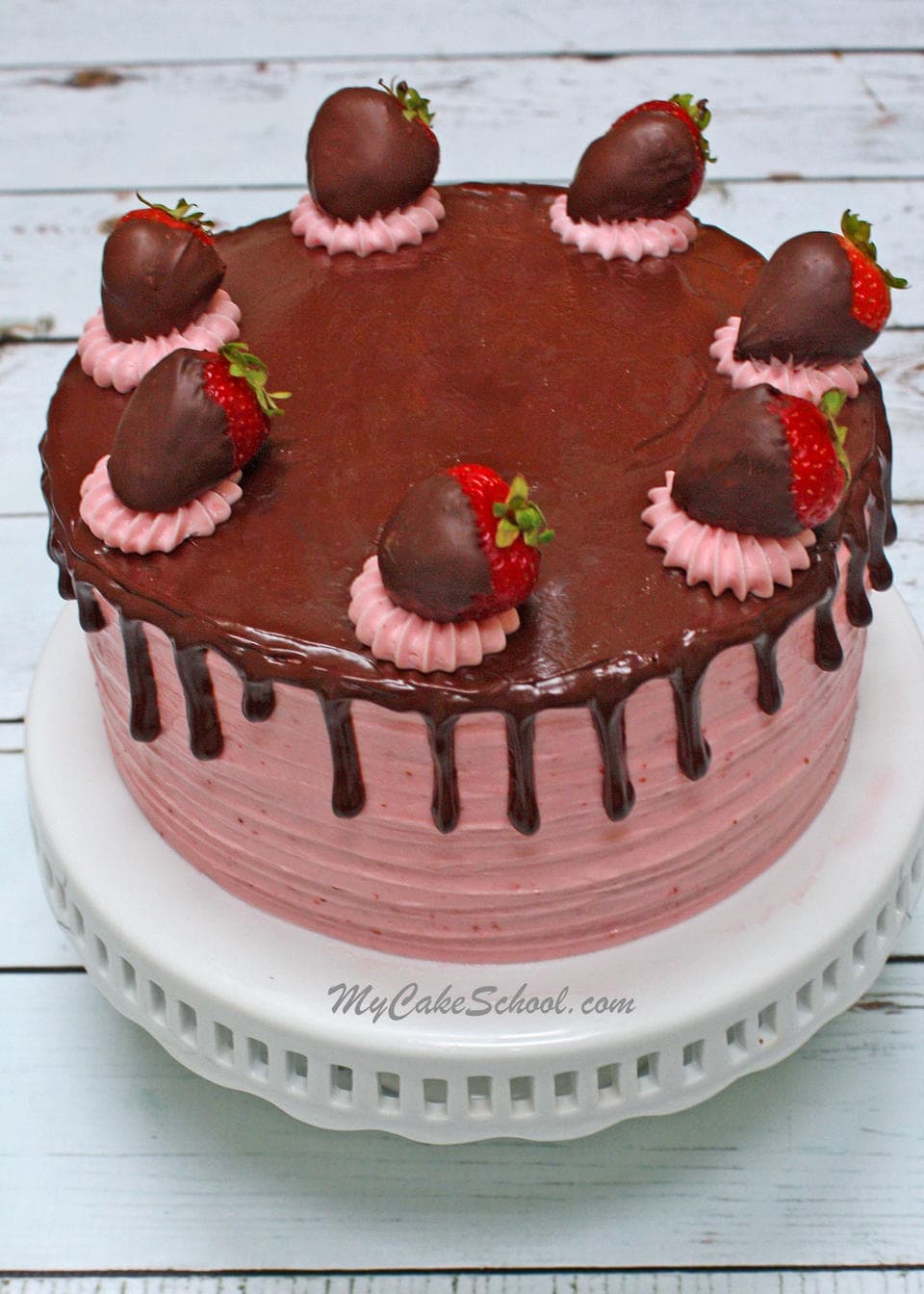 We actually experimented first with frosting and filling our strawberry cake with ganache and chocolate buttercream instead, but the strawberry flavor seemed to disappear in a sea of chocolate.
We couldn't use that version of the cake, but we COULD slice it up and eat lots of leftovers...just to make sure that we all agreed that there wasn't quite enough strawberry flavor! haha
Now, let's take a closer look at our key players...
For this recipe, we used the conventional method of mixing for our scratch Strawberry Cake. The flavor and texture are just as amazing as when we use the reverse creaming method of mixing (as in our other Strawberry Cake post.).
If you prefer the reverse creaming method of mixing, that version of our Strawberry Cake would be perfect for this cake also! We just wanted to have a conventional option for Strawberry Cake since we've had some requests for this!
*As with most cake recipes that call for the conventional method of mixing, the resulting cake layers are nice and fluffy! For this reason, we recommend this version when making strawberry cupcakes. SO good!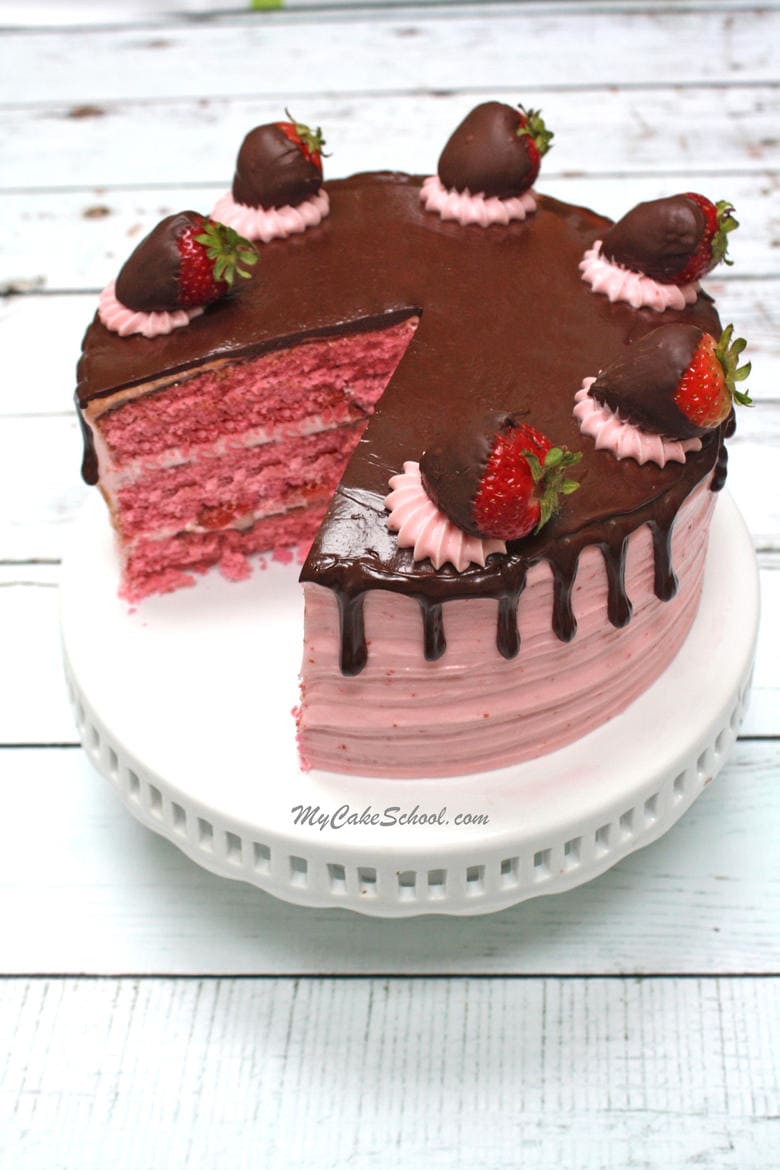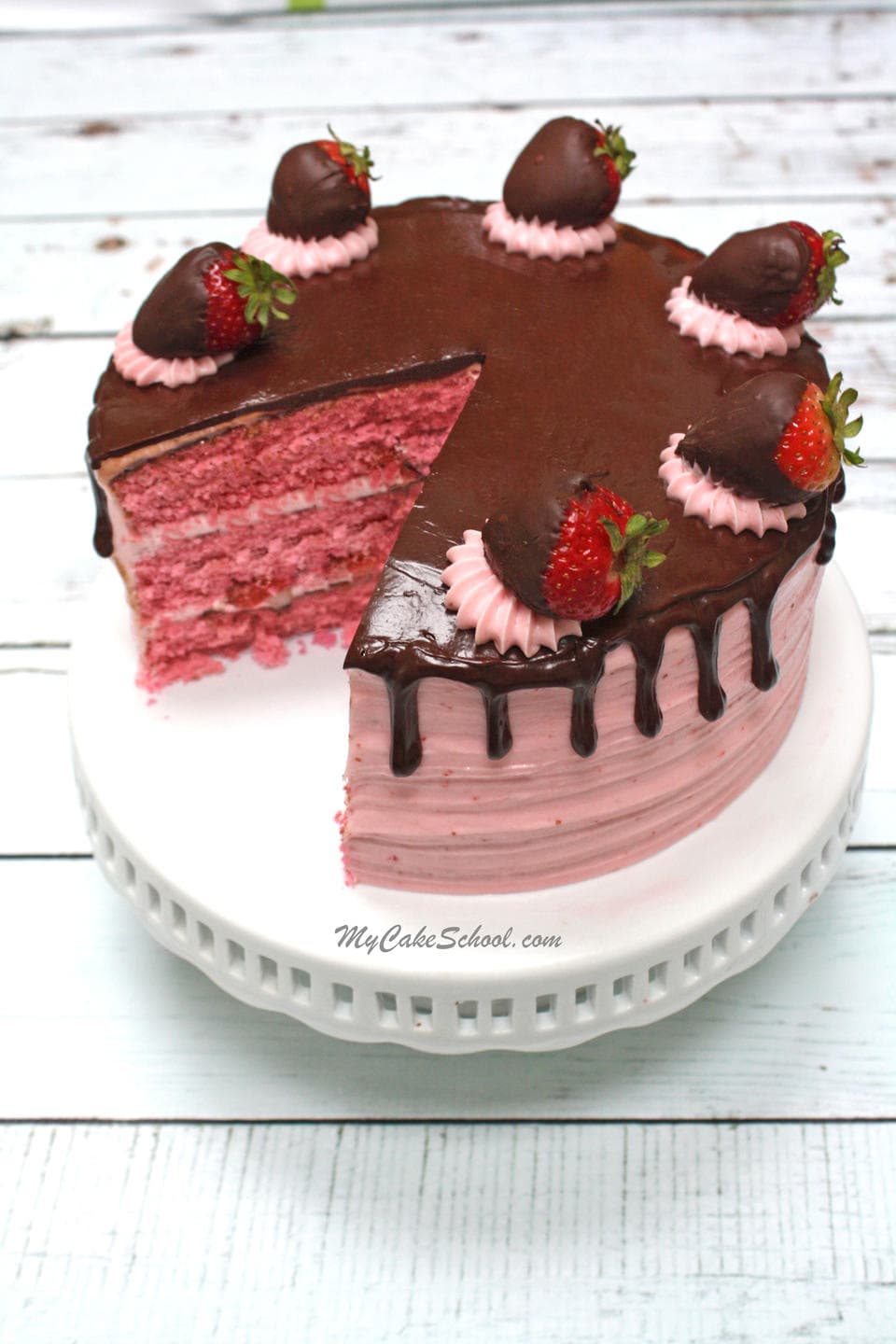 For our ganache drizzle and filling, we used a 1:1 ratio of chocolate to cream. This is a great consistency for drips and thin glazes, as we explain in our Easy Ganache Drip post. We've used this simple, microwaveable ganache recipe for several of our cakes now, including Oreo Cake and Mint Chocolate Chip!
(For dipping the strawberries on top, we used melted chocolate with no cream added. This ensured that the chocolate would be nice and firm at warmer temperatures.)
How to Make a Chocolate Covered Strawberry Cake
For this Strawberry Cake recipe, I baked three 8 inch cake layers.
While assembling the cake, I glazed each interior layer with a thin layer of ganache, followed by a layer of strawberry buttercream. I also snipped the tip off of a disposable piping bag filled with strawberry buttercream to create a dam.
I did not take my dam all the way to the edge. The dam is optional, but I was worried that juices from the sliced strawberries would escape.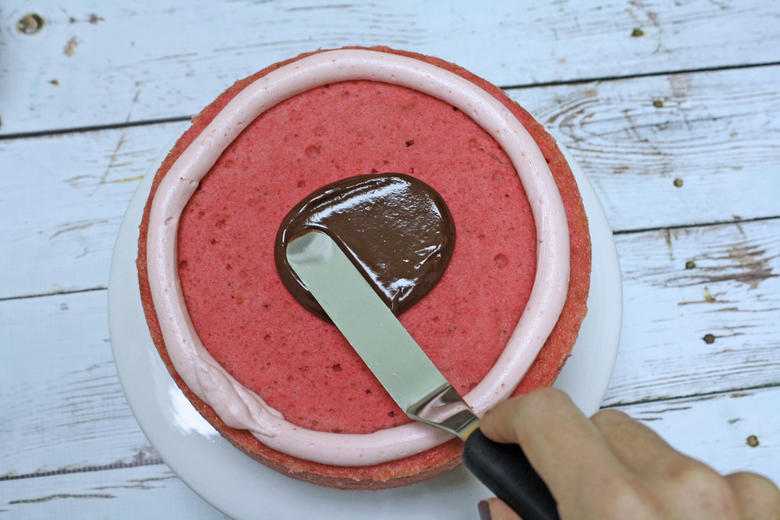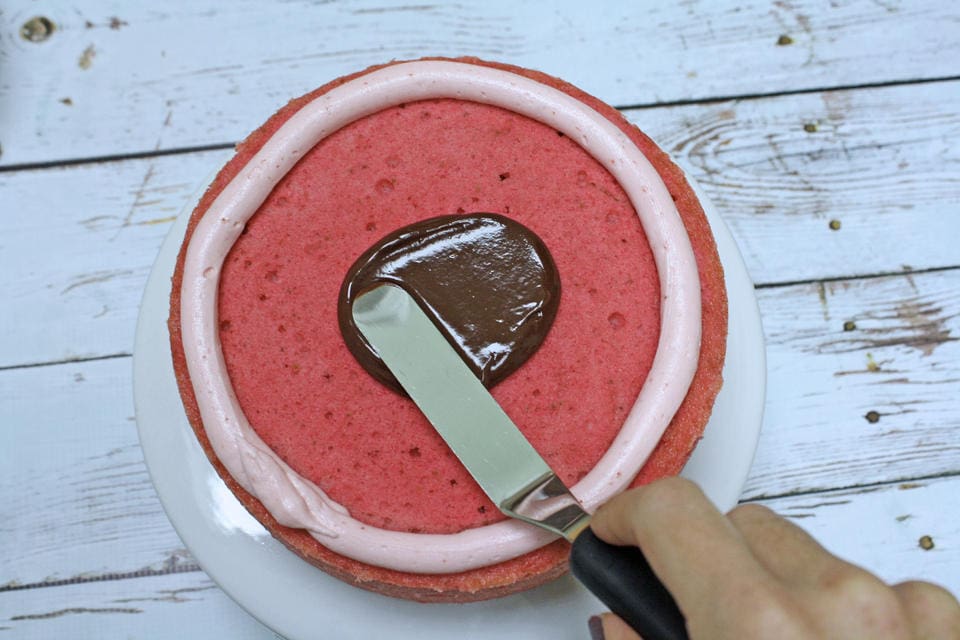 After spreading a thin layer of ganache, I piped additional strawberry buttercream on top, and gently smoothed over it with my spatula.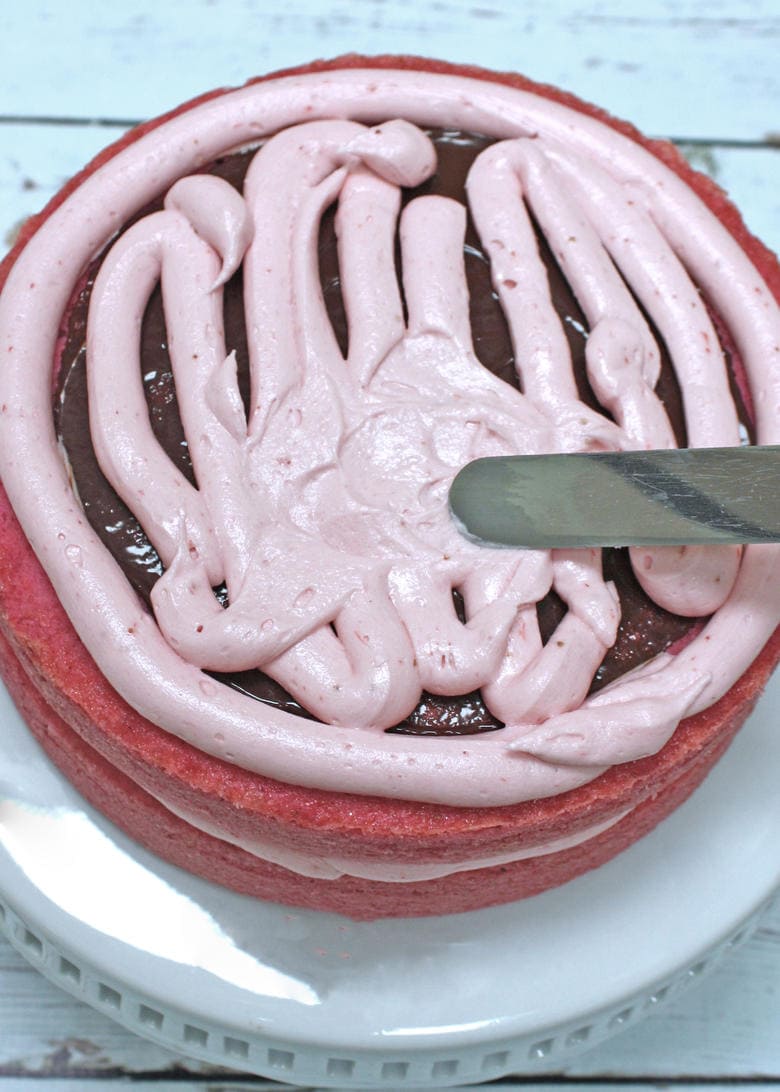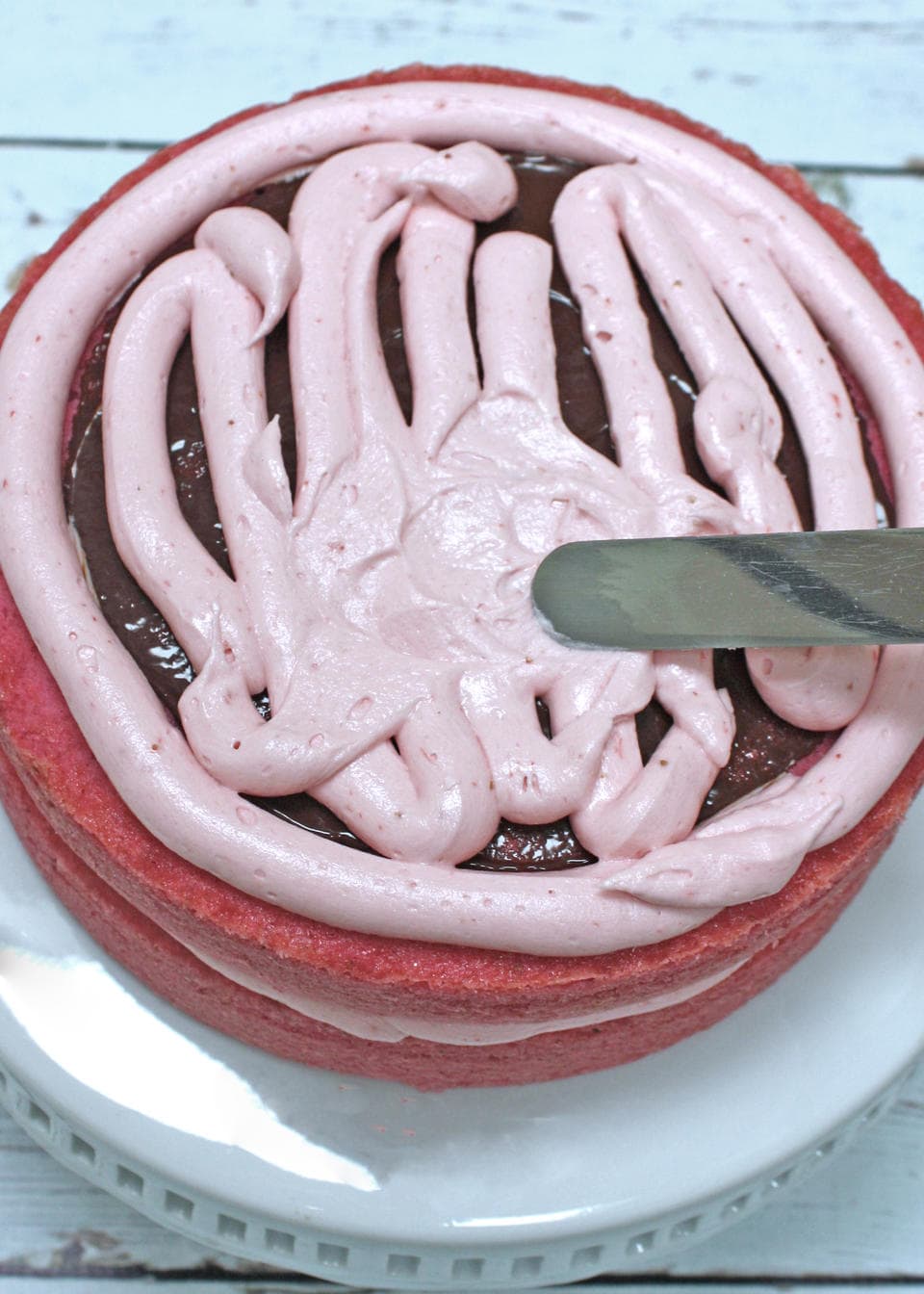 Next, strawberry slices! I arranged thinly sliced strawberries on top of the strawberry buttercream. This gives us an additional strawberry flavor boost!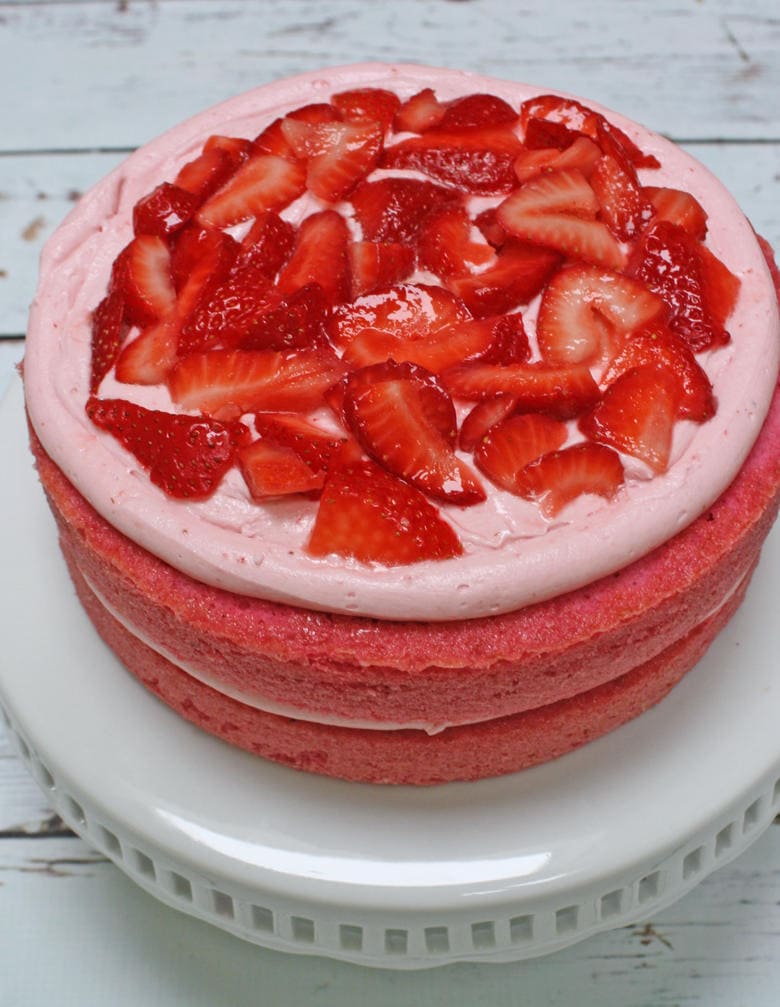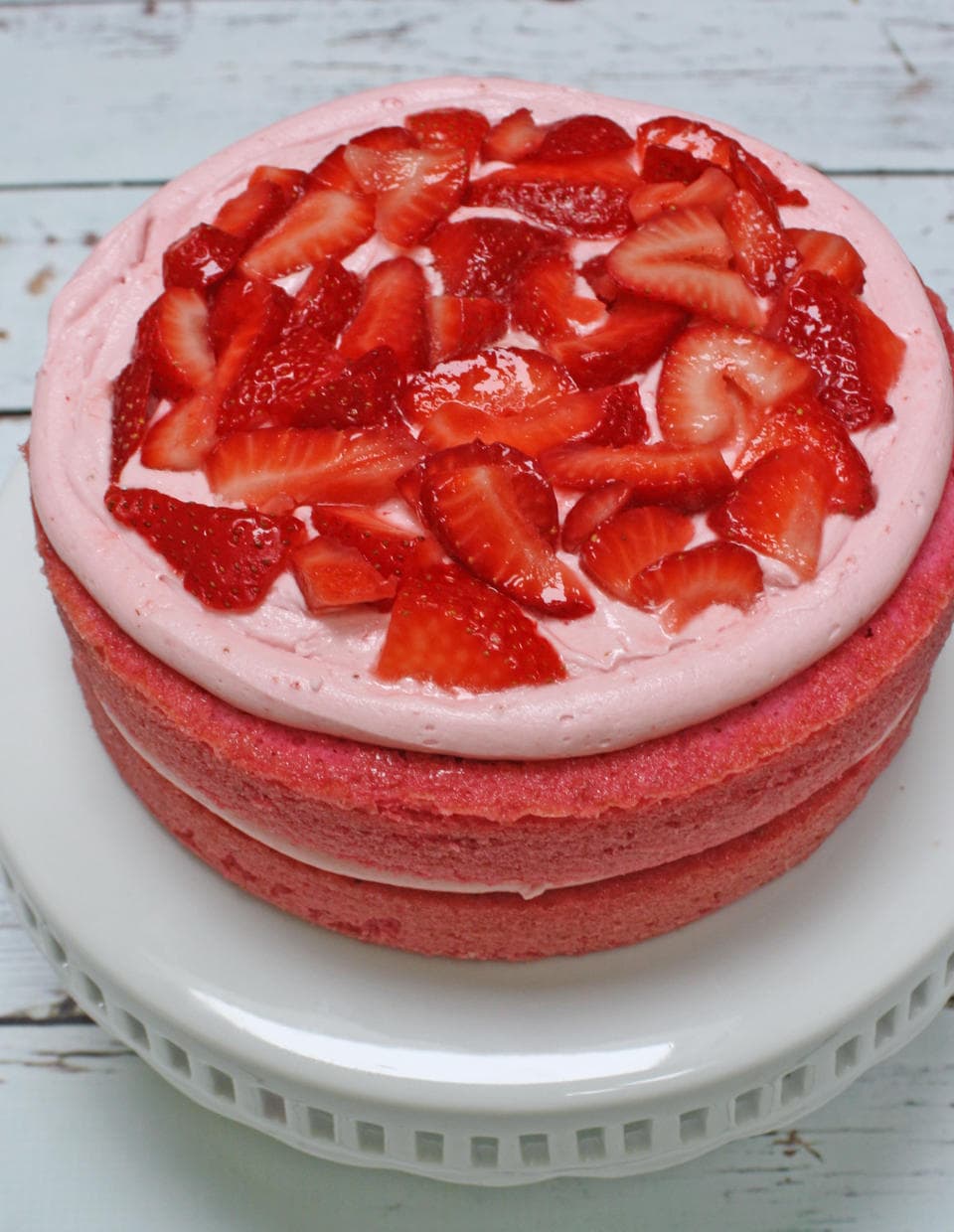 After adding the third cake layer, I frosted my tier with strawberry buttercream, smoothed the sides with a bench scraper, and then used a thin tapered spatula to add ridges.
The easiest way to not only frost a cake but also to add ridges like this is to place the cake on a turntable and so you can spin your tier as your work.
I used very little pressure when adding ridges so that it wouldn't disrupt the flow of our ganache drizzle.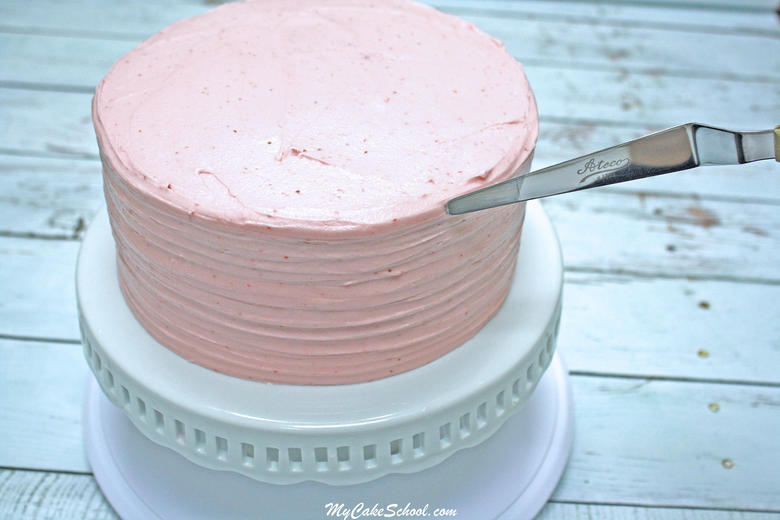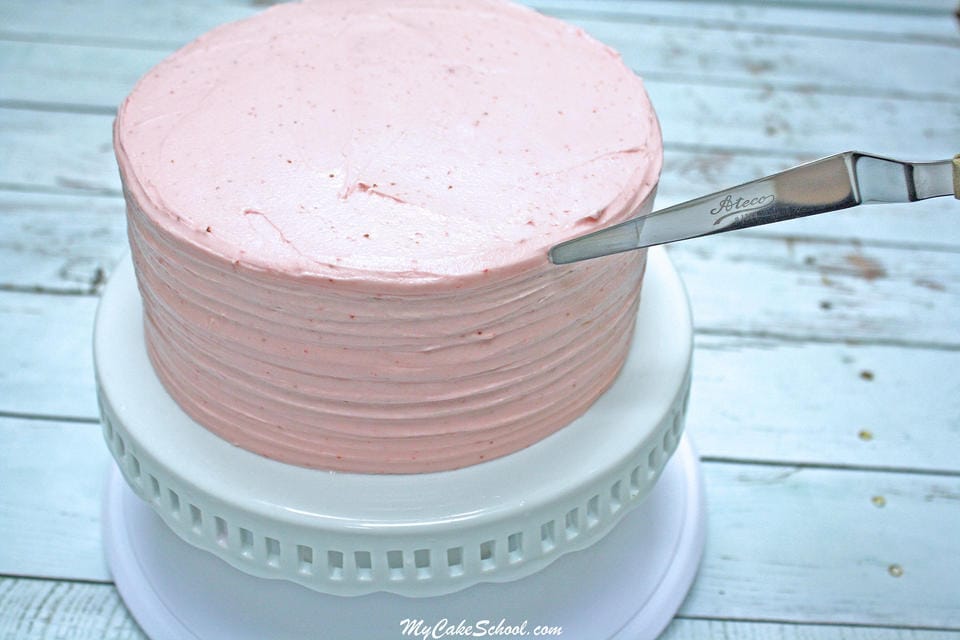 How to Apply a Ganache Drip to the Cake
Next, I loaded a disposable piping bag with ganache, snipped away the tip, and piped around the top edge of the cake, letting the drips flow out of the bag. This is most easily done if you have a turntable that you can gradually turn as you apply your drips. (I use an inexpensive Wilton turntable most often.)
Then, I applied ganache over the top of the cake, carefully spreading until it met up with the drip around the edges.
Doing the ganache drip this way allows you to have a very uniform drip all the way around, which I love! However, if you'd prefer a less uniform look with wider drips of chocolate ganache, you could add ganache to the top of the cake and let it spill over the sides here and there as you spread it with a spatula.
Just keep in mind that the more ganache you push over the edge, the further it will drip!
Before applying your drip around the sides of the cake, do a little test run on the inner edge of your bowl. If the ganache quickly flows all the way down, it is too hot. You'll want to let it cool off for several minutes, checking often.
The ganache will just be barely warm when it is ready..and it will thicken as it sits. If the ganache drip is too thick to drip, you can heat it up very briefly-- a few seconds at a time- until it reaches the desired consistency.
I always like to pipe my chocolate drips on a chilled cake. This slows the drip down a bit as you pipe!
*For a video demonstration on applying a ganache drip, check out our Ganache Drip Recipe post!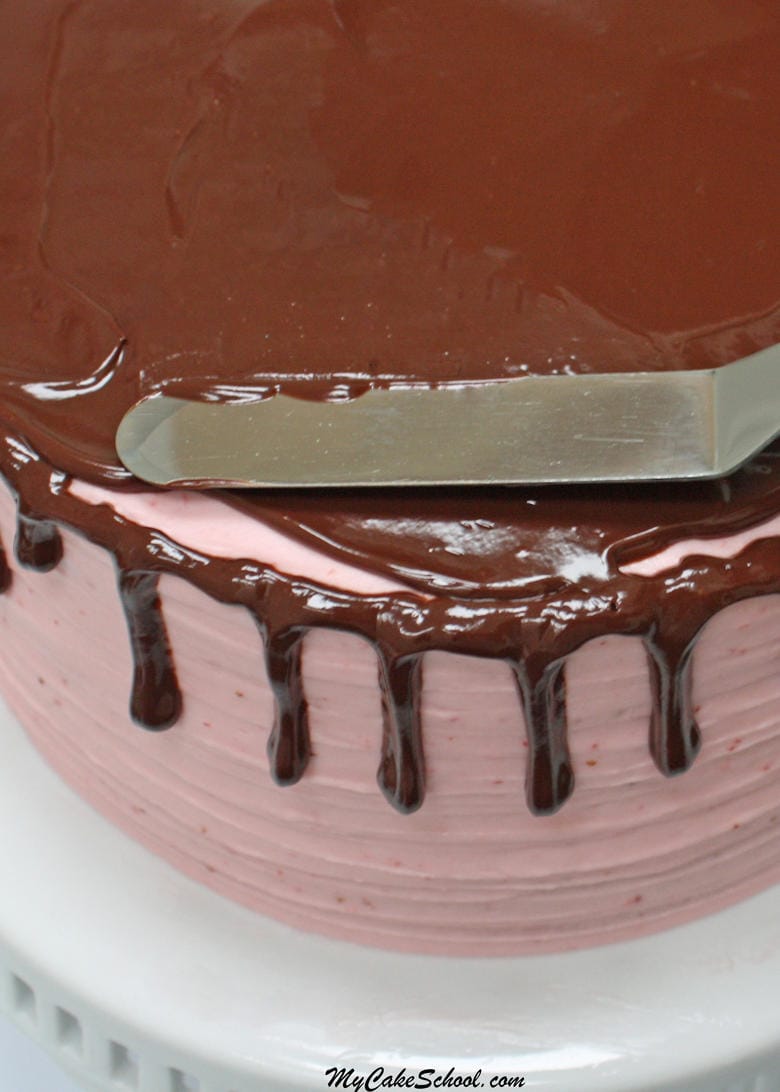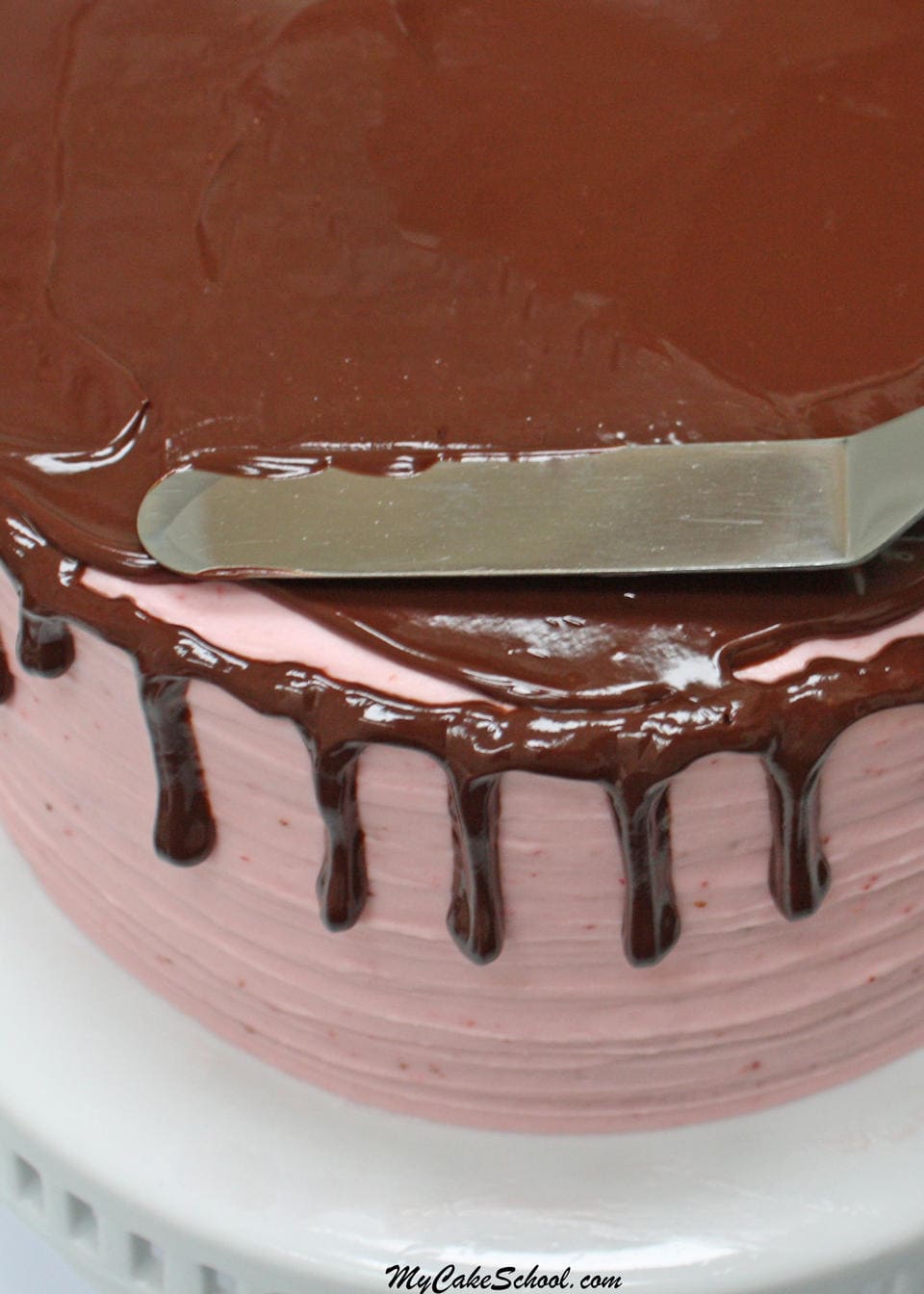 I finished things off our cake by piping stars of strawberry buttercream around the top edge of the cake with an Ateco 863, and topped with chocolate covered strawberries!! Loving the drama of not only the drip but the chocolate covered strawberries as well!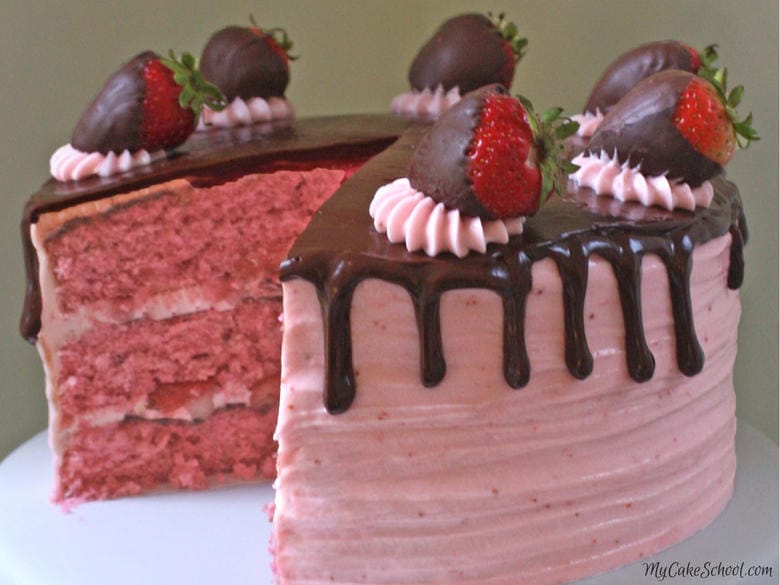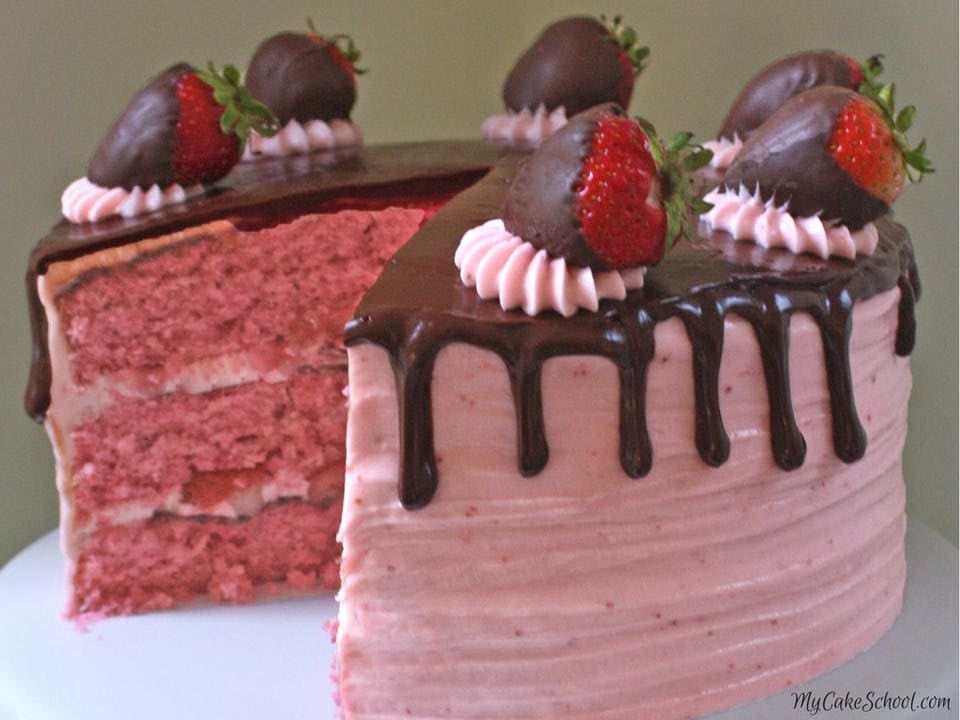 We hope that you enjoy this recipe as much as we have! If you give this recipe a try, we would love for you to leave a comment and photo below!
Love Strawberry Cakes, Frostings, and Fillings? Don't miss these other great recipes!
Strawberry Cake (Similar to today's cake, but uses Reverse Creaming Method)
Chocolate Covered Strawberry Cake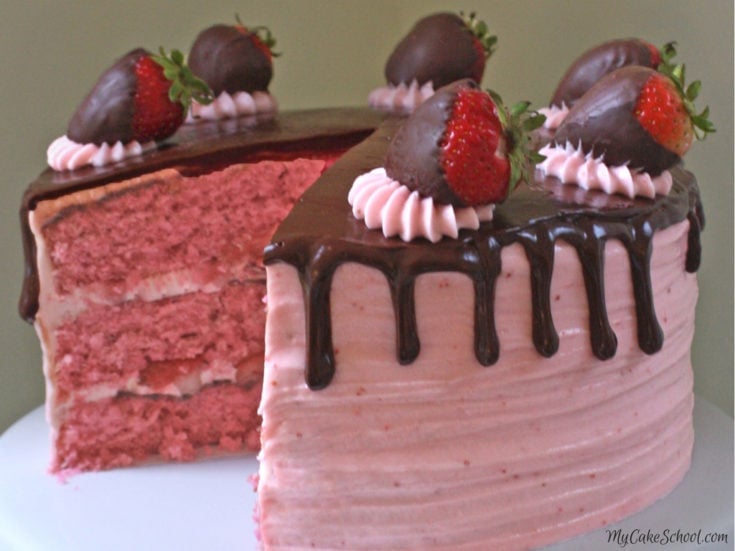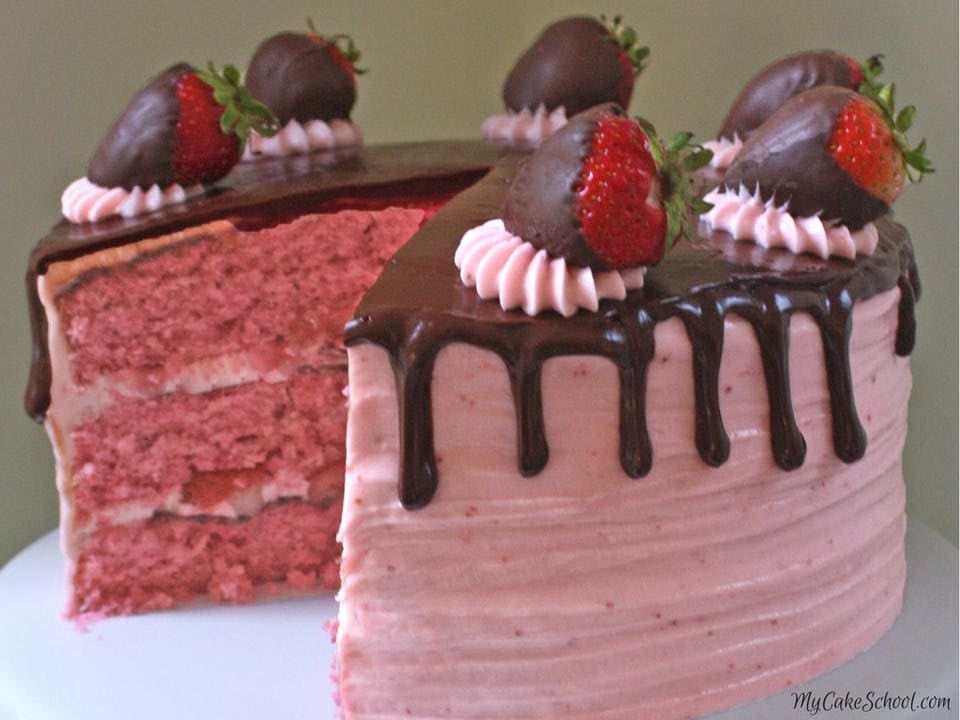 This moist and delicious homemade Chocolate Covered Strawberry Cake recipe is a crowd pleaser!
Ingredients
FOR THE CAKE:
1 ½ cups (340g) strawberry puree — I used frozen strawberries that were slightly sweetened, you could also use fresh
3 cups (342g) cake flour **If you do not have cake flour see note below.
1 Tablespoon plus 1 teaspoon (14g) baking powder
1 teaspoon (6g) salt
1 stick (113g) unsalted butter
1 ¾ cup (350g) sugar
4 large eggs
¼ cup (50g) vegetable oil
1 teaspoon (4g) vanilla
2 teaspoons (8g) strawberry extract
3 to 4 drops (or more) AmeriColor Deep Pink or pink coloring of your choice (optional but will give you a prettier pink cake)
NO CAKE FLOUR? HERE IS A SUBSTITUTION:
*If using all purpose flour (plain in UK) you can use the following substitution: for each cup of flour in the recipe, remove 2 Tablespoons flour and replace with 2 Tablespoons cornstarch. For this recipe measure out 3 cups all purpose flour, remove 6 Tablespoons and replace with 6 Tablespoons cornstarch, whisk to blend.
FOR THE GANACHE
6 oz (171g) Chocolate (Semi-sweet or Dark) We used Ghirardelli
6 oz (171g) Heavy Cream
FOR THE DIPPING CHOCOLATE
4 oz (112g) melted chocolate
For the Strawberry Buttercream
2 sticks (226g) unsalted butter, slightly softened
6 cups (690g) powdered sugar
½ teaspoon (3g) salt (optional) this will cut the sweetness (popcorn salt will dissolve more quickly)
¼ cup plus 1 Tablespoon pureed strawberries, add more to reach your desired spreading consistency (this is probably about 3-5 pureed strawberries as sizes vary)
1 teaspoon (4g) strawberry extract (optional) use if the buttercream needs more strawberry flavor
MISC. STRAWBERRY FILLING AND GARNISH
12 strawberries for filling as well as for dipping into chocolate as decoration.
Instructions
Preheat the oven to 350 degrees
Grease and flour three 8 x 2 inch round pans - I recommend using a circle of wax or parchment paper in the bottom of each pan. Cakes with fruit are more likely to stick.
In a medium bowl add the flour, baking powder and salt, whisk to blend and set aside.
In the bowl of your mixer, add the butter and mix until softened and smooth. Slowly add the sugar and mix on medium speed 4 to 5 minutes.
Add the oil and blend
Add the eggs one at a time and mix until the yellow of each egg is blended in.
Add the vanilla and strawberry extract, blend.
Alternately, add the flour mixture and the strawberry puree, beginning and ending with the flour mixture (3 additions of flour and 2 of strawberry puree)
Add 2 to 3 drops AmeriColor pink coloring or your pink coloring of choice (optional but you will have a prettier shade of pink for your cake!)
Pour cake batter into prepared pans and bake for 25 to 30 minutes or until a toothpick inserted into the center comes out clean or with just a few crumbs attached. Check at 25 minutes.
INSTRUCTIONS FOR THE GANACHE
Place your chocolate into a microwave safe bowl.
Pour heavy cream over the chocolate and place in the microwave for 1 minute. (Times may vary, see our note below).
Remove and stir. Microwave for 30 seconds more and when the chocolate has melted almost completely, allow it to sit for 1 minute more before stirring. Stir until you've reached a silky smooth consistency.
*Microwave times may vary. If you are making a smaller amount of ganache, you will reduce the microwave time. If your chocolate hasn't melted after the 1 ½ minutes recommended in the instructions, simply microwave in small 10-15 second increments until it has nearly completely melted. Let sit one minute, then stir until smooth.
INSTRUCTIONS FOR STRAWBERRY BUTTERCREAM
Cream the softened butter until smooth.
Gradually add the powdered sugar and pureed strawberries beating at medium speed until blended.
Continue mixing on medium speed another 3 to 4 minutes, scraping the sides of the bowl occasionally
Slow down the mixer to very slow (#2 on a KitchenAid) and mixing another 1 to 2 minutes. This will eliminate air pockets. The buttercream will become very smooth.
If the buttercream is too thin add more powdered sugar, if too thick add more puree or a bit of milk.
Makes 4 to 4 ½ cups
CHOCOLATE COVERED STRAWBERRIES
We melted four oz. of chocolate in the microwave in 10-20 second increments until fully melted. We washed, dried, and dipped the strawberries into the chocolate and placed on a sheet of waxed paper until the chocolate was firm. (If you are in a hurry, you can chill in the refrigerator for a few minutes to firm up the chocolate.)
ASSEMBLY INSTRUCTIONS
For this cake, I piped a dam of strawberry buttercream around the edge of the bottom layer of cake (the dam was piped about ½ inch from the edge of the cake.)
Next, I spread the layer with a thin coating of ganache, and then piped on a buttercream filling which I spread with my spatula.
I then added a layer of thinly sliced strawberries on top of the buttercream.
Next, I added my middle cake layer and repeated these steps.
I topped with the top layer of cake and frosted the cake with a coating of strawberry frosting.
I filled a disposable piping bag (tip snipped away) with ganache and drizzled around the edge of the cake. I then covered the top of the cake with ganache as well as spread with my spatula.
I topped with strawberry buttercream stars spaced around the edge of the cake, (Ateco 863) and then topped each with a chocolate covered strawberry.
Learn Cake Decorating Online with My Cake School!
If you would like to learn how to decorate beautiful cakes, we'd love to show you how! Make sure to check out our Free Tutorials section for lots of simple, creative tutorials. We also have a Free Cake Video Section too!
If you'd like to have full access to every cake decorating video that we've made over the years (hundreds!), you should consider joining My Cake School! We would love to have you. You can find all of the details here: My Cake School Membership Details- Learn Cake Decorating Online!