We are SO excited to share a new, fabulously moist and flavorful Piña Colada Cake recipe from scratch with you! Just the name itself sounds like a party, doesn't it?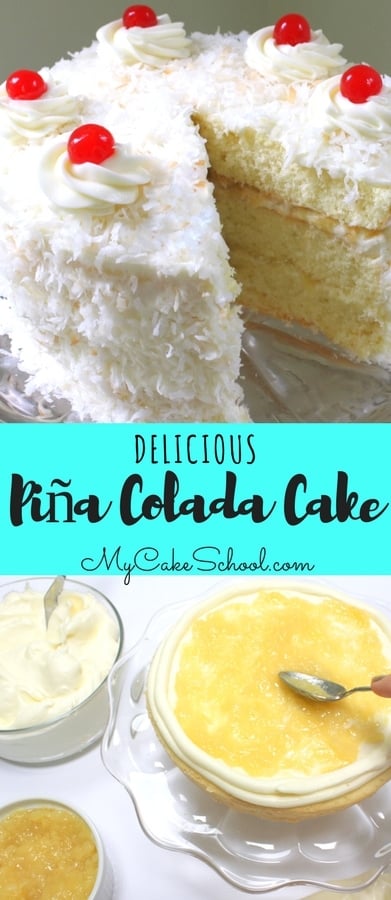 Cocktail-inspired cakes are so much fun for entertaining, and this Piña Colada cake in particular has already received rave reviews. It's a keeper!
Let's dive into the deliciousness...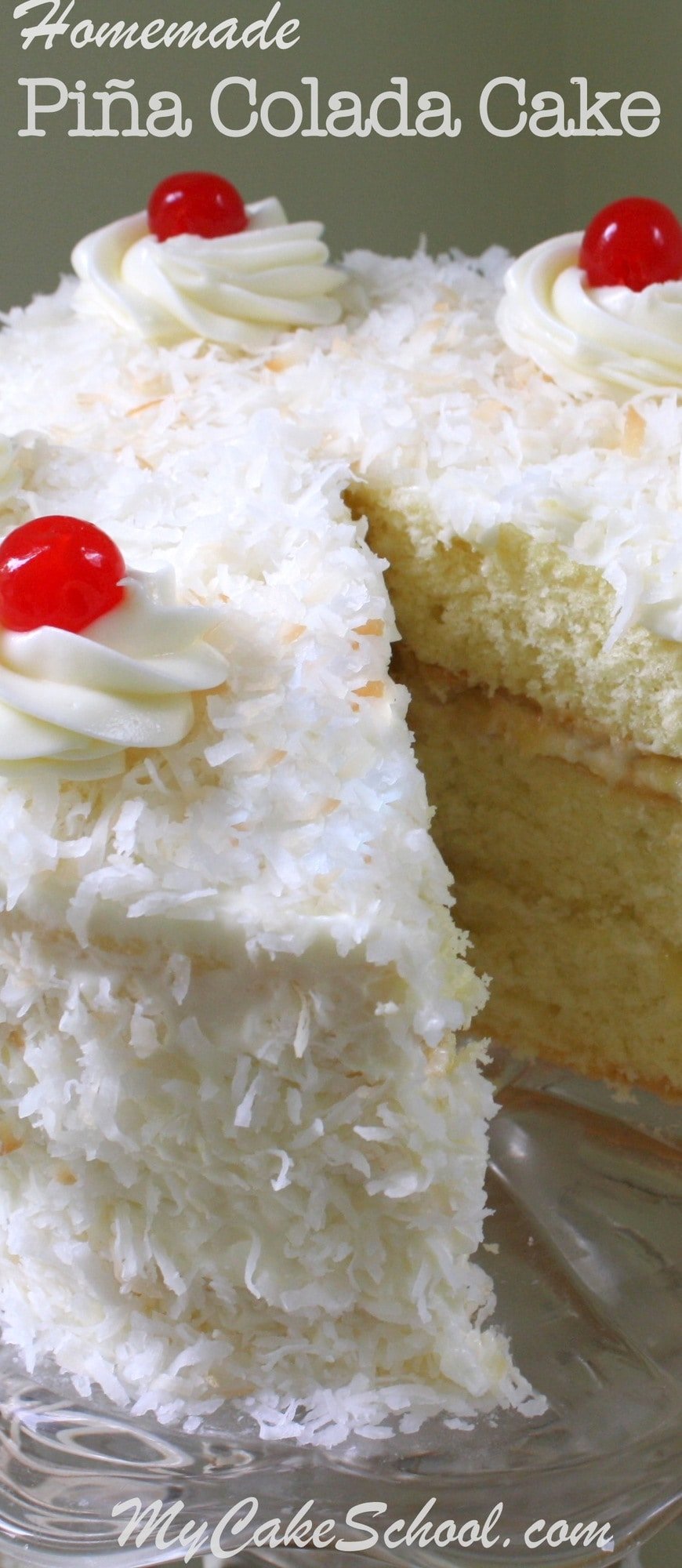 This homemade Piña Colada Cake recipe is bursting with the perfect combination of coconut, pineapple, and a hint of rum. This is such a satisfying flavor combination, and one that we just don't see very often in desserts.
Why drink a Piña Colada when you can have all of that wonderful flavor in a slice of cake? Or better yet, have your Piña Colada with your Piña Colada cake ;0). I can't think of anything better.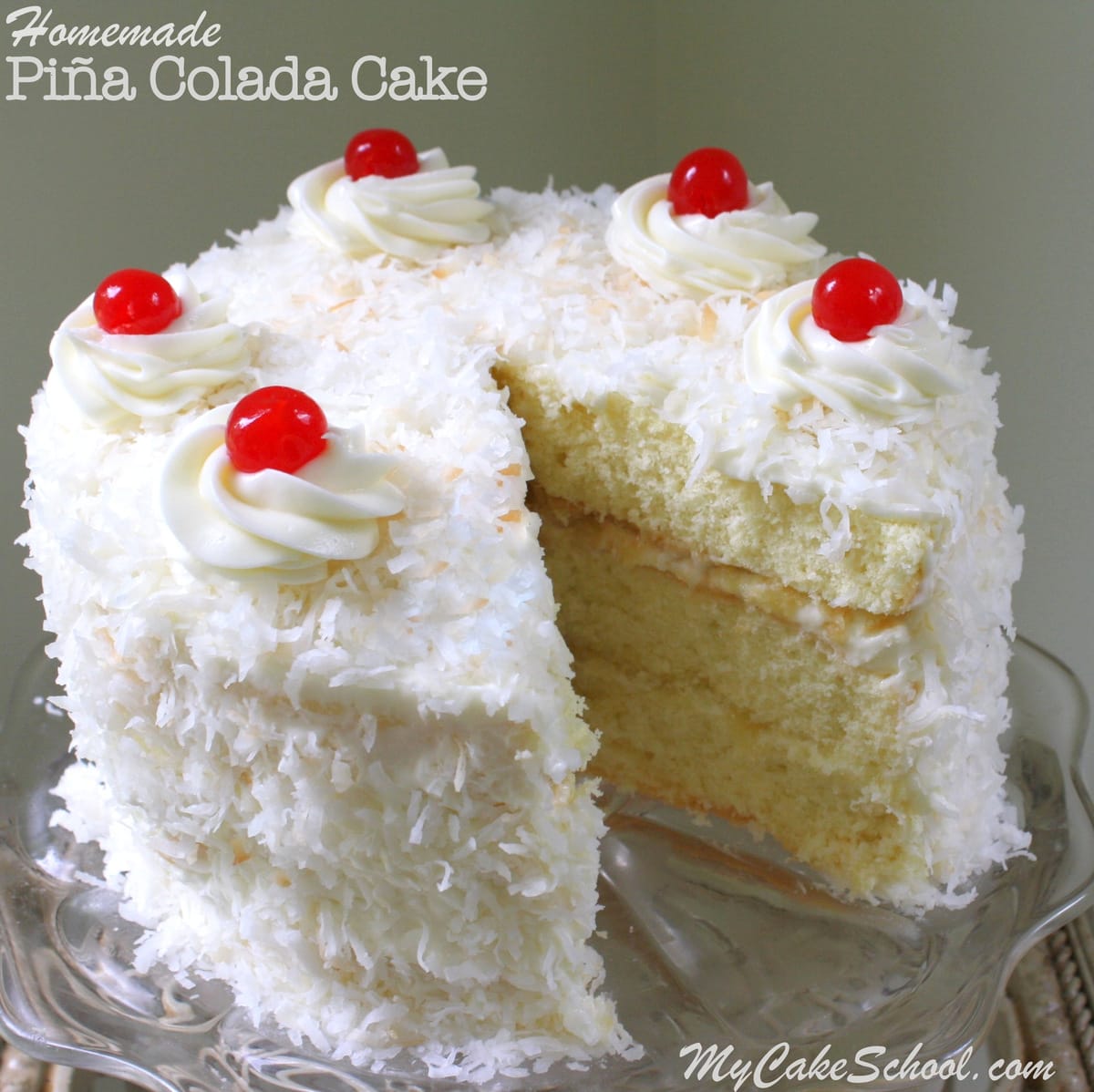 This recipe would be fabulous for any occasion, but is especially perfect for summertime gatherings, or even beach and luau themed parties and cinco de mayo!
I just love cakes with fruit, and while we've made coconut cakes before, the addition of pineapple and rum really makes this recipe something special and unique.
**You'll notice that this recipe calls for the Reverse Creaming Method of mixing. The steps are listed in our recipe, but if you are new to this method, you may like to watch our free video tutorial on the Reverse Creaming Method of Mixing. We use this method for several of our scratch cake recipes as it yields a wonderfully moist cake. Please let us know if you have any questions!
Here's a peek at the assembly of this cake. As you can see, the coconut cake layers are spread with Piña Colada Cream Cheese Frosting (YUM) and a layer of crushed pineapple filling. We've created a dam with our frosting to help contain the luscious homemade pineapple filling.
By the way, this pineapple filling is the BEST, yet so simple to make! It's a cooked three-ingredient recipe that really packs a punch of delightful pineapple flavor!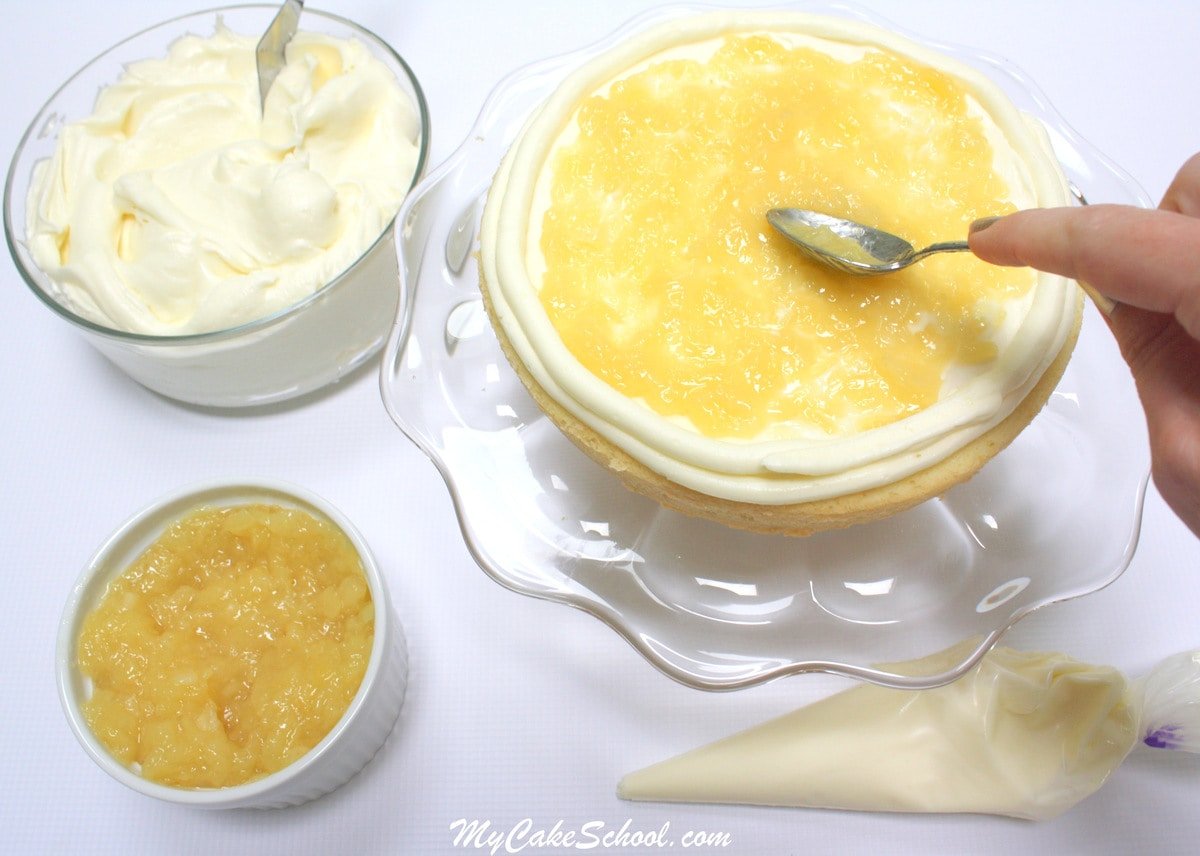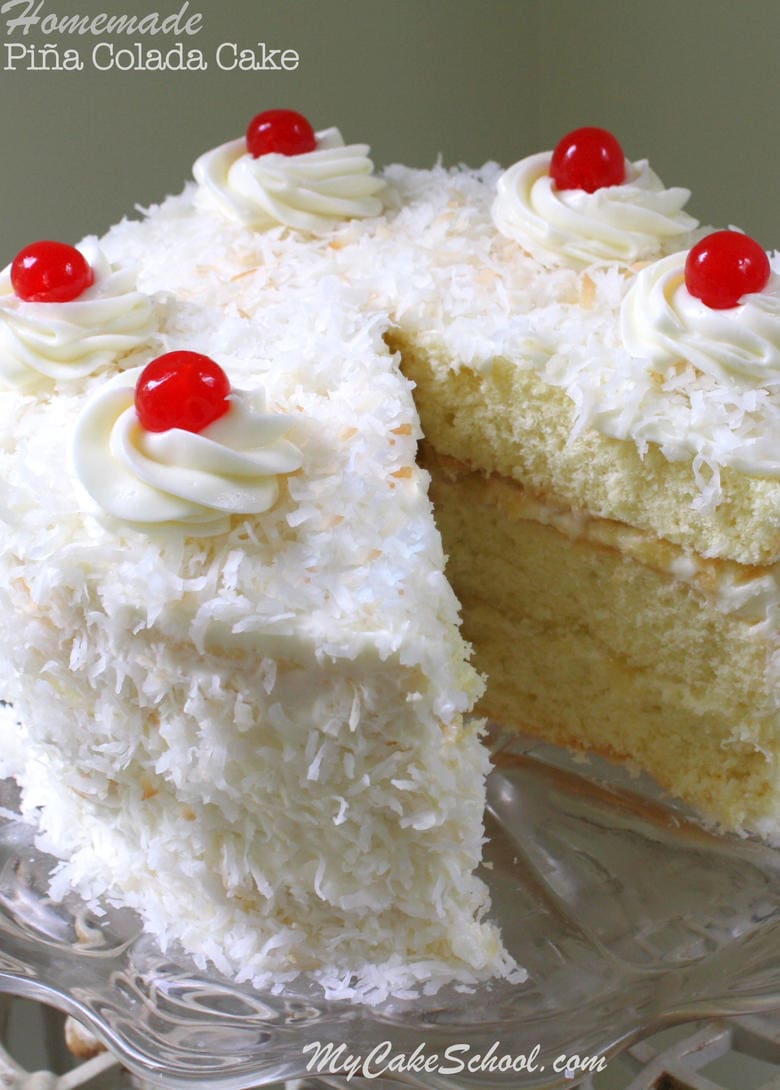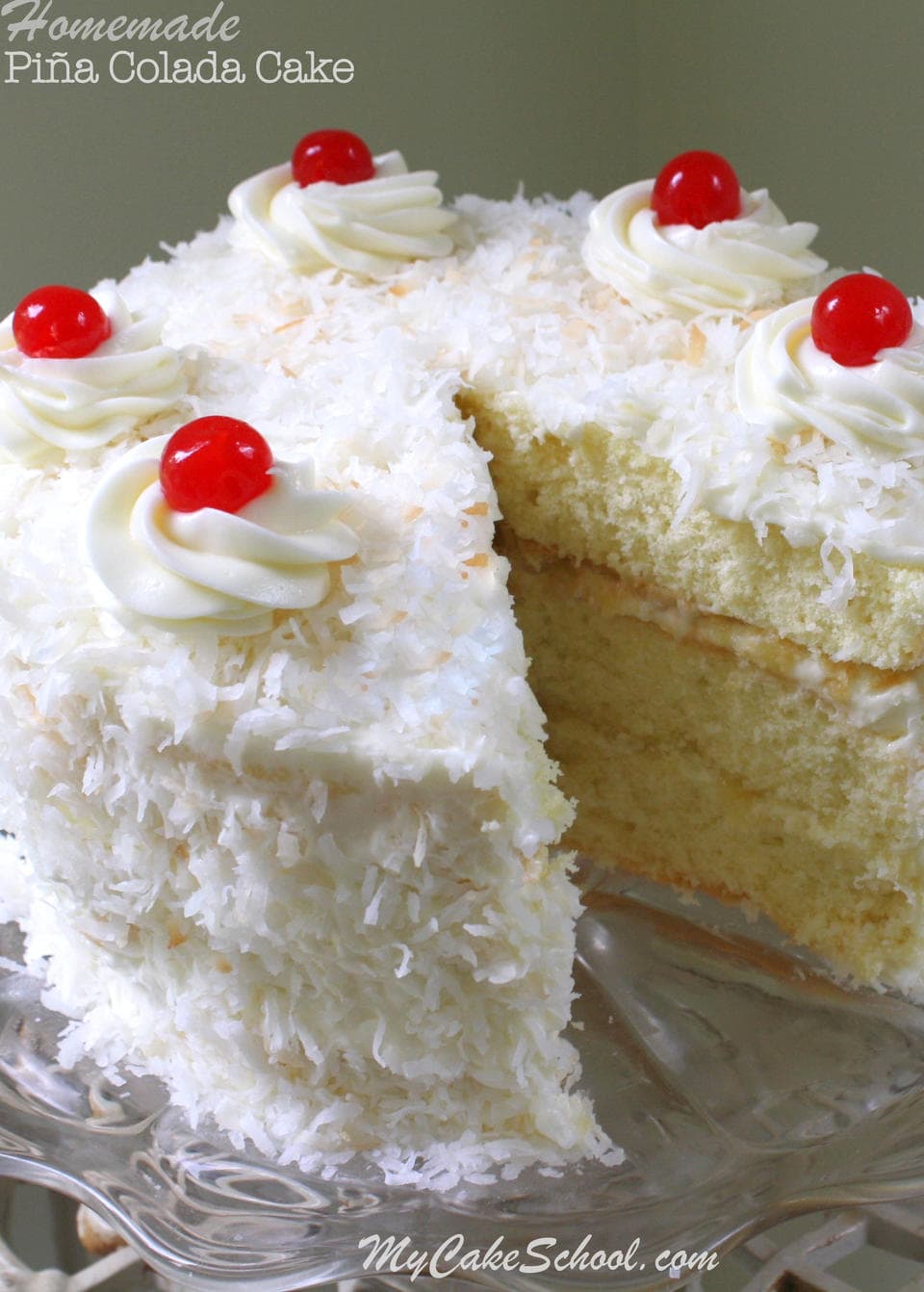 If you love all things pineapple, don't miss our Pineapple Cake Recipe! This cake features moist homemade yellow cake layers with a thick and flavorful Pineapple & Cream Filling and cream cheese frosting. YUM!
We also have another delicious Coconut Cake recipe-- This time, with lemon curd & lemon whipped cream filling! Find our moist and flavorful Coconut Lemon Cake recipe here: Coconut Lemon Cake from Scratch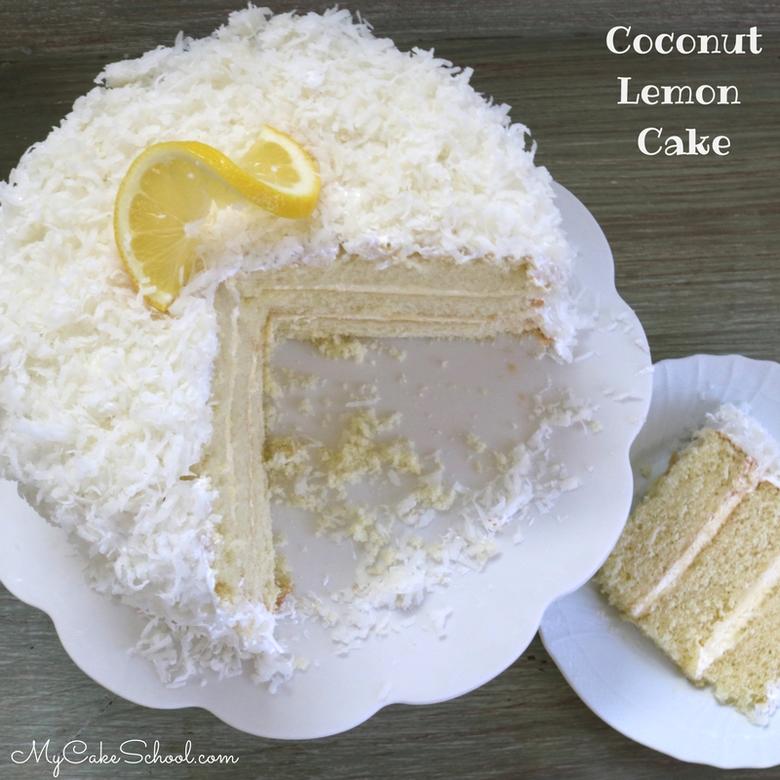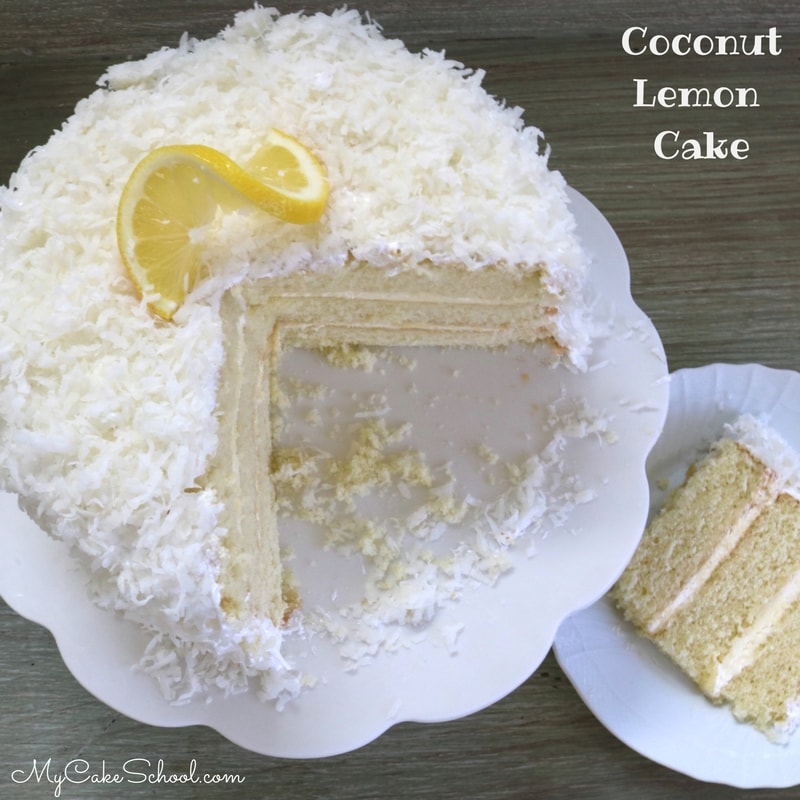 For more summertime or fruit flavored cakes & frosting recipes, check out our roundup of FAVORITE summertime cakes! These cake ideas are great for summer, but most can be enjoyed year-round. Have fun scrolling through! A Roundup of the BEST Summertime Cakes, Recipes, Tutorials, and Ideas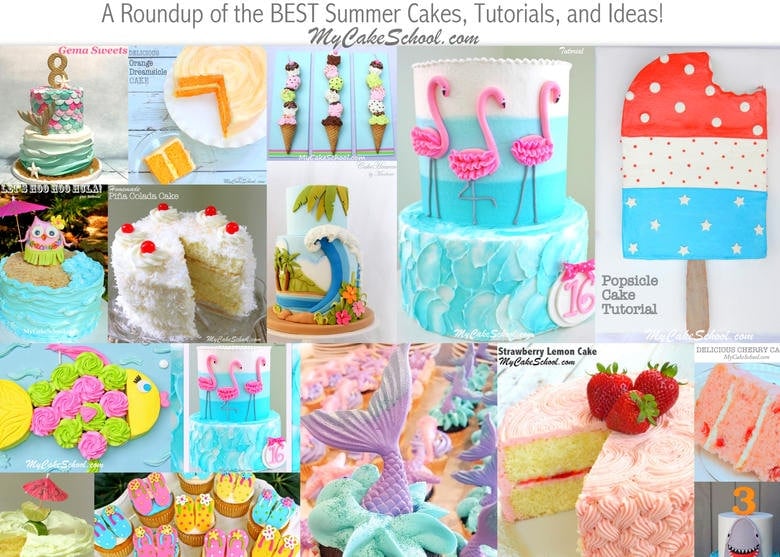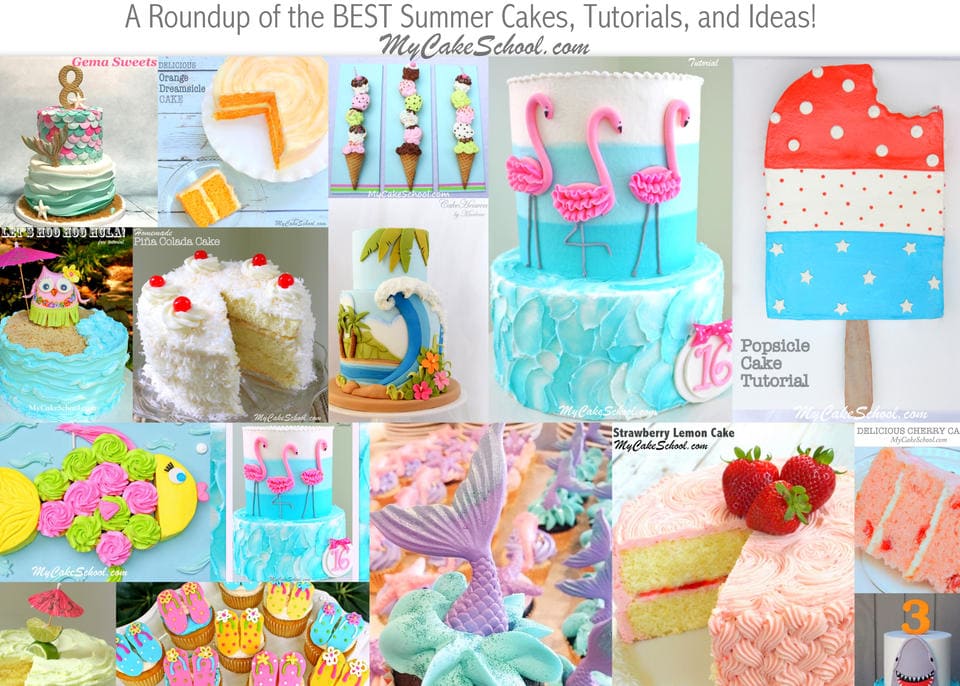 We hope that you enjoy this piña colada cake recipe as much as we have!
With it's toasted coconut, crushed pineapple filling, flavorful coconut cake layers, and a hint of flavor from the rum extract, this cake is truly one-of-a-kind!
It's always fun to bake something a little different and unexpected, and cocktail-inspired desserts are sure to be a hit!
Enjoy the Recipe!
Thanks for stopping by! Don't forget to scroll through our full collection of favorite cake, frosting, and filling recipes in our Recipes Section!
We also have a growing collection of free cake tutorials and cake videos! Find these in our Free Cake Tutorials Section!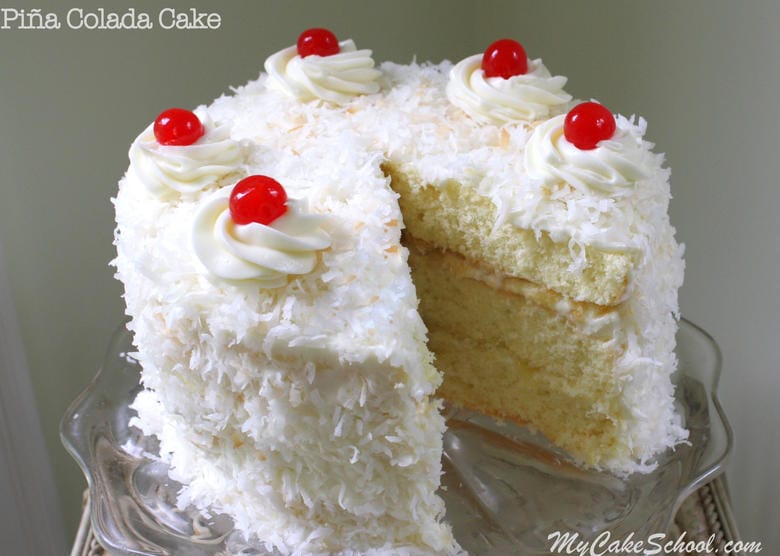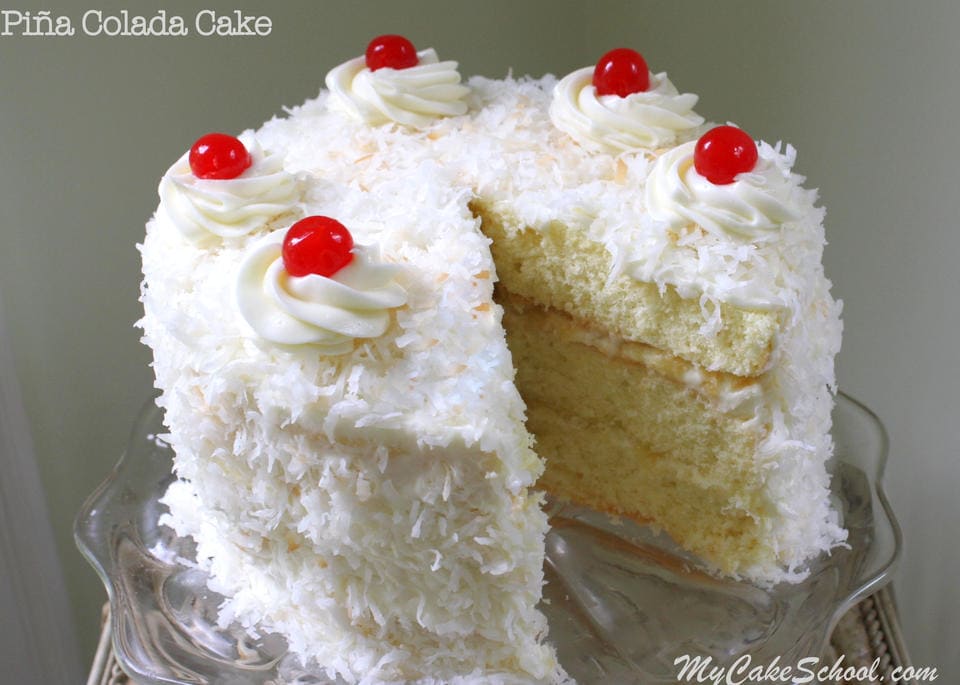 Piña Colada Cake Recipe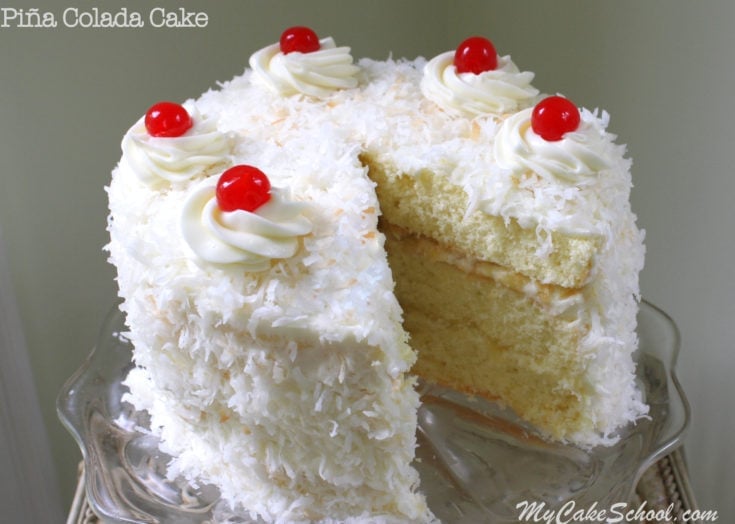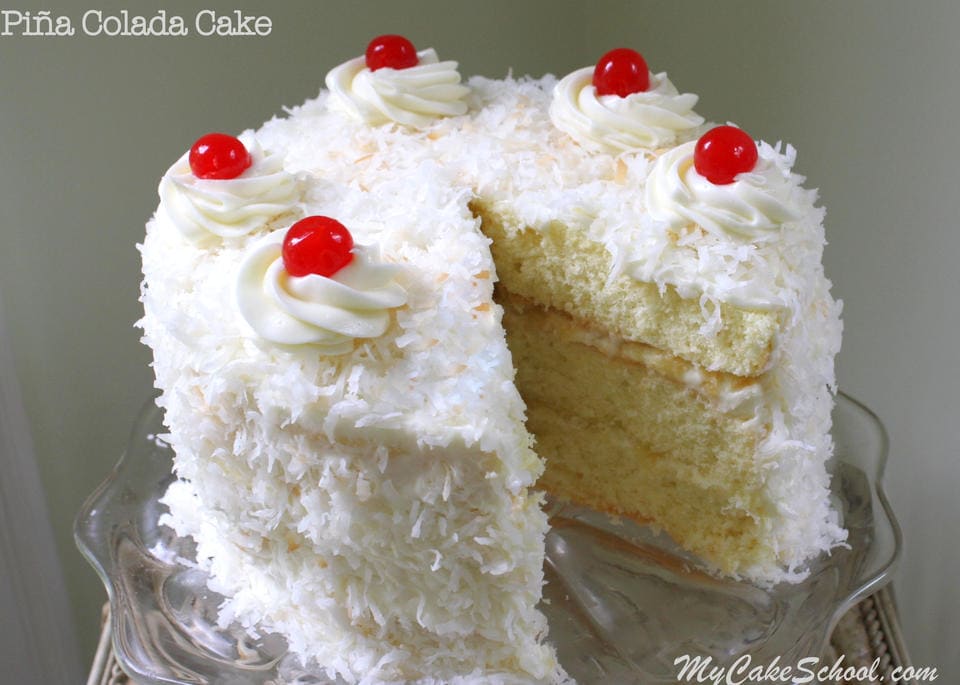 This delicious Piña Colada Cake recipe is the perfect party cake! You'll love the flavor of pineapple, coconut, and a hint of rum!
Ingredients
For the Cake
3 large eggs, at room temperature
1 cup (227g.) coconut milk (We buy ours canned from the baking aisle)
⅓ cup (70g) vegetable oil
1 ½ teaspoons (6g) coconut extract
1 teaspoon (4g) rum extract
3 cups (342g) cake flour......*(see below if you do not have cake flour)
2 cups (400g) granulated sugar
1 Tablespoon (15g) baking powder
½ teaspoon (3g) salt
1 ½ sticks (12 T) ( 170g) unsalted butter, softened slightly, still cool to the touch (do not soften in microwave) you can cut into ½ inch slices onto waxed paper to soften more quickly
For the Pineapple Filling
One 20 ounce can (567g) of crushed pineapple
½ cup (200g) granulated sugar
2 Tablespoons (14g) cornstarch
For the Pina Colada Cream Cheese Frosting
2 sticks (1 cup) (226g) unsalted butter, slightly softened
2 (8oz.) (452g) cream cheese (use full fat cream cheese) straight from the refrigerator
1 ½ teaspoon (6g) coconut extract
1 teaspoon (4g) rum extract
6 to 6 ½ cups ( 747g) powdered sugar
Coconut for the Outside of Cake
1 bag (14oz (396g) of sweetened coconut
Instructions
Preheat oven to 350 degrees. Grease and flour three 8 inch cake pans
In a small bowl , combine eggs, coconut milk, oil, coconut extract and rum extract. Blend with a fork and set aside.
Put the dry ingredients, cake flour, sugar, baking powder and salt into the bowl of your mixer and whisk for at least 30 seconds to blend the ingredients.
With the mixer on low speed gradually increasing to medium speed gradually add the slices of butter to the dry ingredients a few pieces of butter at a time. Beat until the dry ingredients are crumbly and moistened. Scrape the sides and bottom of the bowl, there should be no spots of dry flour in the bowl.
SLOWLY add approximately ½ of the egg mixture to the dry ingredients and beat for 1 ½ minutes. Scrape the bottom and sides of the bowl then add the remaining egg mixture in 2 pourings, scraping the bowl and beating for 20 seconds after each addition.
Bake at 350 degrees for 25 - 30 minutes
Makes about 6 ½ cups batter
Works well for cupcakes - cupcakes bake up with very little doming
*CAKE FLOUR SUBSTITUTE — for each cup of all-purpose flour, measure out (lightly spoon and level) one cup of all purpose flour. Remove 2 Tablespoons flour from the cup and replace it with 2 Tablespoons cornstarch. Whisk to blend. For this recipe you would measure out 3 cups all purpose flour, remove ¼ cup plus 2 Tablespoons of the all purpose flour and replace it with ¼ cup plus 2 Tablespoons cornstarch and whisk to blend.
INSTRUCTIONS FOR THE FILLING:
Combine all ingredients in a saucepan and cook over medium heat.
When the mixture begins to boil, stir constantly until it begins to thicken, approximately 1 to 2 minutes. Keep in mind that it will thicken even more as it cools.
Cool completely in refrigerator before using.
INSTRUCTIONS FOR THE PINA COLADA CREAM CHEESE FROSTING:
Add the butter to the mixing bowl and beat until smooth.
Add the cream cheese that has been cut into small to medium size pieces, beating with the butter until well blended and smooth.
Add the rum and coconut extracts.
Slowly add the powdered sugar, beating until smooth.
Use the frosting while it is still chilled. If it becomes too soft, refrigerate until it firms up a bit or put in the freezer for 5 minutes or so to return to a good piping consistency.
INSTRUCTIONS FOR COCONUT AROUND THE TOP AND SIDES OF CAKE:
Spread 1 cup of coconut evenly on a baking sheet and bake for approximately 5 minutes. Stir after a couple of minutes. Remove from the oven when some of the coconut is slightly brown. If it is baked too long it will become dry and chewy. I press some of the browned coconut into the untoasted coconut that is covering the cake. It is an interesting look on the cake, but completely optional.
ASSEMBLY OF CAKE
Place a cake layer on a cake board or serving stand and spread with a thin layer of frosting. Pipe a dam of frosting around the edge of the cake layer (approx. ½ inch in). Spread a layer of pineapple filling over the thin layer of frosting and inside the dam. The dam will keep the pineapple filling in place as you begin to stack your layers. You can also sprinkle a bit of coconut over this if you like. Repeat with the next layer.
Crumb coat the cake with a thin layer of cream cheese frosting and refrigerate for 1 hour or freeze for 15 minutes to firm everything up. Now you will be ready to spread on the final coat of frosting. Press in the coconut on the sides and top of the cake, adding a bit of the toasted coconut here and there.
Optional: Using a 2D tip, decorate the top and place maraschino cherries and shown in the picture of the cake.