Oh how we LOVE this amazing Cherry Cake recipe from scratch! We are so happy to have another tried & true homemade recipe for our collection of favorite cakes.
I love light, fruit flavored cakes any time of the year, but especially in the spring and summer. This versatile and flavorful recipe deserves a place in your recipe box!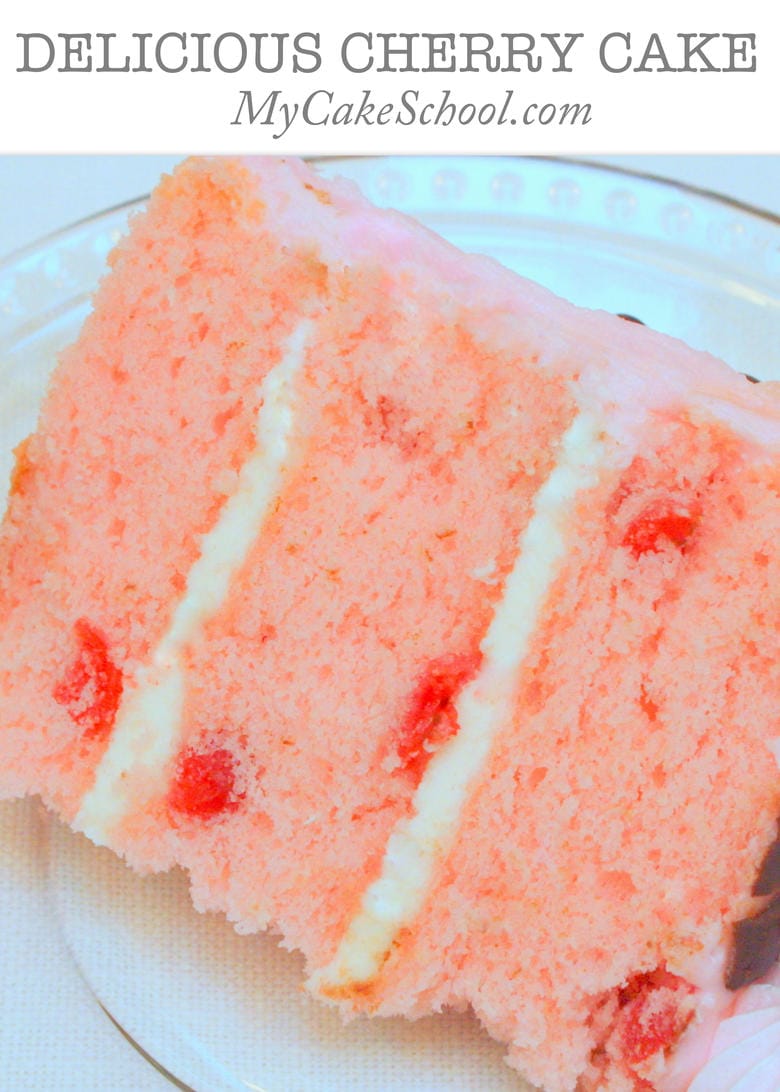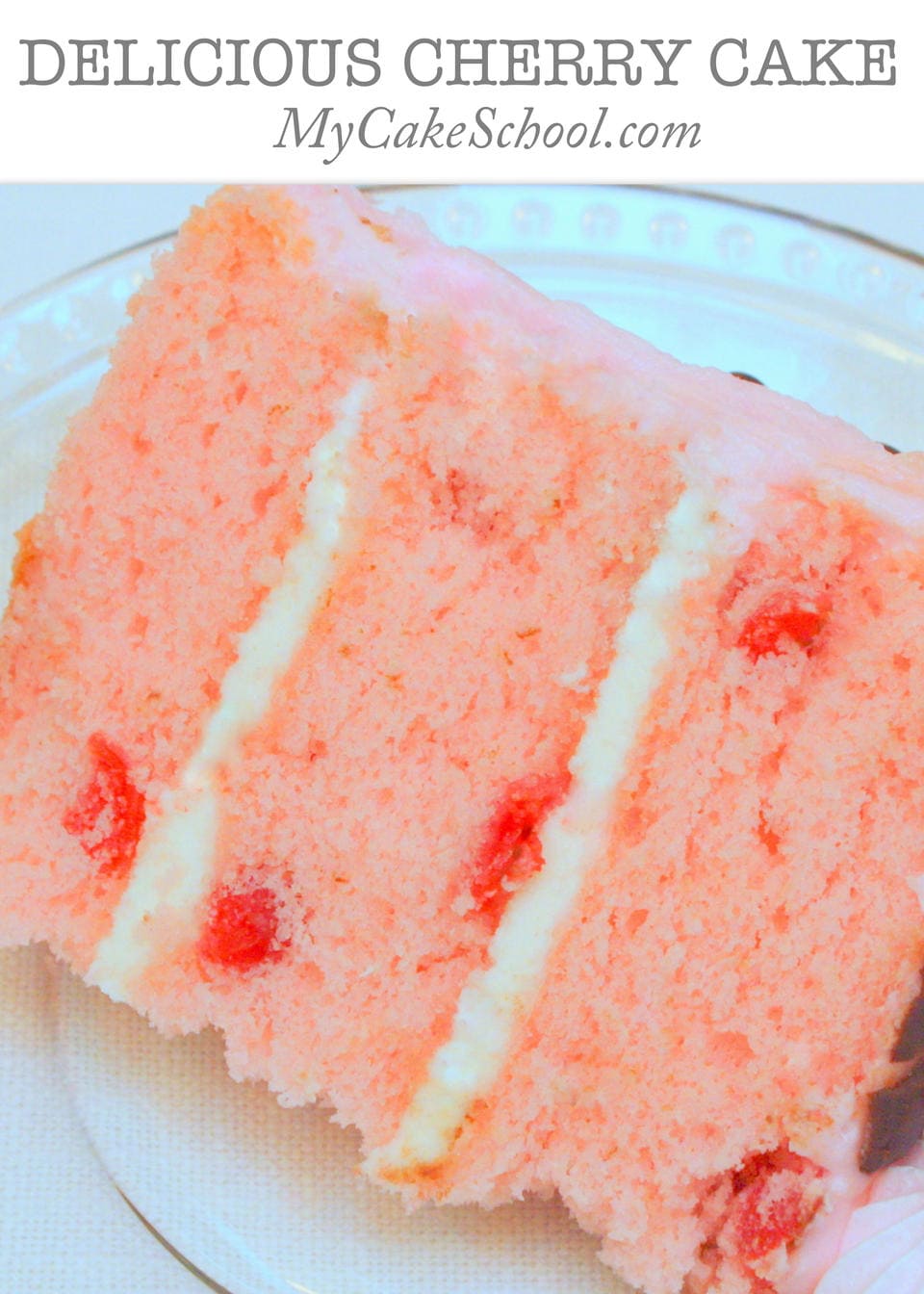 It seems that Cherry Cake is an often overlooked cake superstar when it comes to cakes with fruit.
Often Strawberry Cakes or Lemon Cakes are the first to spring to our minds when planning our dessert menus for summertime gatherings.
While we've included SO many favorite fruity cakes in our Recipes Section, don't overlook this amazing homemade Cherry Cake! It just might become a new favorite.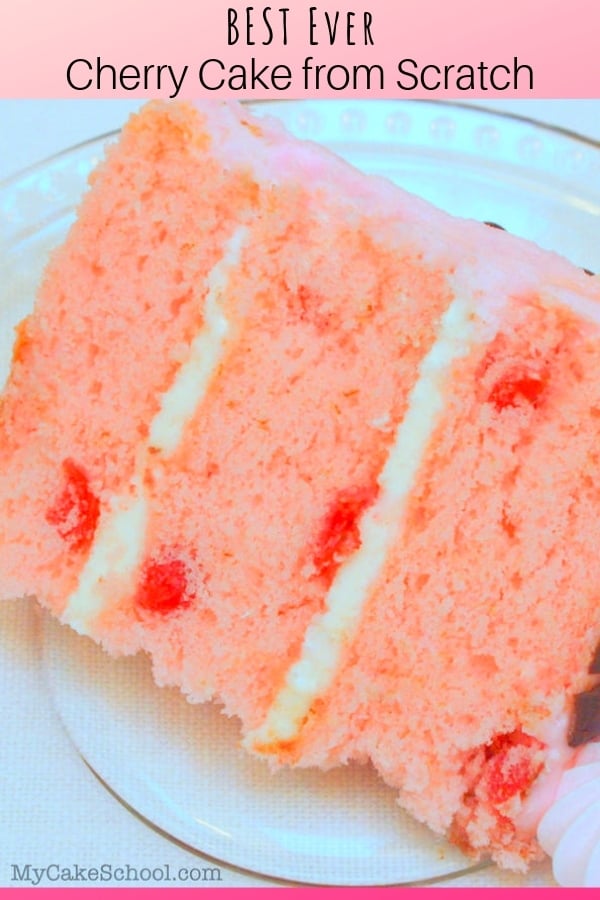 This moist scratch Cherry Cake recipe is tender, flavorful, and is the prettiest shade of pink! It is sturdy enough for fondant, and makes beautiful cupcakes also. I love a cake recipe with a little versatility!
Chopped maraschino cherries, cherry juice, and a splash of cherry extract lend a beautiful shade of pink to this homemade cake as well as a flavor that is just perfect!
Frost or drizzle this delightful Cherry Cake with decadent chocolate ganache for a "Chocolate Covered Cherry" cake, coat it with luxurious Cherry Cream Cheese Frosting, or add a bit of cherry extract to your favorite vanilla buttercream!
You really cannot go wrong, this cherry cake is always a crowd pleaser.
We hope that you enjoy the recipe!
Love Cherry Cakes and Desserts? Don't Miss these other fantastic Recipes!
Online Cake Decorating Tutorials, Favorite Cake Recipes, and More!
**Make sure to check out our full collection of favorite cake, frosting, and filling recipes in our Recipes Section!
You can also find hundreds of free cake decorating video tutorials in our Free Cake Tutorials Section! We have so many fun cake designs to share with you.
The Best Fruity Cake Recipes and Summertime Cake Themes!
If you're looking for more fruity Summertime Cake Recipes, don't miss our Roundup of favorites! Summertime Cake Roundup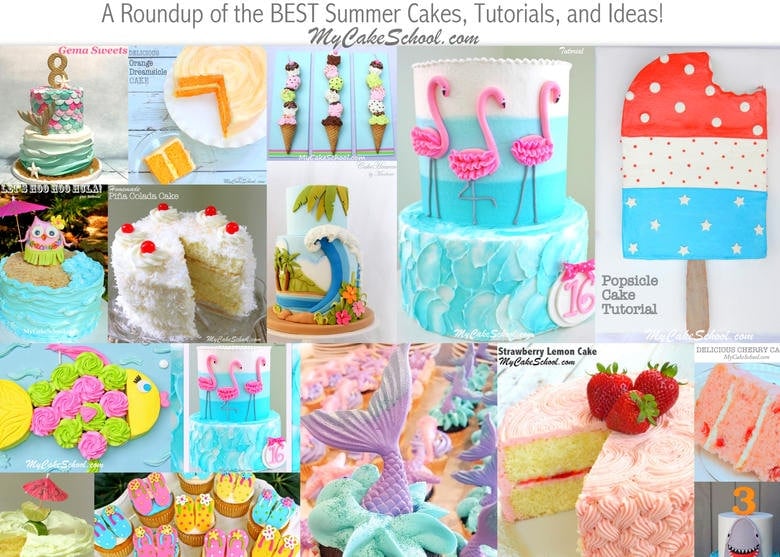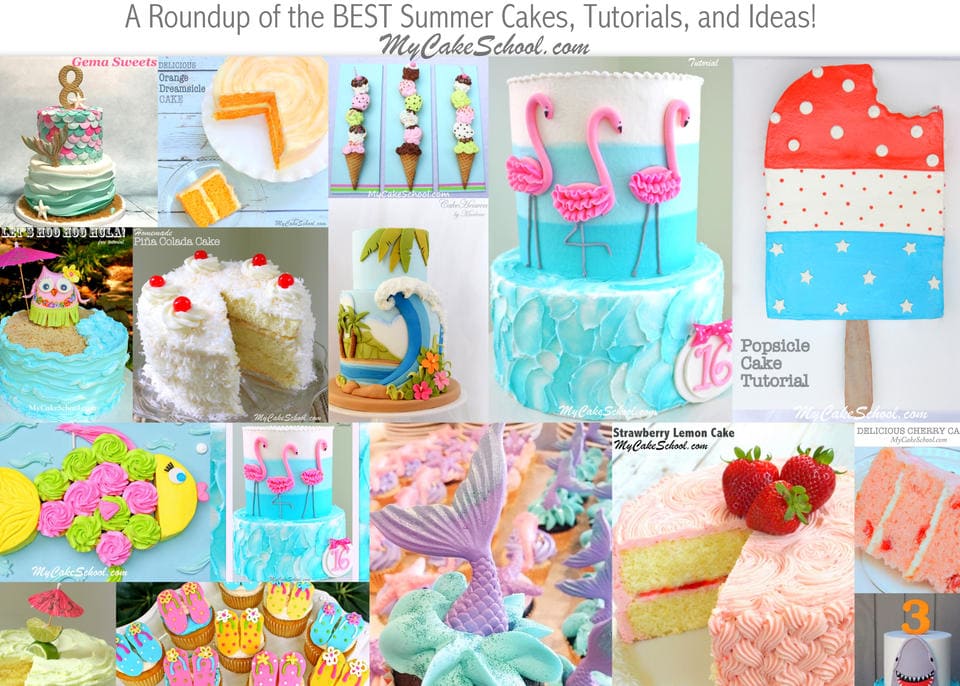 Thanks for stopping by! If you try our Cherry Cake recipe, make sure to let us know what you think in the comments below! We think you're going to love this one!
Cherry Cake from Scratch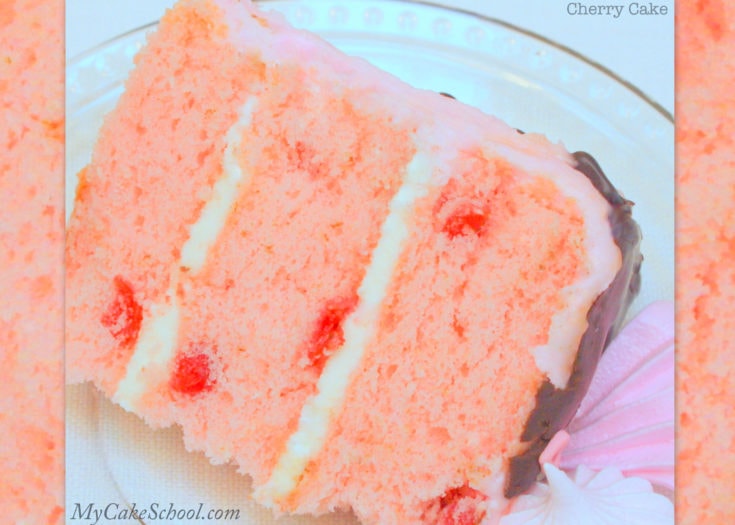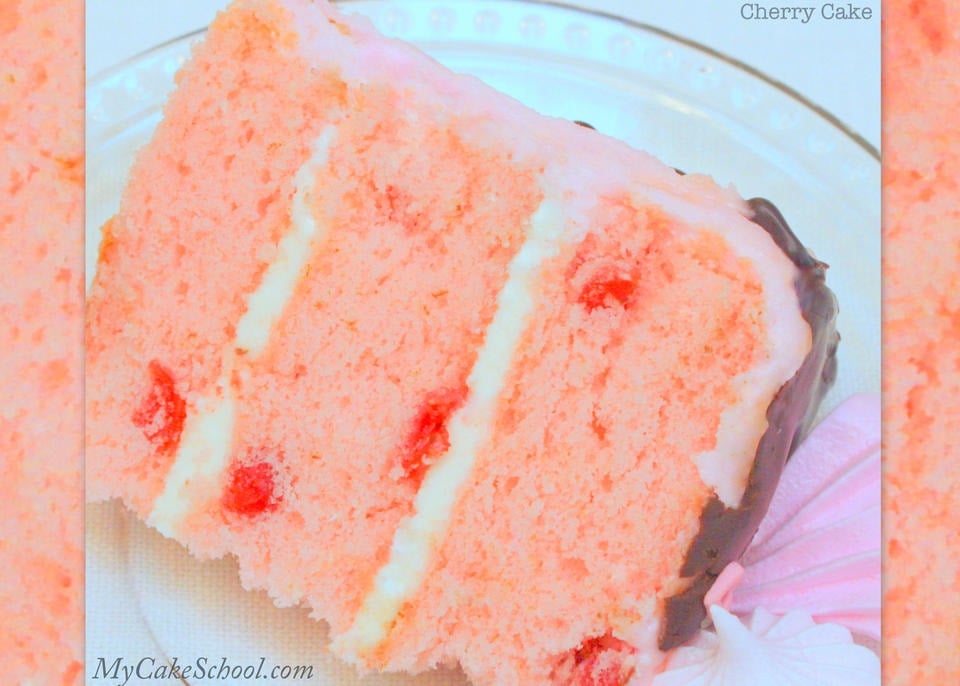 This moist and flavorful Cherry Cake from Scratch is one of our favorites! Keep it in mind for spring and summer gatherings!
Ingredients
3 cups (342g) cake flour plus 2 Tablespoons for dusting cherries
1Tablespoon (15g) baking powder
½ teaspoon (2g) salt
6 egg whites (180g)
⅔ cup (146g) cherry juice from a 10 ounce bottle of maraschino cherries, if there is not enough juice to reach ⅔'s cup add water or milk
¾ cup (172g) milk
1 teaspoon (4g) vanilla extract
1 teaspoon (4g) cherry extract
¼ cup (54g) vegetable oil
2 cups (400g) granulated sugar
1 cup (2 sticks) (226g) unsalted butter, slightly softened but still cold to the touch
maraschino cherries from a 10 ounce jar (use all) chopped and dusted with 2 Tablespoons flour
Instructions
Preheat the oven to 350 degrees, grease and flour 3 (8 inch) round pans
In a medium bowl, whisk the flour, baking powder and salt for at least 30 seconds
In another bowl, add the egg whites, cherry juice, milk, vanilla and cherry extract, and vegetable oil. Blend together with a fork
In the bowl of your mixer add the butter and beat at medium speed to soften. Add the sugar and continue to beat until lightened in color and fluffy, approximately 3 minutes, longer if using a hand mixer.
Add approximately ½ of the flour mixture to the bowl, mixing on low speed until just blended. Add half of the wet ingredients and blend. Continue alternating the dry and wet ingredients (ending with dry) until blended. Do not over beat.
Reserve approximately 2 Tablespoons chopped cherries. Gently stir the remaining chopped cherries into the batter.
Once the batter is in the cake pans, sprinkle the reserved cherries over the top of the batter, and using a toothpick push them just slightly below the surface of the cake batter. Even though the flour is supposed to keep the cherries from sinking to the bottom of the pan, I find that most will, so this is my reason for adding a few to the top.
Bake for 30 - 35 minutes, when the cake springs back to the touch or a toothpick pulls out clean or with only a few crumbs attached, the cake is done.
Makes 7 ½ cups cake batter
Works well for cupcakes
Will hold up to fondant