You are going to love this bright and flavorful Lime Cake from Scratch! I love all sorts of cakes year round, but when summer arrives, I'm in the mood for something a little fruity!
Bring me strawberry cake, lemon cake, coconut cake, Piña Colada Cake, and now, lime cake! (By the way, don't miss our post of 100+ Cakes with Fruit!!)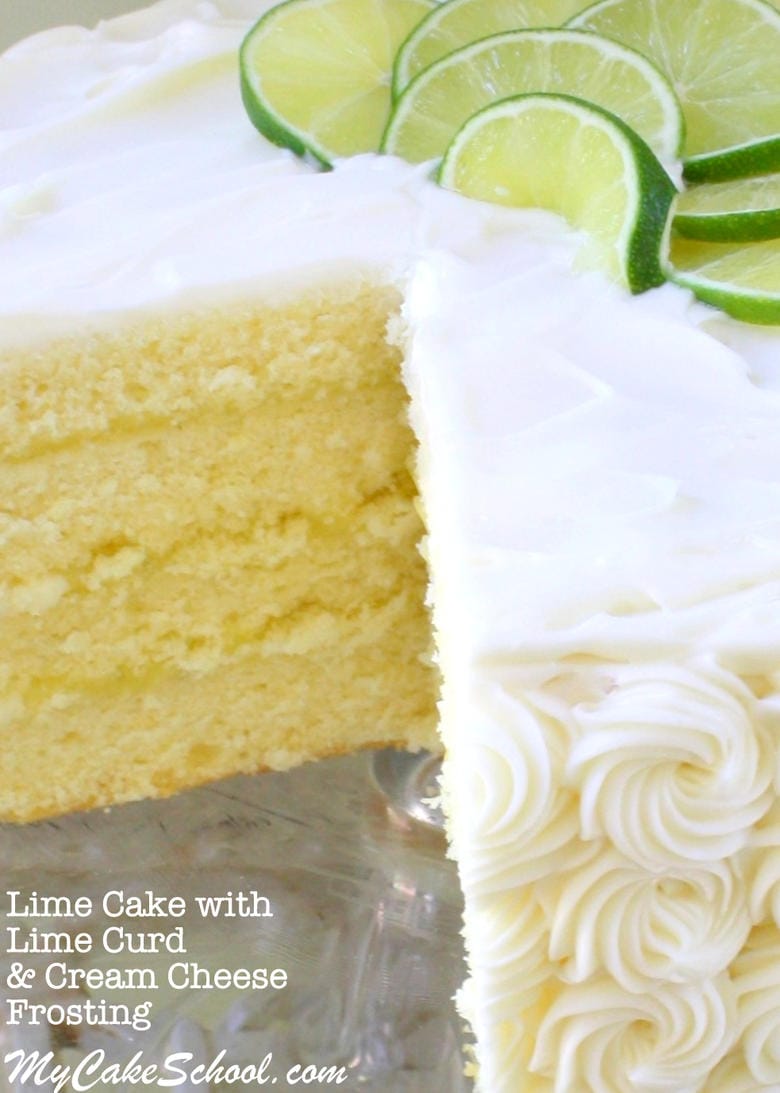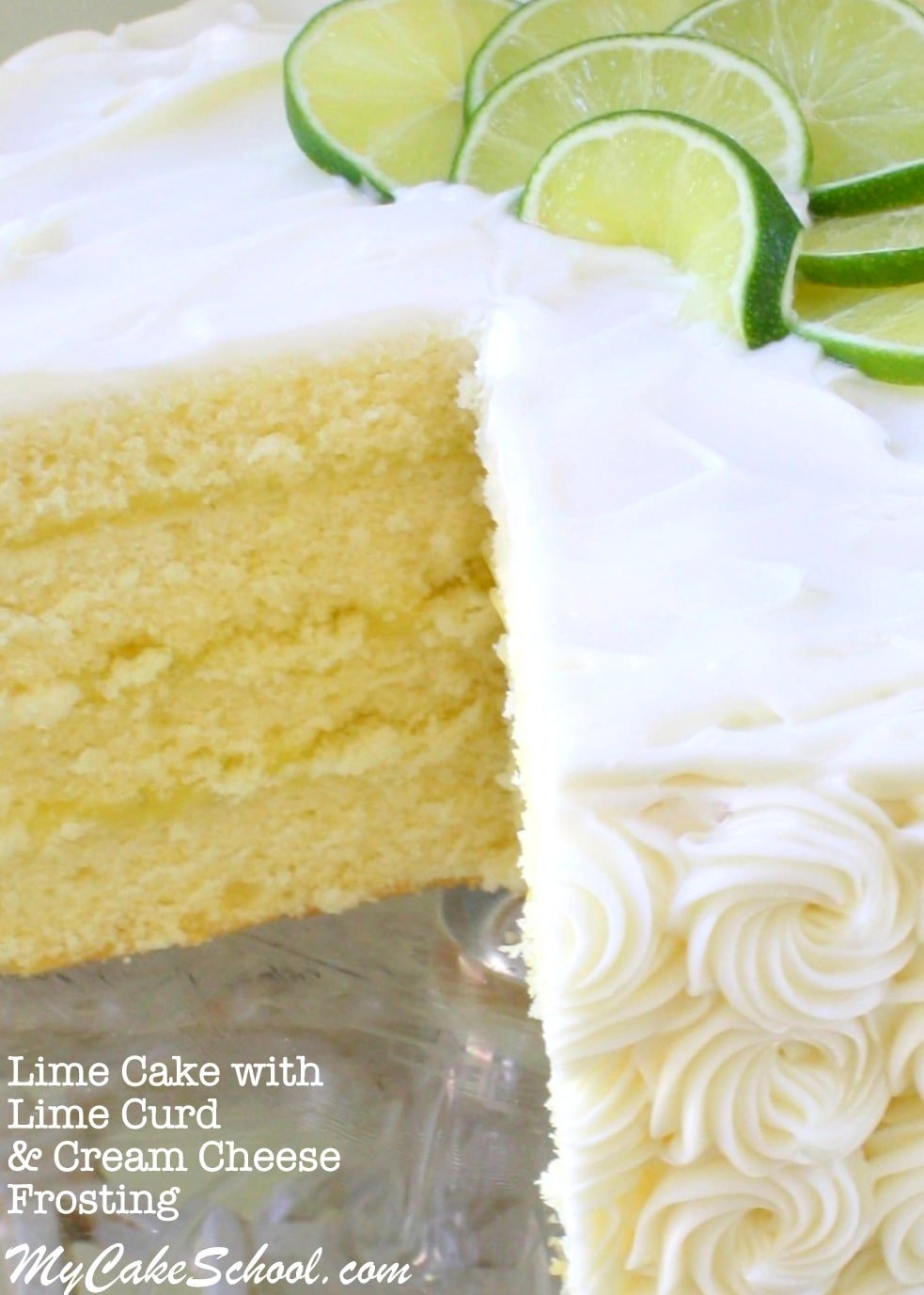 In the past week, we have tried at least six versions of lime cake, along with various combinations of frostings and fillings. This was the clear winner!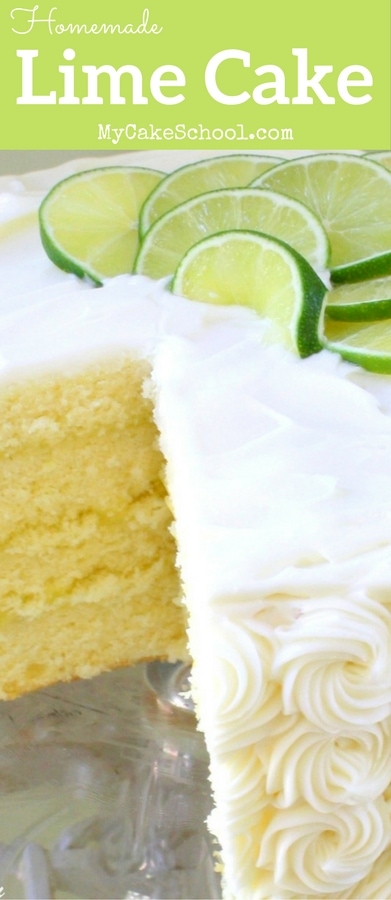 Lime Extract vs. Lime Simple Syrup
One thing that we discovered in our experimenting is that it is difficult to achieve a strong lime flavored cake from lime juice and zest alone.
We found the same for our favorite lemon cake recipe but we had lemon extract to bump up the flavor.
However, lime extracts are much more difficult to find, especially locally. We wondered if adding a bit of lime jello would be the answer-- with some cakes, it is a great option. However, with this recipe, we don't recommend it (the flavor was a bit too artificial).
In the end, brushing our lime cake layers with lime syrup and lime curd was the key to giving us a delicious lime cake!
**This recipe would taste great with buttercream also, but we decided to use cream cheese frosting which was divine ;0)
Reverse Creaming Method of Mixing
** This recipe calls for the Reverse Creaming Method of Mixing. This refers to the order that the ingredients are mixed, and the result is a cake with a tighter crumb and velvety texture.
If you have never made a cake with the Reverse Creaming Method, you may want to watch our free video tutorial: Reverse Creaming Method of Mixing-Video Tutorial.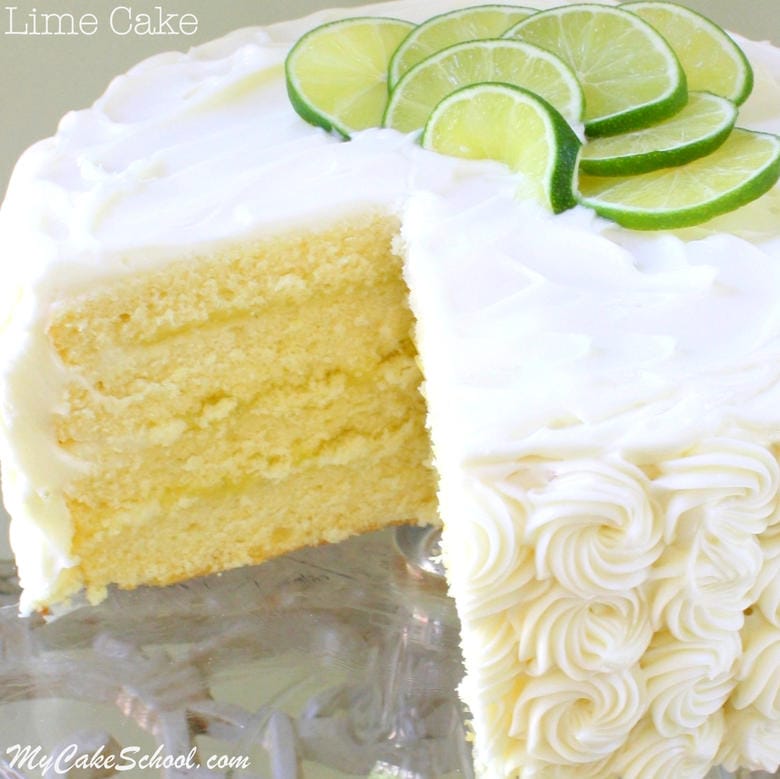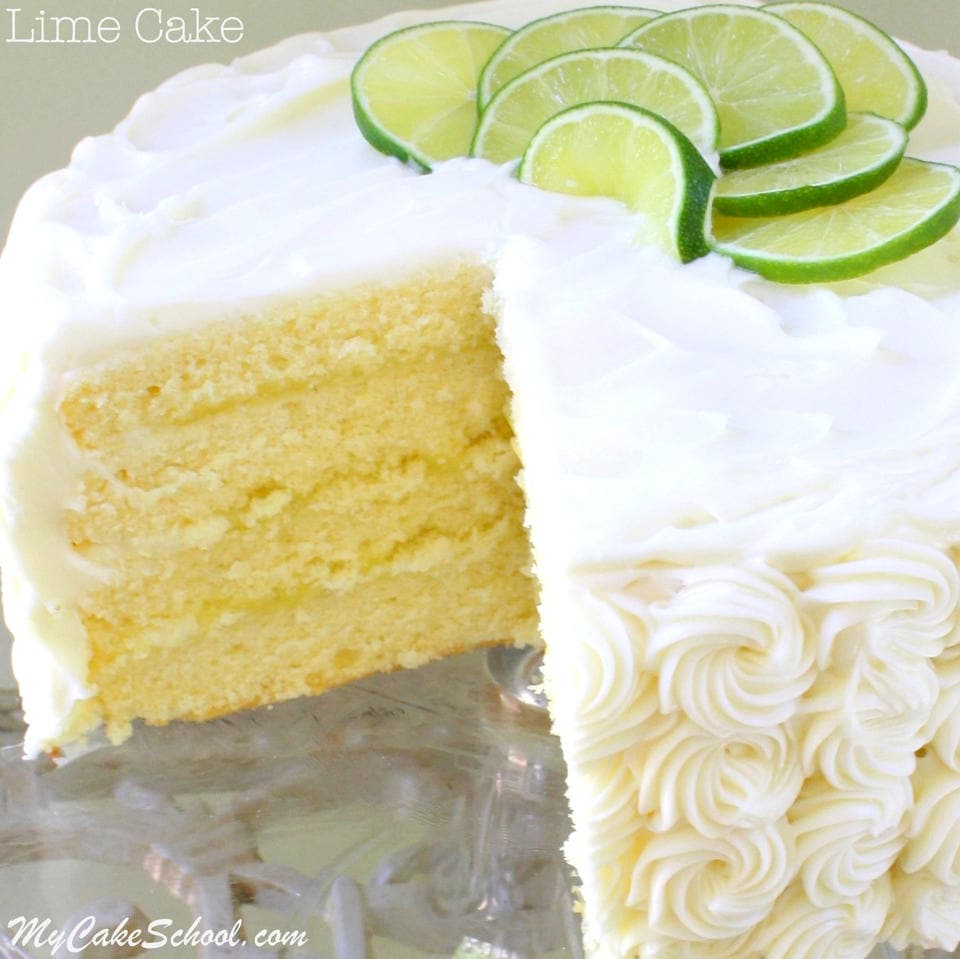 We frosted our cake with a delicious Cream Cheese Frosting. Find the recipe here!: Cream Cheese Frosting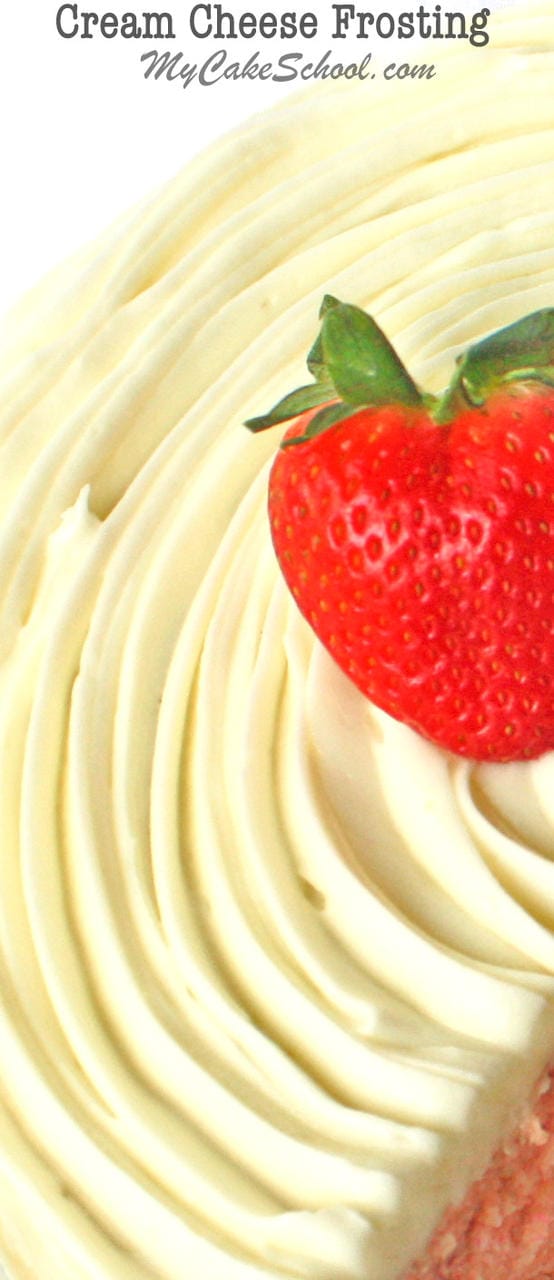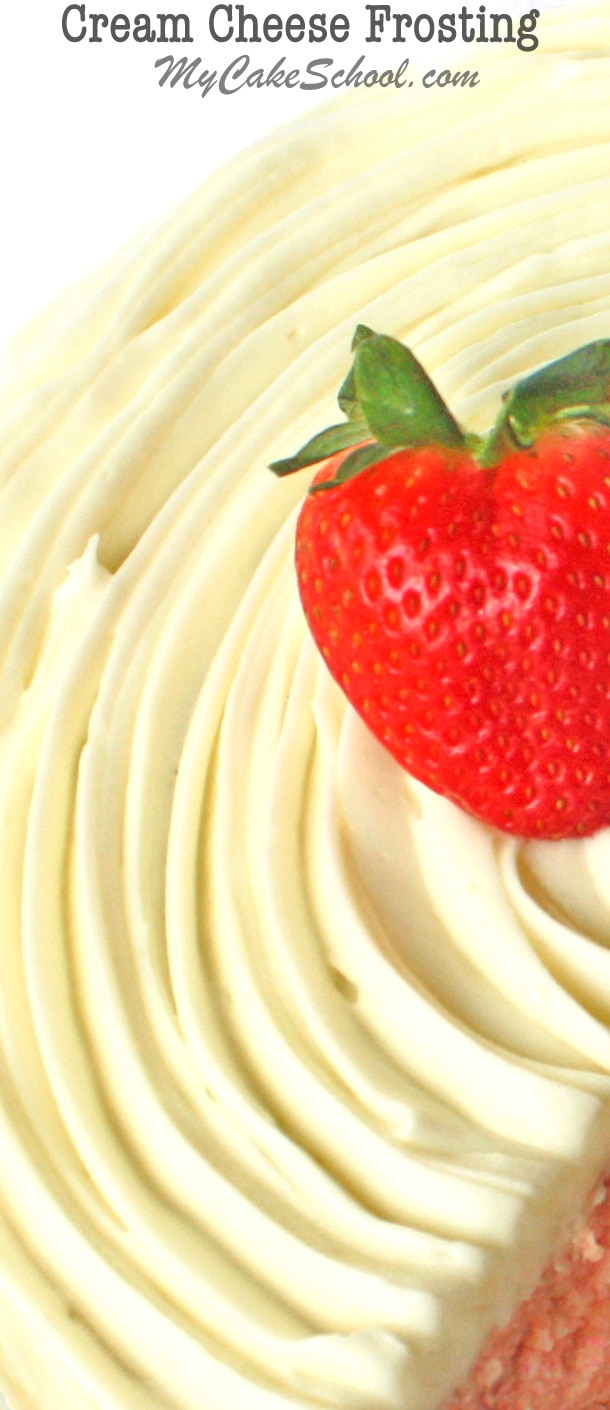 Enjoy these other cakes with Lime
Key Lime Cake- Doctored Cake Mix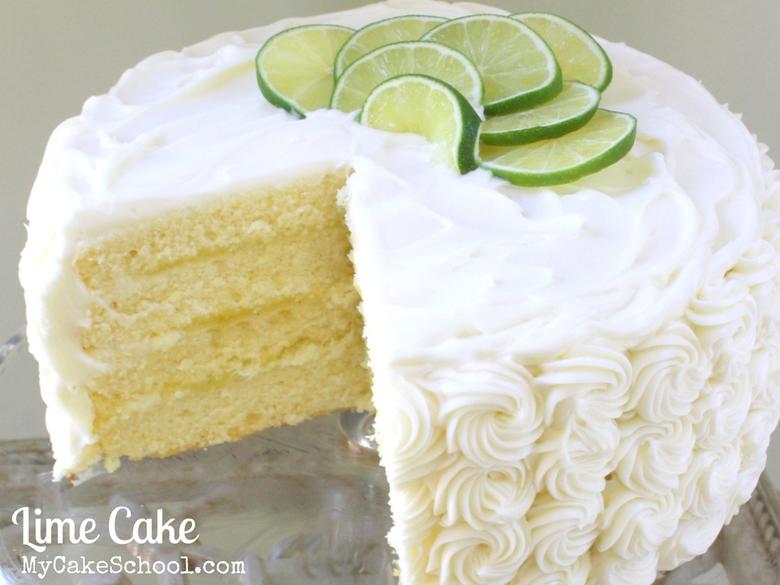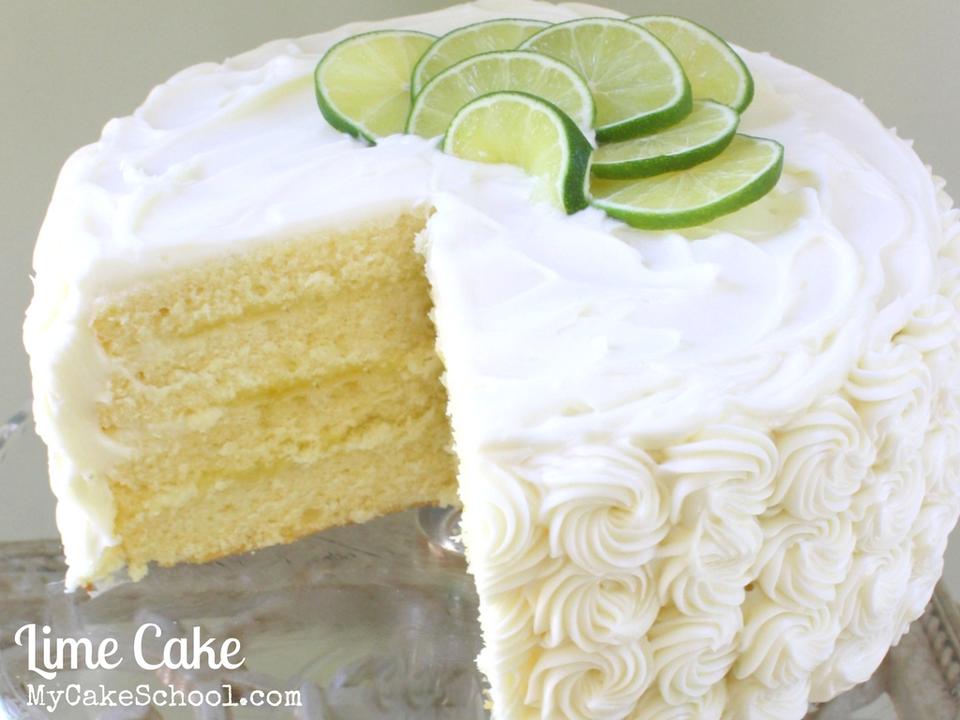 Lime Cake from Scratch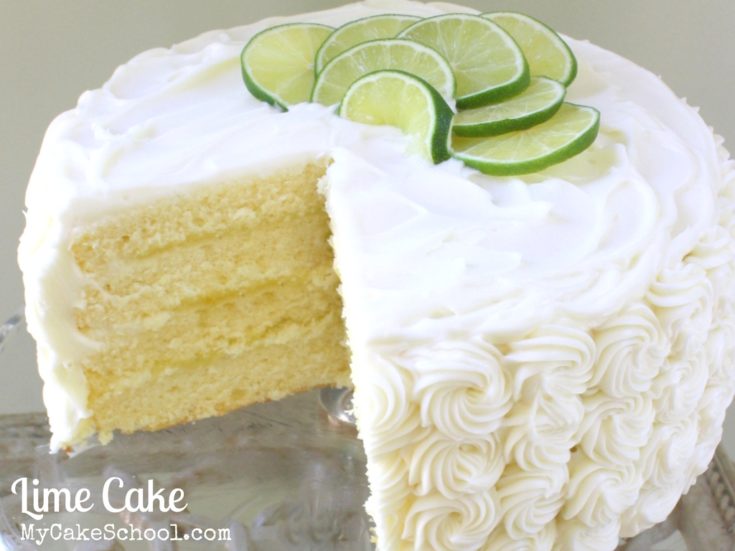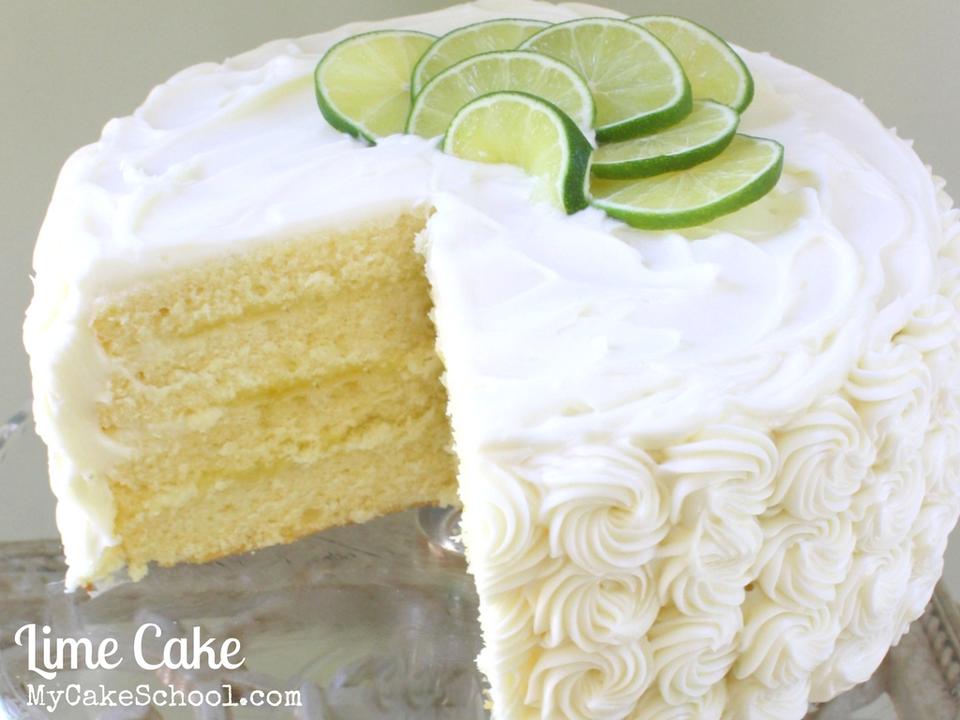 Delicious Lime Layer Cake from Scratch with Lime Curd Filling
Ingredients
FOR THE CAKE
2 ½ cups (285g) cake flour
1 ½ cups (300g) granulated sugar
½ teaspoon (3g) salt
2 ½ teaspoons (12g) baking powder
1 ½ sticks (12T) (169g) unsalted butter, softened slightly, still cold to the touch (do not soften in the microwave) you can cut into ½ inch slices onto waxed paper to soften more quickly.
If it becomes too soft, just refrigerate for a few minutes.
4 large eggs, room temperature
1 cup (242g) milk
2 Tablespoons (18g) vegetable oil
¼ cup (59g) lime juice (We used Nellie & Joe's bottled Key Lime Juice.)
zest of 2 limes - best done with a microplane, just the green of the lime
FOR THE LIME SIMPLE SYRUP:
1 cup sugar
1 cup water
2 Tablespoons lime juice
FOR THE LIME CURD:
¾ cup (150g) granulated sugar
¼ cup (30g) cornstarch
1 cup (236g) water
2 egg yolks, slightly beaten
2 Tablespoons (28g) unsalted butter
1 Tablespoon grated lime zest
4 Tablespoons (55g) lime juice
Instructions
FOR THE CAKE:
Preheat the oven to 350 degrees. Grease and flour two 8 x 2 inch round pans. I split the layers for four layers to assemble the cake, your could also bake in three 8 x 2 pans. This will give you more lime curd per slice. I used the reverse creaming method for this recipe.
In the bowl of your mixer combine the cake flour, sugar, salt, baking powder, and lime zest.
In a separate bowl combine eggs, milk, vegetable oil, and lime juice. Blend with a fork.
Whisk the dry ingredients for 30 seconds to combine. Begin with your mixer on low speed, gradually increasing to medium speed as you add the slices of butter a few pieces at a time. Beat until the dry ingredients are crumbly and moistened by the butter. The look & texture will be similar to coarse sand. Scrape the bottom and sides of the bowl to make sure there is no dry flour.
Slowly add approximately ½ of the egg mixture to the dry ingredients and beat at medium speed for 1 ½ minutes, the batter will become thick and fluffy. Scrape the bowl and add the remaining egg mixture in 2 additions, beating for 20 seconds after each addition.
Bake at 350 degrees for 30 to 35 minutes (25 to 30 minutes if you bake in 3 pans) or until a toothpick inserted in the center comes out clean. Let cakes cool 10 minutes then turn out. Makes 6 ½ cups of batter, works well for cupcakes.
FOR THE LIME SIMPLE SYRUP:
In a saucepan over medium heat bring the water and sugar to a boil. Turn the heat to low and stir constantly until the sugar dissolves and the mixture is clear.
Remove from heat and stir in the lime juice. Cool. If you want the mixture to be a thicker consistency, cook longer over low heat.
Brush a small amount of the syrup onto your cake layers before you begin assembling your cake. Apply sparingly so that the cake does not become soggy. We apply while the cakes are still warm but you could also do this at room temp just before assembling. We prefer to use a pastry brush. With lime juice added to the mixture it will last 3 to 4 days in the refrigerator.
FOR THE LIME CURD:
Combine sugar and cornstarch in a saucepan, pour in water. Over medium heat, stir the mixture constantly until it thickens and comes to a boil. Boil for 1 minute, remove the pan from the heat.
Spoon about ½ cup of the hot mixture into a small bowl containing the egg yolks and stir quickly until combined.
Pour the egg mixture back into the saucepan. Return pan to medium heat and cook, stirring constantly, approximately 1 min. The mixture will thicken slightly.
Remove from heat and stir in the butter, lime juice and lime zest. Cool before using.
TO ASSEMBLE THE CAKE:
After lightly brushing our layers with lime syrup, we filled with the lime curd, and then crumb coated and frosted the cake with our Cream Cheese Frosting recipe (linked above the recipe).