I love Pineapple and coconut together, and in today's Pineapple Coconut Cake, we're combining moist pineapple cake layers with a thick pineapple filling and coconut cream cheese frosting.
This cake is a slice of heaven, and PERFECT for spring and summer gatherings!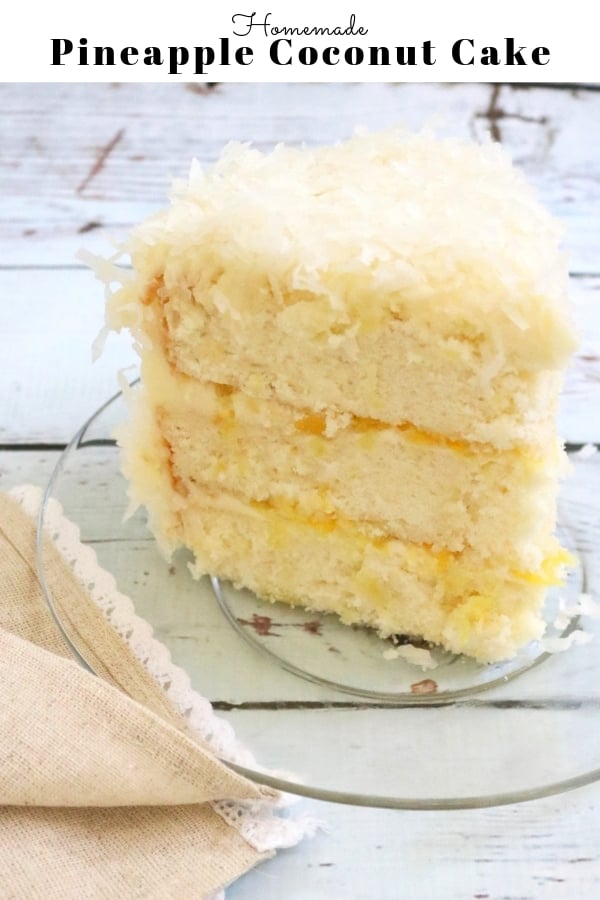 I love that we finally have a pineapple cake recipe to share, we've been wanting to add one for a while now! (Our other Pineapple Cake is absolutely delicious but uses yellow cake layers with a pineapple & cream filling).
The pineapple flavor in today's cake layers comes from crushed pineapple pieces in the batter as well as pineapple juice.
Assembling the Pineapple Coconut Cake
When it was time to assemble our cake, we placed the first cake layer on the cake plate, then piped a dam of cream cheese frosting about ¼ inch from the edge.
Next, we filled inside of the dam with a layer of coconut cream cheese frosting, followed by a layer of pineapple filling.
Then, I repeated these steps for the next layer of pineapple cake. After adding the final layer, check to see if you have any gaps in between your layers.
You can fill those with more cream cheese frosting. (This helps to prevent air pockets and also prevents your filling from escaping.)
I chilled my cake at this point for about 20 minutes in the freezer to firm things up so that I could frost the cake without worry of the layers sliding around while I frosted. This can sometimes happen with softer fillings.
Decorating the Pineapple Coconut Cake
The easiest way to decorate a coconut cake is to cover it with shredded coconut! Hooray for quick and easy decorating!
After chilling the cake, I frosted the top and sides of the cake with cream cheese frosting and immediately pressed in the shredded sweetened coconut all over. So pretty!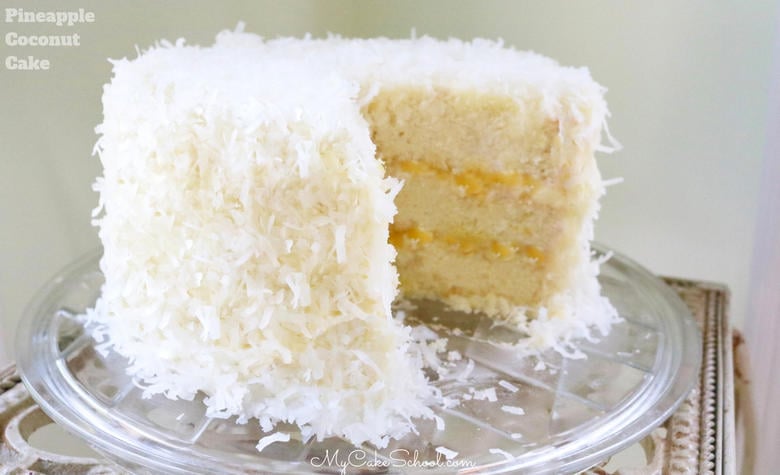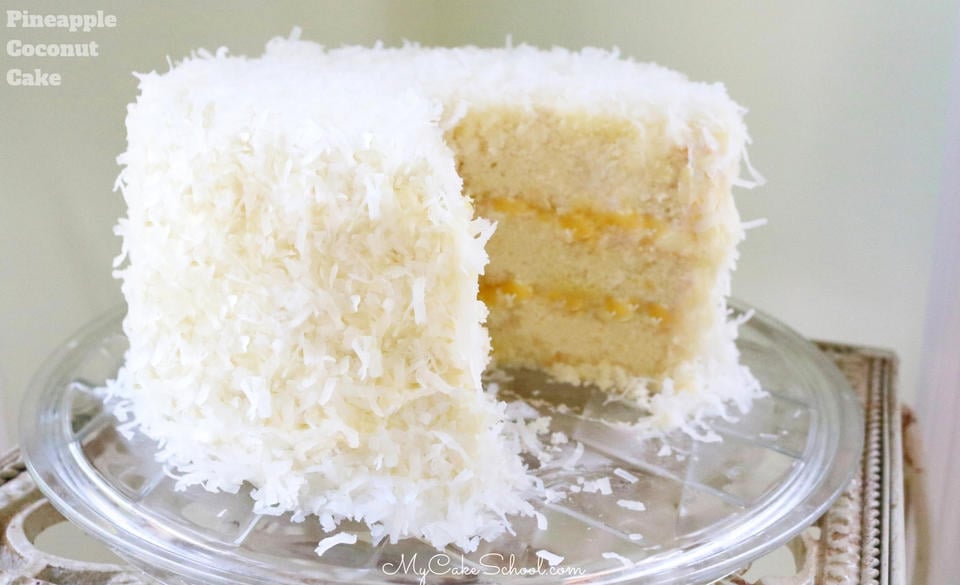 Recipe FAQs
More Spring and Summer Cakes
This Pineapple Coconut Cake is a perfect birthday cake recipe or special occasion cake no matter what the season, but we especially love it in the spring and summer!
It reminds me in some ways of our Pina Colada Cake, only there's no rum flavor- haha- and also, the roles are reversed as our Pina Colada Cake has coconut cake layers.
Other favorites are our Strawberry Cake, Lemon Cake Recipe, Raspberry Cake, and Orange Cake!
Make sure to check out our full roundup of the BEST Cake Recipes for Spring and Summer!
Thanks so much for stopping by! We hope that you give this Pineapple Coconut Cake a try! Don't miss our other pineapple cakes, including our Pineapple Dream Cake, Pineapple Cake, and Pineapple Upside Down Cake!
Make sure to check out our full Cake Recipes section, which includes favorite Cake Recipes from Scratch as well as Cake Mix Recipes!
Have you made this Cake? We would LOVE for you to leave a ⭐️ rating as well as a comment and photo below! We really appreciate your feedback!
Yield: 15 servings
Pineapple Coconut Cake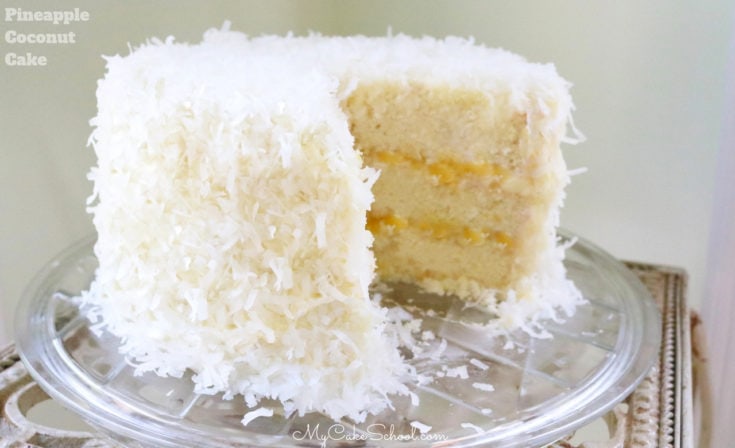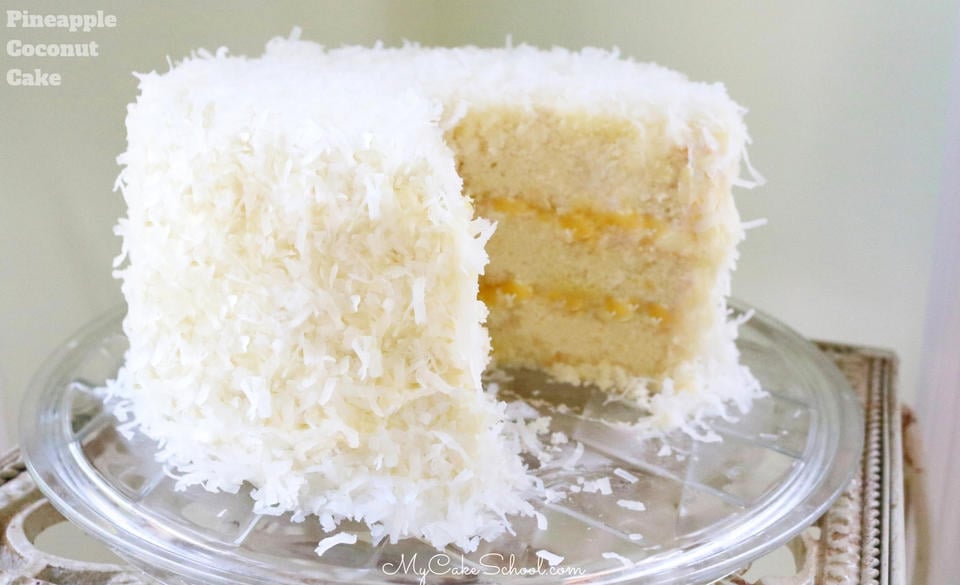 This moist and flavorful Pineapple Coconut Cake consists of homemade pineapple cake layers with a delicious pineapple filling and coconut cream cheese frosting!
Additional Time
35 minutes
Total Time
1 hour
20 minutes
Ingredients
For the Pineapple Cake Layers
3 cups (342g) cake flour (**see below if you do not have cake flour)
1 Tablespoon (12g) baking powder
½ teaspoon salt (2g)
6 egg whites (180g)
¾ cup (8oz.) (227g) crushed pineapple in juice, do not drain juice
⅔ cup (152g) milk
1 teaspoon (4g) vanilla extract
¼ cup (54g) vegetable oil ( we used Canola Oil)
2 cups (400g) sugar
1 cup (2 sticks) (226g) unsalted butter, slightly softened
**Substitution for cake flour: If you only have all purpose flour (plain in the UK), measure out 3 cups all purpose flour, remove 6 Tablespoons of the all purpose flour and replace it with 6 Tablespoons cornstarch (corn flour in the UK). Whisk to blend and proceed with the recipe.
For the Pineapple Filling:
One 20 ounce can (567g) of crushed pineapple
½ cup (100g) granulated sugar
2 Tablespoons (14g) cornstarch
For the Coconut Cream Cheese Frosting:
2 sticks (1 cup) (226g) unsalted butter, slightly softened
2 (8oz.) packages cream cheese (452g. is the total gram weight) use full fat cream cheese, slightly softened. Using reduced fat will cause it to be too soft
1 ½ teaspoons (6g) coconut extract (adjust to your liking)
1 teaspoon (4g) vanilla extract
6 to 6 ½ cups ( 747g) powdered sugar
pinch salt
For Outside of Cake
1 bag (14oz (396g) of sweetened coconut
Instructions
For the Cake Layers
Preheat the oven to 350 degrees, grease and flour 3 (8 inch) round pans and place a circle of waxed or parchment paper in the bottom of each pan. Cakes with fruit have a tendency to stick
In a medium bowl, whisk the flour, baking powder and salt for at least 30 seconds to blend.
In another bowl, add the egg whites, crushed pineapple +juice, milk, vanilla and vegetable oil. Blend with a fork
In the bowl of your mixer add the butter and beat at medium speed until soft and smooth. Gradually add the sugar and continue to beat until lightened in color and fluffy, 3 to 5 minutes, longer if using a hand mixer.
Alternately add the flour mixture and the wet ingredients, beginning and ending with the dry ingredients (3 additions of dry and 2 of wet). Beat on low to medium speed until the ingredients are mixed in. Do not mix above medium speed or over mix.
Bake at 350 degrees for 20 to 25 minutes, check at 18 minutes. When a toothpick pulls out clean or with just a few crumbs attached, the cake is done.
Cool the cakes on a cooling rack for 5 minutes then turn out. Makes 7 ½ cups batter
This cake recipe can be used for cupcakes also and the layers are sturdy enough for fondant.
For the Pineapple Filling
Combine all ingredients in a saucepan and cook over medium heat. When the mixture begins to boil, stir constantly until it begins to thicken, approximately 1 to 2 minutes.
Keep in mind that it will thicken even more as it cools. Cool completely in refrigerator before using.
For the Coconut Cream Cheese Frosting
Add the butter to the mixing bowl and beat until smooth.
Add the cream cheese that has been cut into small to medium size pieces, beating with the butter until well blended and smooth.
Add the coconut and vanilla extracts
Slowly add the powdered sugar, beating until smooth. Do not beat above medium speed or for too long. The longer you beat the softer the frosting becomes. If it becomes too soft to pipe, just refrigerate for a short while.
Use the frosting while it is still chilled. If it becomes too soft, refrigerate until it firms up a bit or put in the freezer for 5 minutes or so to return to a good piping consistency.
Assembly:
To assemble the cake, place your first layer on your pedestal or cake board. Then pipe a dam of the cream cheese frosting about ¼ inch from the edge of the cake. Fill with cream cheese frosting followed by pineapple filling.
Repeat for the next layer. Fill in any gaps with your cream cheese frosting and freeze for about 15-20 minutes to firm things up. (I often do this with cakes that have soft fillings so that the layers don't slide around while frosting).
Frost the cake and immediately press on your flaked coconut.
This cake needs to be refrigerated until within a couple of being served.