We have a delicious Peaches and Cream Layer Cake recipe to share with you all!
I love fruit flavored cakes year-round, but especially for summer celebrations.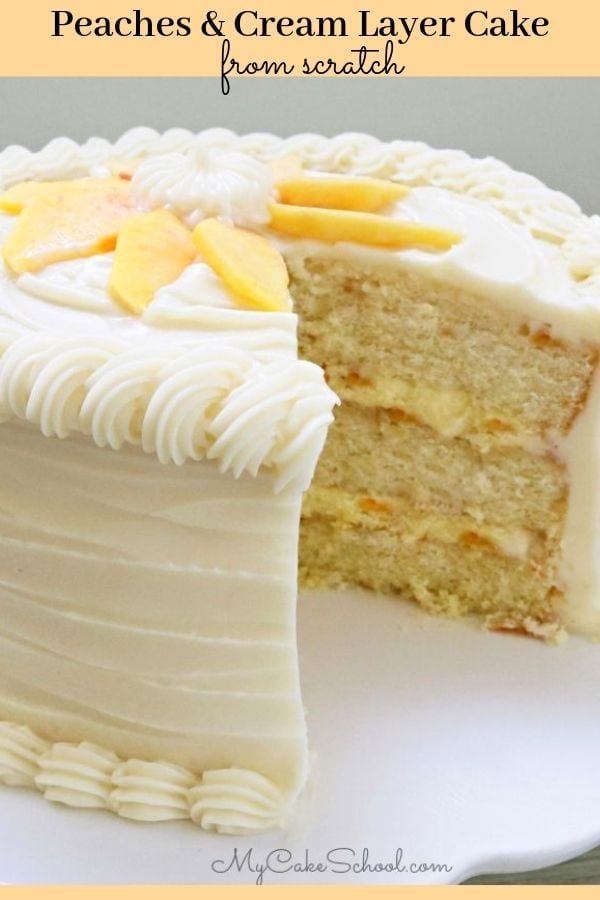 This luscious peach dessert consists of three flavorful cake layers with bits of peach folded into the batter.
Once baked, the cake layers are brushed with peach juice followed by a thin layer of peach preserves, and filled with an easy, light, peaches and cream filling.
Finally, we frosted the layers with our classic cream cheese frosting, which has a tanginess that goes perfectly with this refreshing peach cake!
How to Make a Peaches and Cream Cake
One of the things that I love about this peach cake is that bits of peach are baked into the layers.
If using canned peaches like we often do, reserve the juice to brush onto the layers for more peach flavor.
Freezing the Layers: (optional)
No matter what cake I am making, I always wrap and freeze the cake layers whenever time allows- it makes for a cake that is even more moist.
I wrap the freshly baked layers while they are still warm with a layer of plastic wrap and foil, and then into the freezer they go for at least a few hours (but really, they can freeze for a few months and would still taste amazing).
Remove from the freezer and allow to thaw while still wrapped until condensation forms on the outside.
Then unwrap and bring to room temperature (or close to room temperature).
Assembly of the Peach Cake:
Place the first cake layer on the pedestal or cake base.
Then, pipe a dam of cream cheese frosting about ½ inch from the edge of the cake (you can just snip the end away from a disposable piping bag or use a piping tip 12 for this).
The dam will keep your soft peaches and cream filling contained.
Next, if you are using canned peaches, use the reserved juice to lightly brush over the cake layer. If you happen to have a silicone pastry brush, it's helpful but you can also just use a spoon.
Don't soak the layers, a light coating is all that you need.
Then, spread on a layer of your peach preserves. I don't use a thick layer of the preserves but you can adjust it to your liking. Then, spread on the peaches and cream filling.
(By the way, if you're familiar with our Pineapple Cake, the Pineapple & Cream Recipe is identical, only with peaches!)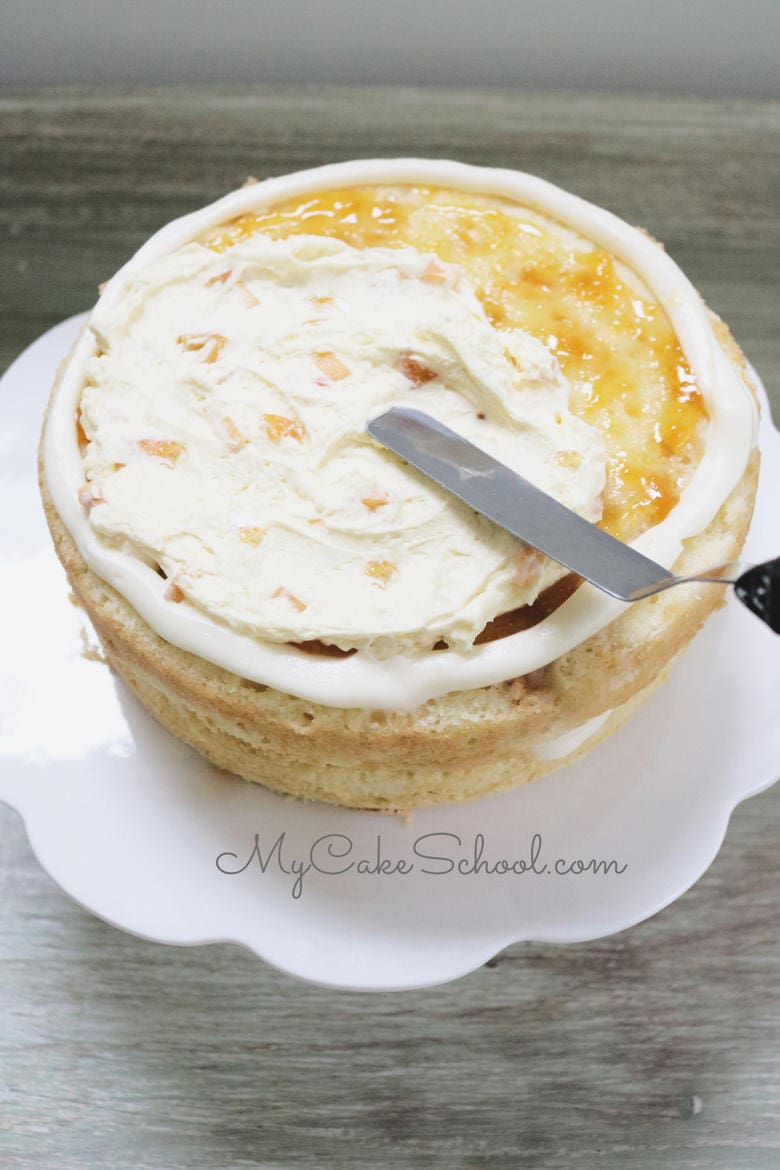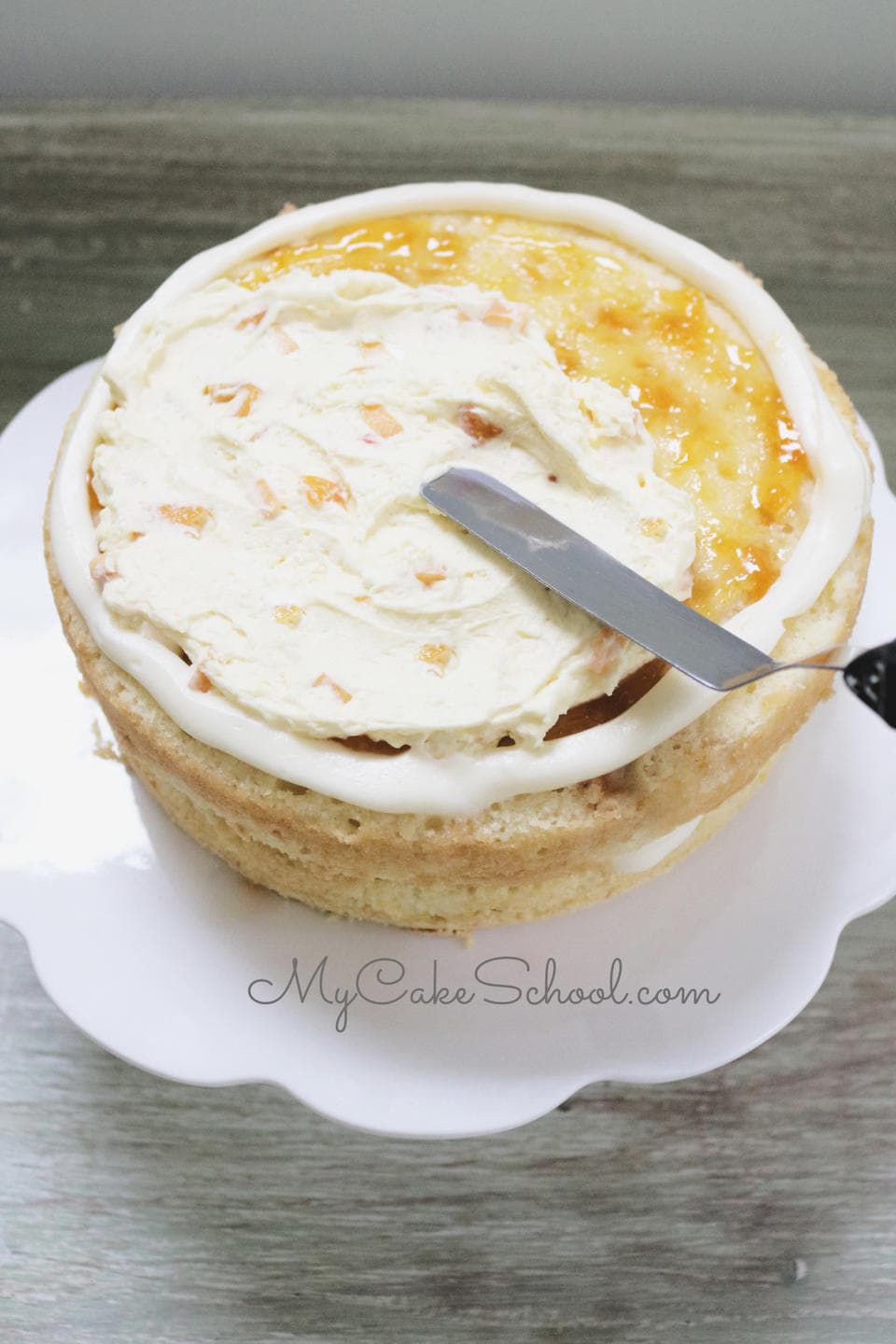 Finally, repeat the above steps for your next layer and top it all off with the third layer. Fill in any gaps that you have between the layers with additional cream cheese frosting.
Settling the Cake: (optional)
The setting of the cake is an optional step but I highly recommend it. All layer cakes settle over time, making them slightly shorter than they were to begin with. If you frost your cake immediately, before the filled cake has had a chance to settle, you will likely have bulges of frosting appear over time.
So, the fix for this is to fill the cakes and then wrap the tier with plastic wrap. Then place a small "weight" on top...it can be a smallish book, a cake pan or two...anything that covers the top surface of the (wrapped) cake and applies a very light but steady pressure.
Then, let it sit for a few hours or overnight. **In this case, you'll need to refrigerate the cake as it settles since the filling and frosting are perishable.
Frosting the Cake:
Finally, unwrap the settled cake and frost with our luscious cream cheese frosting! We used our Classic Cream Cheese frosting but if you prefer a slightly firmer cream cheese frosting, our Pipeable Cream Cheese Frosting recipe is a great choice.
I added ridges to my frosted cake using a small rounded spatula while I spun it on the turntable, and then added borders with a tip 21. (My top border is a little too close to the edge- eek!)
I topped off my cake with a few peach slices but if you do this, don't add it until it's almost time to serve. The peaches become super juicy as soon as the come in contact with the sugar in the frosting.
We hope that you enjoy this recipe as much as we have!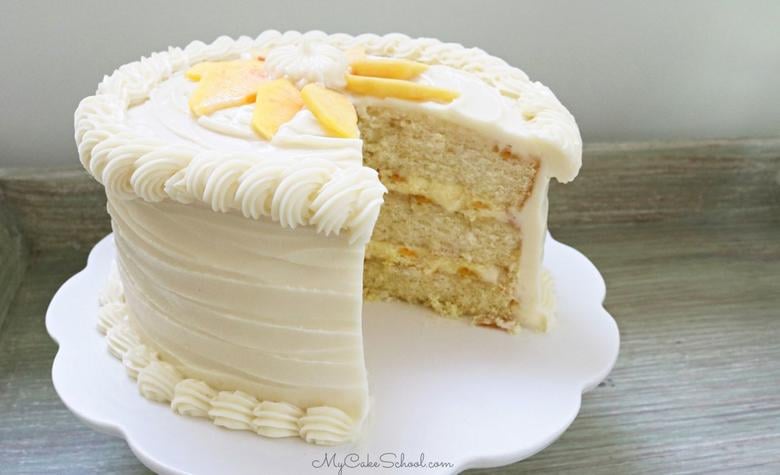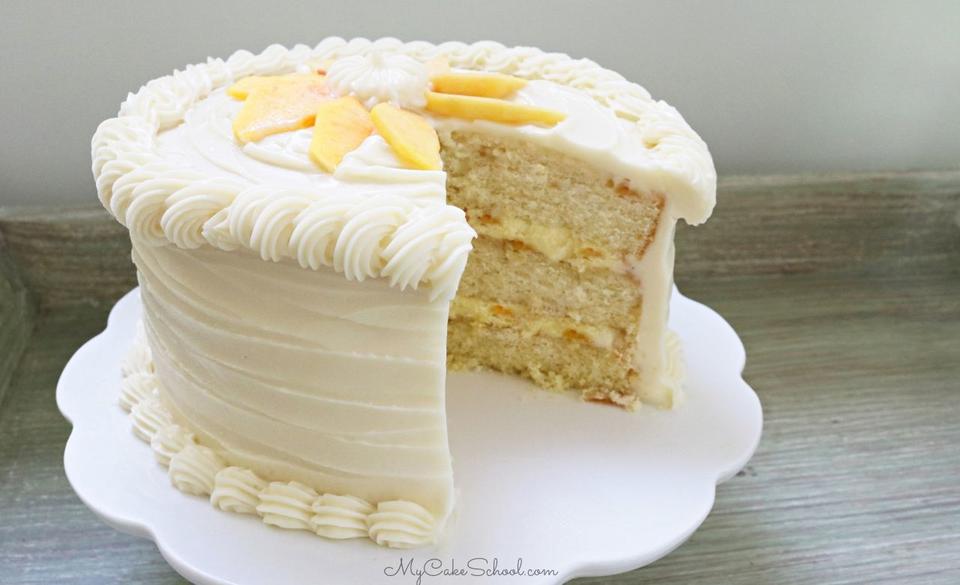 Looking for other cakes with fruit?
We have so many fruit flavored cakes that we just love.
Here are a few layer cakes that are perfect for birthdays, summer parties, or just because!
Check out some of our most popular recipes below, or hop over to our Roundup of the BEST Spring and Summer Cake Recipes for even more fruity favorites!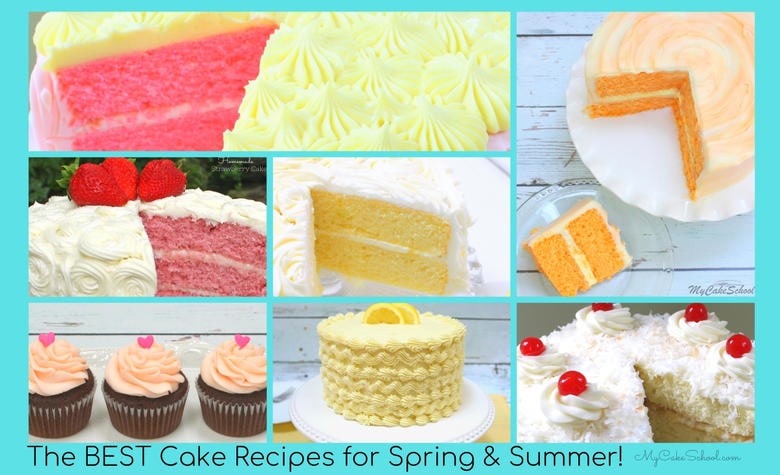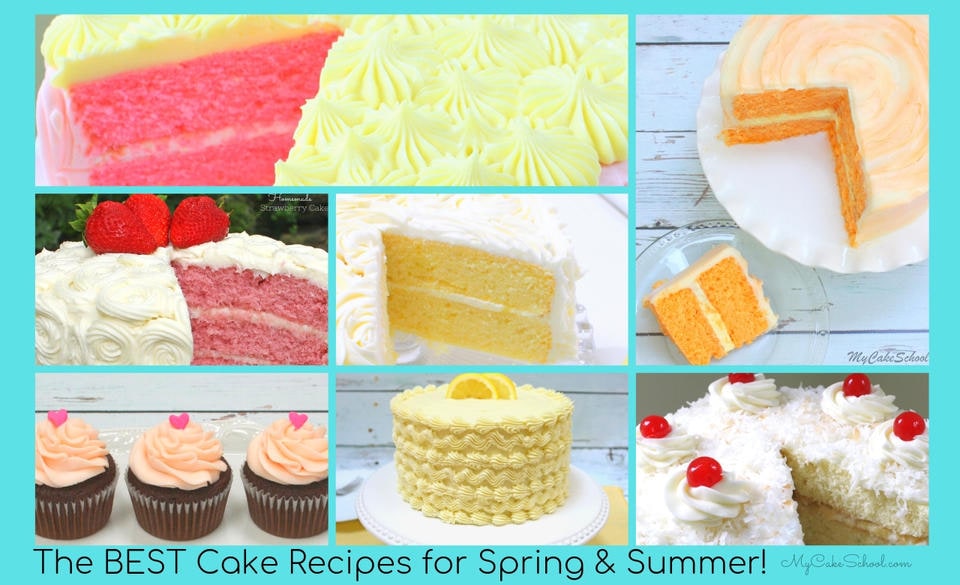 Peaches and Cream Layer Cake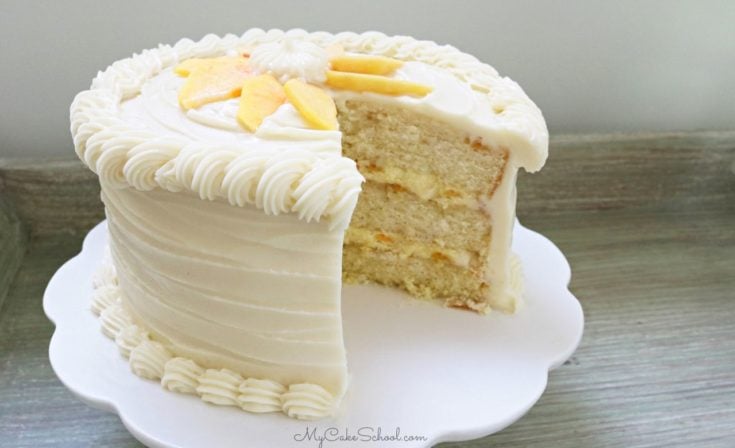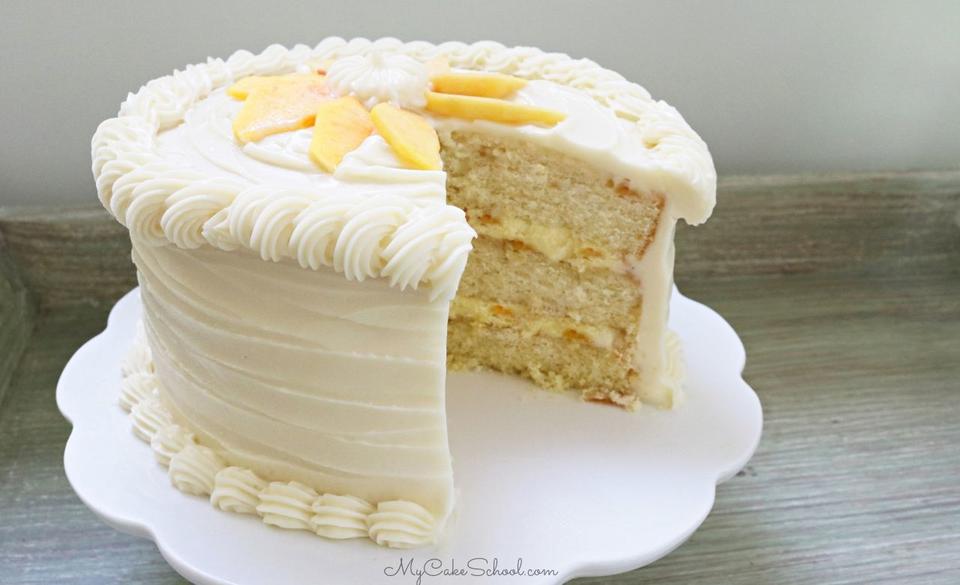 This flavorful Peaches and Cream cake from scratch is so moist and delicious! I love it for summer gatherings!
Ingredients
For the Cake
2 sticks (226g) unsalted butter, slightly softened
2 cups (400g) sugar
3 large eggs
1 cup (242g) sour cream
⅓ cup (81g) milk
2 teaspoons (8g) vanilla extract
3 cups (342g) cake flour (plain in the UK) — if you do not have cake flour see substitution below
3 teaspoons baking powder
½ teaspoon (3g) salt
1 ½ cups diced peaches tossed in 1 Tablespoon flour — (We use canned most often but if you prefer fresh, that works too.) Dice into small pieces so the peaches will be less likely to sink to the bottom of the cake pan.
If using canned peaches, buy two 15oz (425g). Reserve the juice for brushing layers.
If using fresh peaches you will need 6 to 8 peaches depending on size
Peach Preserves/Jam
Peaches and Cream Filling
1 small box Jell-O 3.4oz (96g) Vanilla Instant Pudding (It must be instant)
2 cups heavy cream or whipping cream ( not a whipped topping such as Cool Whip)
1 cup diced peaches (canned or fresh)
For the Cream Cheese Frosting
2 Sticks, 1 cup, (226g) unsalted butter, slightly softened
2 (8 oz ) packages cream cheese (total weight for two (452g) I use full ft cream cheese. Using reduced fat or spreadable cream cheese will cause the frosting to be too soft. Soften slightly.
2 teaspoons (8g) vanilla extract
½ teaspoon (2g) salt optional - it will cut the sweetness, popcorn salt is best, it is fine and dissolves faster
6 to 6 ½ cups (690g to 747g) powdered sugar
Instructions
For the Cake
Preheat the oven to 350 degrees, grease and flour three 8x2 inch round cake pans. Three layers will give you slightly shorter layers but more filling per slice of cake.
In a medium sized bowl add the flour, baking powder and salt. Whisk to blend, set aside.
In another bowl or large measuring cup add the sour cream , milk and vanilla. Blend with a fork and set aside.
In the bowl of your mixer, beat the softened butter until smooth. Gradually add the sugar and beat on medium speed for 3 to 5 minutes until it is lightened in color and fluffy.
Add the eggs one at a time, mixing until the yellow of the yolk disappears.
Add the flour mixture and the sour cream mixture alternately, beginning and ending with flour mixture (3 additions of dry ingredients and 2 of wet). Mix until combined and smooth, do not mix above medium speed or over mix.
Toss the diced peaches in 1 Tablespoon flour and gently fold into the cake batter. The cake batter is very thick. Divide the batter between the 3 pans, smoothing the tops with the back of a spoon
Bake at 350 degrees for 25 to 28 minutes or until a toothpick inserted into the center comes out clean or with just a few crumbs attached. Let the cakes cool 5 to 10 minutes then turn out.
Makes 7 cups cake batter
This recipe works well for cupcakes
Note: Substitution for cake flour. Using all purpose flour (plain in the UK) for each cup of flour in a recipe remove 2 Tablespoons flour and replace with 2 Tablespoons cornstarch (corn flour). This recipe has 3 cups of flour so you will measure out 3 cups of all purpose flour, remove 6 Tablespoons and replace with 6 Tablespoons of cornstarch. Whisk to blend.
Instructions for the Filling
In a medium bowl, combine the dry pudding mix and 2 cups of cream. I like to use a hand mixer for this.
The mixture will become thick and fluffy. Fold in 1 cup of diced peaches.
Cakes with this filling will need to be refrigerated.
Instructions for the Cream Cheese Frosting
Cut the butter into slices and add to the bowl of your mixer. Beat on low to medium speed until the butter is softened and smooth.
Cut the slightly softened cream cheese into pieces and add to the butter, beating at low to medium speed until incorporated. If you are using a hand mixer you may need to allow the cream cheese to soften a bit longer.
Add the vanilla. Gradually add the powdered sugar beating on low speed until blended. Cover the bowl with a towel to deep down the cloud of powdered sugar.
Increase mixing speed mix until fluffy. Don't over beat or it will become too soft. If it is too soft, just refrigerate a short while to firm it up a bit.
This frosting will pipe best if used while still chilled. You can make in advance, refrigerate and when ready to use let it soften slightly and remix. Do Not Microwave to soften.
Will frost a 3 layer 8 or 9 inch cake.
Cake Assembly
Place first cake layer on cake base/pedestal.
Lightly brush the layer with the juice from the canned peaches. Don't use too much, just enough to lightly coat the top.
Pipe a dam of cream cheese frosting using a disposable piping bag with the tip snipped away. This is a circle of frosting about ½ inch from the edge.
Spread a layer of Peach Preserves (on top of the light coating of peach juice that you've just spread) within the dam that you've piped. Follow with a layer of Peaches and Cream filling.
Repeat for the next layer, and top it all off with the third layer of cake. Apply the cream cheese frosting.