Orange Dreamsicle Cake- Delicious Homemade Recipe
We have spent a lot of time experimenting in the kitchen lately in search of the BEST scratch Orange Dreamsicle Cake.
We're happy to say that we've found an orange cake, filling, and frosting combination that we absolutely love.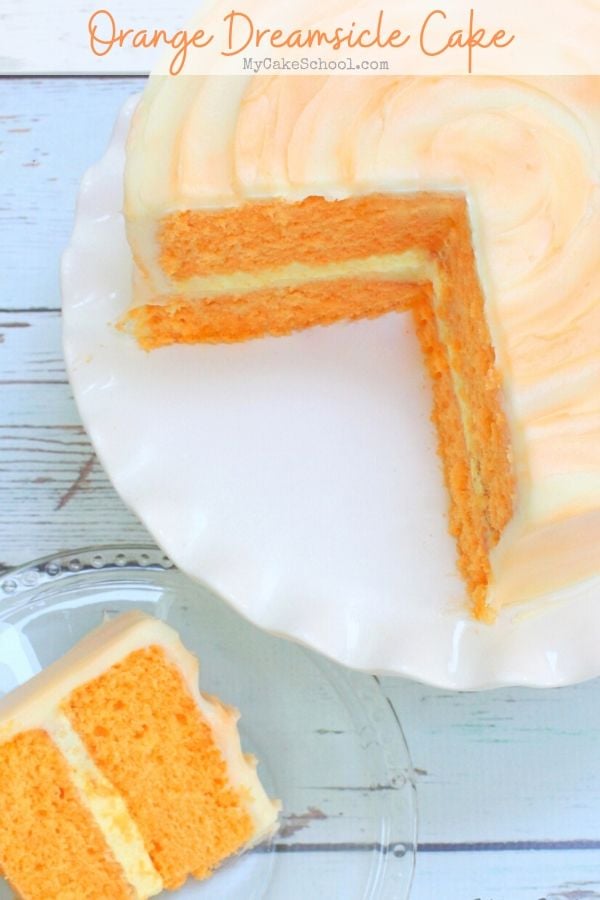 There are few cakes that spring to mind for summertime parties more quickly than this Orange Dreamsicle Cake recipe. When I think of summer, I think of desserts with fruit, and ice cream!
This cake truly lives up to it's name, it tastes EXACTLY like a Dreamsicle! This light, flavorful citrus cake couldn't be more perfect for summer gatherings. If you love doctored cake mixes, don't miss our
Orange Dreamsicle Cake from Cake Mix
!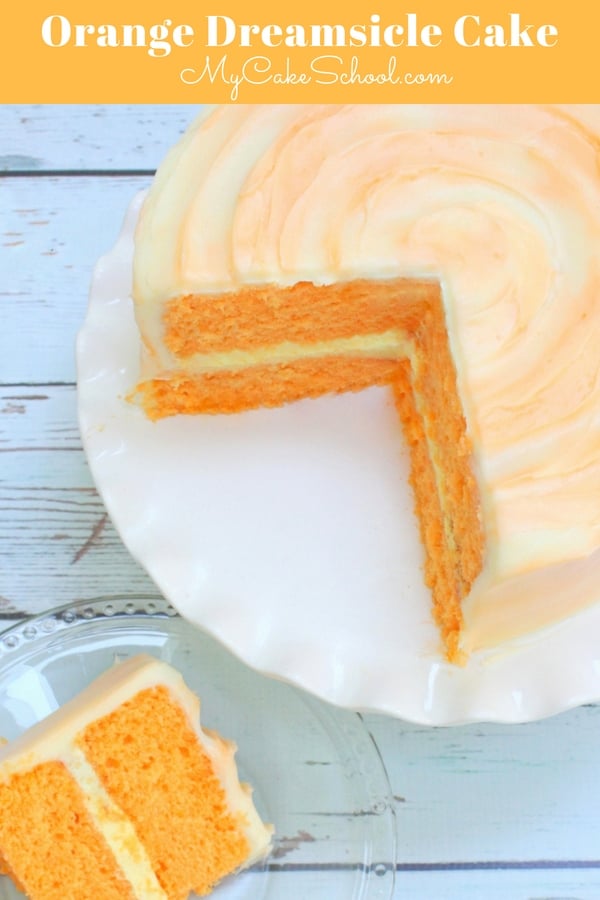 I love everything about this cake recipe- and I also love it's uniqueness. It's not every day that an Orange Dreamsicle Cake is on the dessert menu (but it should be)!
The cake tastes fantastic, and the light orange filling and orange cream cheese frosting are the perfect complement to the flavorful orange cake layers.
We'll leave our cake recipe below along with links to the Orange filling & Orange Cream Cheese frosting that we loved so much.
I'm sure other filling and frosting combinations would work well also, but try these first! They are wonderful.
*This moist cake is stable enough for fondant, and versatile enough for cupcakes. I would highly recommend injecting the cupcakes with the orange filling! YUM!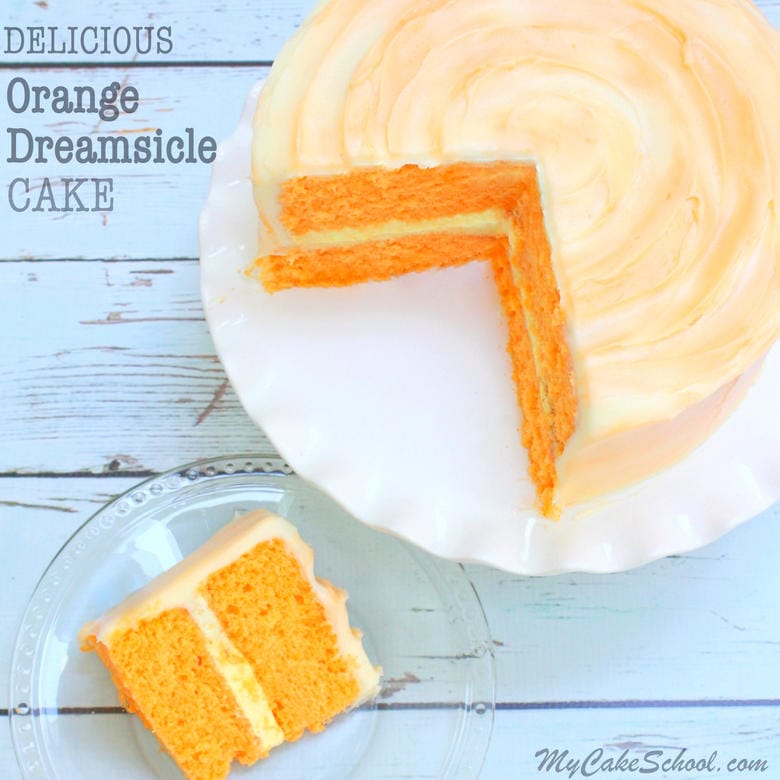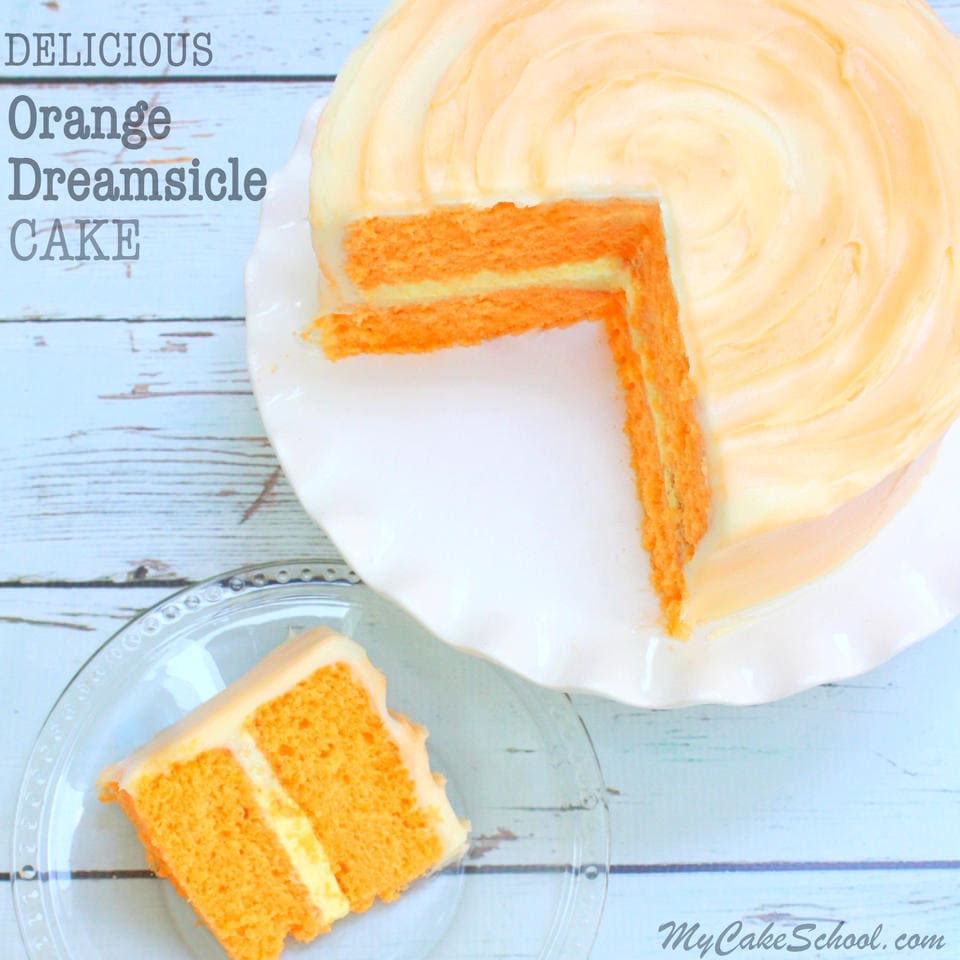 Reverse Creaming Method of Mixing
***This recipe calls for a mixing technique known as the Reverse Creaming Method. This refers to the order that the ingredients are added to the recipe. The result very moist cake with a tight crumb.
The reverse creaming method of mixing results in a cake that is slightly denser than if you were to make this recipe using the traditional method of mixing.
We spell everything out in the recipe instructions, but if you'd like to watch a video on the Reverse Creaming Method of mixing, see our free video here: Reverse Creaming Method of Mixing.
What if I Prefer the Traditional Method of Mixing?
We hear from bakers that love the reverse creaming of method of mixing, and others that prefer the traditional creaming method.
If you prefer the Traditional Mixing Method (creaming the butter and sugar, adding eggs, adding the wet and dry ingredients alternately, etc.) we have a wonderful orange cake for you!
We have another delicious Orange Cake recipe that we came up with after creating this Orange Dreamsicle Cake. You really can't go wrong with this recipe- it is very fluffy, and moist, and has wonderful orange flavor.
Orange Cream Cheese Frosting
It's flavorful, pipeable, and silky smooth! You're going to love this recipe!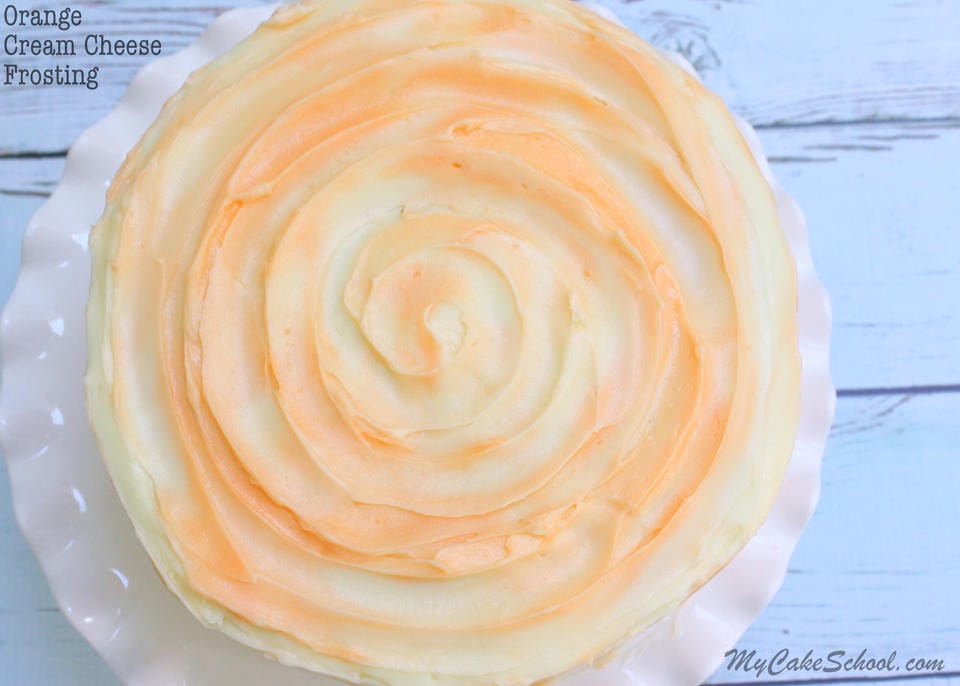 Orange Cream Filling
This orange cream filling is SO delicious and can be whipped up in a matter of minutes with instant pudding, cream, and flavoring!
This filling recipe always receives rave reviews and nobody would ever guess how easy it is to whip up. It's very adaptable for a number of flavors, we use the chocolate "mock mousse" version all the time.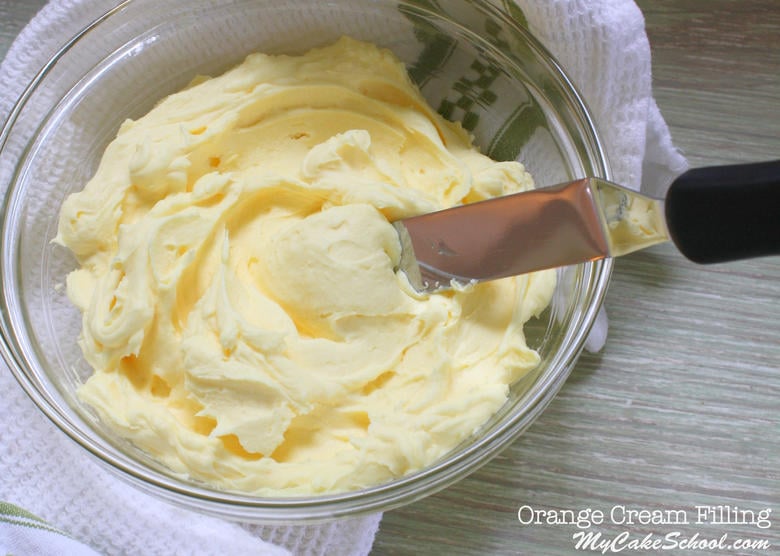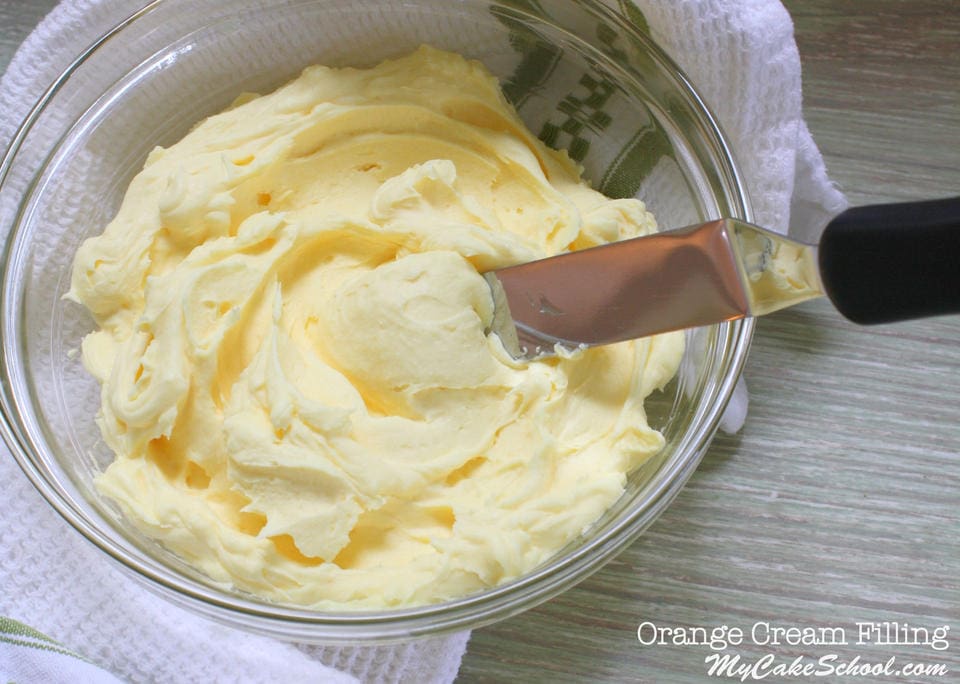 To create the swirled orange cream cheese frosting for this cake, we first frosted the cake with our un-tinted orange cream cheese frosting, reserving some for tinting later.
Then, we went back over the frosted cake with our orange frosting, applying it sparingly here and there, and we textured it with an offset spatula. (I've also made this cake with the orange tinted orange through and through and that looks great too-- just go with what you're in the mood for!)
More Fruity Cakes
Love fruity cakes? In addition to today's orange dreamsicle cake, we have several more refreshingly flavorful cake recipes for you to try!
Orange Pineapple Cake- Orange Cake Layers, pineapple & cream filling and whipped orange mascarpone frosting!
Lemon Orange Cake This is such a delicious combination of lemon and orange flavors, including homemade orange curd filling!
Homemade Lemon Cake- A classic- This is a favorite year-round.
Cherry Chocolate Chip Cake- If you've never tried the combination of cherry cake and chocolate chips, you MUST! So good.
Lime Cake from Scratch- So fruity and refreshing!
Strawberry Cake - We love this moist scratch strawberry cake recipe!
...and SO many more! We hope that you enjoy the recipe! Let us know what you think in the comments below!
Orange Dreamsicle Cake- Delicious Homemade Recipe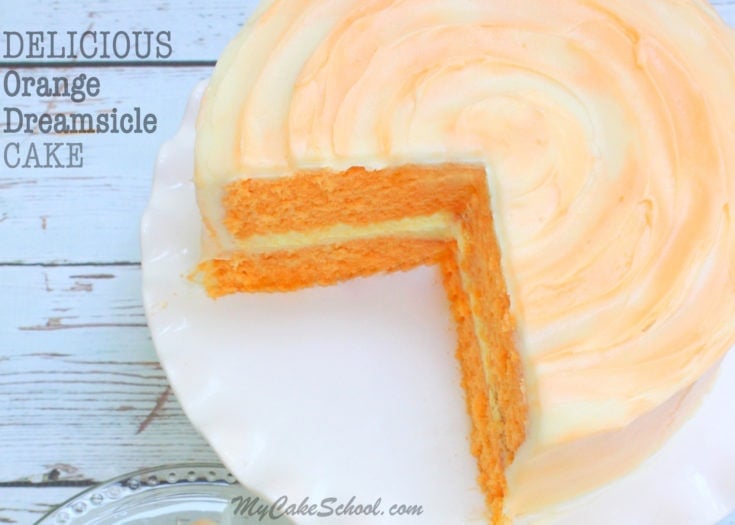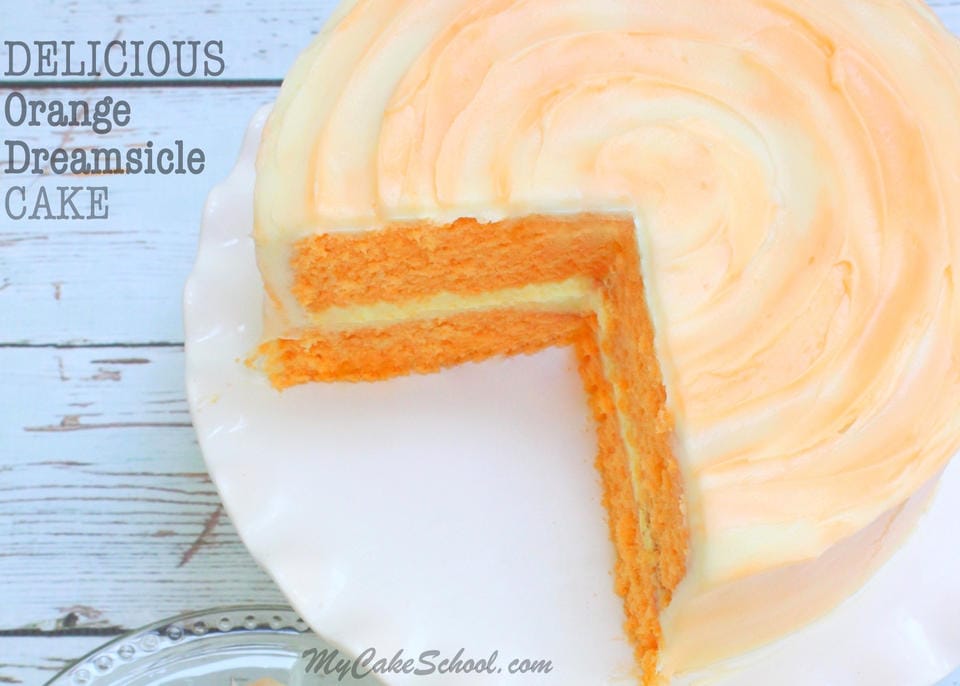 This moist and delicious cake tastes just like an Orange Dreamsicle! Moist orange cake layers with orange cream filling and orange cream cheese frosting!
Ingredients
For the Cake:
2 ½ cups (285g) cake flour
1 ½ cups (300g) sugar
½ teaspoon (3g) salt
2 ½ teaspoon (12g) baking powder
1 ½ sticks (12 T) (169g) unsalted butter....Cut into ½ inch slices onto waxed paper to soften slightly. Your finger should make a slight indentation but not sink in easily. If it becomes too soft, refrigerate for a few minutes. Do not soften in microwave
4 large eggs
¾ cup (190g) frozen orange juice concentrate, thawed
½ cup (121g) milk
1 Tablespoon (10g) orange extract
zest of 1 orange
Orange Coloring Gel (optional) We used a small amount to tint some reserved orange cream cheese frosting so that we could apply it to the cake here and there for a swirled effect.
For the Orange Cream Filling:
1 small box instant Vanilla pudding (3.4oz/96g) We used Jello- Brand
2 c. (464g) heavy cream or whipping cream.
1 tsp. (4g) Orange Extract (we used McCormick)
For the Orange Cream Cheese Frosting:
2 sticks (1 cup) (226 g) unsalted butter, let it sit out until slightly softened.
2 (8oz) packages cream cheese (total weight 452g) I use full fat cream cheese. Using reduced fat or the spreadable cream cheese will cause the frosting to be too soft. Do not soften the cream cheese.
1 teaspoon (4 g) clear vanilla extract (we used clear to keep color lighter)
1 teaspoon (4g) orange extract
½ teaspoon salt (2g) optional - it will cut the sweetness, popcorn salt is best to use because it is fine and dissolves faster
6 to 6 ½ cups (690g to 747g) powdered sugar
Orange Coloring Gel (optional) We used a very small amount for tinting.
Instructions
For the Cake:
Preheat the oven to 350 degrees (This Recipe uses the Reverse Creaming Method of Mixing.)
Grease and flour two 8 x 2 inch round pans.
In the bowl of your mixer add the dry ingredients, flour, sugar, salt and baking powder. Mix with your mixer for 30 seconds or whisk to blend ingredients.
In a separate bowl, add the eggs, orange juice concentrate, milk, orange extract and zest.
With the mixer on low speed, add the slices of butter a few pieces at a time to the dry ingredients. Increase the mixer to medium speed and beat until the dry ingredients look crumbly and moistened. Scrape sides and bottom of bowl.
SLOWLY add ½ of the egg mixture, increasing to medium speed for 1 ½ minutes, the batter will become thick and fluffy. Scrape the bottom and sides of the bowl. Add a small amount of Orange Coloring Gel to the bowl if you would like the batter to be orange. Add the remaining egg mixture in 2 pourings, beating for 20 seconds after each addition.
Bake at 350 degrees for 25 to 30 minutes or until a toothpick inserted into the center comes out clean or with just a few crumbs attached.
Let the cakes cool in the pan 10 minutes, then turn out.
Works well for cupcakes.
Makes 6 cups batter.
For the Orange Cream Filling:
Combine the pudding mix and heavy cream and orange extract in a mixing bowl. I prefer to mix with a hand held mixer, but a whisk is just fine too. If using a mixer, start on low speed until well combined. Then, switch to high speed and whip the pudding until thick and fluffy. If mousse is too thick, mix in small amounts of heavy cream to reach desired consistency.
If mixing by hand, simply whisk rapidly for a couple of minutes or until mixture is nice and thick.
Refrigerate until ready to use. Cakes with this filling should be chilled until close to serving time.
For the Orange Cream Cheese Frosting:
Cut the butter into slices and add to the bowl of your mixer. Beat on low to medium speed until the butter is softened and smooth.
Cut the cold cream cheese into pieces and add to the butter, beating at low to medium speed until incorporated.
Add the vanilla and orange flavorings. Gradually add the powdered sugar beating on low speed until blended. Cover the bowl with a towel to keep down the cloud of powdered sugar.
Increase mixing speed and beat until fluffy. Don't over beat.
This frosting will pipe best if used while still chilled. You can make it in advance, refrigerate and when ready to use let it soften slightly (do not microwave) and remix.
Will frost a 3 layer 8 or 9 inch cake. When decorating our Dreamsicle Cake, we frosted our cake and then went back in with swirls of lightly tinted orange frosting for a pretty effect.