Margarita Cake with Tequila Lime Buttercream
With Cinco de Mayo just around the corner, we have revisited an old favorite- a delicious homemade Margarita Cake!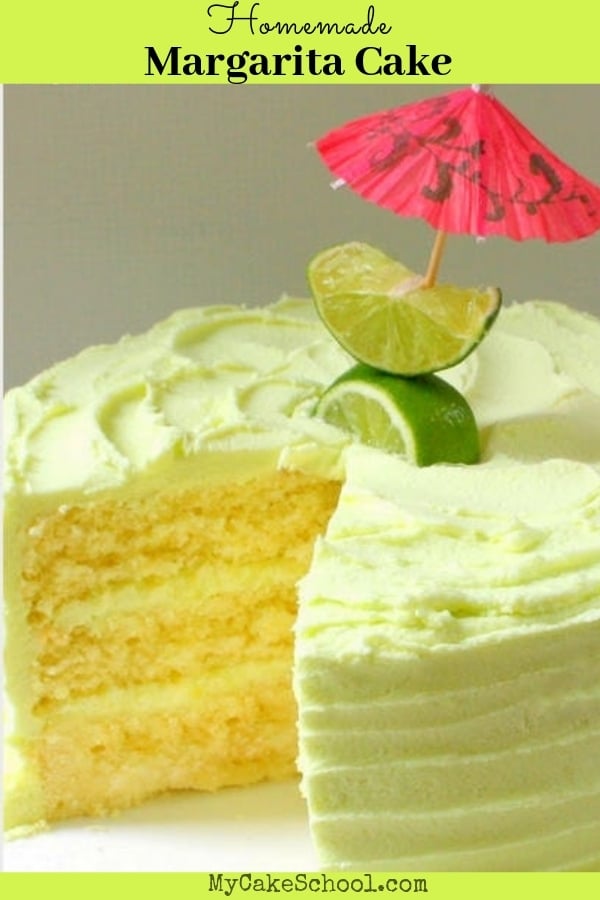 Cocktail-inspired cakes are so unique and festive for parties, and this amazing margarita cake is no exception!
This margarita layer cake has fabulous lemon-lime flavor, plus an added kick from our tequila-lime buttercream! The result is BIG flavor, and a dessert that is PERFECT for spring and summer fiestas ;0)
How to Make a Margarita Cake from Scratch
In a medium sized bowl, combine the flower, baking powder and salt, whisking for 30 seconds.
In a separate bowl, thawed margarita mix, oil, and vanilla and set aside. The Frozen margarita mix is the key ingredient for this cake's wonderful tanginess.
Time for mixing! Cream the softened butter and slowly add the sugar beating at medium speed for 4-5 minutes until it's lightened and fluffy!
Next, add the dry ingredients alternately with the margarita mix mixture, beginning and ending with the dry ingredients.
Divide the batter between three 8 inch pans and bake for about 20-25 minutes or until a toothpick comes out clean or with just a few crumbs attached.
Can Margarita Cake be Frozen?
Yes it can! Not only does freezing margarita cake layers allow you to work well in advance, but we find that freezing the layers makes them even more moist!
Whether we are working with a cake mix recipe or a cake from scratch, we like to wrap and freeze our freshly baked layers individually, while they are still warm. When you do this, something magical will happen to your cake layers!
When I remove cakes from the oven, I allow them to cool for about 10 minutes on cooling racks before flipping them out, wrapping in plastic wrap, and then in foil. (If you are only wrapping for a few days or less, you can get buy with double wrapping in plastic wrap only).
Then, into the freezer they go until it's almost time to decorate. Allow a few hours for thawing before decorating. Simply remove from the freezer and allow the wrapped cakes to begin to thaw on the kitchen counter. Condensation will form on the foil (rather than the cake).
You can also move wrapped, frozen cake layers to the refrigerator the night before decorating to give it a head start. Then remove from the refrigerator the next more, unwrap, and thaw.
Decorate your cake layers when thawed (or partially thawed if you'd prefer to work with less fragile cake layers).
Cake layers that have been carefully wrapped will last up to three months in the freezer and will taste as fresh as the day they were made (and they'll be more moist too)!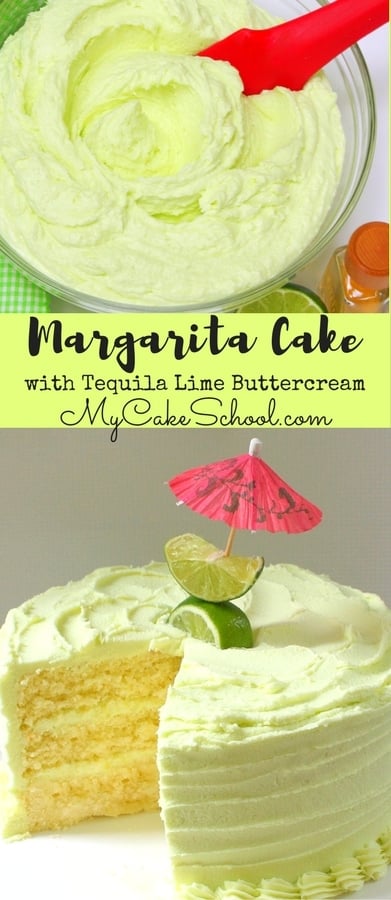 Delicious Tequila Lime Buttercream
This recipe is just like any other American Buttercream Frosting, only rather than milk only, the liquid also includes lime juice and tequila! This is a crusting, easily pipeable recipe and it comes together in minutes.
We tinted our Tequila Lime frosting with a little Americolor Electric Green for a nice lime green shade. You can leave it white if you prefer!
We used just three tablespoons of tequila for a generous batch of buttercream frosting and still found it to be very noticeable, however, you have some wiggle room! If you'd like to add a bit more, alter it to your liking!
As you can see in the photo, I just bought a tiny bottle of tequila for a couple of dollars since I didn't need much. I felt like I had to explain myself to the cashier when I walked into the ABC store for my bottle of tequila at 9AM! It was totally worth it though, the buttercream is fabulous!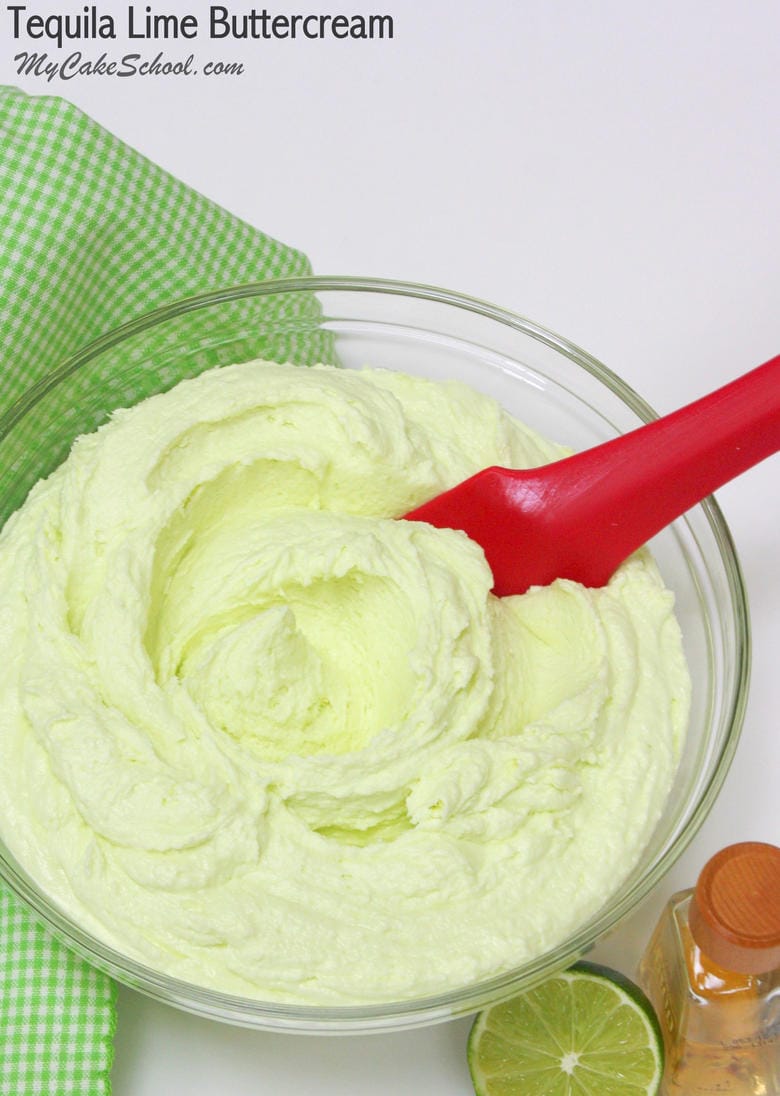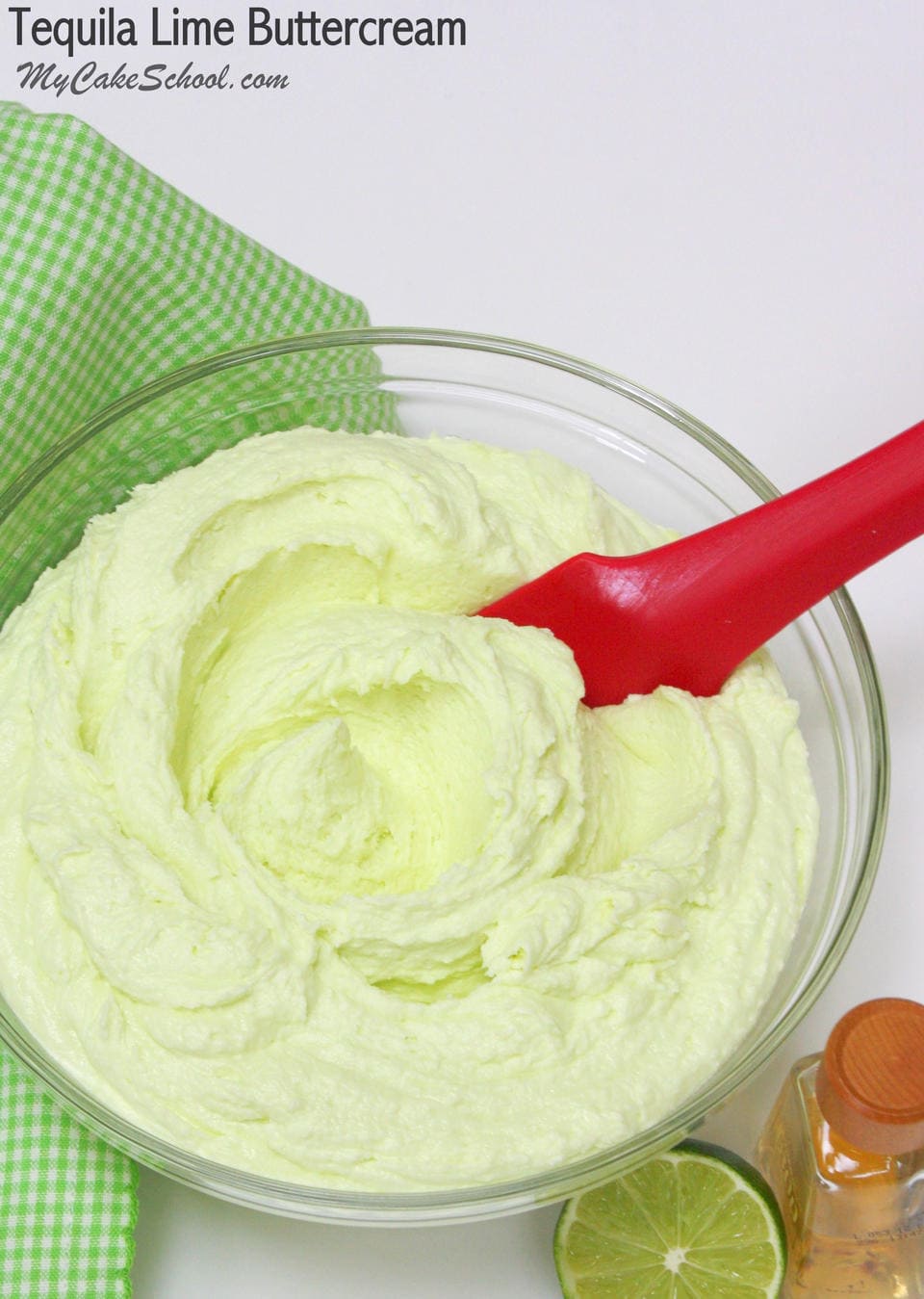 Whether you are celebrating Cinco de Mayo, or are just looking for a creative and festive party cake, this Margarita Cake is a new favorite of mine for summertime! Just the name alone makes me want to dive right in! Your friends and family are sure to love it. Enjoy!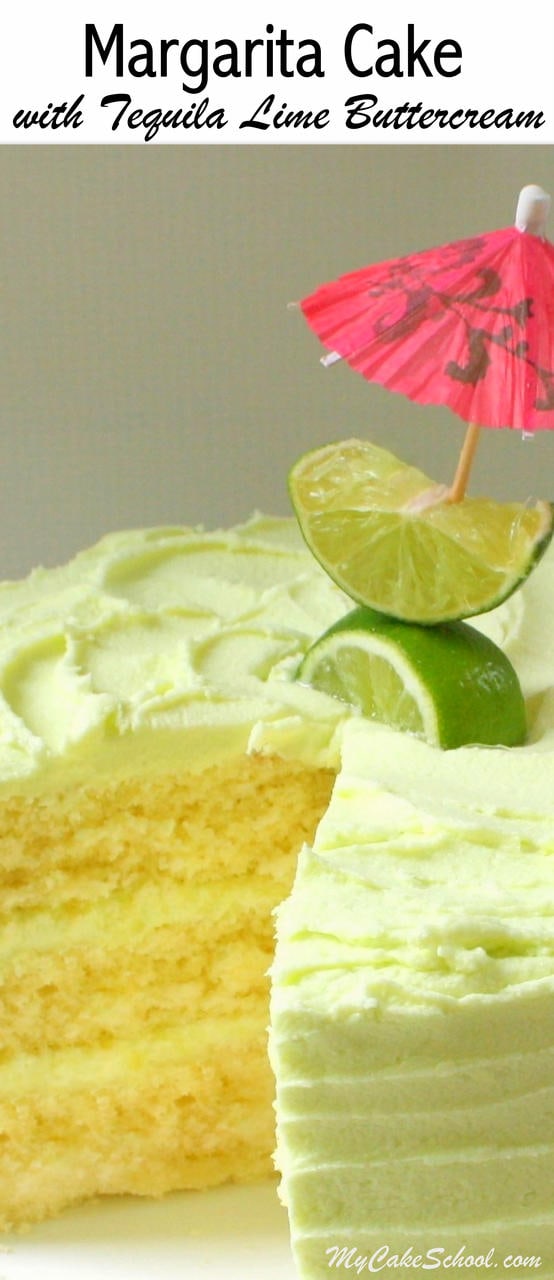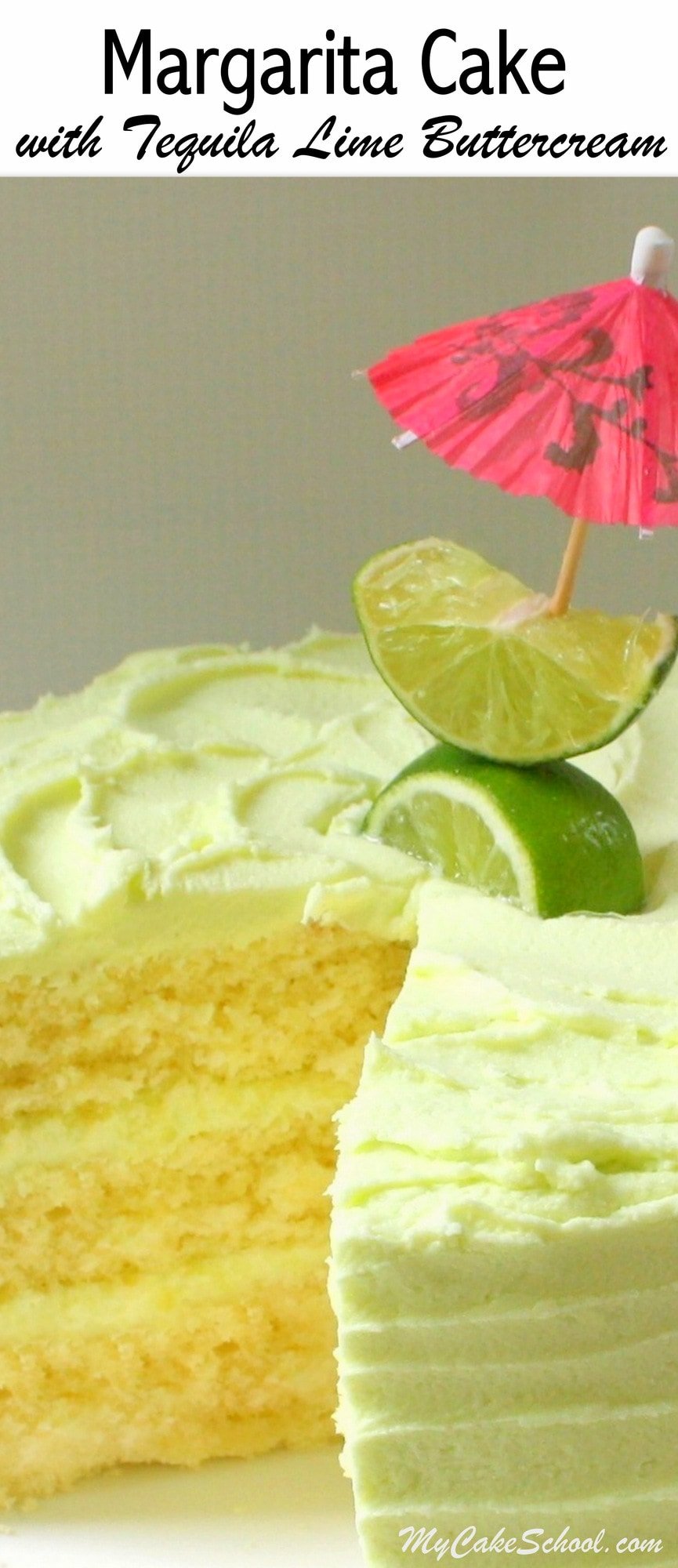 More Boozy Cake Recipes!
In addition to our Margarita Cupcakes and Margarita Box Cake Mix Recipe, we have more fun cocktail-inspired cakes to share with you! We're listing a few of our favorites below, but make sure to check out our collection of Boozy Cakes!
Easy Rum Cake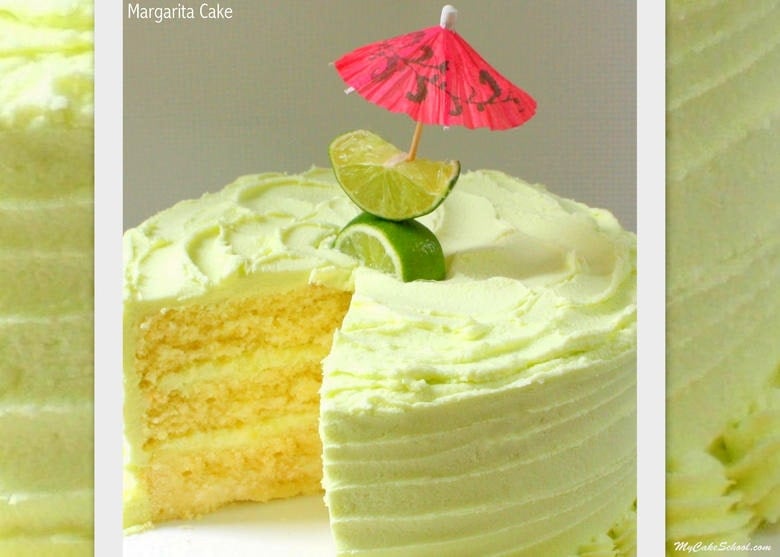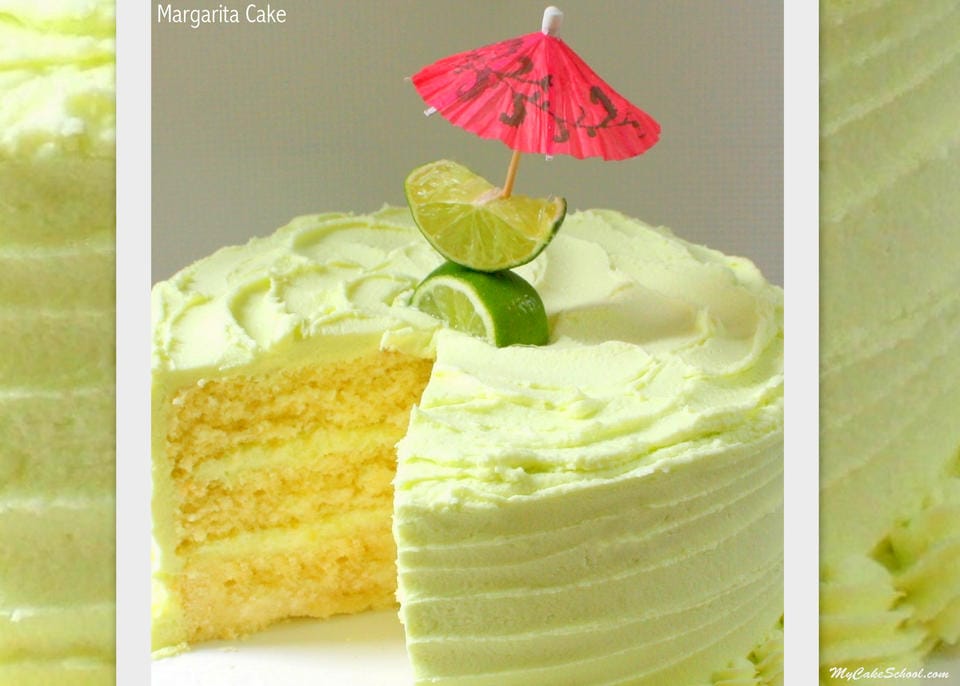 Enjoy the recipe! If you give this margarita cake a try, we would love for you to leave a comment and photo below!
Keep it in mind for your adult birthday parties, summertime parties, bachelorette parties, Cinco de Mayo celebrations, and more!
Margarita Cake with Tequila Lime Buttercream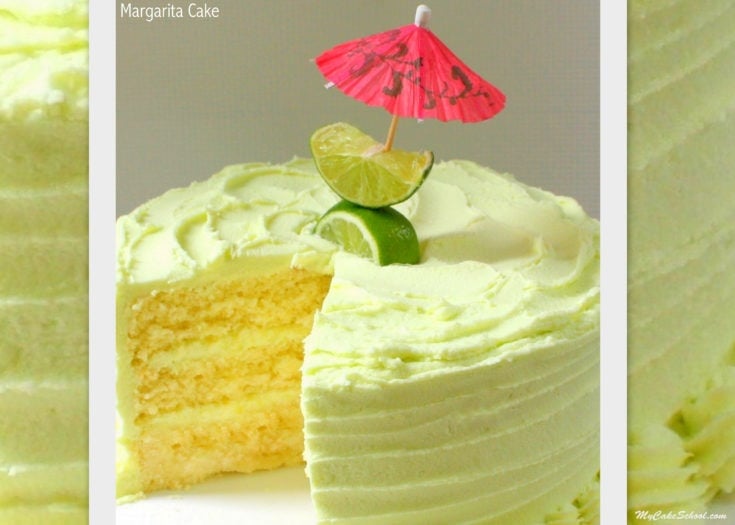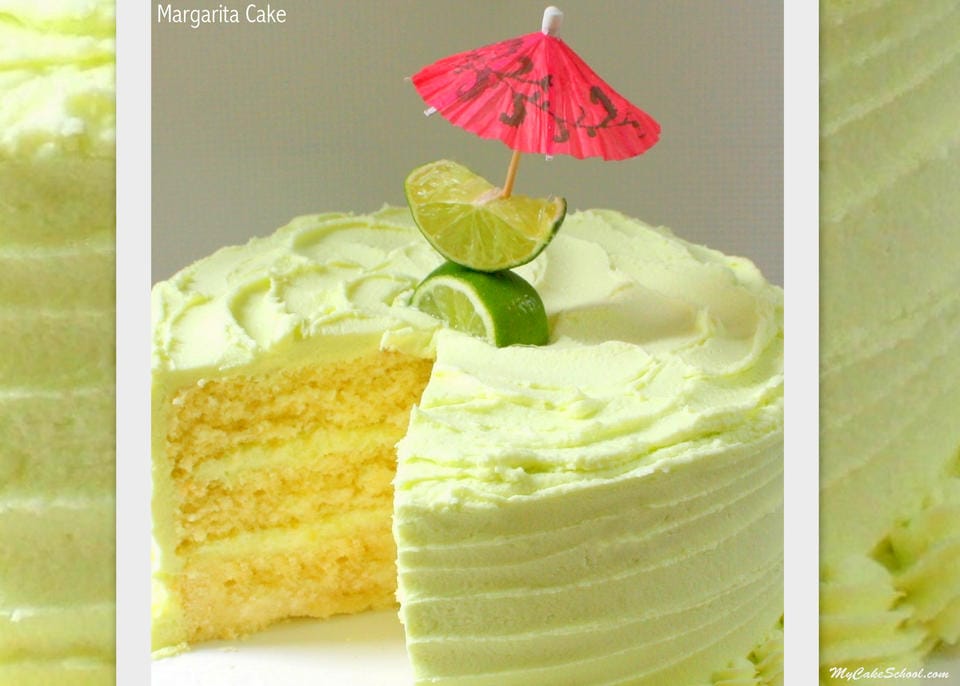 This Margarita Cake with Tequila Lime Buttercream is the perfect party cake! Moist, wonderful lemon-lime-flavor, and an added kick from the tequila buttercream!
Ingredients
For the Cake
1 stick (½ cup) (113g) unsalted butter, softened
1 ¾ (350g) sugar
4 eggs, room temperature ( eggs can be warmed by putting in a bowl of warm water)
3 cups (342g) cake flour - **if you do not have cake flour, see note below
1 Tablespoon plus ½ teaspoon (15g) baking powder
1 teaspoon (6g) salt
1 ¼ cup (326 g) frozen Margarita Mix, thawed (we used 10 oz can Bacardi brand non-alcoholic frozen concentrated mixer)
¼ cup (50g) vegetable oil
1 teaspoon (4g) vanilla
**Substitution for Cake Flour: For each cup of all purpose flour in a recipe, remove 2 Tablespoons of the all purpose flour and replace with 2 tablespoons cornstarch. For this recipe, you will measure out 3 cups all purpose flour, remove 6 Tablespoon flour and replace with 6 Tablespoons of cornstarch. Whisk to blend.
For the Tequila Lime Buttercream
2 cups (4 sticks) (453g) unsalted butter, softened
10 to 12 cups (1150g to 1380g) powdered sugar (measure by lightly spooning to a cup, then sift. I used 12 cups.)
1 teaspoon (6g) salt - popcorn salt melts into the buttercream more easily
4 Tablespoon (49g) lime juice (2 small limes)
3 Tablespoons (37g) tequila
2 teaspoons (11g) milk - milk is optional, you could also use lime juice or tequila
Instructions
For the Cake
Preheat the oven to 350 degrees. Grease and flour three 8 inch pans. Use parchment paper or wax paper in the bottom of each pan.
In a medium sized bowl add the flour, baking powder and salt. Whisk for 30 seconds to blend and set aside.
In a separate bowl, add the thawed Margarita Mix, oil and vanilla. Set aside.
In the bowl of your mixer, cream the softened butter. Slowly add the sugar and beat at medium speed for 4 to 5 minutes until lightened in color and fluffy. Add the eggs 1 at a time, blending after each until the yellow is blended into the mixture.
Add the dry ingredients alternately with the margarita mix mixture, beginning and ending with dry ingredients ( 3 additions of dry and 2 additions of wet ingredients).
Bake at 350 degrees for 20 to 25 minutes or until a toothpick inserted in the center comes out clean or with just a few crumbs attached. Let cool in pans 10 minutes then turn out.
Also works well for cupcakes. Makes 7 cups of batter.
For the Frosting...
For the frosting, mix the softened butter until smooth. Slowly add the powdered sugar, salt, tequila, lime juice and milk. Mix on medium speed for 3 minutes adding a bit more liquid if needed or more powdered sugar if too thin. Reduce speed of mixer to low and mix 3 more minutes or until the buttercream is creamy and smooth.