If you're a fan of chocolate covered cherries, you're going to LOVE this flavorful Chocolate Cherry Cake!
We've made several popular cherry layer cakes over the years, including our Cherry Cake from scratch, Black Forest Cake, and Cherry Box Mix Cake.
This recipe is a delicious addition to our collection. Plus, it makes for a wonderful Valentine's Day cake with its pink cherry cream cheese frosting!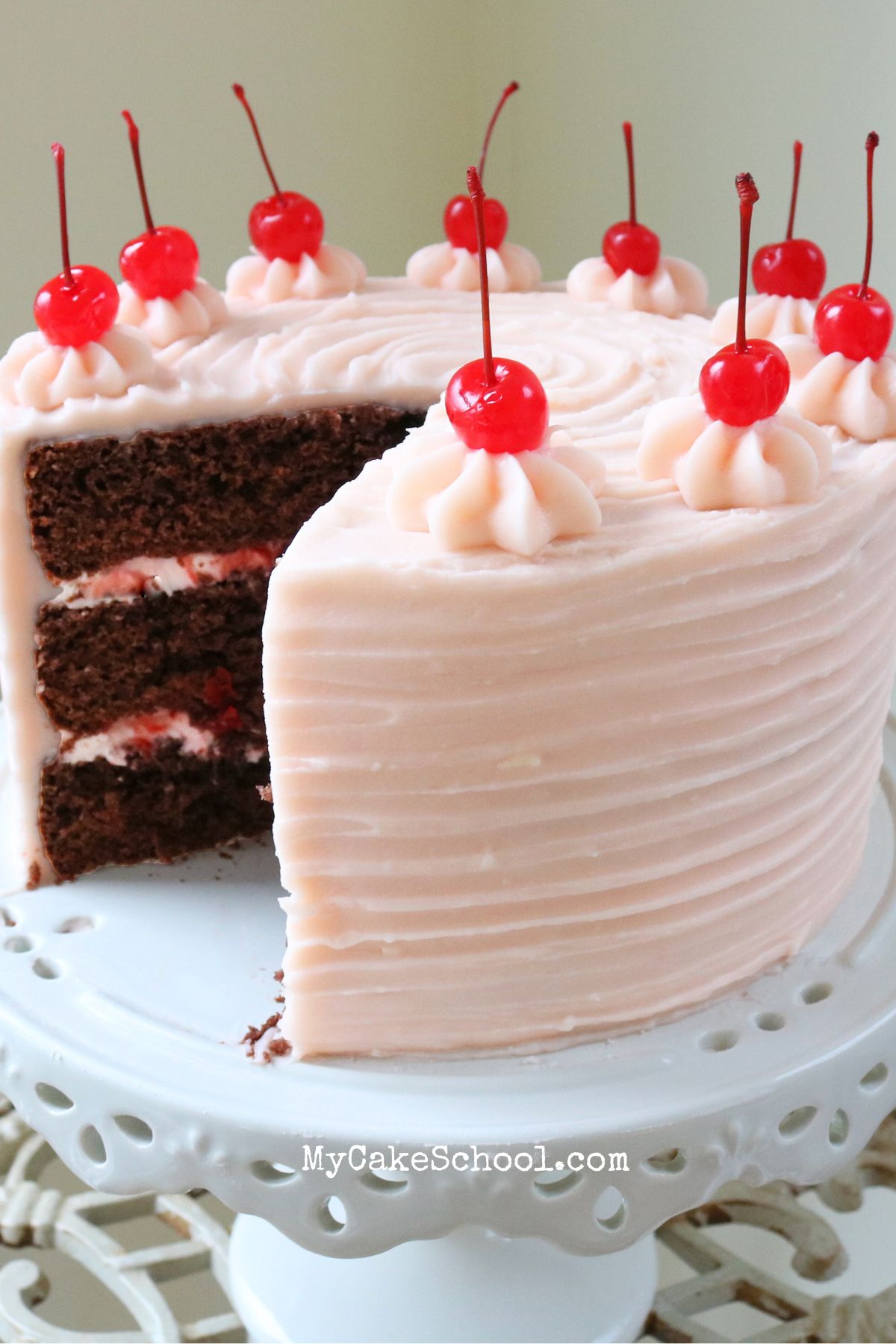 Why we Love it
Moist, tender crumb
Delicious balance of chocolate and cherry flavor- we especially love the cherry cream cheese frosting!
Guaranteed to make any special occasion feel more special.
How to Make a Chocolate Cherry Cake
For today's recipe, we're working with a doctored chocolate cake mix (Our Chocolate Sour Cream Cake) but you can adapt the recipe to any chocolate layer cake recipe that you like.
Our scratch chocolate cakes would be amazing for this recipe also (including our Classic Chocolate Cake, Scratch Devil's Food Cake, and Scratch Chocolate Sour Cream Cake).
Prepare your chocolate cake batter of choice, adding a bit of cherry extract to the batter. (**We first tried adding maraschino cherry juice to our cake mix in place of the liquid and it really effected the texture, making it more coarse with a larger crumb and tunneling- very strange, so we used extract instead!)
**Optional: You can also fold in drained, sliced maraschino cherries for even more cherry flavor.
Bake your three 8 inch cake layers.
Freezing the Cake Layers:
As always, we individually wrapped the freshly baked layers while still warm with plastic wrap and foil and placed in the freezer for several hours. This is an optional step, but we do this with all of our cakes as we find that it makes them even more moist.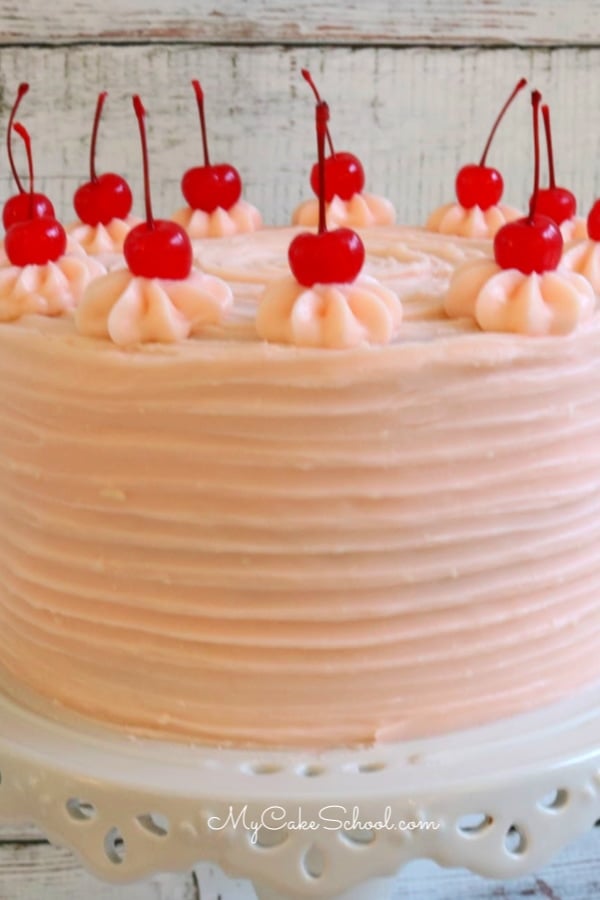 Assembling the Cake:
For our filling and frosting, we prepared Cherry Cream Cheese Frosting and set to the side. (LOVE this recipe!)
After thawing/partially thawing the cake layers (thaw at room temperature, removing foil after condensation forms), it was time to assemble.
Place the first layer of cake on the cake stand. Frost with cherry cream cheese frosting, sprinkle with sliced maraschino cherries.
Add the next layer and repeat.
Settling the Cake:
Settling the filled, unfrosted cake is an optional step but one that we always try to make time for. It greatly reduces the chances of settling-related bulges in the final coat of frosting.
Simply wrap your filled tier in plastic wrap and place a weight of some sort on top (a book, cake pan, anything that would add a light, steady (not crushing) pressure. Leave it for at least a few hours. (Since this is a perishable filling, you'll need to refrigerate it.)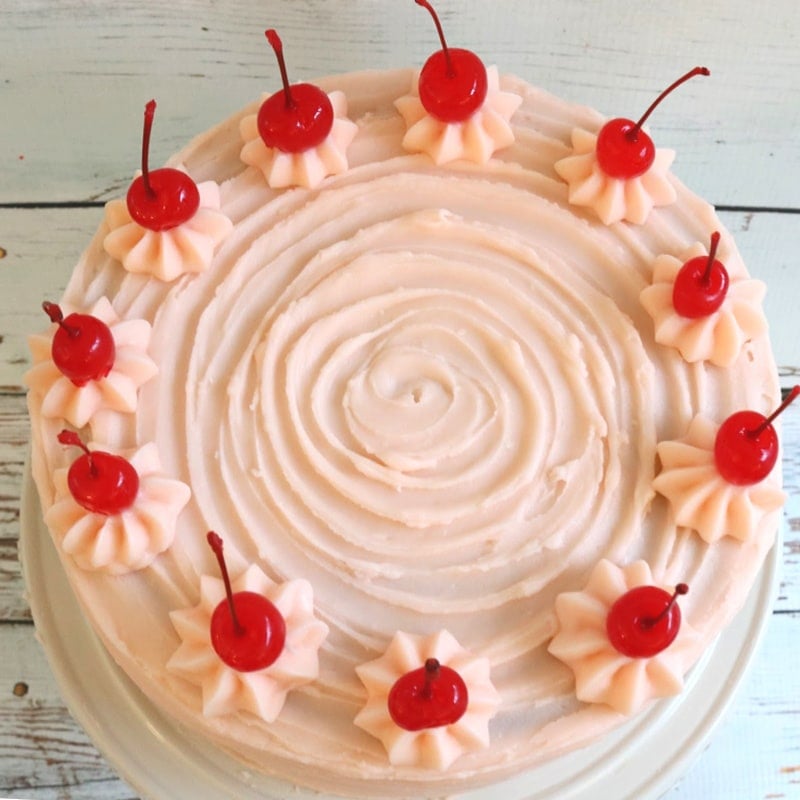 Frosting the Chocolate Cherry Cake:
When you're ready to frost the cake, fill in any gaps between the cake layers with frosting (I pipe into any gaps with a piping bag). Then, frost as usual. I like to crumb coat with a thin layer of frosting first. Then, I chilled the cake in the freezer for about 10 minutes to firm things up before adding the final coat of frosting.
Texturing the Cake:
I decided to add a little texture to the chocolate cherry cake with a small tapered spatula. Starting at the base of the frosted cake, touched the spatula to the surface of the frosting while rotating the cake on my turntable. I raised the spatula slightly with each rotation until the tier was finished.
To finish things off, I added stars around the top edge of the cake with a Wilton 6B piping tip and pressed maraschino cherries into each one.
We have more Cherry Cakes
We have many more cherry cakes to share with you. A few of our favorites are Cherry Chocolate Chip Cake, White Chocolate Cherry Cake, Cherry Almond Cake, and Cherry Spice Cake! Keep these recipes in mind for birthday cakes, holiday cakes, and more.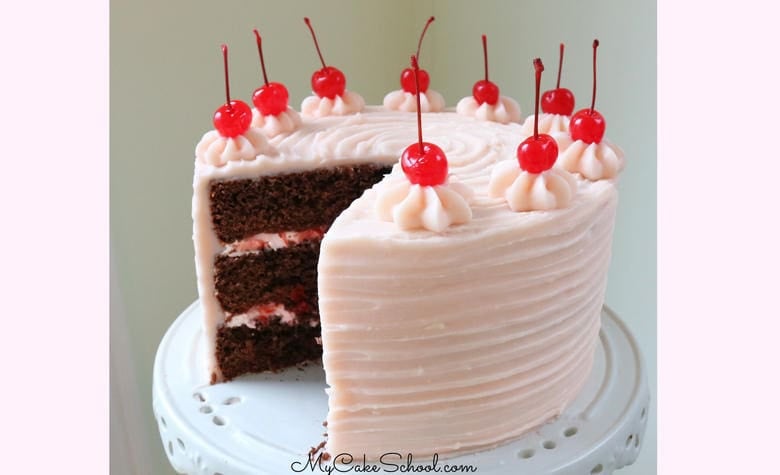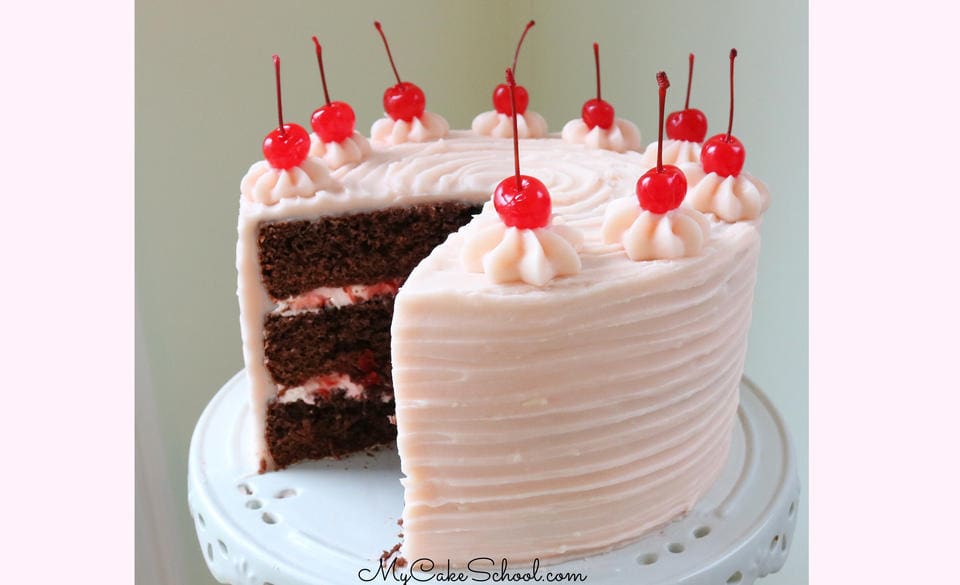 Thanks so much for stopping by! Make sure to check out our Cake Recipes section which includes hundreds of delicious cake recipes from scratch as well as cake mix recipes!
If you are interested in learning more about how to decorate your cakes, we have hundreds of simple, creative (free) cake decorating tutorials to share with you!
Have you made this Cake? We would LOVE for you to leave a ⭐️ rating as well as a comment and photo below! We really appreciate your feedback!
Yield: 15 Servings
Chocolate Cherry Cake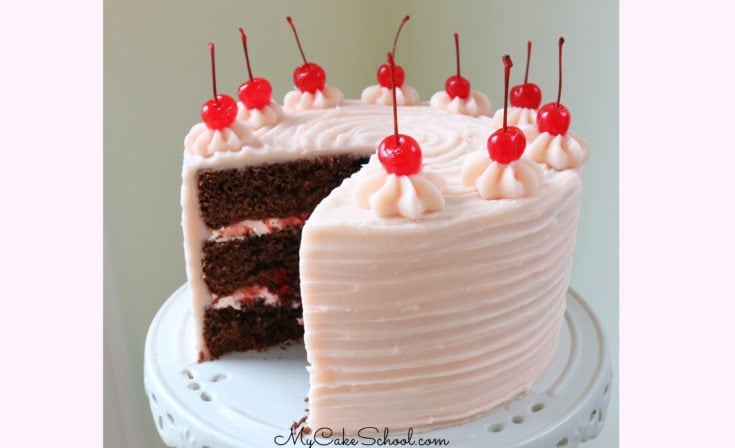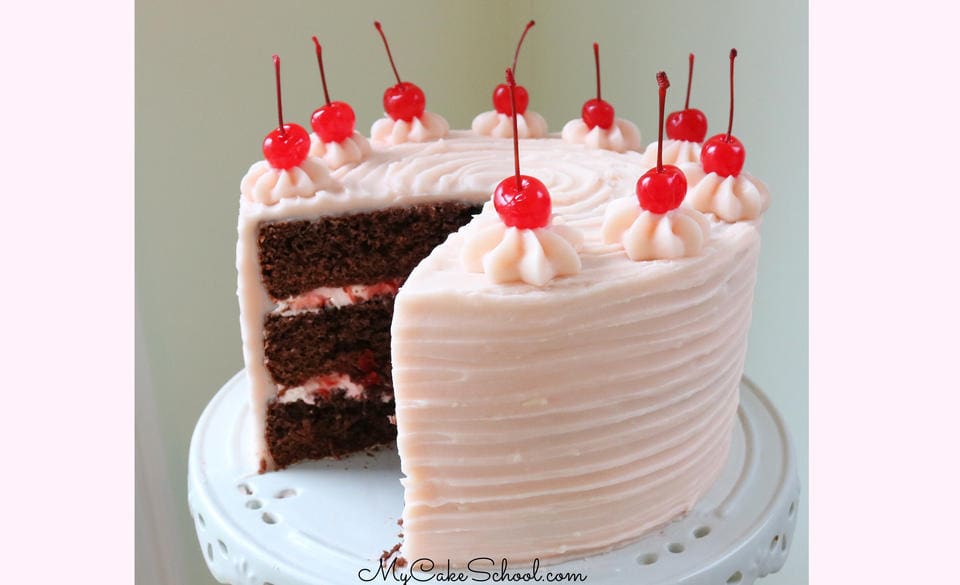 This flavorful Chocolate Cherry Cake is sure to be a crowd pleaser! Moist, cherry flavored chocolate cake layers are filled and frosted with cherry cream cheese frosting!
Additional Time
45 minutes
Total Time
1 hour
25 minutes
Ingredients
For the Chocolate Cherry Cake (You can substitute any chocolate cake you like)
1 Devil's Food Cake Mix ( I sift the cake mix, but it is optional)
1 cup all purpose flour
1 cup granulated sugar
¼ teaspoon salt
1 cup sour cream
1 cup water (We usually replace the water with 1 cup of hot brewed or instant coffee, it enhances the chocolate flavor.)
3 whole eggs
1 teaspoon vanilla
1 teaspoon cherry extract
1 Tablespoon cocoa powder
*Optional: 1 (10 oz) Jar Maraschino Cherries, drained and sliced for folding into batter
For the Cherry Cream Cheese Frosting
2 sticks (1 cup) (226g) unsalted butter (slightly softened)
2( 8oz.) packages cream cheese (total weight 452g) slightly softened --
use fat cream cheese. Using reduced fat or the spreadable cream
cheese will cause the frosting to be too soft. Do not soften the cream
cheese in the microwave
1 teaspoon (4g) vanilla extract
1 teaspoon (4g) cherry extract
6 to 6 ½ cups (690g to 747g) powdered sugar
Wilton Rose Gel Color, optional - I used a very small amount, putting the color on a toothpick to add to the frosting.
For the Filling and Topping
1 (10 oz) Jar Maraschino Cherries- Reserve some for accents on top and slice the rest for the filling. *
Instructions
For the Chocolate Cherry Cake
Combine dry ingredients and stir. In mixing bowl, combine sour cream, water, eggs, & flavorings. Add about ½ of the dry ingredients and blend together, then add the rest of the dry ingredients & mix on medium speed for 2 minutes.
Optional: For additional cherry flavor, fold in desired amount of drained, sliced maraschino cherries.
Pour batter into prepared pans and bake as at 325 degrees check at 22 minutes. It is done when a toothpick in the center of the cakes comes out clean or with just a few crumbs attached and the middle of cake springs back when touched.
For the Cherry Cream Cheese Frosting
Cut the butter into slices and add to the bowl of your mixer. Beat on low to medium speed until the butter is softened and smooth.
Cut the softened cream cheese into pieces and add to the butter, beating at low to medium speed until incorporated.
Add the vanilla and cherry extract. Gradually add the powdered sugar beating on low speed until blended (cover bowl with a towel to keep a cloud of powdered sugar from floating over your kitchen).
Add the gel color at this point, increase mixing speed to low to medium and beat until fluffy, don't over beat. You may need to chill the frosting until it is the spreading consistency you like.
If piping with the frosting, you will need to chill a short while. You can make it in advance, refrigerate and when ready to use, let it soften slightly then remix. Do Not Soften in the Microwave.
Assembly of the Cake
Place the first layer of cake on the pedestal or cake base.
Apply Cherry Cream Cheese Frosting as the filling, and sprinkle with desired amount of sliced (drained) maraschino cherries.
Add the next layer and repeat.
(If you are settling the cake as discussed in our post, you can do this step now. It's optional but prevents bulging. We wrap our unfrosted, filled tier with plastic wrap and add a "weight" to the top (book, cake pan, etc.) and let it settle for at leasts a few hours before frosting the cake. Since the filling is perishable, settle the cake in the refrigerator).
Fill in any gaps between the cake layers by piping into them with a piping bag. Crumb coat the cake with a thin layer of frosting. Chill for 15 minutes in the freezer (or longer in the refrigerator) to firm up. Then apply second coat of frosting and decorate as you like. Enjoy!
Notes
If you do not have cherry extract, you can add more cherry flavor by lightly brushing maraschino cherry juice onto the cake layers while assembling. (We experimented with using maraschino cherry juice in place of the liquid in our Chocolate Sour Cream Cake-doctored mix Recipe and it made the texture coarse. So, I would just recommend brushing it onto the layers instead.