You just can't beat a good old fashioned slice of homemade Lemon Pound Cake, with it's fine crumb and velvety melt-in-your-mouth texture.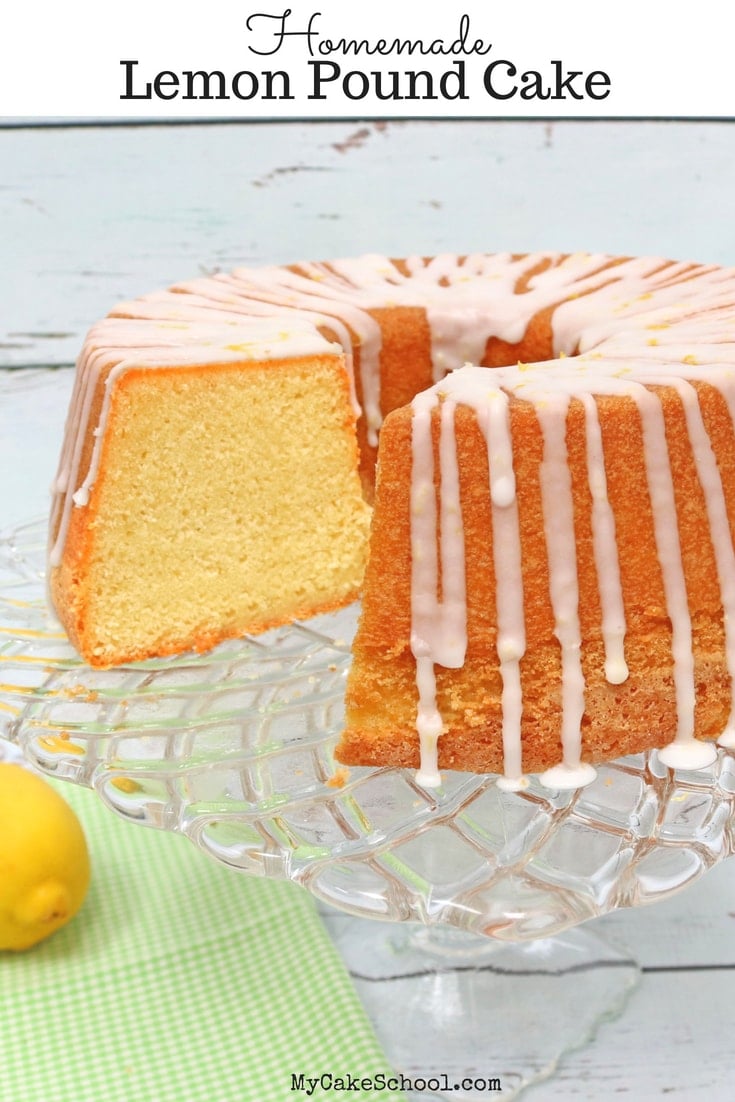 Pound Cake: A Southern Staple
It's no wonder that pound cakes are a southern staple, and the lemon pound cake that I am sharing today has a flavor that it just out of this world. This cake is easy to whip up, and is perfect for gatherings year-round...but I always associate it with summertime!
Whether you need a little something sweet to go with your coffee or tea, or you are looking for a fabulous, no-fuss dessert to top with berries and cream, this Lemon Pound Cake recipe is perfection.
I often talk about how much I LOVE lemon desserts, and this Lemon Pound Cake does not disappoint. In fact, all of our posts featuring lemon cakes, fillings, and frostings are some of our most popular no matter what the season. Another favorite of ours is our Scratch Lemon Layer Cake (with Lemon Curd and Lemon Cream Cheese Frosting)!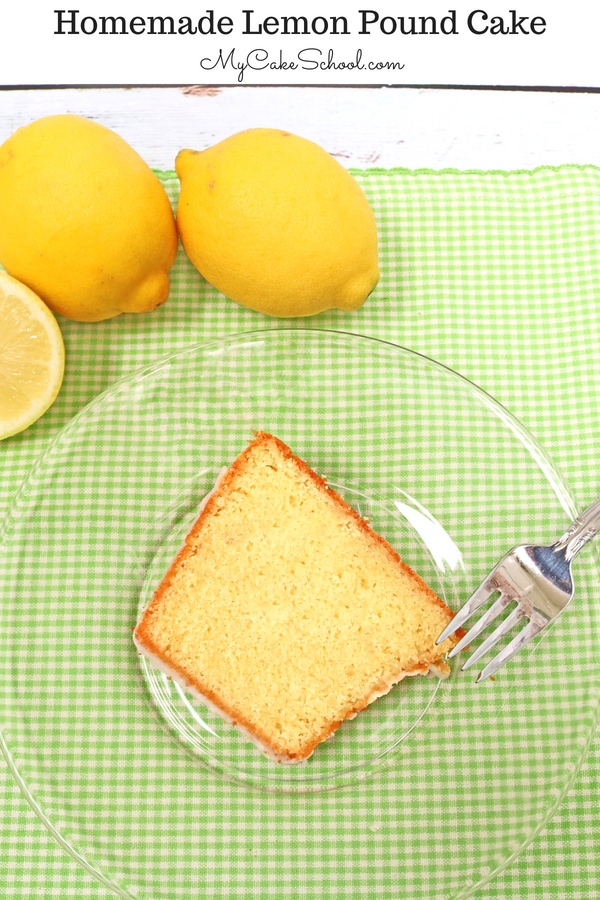 As much as I love our lemon layer cake, this Lemon Pound Cake is flavored with the same lemony goodness AND has the added bonus of being quicker and easier to make. You'll notice a slight tang from the buttermilk in the recipe and also an unmistakable lemon flavor from the extract we've added.
Easy Lemon Glaze
The sweetness of the cake is perfectly balanced with the tartness of the simple lemon glaze (a simple combination of powdered sugar, lemon juice and zest).
*I repeat, this easy lemon glaze is tart- haha! In fact, at first we wondered if it was too tart. But that's only because we tried it by the spoonful instead of on the cake. I don't advise eating sugar glaze by the spoonful, as tempting as it may be!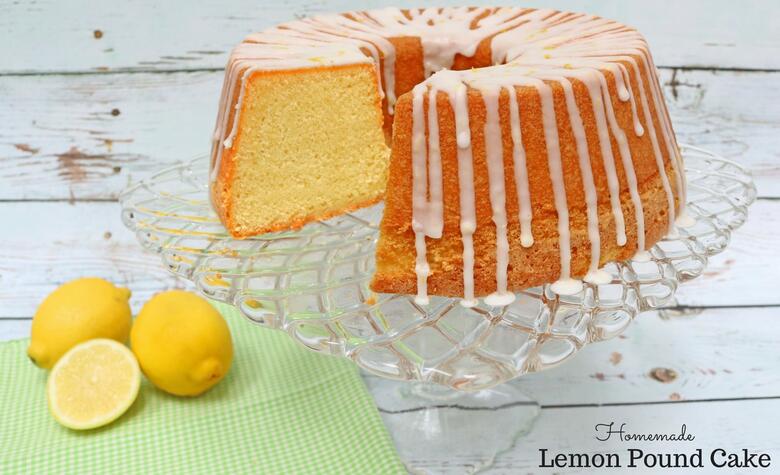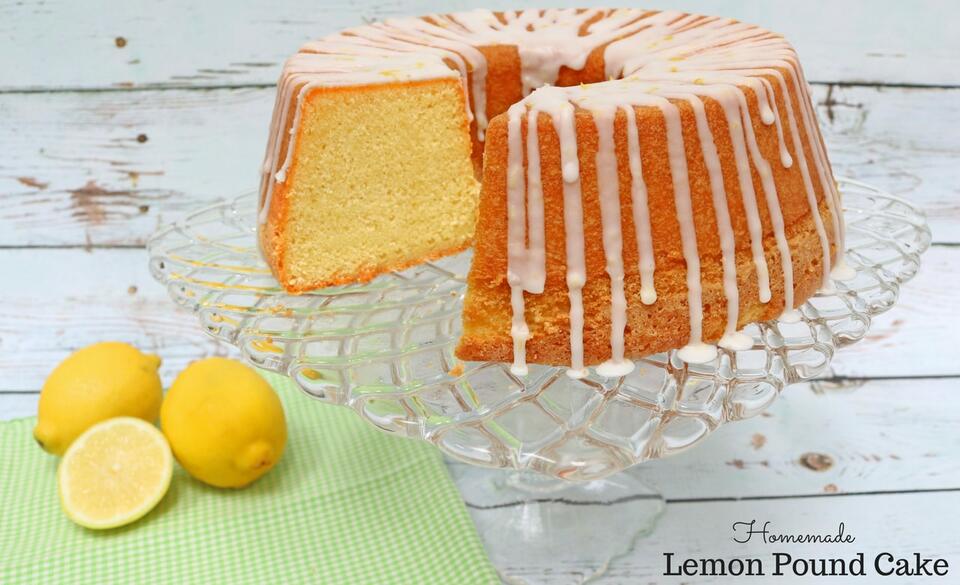 In the end, just that little bit of glaze drizzled over the top and sides makes a world of difference in the amount of lemon that comes through in each bite! You don't want to skimp on the glaze. In addition to the boost of lemon flavor, it looks so dramatic beautiful on the cake! It's a win-win ;0)
Can this Lemon Pound Cake be Frozen?
Yes, not only does this lemony cake taste amazing, it freezes beautifully too! Whether you are baking the pound cake in advance or want to keep a few slices in the freezer in case of a sudden pound cake craving, you are in luck! Why shouldn't we enjoy pound cake every single day? ;0) -
To freeze your lemon pound cake (or any cake), wrap it tightly with plastic wrap, then foil and pop into the freezer. I like to place it on a cardboard cake circle when possible.
If I am baking a cake in advance, I prefer to freeze the cake (or cake layers individually) while still warm! This is optional but it traps even moisture into the cake due to the dramatic change in temperature.
You can also wrap and freeze slices of pound cake individually to enjoy whenever the mood strikes. I find that there's no wrong time to enjoy a big slice of lemon pound cake ;0)
As long as they are wrapped nice and tight, cakes can be frozen for up to 3 months and will taste as fresh as the day they were made. (Label your foil wrapped cakes with the date that you placed them in the freezer).
How to Thaw a Frozen Cake
When it's time to thaw your frozen cake, remove it from the freezer, still wrapped in plastic wrap and foil, and place on your kitchen counter. Condensation will form on the foil as it begins to thaw. Once a good amount of condensation has formed, you can go ahead and unwrap the cake and let it continue to thaw at room temperature.
what are the benefits of using buttermilk in cakes?
This lemon pound cake as with many of our cakes, contains buttermilk. You may think that it is for the slight tang that it adds to the cake, and that is a definite bonus...but it is the acidity of the buttermilk that lends a wonderful tenderness to cakes.
The acid from the buttermilk breaks down strands of gluten, making it softer and more moist. If a cake contains buttermilk or even sour cream, chances are good that your cake is going to be delightfully tender!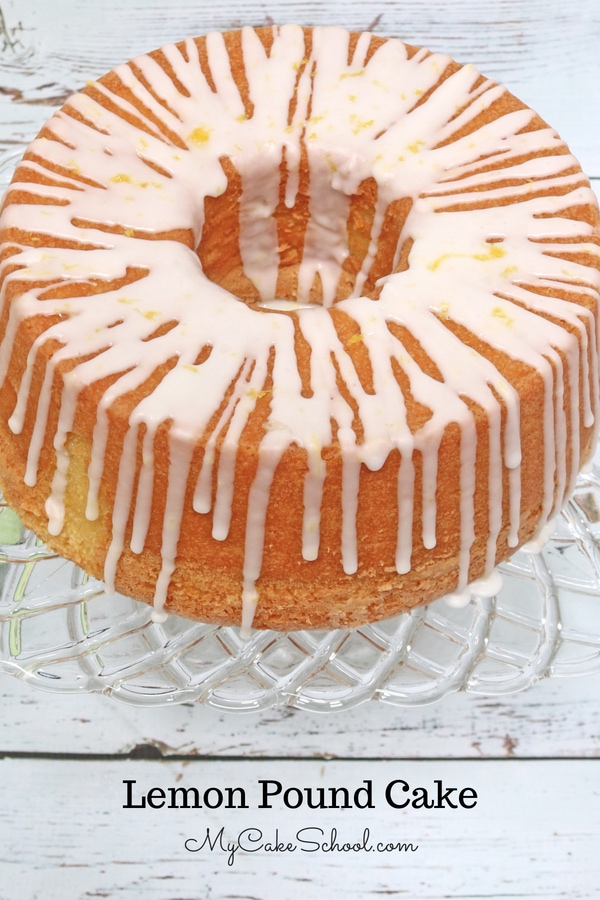 Favorite Lemon Cakes, Frostings, and Fillings
In addition to today's Lemon Pound Cake recipe, we've made many more favorite lemon cakes, fillings, and frostings over the years! Don't miss these other favorites!
More Pound Cake Recipes!
If you love pound cakes like we do, you'll want as many go-to pound cake recipes as possible! If you're craving classic pound cake, double chocolate, strawberry, and more- we've got you covered!
Thanks for stopping by! We think that you are going to fall in love with this lemon pound cake! For more lemony goodness, keep scrolling down- we kind of love all things lemon around here (not to mention all things pound cake). This cake is the best of both worlds!
Lemon Pound Cake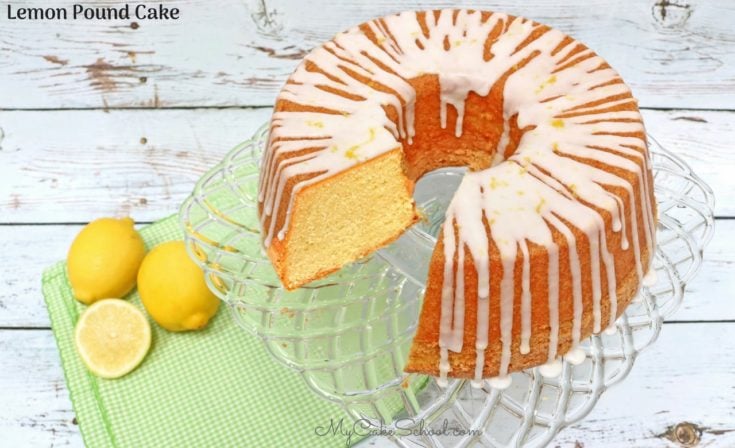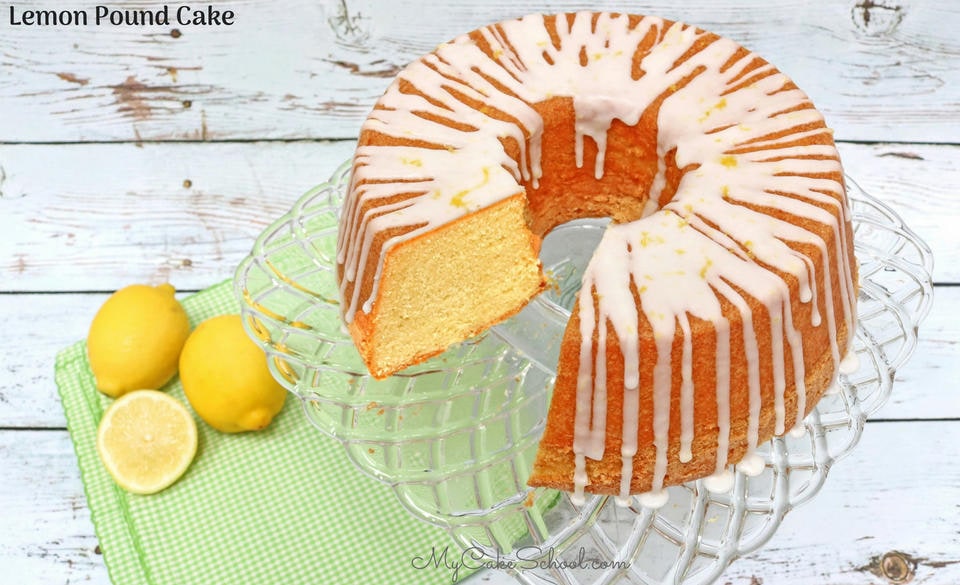 This Lemon Pound Cake recipe is so moist and bursting with lemon flavor!
Ingredients
For the Cake
3 sticks (339 g) unsalted butter, softened
3 cups (600 g) sugar
5 large eggs
3 cups (375 g) all purpose flour, (not self-rising)
½ teaspoon (2 g) baking soda
1 cup (235 g) buttermilk
2 teaspoons (8 g) lemon extract
Lemon Glaze
1 cup powdered sugar (sifted)
2 Tablespoons fresh lemon juice
zest of one lemon
Instructions
INSTRUCTIONS FOR THE CAKE
Grease and flour a tube pan.
Lower the oven rack to the lower third of your oven. Preheat oven to 325 degrees.
In a separate bowl whisk the flour and baking soda to combine, set aside for later.
Cream the butter with the paddle attachment in your mixer, gradually add the sugar and beat until light and fluffy 2 to 3 minutes.
Add the eggs one at a time blending after each to incorporate.
Add the lemon extract to the l cup of buttermilk. Add the flour mixture alternately with the milk to the butter, sugar, egg mixture. Begin and end with the dry ingredients. I add the dry 3 times and milk twice.
Bake at 325 degrees for 1 hour and 10 minutes or until a toothpick comes out clean. (Check it after 1 hour, to be on the safe side) If the top begins to brown too much, you can loosely lay a piece of aluminum foil on top of it.
This makes approximately 8 cups of batter.
INSTRUCTIONS FOR THE LEMON GLAZE
Combine sugar and lemon juice in a bowl and stir until smooth. Drizzle over the pound cake. (I spooned mine into a piping bag with the tip snipped away for more control.) Sprinkle lemon zest over the top.
Notes
1. You can make this cake in advance, wrap in plastic wrap & foil, and freeze with no problems.
My Cake School Online Cake Classes, Delicious Cake Recipes, and More!
Thank you for stopping by and don't miss our full collection of favorite tried and true cake and frosting recipes in our Recipes Section!
Also, if you would like to learn more about cake decorating, you can check out our free cake tutorials here: Free Cake Decorating Tutorials. Or, for full access to the hundreds of cake decorating video tutorials that we've made, you should consider becoming a member of My Cake School! You can find all of the details here: Joining Information- My Cake School
Thanks for stopping by! If you try this Lemon Pound Cake recipe, we would love for you to share your thoughts and photos in the comments below!