Champagne and Strawberries Cake Recipe
Everybody needs to make this amazing Champagne and Strawberries Cake at least once (and then you'll want to make it again and again).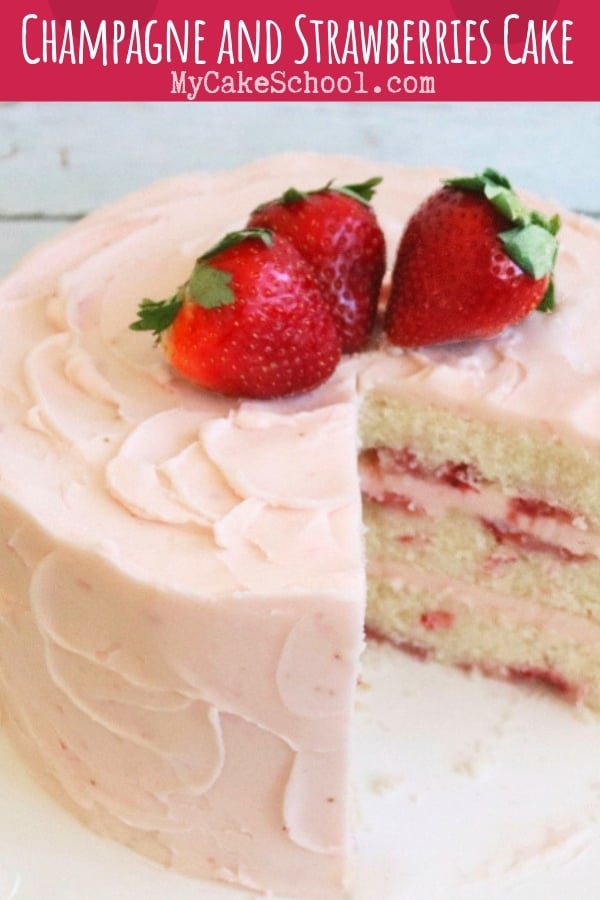 It is such a moist and flavorful cake, and the combination of champagne and strawberries is perfect!
The combination of strawberries and champagne is a classic favorite for special celebrations, anniversaries, Valentine's Day, and more. I have to say that in cake form, it is even better!
This isn't the first time that we've created a recipe with champagne cake layers.
We have a few Champagne Cakes in our Recipes section (a scratch pink champagne cake, Champagne Pound Cake, Strawberry Champagne Cake, and an easy Pink Champagne Cake with Mix).
Champagne and Strawberries Cake is perfect for Special Occasions
Valentine's Day was on our minds when we decided on this Champagne and Strawberries cake recipe, but it would also be perfect for so many other occasions including engagement parties, anniversaries, New Year's Eve, 21st birthdays, bachelorette parties, or any adult celebrations that call for something special.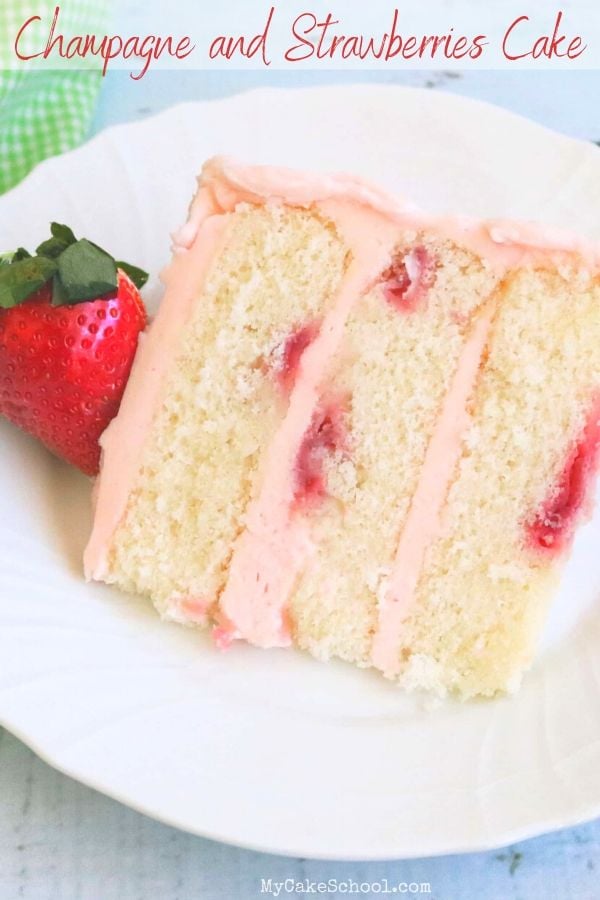 While this recipe is similar in some ways to our scratch Pink Champagne Cake recipe, this time we are using plain Champagne in the batter as well small bits of sliced strawberries and strawberry extract.
To bring in even more champagne flavor, we've also lightly infused the finished layers with a delicious champagne simple syrup.
How to Make a Champagne and Strawberries Cake
After baking the cake layers, I poked the top of the cake layers with a thin stir straw. This will help our champagne syrup soak into the cake.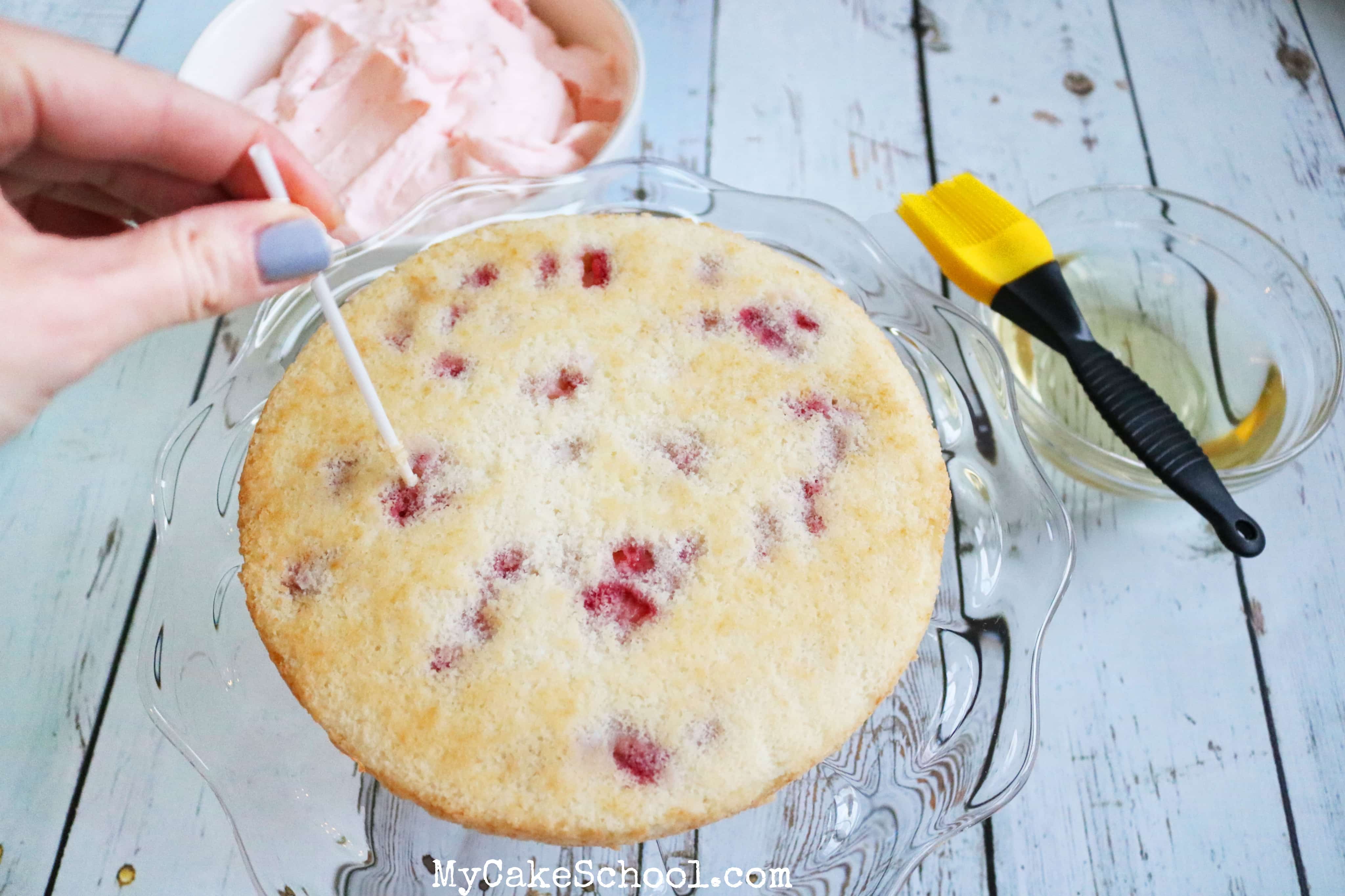 Next, I brushed my cake layers with a simple champagne syrup. Although we have champagne baked into the cake layers, this syrup gives us an additional layer of flavor.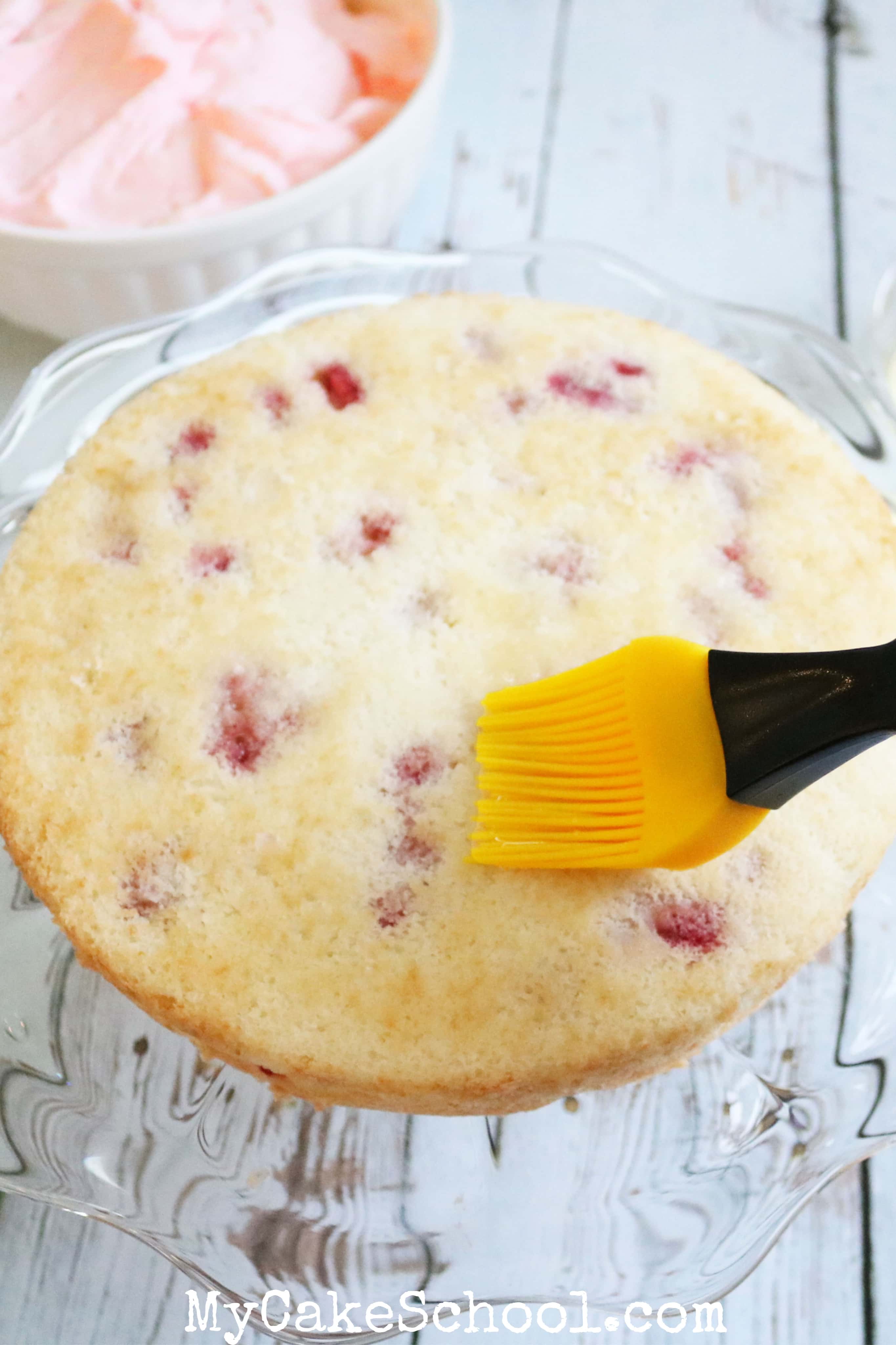 I filled the cake layers with a light and luscious whipped strawberry cream cheese filling. This recipe is going to be a new go-to for us when we need a light and flavorful strawberry filling!
If you love whipped cream fillings and you love cream cheese fillings, this recipe is for you. It has a light consistency that is a bit thicker than the usual whipped filling, giving us the best of both worlds- and the flavor is oh so good!
Since this is a soft strawberry filling, it's a good idea to first pipe a dam of buttercream about ¼ to ½ inch within the edges of the cake layers and then fill with the strawberry cream.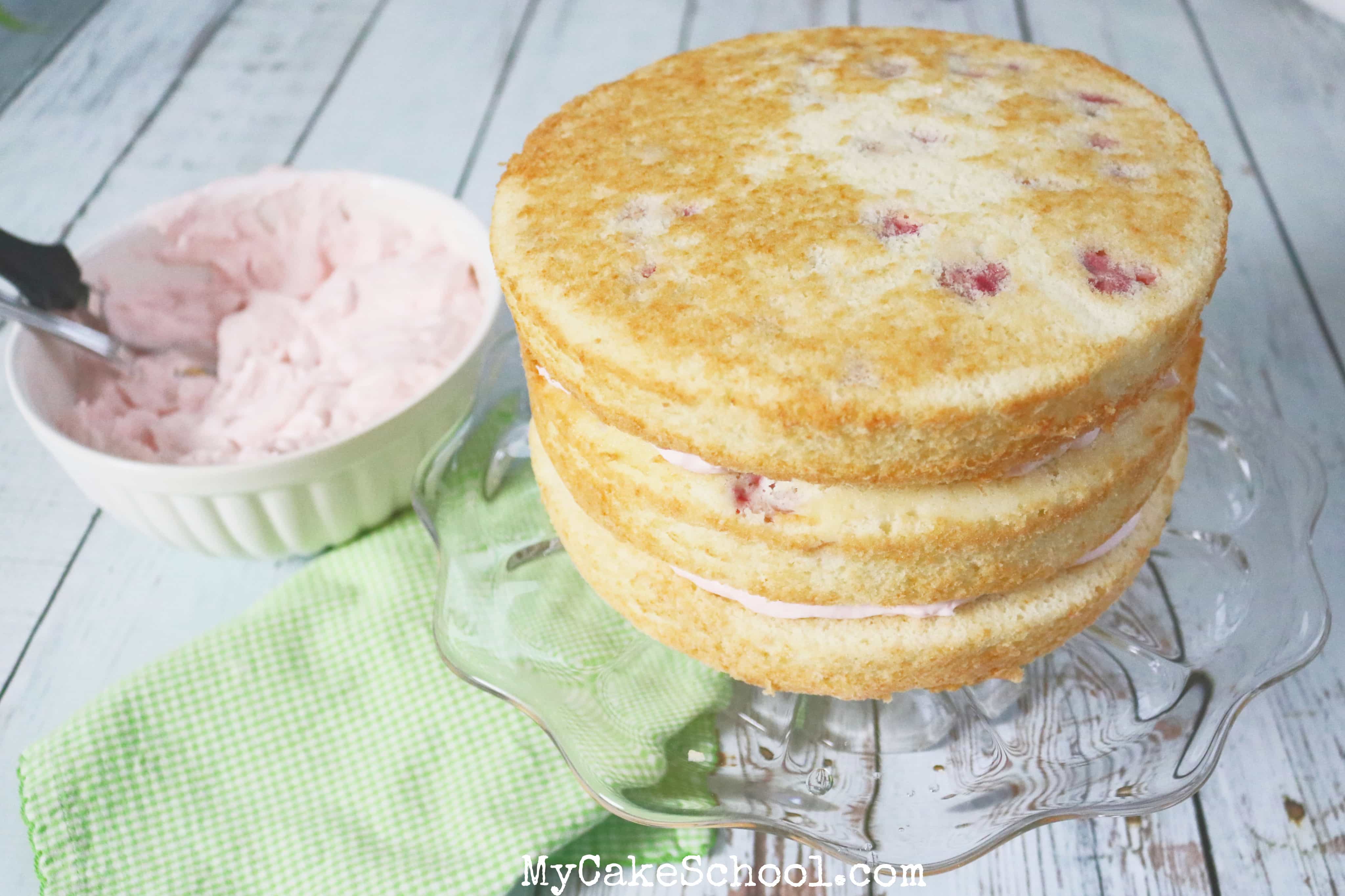 We frosted our cake with an easy and delicious Strawberries and Champagne Buttercream.
This Strawberry Champagne buttercream recipe is similar in many ways to our classic strawberry buttercream, but we've replaced some of the strawberry puree with champagne.
There is just a hint of champagne flavor in this buttercream, as the strawberry flavor is more pronounced. However when combined with the champagne flavor of the cake layers and simple syrup, everything is perfectly balanced!
I used my offset spatula to give the frosting a little texture as I applied it. I love this pretty shade of pink! Although we don't have any piped buttercream details with this design, the consistency of this strawberry champagne buttercream would be perfect for piping.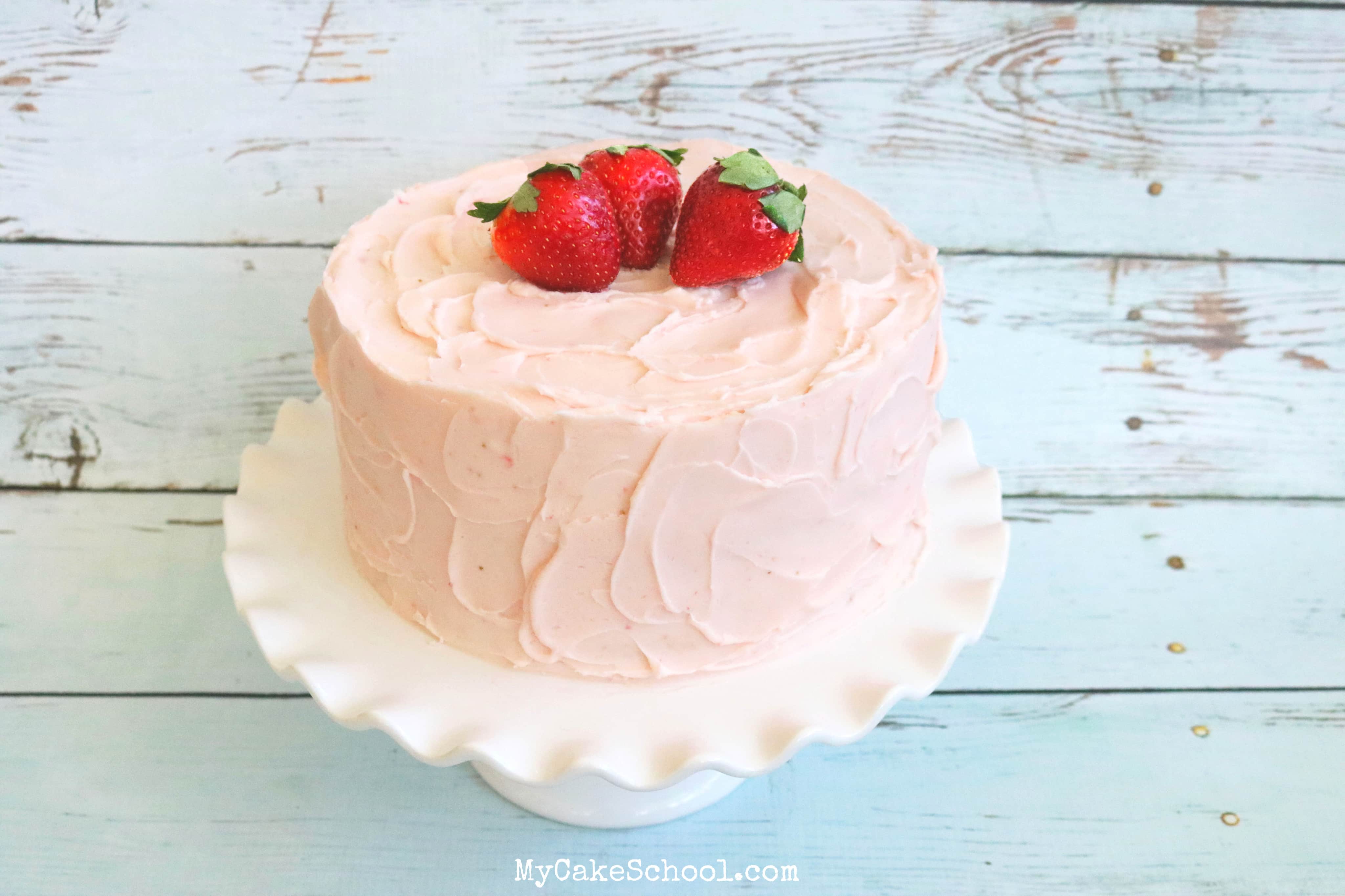 Now for the inside! If your strawberry bits sink to the bottom of the cake, it's okay! Most of mine did too...but the extra flavor is totally worth it- and it's such a pretty slice!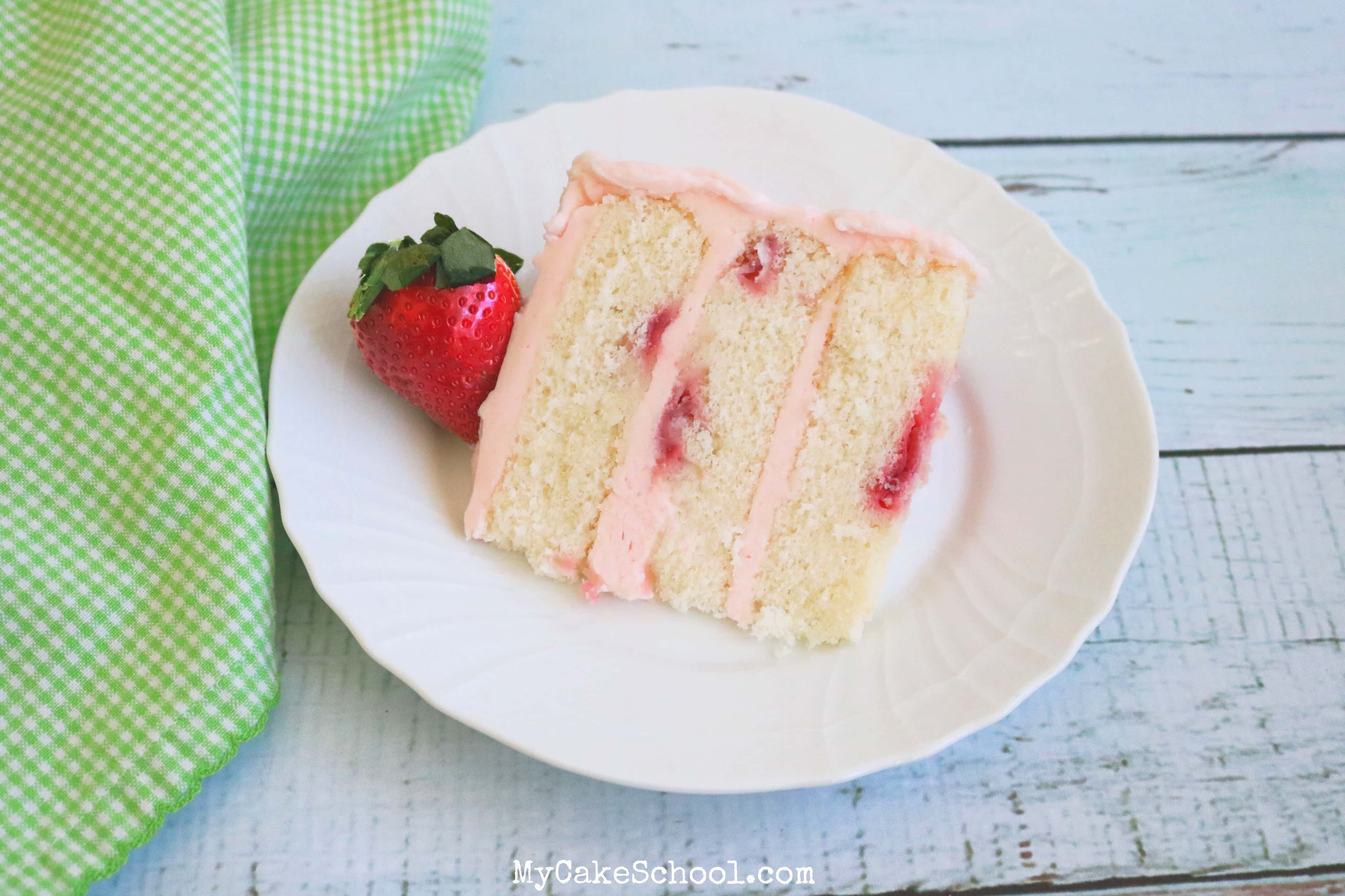 We hope that you enjoy this cake as much as we have!
Looking for more Boozy Cakes?
We've made several delicious "boozy" cake recipes over the years, from elegant champagne-infused cake recipes to fun and fruity cocktail-inspired cake recipes.
We're sharing some of our favorites below, but for additional details and recipes, hop over to our full roundup of Boozy Cake Recipes! Some of our most popular are Pina Colada Cake, Margarita Cupcakes, and Limoncello Cake!
*Also, for strawberry lovers, don't miss our scratch Strawberry Cake Recipe as well as our Strawberry Cake from Cake Mix!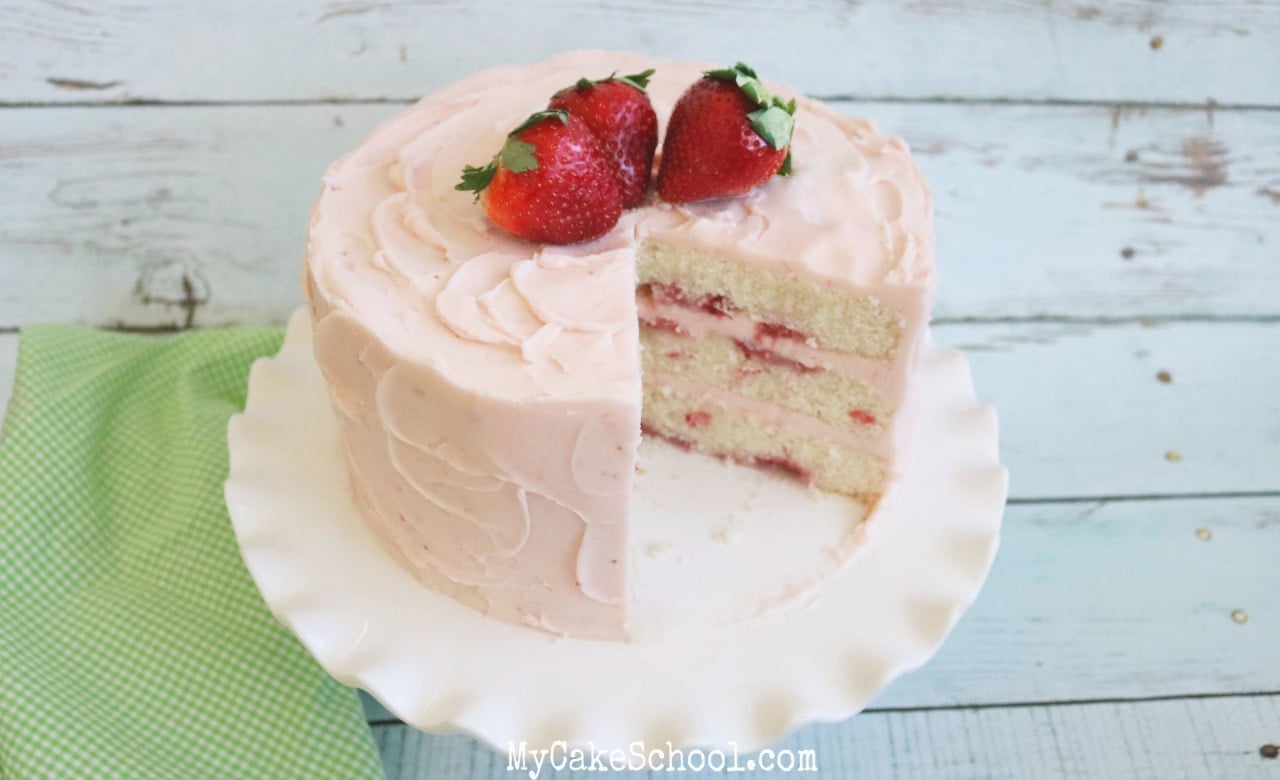 Enjoy the Recipe
Thanks so much for stopping by! Don't miss our full collection of Cake Recipes, which includes delicious cake recipes from scratch as well as cake mix recipes!
Yield: 15 servings
Champagne and Strawberries Cake Recipe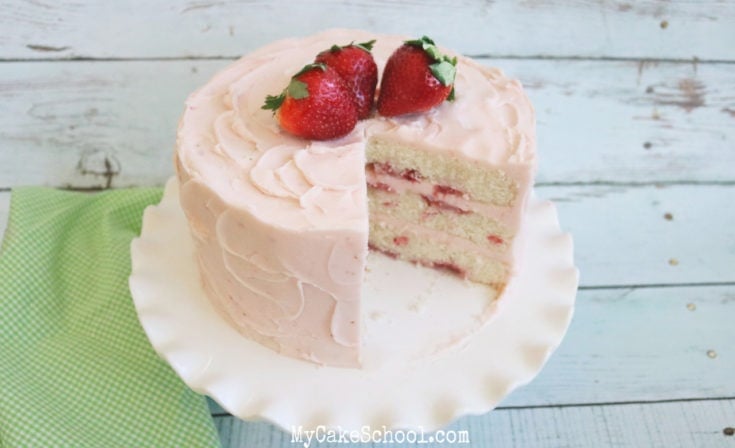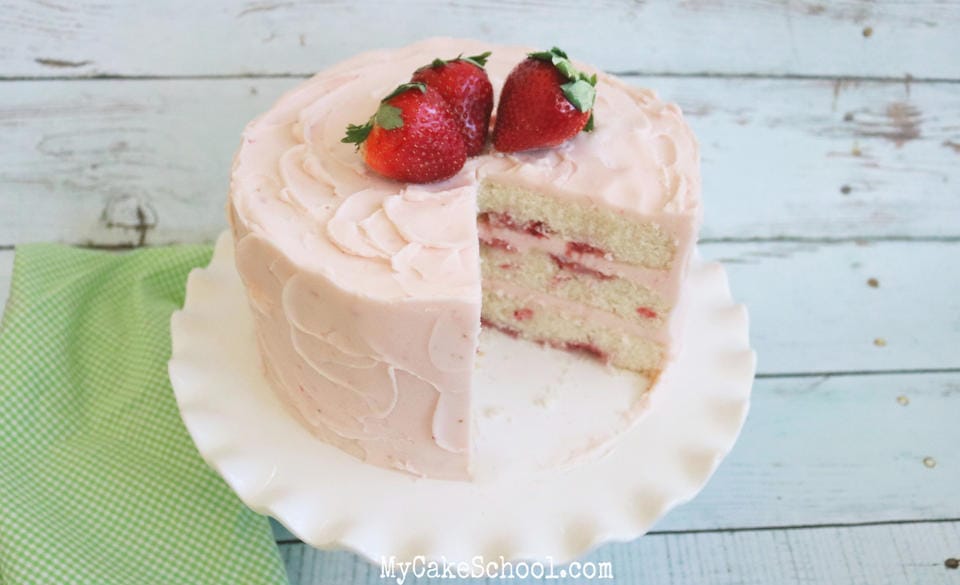 This sophisticated Champagne and Strawberries Cake is amazingly moist and flavorful!
Additional Time
45 minutes
Total Time
1 hour
35 minutes
Ingredients
For the Cake
3 cups (342 g) cake flour
1 Tablespoon (15g) baking powder
½ teaspoon (2g) salt
6 egg whites (194g)
1 cup (242 g) champagne
2 teaspoons (8g) vanilla
2 tablespoons vegetable oil (18g)
1 teaspoon (4g) strawberry extract
2 cups (400g) sugar
1 cup (2 sticks) (226g) unsalted butter
¾ cup of finely chopped strawberries
Champagne Simple Syrup
½ cup (100g) sugar
½ cup (116g) champagne
For the Strawberry Whipped Cream Filling
8 oz (226g) Full Fat Cream Cheese, softened
2 cups (230g) powdered sugar (measure or weigh, then sift.)
3 Tablespoons (34g) Strawberry Puree 4-5 strawberries
1 teaspoon (4g) Strawberry Extract (optional)
1 cup (232g) Heavy Cream
Instructions
For the Cake
Preheat Oven to 350 degrees, grease and flour three (8 inch) pans
In a medium size bowl whisk together the flour, baking powder and salt. Set aside
In another bowl combine the egg whites, champagne, vanilla, strawberry extract, and vegetable oil. Whisk until blended and set aside.
In the bowl of your mixer, cream the butter and sugar 3 to 5 minutes. When it is light and fluffy add approximately ⅓ of the dry ingredients and mix until blended. Then add ½ of the liquid ingredients mixing until blended. Continue alternating dry and wet ingredients. Begin and end with dry ingredients (3 additions of dry and 2 wet). *Makes 7 ½ cups of batter.
Pour into prepared pans and sprinkle finely chopped strawberries over the batter, trying to avoid clumping the strawberries together. Bake 25 to 30 minutes. The cake is done when a toothpick inserted the center comes out clean. Cool in baking pans 10 min. then turn out.
For the Champagne Simple Syrup
In a small saucepan add the sugar and champagne. Over medium heat, cook until the sugar dissolves, stirring constantly until the mixture is clear. Remove from the heat and cool completely before using. It can be stored in the refrigerator approximately 2 weeks.
Use sparingly on your cake layers. Using a toothpick or skewer, make a few holes on the top of each cake layer. Remember that using too much syrup can cause the cake to become soggy. Using a pastry brush, brush the simple syrup on top of each cake layer. Now you are ready to fill and frost your cake.
For the Whipped Strawberry Cream Cheese Filling:
Freeze your mixing bowl and beaters 10-15 minutes before whipping the cream).

Use the whisk attachment for a stand mixer, or beaters if using a hand mixer. Starting on medium speed and increasing to high, mix the cream until stiff peaks form. This can happen very quickly so don't walk away from the mixer. You are at the stiff peak stage when you can lift the beater and the cream stands straight up forming a peak.

In another bowl, add the cream cheese, powdered sugar, strawberry puree and strawberry extract. Mix until blended and smooth.

Gently fold in the whipped heavy cream until well combined.

This is a soft filling which requires refrigeration.
For the Champagne and Strawberries Buttercream Frosting
In the bowl of your mixer, cream the softened butter until smooth. Blend in strawberry extract.
Gradually add the powdered sugar along with the champagne and strawberries until the powdered sugar is incorporated. Beat at medium speed 3 to 4 minutes. The texture will become very smooth. If you are tinting the entire batch of buttercream light pink, you can add a very small amount of coloring gel while it is mixing.
If the buttercream is too thin add more powdered sugar.