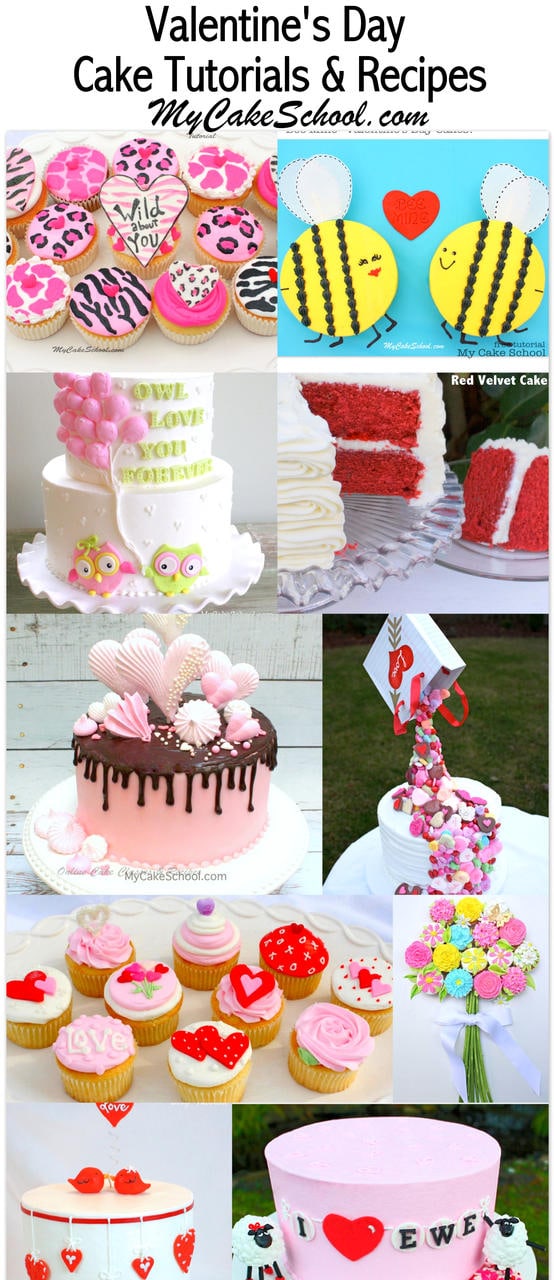 With Valentine's Day approaching, we wanted to make your planning a little bit easier by creating a roundup of all of the Valentine's Day cakes, tutorials, and recipes that we've made over the years!
I just LOVE this time of year not only because it's an excuse to buy more chocolate, heart candies, and sprinkles than usual, but cake design inspiration is everywhere you turn!
From cute Valentine's Day cards, to home accents, to stuffed animals and gift baskets, I'm always scanning the shelves in stores for ideas that can be translated into cake! Some of our featured Valentine's Day cake designs and recipes were created especially for the holiday, while other featured cake designs and recipes could be used year round for a variety of occasions.
We hope that you find something that you'd like to try! We're featuring our free cake tutorials, free cake recipes, and some favorites from our member cake video section as well. Enjoy scrolling through!!
First, let's talk Valentine's Day Cake Recipes!
This sophisticated and flavorful Pink Champagne Cake with Pink Champagne Buttercream is one of our most popular recipes! It is the perfect Valentine's Day dessert! Find this recipe (as well as a doctored cake mix version of Pink Champagne Cake) here: Pink Champagne Cake  .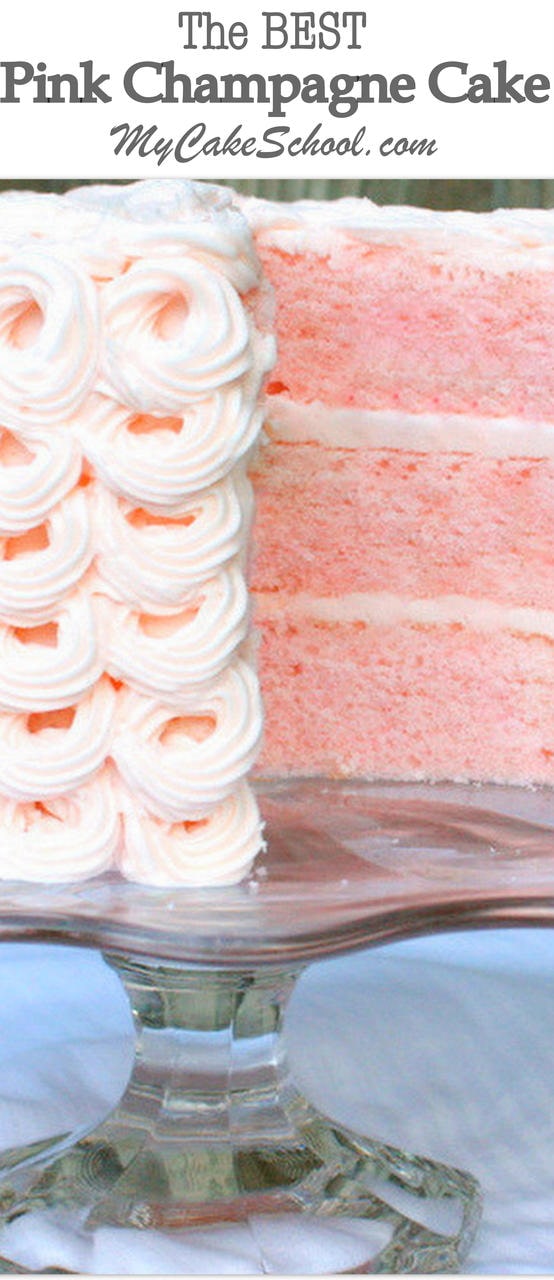 Next up, you can never go wrong with Red Velvet Cake! Moist, delicious, and just the right amount of chocolate!  Find the recipe here (you will find both scratch and doctored cake mix Red Velvet recipes!):  Red Velvet Cake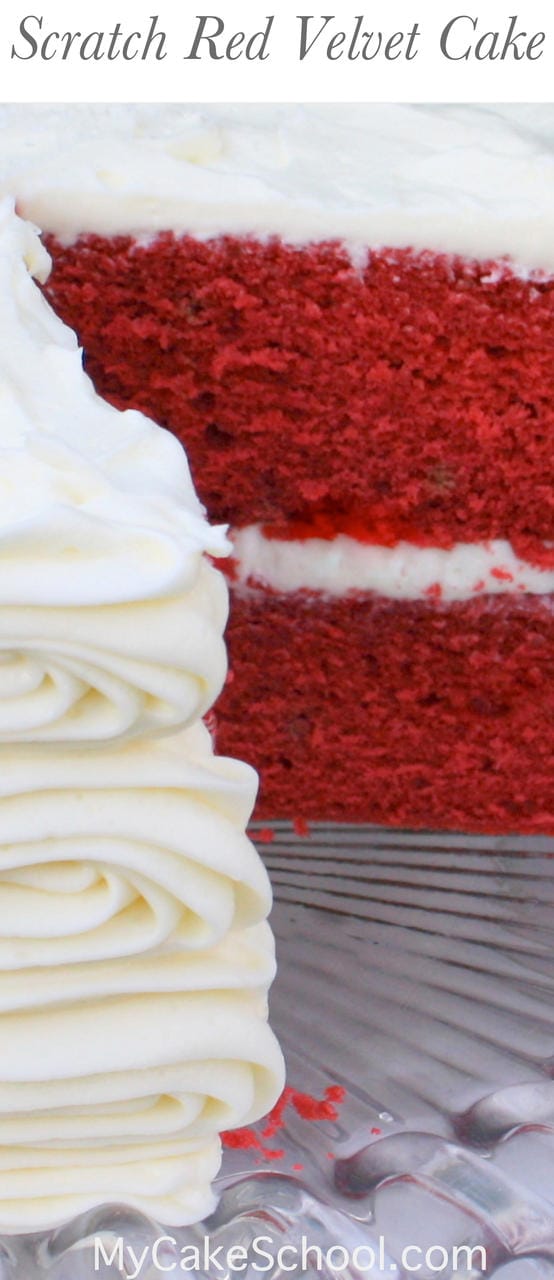 Next up, no matter what time of year, you cannot go wrong with this amazing Classic Chocolate Cake recipe! It is perfectly moist, chocolatey, and delicious!  This link will carry you to our FAVORITE scratch chocolate cake recipe as well as our favorite Chocolate Sour Cream doctored mix recipe. Enjoy! Classic Chocolate Cake.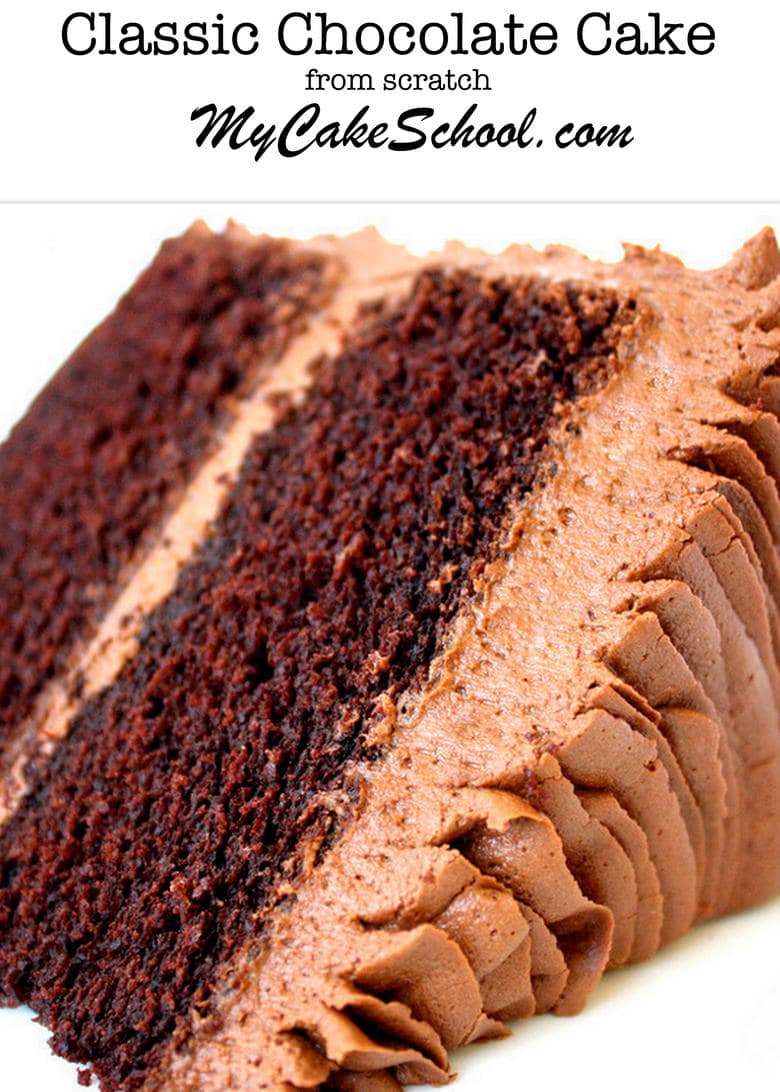 Next, let's take a look at our favorite free cake decorating tutorials for Valentine's Day! These can all be found in our blog section as well as many more tutorials for all sorts of occasions!
First up, find an adorable variety of Valentine's Day cupcakes in our free Valentine's Day Cupcake Tutorial! These cupcake designs are simple enough for all levels of cake decorating!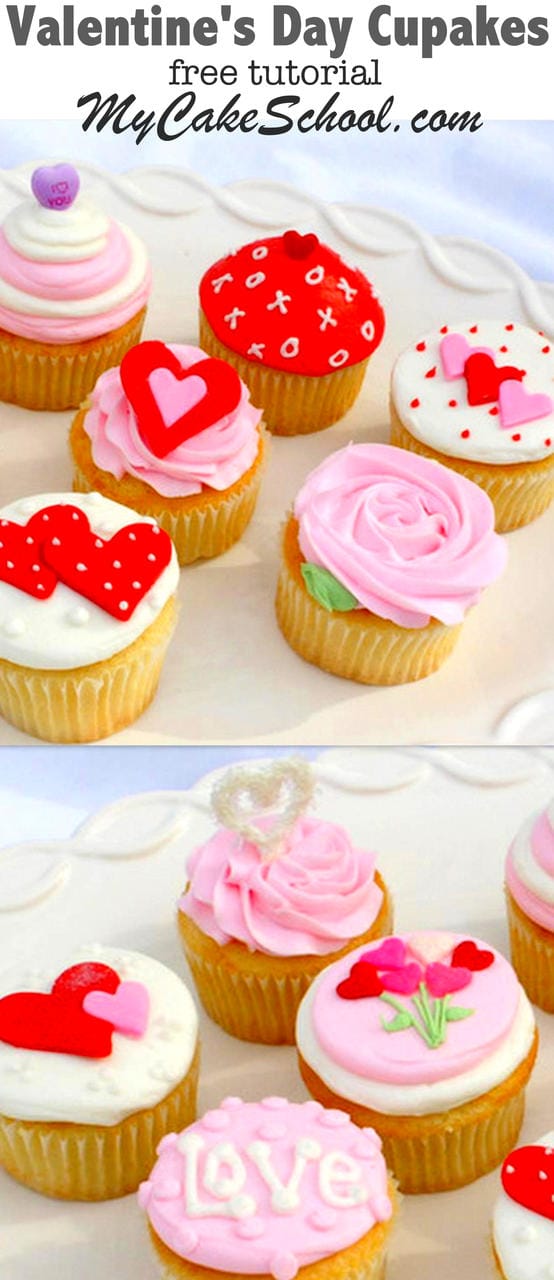 I just love owl themes! This sweet "Owl Love You Forever" cake is from our free video tutorial! It's the cutest little cake design for Valentine's Day and anniversaries! Find the free tutorial here: "Owl Love You Forever" Cake Video Tutorial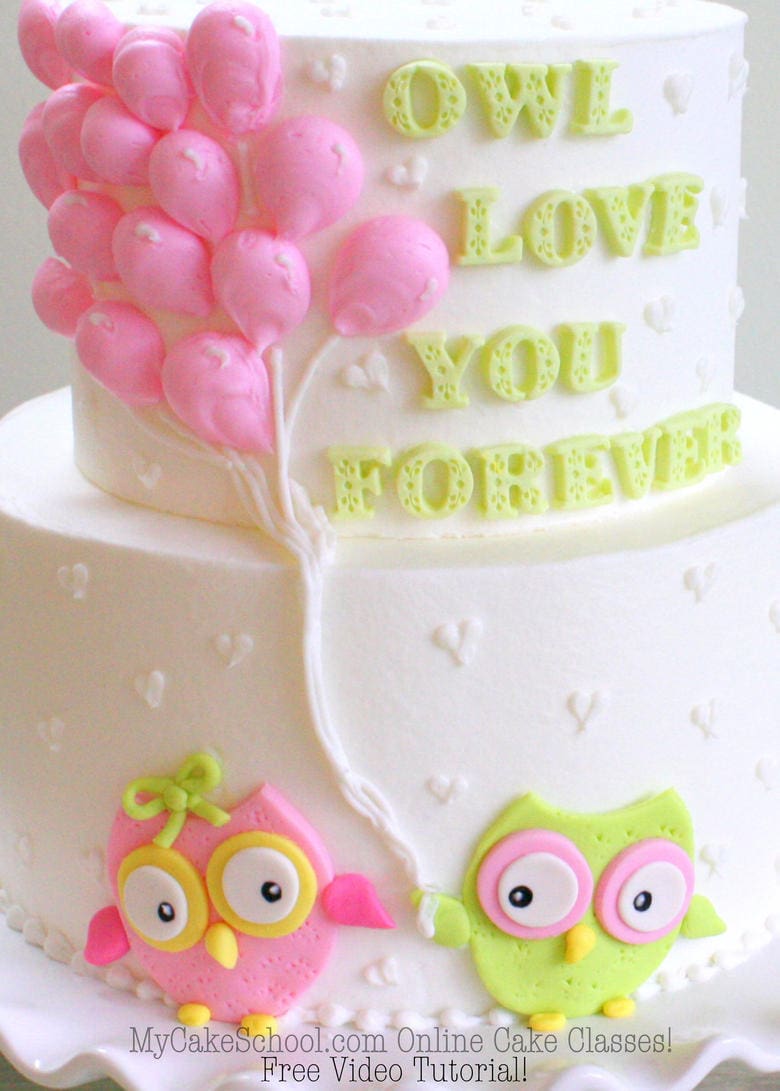 Next up, Bee Mine!! A sweet and simple free Valentine's Day cake & matching cupcake tutorial! Find it here: "Bee Mine" Cake and Cupcake Tutorial!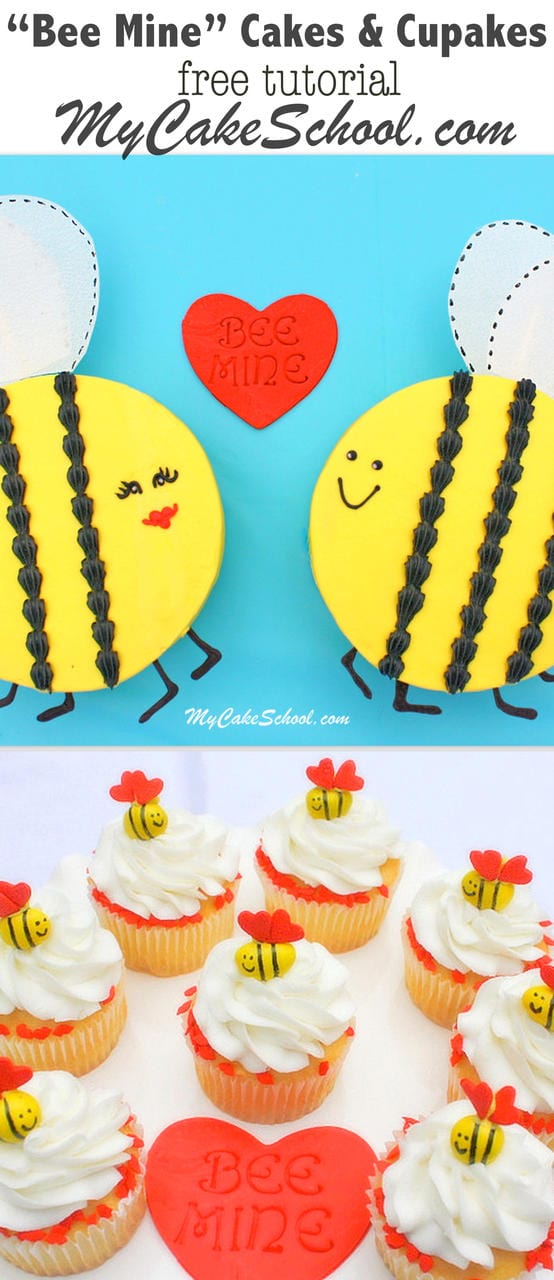 Next up, this romantic Buttercream Roses Sweetheart Cake is one of my favorites! Learn how to cover a heart shaped cake in a blanket of ribbon roses! Perfect for all skill levels of cake decorating!: Buttercream Roses Heart Cake.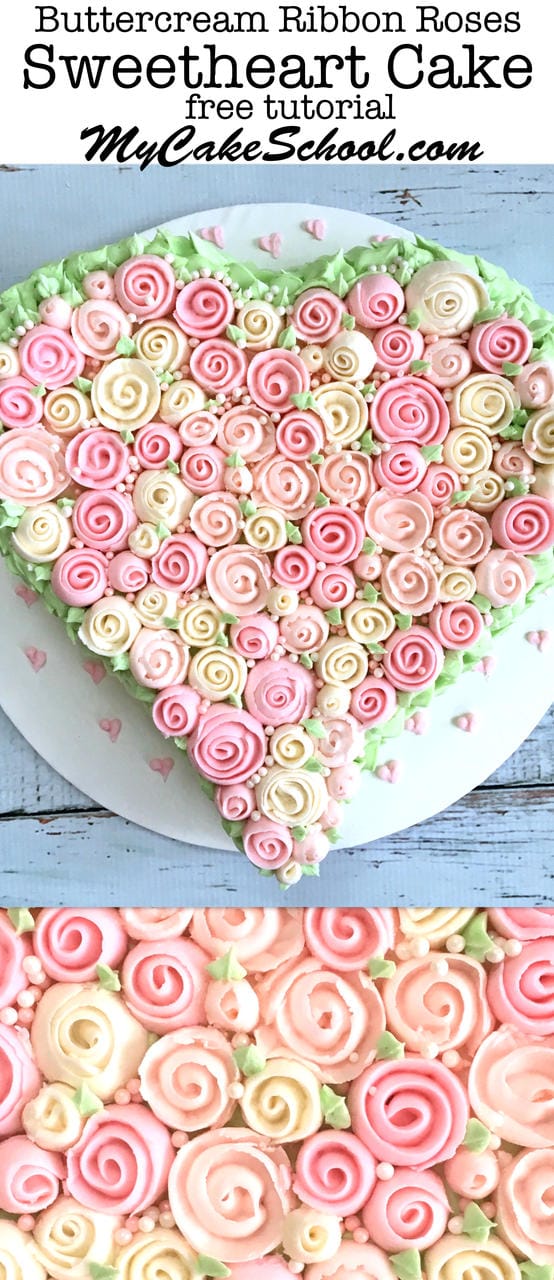 This sweet Love Birds Valentine's Day cake theme is as easy as it is cute!! Find the free tutorial here: Love Birds Cake Tutorial.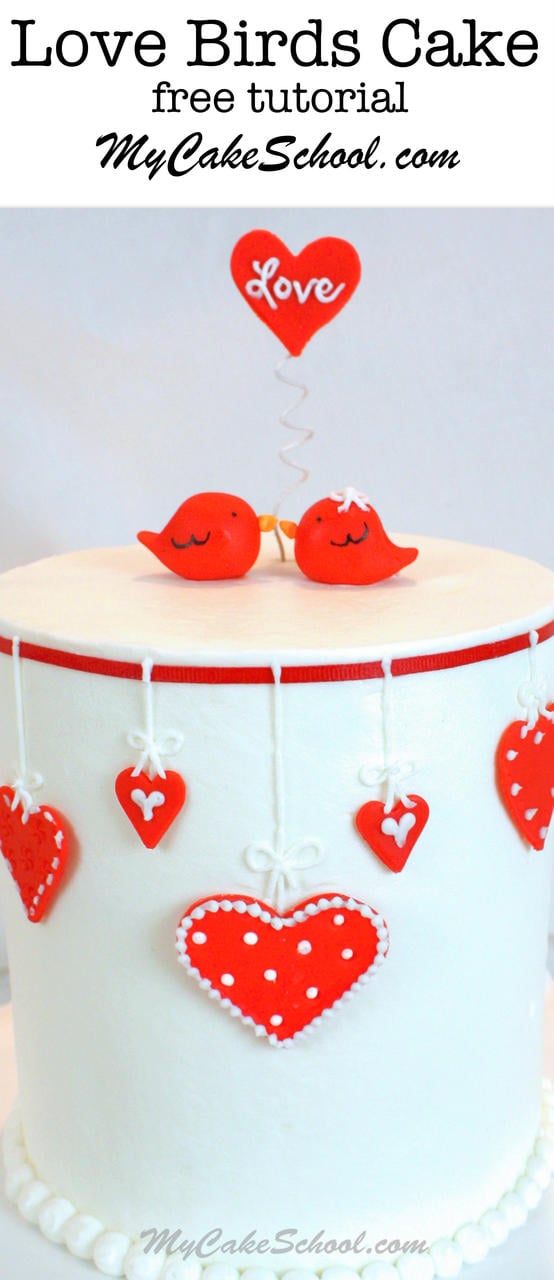 Let someone know that you're WILD about them with these adorable animal print buttercream cupcakes! Click on over to see!: Animal Print Cupcake Tutorial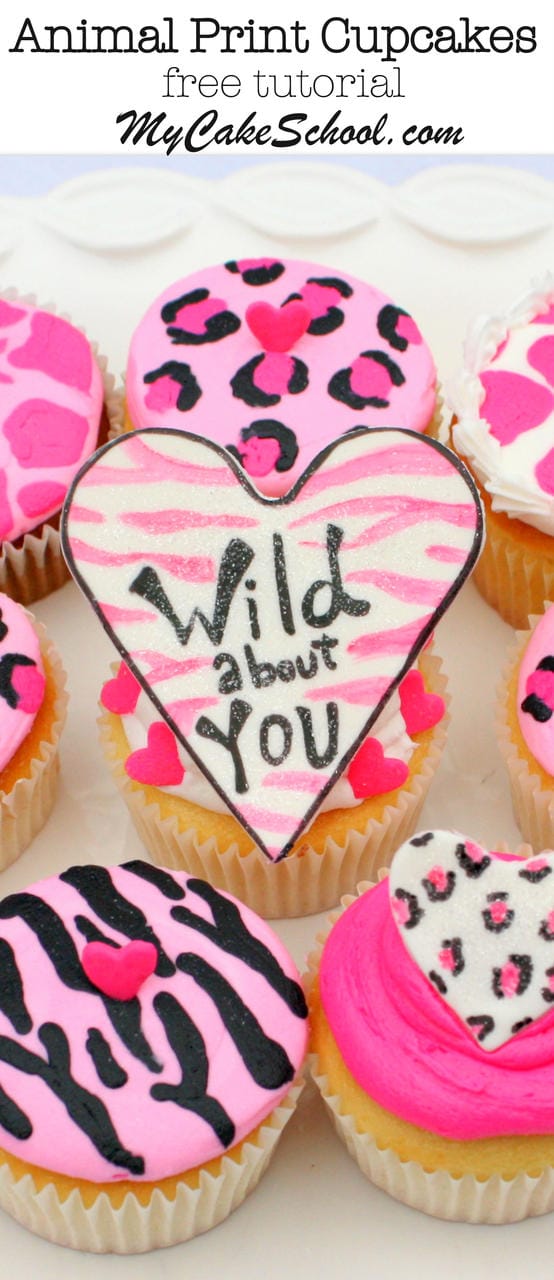 This "I Love Ewe" themed cake is sure to bring smiles! Learn to create this sweet cake, complete with fondant sheep! Find the free tutorial here: I Love Ewe Valentine's Day Cake Tutorial.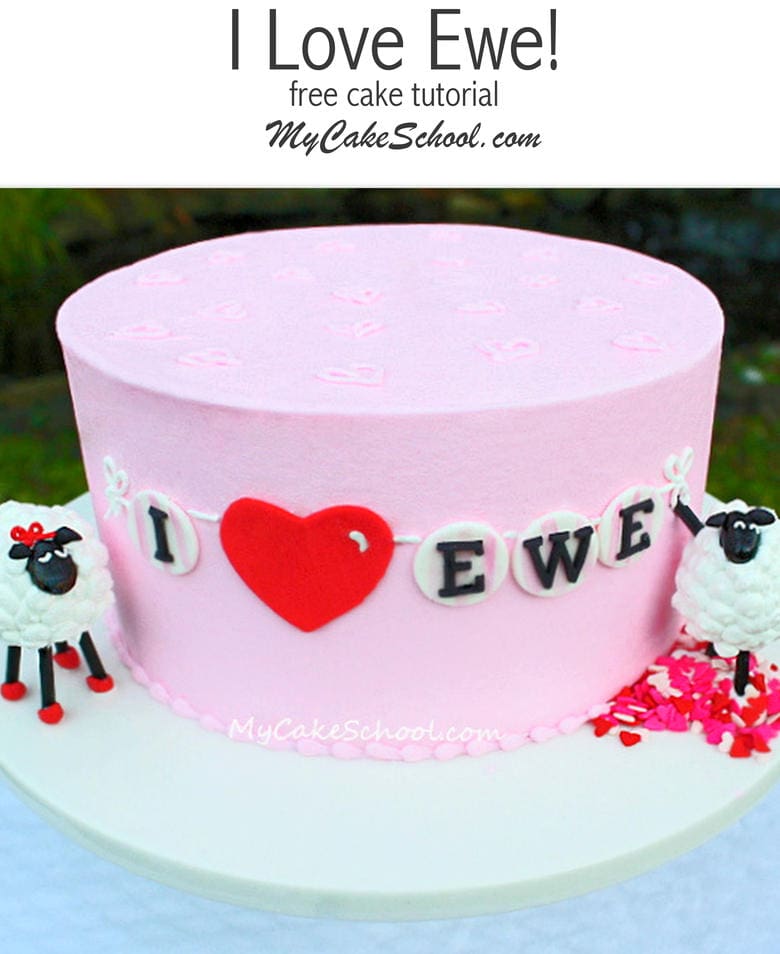 Another favorite if this fun "Lots of Love" cake tutorial! These chocolate hearts are a breeze to make and I just love the look! Find our free tutorial here: Lots of Love! Valentine's Day Cake Tutorial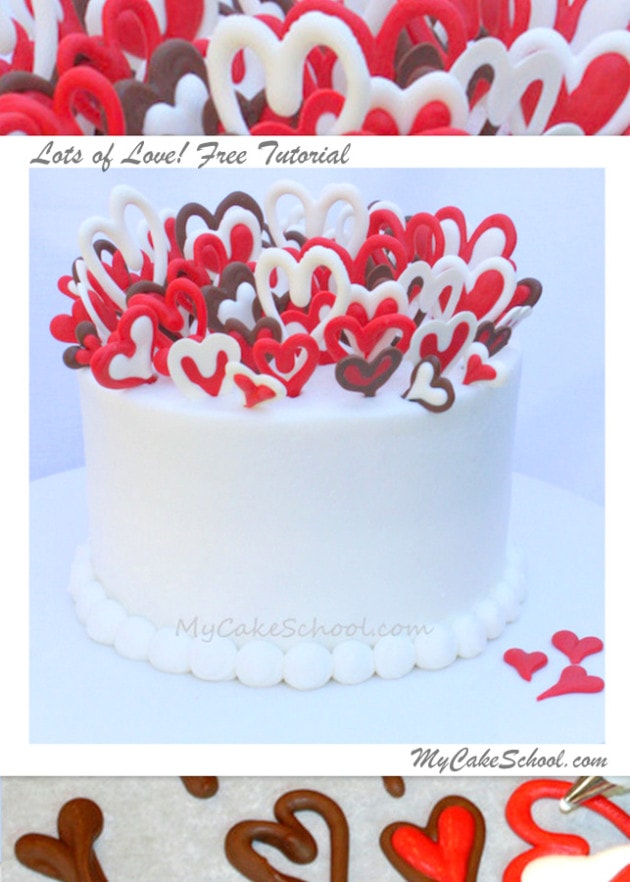 These Conversation Heart Flowers make the perfect cupcake toppers for Valentine's Day! So simple!: Conversation Heart Flower Cupcake Toppers!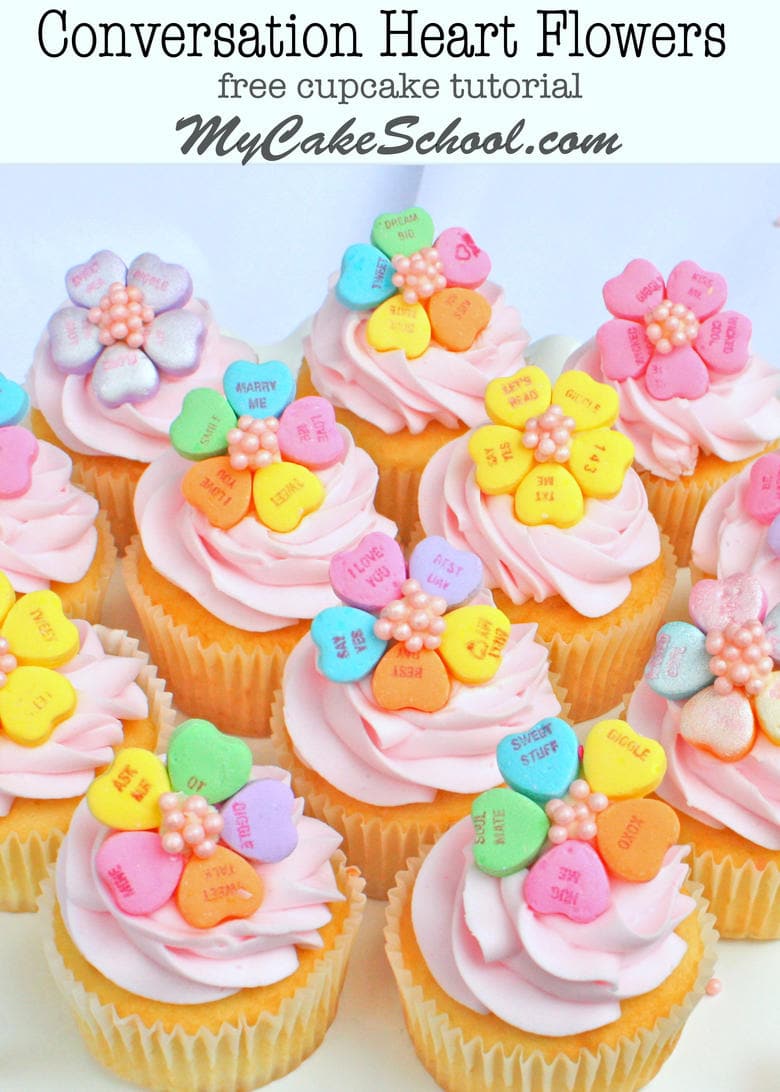 Arrange your cupcakes into an adorable cupcake wreath in this sweet  & simple Valentine's Day tutorial!: Valentine's Cupcake Wreath.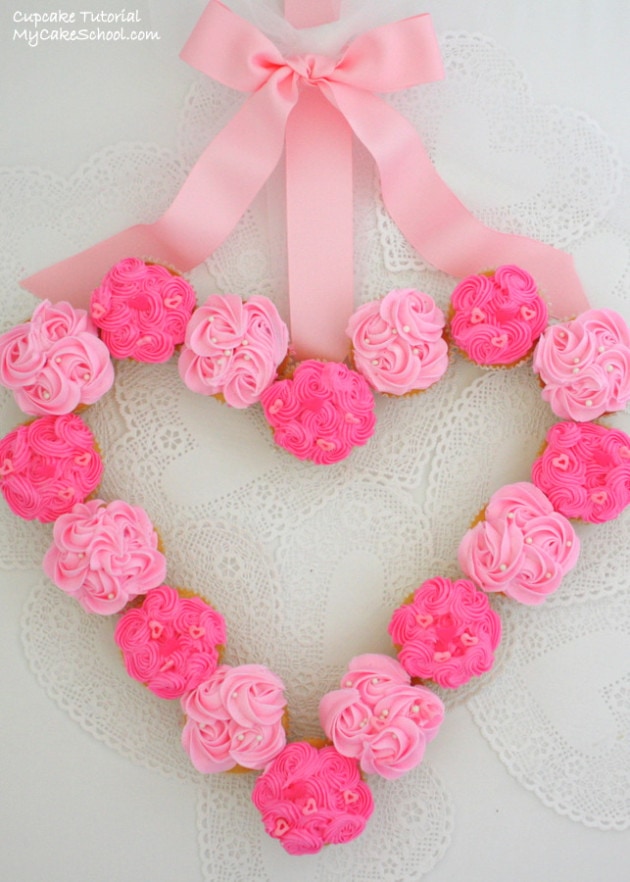 Here's another simple buttercream idea: a "Hugs and Kisses" Valentine's Day Cake! XOXO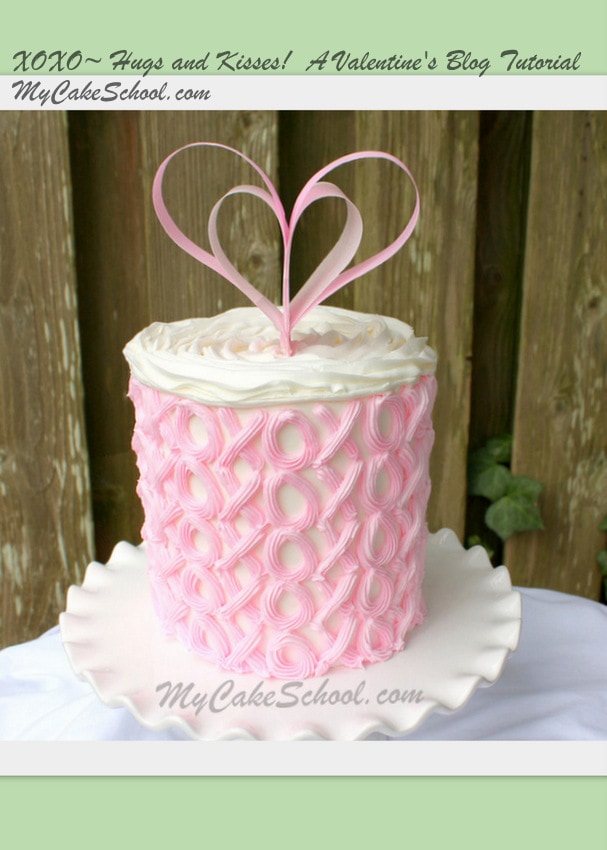 Love you Bunches!! We first made this cake tutorial with Mother's Day in mind but it would be perfect for Valentine's Day too–just replace the small elephant with a large one! Free Tutorial: Love You Bunches!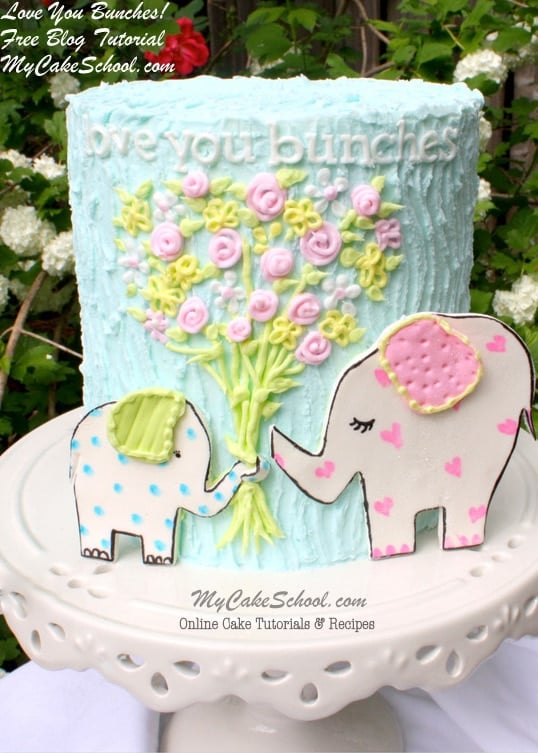 How about a gorgeous bouquet of buttercream cupcakes? Learn to pipe some of our favorite buttercream flowers and how to assemble the perfect bouquet! So fun!  Buttercream Cupcake Bouquet – Free Tutorial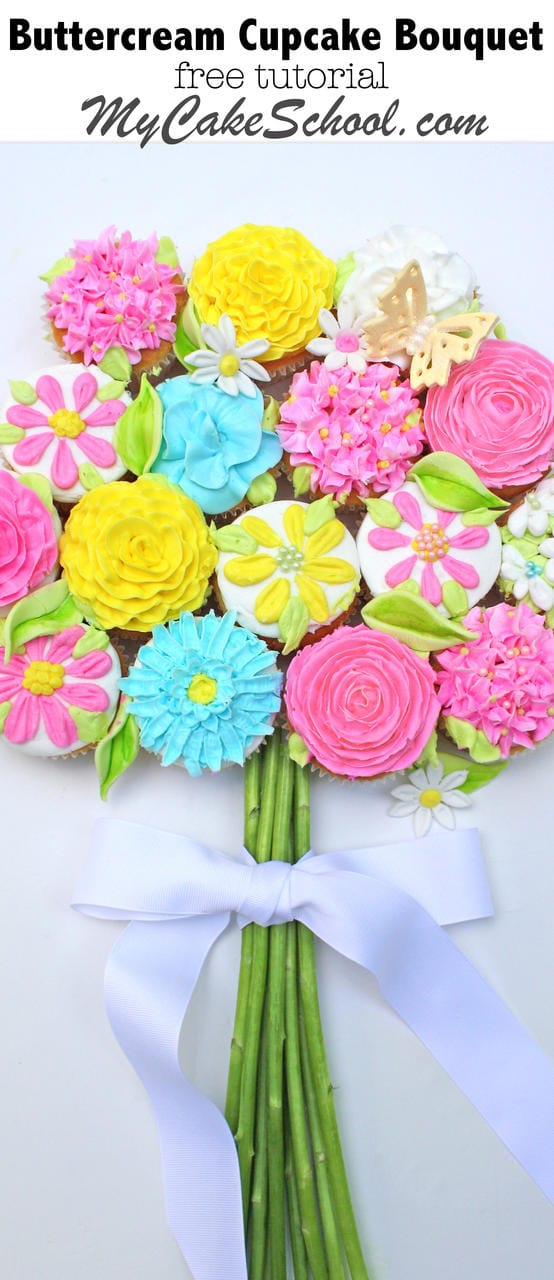 This cake looks like a BIG piece of chocolate candy! This tutorial is an oldie but is still perfect for Valentine's Day or the chocolate lover in your life! Free Tutorial: BIG Piece of Chocolate Candy Cake!
This simple "100 Hearts" Valentine's Day Cake Design is one of my favorites. When in doubt, just add more hearts! : 100 Hearts Cake Tutorial for Valentine's Day.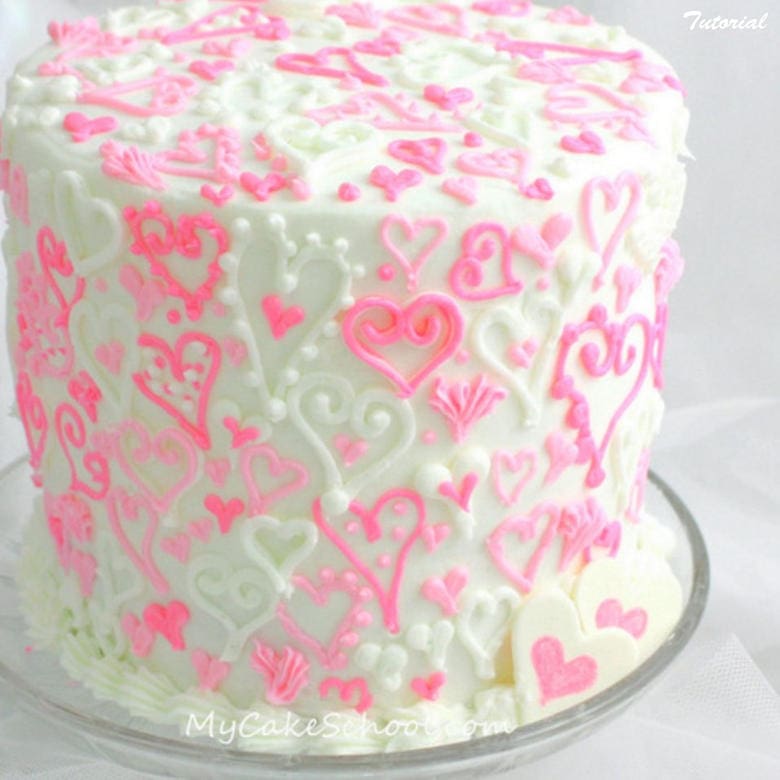 We have a few Valentine's Day cake tutorials to share from our Member Cake Video section as well! These are among the hundreds of cake decorating video tutorials available to our members!
One of my FAVORITES is this (surprisingly simple) gravity defying "Candy Pour" Valentine's Day Cake Tutorial!
In our next member cake video tutorial, we demonstrate how to pipe braided buttercream as well as how to make a beautiful ruffled heart cake topper!: Braided Buttercream and Ruffled Heart Cake Topper Video!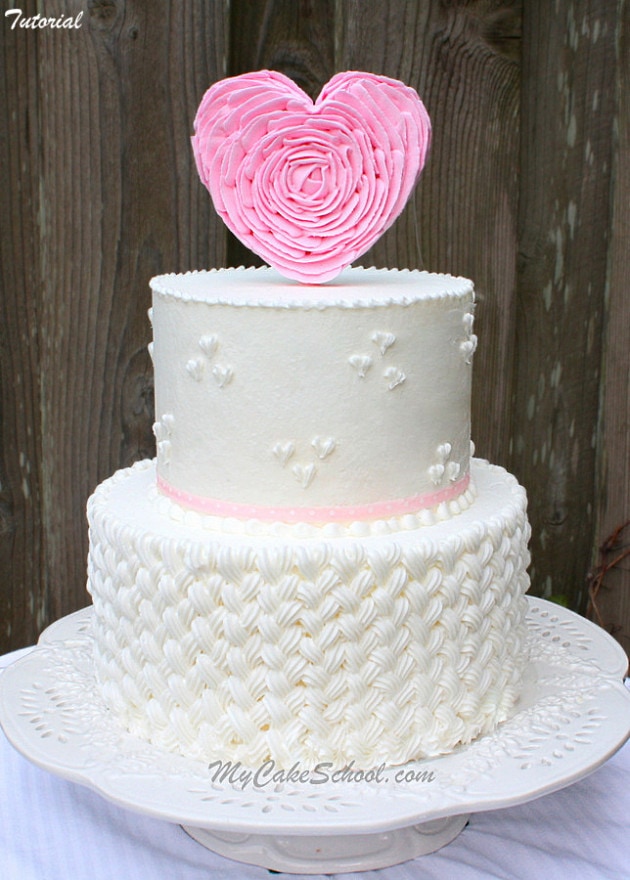 Finally, here is a beautiful Ganache Drip Cake with Heart Meringues! Perfect for Valentine's Day!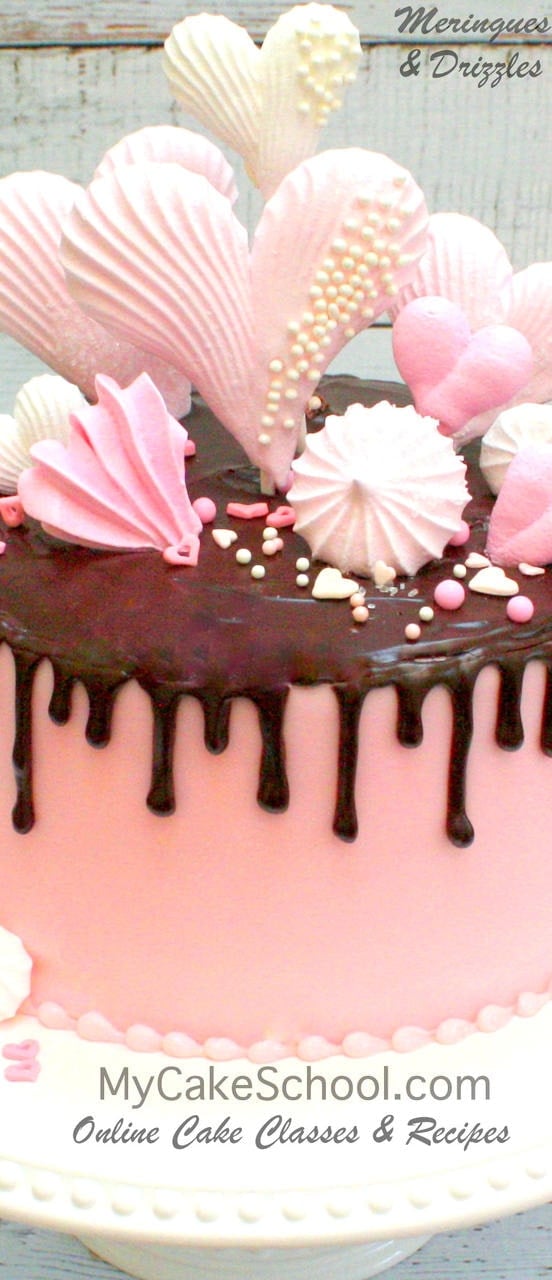 I hope that you've enjoyed this sweet Valentine's roundup and have been inspired to try a cake or two! Stop by again soon for more cake designs and deliciousness! xoxo
*Interested in joining My Cake School? Click here for more information! We offer gift memberships too!