Geode Heart Cake Tutorial
Today we are going to show you how to create a beautiful Geode Heart Cake design!
Geode inspired cakes continue to be a very popular choice for all sorts of occasions, from birthdays to weddings.
We're excited to share our own twist on this eye catching cake trend with this heart themed cake.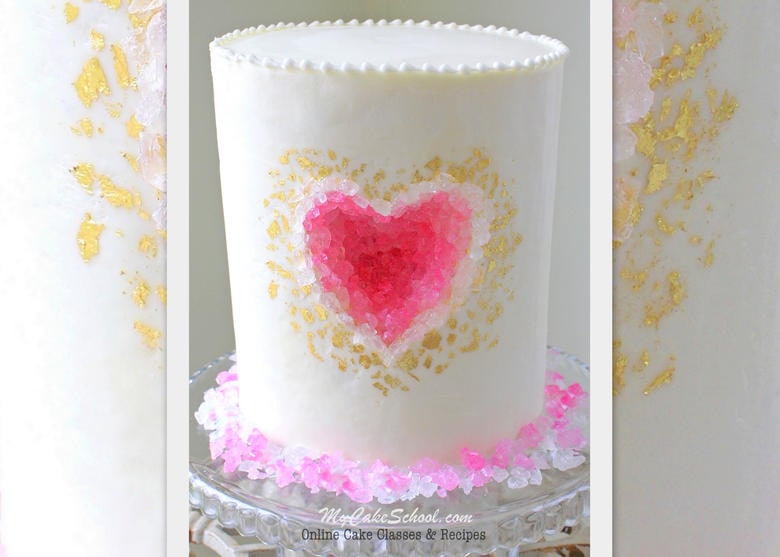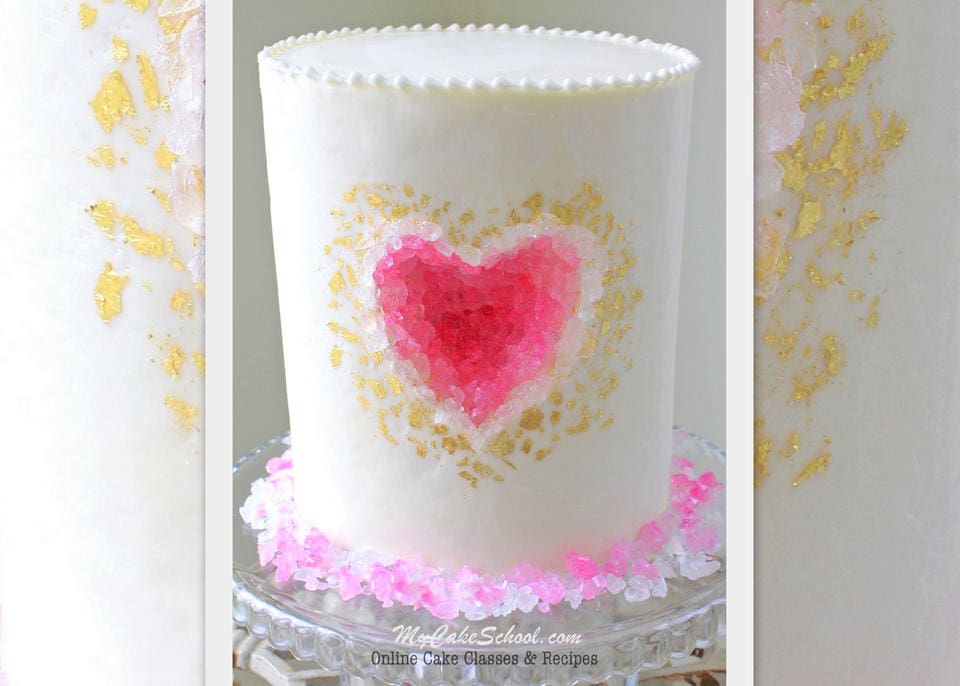 Geode Heart Cake
This geode cake would be a beautifully unique cake design for all sorts of occasions, and it is not difficult to create.
Whether you'd like to recreate our heart geode, or you are looking for a more traditional geode cake with an elongated opening, you will be able to apply our simple methods. Enjoy the video!
Materials:
We used a four layer 6 inch double barrel cake, frosted with a double batch of Classic Vanilla Buttercream. Our double barrel cake has 4 bubble tea straws and two cardboard cake circles. (Center cake board has a little notch cut out.)
Rock Candy (We used three shades: dark pink, light pink, and clear. We used about two rock candy sticks for each shade of pink, and one clear candy stick for outlining the heart.)
Piping Gel
Heart Cookie Cutter or template (ours was about 3.5 inches wide). Use whatever size you'd like!
Gold Leaf (aff.)- Optional
Piping tips: Tip 3 - At the last minute (after making the video) I decided to add a tiny buttercream bead border around the top edge of the cake.
Miscellaneous: Bench scraper, spatula, turntable, small brushes,
Notes for Geode Heart Cake:
*Our geode heart cake is frosted in buttercream, but if you are interested in a fondant covered cake, I would use ganache instead of buttercream to be on the safe side.
I prefer working with a butter based buttercream (rather than shortening) for this design since it becomes firmer much more quickly when chilled.
*Keep in mind that you do not need to do a lot of carving with this cake. Our impression was about 1 inch at it's deepest point in the center. After adding your frosting around the heart, your impression will appear even deeper.
You may find it easiest to carve your cake while it is still partially frozen. (Ours had thawed and so it was more crumbly.)