Candy Pour Cake~ A Gravity Defying Cake Video Tutorial
In this free gravity defying cake video tutorial, I'm going to show you how to make an impressive and EASY gravity defying candy pour cake for Valentine's Day!
The techniques that we will demonstrate in this video can be used for endless design options. Gravity defying cakes are always going to bring the WOW factor. They are so much fun, and unexpected!
Easy Gravity Defying Cake
Gravity defying cakes can sometimes be tricky and involve a trip to the hardware store. We are always looking for the easiest possible option that still looks amazing when it comes to cake decorating. So, today's cake construction couldn't be simpler.
I'm going to show you the easy way to build a gravity defying support system for cakes that features something suspended that is lightweight. Lightweight it the key word for this type of cake construction. ;0)
For today's cake, we're suspending a gift bag with candy spilling from it, but there are endless options: candy wrappers, empty soda or beer cans, plastic bottles, cartons, etc.
With Valentine's Day just around the corner, we thought that it would be fun to use a gift bag so that we could incorporate all sorts of candy rather than just one kind. I hope that you enjoy the video! We had so much fun making it!
Don't miss our other Valentine's Day Cake Ideas and Recipes! We have so many fun cakes to share with you!
Materials for Easy Gravity Defying Cake
(*Our cake is a 3 layer White Almond Sour Cream cake, frosted with our Fluffy Buttercream Frosting recipe.)
3 Ten inch Cake Cardboards or Foam Core circles for the cake base
1 eight inch cake cardboard (I always have one board which is the same size of the cake.)
Hot Glue/glue (We hot glue our 3 boards together to create base.)
Something to wrap cake base as usual (We used a white plastic tablecloth)
Wooden Dowel, ¼ inch thick (ours was also 17 inches long.)
Pencil sharpener for sharpening the dowel (Keep an inexpensive one on hand for kitchen use only) ;0)
Gift Bag
Piping Gel and Small Paint Brushes
Assorted Candy of your choice
Fondant for building out the candy (Optional, but a big time saver and less candy will be needed.)
Miscellaneous: Spatula, Tape, Paper Towel or other "filler" for bag,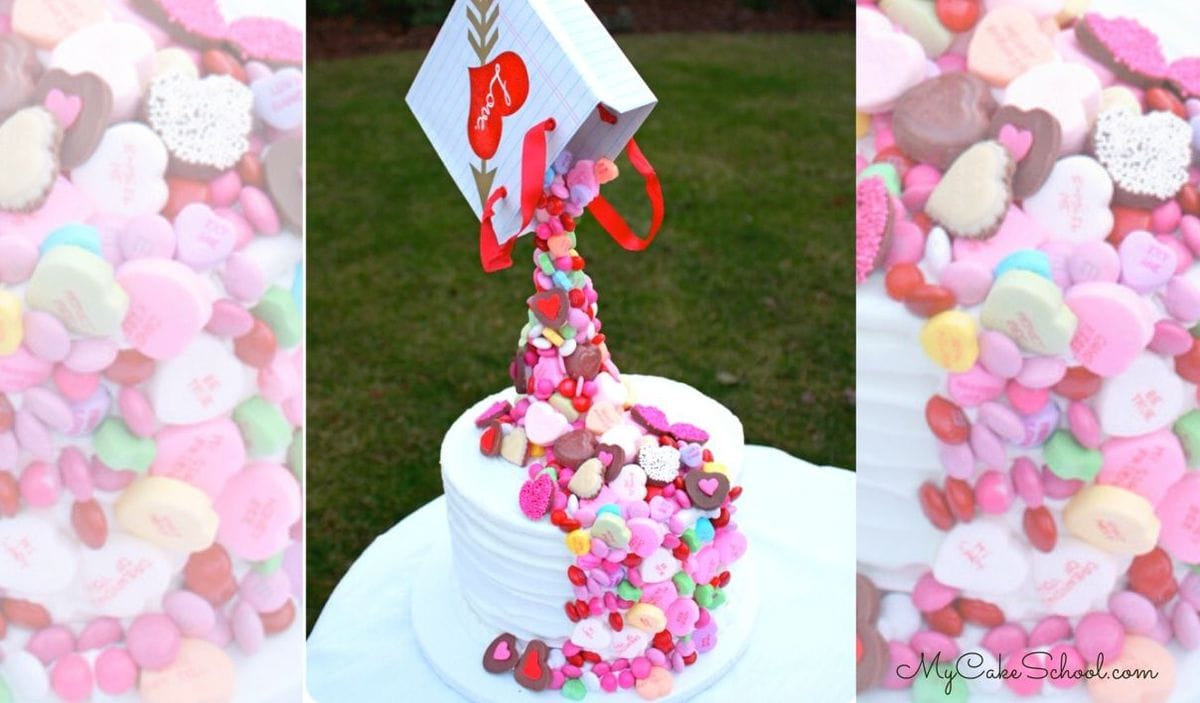 Cake Recipes for this Design
There are so many cake recipes that would be perfect for this Valentine's Day cake design! Here are just a few of our favorites!
Enjoy the Video!
Thanks so much for stopping by! We hope that you give this fun candy pour cake a try. If you give this a try, (or another version of an easy candy pour cake design), we would love for you to share a comment and photo below!