Bee Mine!~ A Valentine's Blog Tutorial
With Valentine's Day just around the corner, I have CUTE "Bee Mine" Cakes and Cupcakes to share with you! This cake & cupcake tutorial is so simple & festive for Valentine's Day!
Whether you are looking for Valentine's Day party ideas for your children's classroom, or for a little Valentine's Day fun for family and friends, these simple cake and cupcake designs are sure to bring smiles!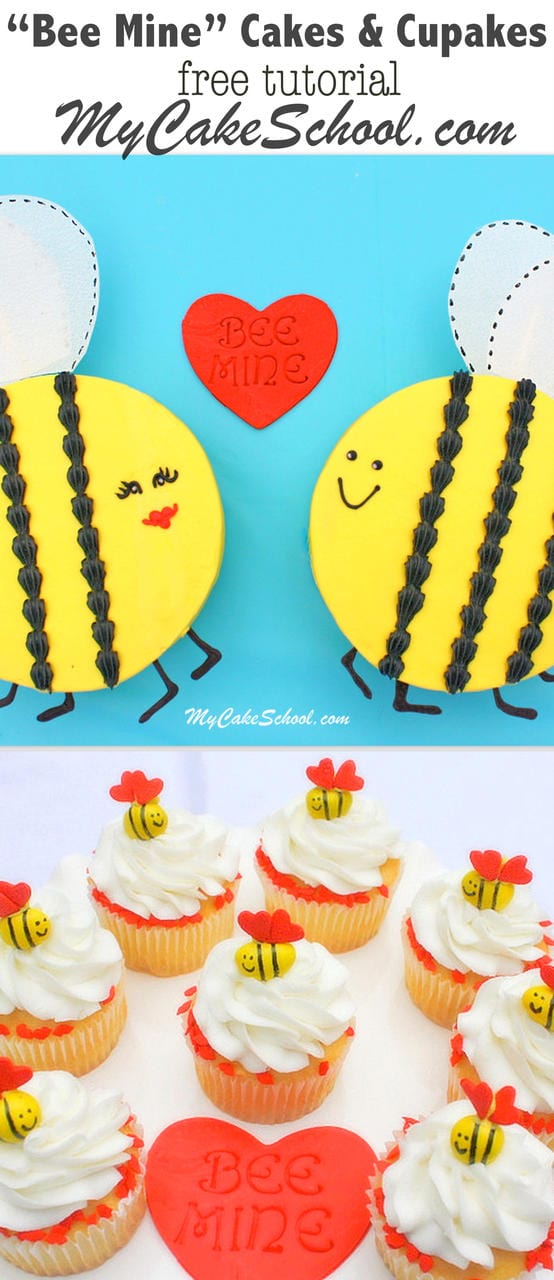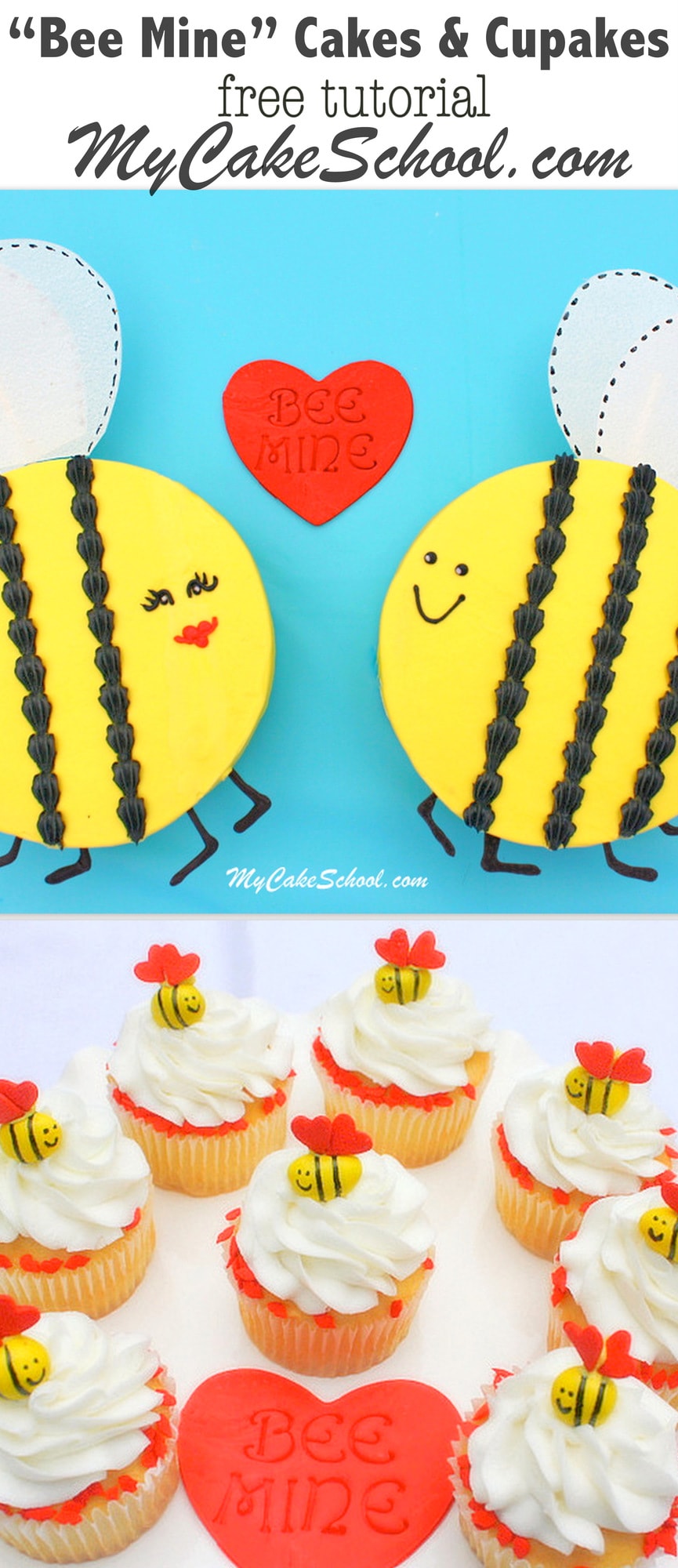 How to Make Bee Mine Cakes and Cupcakes
I started with some cupcakes and two, six inch cake layers. My cakes are going to be small portions...only single layers, and I'm supplementing with cupcakes.
Play around with the size of your cakes, the number of cupcakes, or even the number of cake layers if you need more servings!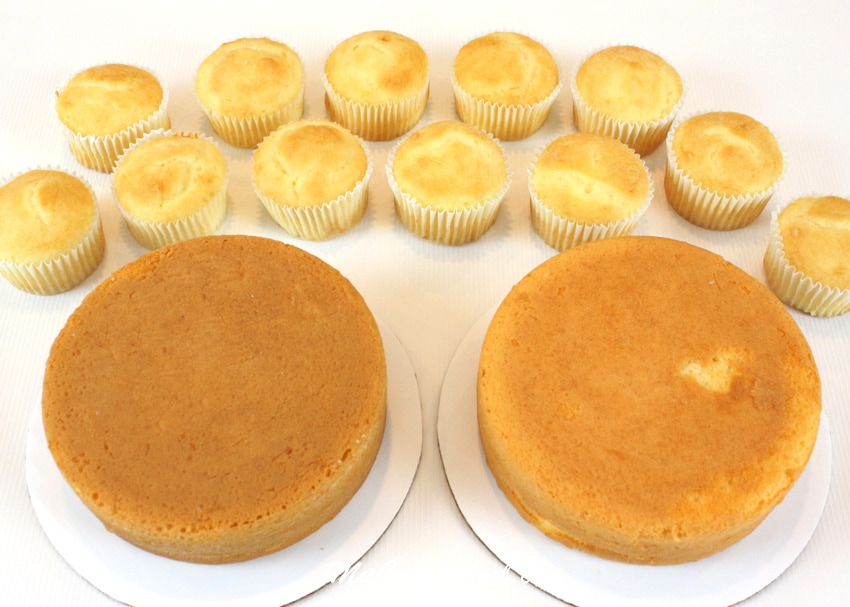 Next, I tinted my crusting vanilla buttercream with a little Americolor Lemon Yellow, and frosted my cakes.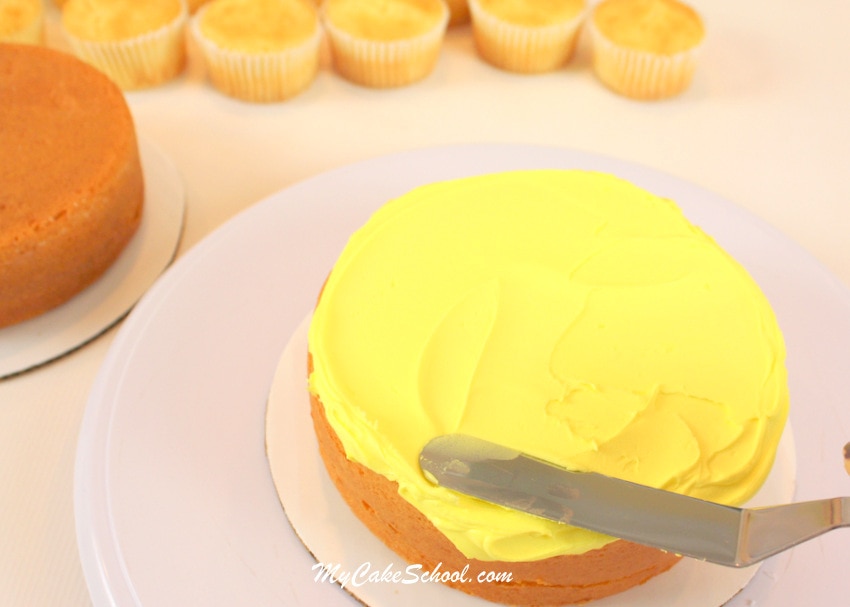 After the buttercream had crusted (about 5 min or so), I smoothed over it with a Viva brand paper towel. (Viva has no impessions.) - Use your favorite smoothing method of choice, or you could even use a star tip to pipe stars of buttercream all over the tops for a more textured look.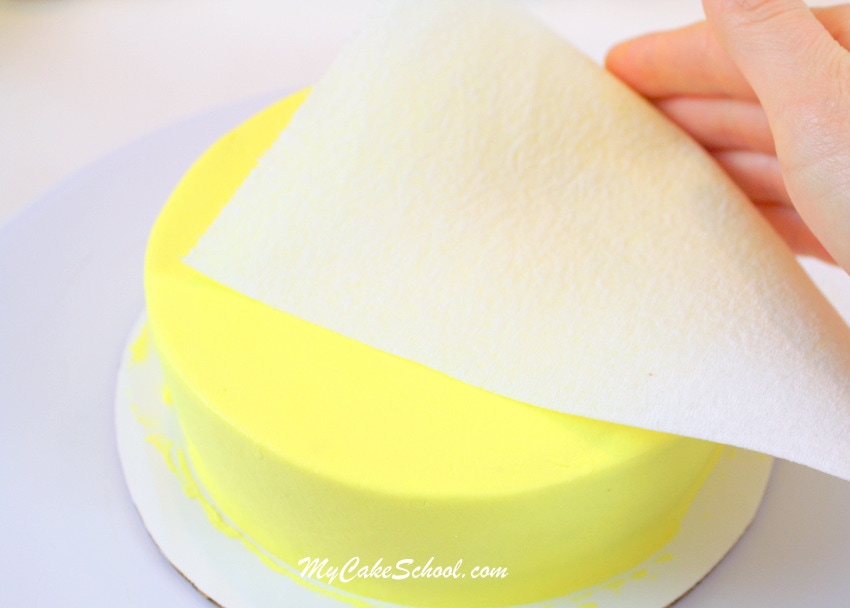 Next, I used a ruler to mark off my bees' lines. It worked out that the width of my ruler worked well for spacing out my lines...so, that was my guide.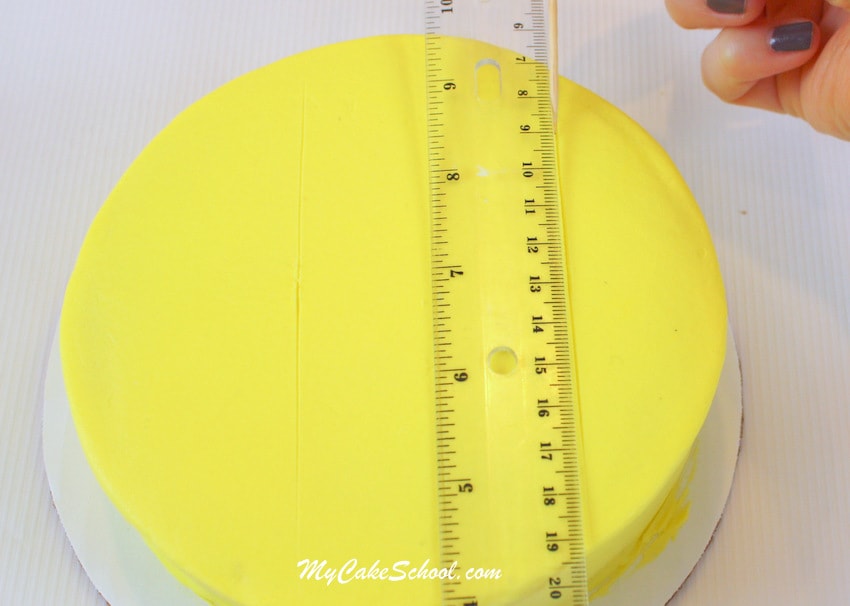 After that, I filled my piping bag, which was fitted with a Wilton Star Tip 21, with Black Buttercream (Americolor Super Black). I piped shells over the lines that I drew in the icing. You may prefer fondant stripes, but I decided to go with an all buttercream cake this time.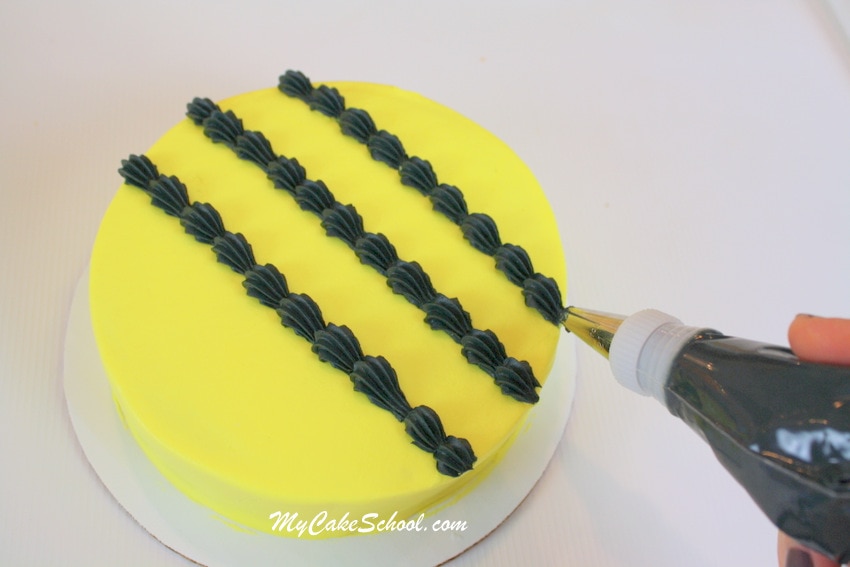 After piping my stripes of buttercream shells, it was time to start adding faces. Now our bees are beginning to have personality!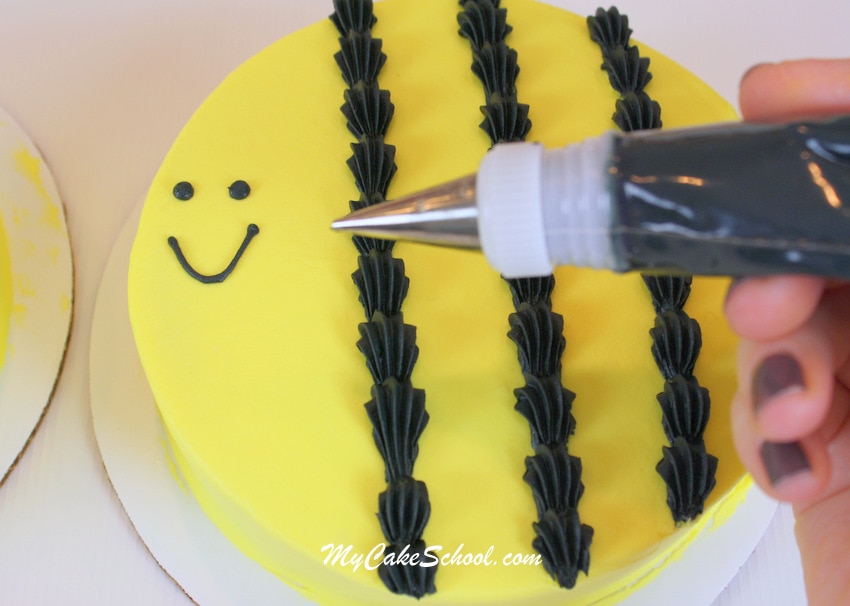 Next, our lady bee ;0) -- For both bees, I piped their faces on with a Wilton tip 2.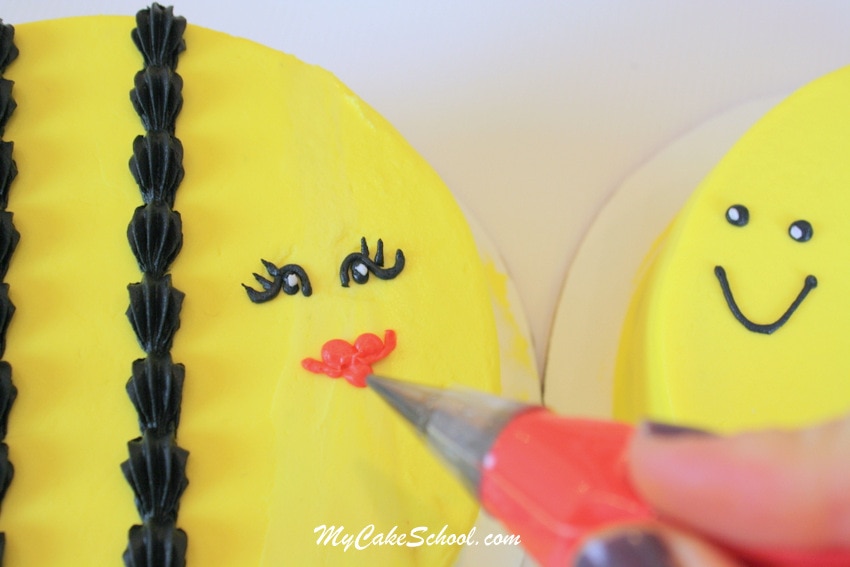 Once our sweet bees had their faces, it was time to move onto the wings! Since I am going through a wafer paper phase (we just made a video tutorial on wafer paper flowers), my first thought was to make wafer paper wings. It worked really well! However, if you do not have wafer paper, there are many options....cardstock, photo paper, white tissue paper, or even thinly rolled and dried gum paste wings.
Here I am, adding a little border around the wings with an Americolor food coloring pen.
I painted the top portion of a lollipop stick with piping gel, and then pressed on one of the wings. Allow this "glue" to take hold....it may take a few minutes.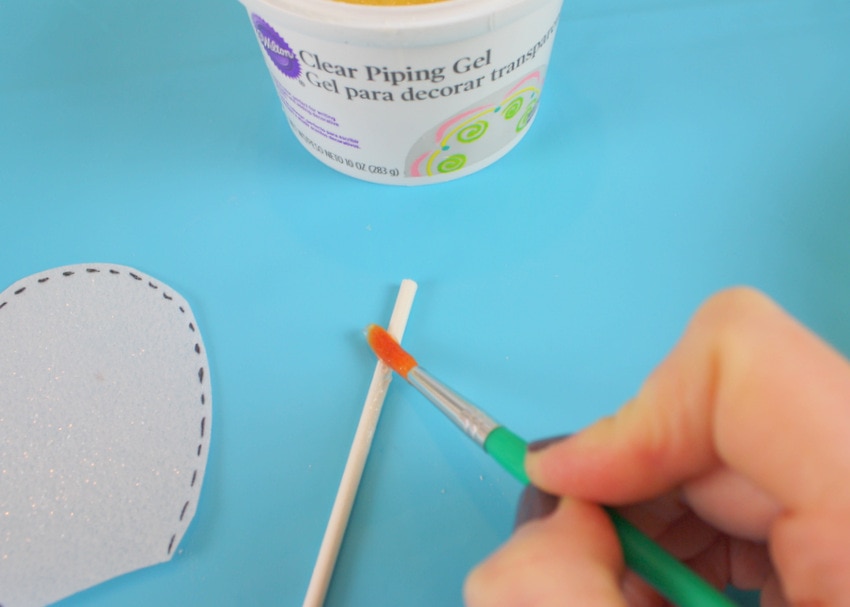 Then, I glued the top wing onto the bottom with a little bit of piping gel once again. The stick will serve an an anchor. Once the wings are ready, you simply sink the anchor into the cake so that only the wings are visible. (I used a little white disco dust to add more sparkle.)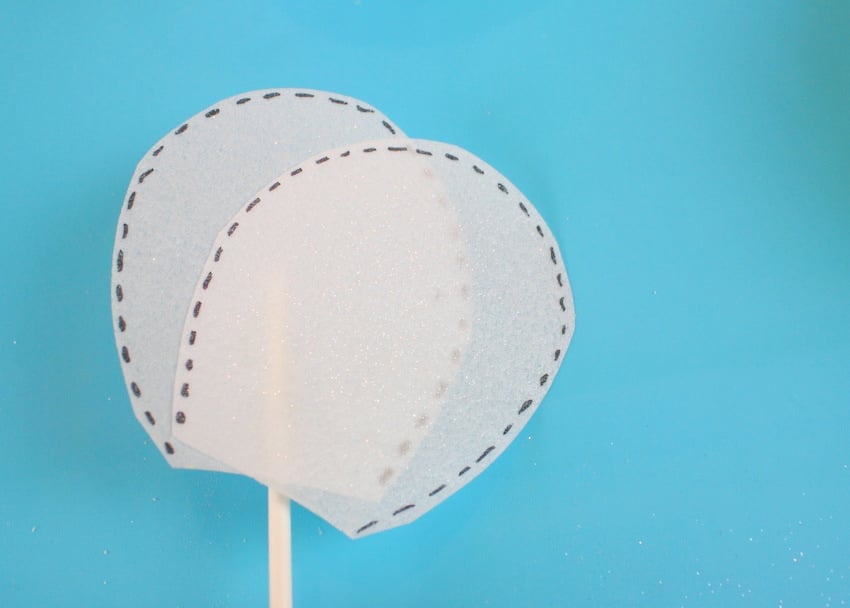 Aren't they cute?! They could easily be finished at this point but I decided to give them little legs ;0)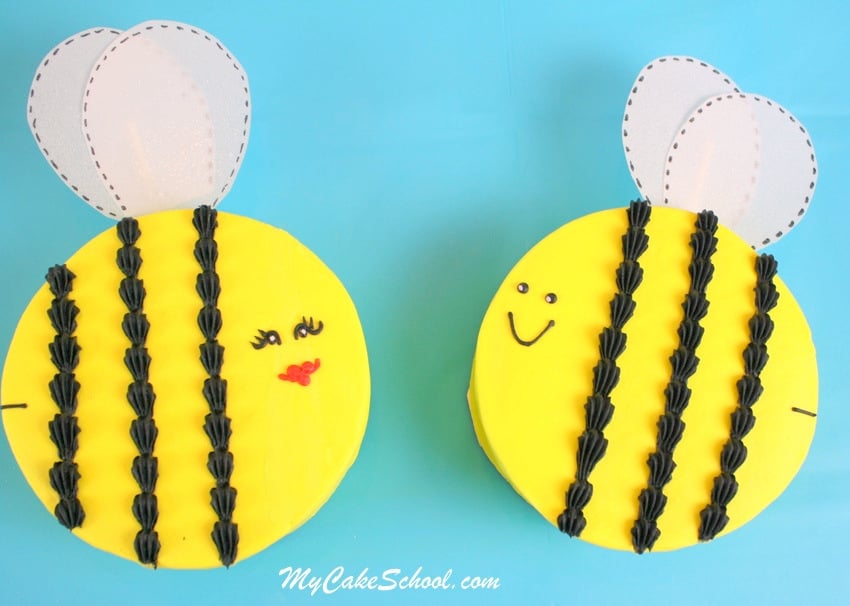 To make our legs, I melted a handful of black Wilton candy melts in the microwave. Then, I piped "L" shaped legs onto a waxed paper lined cookie sheet. You want them to be long enough to anchor into the cake. Also, make them fairly thick so that they won't be fragile. After piping, I popped them in the freezer for about 5-10 minutes so that they would be firm when I placed them into the cakes.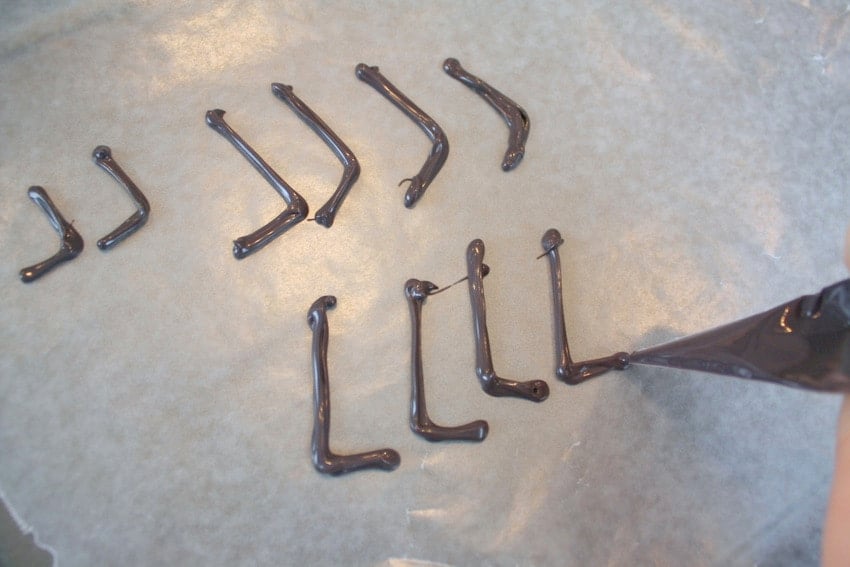 We'll show you our finished bee cakes soon...but first, let's skip over to our cupcakes!
For our cupcake toppers, we used yellow peanut M&Ms. The drawback to this is that I don't think that you can find yellow peanut M&Ms by the bag. We bought a few packs of M&Ms and wound up with enough yellows, but if we hadn't, adding another cupcake design would solve the issue. For instance, some cupcakes could simply say "Bee Mine" on top, or have heart candy toppers. Another idea of course is to make yellow fondant bees or bees from candy melts. There are tons of options!
Now...back to the M&Ms.... I used my americolor pen to draw two stripes. I only drew on the front side for fear that I would smear my lines.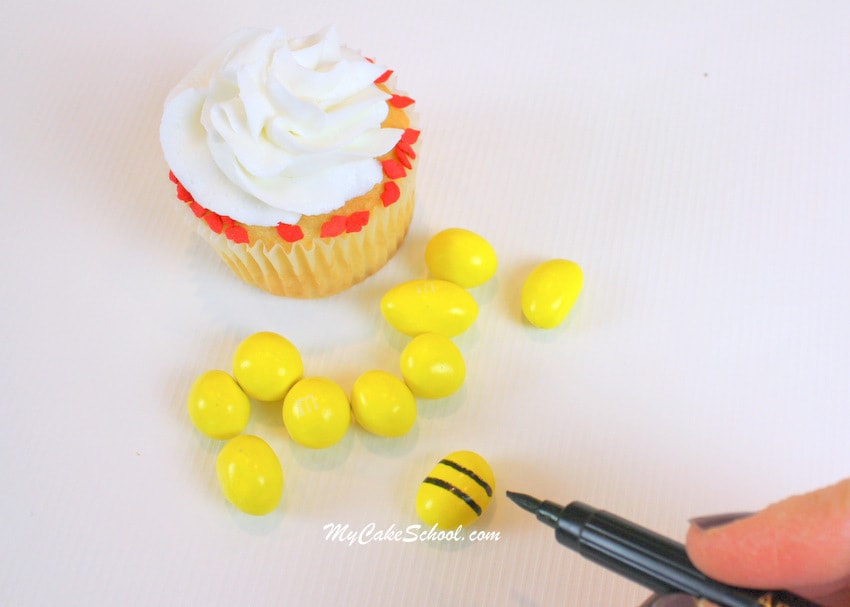 Next, I used my Wilton 3 tip to pipe dots of buttercream on my bee's back. This will hold our heart sprinkle wings in place!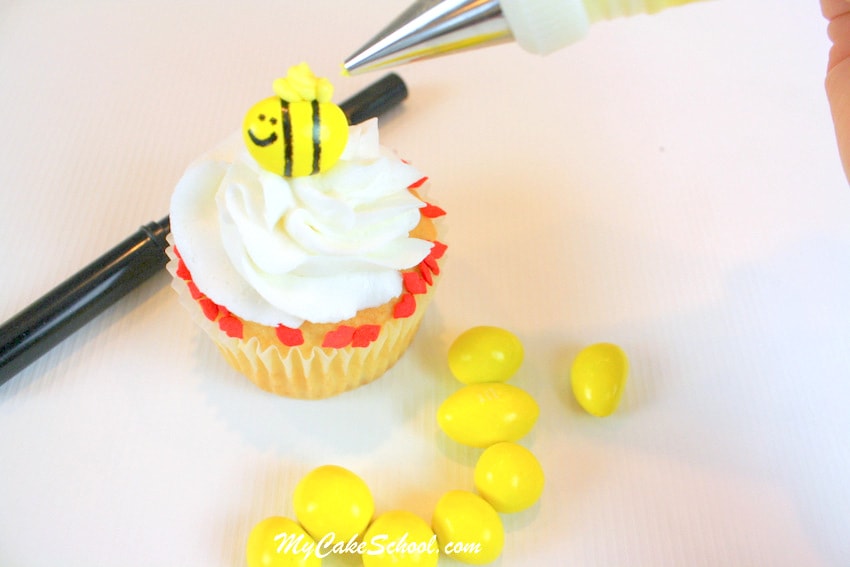 Our only other decoration is a little sign that we made using red pre-colored fondant. I used our stone stamps to write out our "Bee Mine" message, and then I cut it out with a heart shaped cookie cutter. I bought the stone stamps at our local Michael's (not on the cake decorating aisle) --but you can also find them online HERE.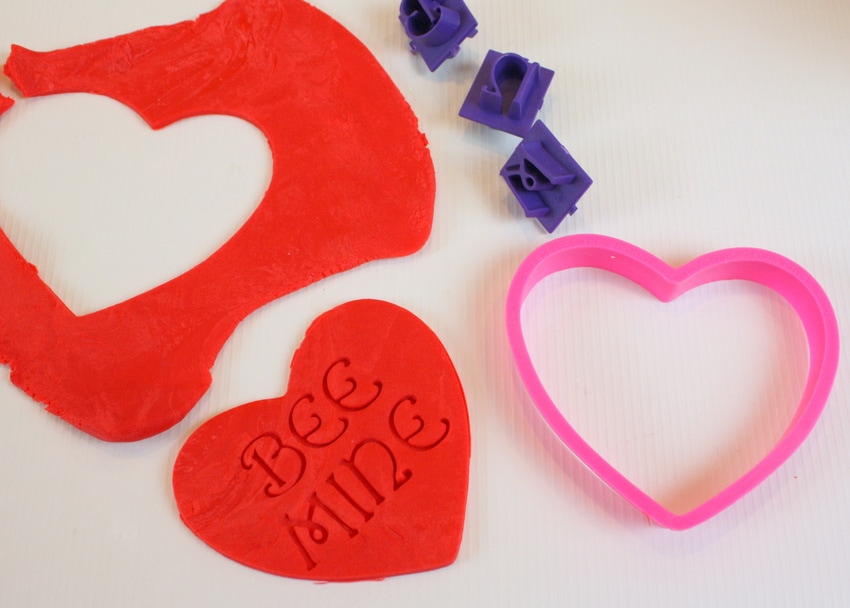 I think that they came out really cute. You can see in the photo that I added our Wilton heart shaped sprinkles to our bees for wings ;0) They are a cheerful bunch!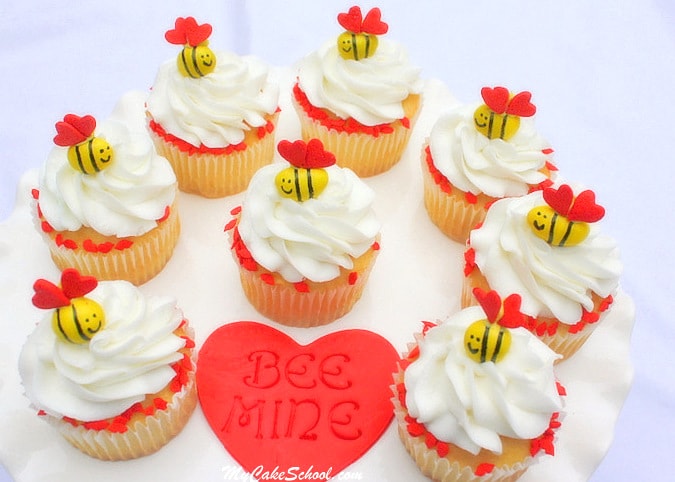 ...and here are our sweet cake bees... chocolate legs and all ;0) Love is in the air!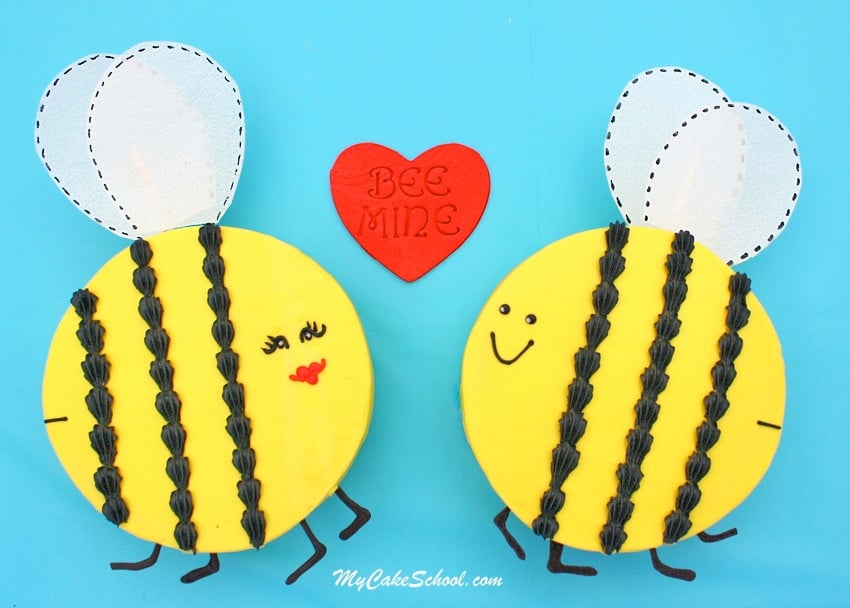 I hope that you enjoyed our Bee Mine tutorial. If you try it out, we would LOVE to see!