We're so excited to add this CUTE Teddy Bear and Balloon cake design to our free tutorials section!
I love cute cakes, and this design is not only an adorable choice for birthdays, Valentine's Day, and showers, but it is also a simple cake to create.
Sometimes the simplest designs are the best!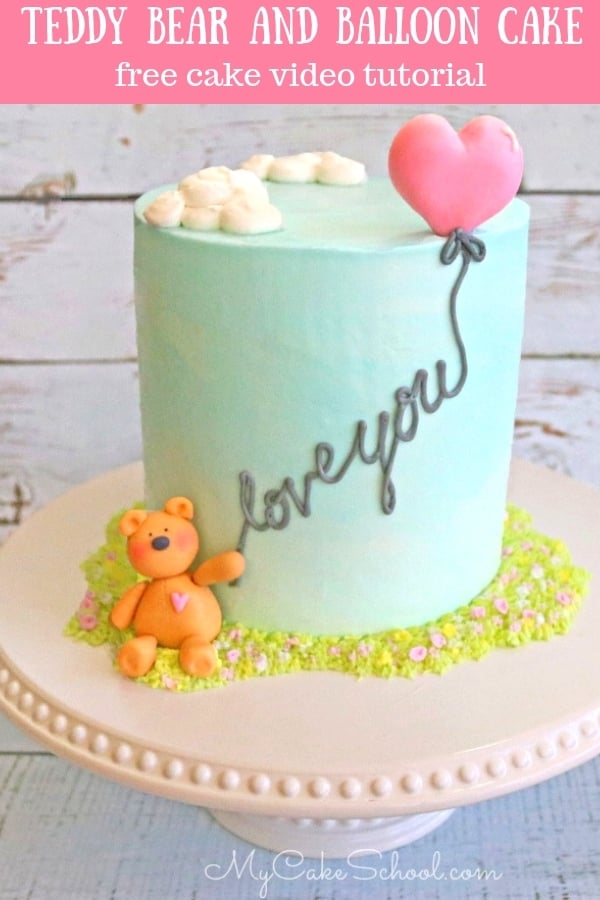 Cake Design
With Valentine's Day just around the corner, we wanted to create a cake tutorial that would incorporate a love or hearts in the design.
Our little "love you" balloon design fits this theme perfectly, and although we used a sweet teddy bear in our design, any number of modeled animals would work equally well!
We hope that you enjoy this sweet cake design! As always, if you give this design a try for your birthday cakes, Valentines Day Cakes, baby shower cakes, or anniversary cakes, we would LOVE to see a photo in the comments below! Enjoy the tutorial!
Looking for more Valentine's Day or Baby Shower Cake Ideas?
*If you are still looking for more Valentine's Day or Baby Shower inspiration, don't miss our roundup of favorite cake designs! Here are the links!: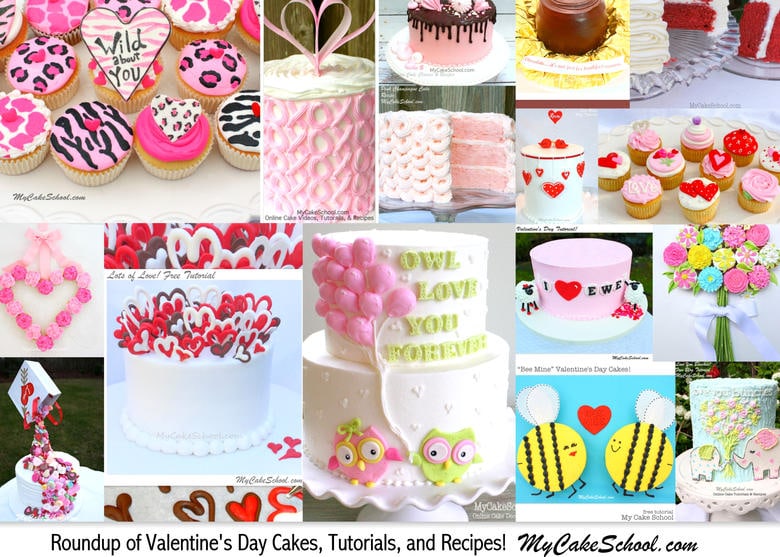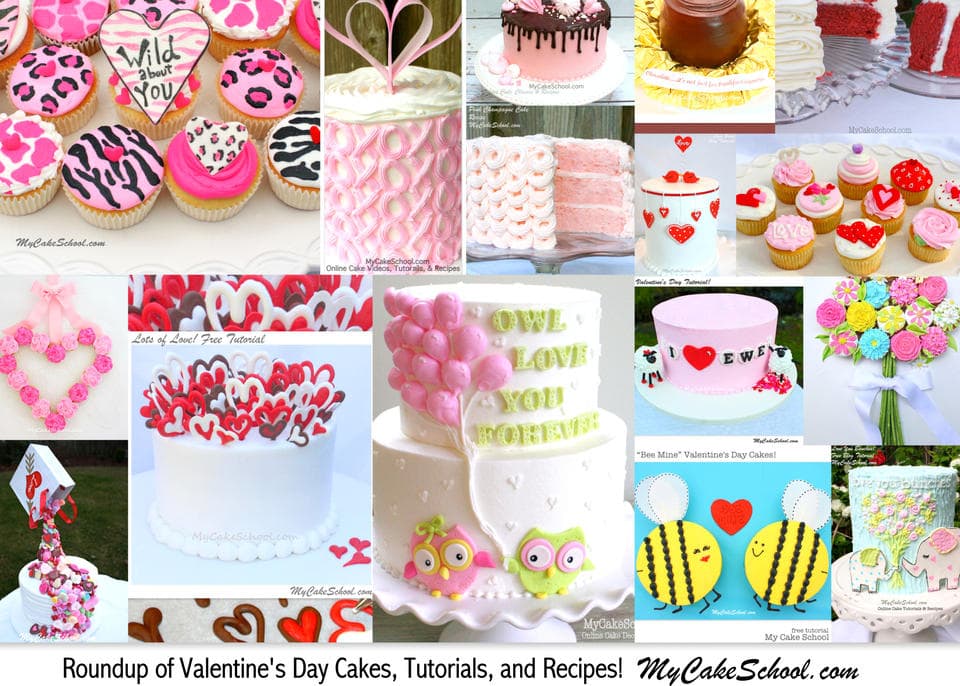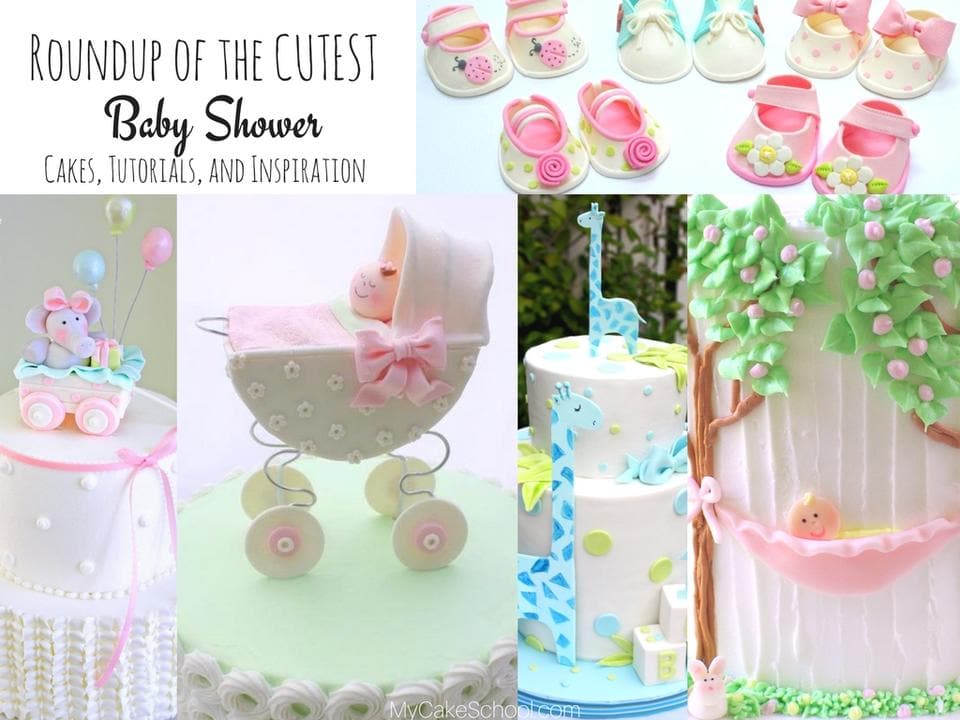 You can also find our collection of favorite Baby Boy Shower Cakes here: Favorite Baby Boy Shower Cake Ideas!
Additional Notes:
Dry Times
For your teddy bear, it's best to allow the bear pieces to dry for at least a couple of hours so that they can begin to firm up before piecing together.
Internal Anchors
We used toothpicks for anchors in the arm and head, but if you do this you will want to warn whoever the cake is for that there are toothpicks inside, in case anyone should try to take a bite out of it! ;0)
You could also skip the toothpicks altogether and just adhere the body parts with small bits of gum paste with a small amount of water kneaded into it to make it tacky. Then just allow to dry. For me, using anchors is the easiest option.
Cake Message
If you need to make the "message" of the balloon string shorter, you could simply right "love". Or, if you don't like to write in buttercream, you could just let the string be straight and use fondant letter molds to create your message somewhere else on your cake. There are so many cute options that would still work well with this design.
Enjoy the Video!
We hope that you enjoy this Teddy Bear and Balloon Cake tutorial! If you give this sweet cake design a try, we would love for you to leave a comment or photo below!
Keep this cake design idea in mind for young birthdays, Valentine's Day, anniversaries, and more!

Teddy Bear and Balloon Cake- A Free Cake Decorating Video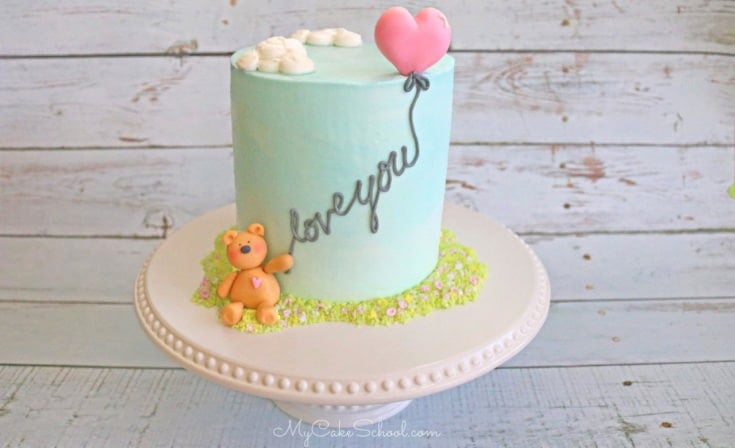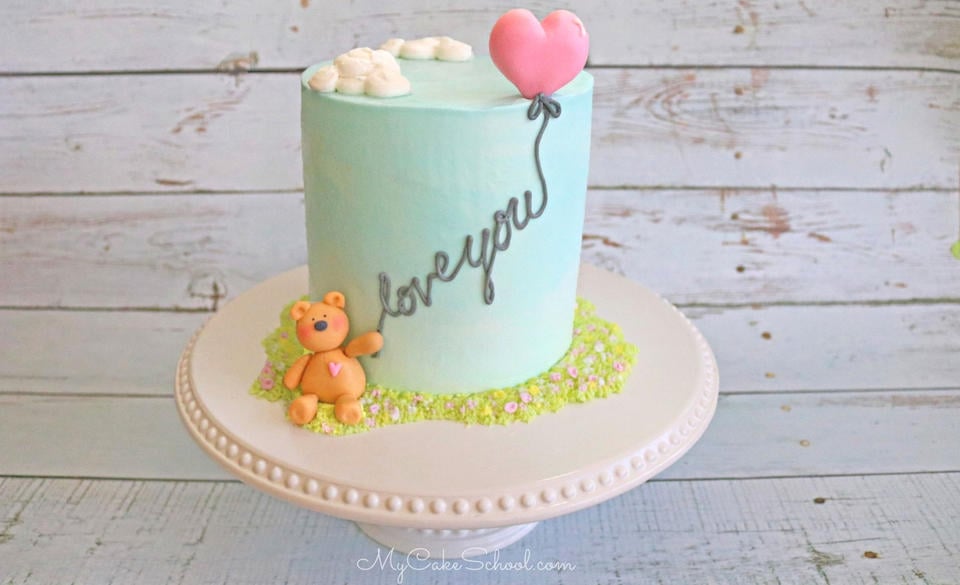 This Teddy Bear and Ballon Cake is so cute for baby showers and young birthdays!
Materials
Buttercream Frosting- We used our Fluffy Vanilla Buttercream Recipe
Gum Paste or Fondant with a little tylose powder kneaded into it
Coloring Gels: We used Americolor Deep Pink, Sky Blue, Electric Green, Lemon Yellow, Ivory (bear), Black (nose)
Food Coloring Pen in Black
Piping Tips: Tip 2 (balloon string), 233 grass tip
Piping Gel (or your food-safe adhesive of choice)
Miscellaneous: I prefer to frost my cakes while using a turntable. We also used disposable piping bags, small paintbrushes
Instructions
Frost the cake in a thin coat of white buttercream. Chill to firm up, and then follow with a coat of blue buttercream (mine has a swirly blue and white look).
Shape pink fondant into a heart shape. (Fondant has a little tylose kneaded into it to firm it up). Add a little lollipop stick anchor to the bottom and allow to set up before placing into the cake.
Chill frosted cake for about 15 minutes in the freezer to firm up the buttercream, then pipe the "love you" message using a tip 2. Connect to the balloon.
Pipe grass border with a grass tip.
Using gum paste (tinted with Americolor Ivory coloring gel), form the parts of the bear and create small holes where they will later connect with toothpicks. (If you do not want to use toothpicks, you can use uncooked pasta or even just dampened gum paste as glue).
Assemble the bear and arrange in front of the cake so that the hand touches the balloon string.
Add final touches, little buttercream dots/flowers in grass.
Notes
For this cake design, we used a 6 inch (4 layer) double barrel cake. As usual, with our double barrel cakes, I filled the bottom two layers (they were resting on their own cardboard cake circle), inserted four bubble tea straw supports, added the top two filled layers (on their own cardboard cake circle cut down to size) above that, and then frosted it all as one tall cake. So basically, with a double barrel cake, you have two tiers of cake stacked on top of each other, with a cardboard cake circle halfway up and supports beneath.