Today's Sweet Woodland Owls cake was so much fun to make!
In this free cake video tutorial, we'll show you how to create a textured buttercream stump cake with a heart shaped opening for two cute little owls!
This cake design would be perfect for Valentine's Day, anniversaries, or woodland themed baby showers! You could also experiment with putting different little animals in the opening ;0)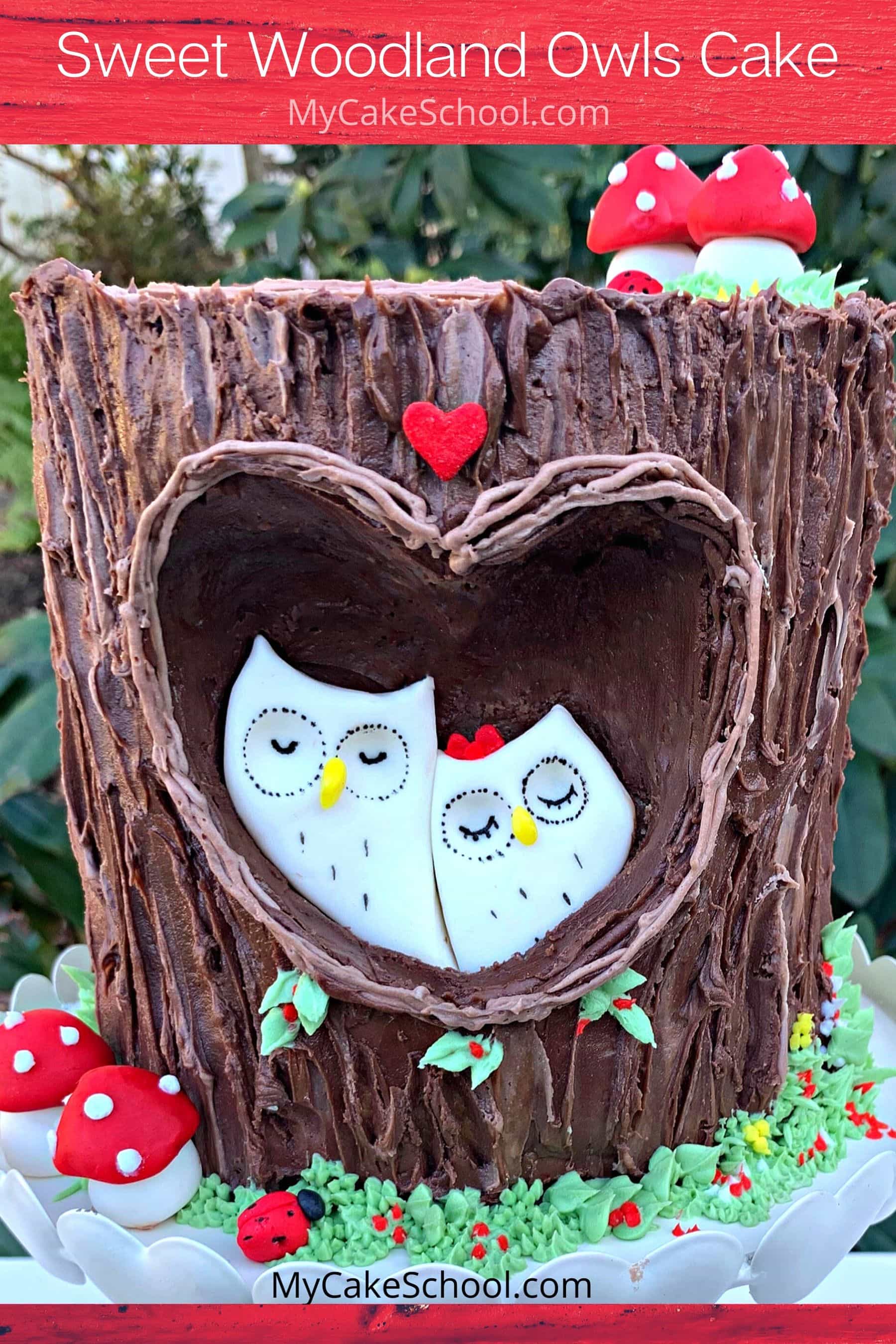 Enjoy the tutorial!
Materials for Woodland Owls Cake
This is a four layer 6 inch double barrel cake, filled with vanilla buttercream. It is resting on a cake cardboard and also has a cake cardboard (trimmed down) halfway up with three bubble tea straw supports.
This cake design would also be cute as a top tier, or for other sizes of tiers. The cake is frosted with our Classic Chocolate Buttercream. (The lighter shades are a combination of vanilla bc + chocolate bc)
Fondant for owls and mushrooms. I used about 46 grams for the owls. Add additional for desired amount of mushrooms, etc.(We kneaded in a small amount of tylose so that it would firm up more quickly).
Heart shaped cutter or template
Small offset spatula(s)
Coloring gels: Americolor Super Red & Yellow, Americolor Avocado Green + a touch of Wilton Leaf green for leaves, Black for ladybugs
Piping Tips: Small round tip 3 (vines around heart as well as dots for mushrooms & flowers), Grass Tip 233, Leaf tip 352
Sprinkles: Optional- I added on one Wilton heart sprinkle as a last minute detail (optional) above the owls.
Piping Gel or edible "glue" of choice.
Edible Ink Pen/Foodwriter in black for details on owls.
Miscellaneous: Disposable piping bags, couplers, pedestal or cake base, small paintbrush & toothpick(s), ball tool for owl eyes,
Notes for Stump Cake:
After adding your middle cake cardboard (with dowels beneath), make sure to make the "front" of the cake so that you will know which side to cut the heart from.
Use my templates as guide, but you may need to adjust the size based on what makes sense for the size of your cake, etc.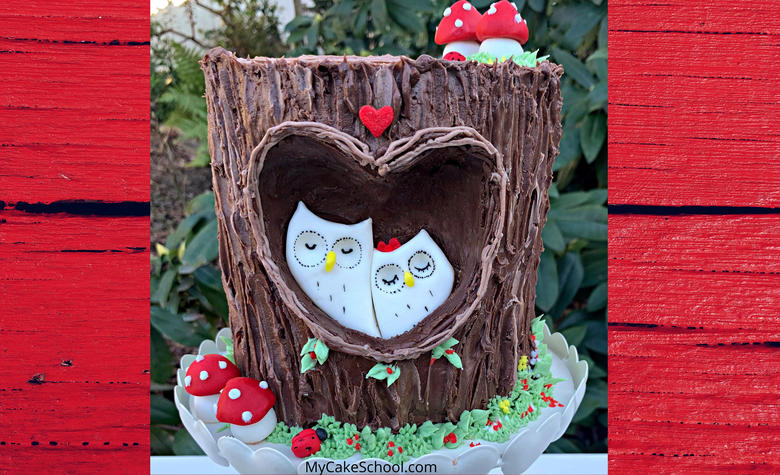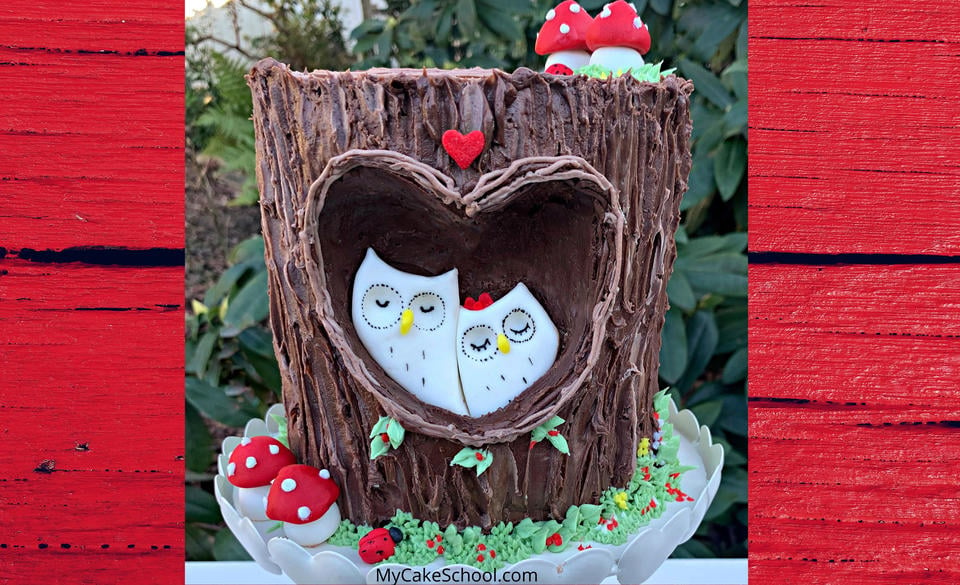 More Owl Themed Cakes and Designs
We have even more owl themed cakes for you to try! Here are just a few of our favorites!
Owl Cake (Easy Carved Owl Cake- Free Video)
Owl Love You Forever- Free Cake Video
Hula Owl Cake Topper- Free Blog Tutorial
Easy Owl Cake and Cupcake Toppers- Free Blog Tutorial
Enjoy the Video!
Thanks so much for stopping by! We hope that you enjoy this sweet owl cake & tree stump tutorial!
You could easily apply these techniques to other cake designs as well- or change things up and put one little owl with a party hat on, or another little animal.
I also love how easy it was to create the tree stump in buttercream by adding just a bit of texture. If you give this cake a try, we would love for you to leave a comment below!