Buttercream Embroidery Cake-Video Tutorial
In this cake video tutorial, I'm going to demonstrate a beautiful buttercream embroidery technique which is very impressive and elegant, but also surprisingly simple to master.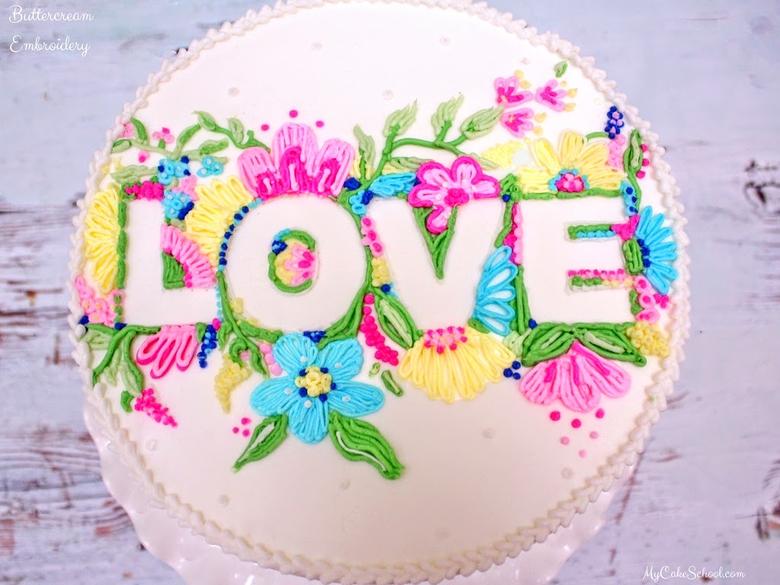 You may remember that we have a video on Brush Embroidery as well, but today's technique is unique in that it involves piping over the entire pattern.
We hope that you enjoy the video! With a few color and design changes, this technique would be perfect for all sorts of special occasions, from baby showers and birthdays to weddings!
*Pinterest or Google Images is a great resource for more embroidery inspiration. Here is a link to the LOVE Embroidery that inspired my design. The options are endless. Have fun experimenting!
Materials:
Todays cake is an 8 inch tier, frosted in our Fluffy Vanilla Buttercream Frosting recipe. (Any frosting recipe would work well as long as it holds it's shape nicely.)
Buttercream (I used about ½ cup of buttercream per color in addition to the buttercream used to frost the cake.)
Coloring Gels: Use whatever colors/brands you'd like. We used Americolor Deep Pink (lighter pink), Wilton Rose (Darker Pink), Americolor Regal Purple, Americolor Sky Blue, Americolor Lemon yellow, for the two shades of green, we combined Americolor Mint and Avocado Green.
Piping tips: We used the small piping tips that we had on hand-- I prefer to work with small tips 1 &/or 2 for this project. I used both for this design.
Miscellaneous: disposable piping bags, cardboard cake circle cut to the size of the cake, I used a bench scraper to smooth the frosting, and then smoothed with a Viva Paper Towel
Notes:
To create the "LOVE" design that we used in this tutorial, you'll need to print off the template, cut out the letters, and center them on the top of the cake while the frosting is firm so that you can mark around the edges with a toothpick.
The easiest way to firm up the buttercream on your frosted cake is to chill it either in the freezer for about 10-15 minutes, or for longer in the refrigerator.
(You can also lay the letters on top of crusted buttercream but if the frosting is room temp, it's easy to accidentally dent the frosting while placing or picking up the letters.) Of course, if you feel good about free handing, that works too! ;0)