Today we are going to whip up some CUTE Conversation Heart Flower toppers for cupcakes! All that you need is a little melted candy coating, Conversation Hearts, and a few sprinkles!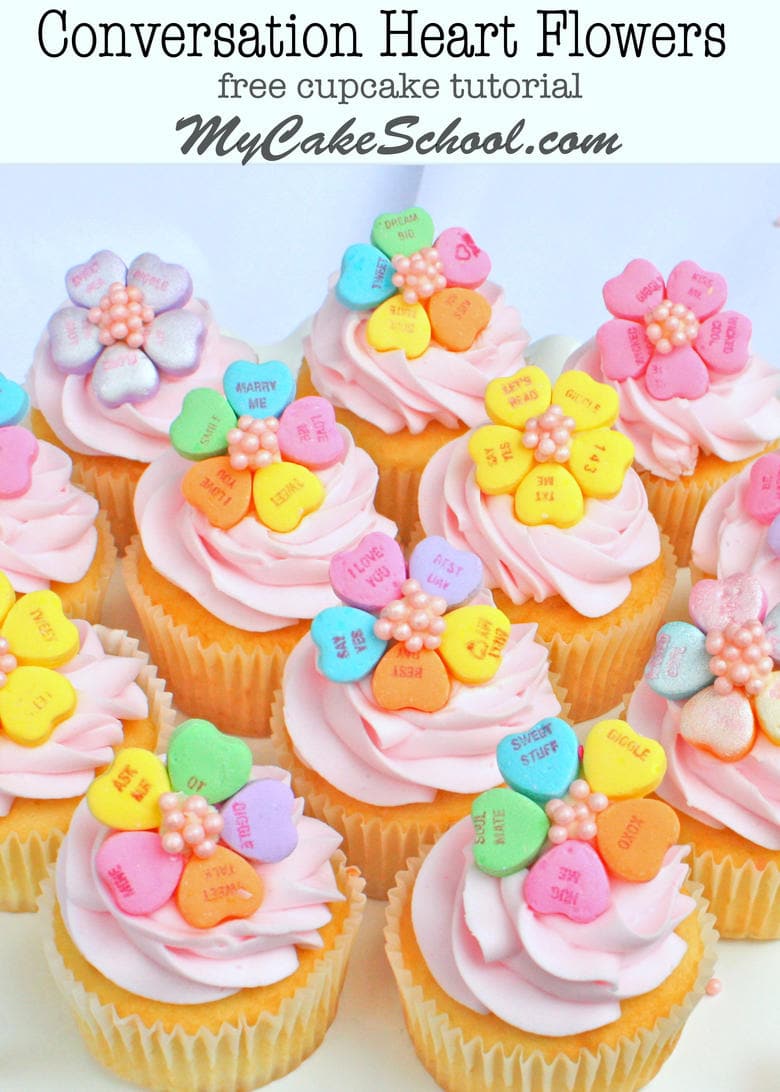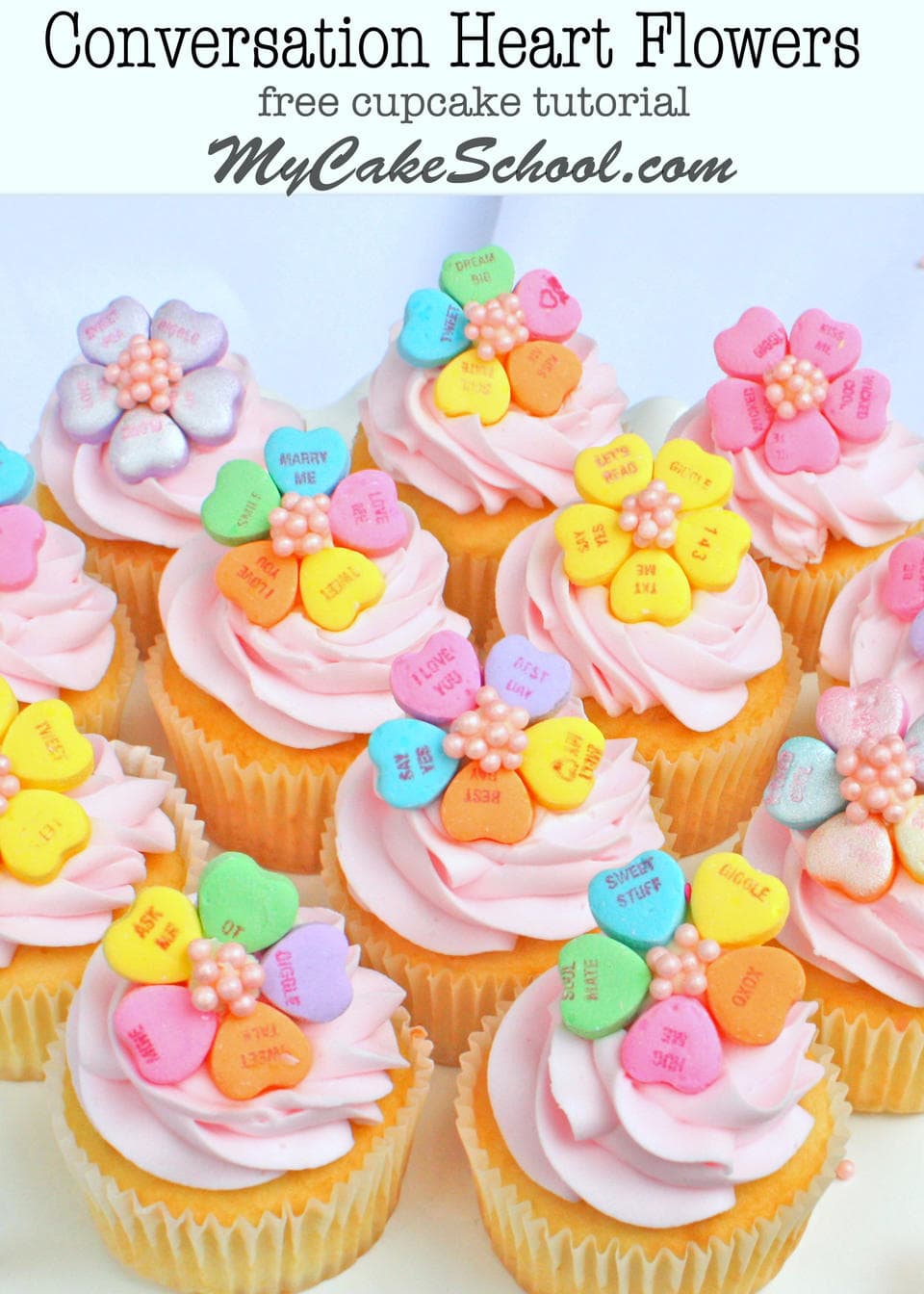 These sweet Conversation Heart Flowers are the perfect cupcake toppers for Valentine's parties, class parties, or just because. An added bonus is that this sweet project is extremely kid-friendly, so if you have any little helpers around the house, they will love making these too!
Let's get started....
How to Make Conversation Heart Flower Cupcakes for Valentine's Day
First, I put a block of candy coating/bark into a plastic wrap lined bowl and zapped it in the microwave for about 30 seconds or so until melted.
(Skip the plastic wrap if you don't have any that is microwave safe-- it's just to save you a few minutes of cleanup) ;0) *Use your candy coating of choice, Wilton Candy melts or something along those lines is fine.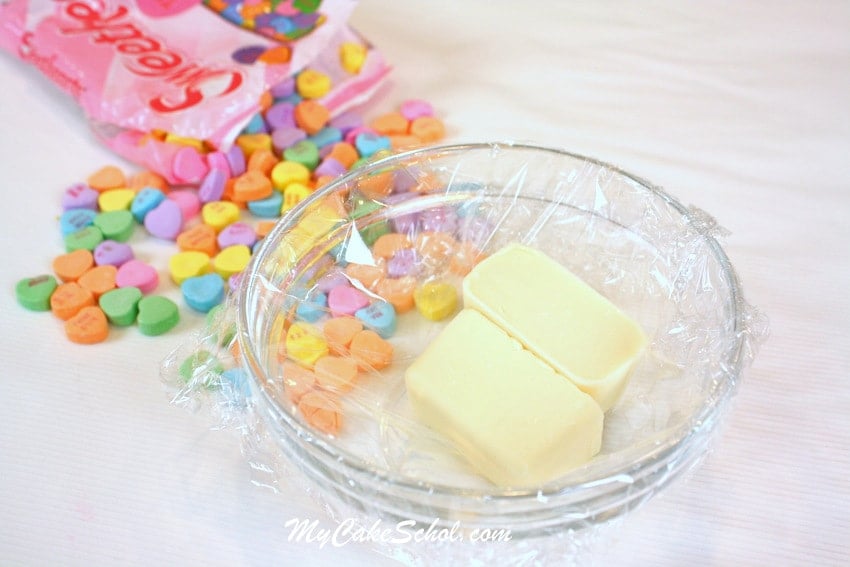 Next, I spooned the melted candy melts into a disposable piping bag and snipped the tip off. I piped a row of melted chocolate dots and then pressed my candy hearts into them in flower formations.
Five candy hearts seems to be the magic number. Just make sure that each heart is at least touching part of your melted chocolate, which will act as our "glue".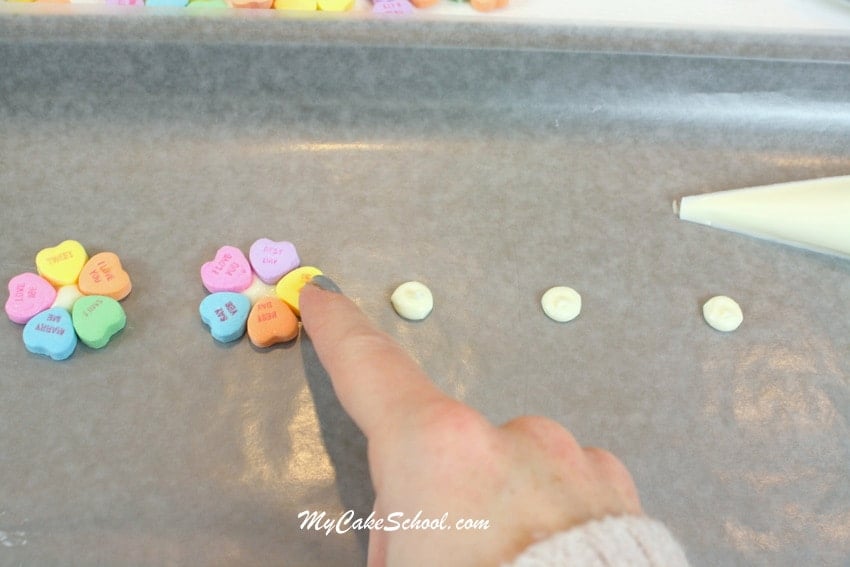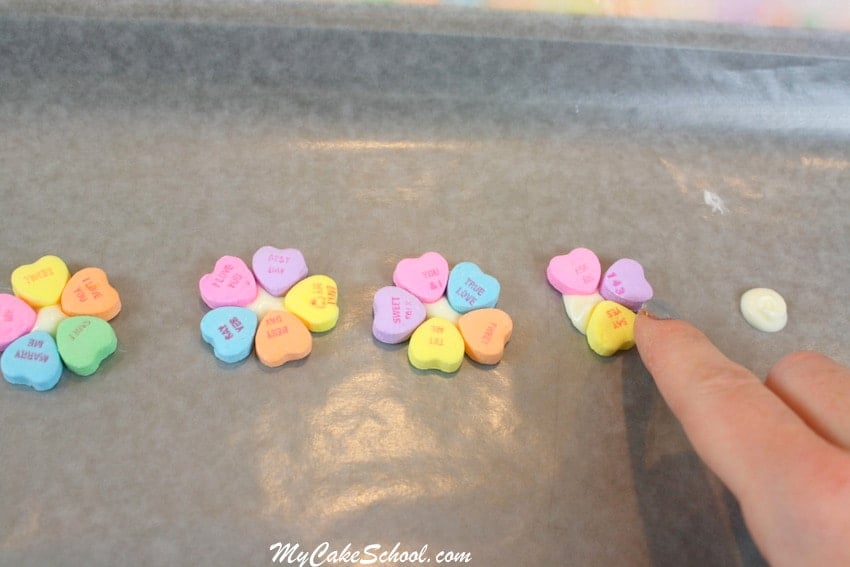 You can leave the centers plain or add sprinkles while the chocolate is still soft...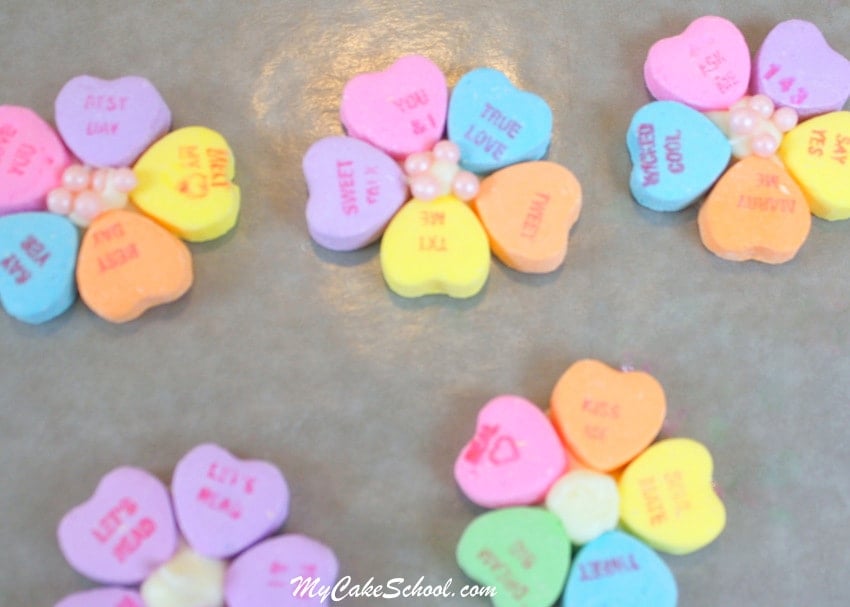 Or... you can pipe a bit more chocolate to the center and add sprinkles for a more raised look. (I did this for most of my flowers).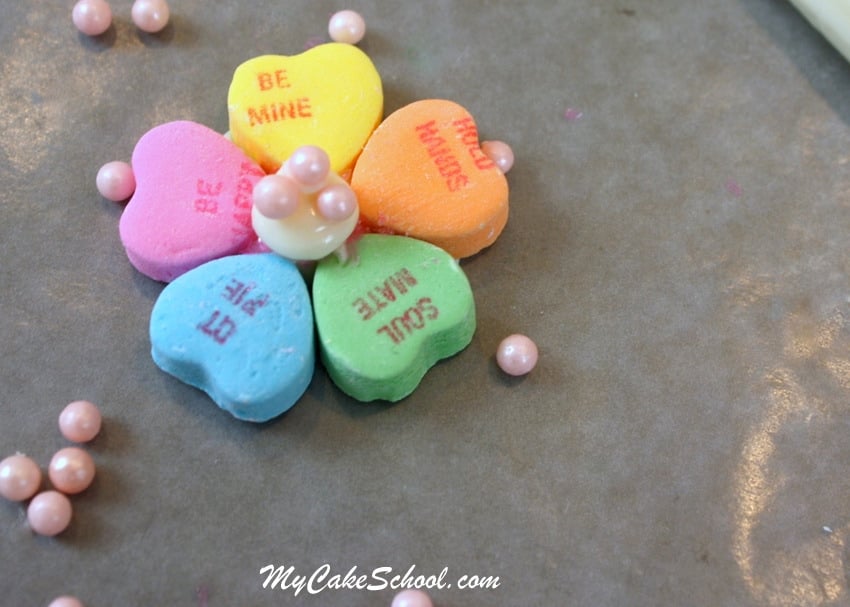 To firm things up, place your cookie sheet of flowers into the freezer for about 5 minutes or so. Then, they will be ready for cupcakes!
You can see below that I did a little experimenting with my Wilton pearl spray on a couple of my flowers -- A fun alternative but the words do become harder to read ;0)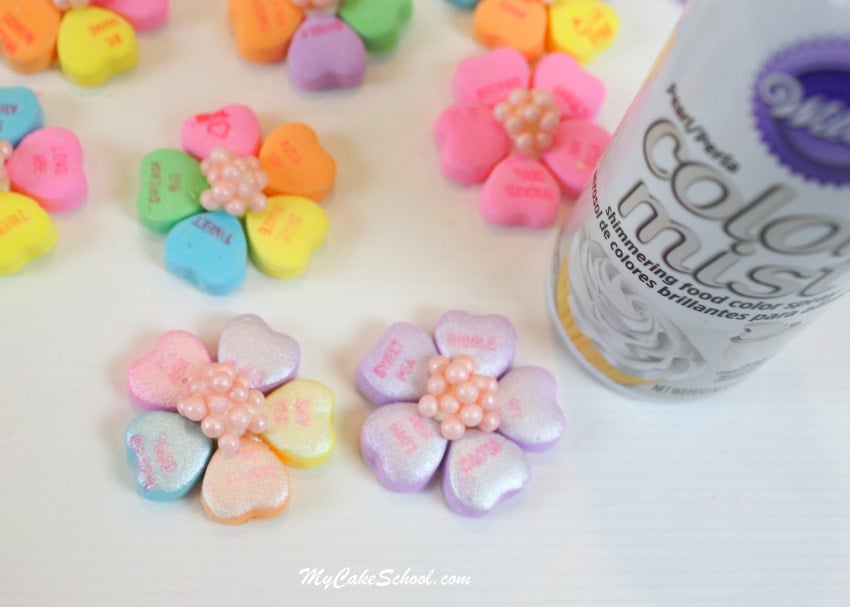 After chilling, this is what they look like from the back. Nice and secure thanks to the chocolate!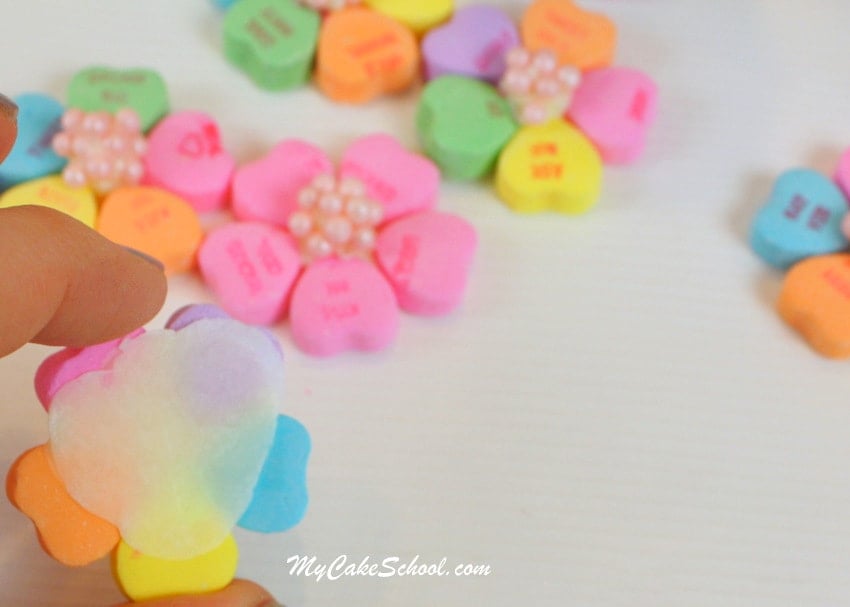 I used a piping bag of pink (Americolor Deep Pink) buttercream fitted with a 2D tip to swirl my cupcakes. Then, added our flowers!
You can see that for some flowers I used the same candy color all the way around. Love these little conversation flowers, and I love how simple they were to make! They would be cute on a cake too ;0)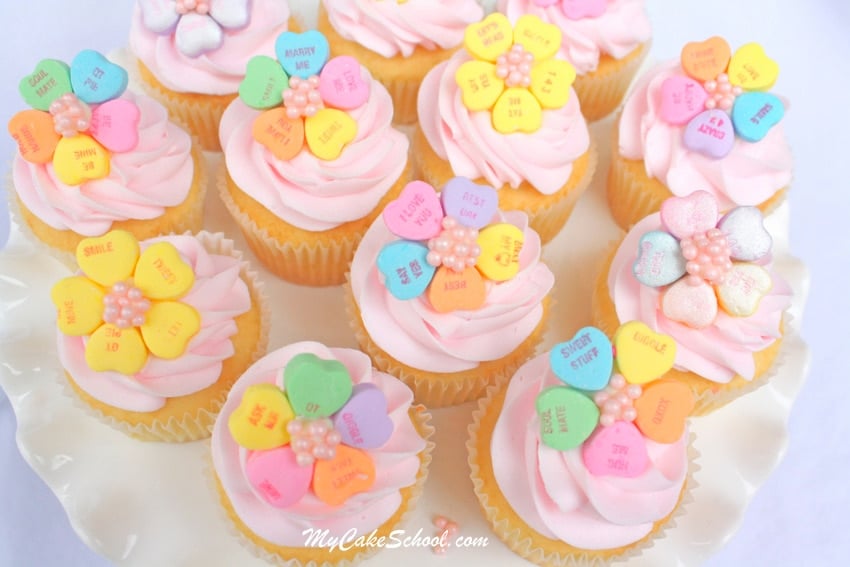 Thanks for stopping by, and have a wonderful Valentine's Day! xoxo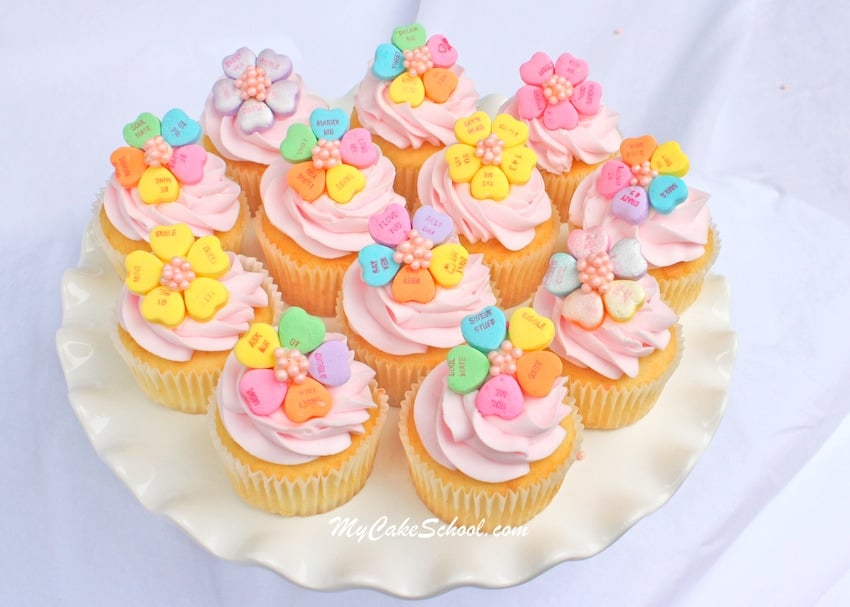 More Valentine's Day Cake Ideas and Tutorials!
Looking for even more Valentine's Day cuteness? Don't miss our roundup of FAVORITE Valentine's Day cakes, recipes, tutorials and inspiration! Roundup of favorite Valentine's Day Cakes and Ideas!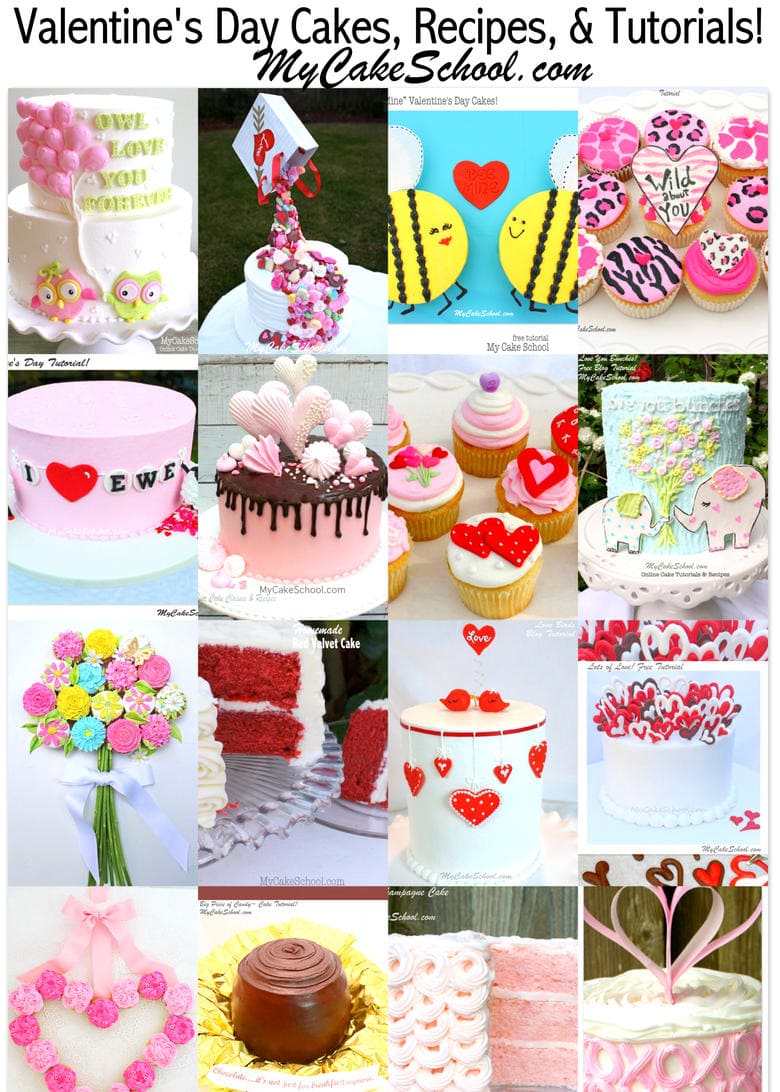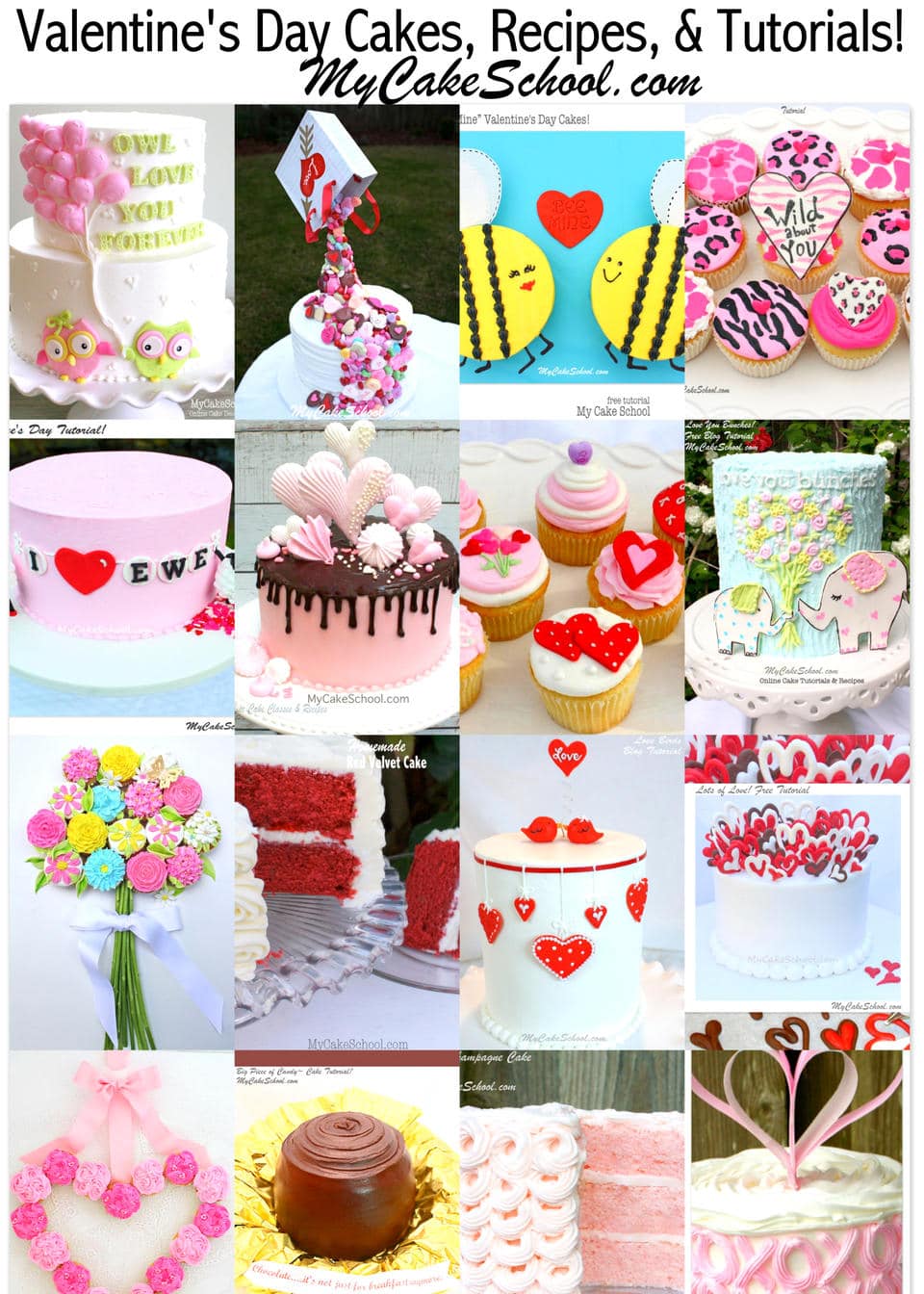 Favorite Valentine's Day Cake Recipes
Scroll through our collection of favorite Valentine's Day cake recipes! We're sharing everything from decadent chocolate cakes to Red Velvet Cake, Black Forest Cake, Pink Champagne Cake, and so many more!
You can find all of the festive Valentine's Day deliciousness here: The BEST Valentine's Day Cake Recipes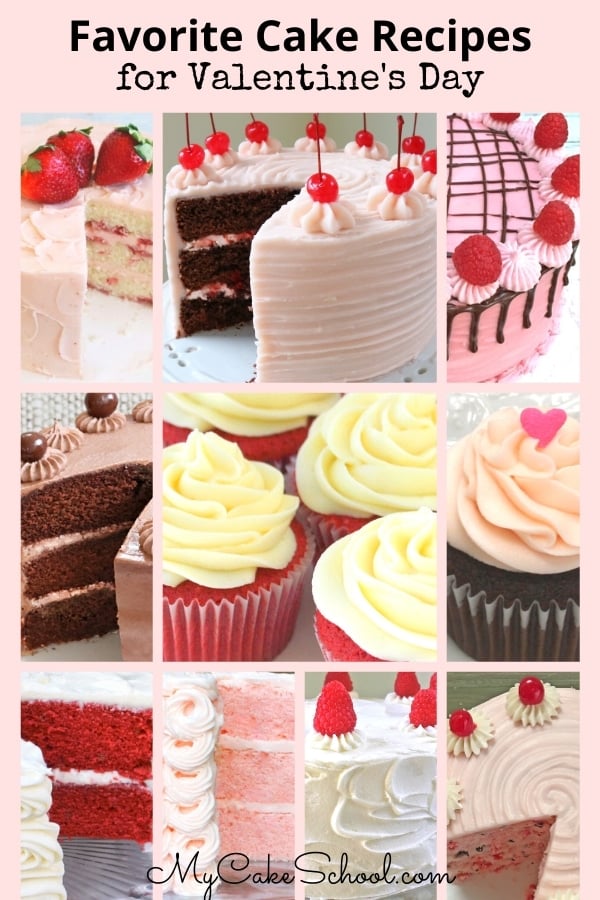 Conversation Heart Cupcake Toppers!~ A Cupcake Blog Tutorial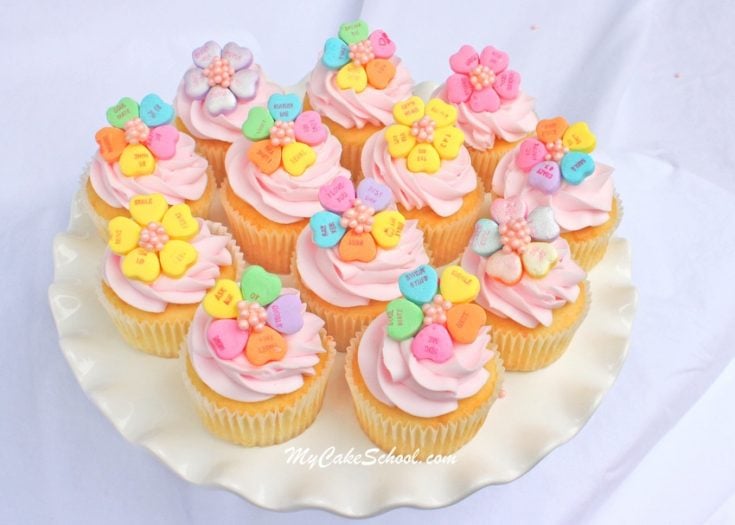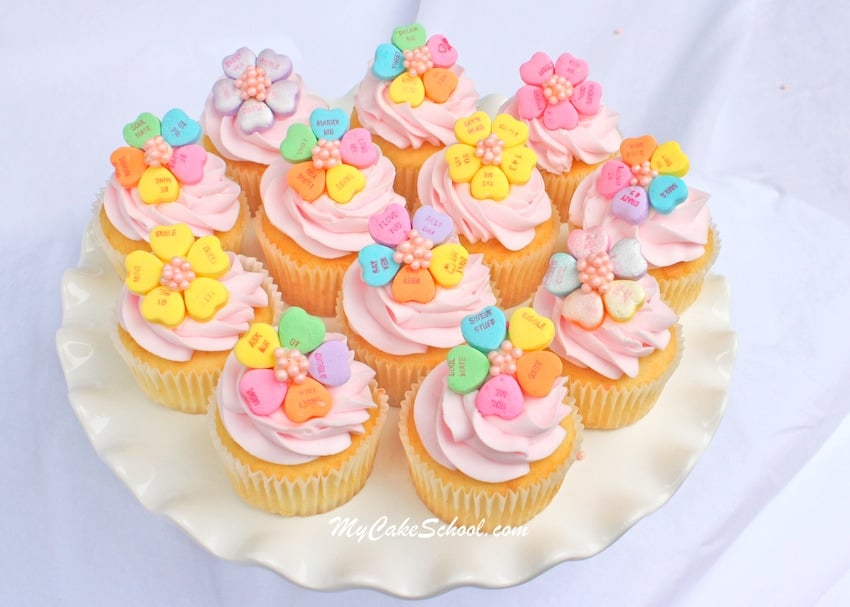 These cute and simple Valentine's Day Conversation Heart Cupcake Toppers are so much fun to make! They are the perfect decorative accent for your Valentine's Day cupcakes!
Materials
We decorated cupcakes that were swirled with a 2D piping tip with vanilla buttercream frosting tinted Americolor Deep Pink.
For the Conversation Heart Flowers
Conversation Heart Candies (you'll need 5 hearts per cupcake topper)
Candy Coating - Whatever brand you like- we used 2 blocks of white bark coating.
Wax paper lined cookie sheet
Disposable piping bags
Sprinkles for center of flowers
Instructions
For the Cupcake Toppers
Load a disposable piping bag with the tip snipped away with melted candy coating.
Snip the tip away from your disposable piping bag, and pipe dots of melted candy coating on a wax paper lined cookie sheet.
Arrange the candy hearts in a tight circle so that the points are on top of the melted circle of candy coating. This will give you the flower shape, and the melted chocolate act as the "glue".
To create the center of the flowers, add sprinkles to the melted candy coating center (or pipe additional candy coating to the center of the flowers as needed and add sprinkles).
Chill the cookie sheet of flowers for about 5 minutes in the freezer (or longer in the refrigerator).
You will be able to easily pick them up and place them onto your cupcakes! SO cute!
Notes
Make sure that the candies are all in contact with the melted candy coating center so that the flower will be secure. You can pipe more candy coating onto your cookie sheets if needed!
Whenever I'm working with candy coating decorations, I like to chill them just before handling. In this case, it's a good idea to chill them briefly just before placing them on the cupcakes so that they will be less fragile.
Recommended Products
As an Amazon Associate and member of other affiliate programs, I earn from qualifying purchases.
My Cake School Online Cake Classes, Cake Recipes, and More!
Thanks so much for stopping by! If you make Sweetheart Conversation Heart Flower Cupcakes of your own, we would love to see! Leave a photo in the comments below!
While you're here, don't miss our full collection of favorite cakes and frostings in our Recipes Section. Whether you like to bake from scratch or from a doctored cake mix, we have lots of favorite cake recipes to share!
Also, if you are interested in learning more about cake decorating, we have tons of creative cake decorating tutorials in our Free Tutorials Section, which also includes a Free Video Tutorials Section.
For access to our entire collection of hundreds of cake decorating video tutorials, we would love to have you as a member of My Cake School! You can find the details here: Joining Information for MyCakeSchool.com