Braided Buttercream Cake with Ruffled Heart Topper~ Video
In this short cake video tutorial, I'll show you how to make an elegant braided buttercream cake design with a ruffled heart cake topper!
These are such elegant techniques and can be applied to cakes for all sorts of occasions from birthdays to Valentine's Day, anniversaries, and more!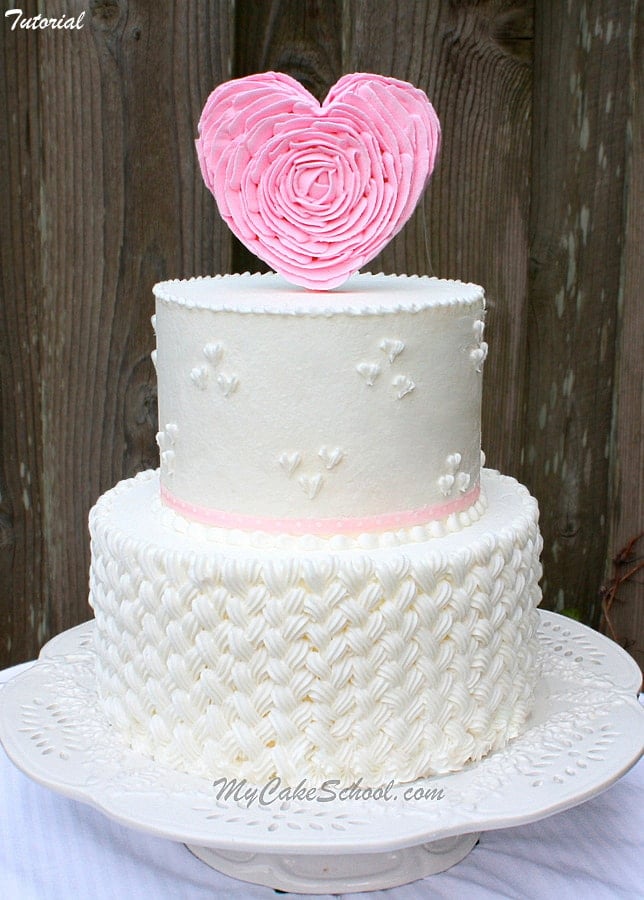 Materials:
*In the tutorial, I'm working with 8"/6" cake dummies (4 inch height). As always, we recommend settling the tiers & crumb coating before adding the final layer of frosting. You will need a cake board for each tier, as well as bubble tea straws (or supports of choice) to support the weight of the upper tier, as with any stacked tier construction.
Vanilla Buttercream- We used our Fluffy Vanilla Buttercream, but any buttercream that holds it's shape nicely will work
Royal Icing, medium consistency (Recipes section)
Coloring Gel: Your pink of choice, we used Wilton Rose
Piping Tips: Desired sizes of star & round tips--We used Wilton 18 & 13 star tips, and round tips 2, 6, 12 (for various sizes of bead border). Also, 104 (petal) tip for cake topper
Gum Paste or Fondant with Tylose- Cut out desired heart shape
Lollipop stick for anchor
Heart Shaped Cookie Cutter in desired size for topper
Piping Gel or "glue" of choice
Notes:
For the heart cake topper, allow the gum paste (or fondant/tylose) heart shape to dry for at least 2 days to be on the safe side. Also, make an extra gum paste heart just to be on the safe side.
After piping your royal icing, allow to set up preferably for 24 hours before handling. I do not like to refrigerate royal icing pieces. This is something that I would add to a cake close to the time of the event.