Valentines Day Cupcake Tutorial! My Cake School
Today I'm going to share some CUTE cupcake designs in this Valentine's Day cupcake tutorial!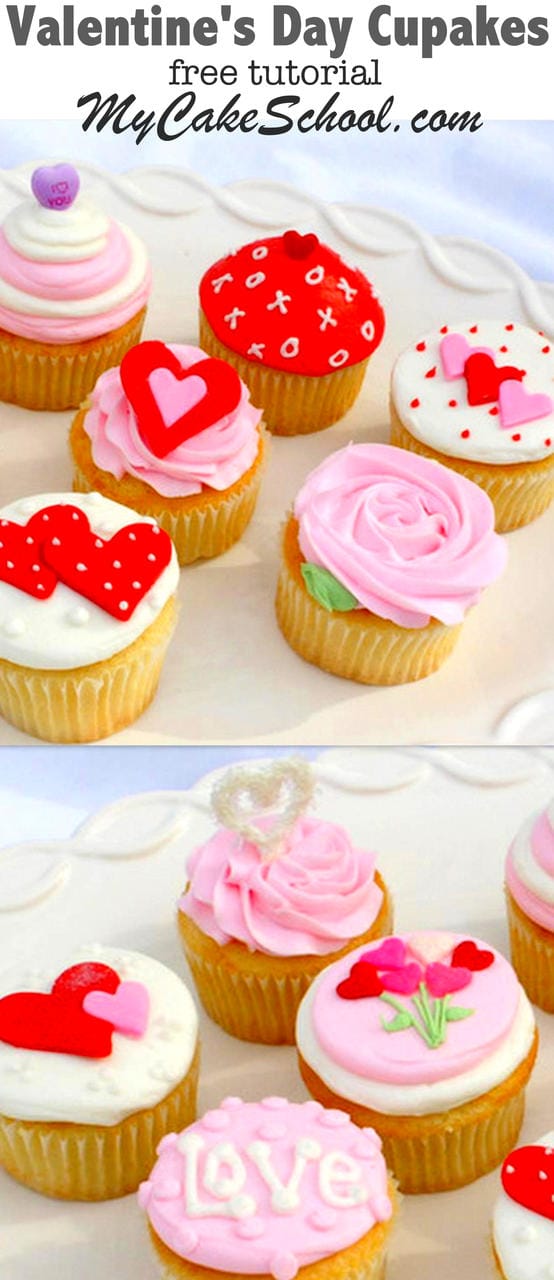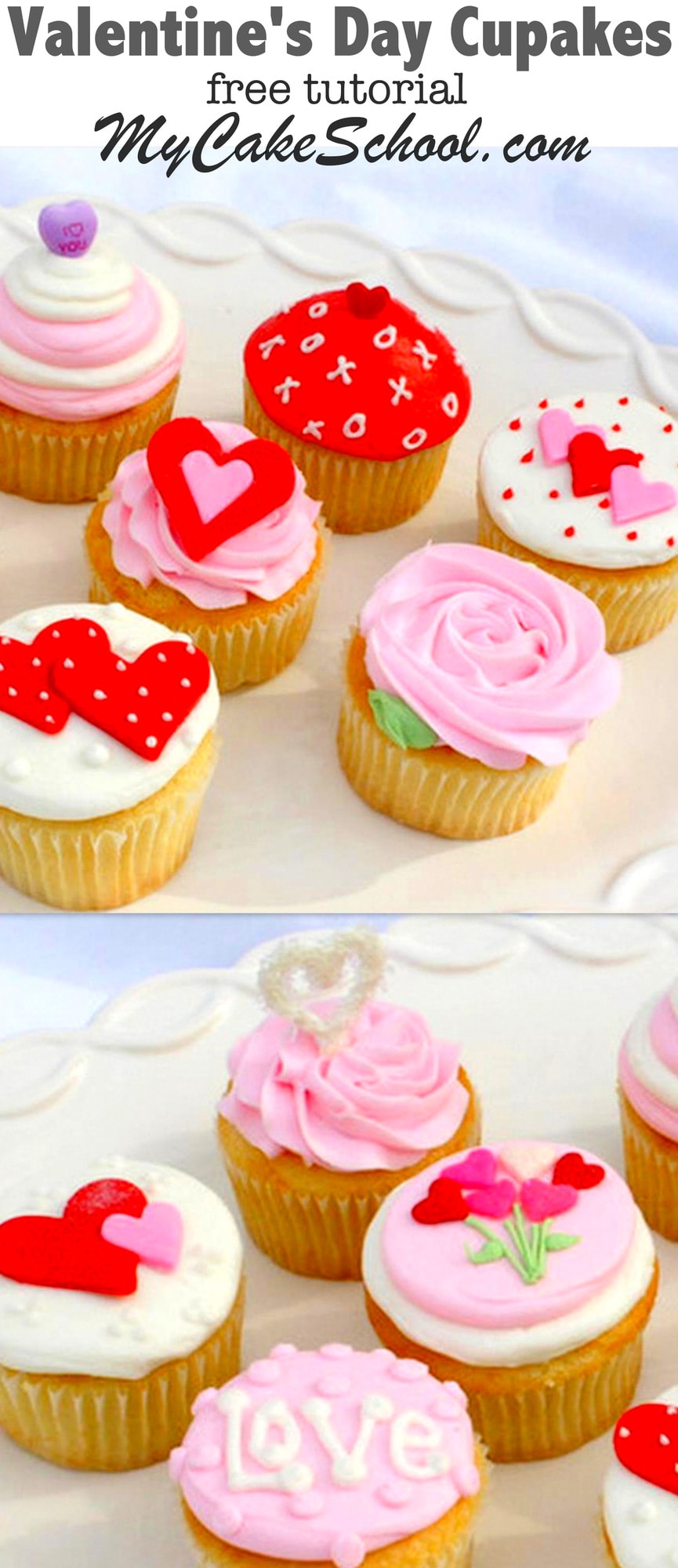 How to Make Valentine's Day Cupcakes
These festive cupcake decorating techniques are so adorable and easy.
Whether you choose to duplicate all of these Valentine's Day cupcakes designs or just one, you are going to have the cutest platter of cupcakes in town!
Fondant Hearts
One of my favorites is this easy method for fondant Valentine's Day cupcake toppers. Simply roll out a bit of pink or red fondant and use heart cutters to make double hearts that fit together like a puzzle.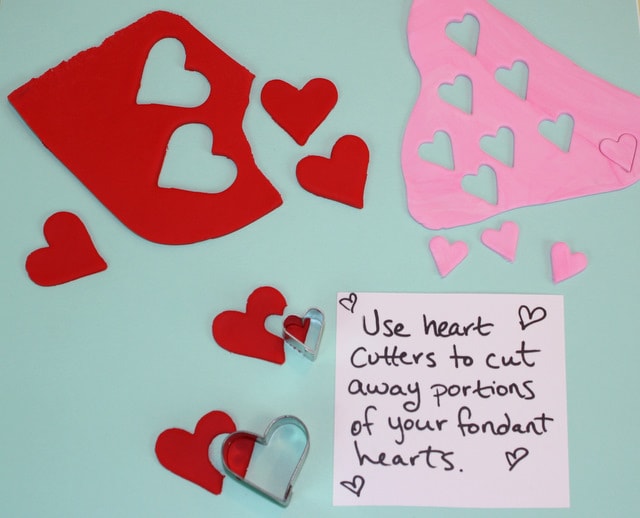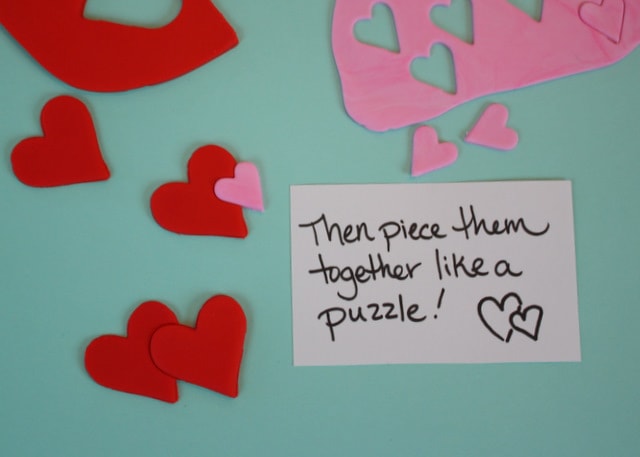 I always love a nice swirl of buttercream on cupcakes, but every now and then I like to change things up & create a nice, smooth finish. This is especially helpful if I'm going to be writing on top of them.
Viva Paper Towel Method of Smoothing
In the photo below, I'm demonstrating the "Viva Paper Towel Method" of smoothing. Remember...this only works with crusting buttercreams. (Our Fluffy Vanilla Buttercream & Classic Vanilla Buttercream recipes are examples of Crusting Buttercreams.)
We use Viva brand because there is no quilting or impressions. I applied my frosting in a flat spiral starting in the center and rotating outward until the entire cupcake was covered.
I allowed the frosting to sit for 5-10 minutes until crusted. Then, I placed a Viva paper towel on top and lightly smoothed over it moving my hand back and forth.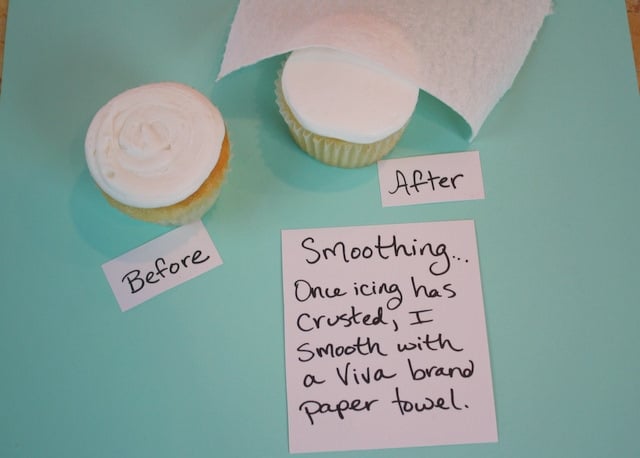 Here's the same method of smoothing....only this time, I layered two colors of buttercream. I piped on my color with a Wilton tip 12.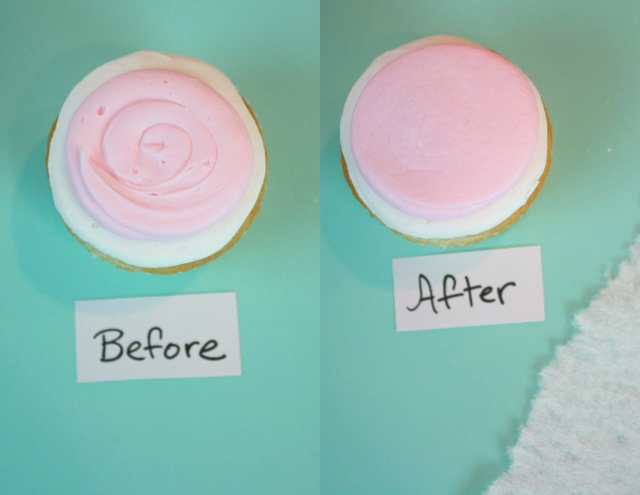 Sprinkles Design
I LOVE sprinkles!!! These heart sprinkles are great not only for Valentine's Day, but year round! I often place them vertically on top of a cupcake swirl for a sweet finishing touch.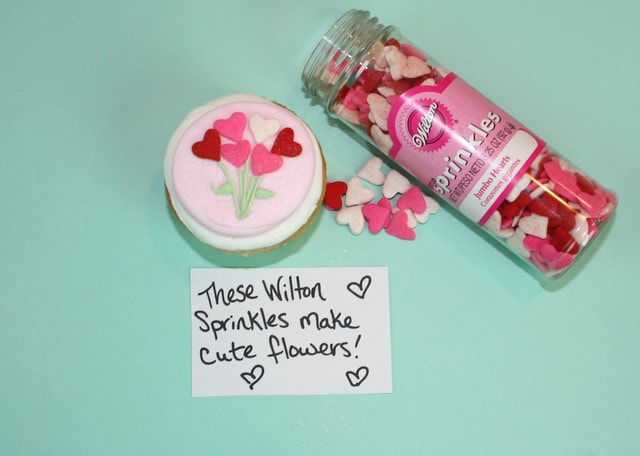 For the icing lovers out there...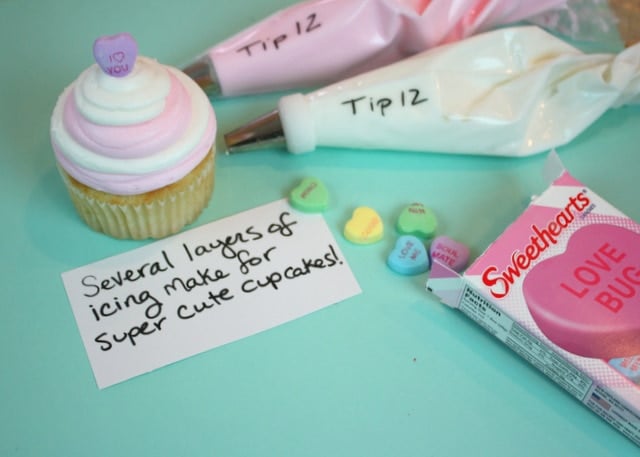 Candy Coating Accents
And finally, I piped some chocolate candy coating decorations! You can use any brand of candy melts or candy coating/chocolate bark.
This is one of my favorite mediums because the decorations are ready to use in minutes!
Simply pipe your Valentine's designs onto a parchment or waxed paper-lined cookie sheet and pop in the freezer for a few minutes to speed-set! Instant Valentine's Day cuteness!!
You can see that I piped little anchors for my hearts so that they can stand upright. The more thick the piping, the less fragile these will be.
*It's best to handle candy coating decorations while they are chilled. They are less fragile that way!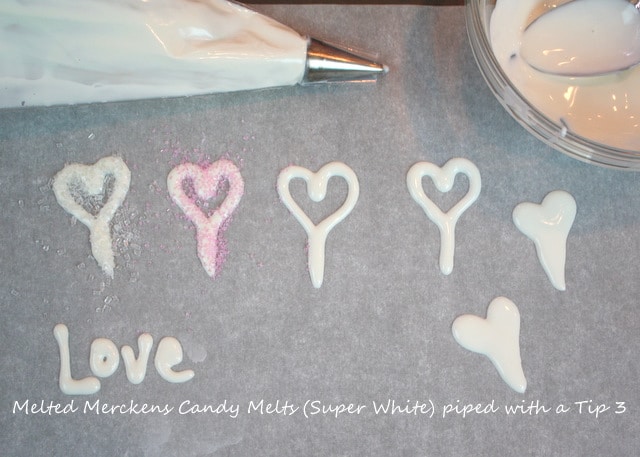 Our Valentine's Day Cupcakes are Finished!
Here's a group picture of our sweet Valentine's Day Cupcake platter! I snuck in a few other designs too!
The pink rose swirl is made with a tip 2D, and the heart within a heart topper was also made with the "puzzle technique" mentioned above.
We hope that you have fun with these designs, whether you recreate them all or just make lots of one or two favorite styles! If you give them a try, share a photo below! xo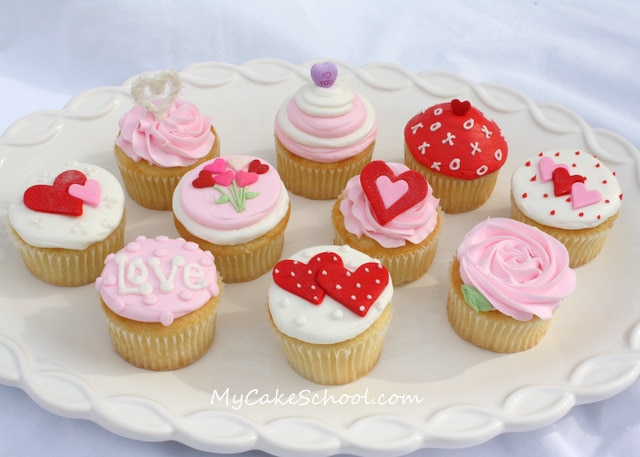 If you're interested in finding out about even more fun Valentine's Day cakes, recipes, tutorials, and ideas, don't miss our roundup of favorites!: Roundup of The BEST Valentine's Day Cakes and Tutorials.
You can find hundreds more free cake decorating tutorials and recipes here: Cake Recipes and Tutorials!