Elegant Swan Cake with Buttercream Ruffles
In today's cake video tutorial, we're going to show you how to make an Elegant Swan Cake.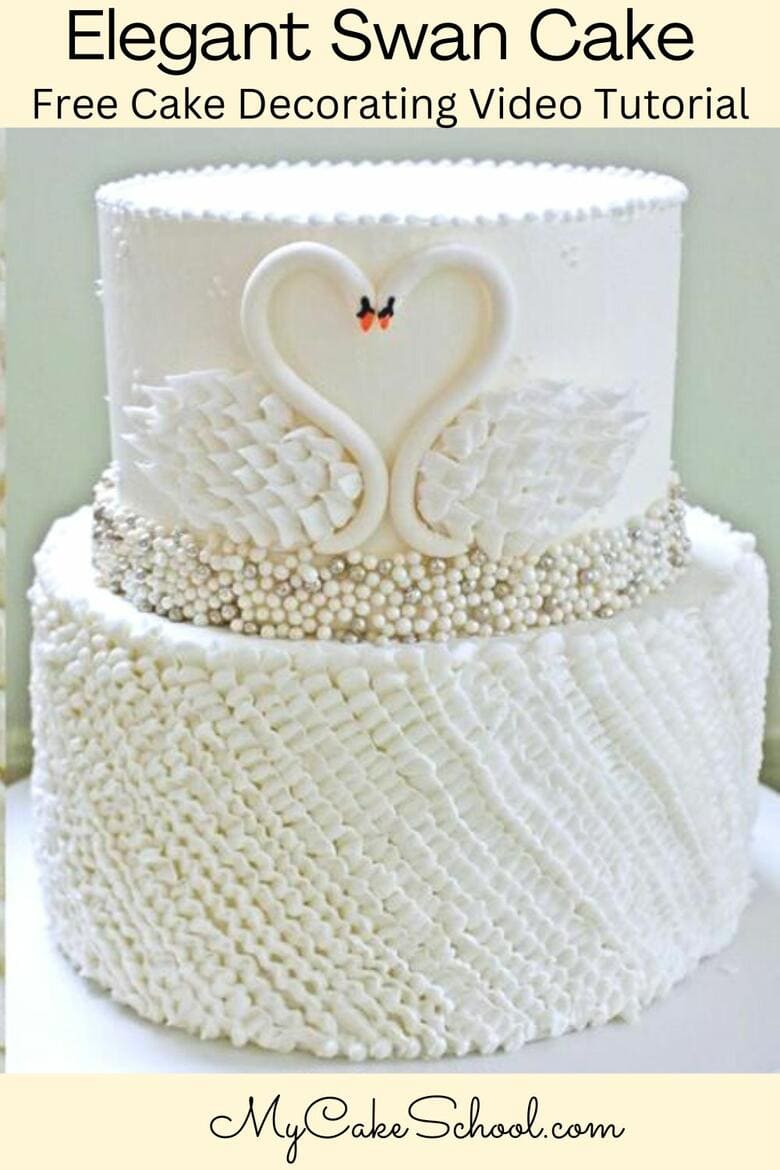 This cake features a pair of beautiful swans as well as a tier covered in tiny buttercream ruffles, and a beaded pearl & silver dragee border.
Although this is not a difficult cake to create, the end result is so impressive and we love its romantic, vintage feel.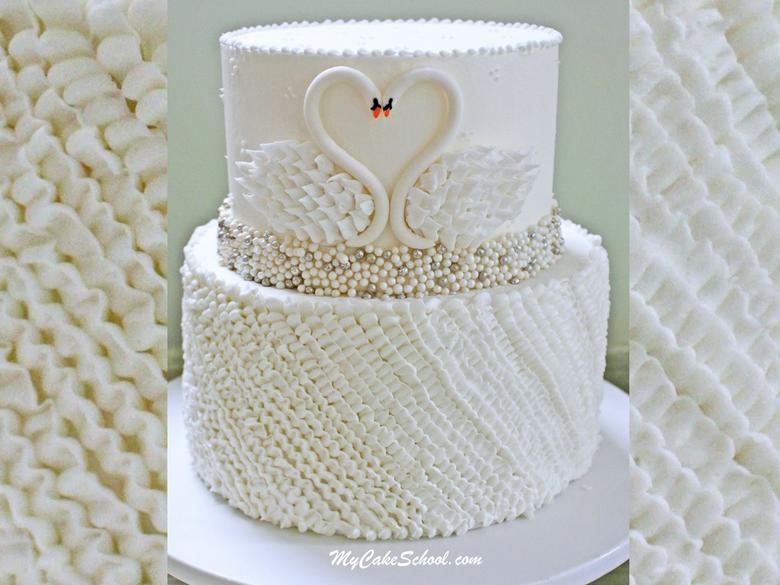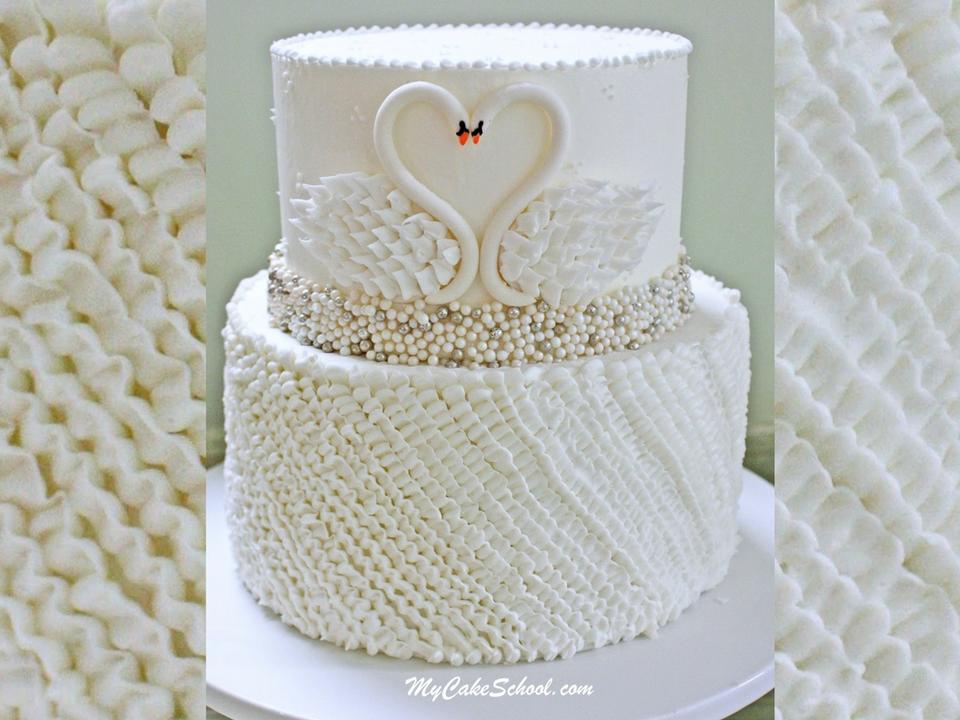 This swan cake design would be perfect for weddings, but you could also use these techniques for cakes of all occasions.
The swans would be a wonderful addition to any anniversary, bridal shower, or Valentine's Day cake! We hope that you enjoy the video!
*Disclosure: If a purchase is made using one of the affiliate links on our website, we may earn a small commission at no additional cost to you.
Materials for Swan Cake
*Today's swan cake consists of 8 inch and 6 inch stacked tiers, each on their own cardboard cake circle cut down to size. For our supports, we used 4 bubble tea straws beneath the top tier. The tiers are frosted and decorated with our Fluffy Vanilla Buttercream Frosting recipe.
Fondant (we used fondant with a small amount of tylose kneaded into it for the swan bodies and border. You could also use straight fondant but it will take longer to set up. We used Liz Marek's recipe for fondant but any fondant is fine!)
Buttercream to fill, crumb coat, and apply ruffles to the cake. (We used Fluffy Vanilla Buttercream but Classic Vanilla Buttercream is a great choice also.)
Piping Tips: We used a 101 tip for the small buttercream ruffles, tip 350 for the feathers, and tip 3 for the border.
Food Coloring Pens- for the black and orange markings on the swans faces. (You could also just paint on a little food coloring mixed with vodka if you don't have food coloring pens.)
Extruder for creating the necks (If you don't have an extruder, you can roll the necks by hand.) We use Makin's Ultimate Clay Extruder. (affiliate)
Oval Cutter- Ours was approximately 2 ¼ inches long. You can easily make due with what you have on hand, the swans' bodies were covered with buttercream feathers and so the cut outs were used more as a guide than a decoration.
FMM Multi Ribbon Cutter- I use this often for borders. You can also cut the strips by hand.
Sugar Pearls and Dragees (We used Wilton Sugar Pearls and India Tree silver dragees.)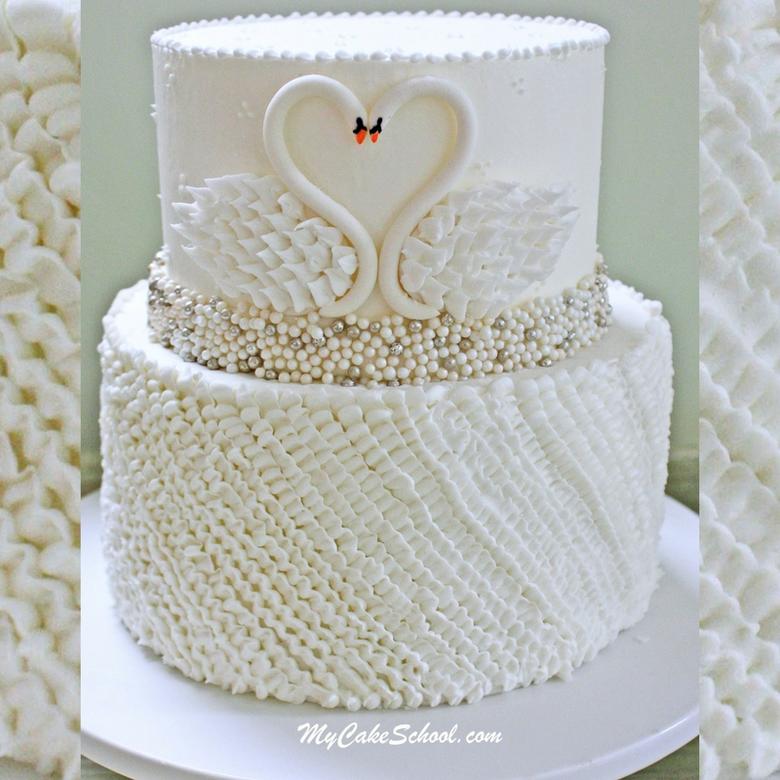 Miscellaneous: Piping gel for "glue", small paintbrushes, waxed or parchment paper, cookie sheet (helpful when adding beads to border), sharp knife or xacto, two cardboard cake circles, 4 bubble tea straws/supports, bench scraper & turntable are helpful)
More Elegant Cakes
We love elegant cakes and ruffle cakes! The cake is today's tutorial has tons of tiny ruffles piped on a diagonal with a tip 101.
We also have ruffled buttercream cakes with larger ruffles as well as different patterns. Don't miss these other favorites!
Ruffled Buttercream Cake with Striped Bow
Shabby Chic Buttercream Roses Cake
Here are a few more Elegant Cakes to try. These would be perfect for bridal shower cake designs, birthday cake designs, and baby shower cakes as well!
Flamingo Version of our Swan Cake
We loved this design so much that we made a flamingo version of it as well! Its a bit more casual and fun, great for Valentine's Day, anniversaries, beach themed parties, and more!
You can find it here: Valentine's Flamingos Cake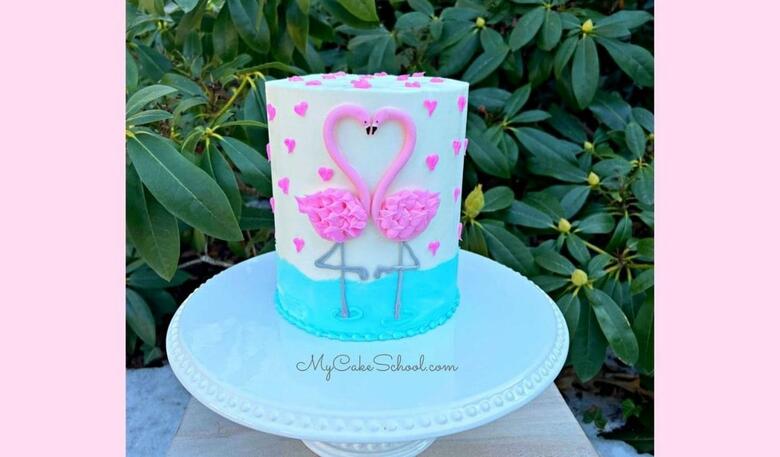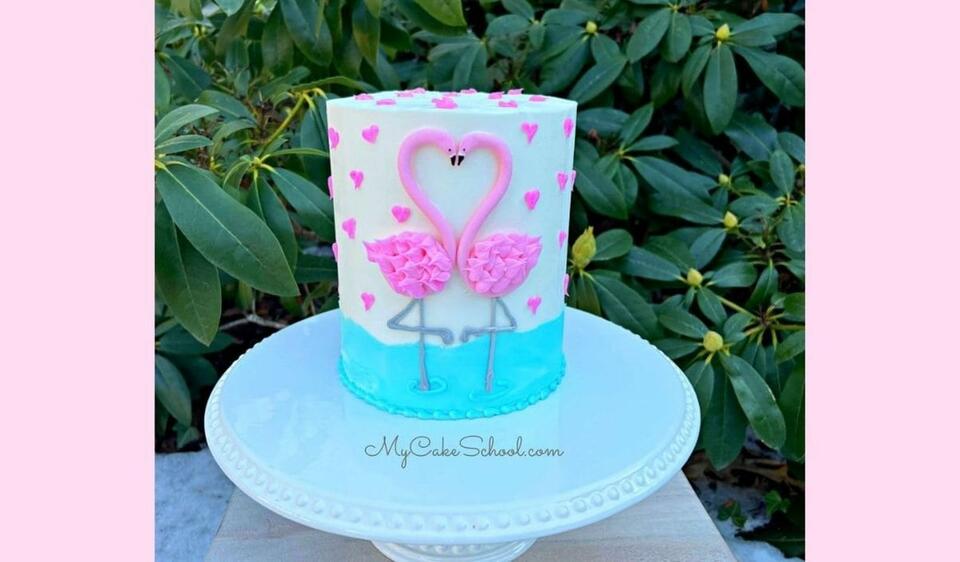 Cake Recipes
So many of our cake recipes would be perfect for today's cake. Some of our most popular are our white velvet cake, pink champagne cake, white chocolate cake, and almond cake. Our lemon cake is a great choice as well!
Enjoy the Video
We hope that you enjoy our Swan Cake video! Make sure to check out our full collection of cake decorating tutorials!