BEST Halloween Cakes, Tutorials, and Ideas
EEEk! Halloween is just around the corner, and we are SO excited to share a roundup of the BEST Halloween Cakes, Tutorials, Recipes, and Ideas with you!
Our collection of festive, funny, cute, and spooky Halloween goodies has really grown over the years, and today we're going to highlight our favorites.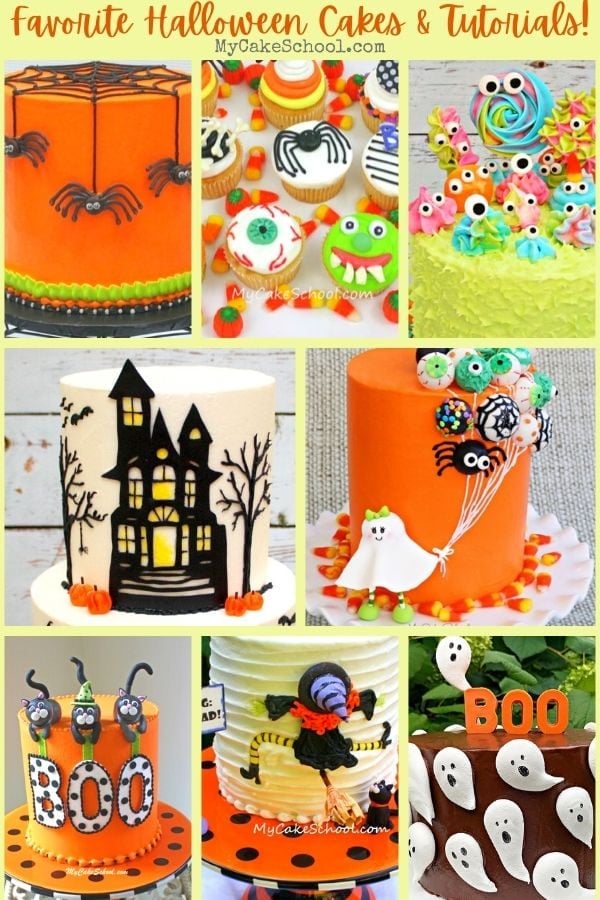 We love kid-friendly, easy Halloween cakes and sweets!
No matter what your skill level of cake decorating, you are sure to find something in this roundup that will make you the hero of the Halloween party. ;0)
You'll find everything from ghost themes and witch cakes to giant spider cake toppers, monster cakes, and more!
We hope that you enjoy this collection of our favorite Halloween Cakes! Some of our most popular are: Clumsy Witch Cake, Witch Shoes Cake, Haunted House Cake, and Monster Bundt Cakes!
Roundup of the BEST Halloween Cakes, Tutorials, and Ideas
Sharing a roundup of our FAVORITE cake and cupcake ideas for Halloween! These are perfect for Halloween parties or just for a little spooky fall fun with friends!
Most of these Halloween cakes are free cake video tutorials while others are from our free blog tutorials section. All of them are so much fun to create, we hope that you enjoy scrolling through!
Halloween Cake Recipes
Some of our favorite Halloween Cake Recipes and fall cake recipes are: Pumpkin Cake, Applesauce Cake, Orange Cake, and Spice Cake!
Thank you for stopping by! We hope that you found a little spooky inspiration for your Halloween desserts!
If you give any of these cake designs a try, we would love for you to leave a comment and photo below!