Halloween Spider Cake- Free Video Tutorial
We have a cute Halloween Spider Cake video to share just in time for Halloween!
The star of today's cake is a cute little candy-corn-loving spider. Spiders made from buttercream are the only kind of spider that I like!
We hope that you enjoy this simple tutorial.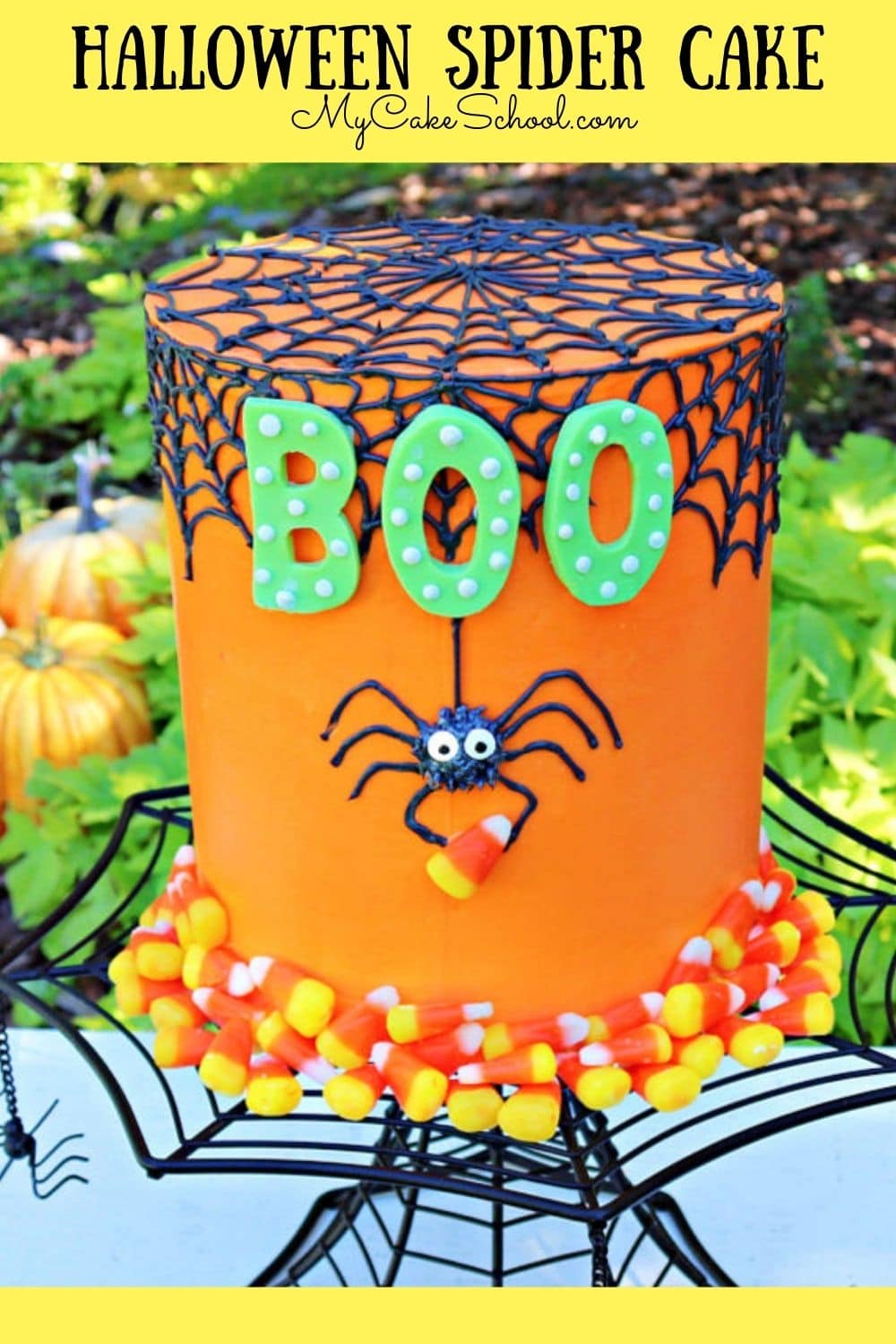 If you're looking for even more Halloween Cake ideas, don't miss this roundup of favorites!: Halloween Cake Designs
Halloween Spider Cake
*This cake design would work for any size of cake! We used a 6 inch double barrel cake, which is 4 cake layers with a cake cardboard cut down to size halfway up, and 4 bubble tea straw supports (or dowels if you prefer) beneath.
Vanilla Buttercream- We used our Classic Vanilla Buttercream Recipe
Coloring Gels: Americolor Orange, Black, and Leaf Green (with a touch of yellow) for the letters.
Fondant for the letters (kneaded in a small amount of tylose powder for faster, firmer drying). Straight fondant would work also.
Piping tip: Small round piping tip 2 (or similar), grass tip 233 (for spider body)
Candy Corn
Candy google eyes- You could also use white round or confetti sprinkles and add black dots to them with a food coloring pen or buttercream).
Template for "Boo" Halloween-Spider-BOO-Template
Buttercream vs. Chocolate Spiders for Cakes
In the video, in addition to creating a buttercream spider, we also showed how to create a chocolate spider (similar to the chocolate spiders cake that I made in a couple of years ago). I love the chocolate spider too!
The plus of a chocolate spider is that you can pipe several and pick your favorite. The plus of a buttercream spider is that it is faster & I was able to get a bit more texture with the piping. Either way, you're going to have a cute cake!
*If you go the chocolate spider route, melt your black candy melts in the microwave in small increments until almost melted, then stir gently to melt completely.
Spoon into disposable piping bag and snip the tip away. Then pipe the spider shape(s) on a parchment lined cookie sheet and add google eyes. Freeze for 5-10 minutes. Chill the spiders just before handling.
Cake Recipes
Any cake recipe will do for this spider cake! Some of our favorites are: Vanilla Cake, Chocolate Cake from scratch, Orange Cake, and Almond Cake.
We also have some great fall cake recipes, including Pumpkin Cake, Gingerbread Cake, and Applesauce Cake!
More Halloween Cakes
We have so many more Halloween Cakes to share with you!