Chocolate Spiders! Free Halloween Cake Video
In today's free cake video tutorial, I'm going to show you how to make the CUTEST Halloween cake featuring Chocolate Spiders!
As someone who is terrified of spiders, it's kind of a big deal that I'm making a spider themed cake! As it turns out, I'm okay with spiders after all..they just need to be made of chocolate.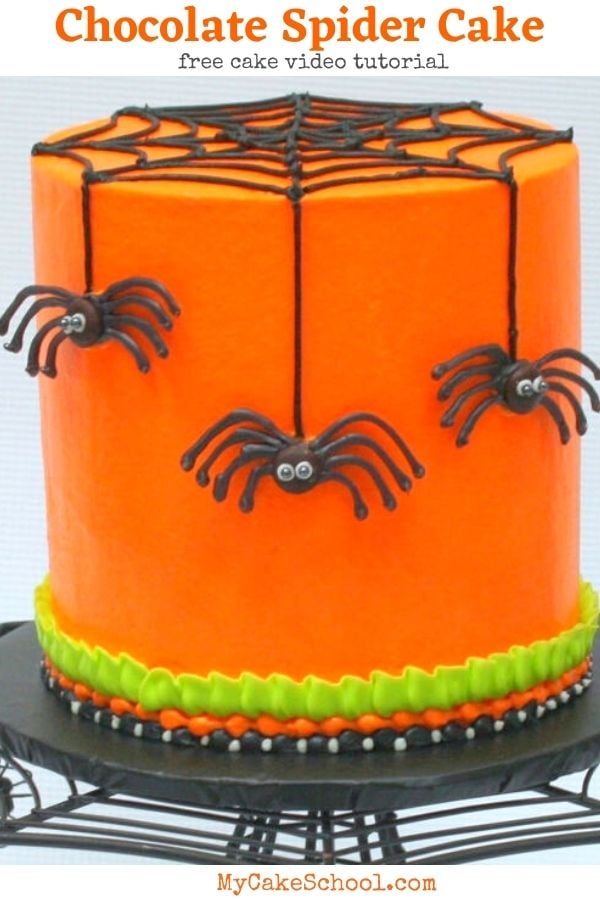 I love Halloween themed cakes and cupcakes and we've done tons of festive Halloween tutorials over the years. However, if you've followed my site for long, you know that I don't do scary. I'm much more of a creepy but cute kind of decorator!
Today's cake falls right into that creepy-cute category. The stars of today's video tutorial are a few google eyed chocolate spiders. These little guys are so simple to make, and I love that their piped chocolate bodies give the design a uniquely raised appearance.
In this cake tutorial, we show you how to ensure that your chocolate spiders are identical by using templates-- but if you are comfortable with freehanding spiders, you can skip the templates altogether! This is such a simple method and so much fun too!
Check out our other Spider Halloween Cakes Here!
For even more Halloween Cake ideas, don't miss our Roundup of Halloween Cakes, Tutorials, and Inspiration!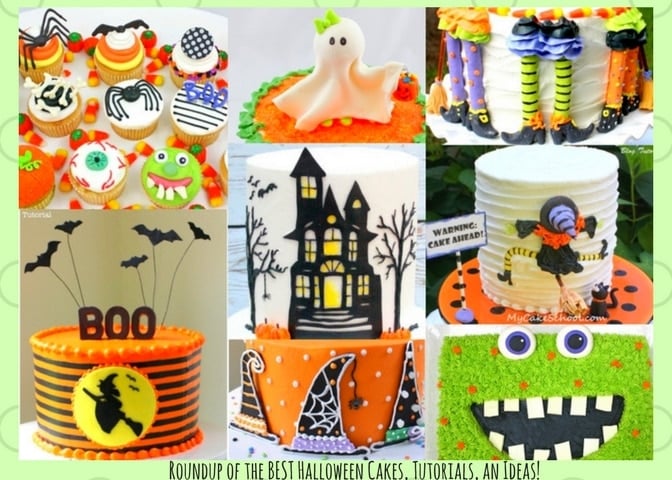 In this chocolate spider cake tutorial, we also demonstrate a simple piped buttercream spider web on top, and a beaded and ruffled buttercream border along the bottom of the cake. Have fun with this one, it would be PERFECT for Halloween parties! We hope that you enjoy it!
Chocolate Spiders! Free Halloween Cake Video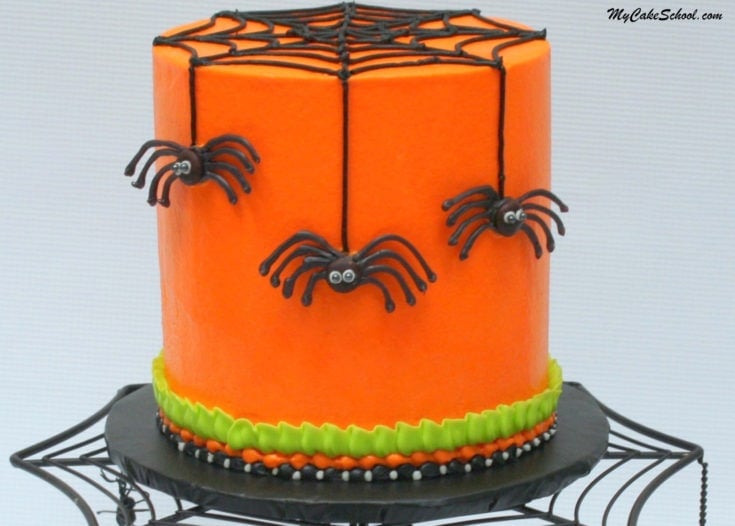 This cute and easy Chocolate Spider Cake is perfect for Halloween parties!
Materials
*This is a double barrel cake frosted with our Classic Vanilla Buttercream Recipe. The crusted frosting was smoothed with the Viva Paper Towel Method of smoothing. Of course, this design could be easily adapted for cakes of any size, and sheet cakes as well!
Coloring Gels: We used Americolor Super Black, Orange, and Electric Green
Wilton Black Candy Melts
M&Ms (We also had Junior Mints on hand for larger spider bodies but wound up only using the small spiders!)
Piping Tips: We used small round tips 3 & 4. Tip 3 for the web, tip 4 for border. (You can use these interchangeably, work with whatever small round tips you have.) We used a 104 petal tip for the green ruffle.
Wilton Black Pearlized Sprinkles for the spider eyes. (You can also just pipe on the eyes.)
Waxed Paper lined cookie sheet
disposable piping bags
Two cardboard cake circles. With a 4 layer double barrel cake design, I use one board for the cake to sit on as usual, and then another board halfway up with 4 bubble tea straws beneath to support the upper layers.
**Find the Template for our Spider Cake below in our Notes section
Instructions
Frost a double barrel cake (or your cake size of choice!)
Pipe border
Pipe spider web in black buttercream.
Create chocolate spiders using our templates (linked in the Notes below). Pipe chocolate candy coating legs and center, top with chocolate candy "body", chill just until firm.
Attach chilled spiders to cake.
Notes:
*In the video, I made more spiders than I actually used! If you wish, you can carry the spiders all the way around the cake or even put one or two on top.
These make great cupcake toppers also (but don't stick the spider legs directly into frosting or the legs will soften). Lay them against the frosting instead.
If you keep it simple like I did with just a few spiders, I still recommend making a few extra just in case of breakage. Always handle the spiders when they are chilled. It only takes a few minutes in the freezer or 10-15 in the refrigerator to firm things up!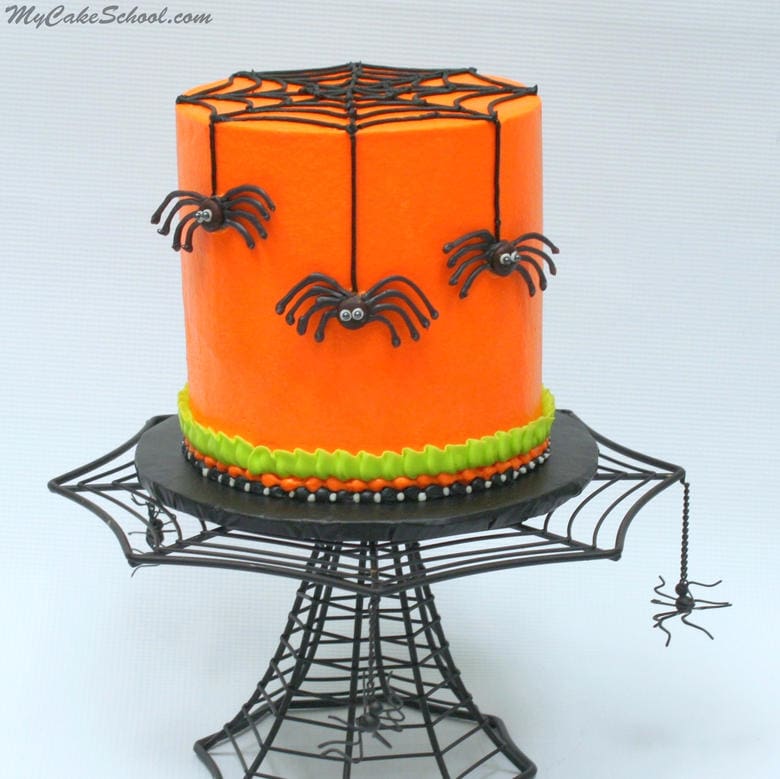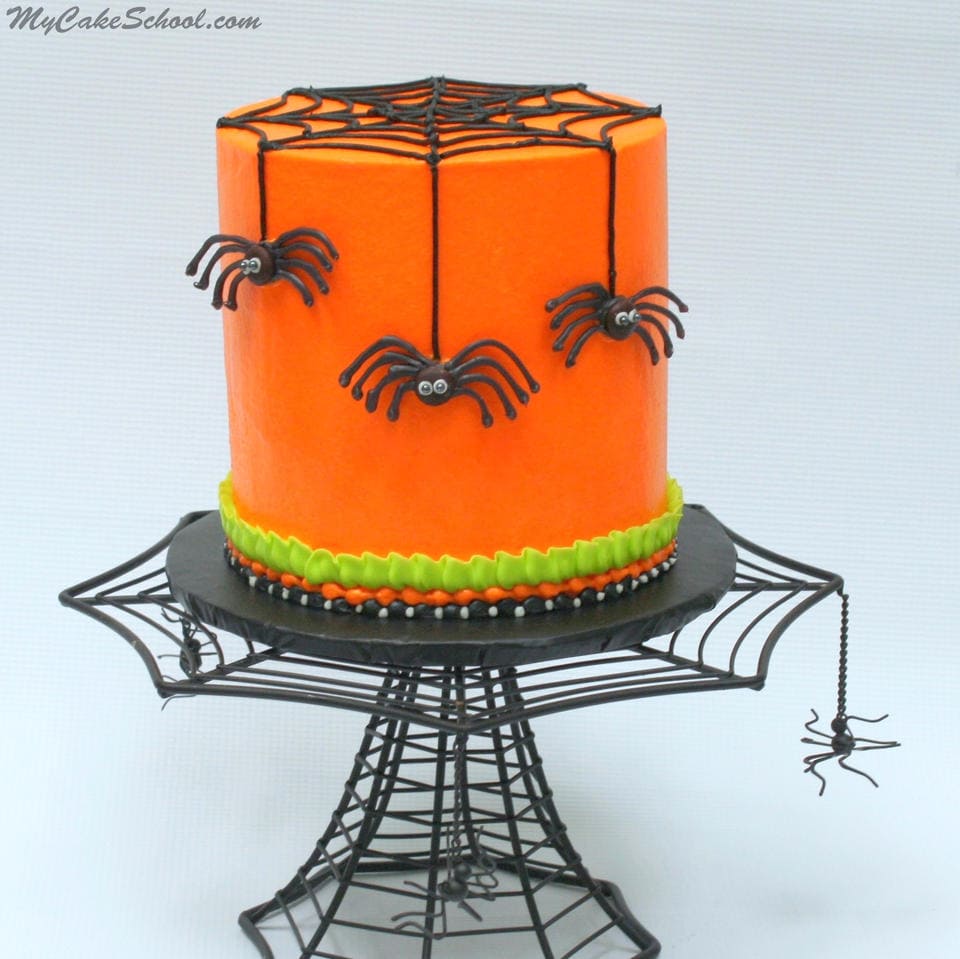 Thanks for stopping by! Remember that we have a full collection of our FAVORITE cake and frosting recipes in our Recipes Section!
You can also find hundreds more free cake and cupcake decorating tutorials in our Free Cake Tutorial Section. We hope you enjoy scrolling through!