Pretzel Monster Cake Tutorial
We have a fun, easy, and CUTE new Halloween cake video to share for a Pretzel Monster Cake!
Halloween is such a fun time of year for creating kooky and colorful cake designs! This funny monster cake may just be a new favorite, and it's so easy!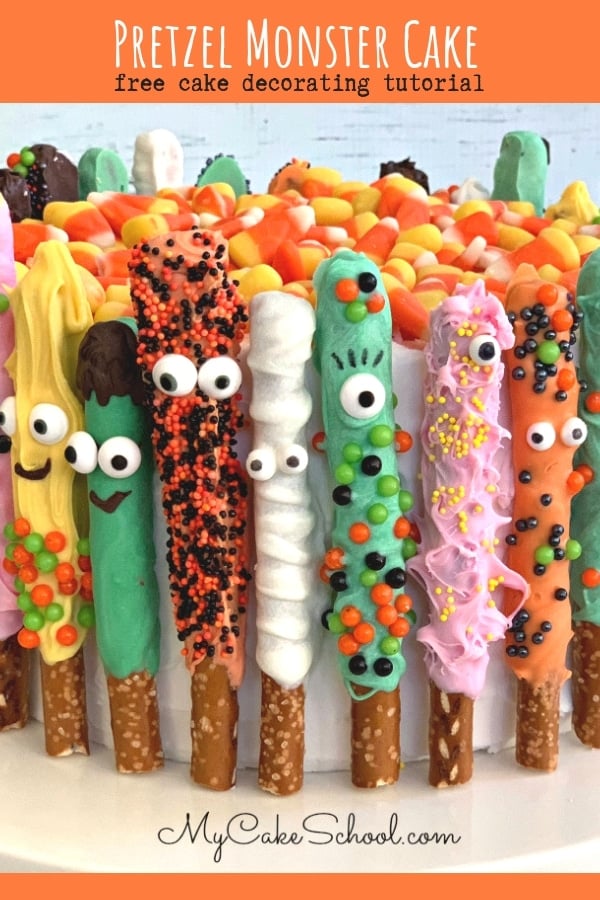 Cake decorating with candy coating
Candy coating is one of my favorite cake decorating mediums because these decorations set up so quickly, and are a fabulous way to add an extra boost of color and texture to cakes.
Whether you're creating decorations with candy coating or just using it as a coating, it couldn't be easier.
There's no waiting around for hours (or days!) for decorations to harden as is the case with fondant and gum paste. Just create, chill, & go!
How to make A Pretzel Monster cake
Today's cake features a collection of funny, colorful monsters made from a assortment of candy coating, sprinkles, and google eyes!
Pretzel monsters have been a popular dessert choice for Halloween parties over the years, but it wasn't until recently that we realized they would also make the perfect cake decorations.
It is a matter of dipping pretzel rods (We trimmed ours down) into melted candy coating or almond bark, and using various sprinkles and google eyes to decorate. Chill, and then apply to the frosted cake!
The BEST thing about making monster cakes is that anything goes! Whether your pretzel monster has a bumpy texture or smooth, one eye, five eyes, a smiley face or no mouth at all, it all works! We hope that you enjoy making this cake as much as we did-- have fun!
More Monster Cake Tutorials
We have even more Monster Cake and Cupcake designs to share! Don't miss these fun, free cake tutorials!:
Monster Meringues Cake Tutorial (free cake video)- Learn how to make meringues & funny monsters!
Monster Cupcake Tutorial- a step by step photo tutorial for Halloween
Monster Sheet Cake- This furry, funny buttercream sheet cake is so easy!
Looking for Halloween Cake Ideas? We have lots! Hop over to our Roundup of Favorite Halloween Cake Ideas!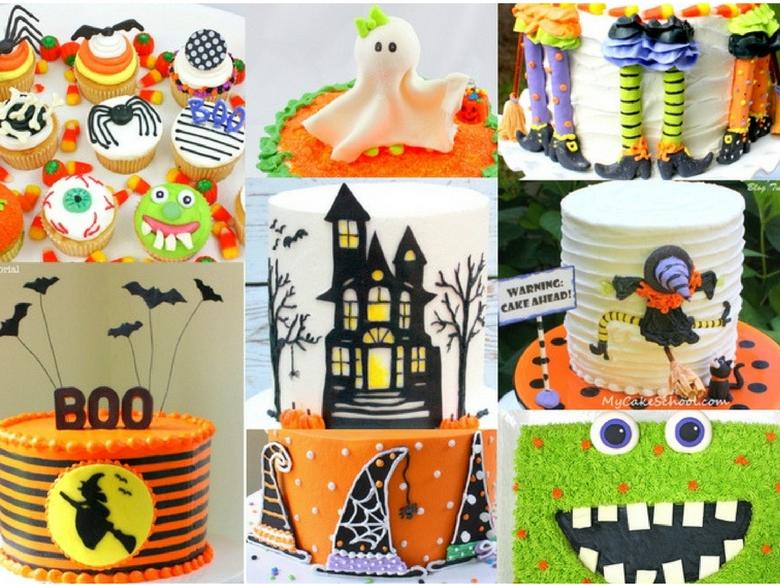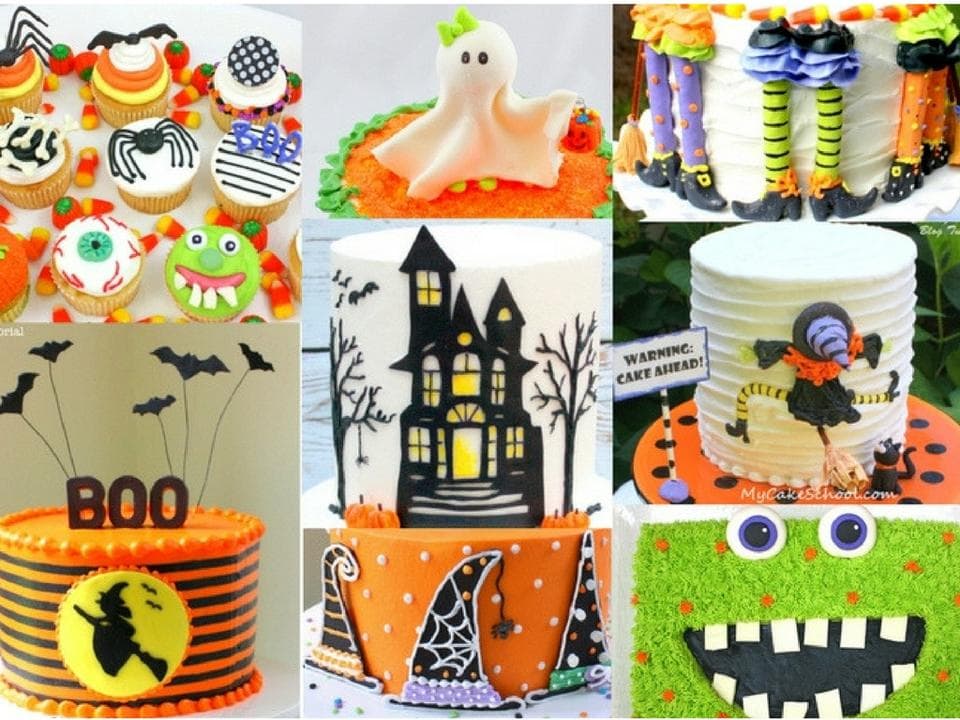 Quick Tips for the Pretzel Monster Cake:
It took about 32 pretzel monsters for me to make my way all the way around. If you don't have time for that many monsters, this cake would also be cute with just a few monsters across the front ;0) -
As you saw in the video, I trimmed my pretzel rods with a serrated knife. The monsters were all between 4 ½- 5 ½ inches in height. A little variation is fine.
Pretzel monsters will set up at room temperature on their own, but if you are in a rush, you can chill them to firm them up in a few minutes.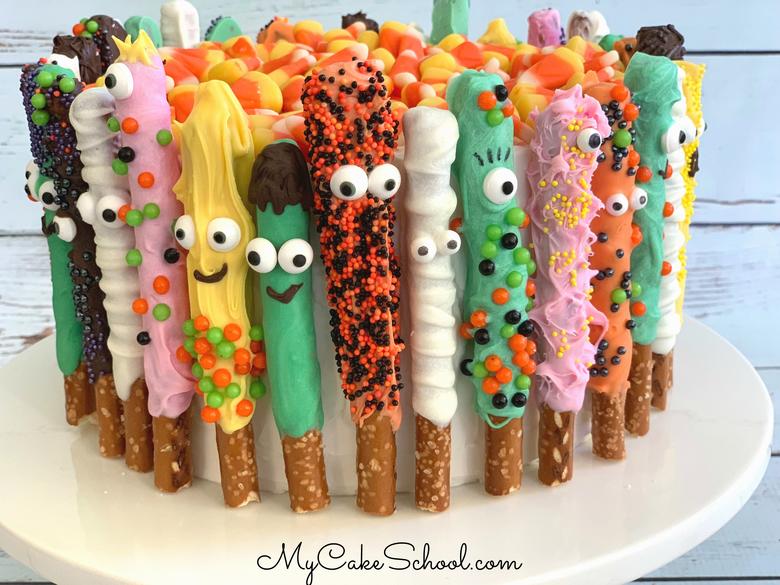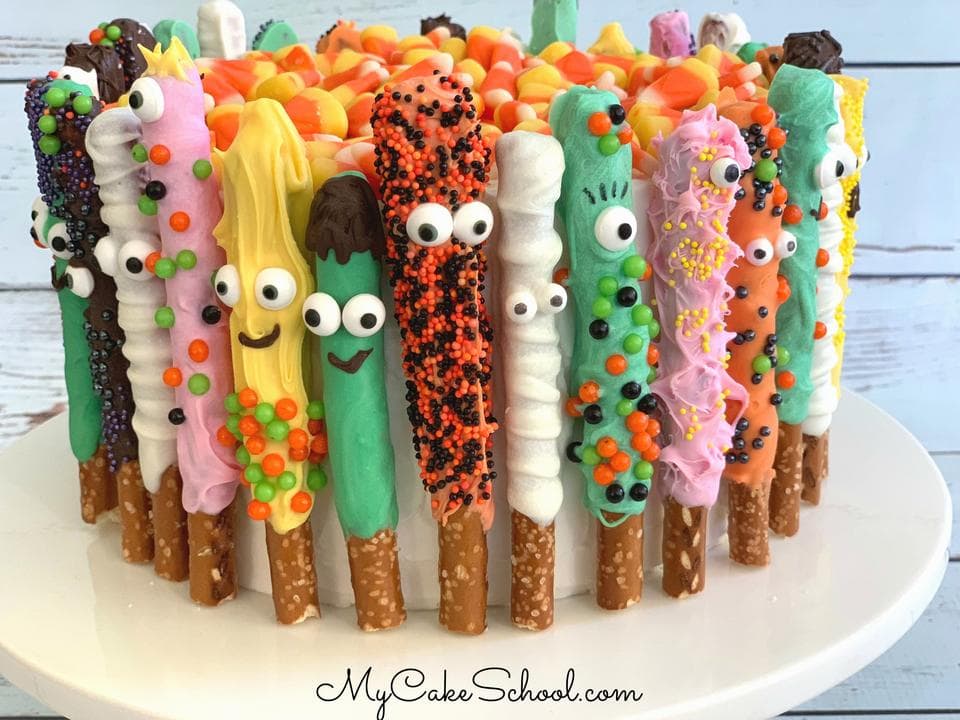 Cake Recipes for Halloween
There are all sorts of great fall cake recipes that would be perfect for Halloween party cakes!
Some of our most popular are Pumpkin Spice Cake, Caramel Cake, Spice Cake, and Apple Spice Cake.
Classic cakes like Marble Cake, Yellow Cake, and Chocolate Cake from Scratch are always a popular choice! You can find these cake recipes and so many more in our Cake Recipes section!
Have you made this Cake? We would LOVE for you to leave a ⭐️ rating as well as a comment and photo below! We really appreciate your feedback!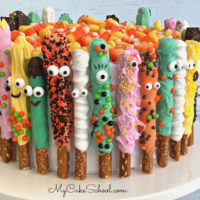 Pretzel Monster Cake Tutorial
Learn how to make a colorful Pretzel Monster Cake for Halloween in this fun and easy decorating tutorial!
Print Recipe
Pin Recipe
Ingredients
*In this tutorial

we decorated an 8 inch cake (approximately 4 inches tall) frosted in buttercream.
FOR THE PRETZEL MONSTERS
Pretzel Rods

for me, it took about 32 rods, trimmed to the approximate height of the cake

Candy coating/Almond Bark/Candy Melts of choice

We used Candiquik for most of our pretzels, tinted with Americolor Candy Coloring Gel

Oil Based Candy Coloring

if tinting your candy coating

Black food coloring pen

optional- I used on some of my pretzels for eyes & mouths, but they don't always work well on candy coating. You can also pipe on dark candy coating instead for mouths, etc.

Google eyes or sugar pearls

Various sprinkles

Candy corn or your candy of choice for the top of the cake
MISCELLANEOUS:
Cardboard cake circle trimmed to size of cake for cake to rest on

optional, cake base or pedestal, Piping bags, plastic spoons, waxed or parchment paper, spatula, turntable & bench scraper optional
Instructions
For the Monster Pretzels
Line a cookie sheet with parchment or waxed paper.

Using a serrated knife, trim pretzel rods to desired height by sawing gently back and forth.

Melt candy coating (tint with oil-based candy color if you'd like). Spoon over pretzels, allowing excess to drip back into bowl.

Add sprinkles, eyes, etc. as you like. Place on parchment-lined cookie sheet.

Allow to set and firm up at room temperature or chill briefly in freezer or refrigerator to speed-set. (A few minutes should do it).
Decorating the Cake
For this tutorial, we decorated an 8 inch cake (approximately 4 inches tall) frosted in vanilla buttercream (we used our fluffy vanilla buttercream recipe).

My cake was on a cardboard cake circle cut to the size of the cake. I crumb coated the cake as usual with an offset spatula, and then frosted the final coat of frosting and used a bench scraper to smooth out the frosting while spinning on the turntable.

Transfer to cake base or pedestal if you haven't already.

Press the monsters into the freshly frosted cake. You can use additional buttercream as "glue" if needed.

Top it off with candy corn!
Notes
Decorate the pretzel monsters however you like! You can top it off with Halloween M&Ms or another type of candy if you don't like candy corn ;0) There are so many fun options with this cake!