El Dia de los Muertos--A Cupcake Tutorial!
Today I'm going to show you how to make bright and colorful Dia de Los Muertos cupcakes!
These are buttercream cupcakes with candy coating skull cake toppers. So easy and we just love how they came out. ;0)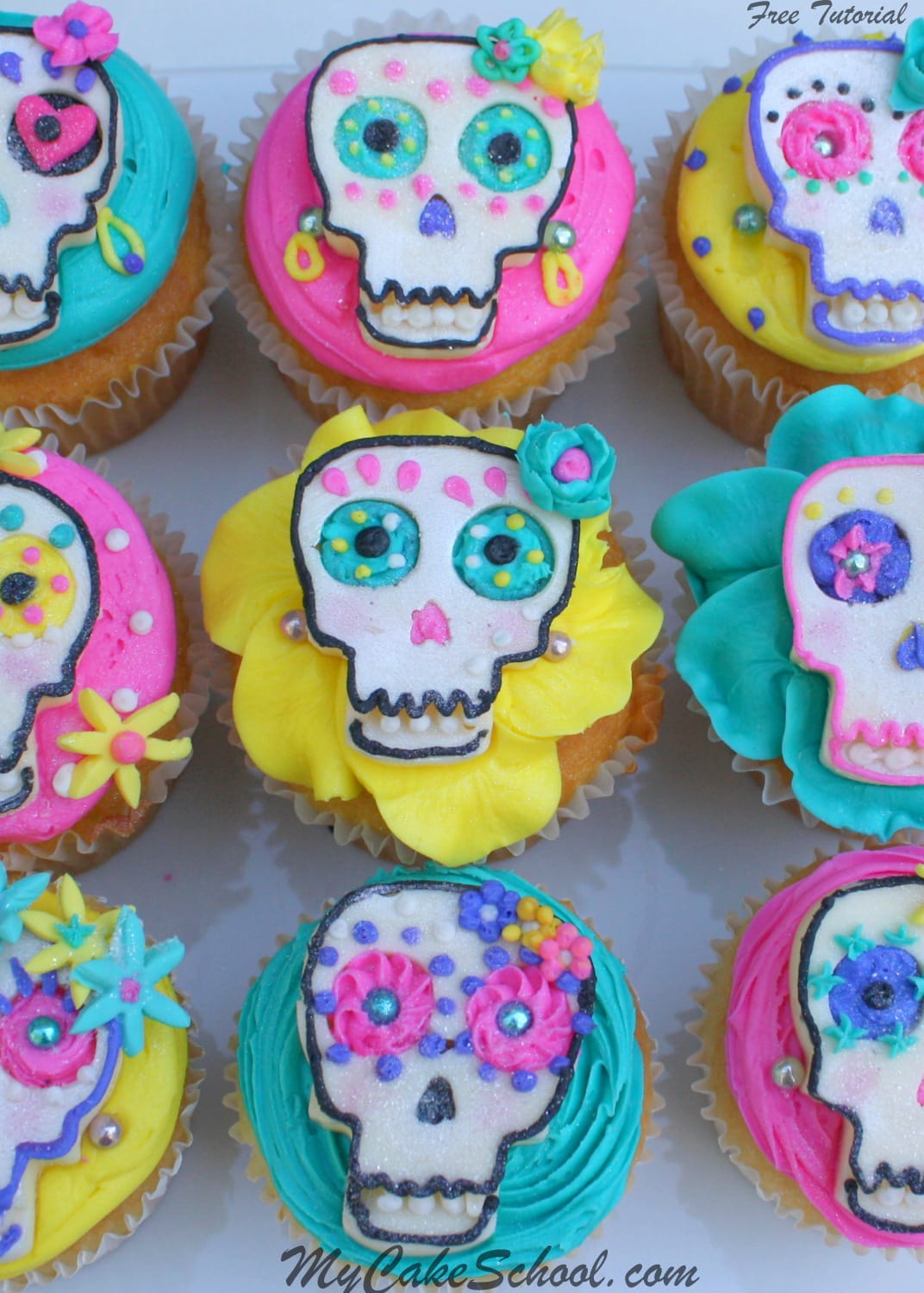 What is El Dia de los Muertos?
For those of you who are not familiar with this holiday, this is a Mexican celebration (which is also observed in certain parts of the US & Central America) that takes place on November 1st and 2nd.
It is a time to celebrate and honor the memory of those who have passed, and is believed to be a time when spirits return to the Earth to be with their families.
Celebrations and traditions of El Dia de los Muertos vary from location to location, but often involve making elaborate altars honoring loved ones who have passed, colorful decorations, special foods including sugar skulls and pan de muertos, dancing, parades, and graveside reunions.
If you celebrate El Dia de los Muertos, I would love to hear about your traditions!
How to Make Dia de los Muertos Cupcakes
Now, onto our cupcake tutorial!............
Since Halloween is upon us, I didn't have to look any further than Target for an idea-- ( a very easy idea) --
I bought a pack of silicone ice cube trays in the shape of skulls and bones!
The flexibility of these trays make them great for chocolate molds--so whenever you see ones that you like, make sure to grab them!
If you're planning in advance, I'm sure that you can find something similar on Amazon also!
First, I started by piping melted Wilton white candy melts into each of the skull molds.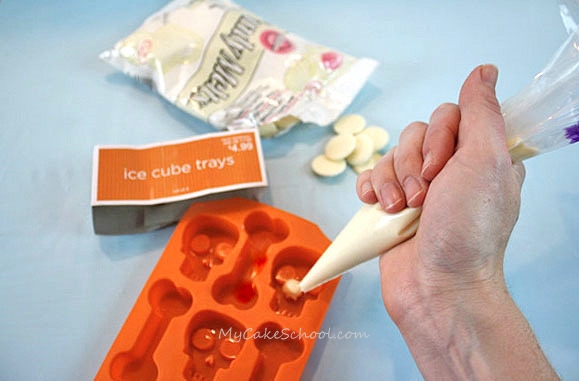 I popped the ice cube tray in the freezer for about 5-10 minutes, until the skulls were firm. The chocolate skulls were very easy to remove.
Next, I dusted over the skulls with super pearl dust. (I've never found anything that didn't look better with super pearl dust and white disco dust!) ;0)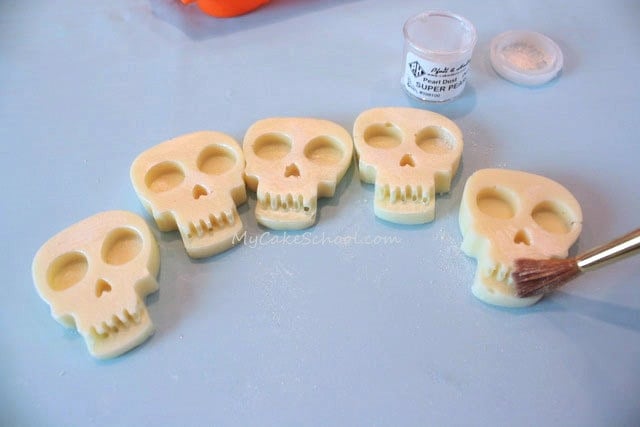 Okay-- so that's pretty much it! The rest is up to you. I decorated my skulls with brightly colored shades of buttercream and colored dragees. I outlined the skulls with buttercream using a small round tip 2....and everything else was piped with small star or round tips. The petals in the cupcake below were piped with a tip 104.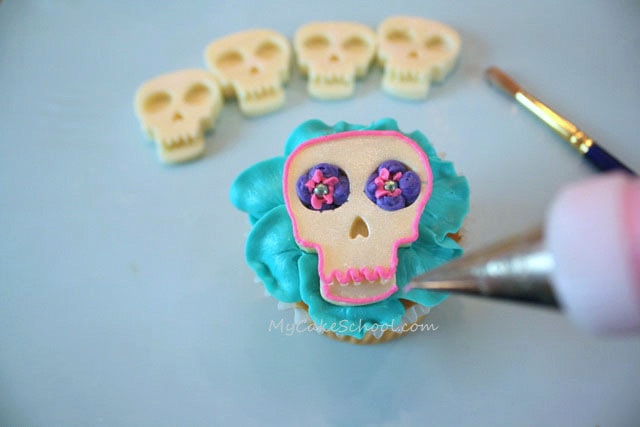 Here's another shot of my decorating tools :0) I cut some small flowers from fondant so that we could have even more raised elements, using a small Wilton daisy cutter. I gave the skulls rosy cheeks with pink luster dust (CK Super Red)-- and some of them are wearing dragee earrings ;0)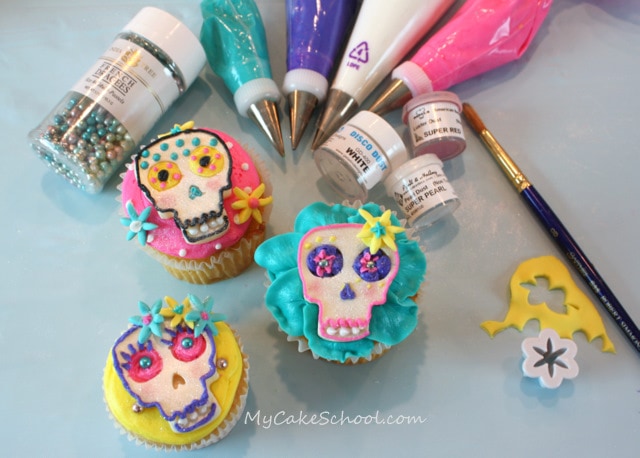 I had a lot of fun with the bright colors and flowers--(and of course, glittery disco dust!).
If you are unable to find Halloween ice cube trays like mine, you can always pipe simple melted chocolate skull shapes onto parchment lined cookie sheets and chill until firm. Then, pull out your colorful buttercream and sprinkles and decorate away!
Here is the group shot!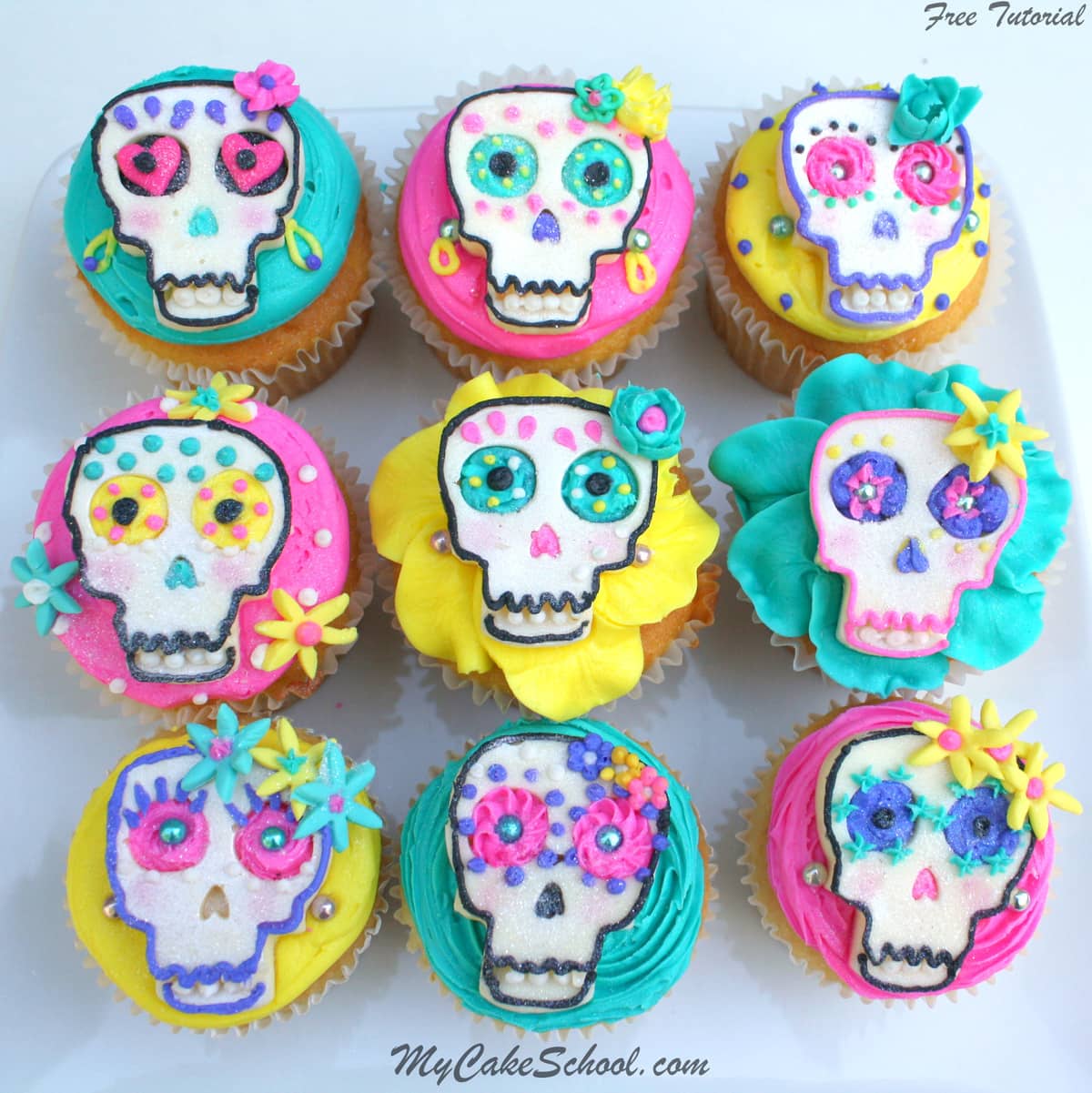 Thanks for stopping by the blog today! I hope that you enjoyed the tutorial. If you ever give these a try, make sure to send me a picture! I would love to see. Have a good weekend!