Giant Spider Cake Topper Tutorial
We're excited to share a fun and simple Halloween spider cake design with you in this free cake decorating video!
This giant spider cake topper is SO easy to make, and is great for adding a little drama to Halloween cakes. I love how quickly it all comes together, and the design options are endless!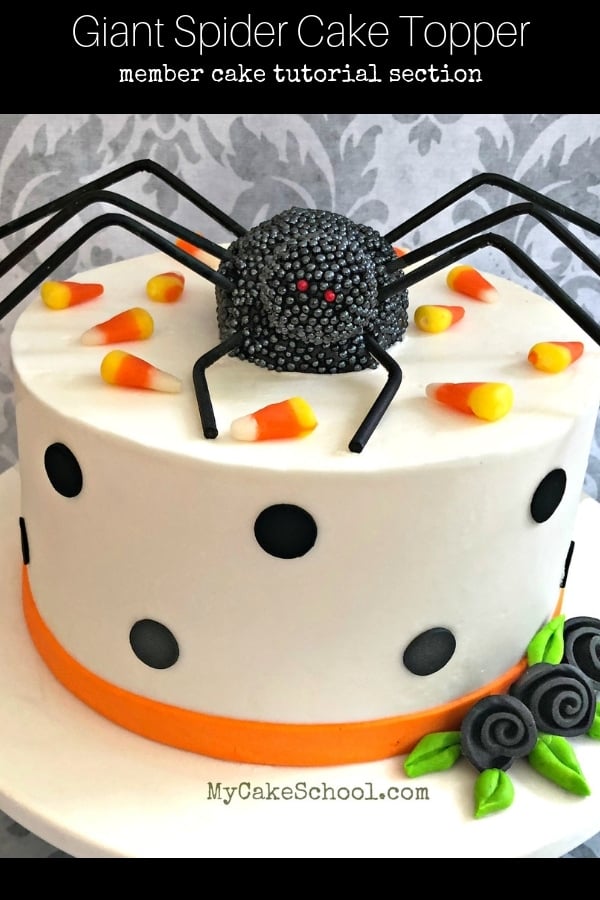 Materials for Spider Cake:
(We decorated an 8 inch cake, frosted in our fluffy vanilla buttercream frosting)
Two Rice Cereal Treats (22 g. size)
Fondant (we used pre-colored black, and also tinted white fondant with Orange coloring)
Tylose Powder (optional- we kneaded a little into our fondant so that it would set up more quickly)
Coloring Gels- Americolor Orange, Black, Electric Green
Lollipop Sticks for spider legs- we used 6" sticks. (Seven sticks total-3 for each side and the last stick is split in half to create the front two legs)
Candy Corn for the top -optional - it was a last minute addition ;0)
Piping Gel
Black Sugar Pearls
fondant ribbon cutter
Red Sugar Pearls/Sprinkles for eyes (You could use fondant or red buttercream also)
Here are some other spider themed cakes for you to try! Eeek!
Chocolate Spider Cake Tutorial- Free Step by Step by Tutorial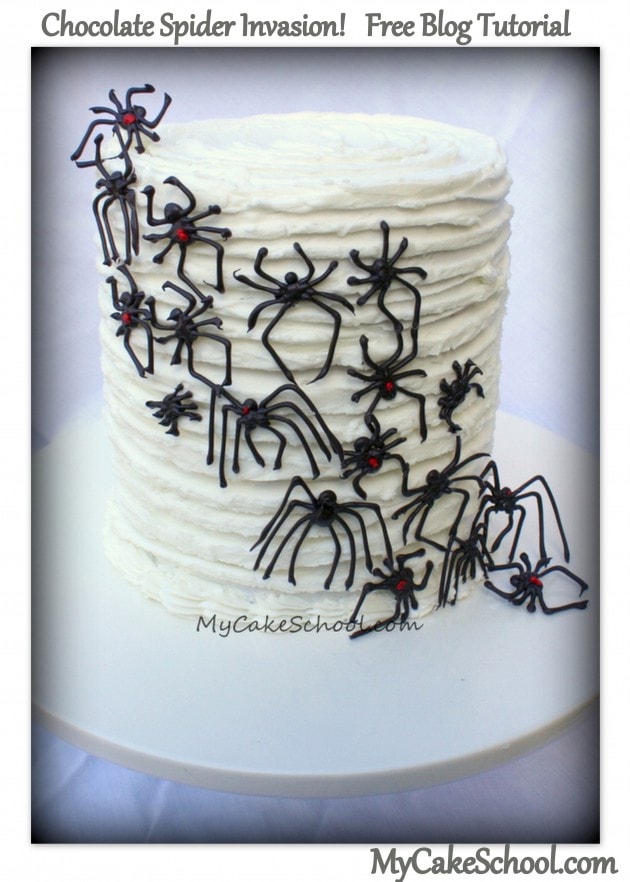 Here's another fun chocolate spider cake--these little guys are almost cute! ;0) Chocolate Spider Cake-free video tutorial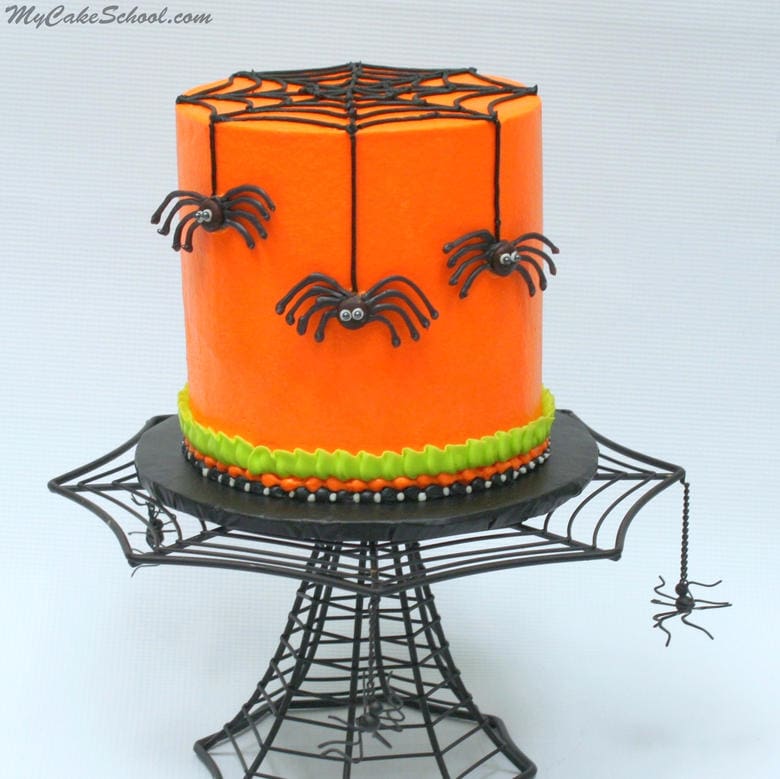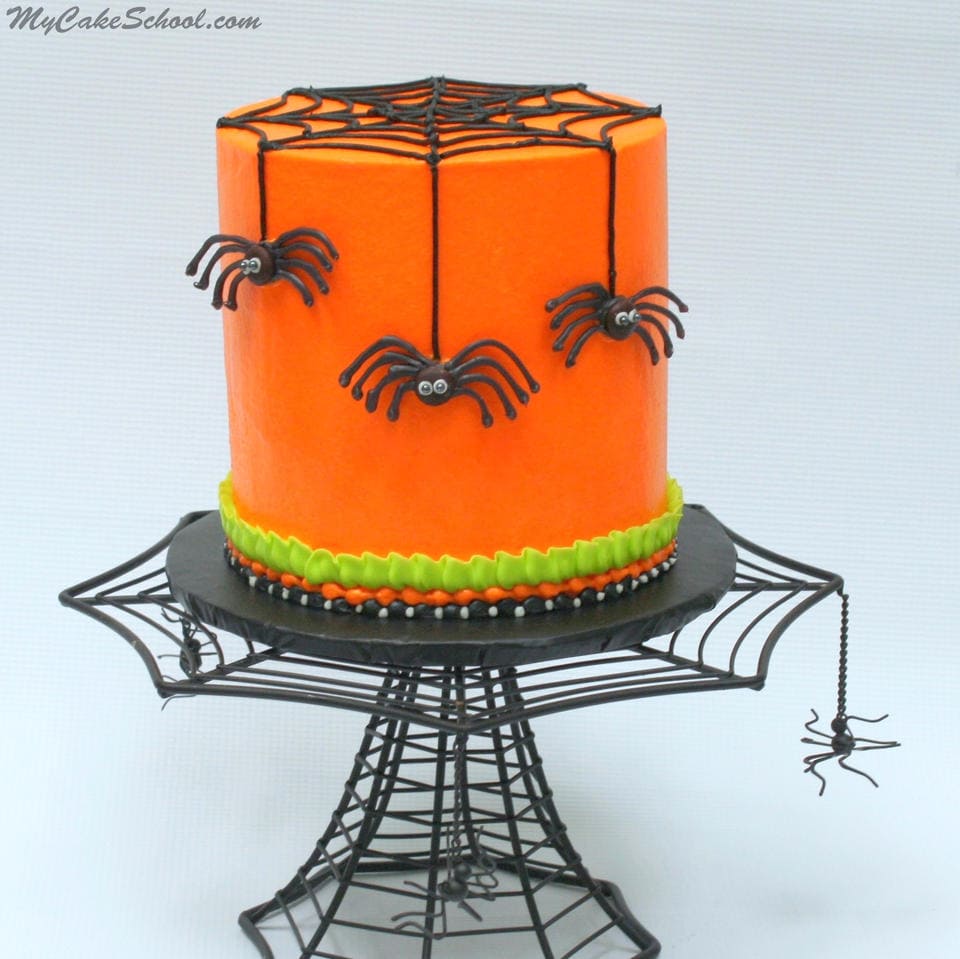 More Halloween Cake Tutorials
Don't miss our full collection of favorite free Halloween Cake Tutorials! You can find them here: Favorite Halloween Cake Tutorials
Keep these fun and spooky cake designs in mind for your Halloween parties!
Enjoy the video!
Thanks so much for stopping by. If you give our spider cake design a try, we would love for you to leave a comment and photo below!